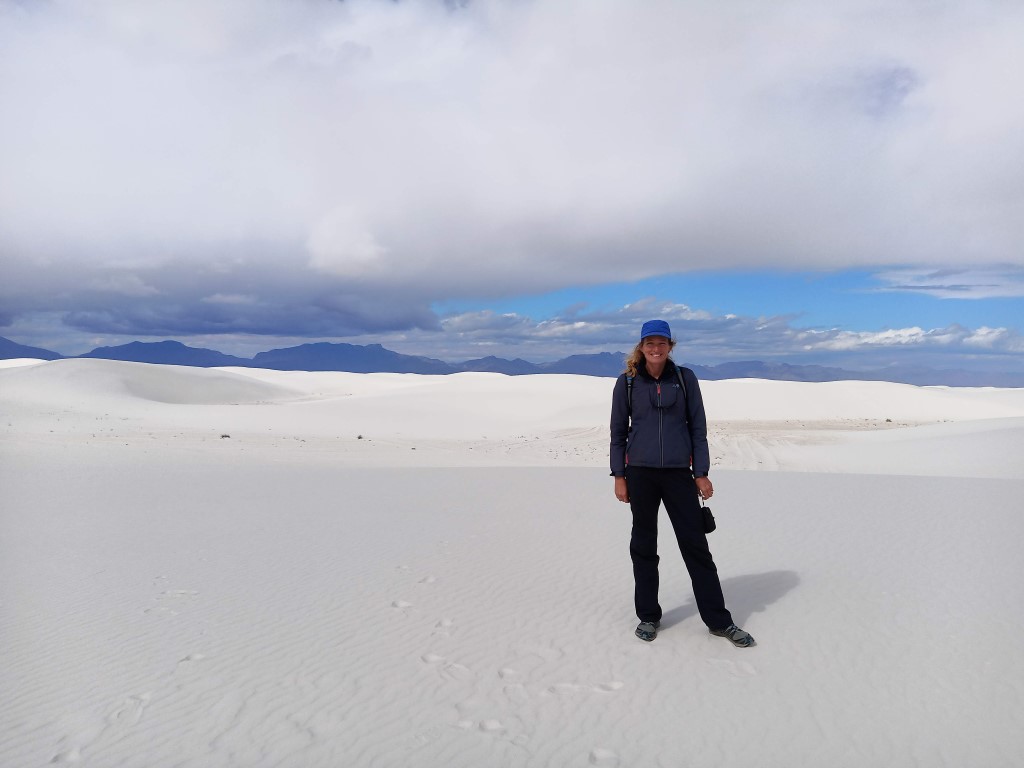 Greetings, we are currently stationed in El Paso, Texas because the leaf springs for our truck suspension finally arrived thank goodness. It's quite stressful trying to deal with ocean freight shipping logistics between Germany and here. It's a slow business with a lot of different companies involved to get something from point A to B. We hope this addition will level out the truck suspension and give it some more spring in it's step so to speak. After a lovely hiatus from Walmart parking lots we had to stay at one the other night for lack of anywhere else to be, under the endless sun of the bright parking lot lights. We did ask permission and were granted it, but then at 1230am we got a gentle tap on the door that actually it wasn't OK and all the RV's in the lot were directed to a different Walmart 5 miles away. Note to self, must minimize these stops!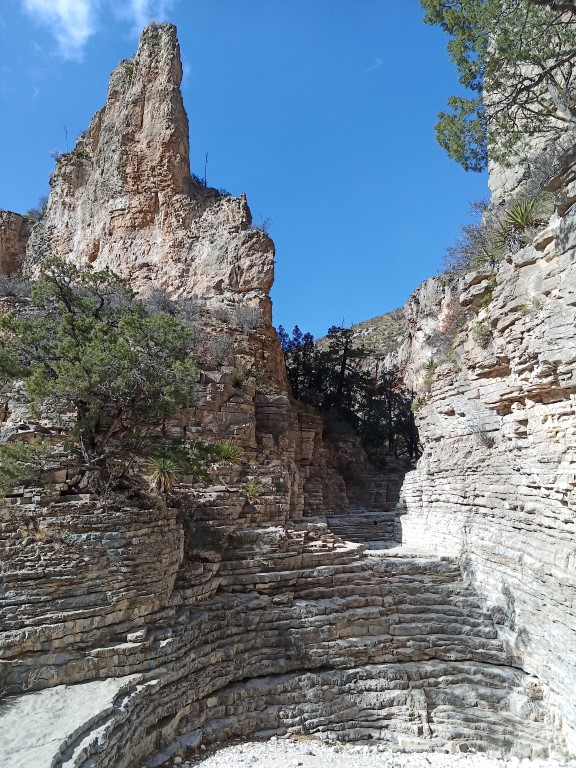 We've been having a nice time. After many years of wanting to get to the Guadalupe Mtns we made it and did some decent hikes there. The Guadalupes are above ground portions of the 400 mile long horseshoe shaped Capitan Reef from the Permian period. They are like islands in a sea of desert and full of fossils and weird geology. It really is something to see how much the equator has moved over millions of years and to picture all that area a sea. We did a great hike up onto a long ridge and saw a Common Poorwill on the trail. They are super camouflaged and we read that they rest in a state of torpor which it appeared this one was doing.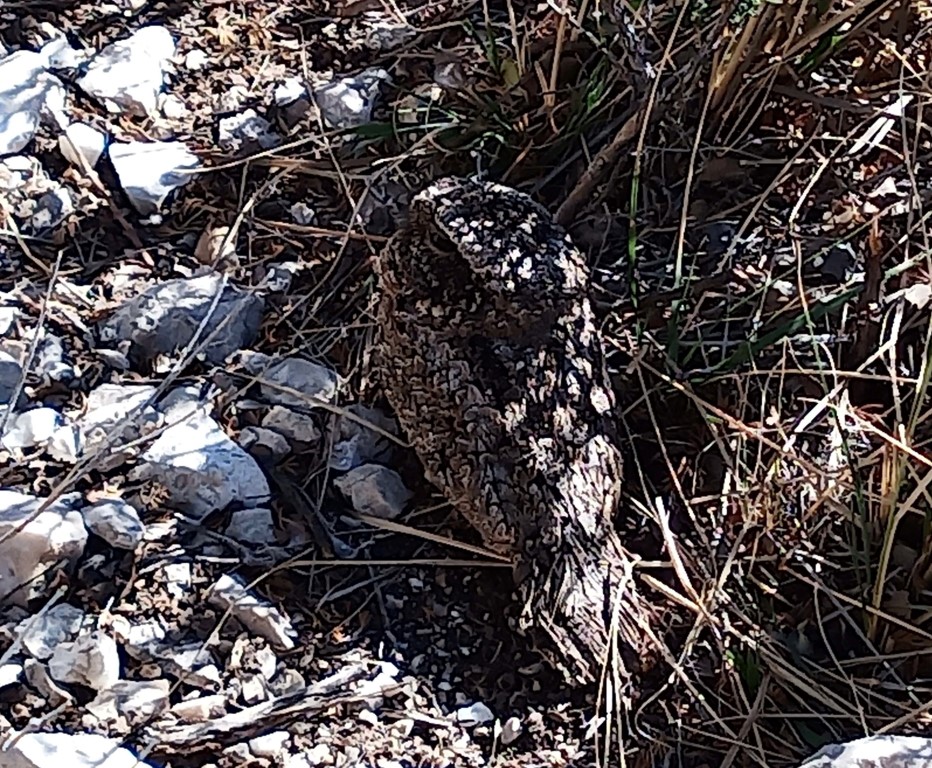 As soon as we crossed into New Mexico we started seeing a lot of BLM & Nat'l Forest land and really appreciate once again how wonderful it is to have those places to hike and camp in. And its great to wake up and look out our hatches and windows to beautiful scenery.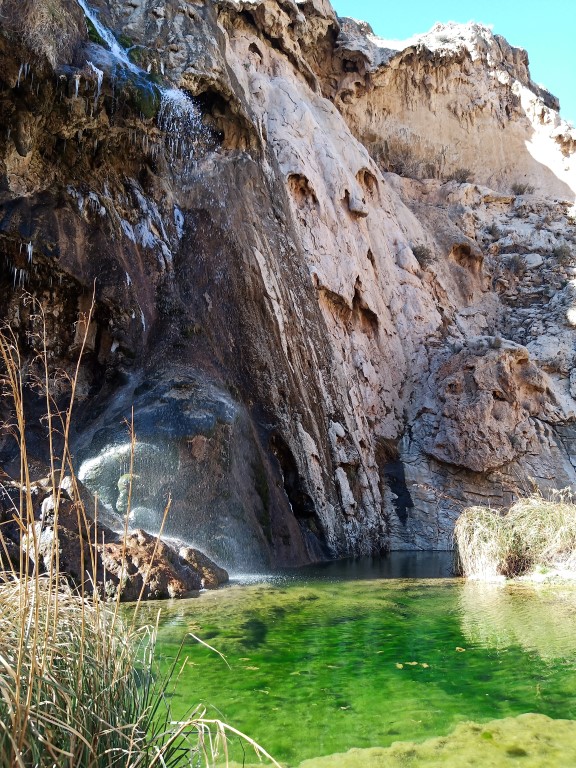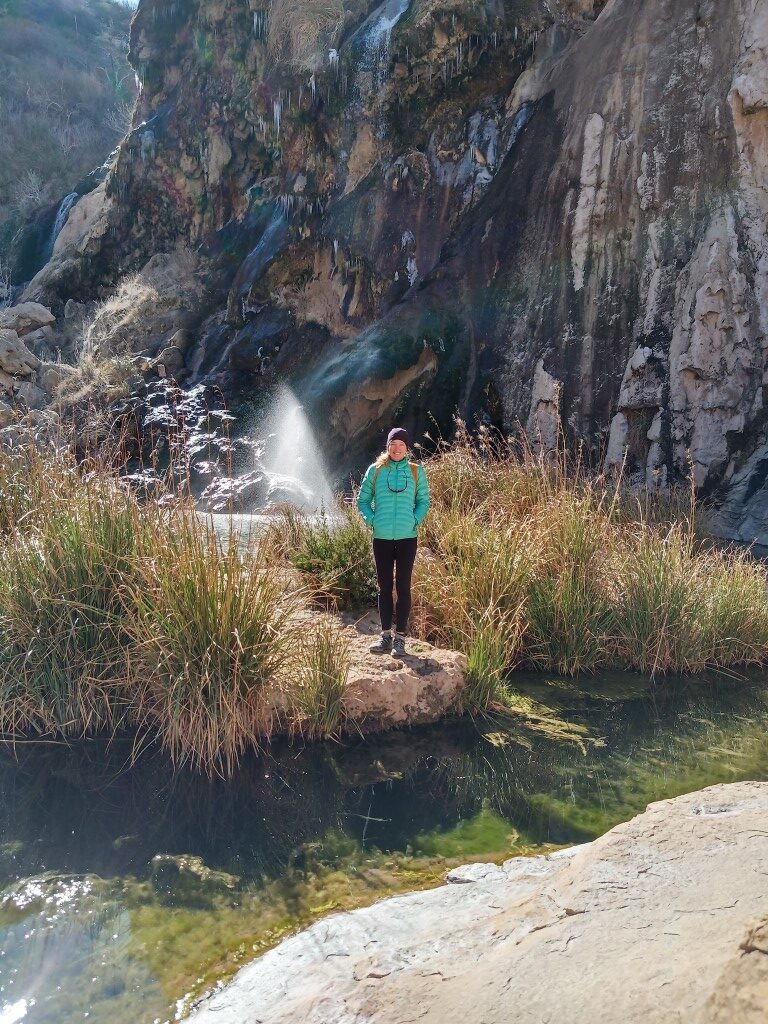 We went to Sitting Bull Falls, which is a graceful little waterfall in the desert that starts from a spring. In a national forest, which is really a mountainous desert, it is pure mountain lion territory. We did a remote hike up the canyon and saw 2 deer carcasses minus their heads and I have to say I spent a lot of my time that day looking behind me! It hasn't been particularly warm and we are forever pulling layers on & off while hiking. But the scenery is beautiful, the hiking addictive and there are birds everywhere. We startled a small herd of javelina; they resemble a thin pig. We're also seeing bighorn sheep, jackrabbits and a lot of free range cattle on BLM lands.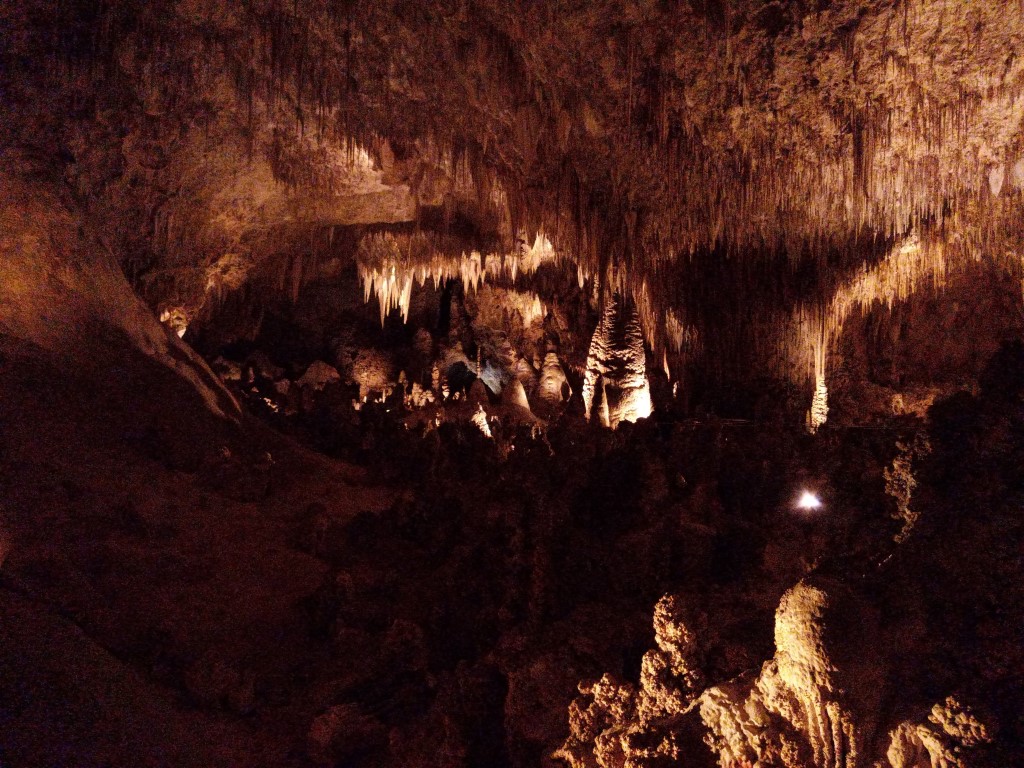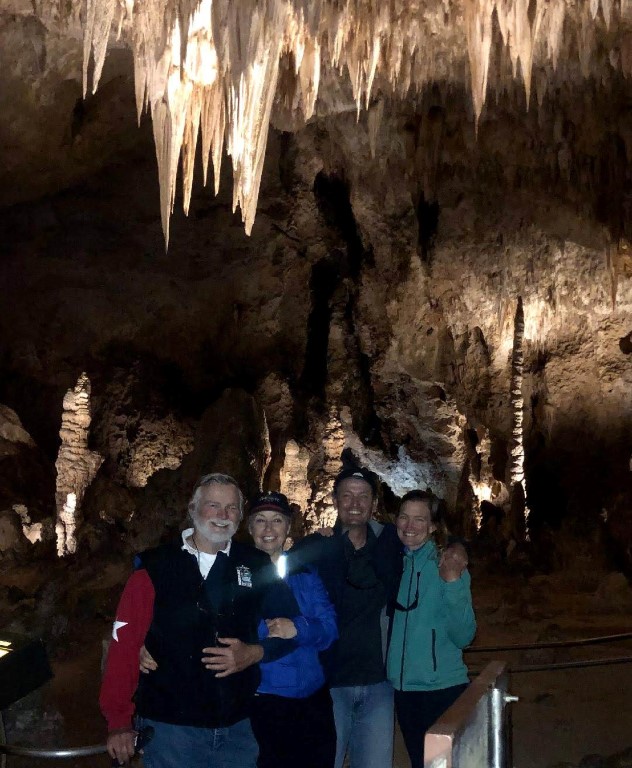 We met up with Rankin & Sandy again to do Carlsbad Caverns together and parked up nearby at a free, perfectly square, flat patch of gravel made into a campground on BLM land for anyone who wants to stop there. We arrived at the caverns early and literally had the place to ourselves for the first hour or so. Hands down the fanciest, largest and most impressive caves we've been to. We couldn't get over how you could tour most of the cave on your own with a nice path winding you through all the best features. There are thousands of Mexican free tail bats that summer at the caves but they're down in southern Mexico right now relaxing and getting pregnant. A ranger told us that very soon, they'll start trickling back, mainly the females, ready to give birth and raise their young in the cave over the summer months. She said it is like a big maternity ward and quite a spectacle ato watch them all fly out of the cave at dusk in a plume. We missed all that but still had a great time and then said goodbye once again to Rankin & Sandy.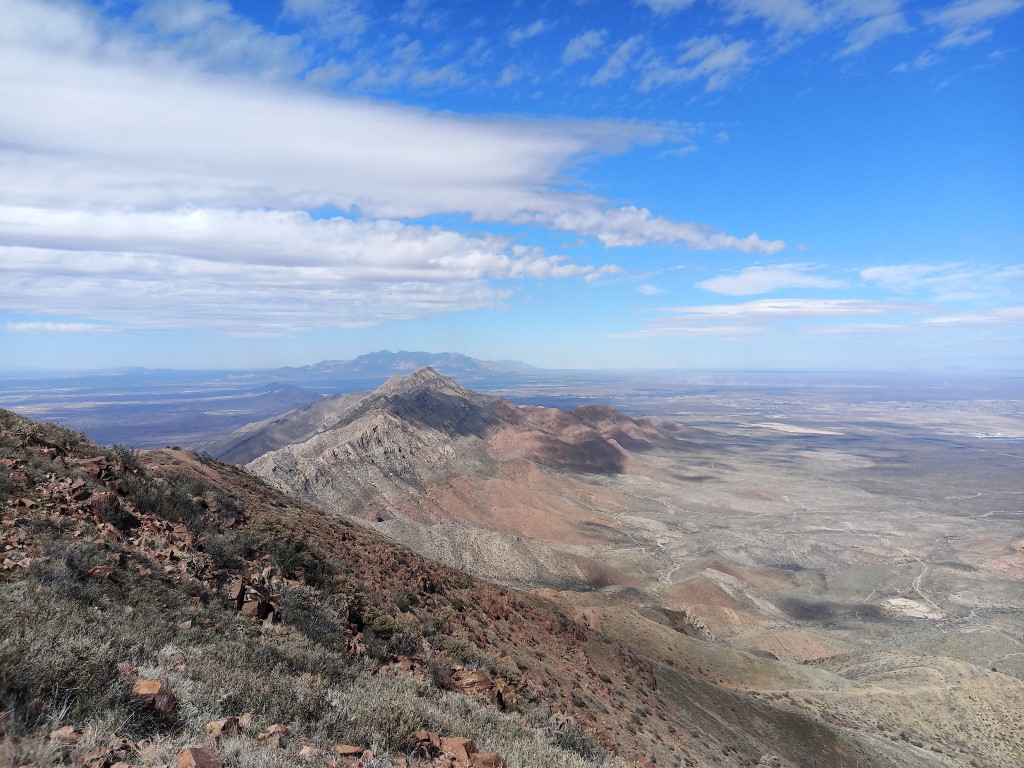 We spent a couple of days doing projects while parked at Franklin Mountains state park outside of El Paso. There was hardly anyone camping and we felt like we had the whole place to ourselves. We now have a porch light! We had to run a new wire for the tail lights since apparently the old wire had developed a short and while doing that we ran the wire for the back-up camera so now that's getting close. And we did a pretty hike up to the highest peak.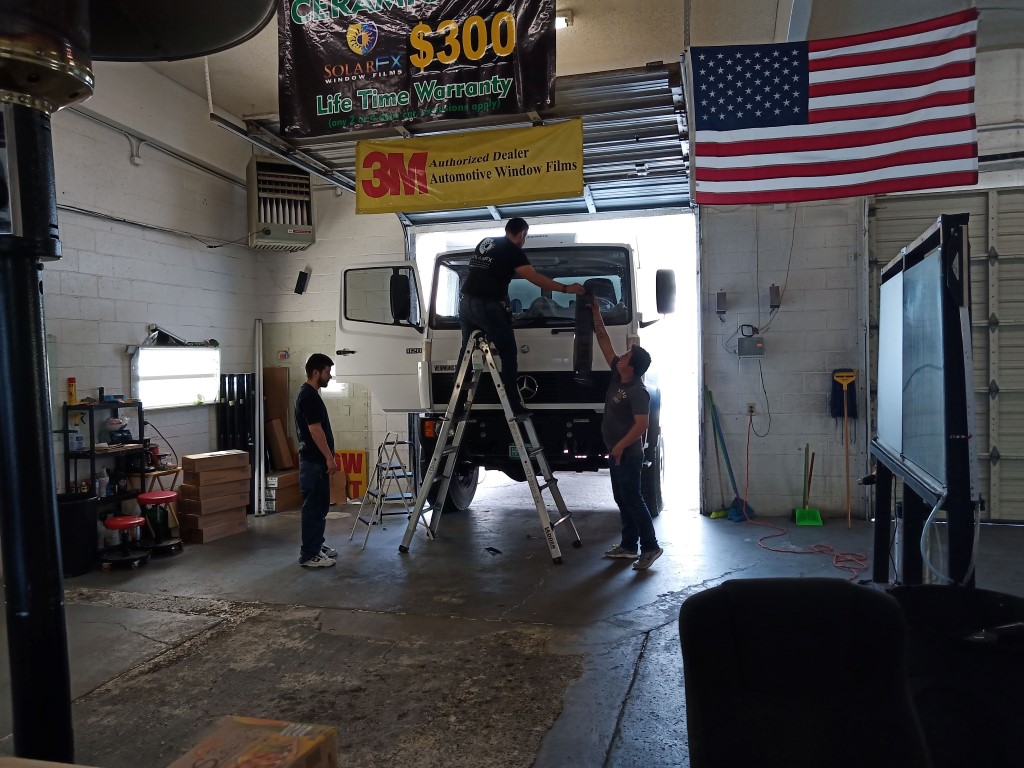 We were wondering if our truck could get any cooler?? Well why yes, it can! We decided to go ahead and get our windows tinted. All the big windows really let the sun pour in along with glare and with our new A/C broken already we figured this was money well spent. We're really happy with the results and while we didn't have the whole windshield tinted because we have a chip that needs fixing first, all the sides and back are done along with a brow so we're happy.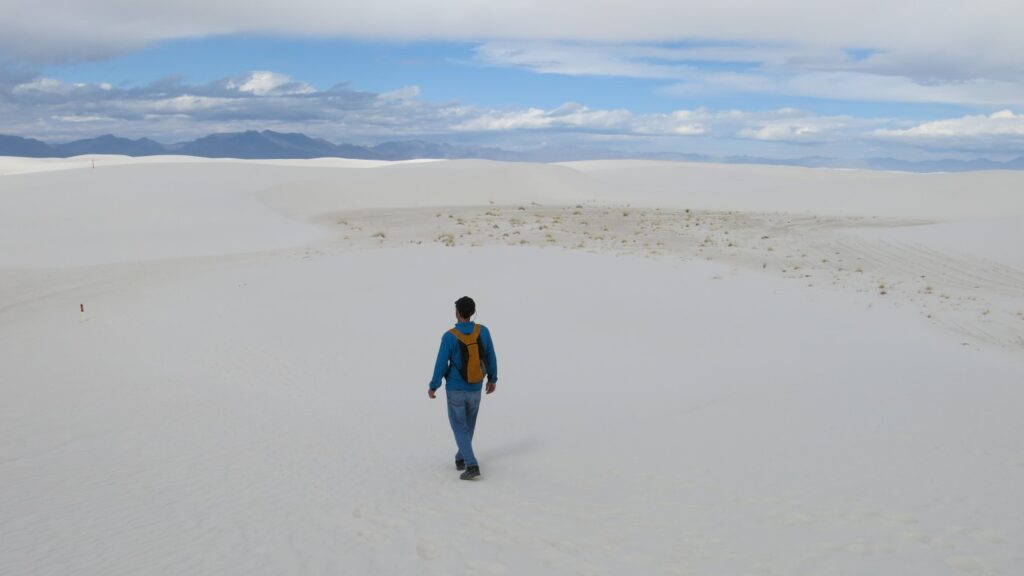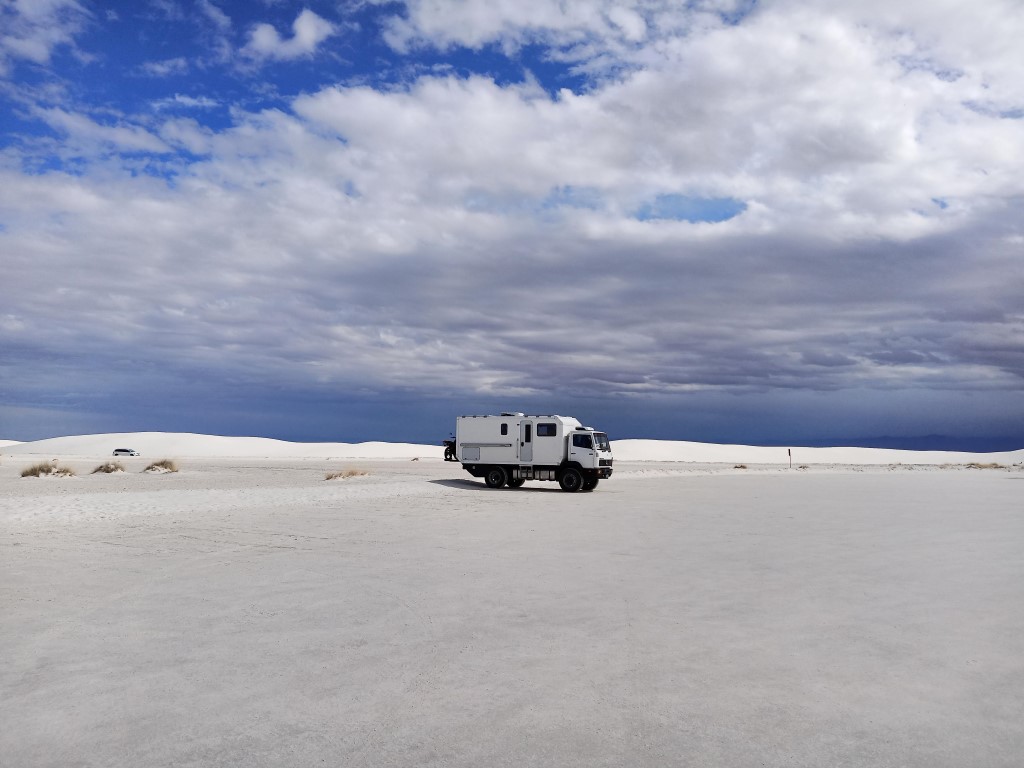 Then we were off to White Sands NP, the largest gypsum dunefield in the world. It felt crazy to have all that white sand and no ocean nearby. It was funny because it was an unsettled day with lots of unusual rain forecast but we figured what the heck, we'll go on the 5 mile dune walk regardless. And although the sky was sometimes dark gray and we could see rain in the near distance, we dodged it all that way to find it had poured back in the parking lot where the truck was.
We spent a few more days exploring around Las Cruces, NM which is a really nice town and abuts the Organ Mountains (a national monument) and some awesome camp spots right up against them. We saw & heard lots of coyotes and witnessed a fresh snowfall on the higher elevations. One thing we've learned about deserts is that they can generate their share of wind at times. All the warming & cooling. I read that not these but other deserts in the world have temp ranges of over 100 degrees in 24hrs. Wow! But one night we had 30kts. Have I ever mentioned that we're kind of burned out on wind for now? For some reason we thought we were getting away from it not being on the boat but I guess being buffeted all night while lying in bed and then seeing the tumbleweed rolling across the city streets answered my question. Wind is still in our life. Perhaps we should get a wind generator for the RV so we can enjoy that sound some more too.
We were reluctant to come back to El Paso because we liked smaller Las Cruces so much however we needed to do some planning and logistics for the springs and our hopeful crossing to the Baja soon. We finally bought some toolboxes to organize all the tools in the gear area and some minor projects like getting the motorcycle cover on. We've gathered that this area, especially just across the border in Juarez has seen its share of drug violence over the years although it is much better. The high metal border fence is close by and it feels disturbing on some level. US politics is so disturbing too, maybe that's it. Anyway, we plan to cross much further west -from California and hope the borders don't close with concerns for Coronavirus.
In the meantime, once the springs are on the truck, we'll make a beeline to Tucson to meet up with our friend Rob who we haven't seen since college and who has foolishly told us we could have packages sent to. One or two became about 10 because basically we are still building out this truck and there's always a list of more online ordering to do. The issue is always where to have it sent.
With any luck, all will go smoothly tomorrow and we'll be on our way shortly.