Get ready for a long one! See, I really like woodwork and my dad taught me when I was a kid how to work with it. Does that make me an expert, well nope, just an avid DIY'er with a general idea how to put wood together. We also are fortunate enough to have lived on a Tashiba 40 sailboat for the last 20 years. These are amazing boats with an interior that has over 2,000 hours of labor in it, and it shows. The joinery is remarkable and we both enjoy coming back home and opening the companionway.
So since this RV was to become our new home, replacing the sailboat we wanted a few features to make the full time life a bit more comfortable. So here is a quick list
Queen bed with good ventilation to reduce condensation
Comfortable seating area with table that would fit 4 people for dinner
Dry Bath
Stove and oven
Adequate fresh water
Refrigerator with separate freezer
Washer/Dryer
House bank large enough to support the above equipment
This is the bed platform under construction. We ended up with ash slats that support the 6″ memory foam mattress. Sort of like a futon frame, which will allow plenty of air to reach the bottom of the mattress. We learned while living aboard our sailboat in Boston winters how much moisture can accumulate beneath a mattress. One other feature to help reduce the condensation is that the hydronic furnace fill tank, water heater and one of the furnace heat exchangers live beneath the bed. This will help keep the cargo area nice and warm.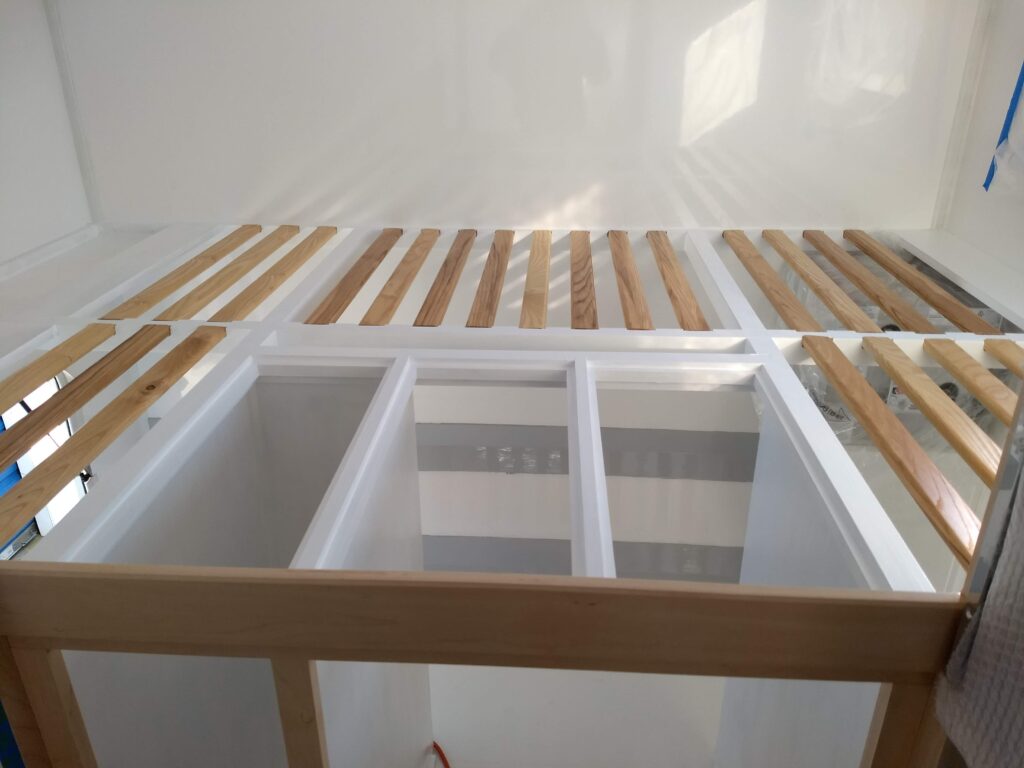 Coming from living aboard a sailboat we were used the U shaped settee and really liked it. So we designed the front end of the habitat to have the U shaped seating area. After a bit of measuring I realized that raising the seating area a bit would allow for more fresh water tankage and a chest style freezer below the seat. Also the raised floor portion would give a bit of storage and make a nice detail for the interior.