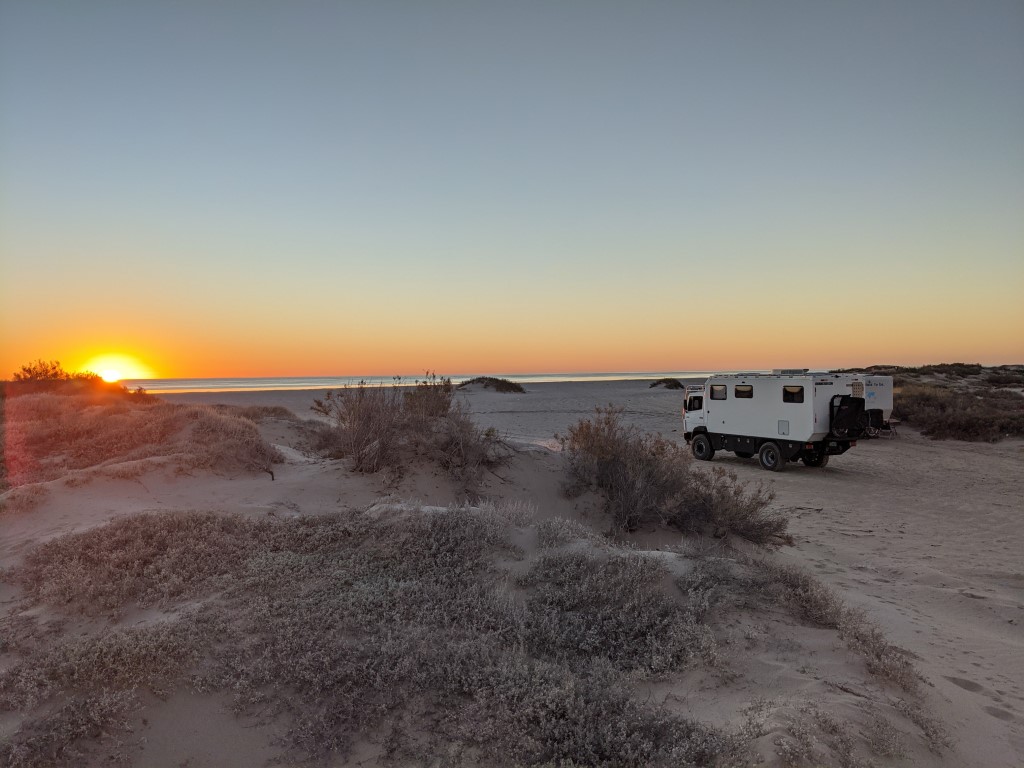 Last year in mid-March, when Covid was beginning to seep into every country and no one could spare a square of TP in the US, we crossed into Baja, Mexico. After so much anticipation all while building this truck, we were trying to stay on our plan to spend the winter there figuring the beach was as safe a place to be as any. But then 2 days later, we found ourselves in the middle of a mass exodus of Canadians & Americans trying to get back across the border because it was reportedly closing. We didn't want to be somewhere where we didn't truly belong or have rights to in those circumstances, when it came right down to it. And we didn't know that we are considered essential as citizens so supposedly the border is always open in that case. But it all worked out for the better anyway.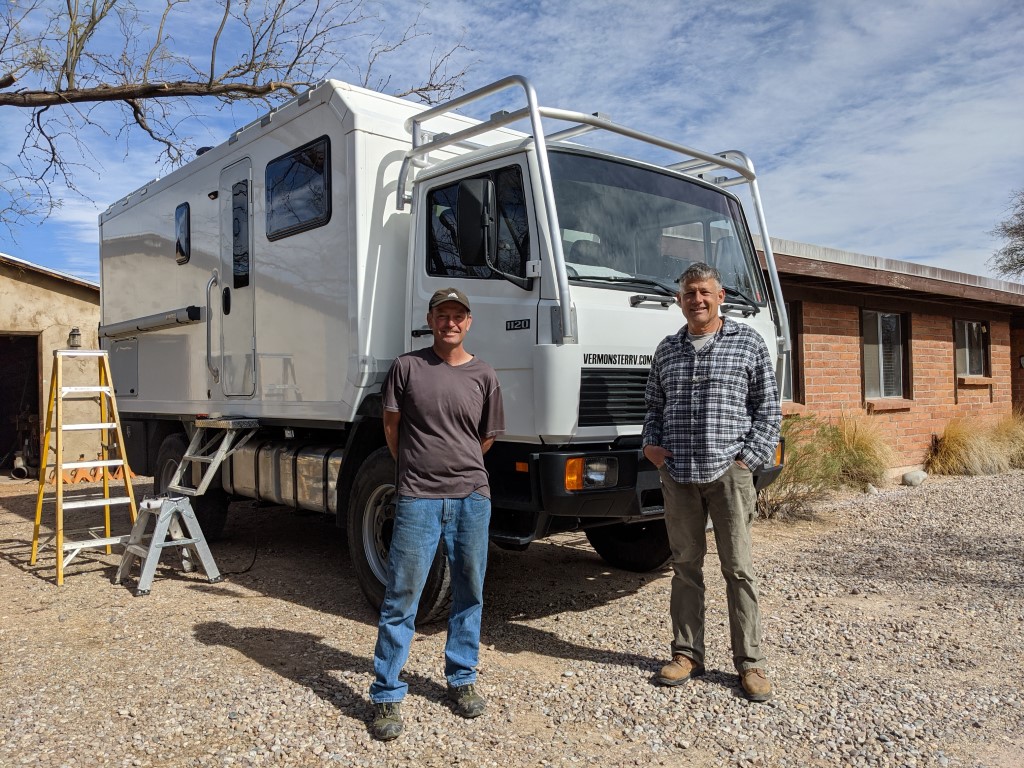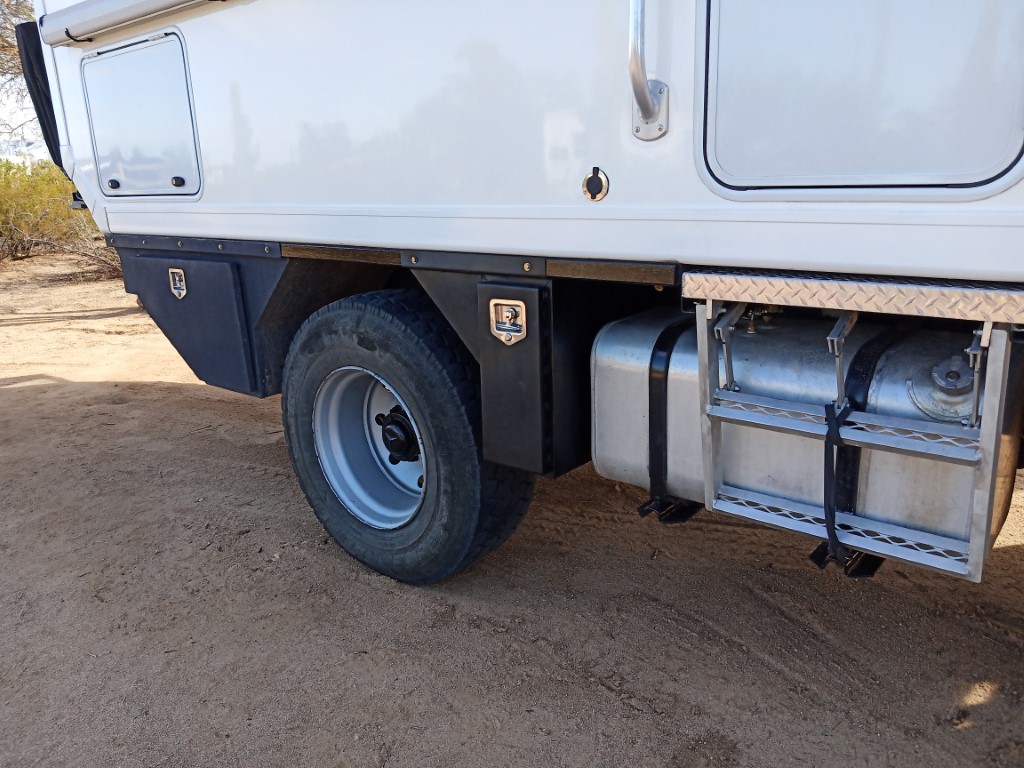 With plans to try again for this winter, we've been working toward getting ready for the past few weeks. Originally, we'd envisioned having some welding done in Ensensada remembering back to having a fantastic arch made for our boat in Columbia years ago, and at an affordable price. But even though Jon searched and searched, no place on Ensenada (we were looking for a marina for some aluminum welding work for the truck) was willing or had the time. So then we started looking in Tucson. At first, no one had time or the claims on their website that they could bend and weld aluminum weren't really accurate. But then finally, we found Tom of Arizona Performance Offroad and he was willing to take on our projects.
So we spent a week in his driveway having a roof rack built for the truck to Jon's design- not to carry things, but to provide mounts for light bars, an air horn & protection for the windshield & rooftop AC from branches and such. It also helps to balance the truck we think. We felt we needed more light to see when heading off the main road to find campspots after dark and we needed a mightier horn for other countries where a lot of friendly and safety type communication gets done by horn. We like how it turned out and it was really nice working with Tom. My only role on the rack was to keep the guys going with sweets in the afternoon (what a pink job!), to ocassionally help them move it on & off the roof and to do the final cleaning and burnishing of it when it was completed.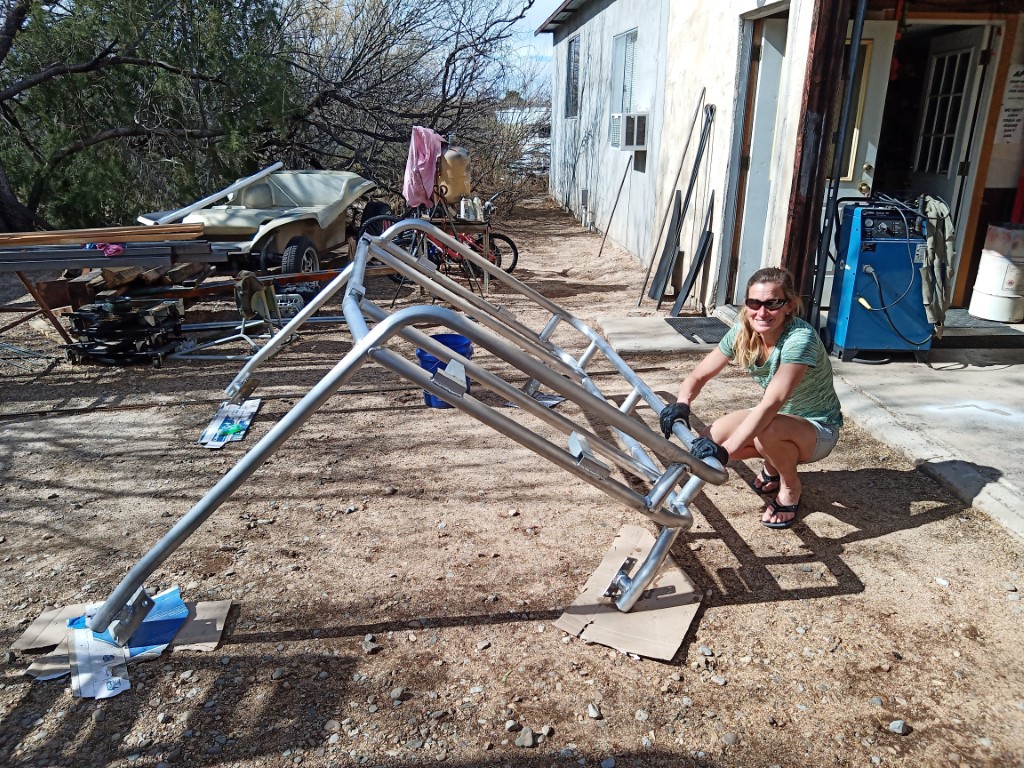 Tom also helped us knock out the last understorage box that also forms the front of the rear wheel well. We always wanted it but got so burned out in NC with all the welding that was being done that we just had to take a break. Now rocks and sand won't kick up onto the fuel tank and there's room to store a few things in there. And, we needed a couple other little welding fixes so all in all, a very productive week!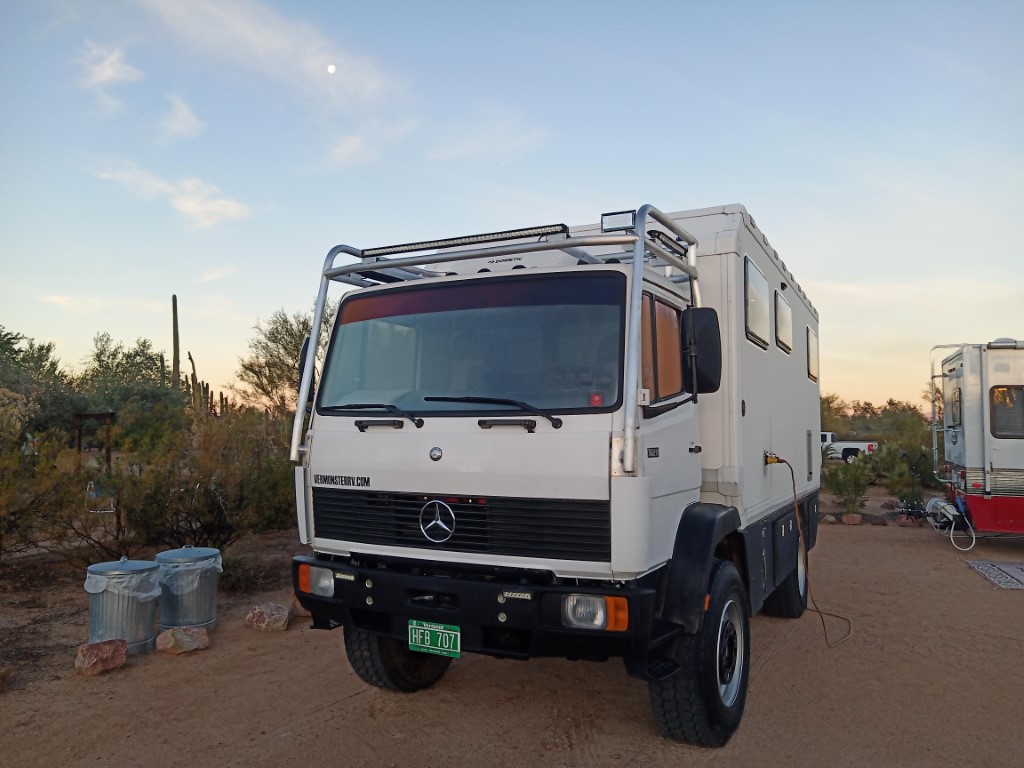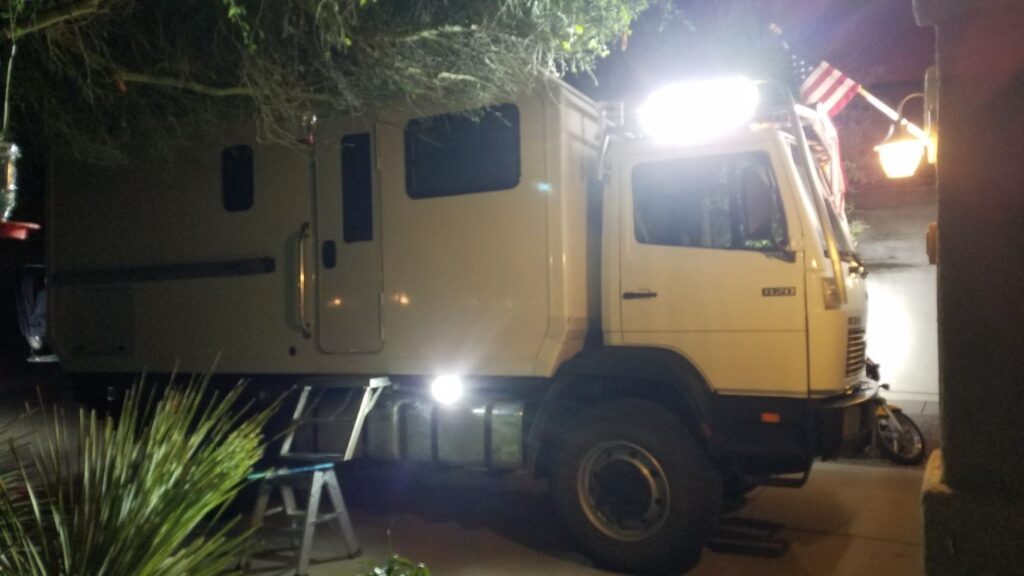 Once that was done, we went back to the Tucson Snowbird Nest for 4 days to finish out the installation and hang out more with Jan & Rich in the evenings. We worked really hard to get the lights on, the horn working, the new box primed, painted and installed, the oil changed, the battery shut-off switch and a new USB power port mounted in the cab, some caulking & touch up painting done, stock up on groceries and to get some much needed exercise. The light bars gave us a bit of a scare at first. Jon got them installed and we hopped in the truck to go to a trailhead. At about 20mph, this ear piercing whistle would come from somewhere around the roof rack. It was deafening for us and anyone we passed. We were certainly turning heads! We did some fretting but as soon as we got back from hiking, Jon got on Youtube and sure enough, there were several videos from others describing how these style LED light bars often make this terrible sound when the wind passes over their cooling fins at a certain angle. Why in the heck would a company not fix this known issue is anyone's guess but, fortunately, people have devised ways to stop the sound. So back to Home Depot to buy rubber baseboard trim and Gorilla glue so that Jon could make a deflector to stop the noise. It actually worked! We bought a spare piece in case this falls off because the noise is that bad. It only happened on the front bar.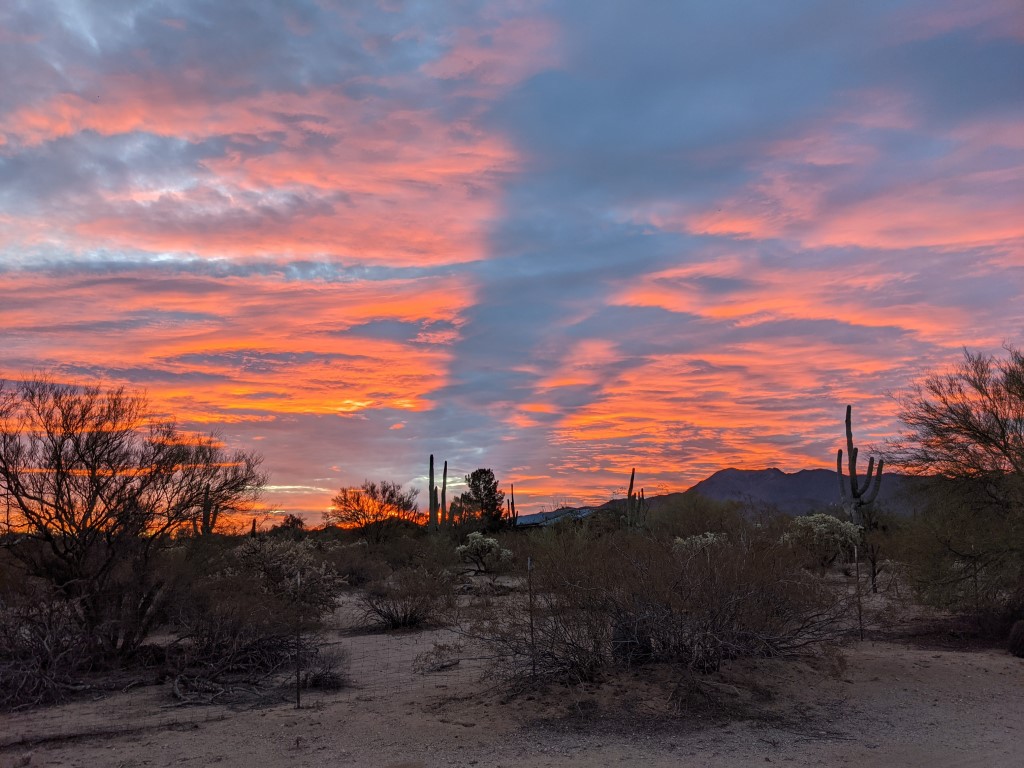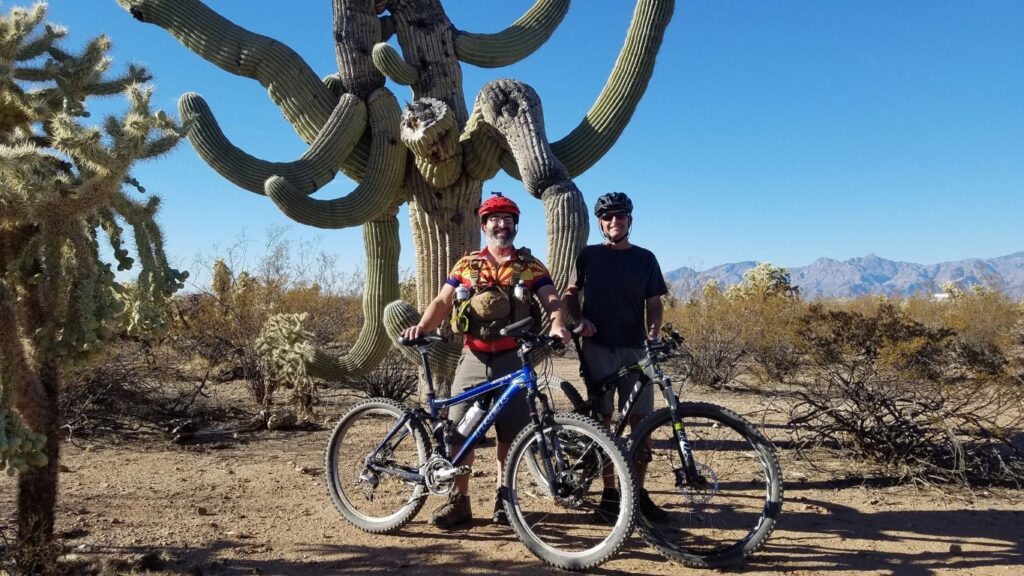 We both felt blue when it was time to leave Tuscon. It was nice actually having people we knew there. Rob and his parents have been great fun while we've been in Tucson. We finished out our time with a bike ride through the desert and a night of Thai food.
The next morning, we made a beeline for the Calexico, CA border and camped near to it that night. We calculated our mileage again and we are still getting about 13mpg. Our truck gets pretty good mileage for a house! Happy with that as we weigh 20,000 lbs at a recent weigh-in. Calexico doesn't have much to make it special. All about agriculture, the whole area smells like fertilizer or something. You feel like the land is worked hard. Trucks carrying pickers and port-o-lets scrurry between the fields. We had that been there done that feeling and were anxious about whether we would make it across. Crossing here makes for a straight shot down the peninsula which was appealing. We did our clearance paperwork online ahead of time to save hassle and interaction at the border. It didn't work out entirely hassle free, but we got through in about 30 minutes and were on our way.
I don't really understand exactly why, but Mexico uses military checkpoints at periodic stops on the highway. Staffed by young miltary men, they are looking for drugs and human trafficking primarily. Our experience has been that they enjoy seeing the inside of the truck! Both with our masks on, I presented the interior for inspection to one and he went about tapping the ceiling, opening the dish and silverware drawers, really zeroing in on the pullout additional counter space that we never use, the fridge, asked me to show him our food cupboards, rubbed has hand across the bed stating "la cama" and then pointed to our wine area and exclaimed "vino!". Then he seemed happy and we were on our way again.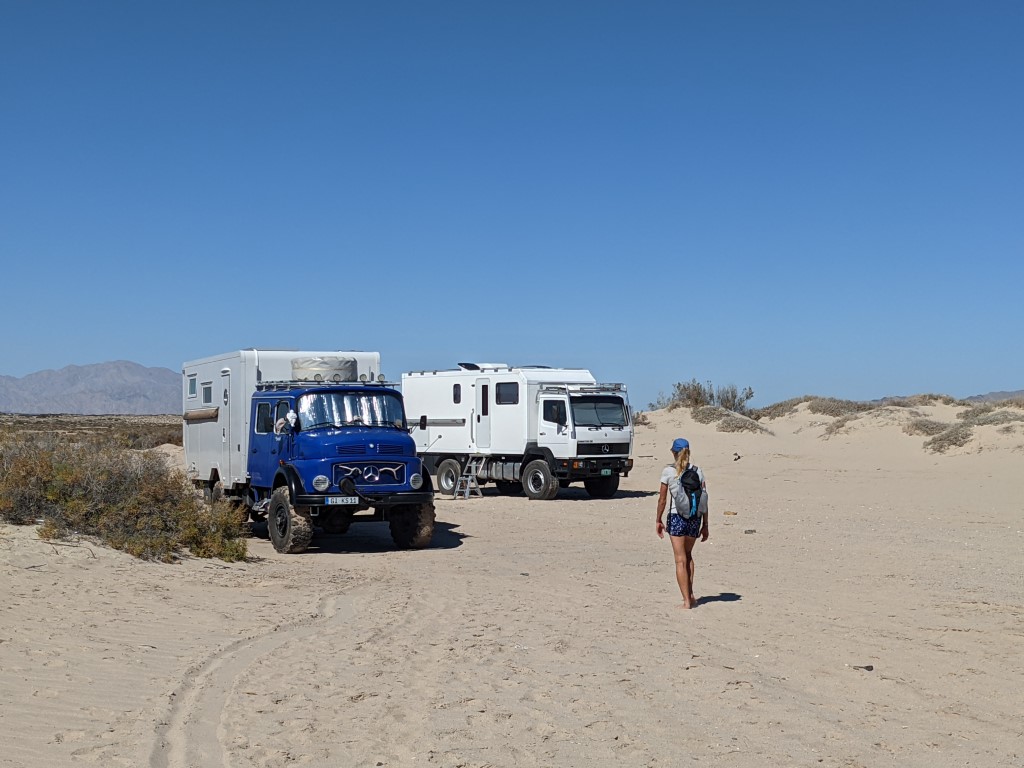 In less than 3 hours, we were parked in a lovely campspot on a lonely stretch of beach south of San Felipe and finally able to meet up with Sandie & Karsten. We've been corresponding for months with this German couple in hopes of meeting up with them because they have the cutest MB expedition truck affectionately named "Ewald" and they are among the few people we know who like the do the same kinds of things we do. Once our covid quarantine period is over, we can all hang out a little more like real friends!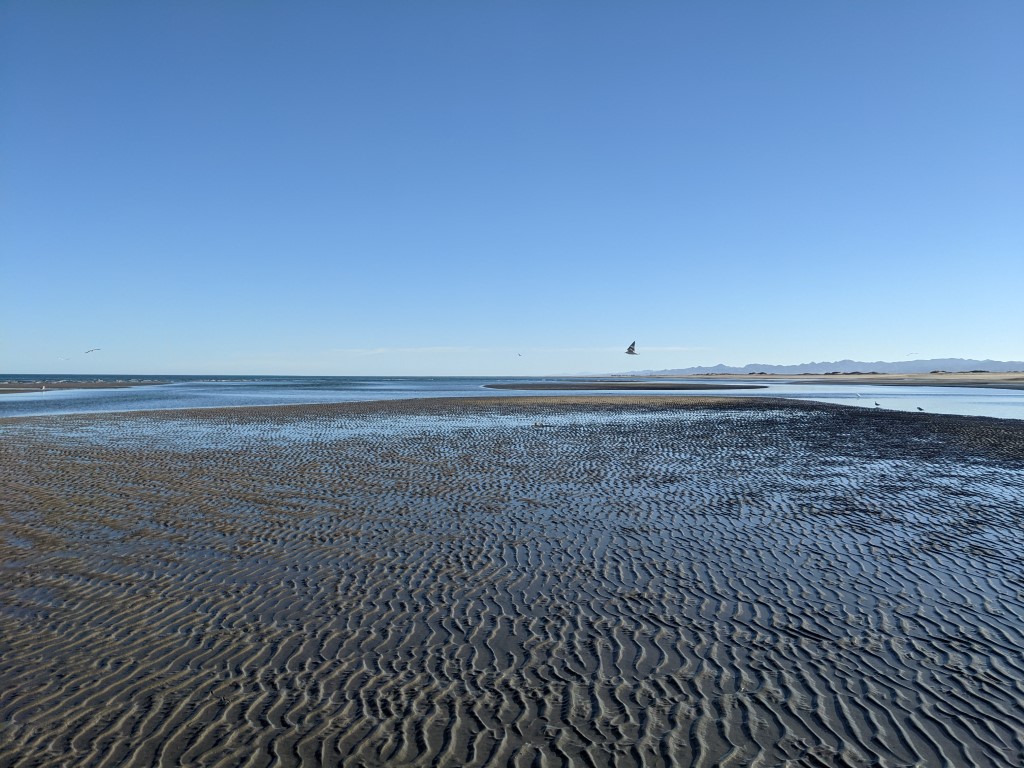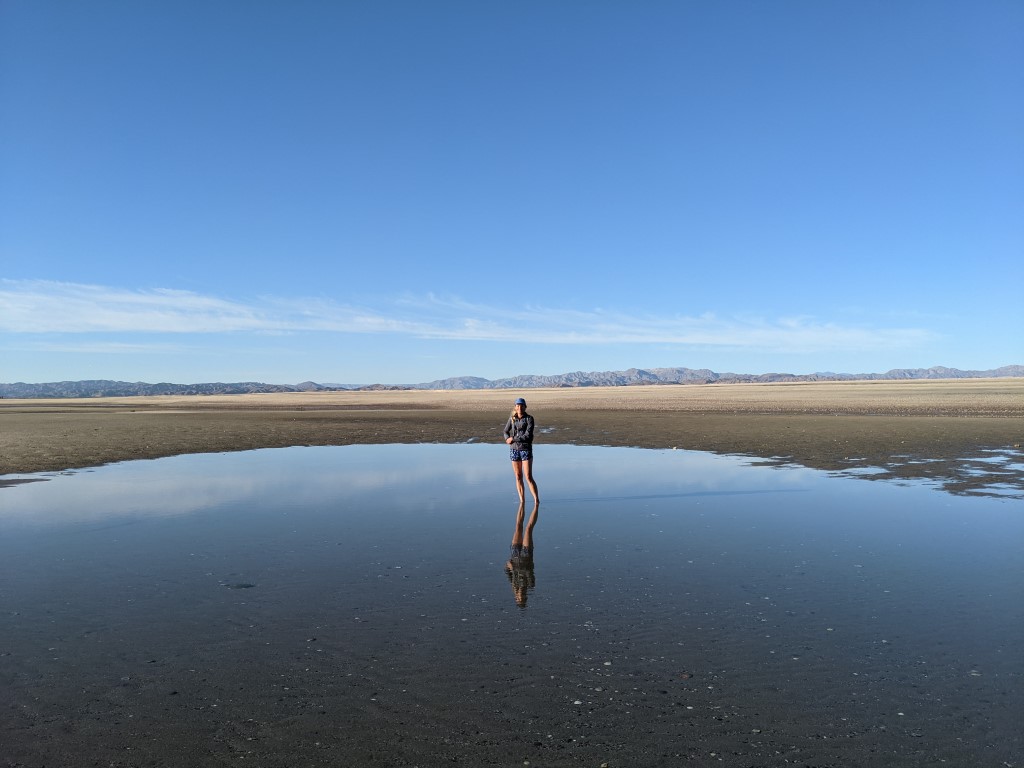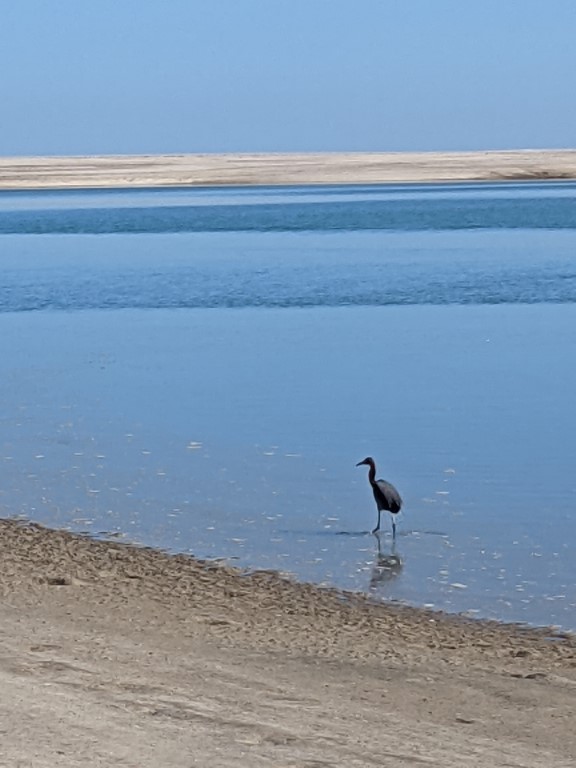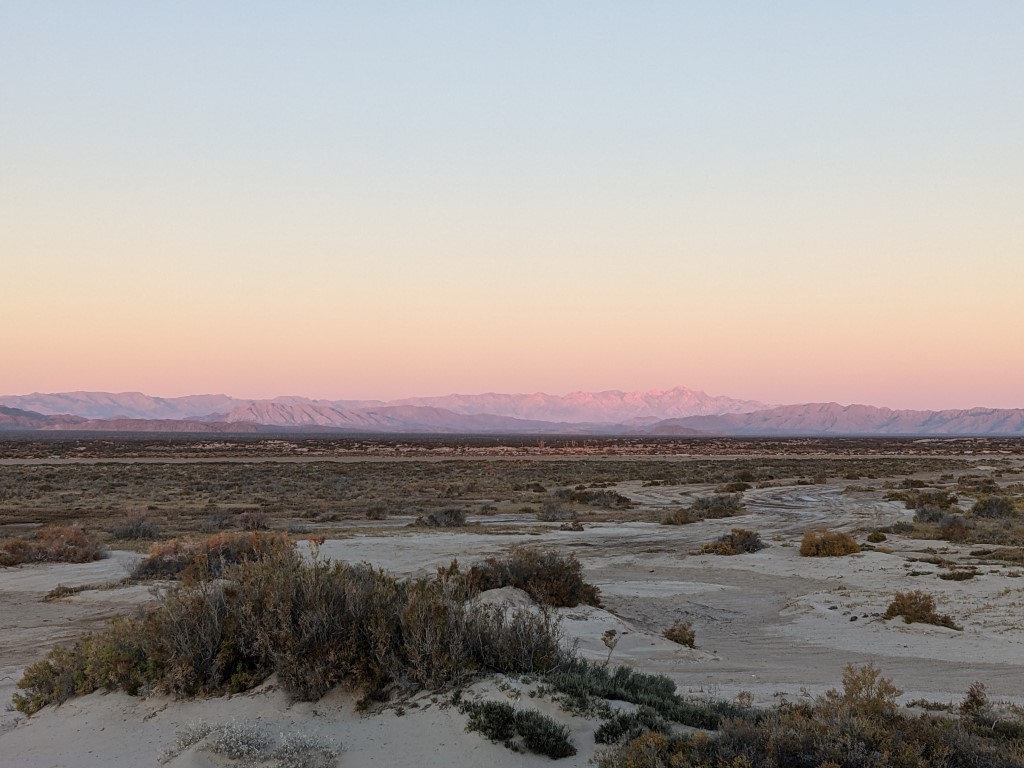 It's beautiful here. The beach is long and flat and there are endless tide pools to explore. The sand dollars are thick like none I've ever seen. We've noted all kinds of birds including pelicans & boobies, some of my favorites. Jon & I don't ordinarily linger in places but its been fun to do so here. We are trying to slow ourselves down a little. Mentally, at least for me, it feels odd being here on the land side of things. I keep looking out to see where the boat is. I'm OK with all of it, it just feels like it was in another life.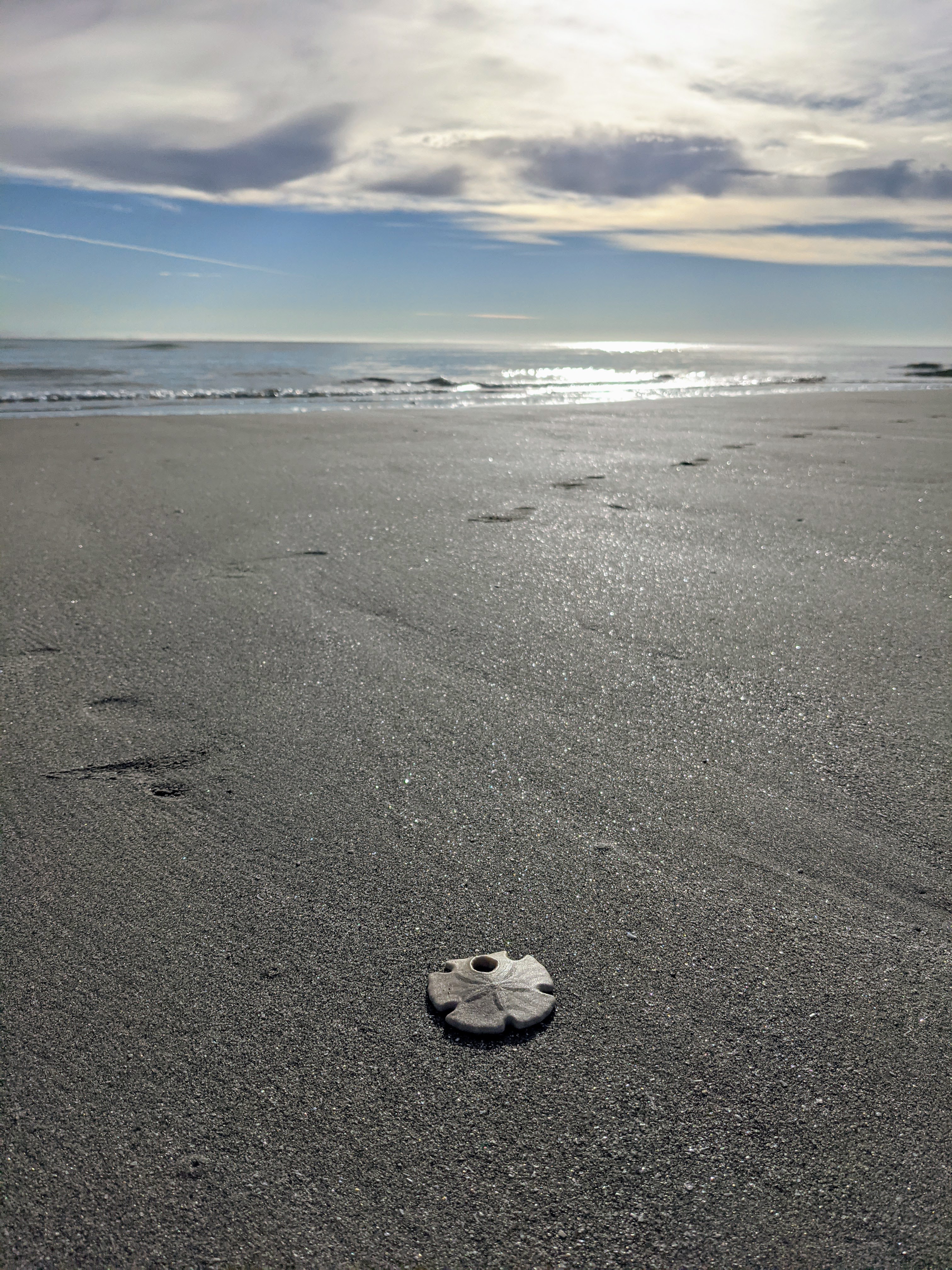 We only have to share this beautiful spot with about 500 flies. They enjoy slipping into the camper to relax when we're entering and then they drive us nuts until we swat them. This morning Jon & I took a long walk on an incoming tide and on the way back, the water had risen so high that we had to go around the backside of a sand spit into some vast mudflats in order to not have to swim across. I didn't realize it but there's about a 10 foot tidal difference here. Trudging up to our knees in deep mud, we were cracking up over how hard it was to stay upright and good thing there was no one around to see us doing this. We got back to the truck and were finishing lunch when in rolls Sandie & Karsten from a walk laughing at all the knee-deep mud they had just trudged through…… how we missed seeing each other I don't know. But apparently, we have something in common.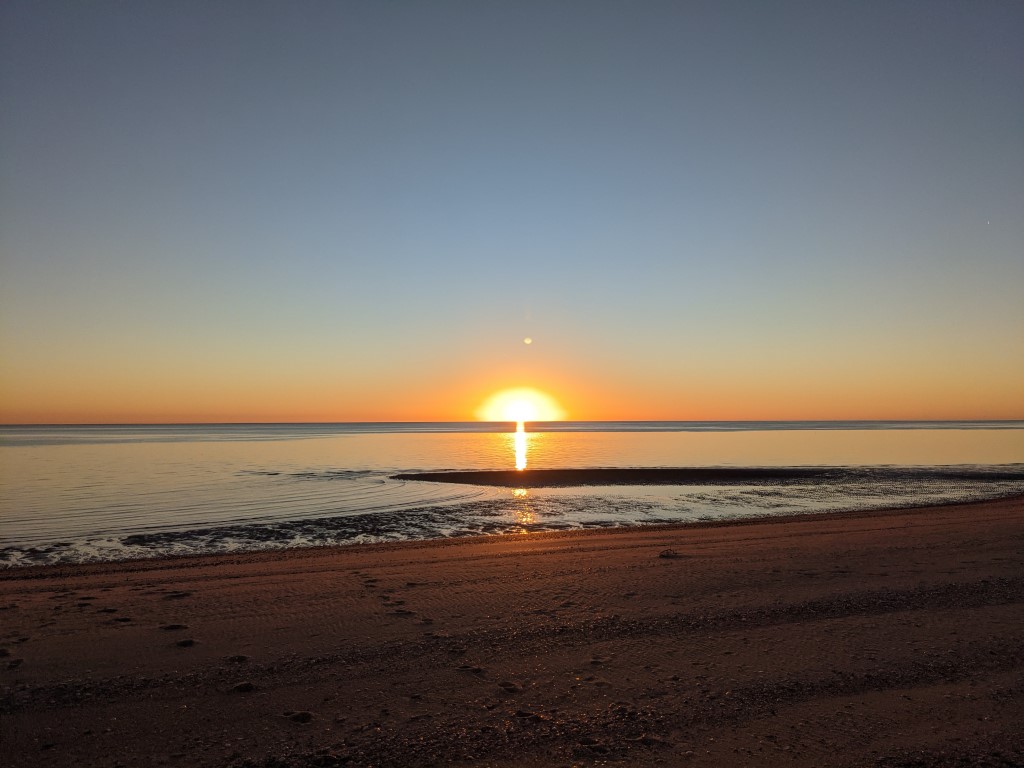 I had hoped to spend my 52nd birthday by the water, in the sun, in the Baja but I wasn't counting on it given all the uncertainly this past year. But here we are, finally. We are both so glad to be here.