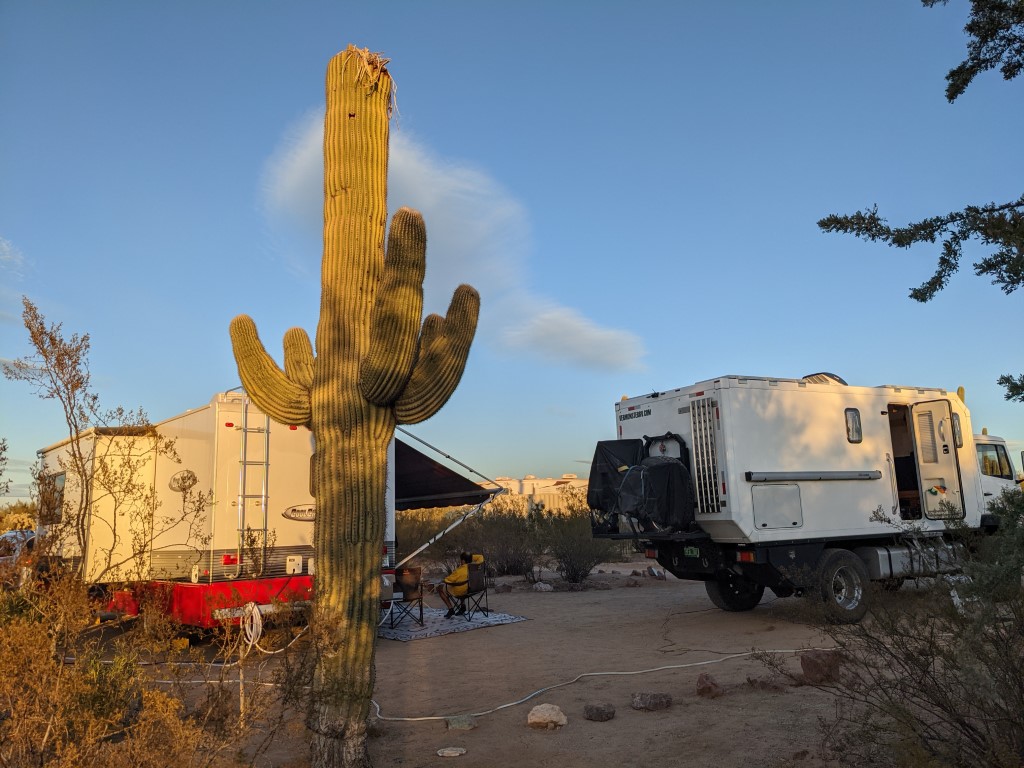 Our latest temporary home is the driveway of the owner of Arizona Performance Offroad in Tucson where yesterday, the fabrication of an aluminum roof rack/light bar began. Considering we have that, the last understorage box and a few other little welding projects, Tom offered for us to just stay here while he & Jon attack the project. Since home is where you park it, it's just fine! There is even a spring nearby that makes an oasis. Except it's snowing at the moment! And the power just went out for a little bit. Crazy weather.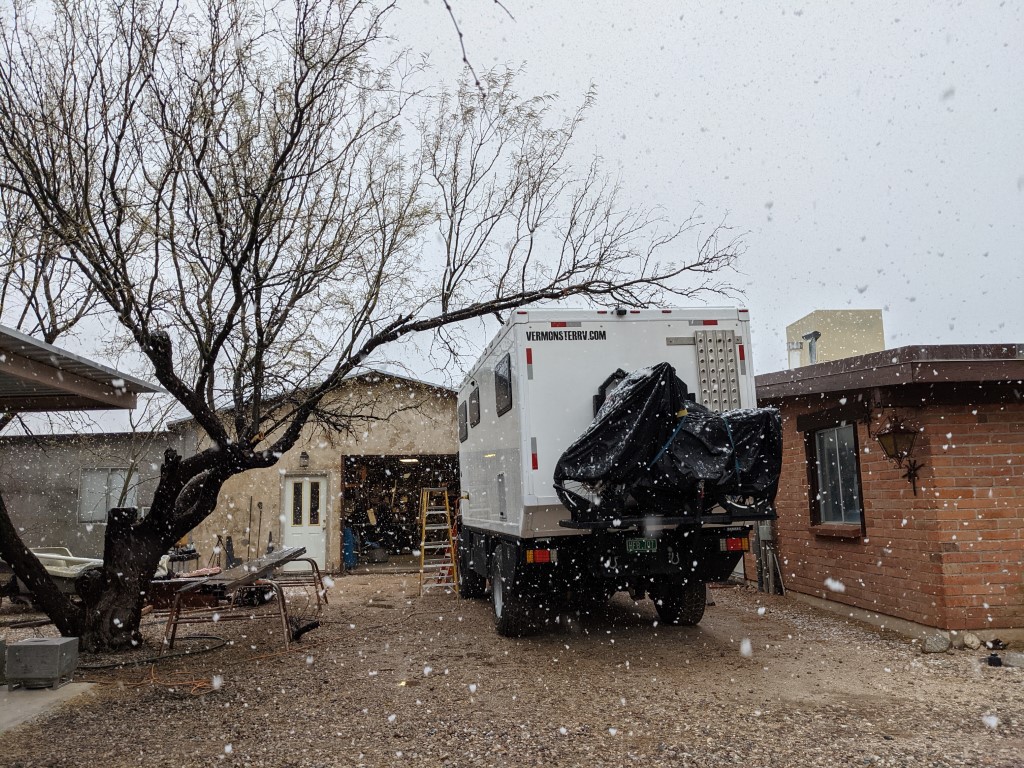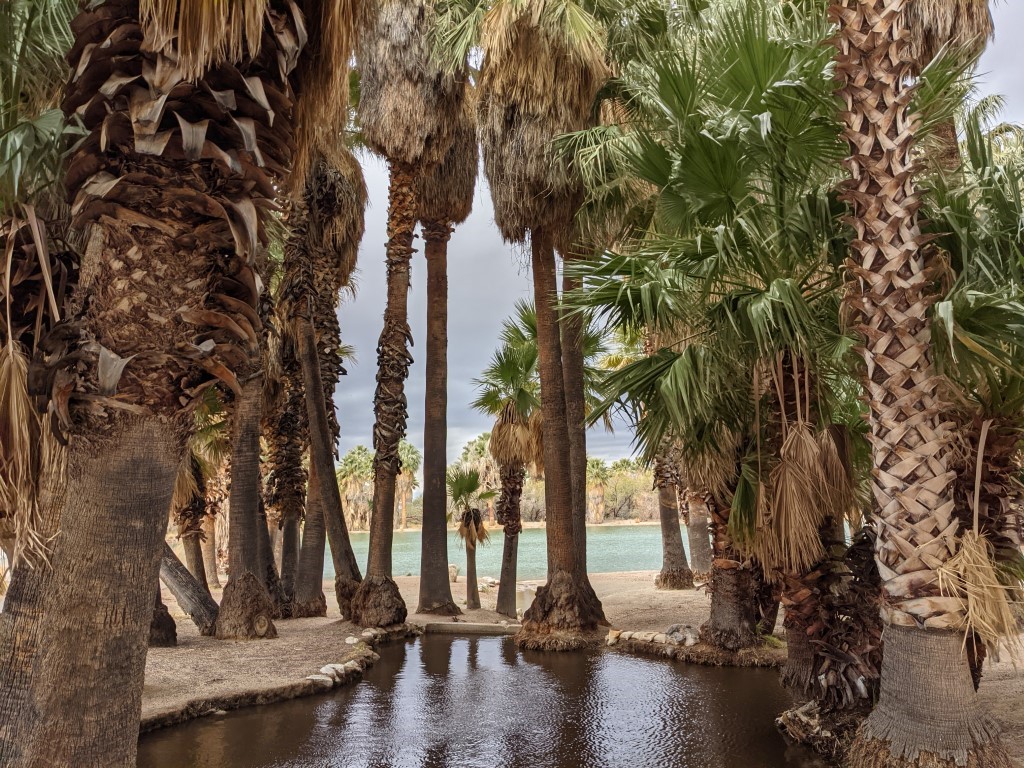 Since these things have been on our wish list for over a year now, it feels good to get going on them. It wasn't easy for Jon to find a shop willing to do the work and in a timely fashion, so we feel very fortunate to be here. On the night before we arrived in Tucson, we pulled into an offroad BLM campsite well after dark and aside from the beam of the headlights, we can't see a thing to the sides and above the truck. So that will change with light bars all around. And in prep for Mexico and other countries where an air horn loud enough to indicate your size is a necessity, there will be a place for that too. Our truck came with a wimpy horn, maybe because it was full of sirens and blue lights as a fire truck but it won't do. There is space for one more understorage box that will also form the front wheel well for the passenger rear tire and protect the fuel tank so that will be good to have since a ton of rocks and sand get thrown up onto the fuel tank when its wet. Speaking of wet, the first week we were in Tuscon was gloriously warm and beautiful and now, like much of the country, we are back to cold, wet dreary days and even had to turn on the furnace last night. Hope that passes quickly as we will need dry weather to paint the new box. We expect a few days here for these projects and then shortly after we are hoping to move toward the border for another try at the Baja.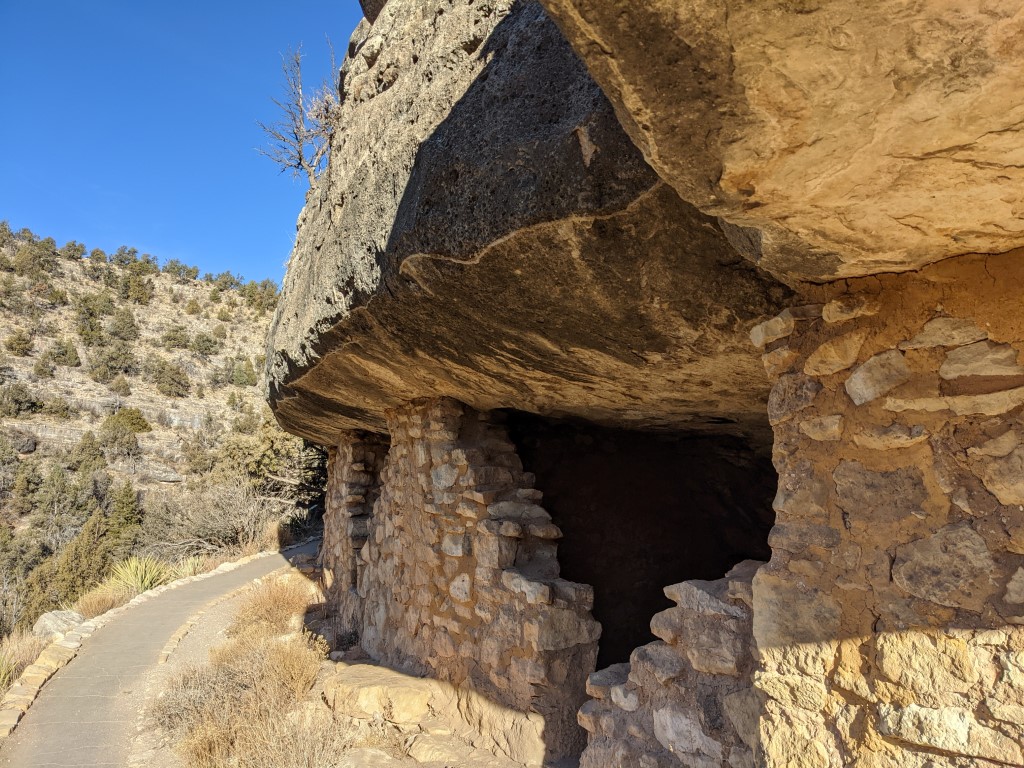 After we left the Grand Canyon, we spent a couple days around Flagstaff and explored 3 national monuments there that preserve old Puebloan home sites and volcanic landscapes. The first was Walnut Canyon, where about 800 years ago, the Sinaguans made extensive cliff dwellings in an area without much of any water. The limestone walls of the canyon from a very old sea made it easy enough to carve out hundereds of homes on the cliffside.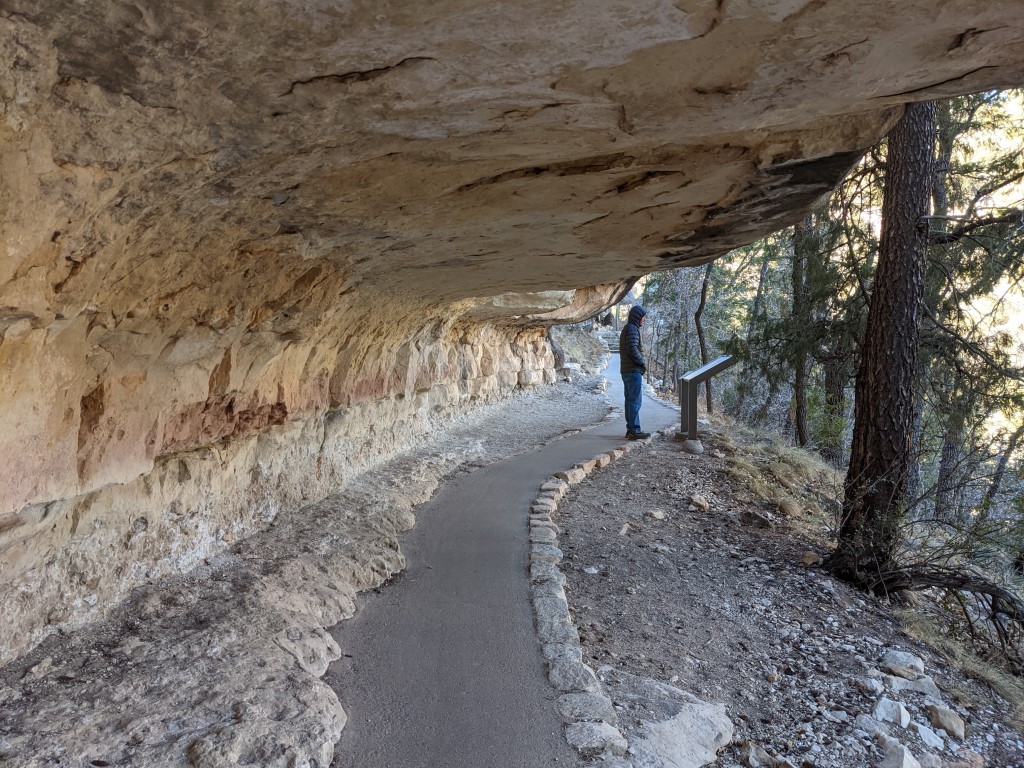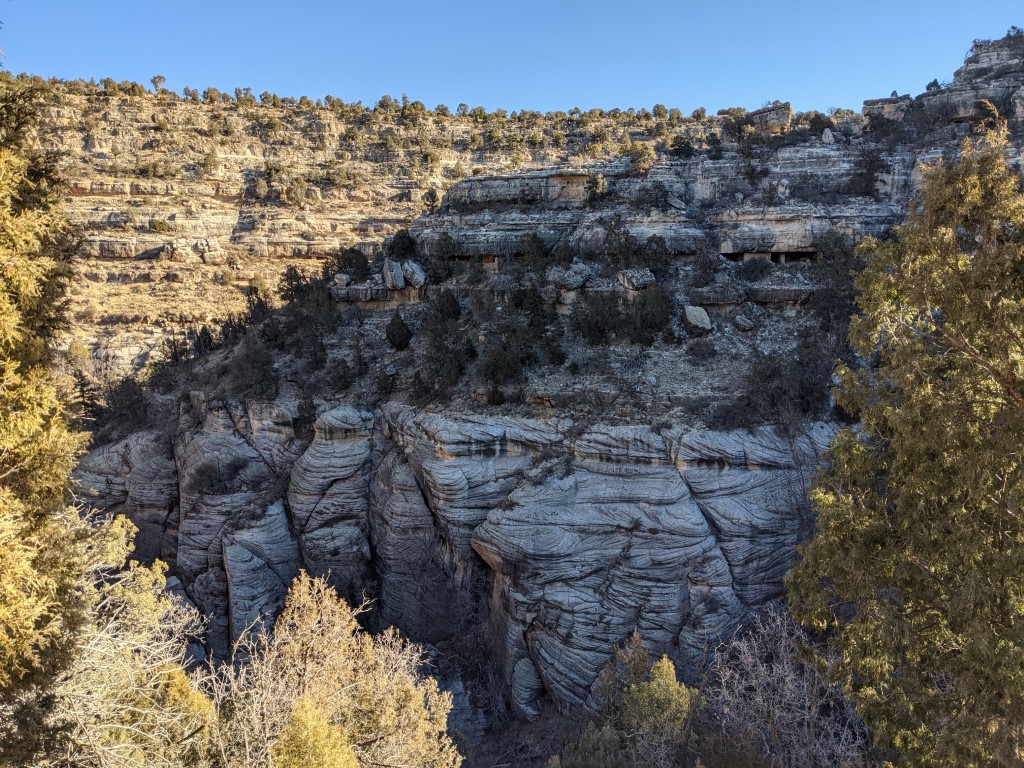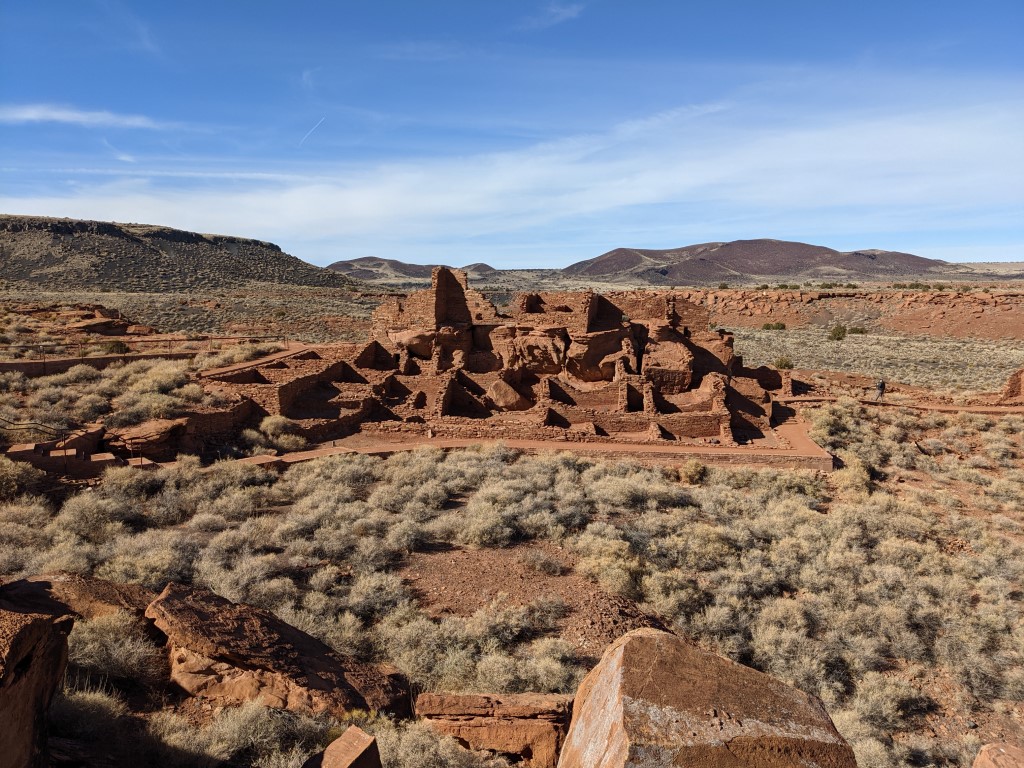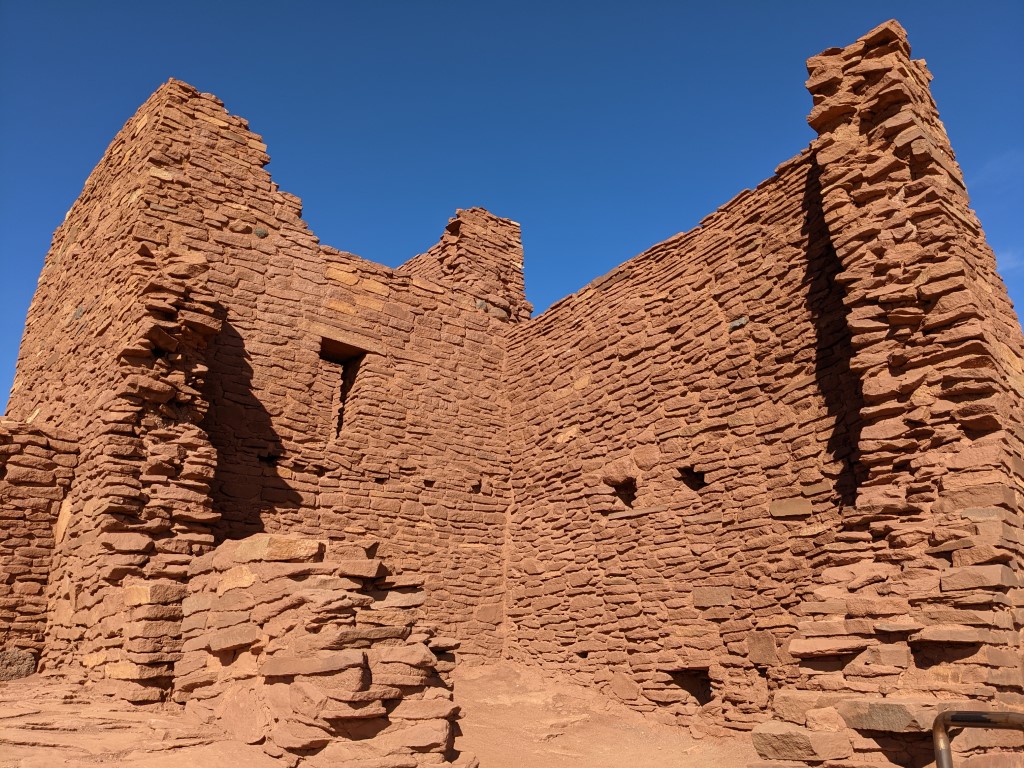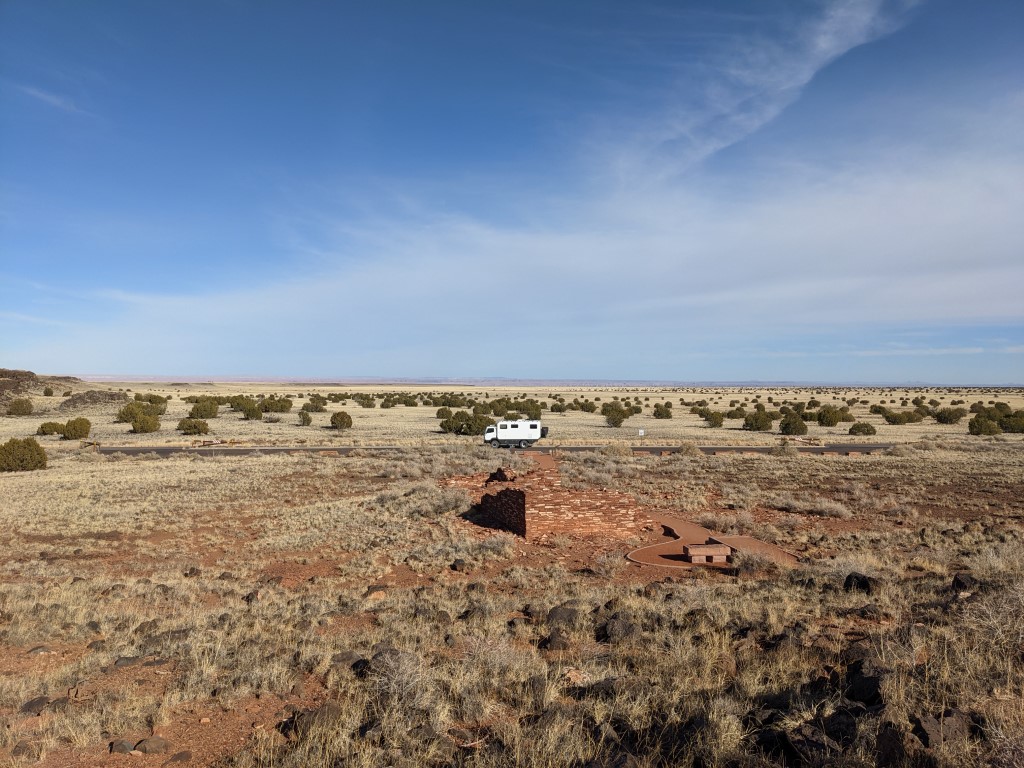 Wupatki is another well preserved Puebloan site nearby but much lower in elevation, situated on the flanks of an active volcano area. By 1180, thousands of people were farming this area and lived in pithouses or in elevated multi-story buildings, the most elaborate being Wupatki Pueblo which had a bout 100 rooms! It was fun to walk around these structures and really pretty.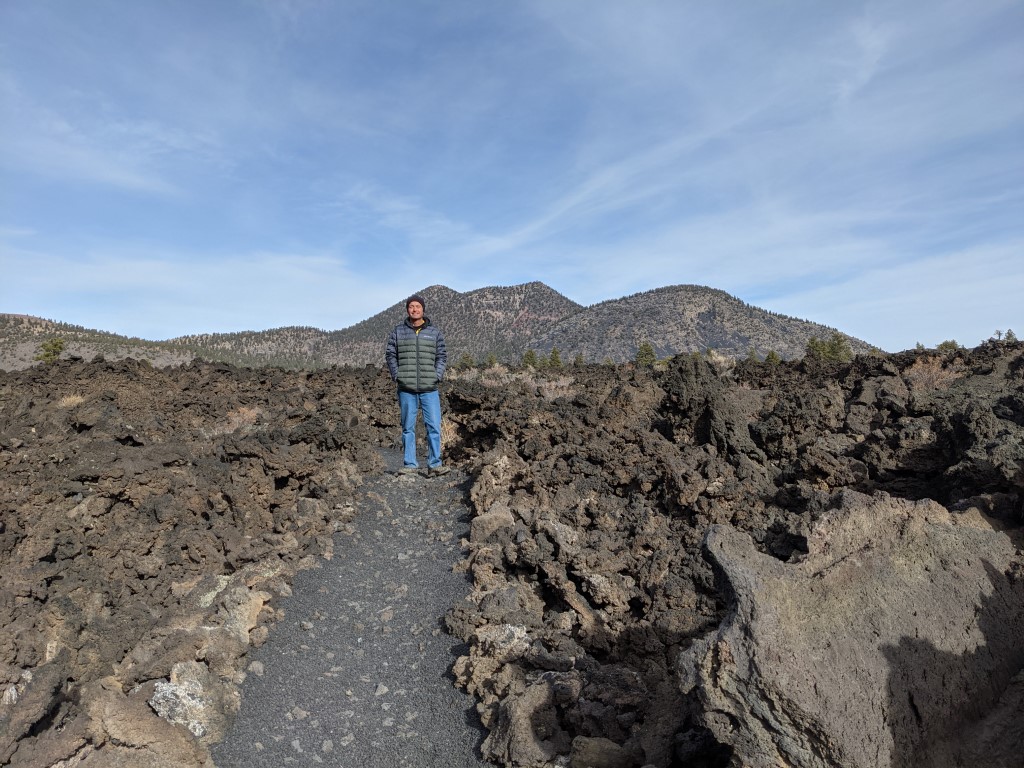 The last monument is Sunset Crater, which is the last volcano to erupt in the Flagstaff area. It makes for some really wild scenery and because the area of these 3 monunents is mostly in forest and BLM land, you can camp in between them.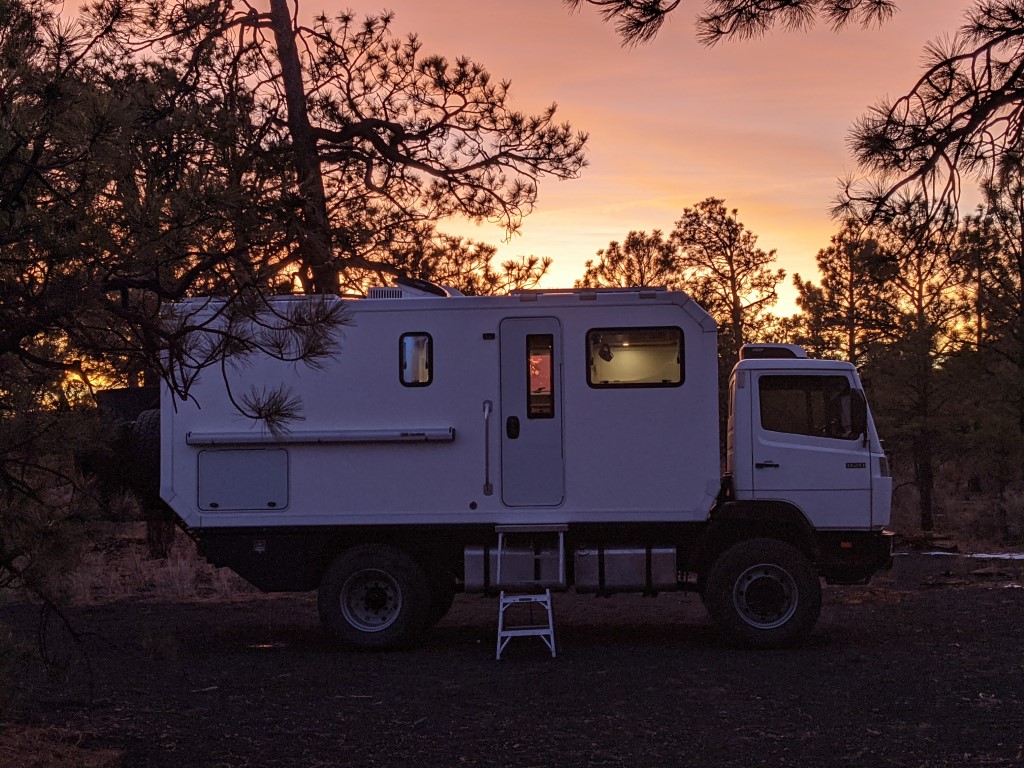 That evening, when we started looking around for a spot, we started being followed by the park police and when we pulled off the road, he pulled in right behind us. We thought oh great, now what have we done?! But he was just coming over to see if we were looking for a campspot because he wanted to show us a really nice one off a dirt road that overlooked the crater! How nice and we really enjoyed the quiet privacy, the view and the contrast of colors of the black volcanic sand and green pines.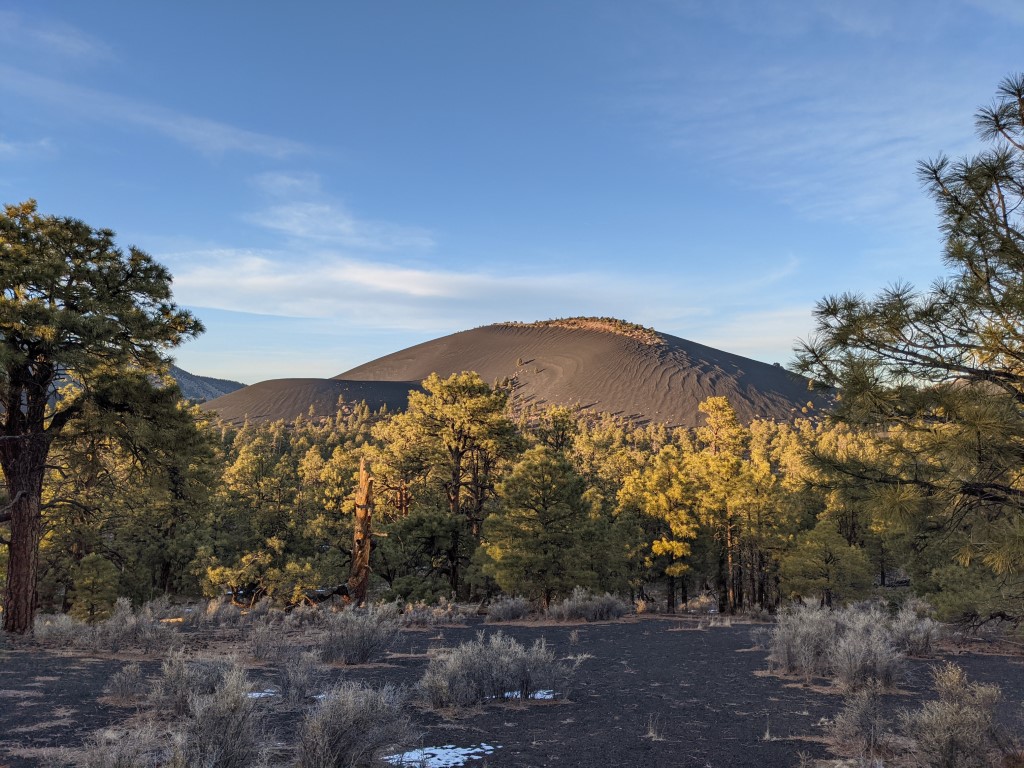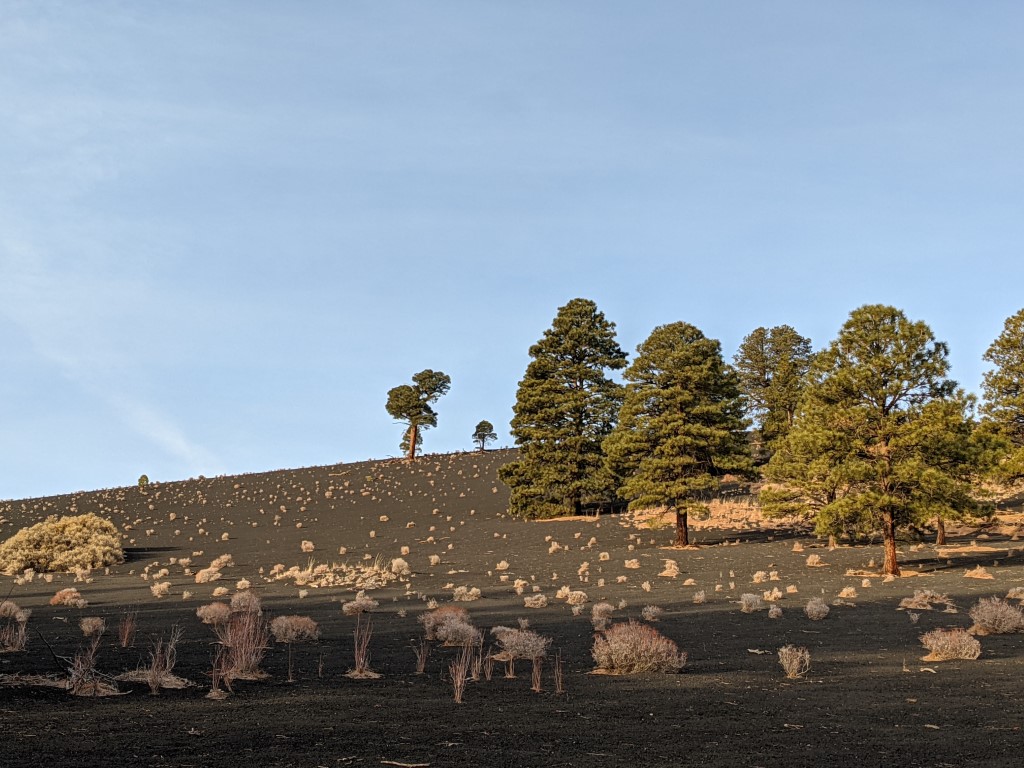 After doing all the little hikes to see the sights, we headed on down toward Tucson, looking forward to warmer weather & sun. We found it and our good friends Jan & Rich along with a fantastic campground just outside of Saguaro NP West in Tucson. It's called the Snowbird Nest and the owners have been landscaping the place for the past 25+ years so it is like a botanical garden in there! Too nice to be at, it was a great base to hang out and catch up with Jan & Rich and also hard to tear ourselves away from to get this welding work done. We did some hikes, lots of meals together, bike rides, projects and looking at cactus there! Owls & coyotes would wake us up in the night and all the songbirds, doves & rabbits would entertain us during the day.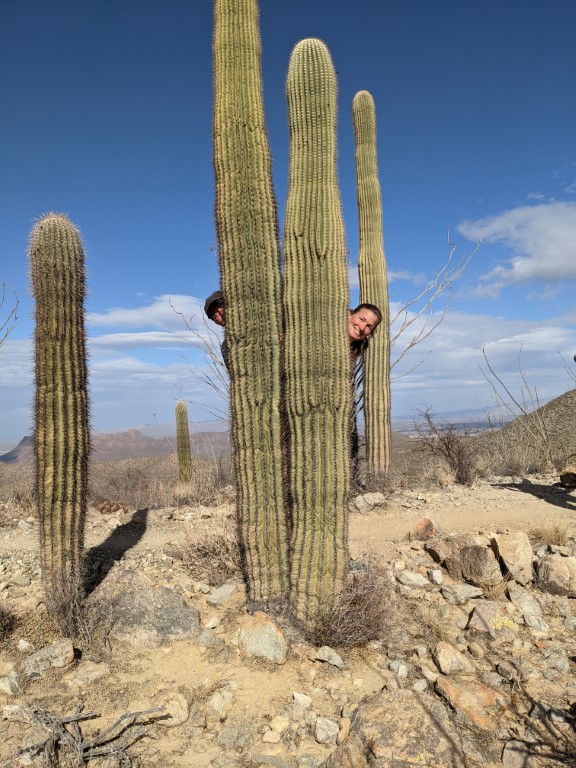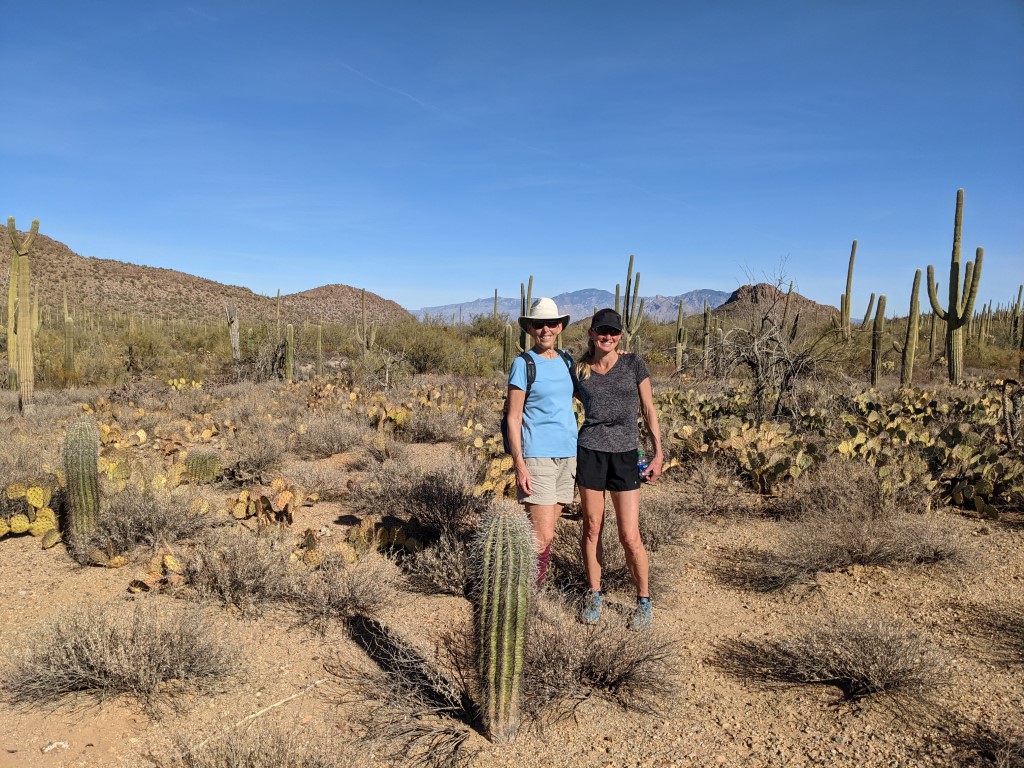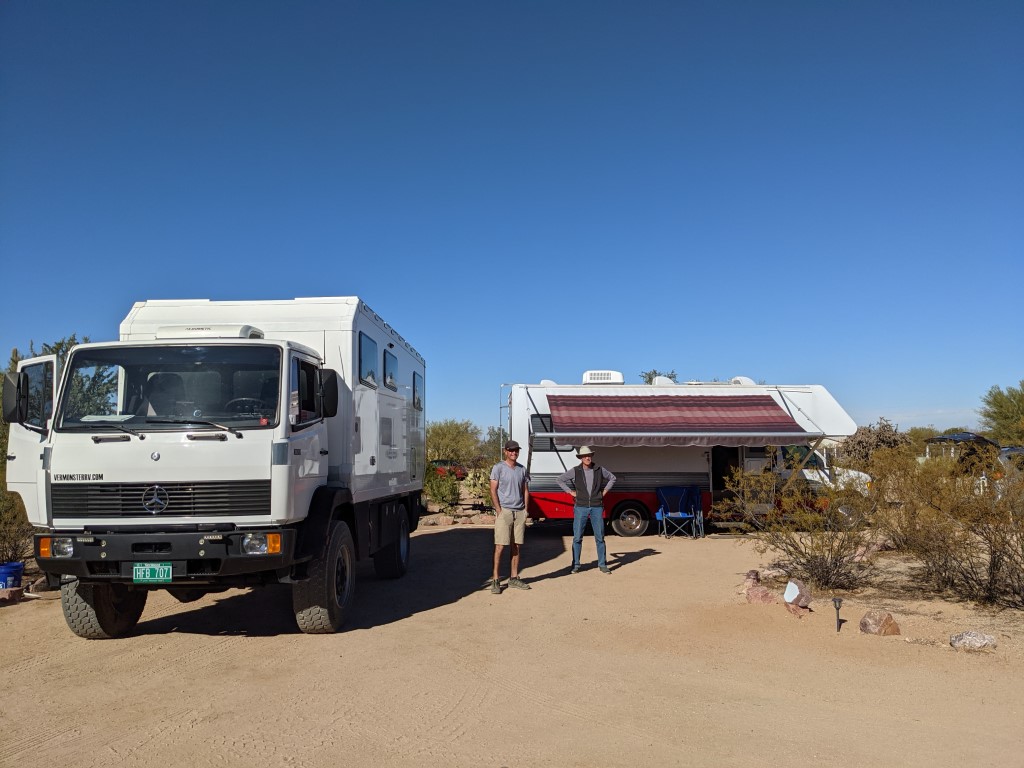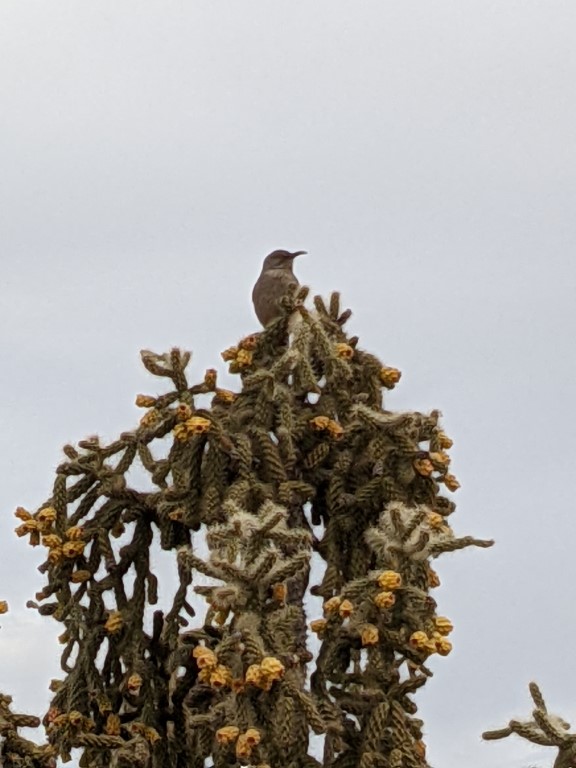 In between visiting, Jon tackled a few nagging projects like separating out the fuel system because the equalflow whatever we had wasn't working out because it wouldn't pull nor return to each tank equally so now we have 2 completely separate filtered fuel systems for each 50 gallon tank with a switch on the dash to toggle & switch between the two. He also installed 2 more rear lights so that with another flip of a switch before backing up, 4 bright white floodlights go on and light up the whole back area. There will be 2 more flood lights mounted to both sides of the truck just under the habitat that will go on at the same time so pretty much 360 vision once the front light bars are on.
And then just like everything, there is always stuff breaking so we replaced the galley soap dispenser, shower hose, etc. Nothing lasts anymore. I got the outside of the truck cleaned up, waxed and UV protected from all the sun we hope to be getting soon!!! We often get scratches on our windows from moving among the bushes and trees in campspots but it's easy to polish them out as long as I can get my hands on a ladder to reach them.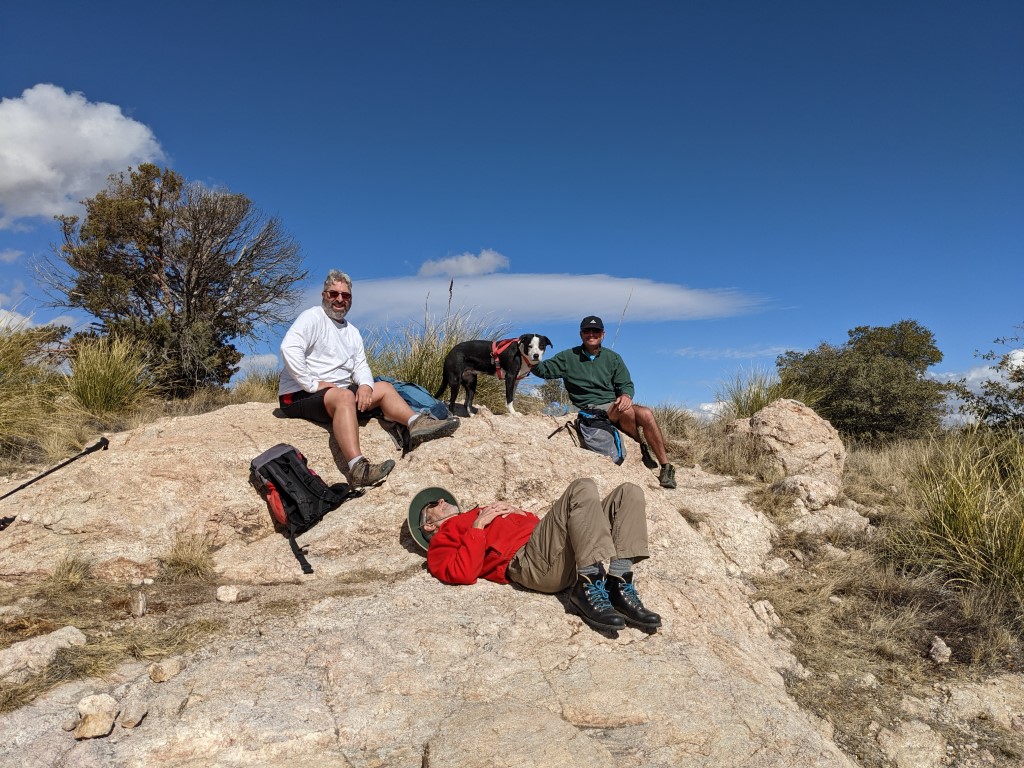 We had a great day of hiking with our friend Rob and his dad. Rob is always a great help to us when we're in Tucson because he lets us get packages delivered to his house (every transient's dream) and he's a very good tour guide because he has tons of ideas of fun things to do.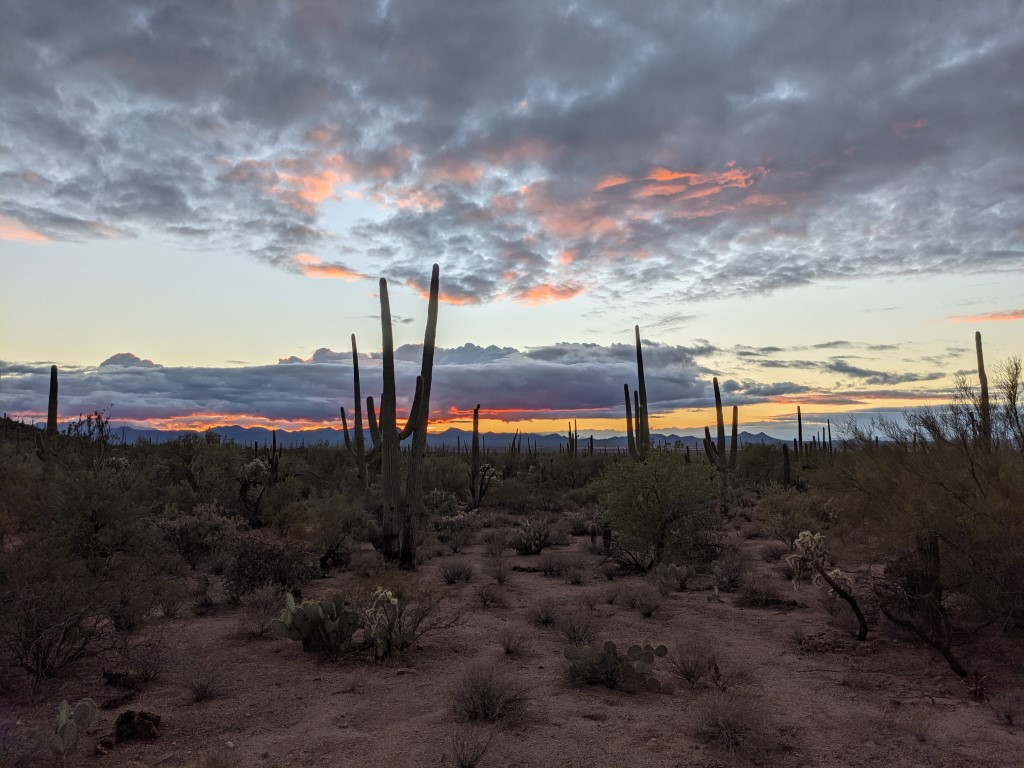 We also met another couple from Germany that pulled back into the campground who have a truck very similar to ours (they are among the ones who actually discovered this place for us) so we're looking forward to returning to Snowbird nest once the welding is done to hang out for a couple more days. Caught up in the Covid mess too, their plans have really been changed up too.
And that's about all that is happening for us. We are hopeful that traveling the lonely places in Baja will work out and we are wondering if/when a vaccine is available for our age group, are we going to have to fly to our registered county in Florida to get one?! In the meantime, we're happy to be here getting the welding accomplished.