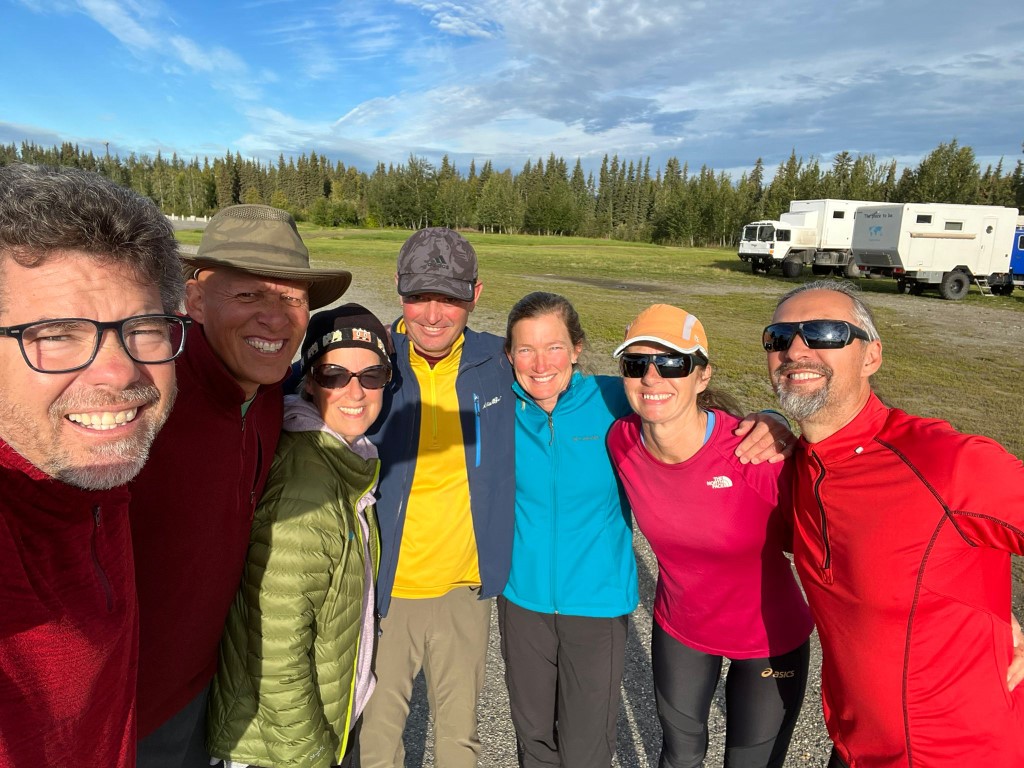 After coming off the Dalton Highway and getting most of the mountain of mud off our truck, we spent a few days in Fairbanks hanging out with friends. Cathy & Pato rolled in to town so we had an official park up with all four trucks- Cathy & Pato, us, Ivan, & Sandie & Karsten for a couple of days. In the evenings we'd set up the table and chairs and hang out until we got too cold. I found myself thinking that it's so great that we all met up and could hang out. We are sort of cut from the same cloth. Lots of laughs for sure.
In general, Fairbanks has better weather than other spots and we were so glad to have a break from the rain that we'd been getting. One morning we set out for an exercise walk along the river that ended up unexpectedly on Main St where there was this fantastic restaurant called the Creperie. Thankfully, Ivan had his phone so he could pay for all of our crepes, which were delicious. I love how some days just unfold to nothing you expected which is what makes them unforgettable. We got together with Nikki again too (Ed was flying for work) at the same place (our new favorite) and then said goodbye until ????? We sure hope it isn't too long. I regret that we never got a picture of them.
There was a hike that Jon & I really wanted to do outside of Fairbanks called the Granite Tors. It's a long day hike but you climb up onto a ridge where there are eroded rock formations and on the sunny day we had it was great to be out for hours in that open scenery. Then Ivan scoped out a riverside campspot that was just what I was hoping for. It was so pleasant there we had a long breakfast in the sun the next morning just because we could. We were wishing we had packrafts to play in the river there.
We reluctantly made the decision that the weather was too crappy to head back to Denali to do the bikepacking trip we'd hoped to do. It is one thing to backpack in rain, which we don't even like doing but another to ride a bike in the rain (freezing) and we didn't feel we had time to wait for a better weather with the season marching on. Apparently, we followed Spring up and now we'll be following Fall down. It was almost fortunate in that a couple days later, when Jon went to mount the paneers just to check them, he found out the company had sent the wrong fittings for one of the racks so we wouldn't have been able to use it. So we said goodbye to Fairbanks and started making our way to Dawson City with Ivan.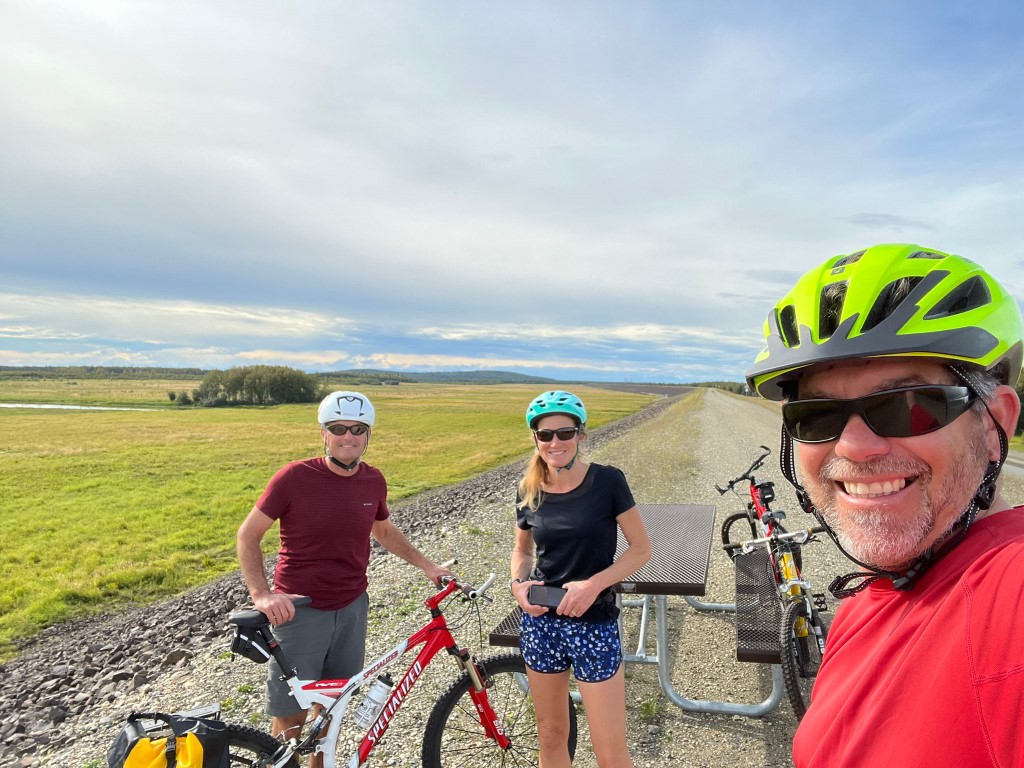 Because we left late in the day, our first stop was Chena Recreation area, a place Nikki recommended, where there were some bike trails. The three of us took a spin the next morning through a variety of wooded and grass paths and then ended up on a dike with good views. Then we packed up and drove out.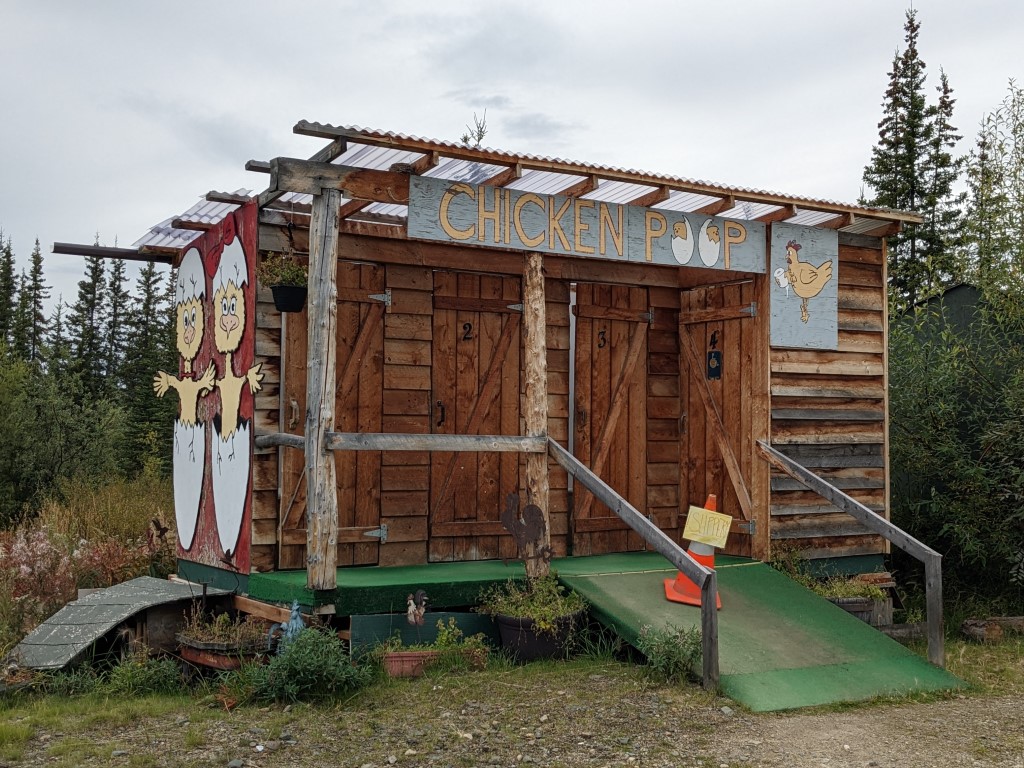 Our route would take us up the scenic Taylor Highway to the town of Chicken and then over the Top of the World Highway, across the border into Yukon and on to Dawson City. We'd been looking forward to all of this for the scenery. The Taylor was OK but given all of the incredible scenery we've seen all summer it didn't knock our socks off. The tiny town of Chicken got it's name because the locals wanted to name it Ptarmigan but couldn't agree on the spelling of it so Chicken was close enough. The name stuck, the little bar/general store/restaurant/chicken dedicated decor and great gold mining memorabilia makes it an interesting stop. The sign they had on the store door pretty much summed up the facts for the town. That evening, we found a campsite a few miles away and stood outside for an impressive sunset. Then we took a nice run the next morning despite the drizzle. We're so glad Ivan's ankle is better and we can run together again.
It really is fall here. I associate August with summer but not in these parts. We could have been anywhere during the drive over the Top of the World Highway because we couldn't see much of anything in the distance. When it wasn't raining it was drizzling, socked in. Although the trees that were close in were all golden and glowing. The border crossing was easy.
It felt weird to be leaving Alaska because even though we've done a lot, it also feels like we just got there. And we left a lot undone. There were however a lot of firsts this summer. We'd never walked all over a glacier nor seen as many as we saw this summer. Never seen an ice cave nor ducked into one with a kayak! We'd never been this far north or seen the Arctic, and we'd never taken a dip in it either. Seeing brown bears at Katmai and that many at one time for that long was a definite highlight! We'd never done 3 sets of class V rapids either. We'd never canoed that far down a wild river (well that is later on in this write-up) and we'd never witnessed 24 hour light. We'd never seen the extent that real wilderness can be and we are awed at it really. We considered some numbers. Vermont's population is 625,000 whereas the big state of Alaska is 737,000. Meanwhile Yukon is 43,000 and 25,000 of those live in the capital city of Whitehorse. That's why there are so few roads and so much wilderness! Anyway, it's been fun to have some new experiences in such a beautiful place. We hope to be back. We are addicted to wild spaces. I guess it's another version of open ocean.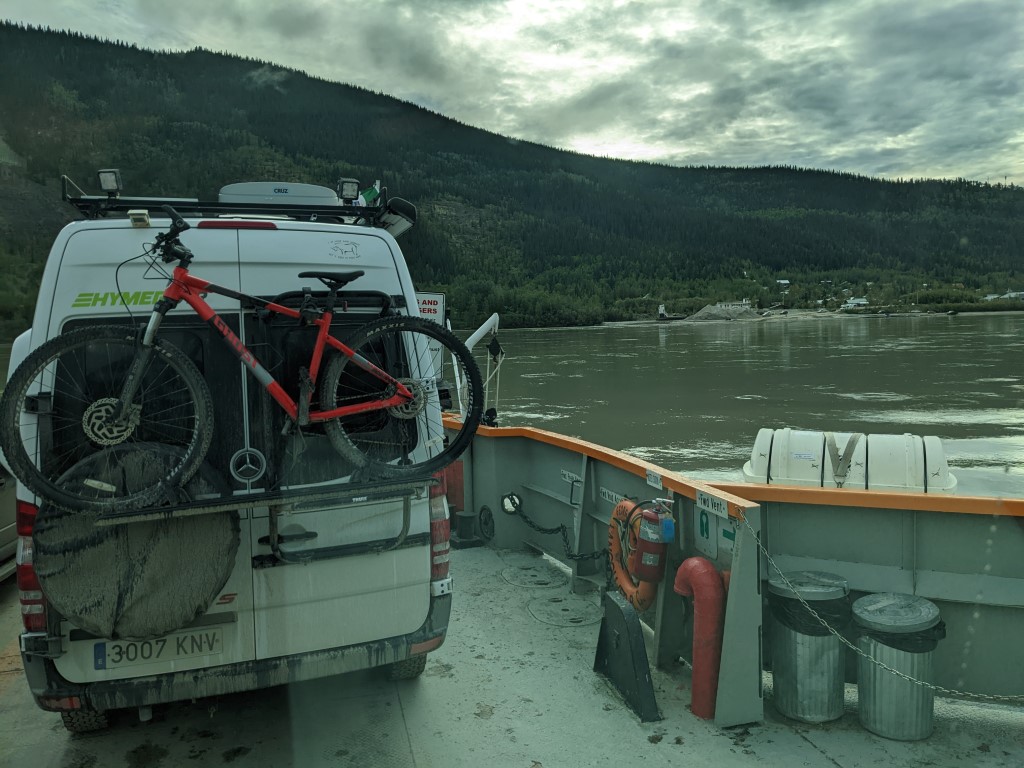 We arrived to Dawson City and stayed at a campground just across the Yukon River from town. A free DOT ferry that was built the same year I was born runs efficiently from side to side because there's no bridge. We spent the following day touring the town. We're back to the familiar Klondike gold rush history now. It was 20 km from here that Mr. Carmacks made the "discovery claim" and the whole gold rush was set into motion. People literally gave up their lives to trudge up here in search of gold. The mayor of Seattle at the time even dumped his job and came up searching. That cracks me up. Dawson City has maintained an old time feel and even the visitor center staff are clothed in old fashioned dresses from that period. The views were great from the lookout and we walked the streets until rain showers drove us back across the river to our cozy homes.
Its no surprise that lots of rain makes for lots of mushrooms and we see a lot on the trails. We probably could be harvesting them if we knew which were edible, but instead we take pictures and stay alive.
The three of us did the Heritage Ridge bike trail outside of town and we staged our truck at the finish. It was interesting moving our bikes around- we fit both of our bikes into Ivan's van (he carries his bike on the back of his van) by carefully holding them up for the 1 hour drive up the Bonanza Rd then at the end of the ride, we put our bikes away in the gear area and I held Ivan's bike inside our habitat for the ride back up! It's good to know we can do this because biking one way is more fun. I've often wondered what it was like in our habitat when we were driving because we don't have a pass through so can't tell. But riding back there for an hour holding on to Ivan's bike, I found out. Nothing much happens back there! The ride is smooth, everything is surprisingly quiet and its quite pleasant. Our truck feels very solid and we attribute it to all the extra effort that Jon put in to building in structural strengtheners and bulkheads. We are loving our new roof hatches too. What an improvement and they feel so secure. Now next is building a new door. It seems it's the only way for us to have a decent door. Jon hopes to do this next month, not that we're looking forward to actually doing it.
The bike path: Built in 1898, the ridge road was Yukon's first government built wagon road, a major supply route to Dawson mines but it was abandoned in 1902. Together with community partners, the Yukon government reopened it in 1996 as a multi use trail, part of the Trans-canada Trail. There have been so many examples this summer of communities or small groups of people, even individuals getting together and pushing for preservation of land. And how even if the odds were against them, they had success. And here we are enjoying it now. About a third of the trail runs up on a ridge with good views and is rough & muddy but scenic. Of course we got rained on near the bottom, but we still had fun.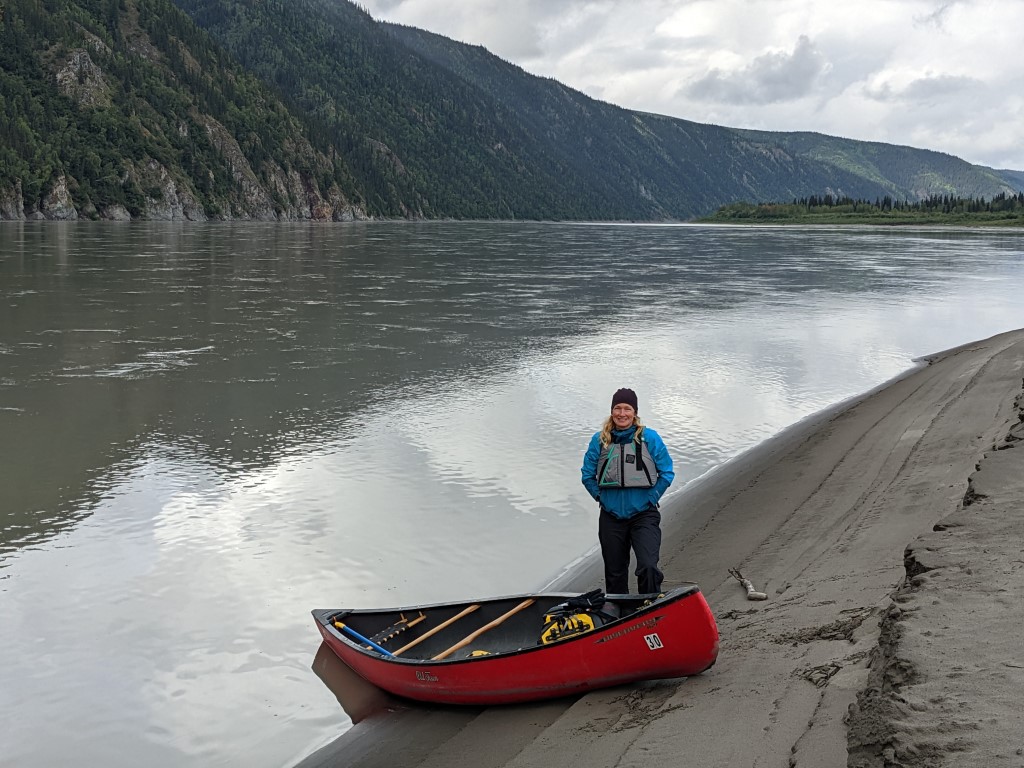 Then the next day Jon & I rented a canoe from a rafting company so that we could paddle the mighty Yukon from Dawson City to the historic townsite of Forty Mile. It is a distance of 50 miles and with moderate but steady paddling we covered the distance in 8 hours including breaks. The Yukon runs at a good clip and aside from 2 guys that we started with that had also rented a canoe, we never saw another soul the whole time. A wild and scenic portion of the river meant we had another experience with the vast wilderness that goes with the territory up here. We were hoping to see more wildlife but really we saw like, nothing! But it was a great day with a touch of drizzle but nothing of any consequence. Then Colm, the owner and a perfect Yukon specimen, was there to pick us up on the other end and while he took care of loading our canoe up, we were given instructions to walk the paths through the old townsite. The history is actually a blur but what I remember was that the light was beautiful at that time of day and the green grass against the old buildings was very pretty. It was good enough. On the 2 hour drive back over a portion of the Top of the World Highway, we got to see some of that we missed previously. Long views of rolling hills. And I got to chat with Colm the whole time. It was a wonderful, long day.
We restocked the next morning and headed to Tombstone Territorial Park about 70 miles away. Several people had told us this park was impressive and a must do. So we had it on our list and we'd gotten a backpacking permit for the 3 lakes that you can hike to- quite a lot of competition for those permits too. We could only get 2 nights but we would cover the miles and see all 3 lakes. The park is actually on the Dempster Highway, which is the Yukon version of Alaska's Dalton as they both go to the Arctic Ocean and are about 1,000 miles return. We had opted for the Dalton because it was one or the other but driving some on this road made us wish we had time to explore this one too.
The Tombstone Mountains are jagged towering peaks with lakes at their bases and the trails traverse up and over incredible tundra. They don't believe in switchbacks here so you just lean in to the mountain to climb it! This was peak season for Fall colors and we felt extremely lucky to be able to do this hike. The morning we set out the vis was pretty bad and it was, you wouldn't believe this…. raining a bit. For me, I am crazy about being outside no matter what its doing really but not everyone shares that nutty trait. Fortunately, things improved in the afternoon and we had some peeks of sun even. On the way up, we ran into the 2 guys that canoed the Yukon the same day we did. Small world. When it comes to landscapes, alpine tundra is my favorite over everything. Everyone seems to know about New England fall colors but why doesn't anyone talk about the unbelievable transformation of the tundra in fall? Everything is on fire of orange, yellow & red. We both thought it was mind blowingly beautiful.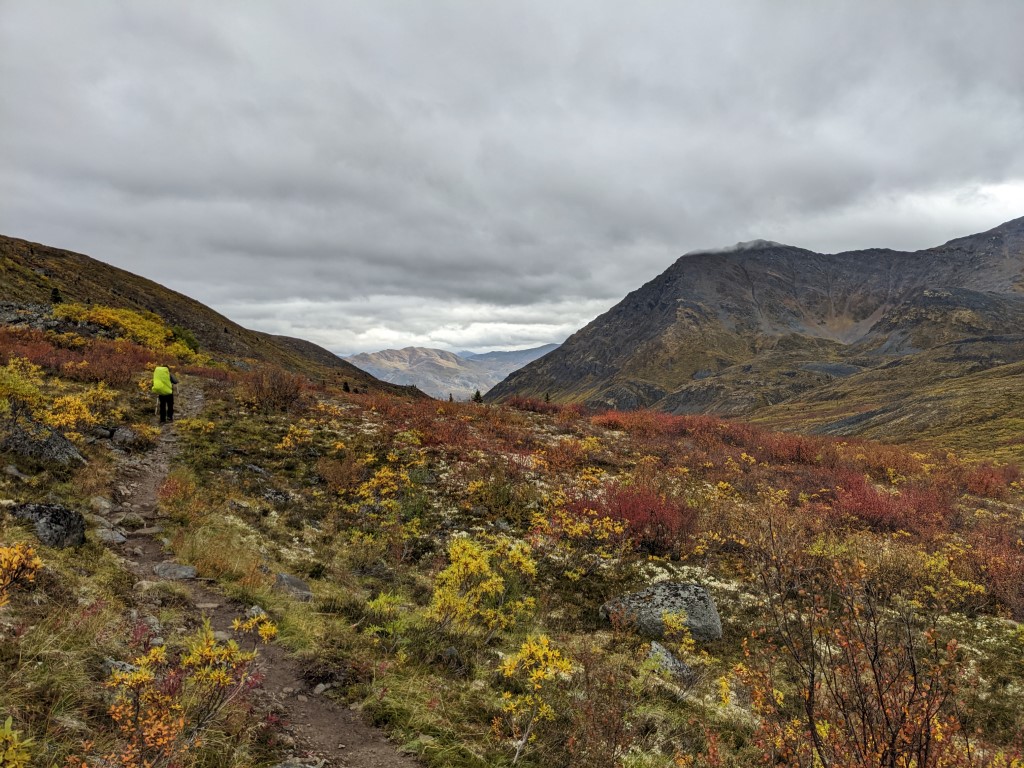 The trail that leads to Grizzly Lake, over the pass to Divide Lake and on to Talus lake is fun but rugged. The park provides elevated tent pads & you have to cook in a canvas cooking shelter which means you meet all the other backpackers. We hit it off with one guy in particular, Colin, and we talked a lot over both evenings. He said our story sounded familiar and he felt like he knew us. As we strained our brains to figure out from where that might be, we did come up with that we were both in Nepal in February and backpacked the same Poon Hill trail but we're not sure if we were both there the same year. Might have been one year off. He's checking on that when he gets back from his backpack trip which was several days longer than ours.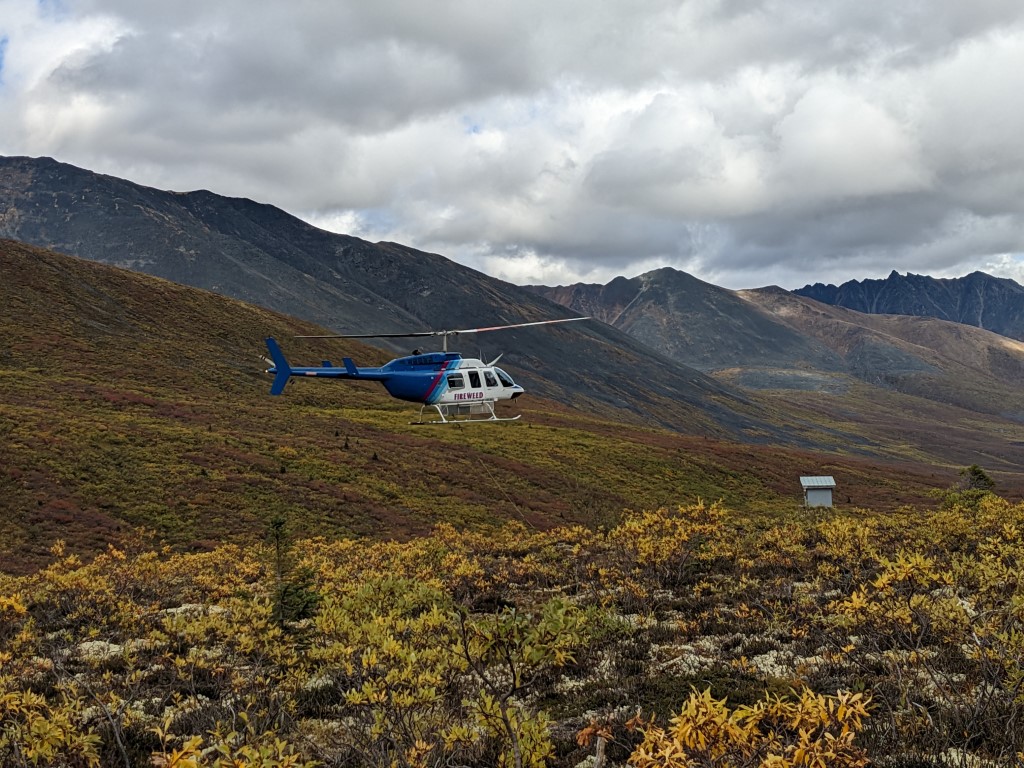 We spent nearly all of our waking hours in layers and rain gear just because we never knew when it might drizzle or if the wind would pick up. In reality, it didn't rain much, more annoying than anything but when you're living completley outside, you can't really afford to get too wet. According to Colin, this WAS good weather in Yukon, so it became the joke that it's all relative.
On the last night I got out of my sleeping bag and stood under the stars and the whole sky was green. One bit of unfinished business is that we hadn't seen the aurora yet, even though we'd been looking. Most nights it was too cloudy, or raining or there was too much ambient light. I saw a bright orange centipede looking formation zoom across the sky and then turn off and then nothing else. Then a big cloud came over and it started to rain! So I went back to bed. The next night when we were back at the truck, we got up and saw the same orange centipede again but the sky wasn't any color that night so we turned in. I think we are going to still have the aurora on our list of things to see…. but what was that centipede thing we still aren't sure.
While packing back out on the trail, we ran into Honglu, a guy from Anchorage that we met in the campground at Katmai! Geez, another small world encounter.
After the backpacking trip we hit the road and started making some miles to catch up with Ivan, who headed on toward BC. We've made a few stops like in Whitehorse, where we took a run and explored the downtown that way, plus did some errands.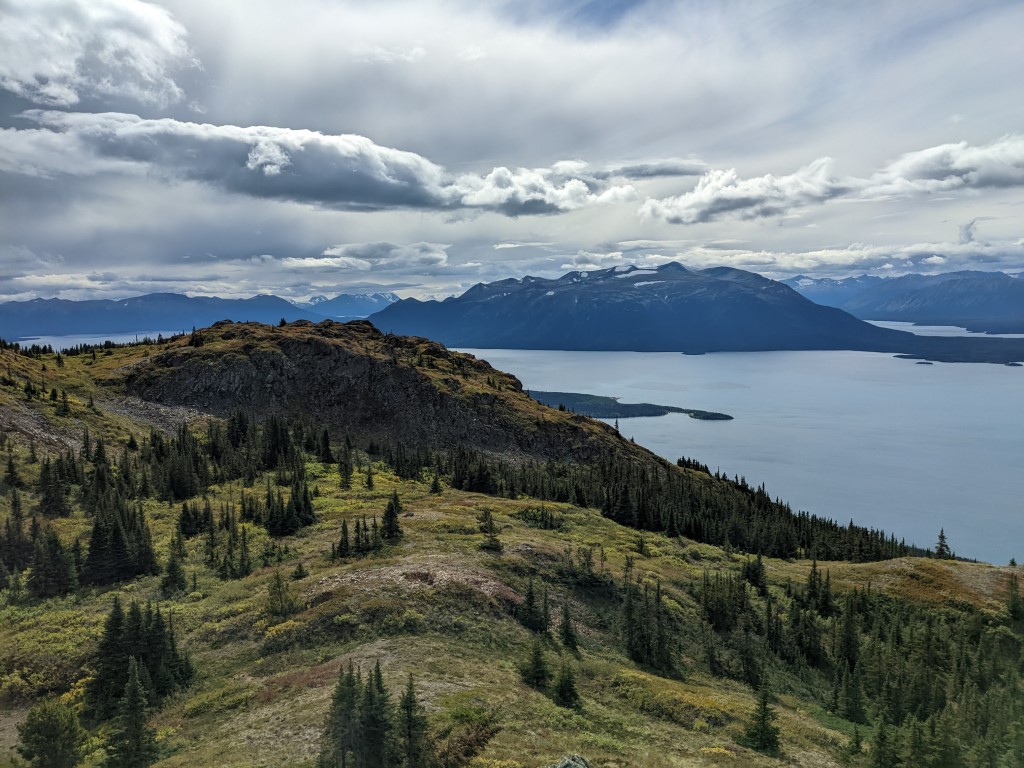 Then we detoured to the cute little town of Atlin on Atlin lake and explored a bit. It was very peaceful there and we did some great hikes to viewpoints.
Then on to the Stewart Cassier Highway to Boya Lake where we kayaked yesterday morning. It's like a little Raja Ampat, well not really but the plops remind me a little of that. The water was a mix of beautiful blues and reminded us of the tropics. We enjoy getting out on the water some but have wished our kayak was more portable. We've been thinking a lot about packrafts, and Jon has done a near exhaustive search trying to tease out the differences. We took advantage of the Labor Day sales and ordered up some Kokopelli packrafts. What the hell, you only live once, life is short, you can't take it with you, we're worth it! It feels like we're still in the process of getting our gear "right". And this feels right.
So now we're in the little town of Stewart ready to see the Salmon glacier tomorrow. Within a few days, we should catch up with Ivan near Jasper, where the fires will probably interfere with our visit there. Mark & Anne are coming to meet us so we can travel this last bit of Canada together. Then the summer Alaska tour is officially over, closed for the season, reason freezin'!