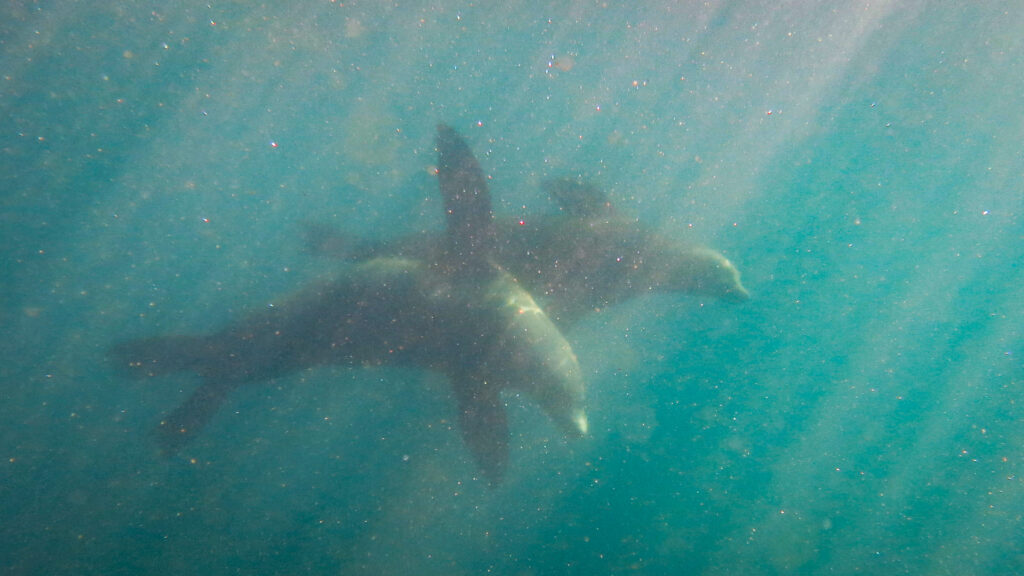 Hope it was a good Easter for all who read this. The Easter bunny didn't visit our truck so we had no candy. But the birds are singing and Spring is here, there are a few more flowers around and we won't get fat on chocolate.
We've been spending lots of time by the sea which is fine by me! Funny, for never having owned any waterfront property, I realize that we've lived most of our adult lives on or by the water anyway.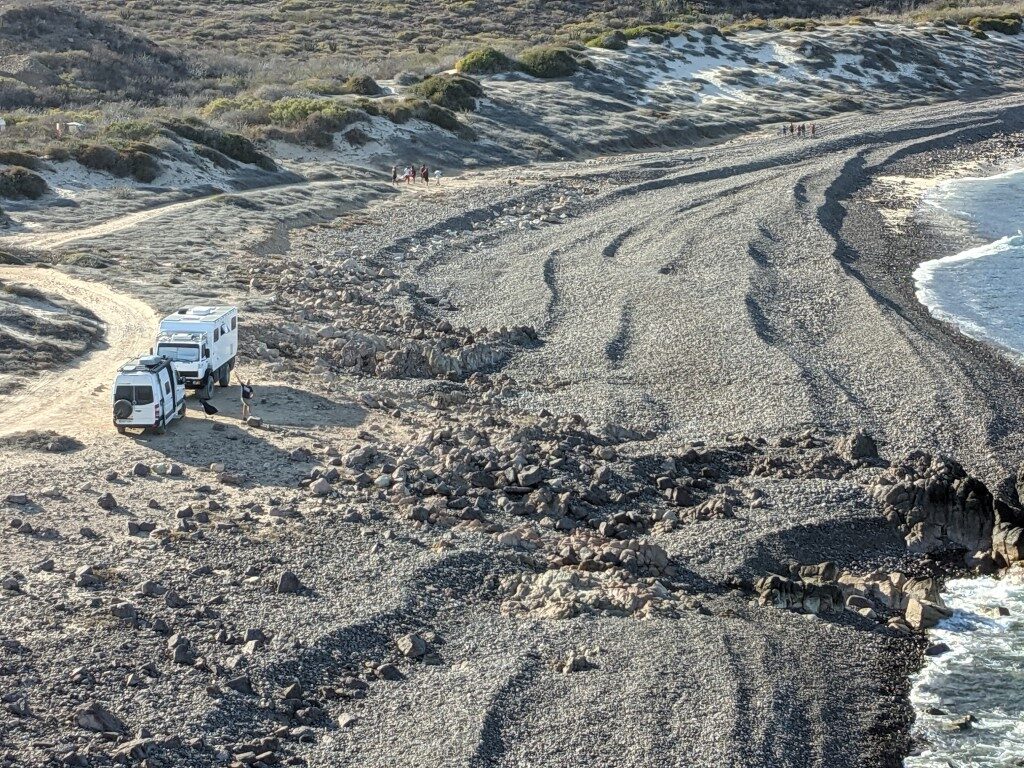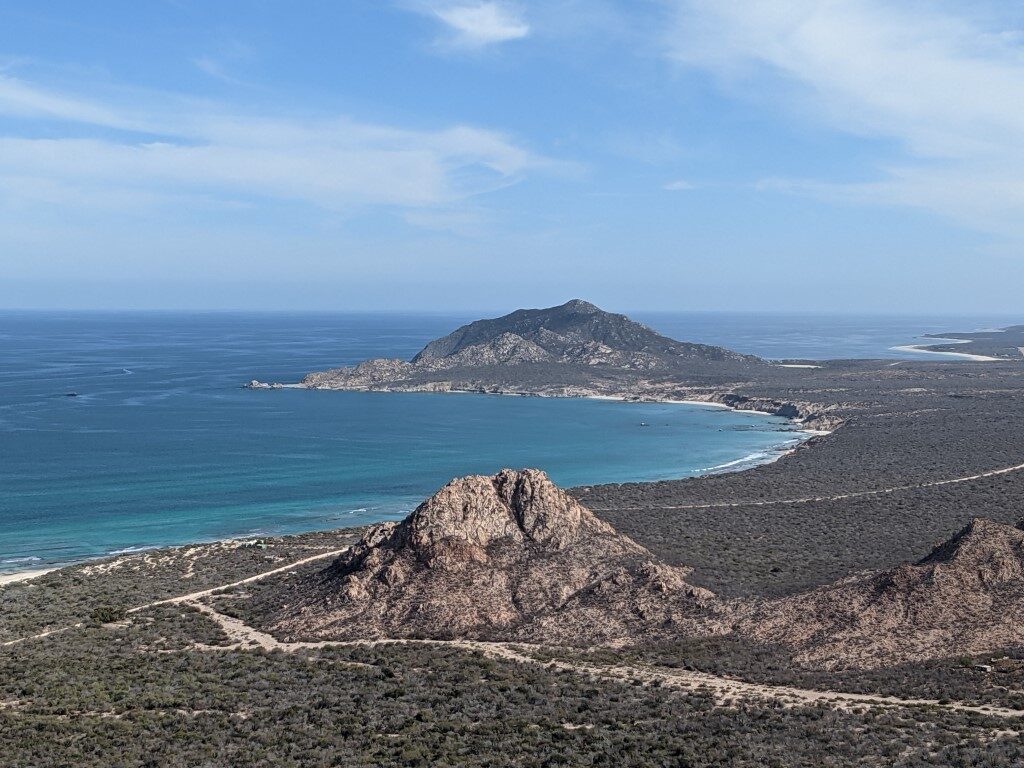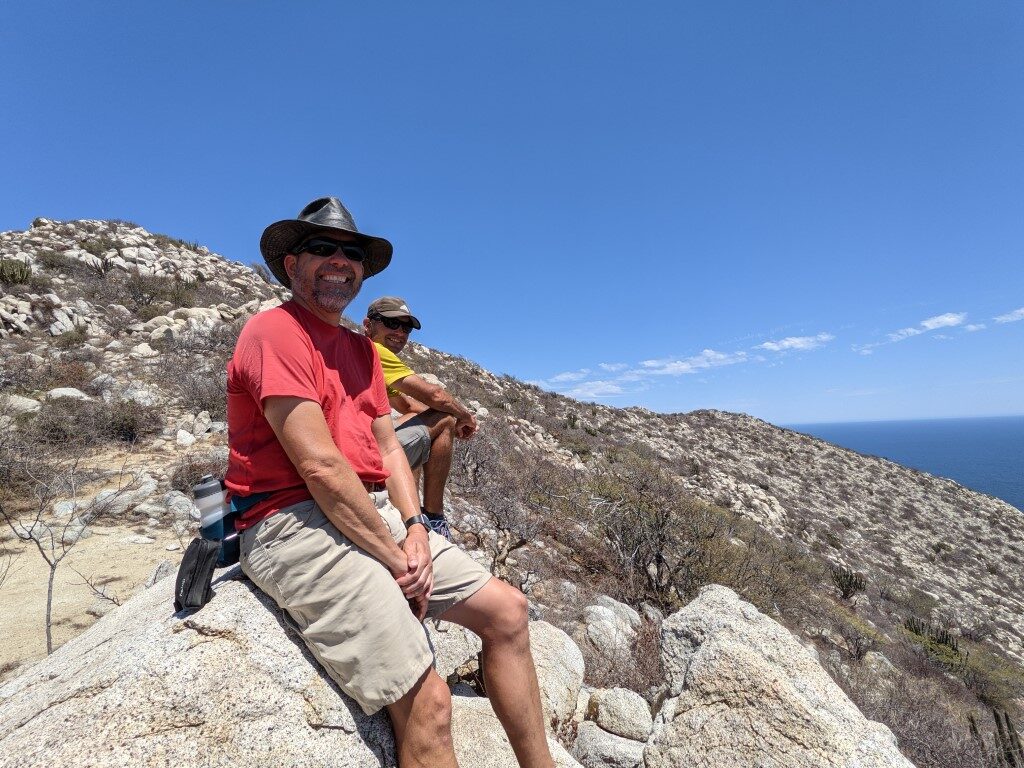 Since I last wrote, we headed further down the Baja peninsula to Cabo Pulmo national park. Established in 1995, it was designed to protect the only significant reef area in the Sea of Cortez while also providing a haven for fish and sealife that would ultimately help the fishery. It is accessed by a washboard dirt road and there are several beaches to camp on. We wanted to explore the little settlement of Cabo Pulmo first to get some tacos and inquire about the diving. This isn't really the right season for the best diving because the water is still cold down deep and the vis is still poor from all the north winds. And then there is the reality that we're used to diving on our own or with good friends so don't really enjoy ourselves if we're rushed out of the water with half a tank left because we're diving with people we don't know. It's happened too many times before. We talked with some shops to get an idea of what was available and figured we'd think on it. Meanwhile, the tacos came back to haunt Jon & Ivan later that night and so the next day was a bit slow mo while they recovered. It was bound to happen at some point, but for some reason I was spared the GI upset. How lucky. The north wind blew like stink for the better part of 2 days so Jon & I walked some great trails in the hills behind Cabo Pulmo. It's so nice to have the birds back!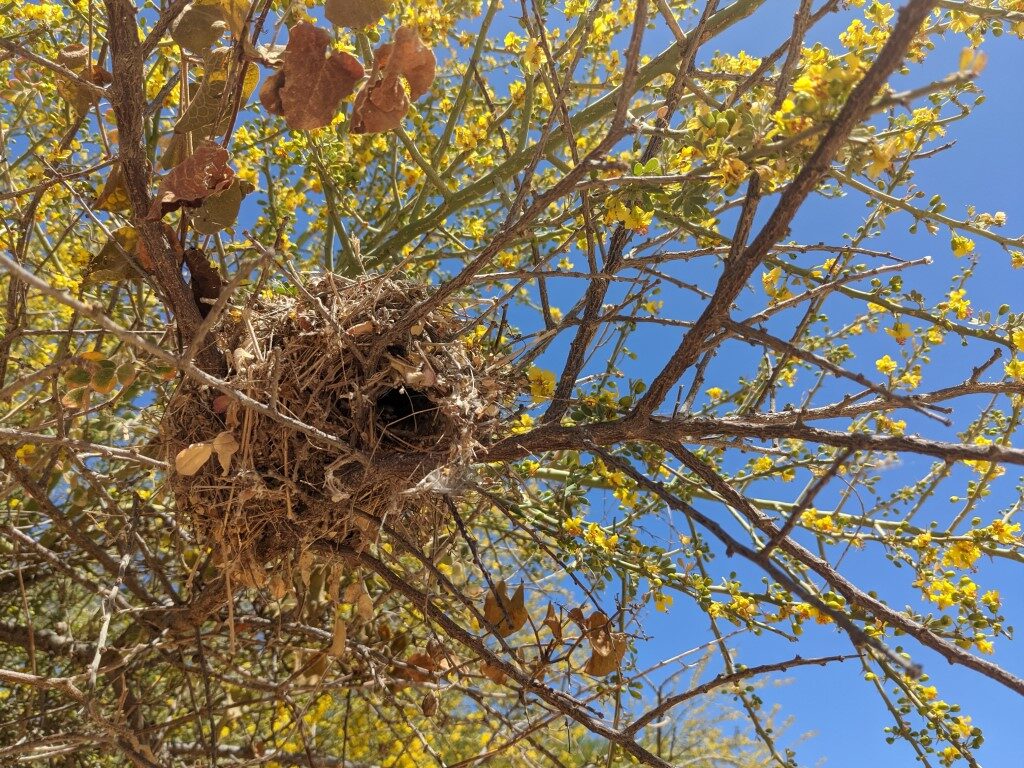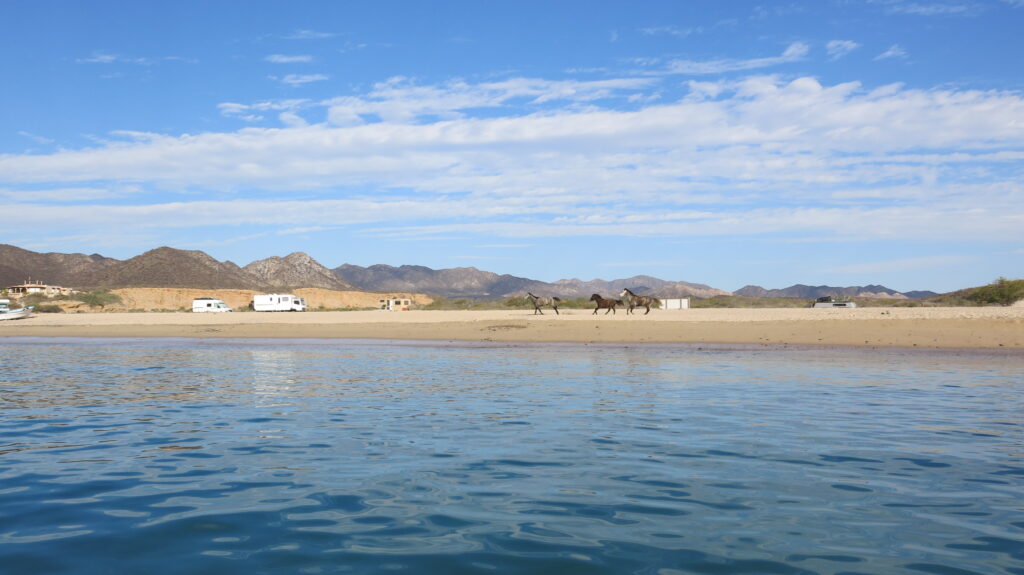 Tired of the wind and the boys feeling better, we moved to a new campspot a little further down that turned out to be a little paradise. It offered protection from north winds, a beautiful beach that went on & on, decent snorkeling under some cliffs, a big rock to climb, a sea lion colony around the corner, a long wash that we could walk up, the road to run on, and the mobula rays congregated in the area making for an incredible spectacle. Turned out we had quite the international crew too in 6 different vehicles- Swiss, Spanish, Germans, French & Americans. On one perfect day I had an early morning run with Ivan (and nothing hurt afterward), then a walk up the wash to find Jon because he was out walking, then we took the kayak out and snorkeled with the sea lions, swam with a few hundred mobula rays, had happy hour on the beach, then the 3 of us made homemade pizzas together (Ivan makes great pizza dough) and the full moon rose right in front of us. I can't think of anything better. We learn a lot from others. After years of making so-so pizza, Sandie & Karsten showed us how you can make the best pizzas in a covered skillet rather than the oven, back when we were together. You roll the dough out into a circle, put it in the skillet, dress it up & cover it, cook on high heat for 2 minutes then turn down to low and cook a few more. Turns out great, and not like the usual cardboard we used to make!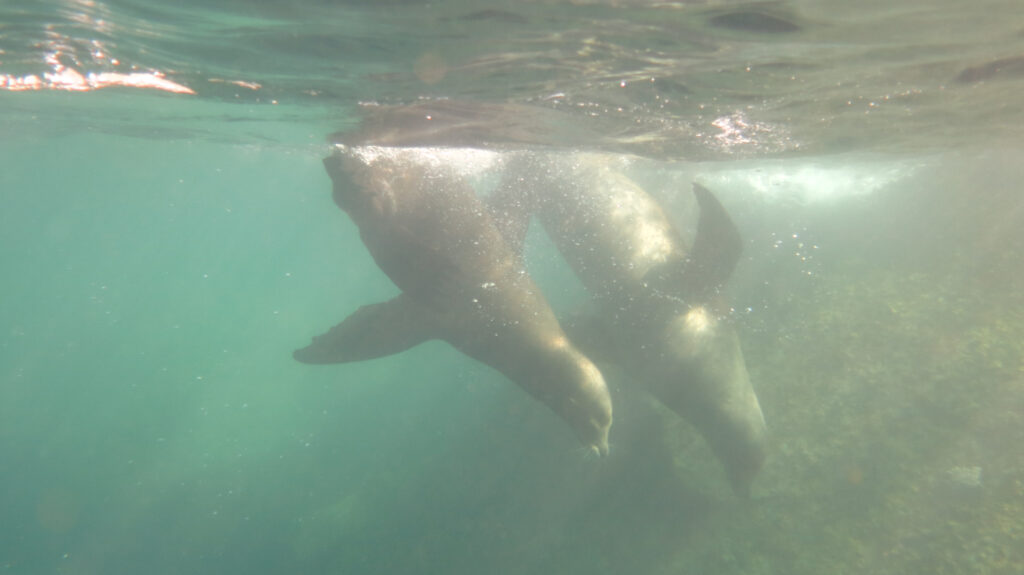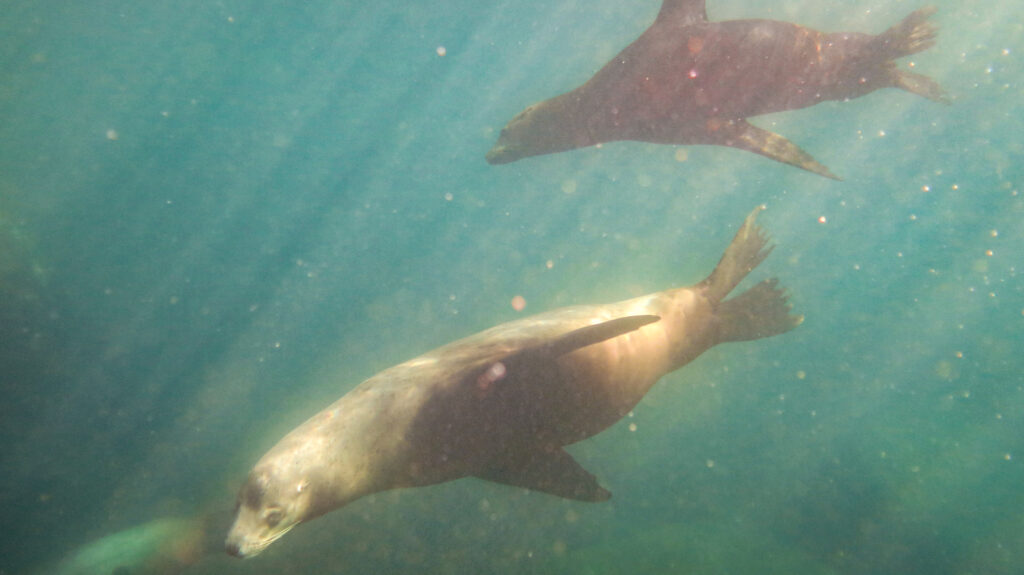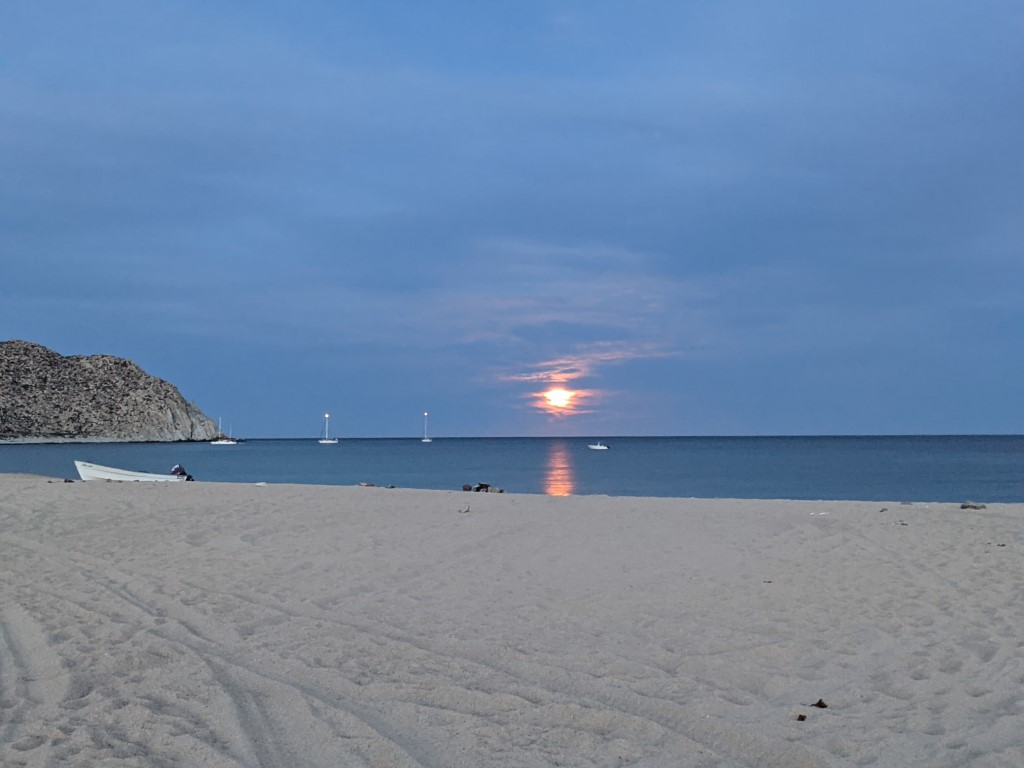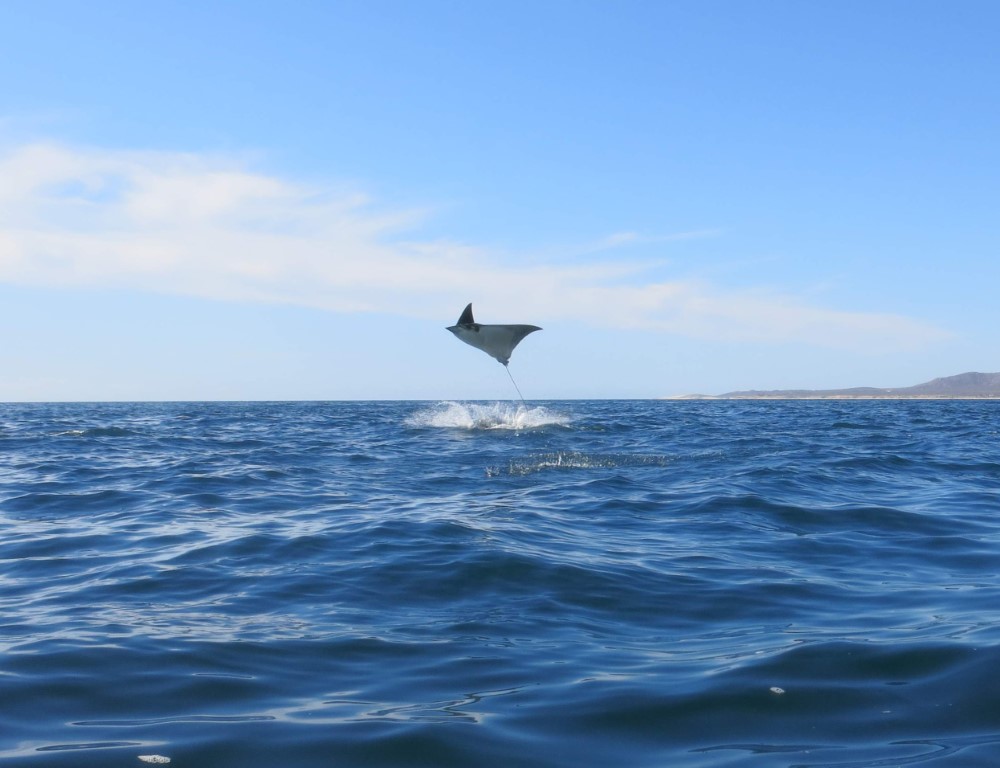 Called mobula rays locally, these are also known as devil rays and I read that they typically congregate in the Baja twice a year, apparently to mate. There are other theories that they are drawn by the upwelling of plankton as the water temp rises but there hasn't been enough research to know if that is really significant. Whatever the reason, we've been seeing them for weeks now, jumping out of the water in large groups making a loud splat with their wings that sounds like popcorn. It goes on all day & night and can wake you up. But for some reason, this deep cove at Cabo Pulmo had a massive number. When we went out in the kayak, I slipped in the water to swim with them. Somewhat shy, they swam deeper but if I dove down, I could see a carpet below of an uncountable amount of bodies. So Jon & Ivan got in as well and we were all blown away. We feel so crippled without our fins (forgot 'em!) and weight belts which we thought we should leave behind. Now we've decided to come back with our full kit and we have some organizational plans for the aft gear area to make room. I do believe that Ivan and us are the only ones in all of Baja that have their snowshoes with them…. just in case!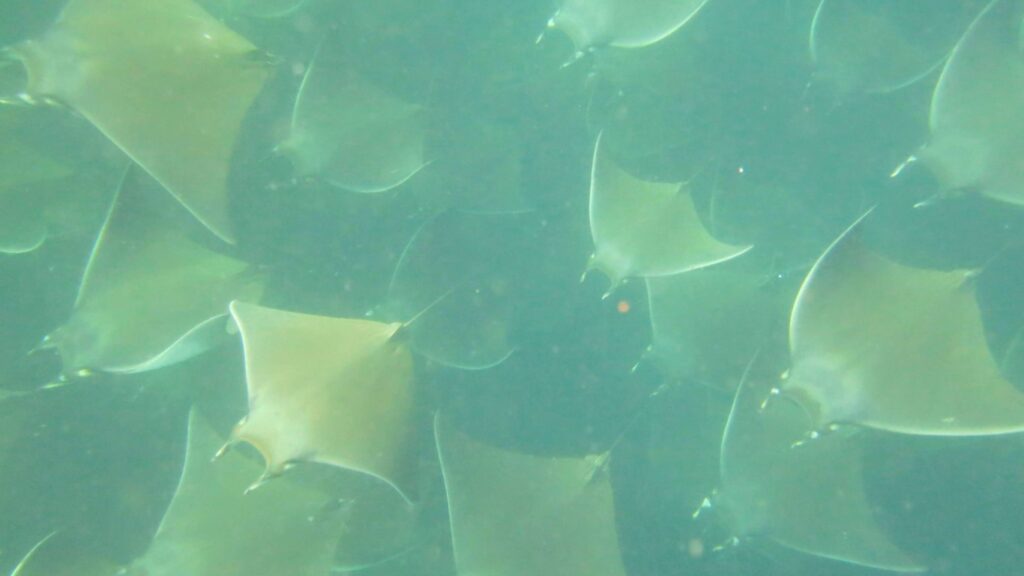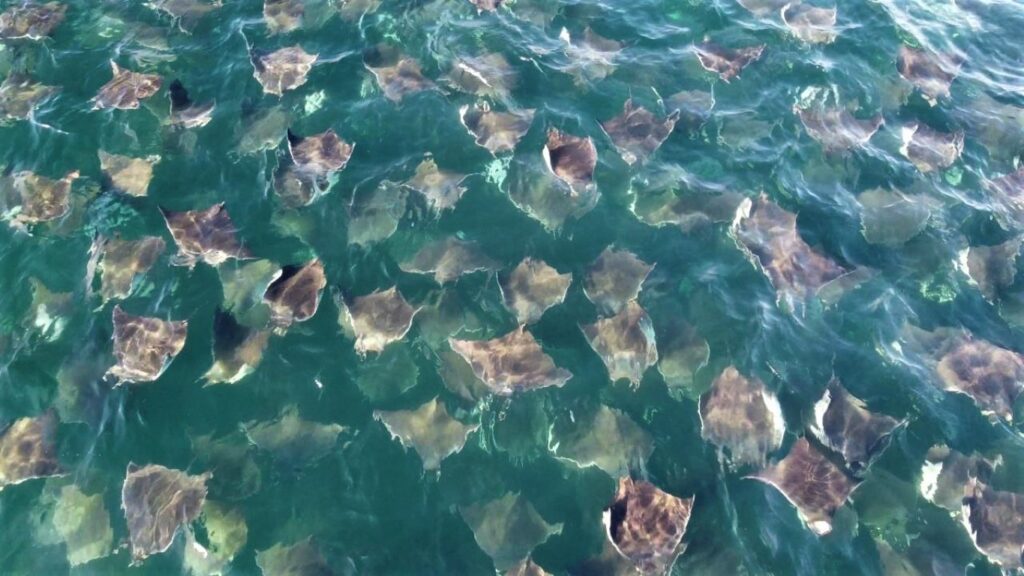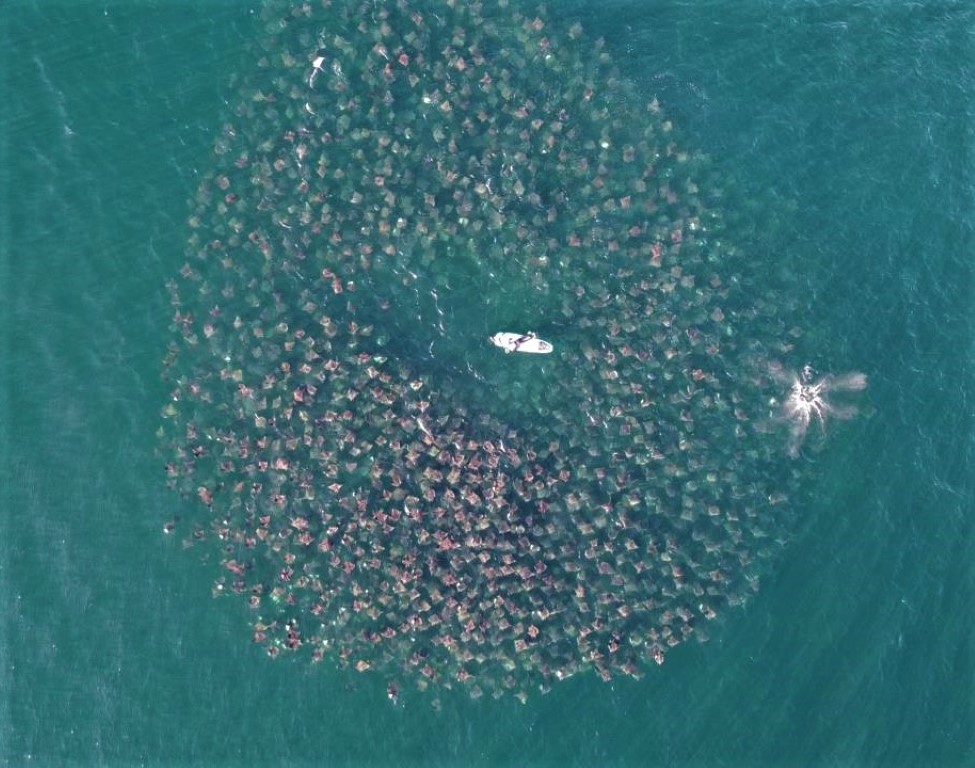 On another day, the guys got the drones out to catch the rays from above. Amazing! The amount of large sealife in the Sea of Cortez is impressive. We frequently see whales breaching & rolling around, sometimes even while driving. I'm still hoping to see an orca but haven't yet. The amount of seabirds has been wonderful. Like everything, the Sea of Cortez is at risk from pollution and overfishing. Also, like many parts of the US, Baja has a problem with trash. We don't know what to do. Every person makes so much trash when you think about it even though we try not to. I talked with a local last night who was picking up around our beach. He said that he knows he can't stop the trash but he can choose where it is most concentrated, namely, he can get it away from the water where it could hurt something.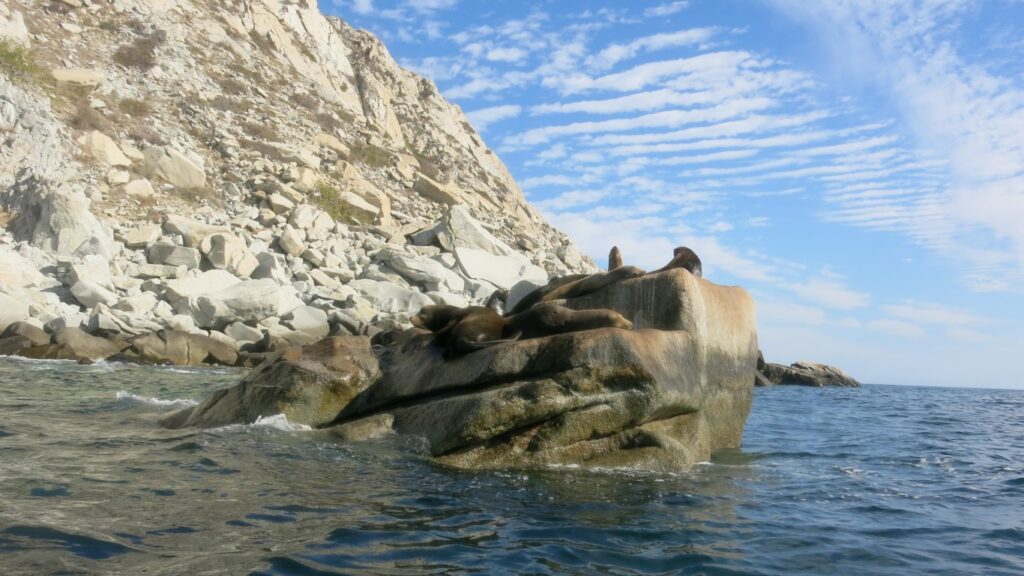 Twice we kayaked over to the sea lions and jumped in to swim with them. Some lie on their rock posing but others get in and socialize. I love the way they swim underwater and when I would dive down they were so curious and playful. You can see though that there's a lot of particulate in the water which makes getting good photos difficult. This place was like a dream and we loved the spot. It was fun chatting with others and the full moon was beautiful. Covid means there are less people here than usual as well. We spoke with a lady who had just come back from a day of diving and she said the vis was terrible. That cinched it; we will wait till Fall to do it.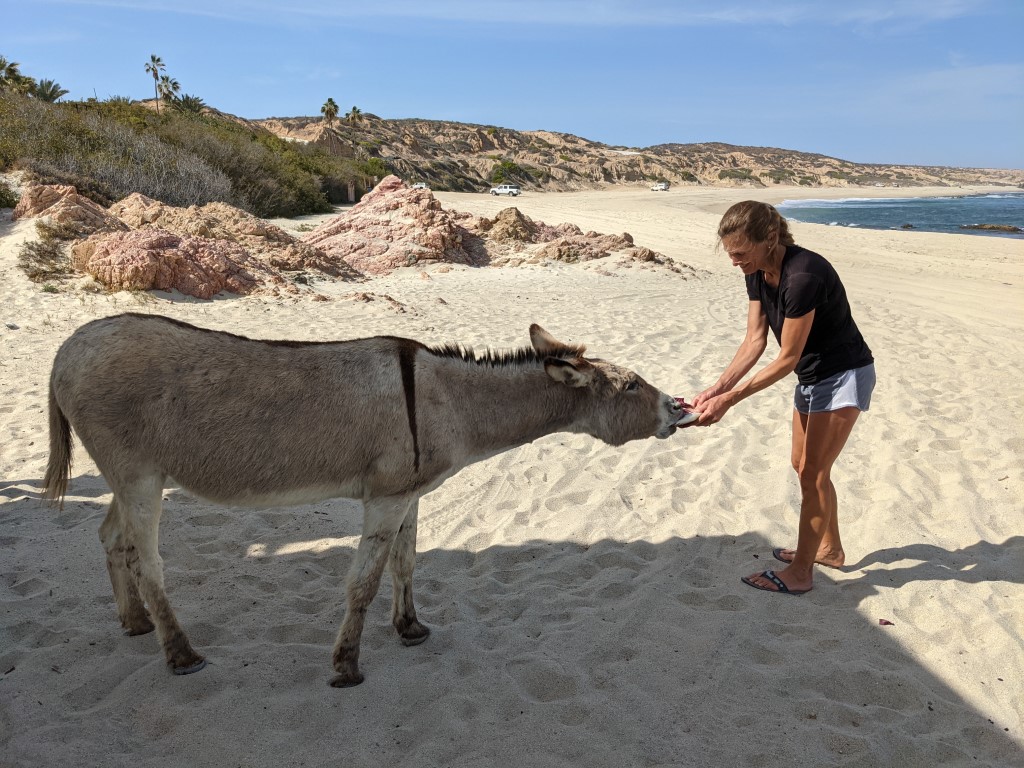 Running low on water and not being sure how the road onward would be, we left and headed further south toward Cabo at the southern tip of Baja. That morning, the rays weren't jumping like they had been. Maybe they were dispersing, after all the full moon was over. It didn't take more than a few kilometers for the feel to change. The landscape became more built up & busy. We stopped over for a night at a popular surf beach, still on the Sea of Cortez side. It was too rough to swim but the waves were pretty. We met a nice guy from Maine who was down for the surfing and chatted a bit. The best part was the burro who came by for a snack!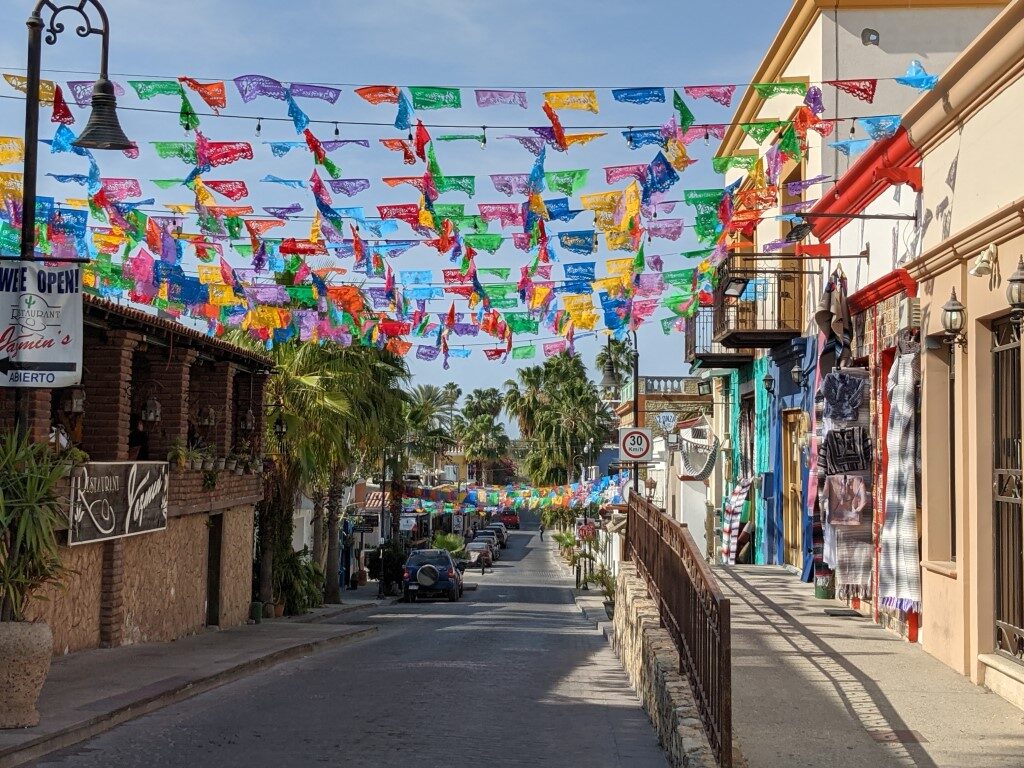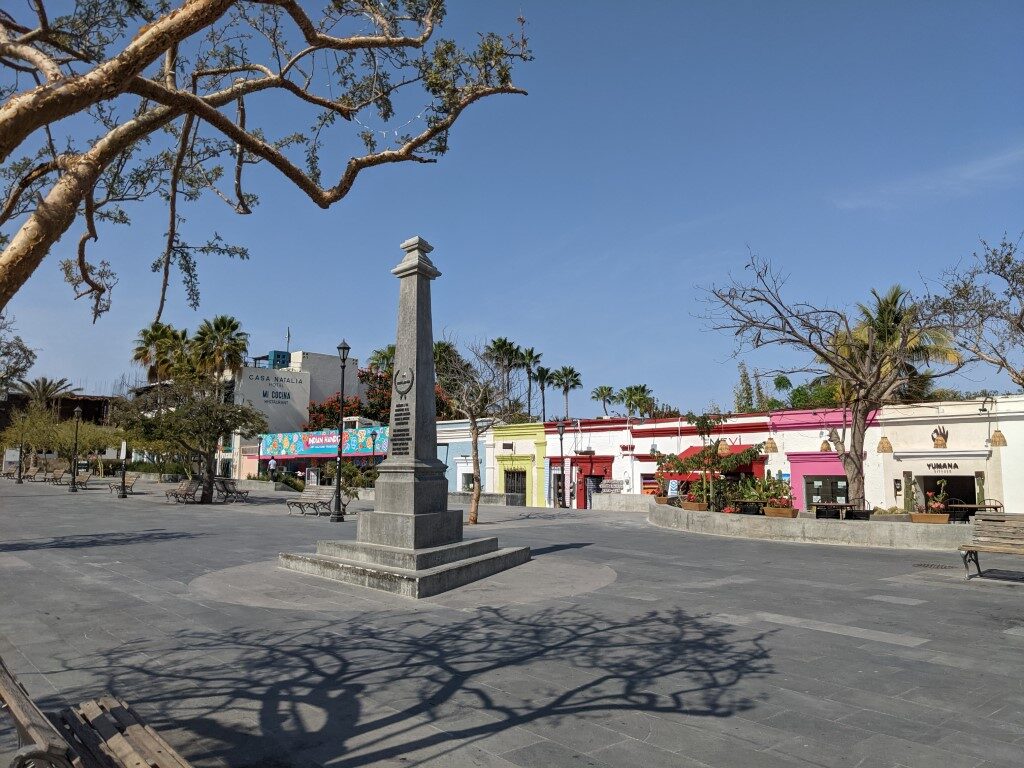 The following day, we restocked with groceries & water on the outskirts of San Jose del Cabo. I remember when we first got to Baja and were doing the more remote north, I thought the produce was sketchy. But in the south we have gotten fantastic stuff. The oranges, grapefruit, pineapple and avocados have been great and we just got the best mangoes. We parked for the night near the pretty, colonial square in San Jose to do the town. It wasn't intentional, but we were just in time for Semana Santa. It's a big celebration, but with no Easter baskets. While we were at Cabo Pulmo, there were questionable threats that the beaches would be closing for the holiday to prevent covid. The officials were going around hanging signs at the entrances to the beaches. Then on the night at the surf beach, the cops came by to say that starting the following day, the beaches would be closed from 7p-7a. Oh, so I guess covid is only transmitted at night! Didn't really understand it. So we get to Cabo and around 6pm, the quiet square transforms to this all out party with tourists and locals everywhere and bands on every corner! Decent Spanish rock bands actually, singing the hits of the 70-80's. I could just make out the Spanish accent listening to them sing Hotel California. Funny. But it didn't add up as far as covid goes.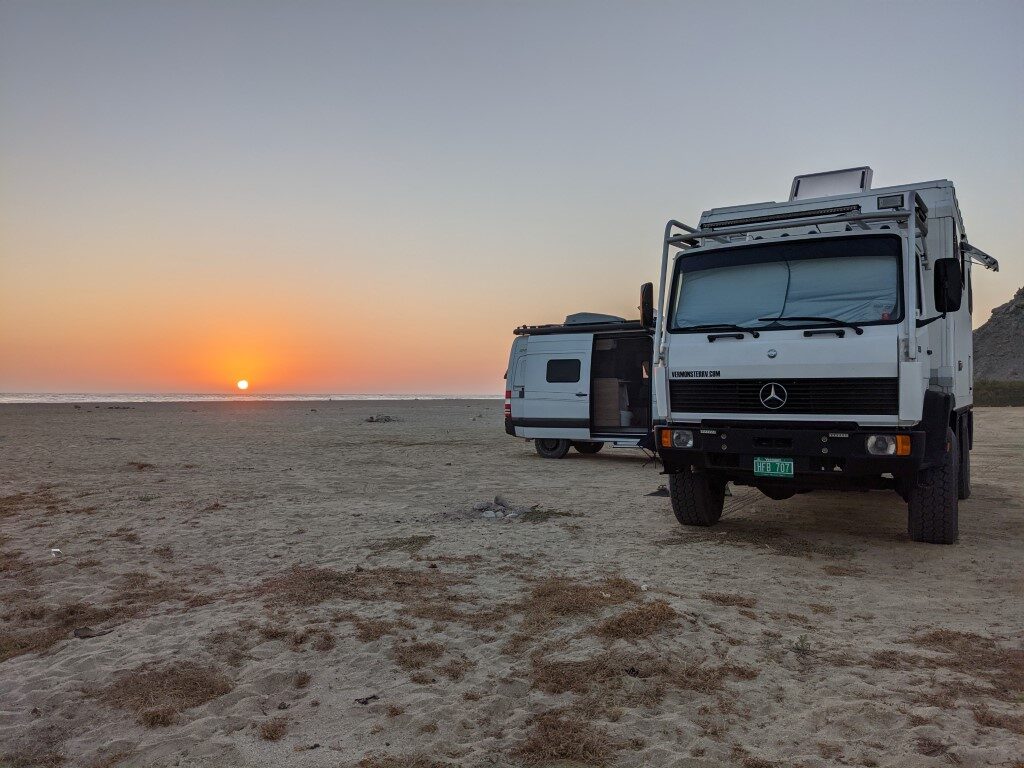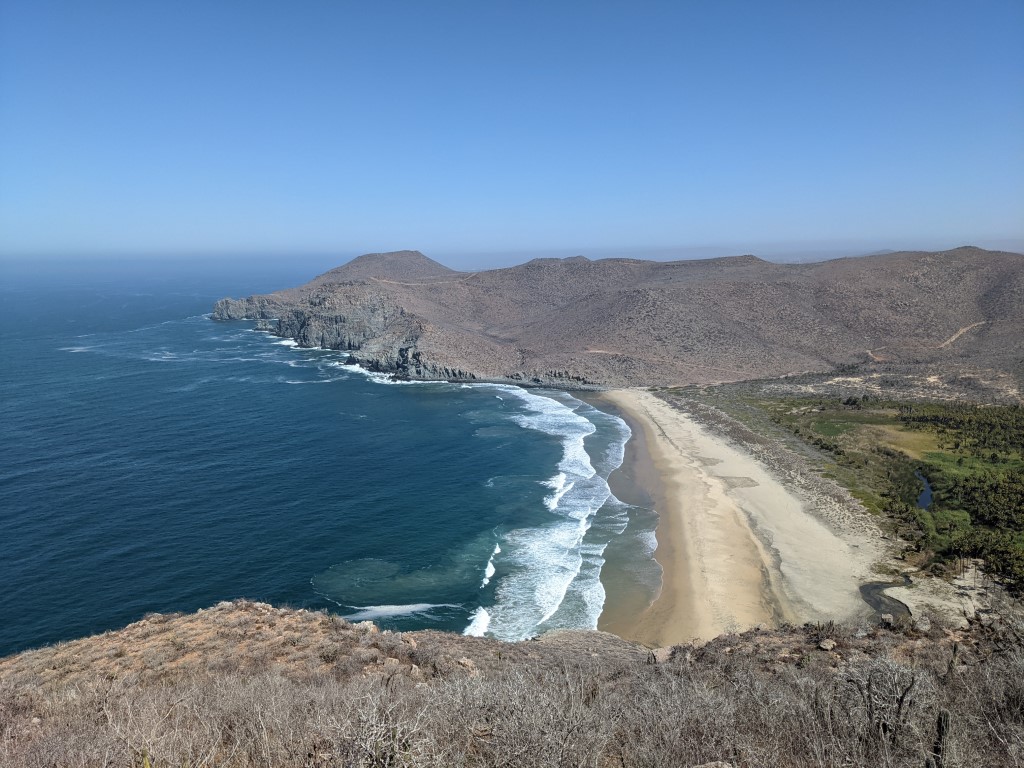 We made a group decision that we weren't in to spending any time in Cabo San Lucas because it was too busy and not our thing. And with Easter and all… so we headed around the tip of the peninsula to the Pacific side. Often the campspots are off the interstate down large washes that lead to the sea. We use our handheld radios to discuss which fork to take to get to the best place. Really liking them. Man, is it damper over here! Cooler, but nothng dries. The waves are impressively large and the beaches are steep so we don't feel too swimmy. The vehicles are covered in salt spray. Sunsets are over the water now and very pretty. Our ankles get a workout trudging in the soft sand. We come back and laze under the awning for a bit- it's good to finally be using that too. We are still working on finishing out the details of the truck to make things better.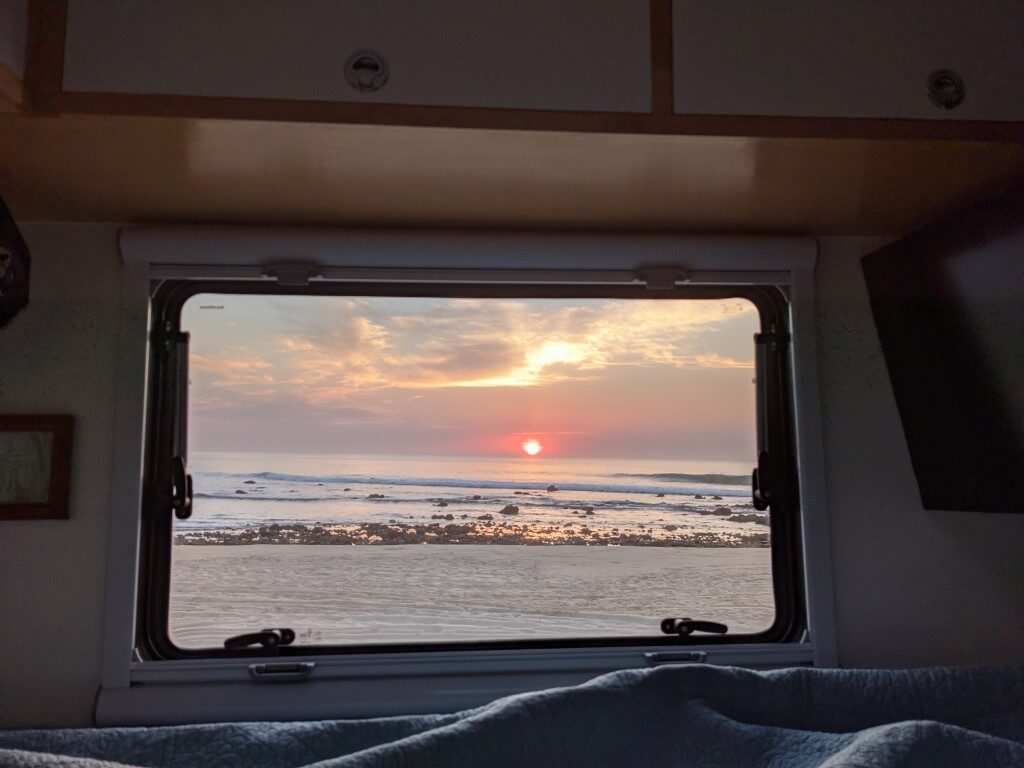 Jon & I took a walk today and reflected that what has made exploring these places so fun is the people we've met and traveled with while doing it. Looking out over the hazy Pacific from the high rock we were sitting on, it's hard to believe it's been 9 years since we set off sailing across it. We met so many cool people on that trip. And we're still finding them now, on this new type of adventure.