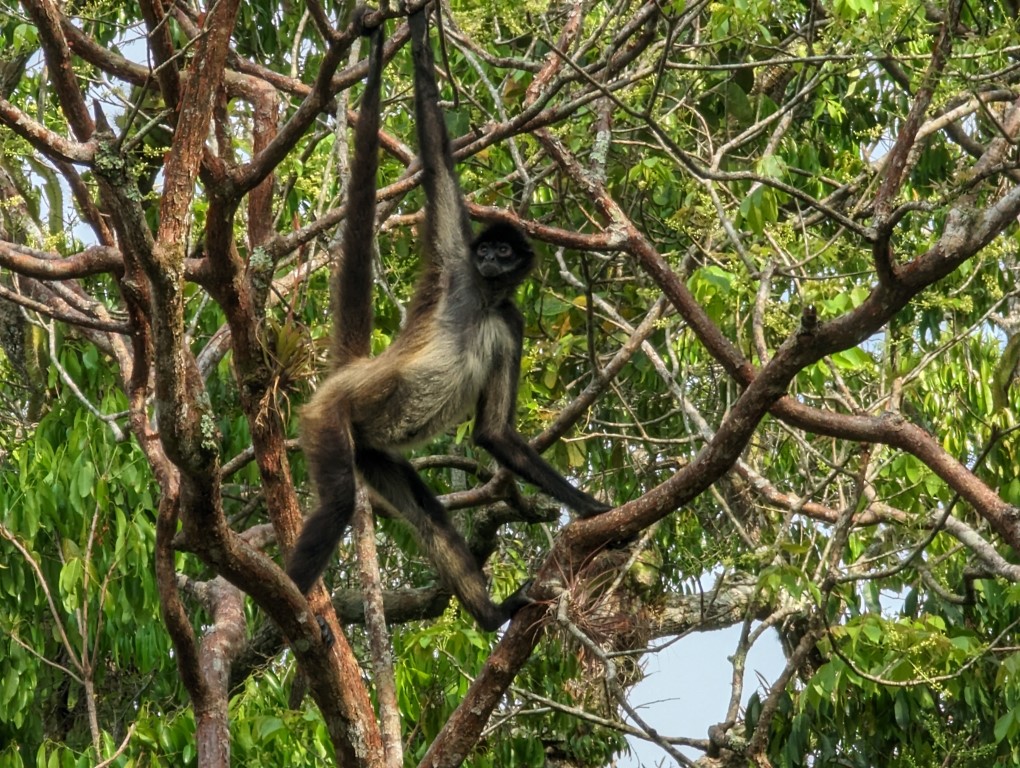 In between speedbumps, we've been seeing a lot of really beautiful things as we explore Chiapas, Mexico. Its been a friendly place full of variety from jungle to highlands, lots of swimming and a good amount of wildlife and some nice places to stay. Not everything is a gem, but that is part of traveling. Our biggest complaints are speed bumps and trash. Jon got the leaking fuel pumped fixed only to now have another issue to repair, this time worn bushings on the truck cab which is in constant motion from the hundreds of speed bumps we have to roll over. Also, we have a big dent in the motorcycle gas tank from it hitting the spare tire when we come off the speed bumps and one of our rear shocks is leaking oil. It seems to be a national pastime building these irritating things. One good thing is there are a lot of Mercedes trucks here so that could be good for getting some parts. Others we will still have to order from Europe.
We plan to cross to Guatemala today. Here's what we've been doing: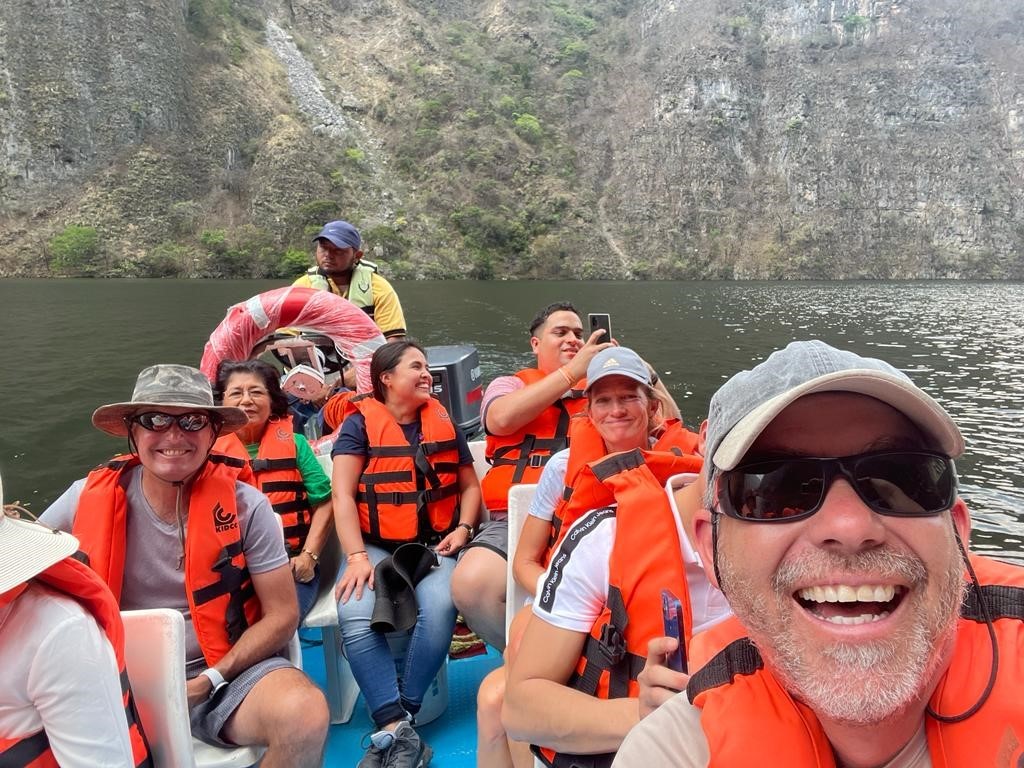 The travel books tell you that Sumidero Canyon is something to see and the best way is to take a boat up the river to view the tall 1,000 meter walls. The Grijalva River used to roar through the canyon but years ago they built a dam and now it is placid. We did the tour but weren't blown away by what we saw and the amount of trash in the river was disturbing. We stopped at least a half dozen times for the driver to free up the prop from snags. We saw a big croc but he had some styrofoam cups beside him. Then when we emerged from the shade of the canyon walls up near the dam, it was hot as hell and then the outboard stalled! I always look over to shore when I'm in these boats thinking I could swim that if I needed to but in these waters I wouldn't be sure a croc wouldn't get me first. Then when the outboard was finally started, the driver pulled up to a floating snack shop where you could buy some food or beer while sitting in the blazing sun. We got back to headquarters and chalked that up as an experience we didn't need but when you're traveling you don't know what is going to be great and what isn't. They need to clean up that river.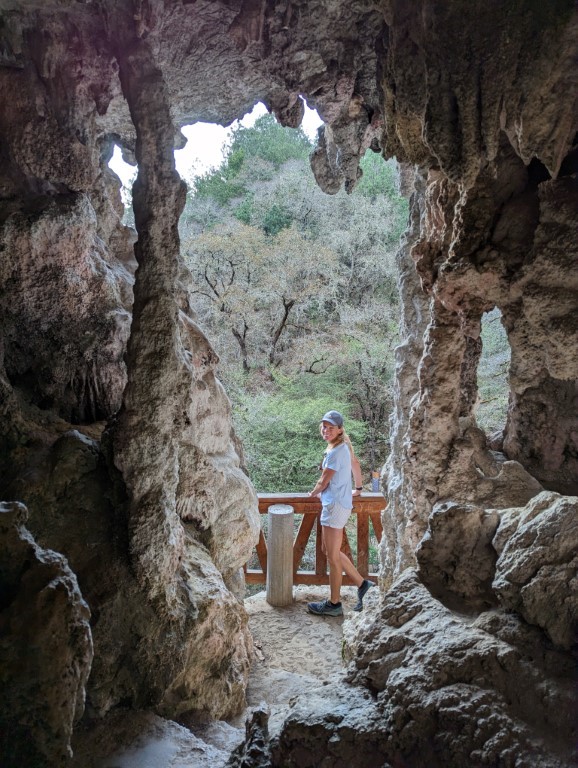 We'd heard good things about the town of San Cristobal de las Casas especially it's cooler mountain air so we headed directly there to a really nice campspot on the perimeter called Arcotete. The only issue was finding it. We rely a lot on Google Maps but sometimes it takes us on long detours or on to roads that don't make sense. You can't really know until you see it unfolding. More than once we've ended up driving through the city centers where we really don't want to be, sometimes because it's the only way and others because maps takes us that way thinking it's shorter. This is supposed to be a relatively stress free lifestyle but sometimes it isn't! But we got settled in to a very spring-like meadow at Arcotete and took a nice walk around the grounds listening to many birds and exploring a great limestone cave with lots of viewpoints looking out over a stream. It was quite an oasis and we really enjoyed this place.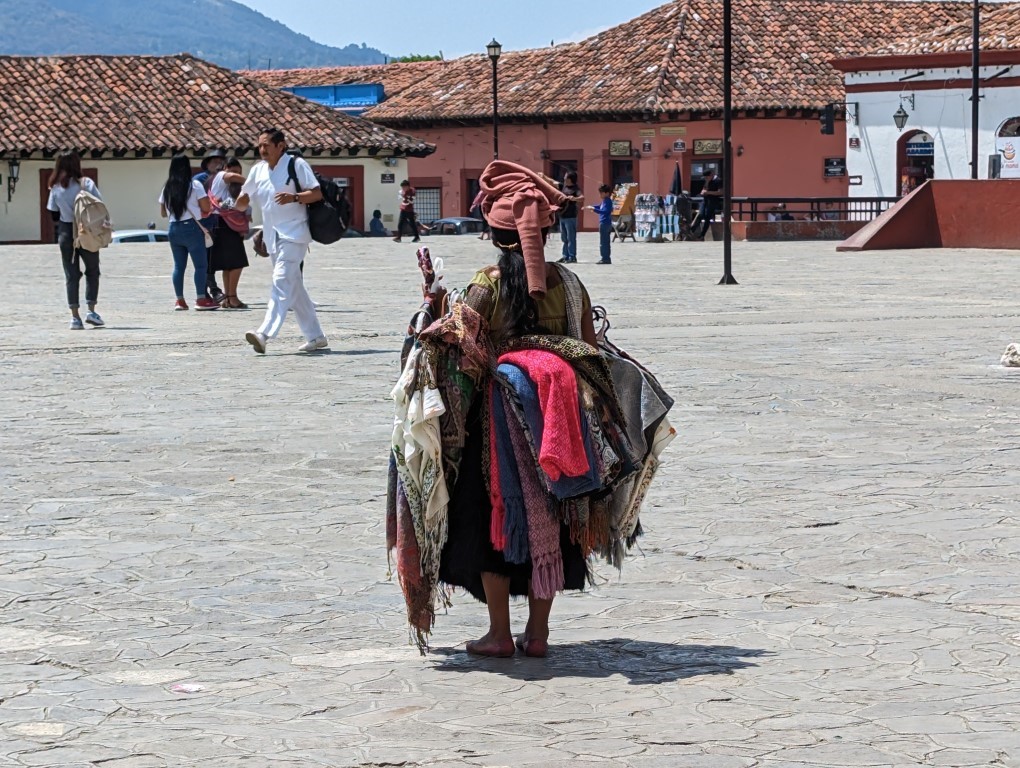 It was possible to take a collectivo bus into the heart of the city right from the campground which was great. We could ride in the back and enjoy all the speedbunps without having to shift. The downtown has a pretty big market and it reminds us of the medinas of Morocco. We had a great day just milling around the town taking in all the sights and smells. There were lots of pedestrian streets with pretty painted buildings and there was a good vibe. We got lunch, then a cup of local coffee, then gelato…. pretty much stuffed our faces.
We took a walk one morning from the campground to another cave which wasn't as interesting as the one at our campground but it was much larger and it was fun to have a walking destination. On another day we ran to it for exercise.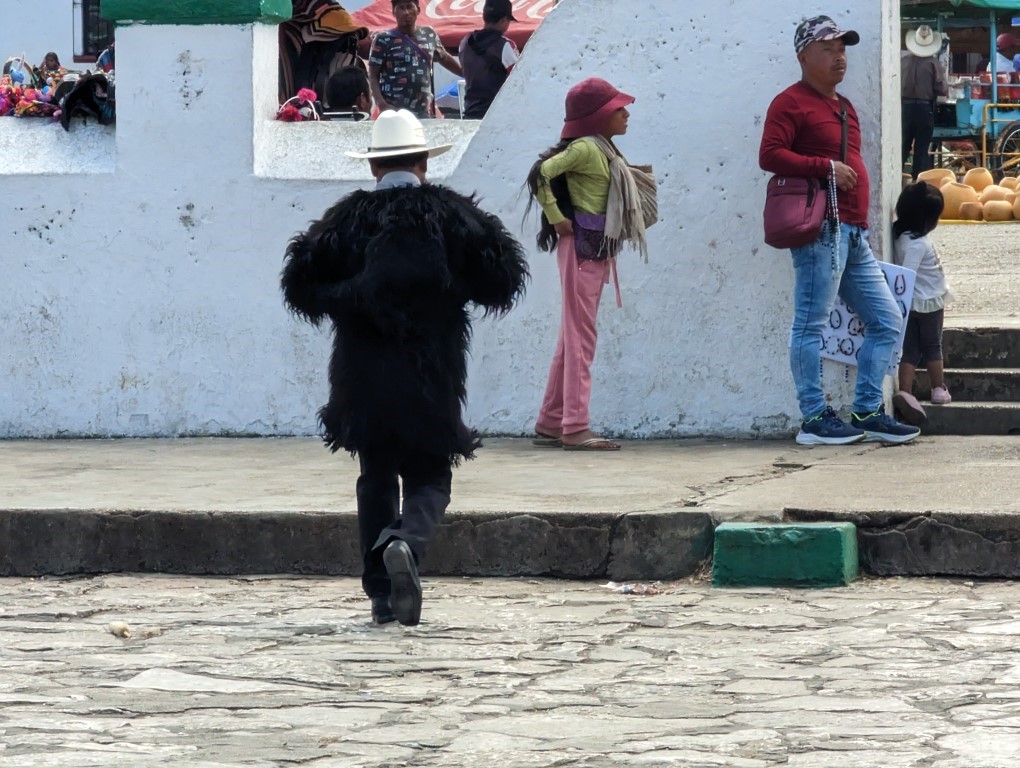 Just outside the city of San Cristobal, there are a few indigenous mountain villages, known for their unique religious practices and traditional clothing. The women wear long black wool skirts and the men these peculiar jackets of heavy black wool. Jon and I dropped the motorcycle (we hadn't used it in months) and headed off to check them out. We felt one with the locals given that so many get around on motorcycles. It's just that it was a waste since there were only 2 of us on our bike rather than 3 or 4. Haha. So the most interesting of the two villages was Chamula, and the church & square in particular. I'll describe what we saw and read about.
There is a statistic that Chiapas, Mexico consumes some of the most Coke worldwide. It began years ago purportedly because the water was bad- they started drinking soda instead of water. We read that the average person including kids drinks 2 liters of soda per day, mainly Coke. We have seen a lot of gold teeth, massive stacks of soda in the stores and many a kid carrying soda back home from the tiendas so we believe this to still be true. Many indigenous religions including the Chamulan religion are a mixture of Catholic and pre-Conquest Mayan. The old Christian churches, like this one built in the 1500's, are still in use but what happens inside them isn't the same- it has had some adaptations. In the central square, an older Mayan lady came up to me to ask if I would buy some little handmade dolls. She REALLY wanted me to buy them. The Mayan people are short statured so she came up to about my chest. I did buy them and she went away happy.
You pay a few pesos to enter the church as a tourist but you can't take any pictures. You first notice that the floor is covered with fresh pine needles and all of the pews have been removed. There are hundreds & hundreds of candles lit, both on the floor and on shelves and there are tenders scraping the old wax up and putting fresh candles down and lighting them.The smoke from this mass of flame hovers in the air and contributes a lot of heat. Kneeling down are many families with candles lit before them and then rows of soda bottles ready to be opened at the right moment. They call out prayers and there was even a chicken there to be sacrificed because they do that too. I'd wanted to stay to hear the ritual of the soda which is to drink it down, then burp loudly to expel evil spirits from one's body. However, no one was doing it while we were there and the smoke and the thought of the real fire hazard of flame and pine needles caused us to leave before we could witness that spectacle. We burned the image into our brains (not hard to do with all the candles lit) and wished Ivan could have seen it too. Once back out on the square, we saw the little Mayan lady again and she had two big bottles of coke in her hands that she'd just purchased. I wish I could have gone into the church to see her belch out her evil spirits, if she had any. We really enjoyed our time in San Cristobal, the weird village of Chamula and the fresh cool air was another big benefit.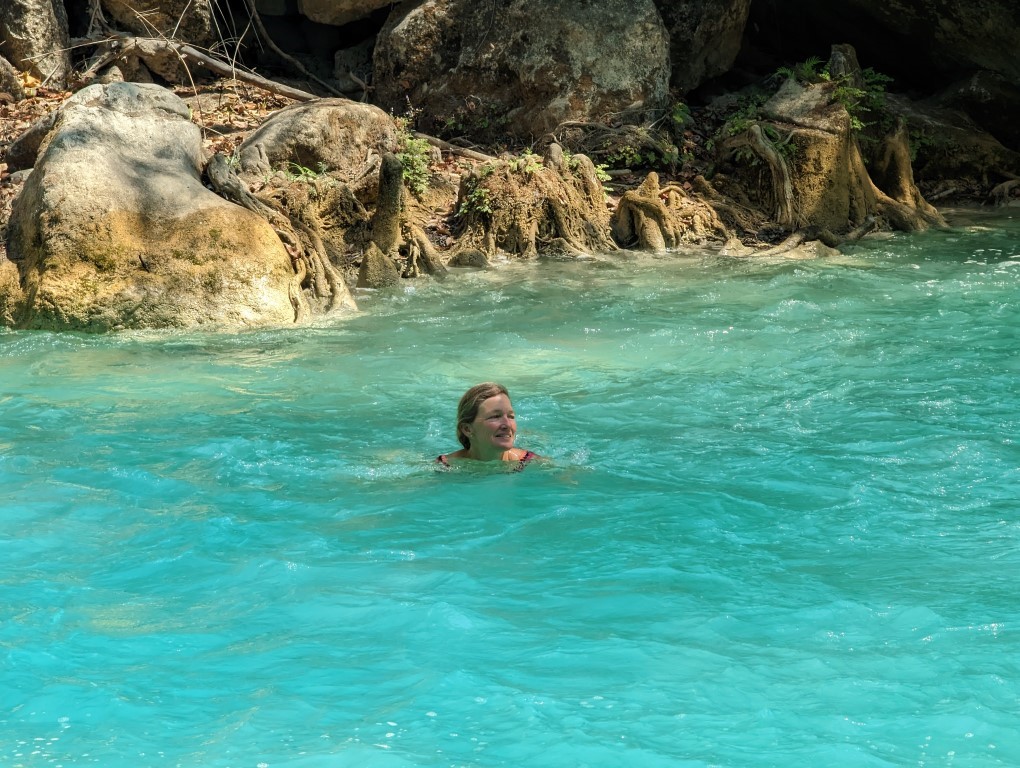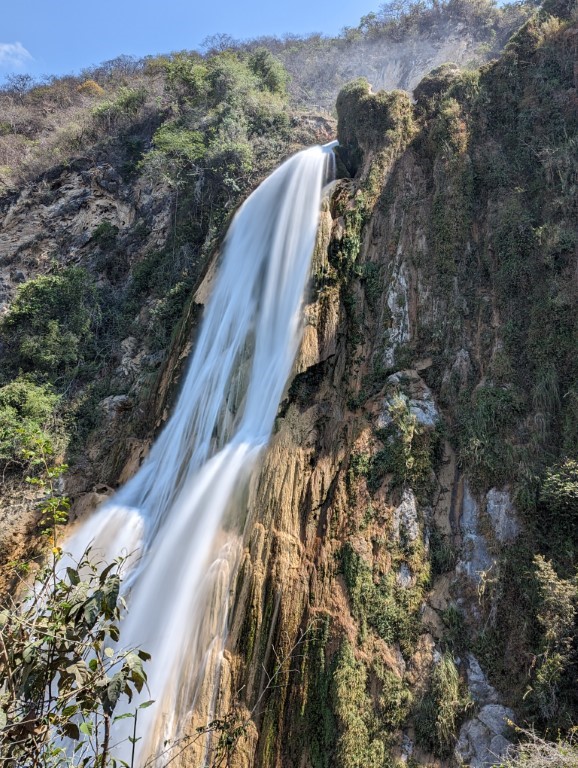 Chiapas has a lot of impressive waterfalls, El Chiflon being one of them. We moved south a bit to visit them and descended into some really hot air! We could camp just outside the main gate along a clear blue river and then walk up the trail to various levels of falls and dip in most of them. Then again in the morning before the people arrived.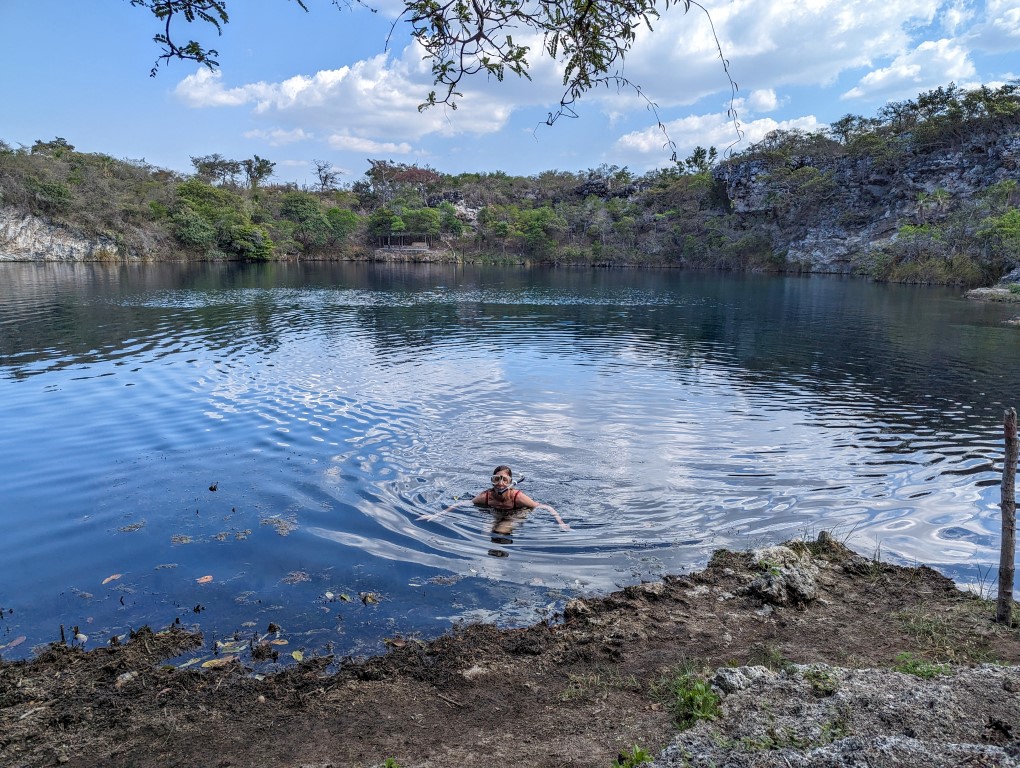 The best cenotes and the only truly real ones are in the Yucatan but there was one on the map near El Chiflon so we headed over to it. The locals were enjoying it and there was even a scuba class going on. I guess it wouldn't be too much different than learning to dive in a pool or a quarry but we're glad we got certified years ago in Bequia where it was full of reef! The cenote had clear blue water but nothing living in it and we weren't too impressed. We spent the night nearby at another watery spot called Uninajab with lots of pools, again much enjoyed by the locals but it was so windy we didn't feel like swimming. We got some BBQ chicken though which can be found smoking away just about anywhere you go in Chiapas and it was really good.
Along the way, we also visited another waterfall and a couple of ruin sites but it is too much to remember all of the details of these places.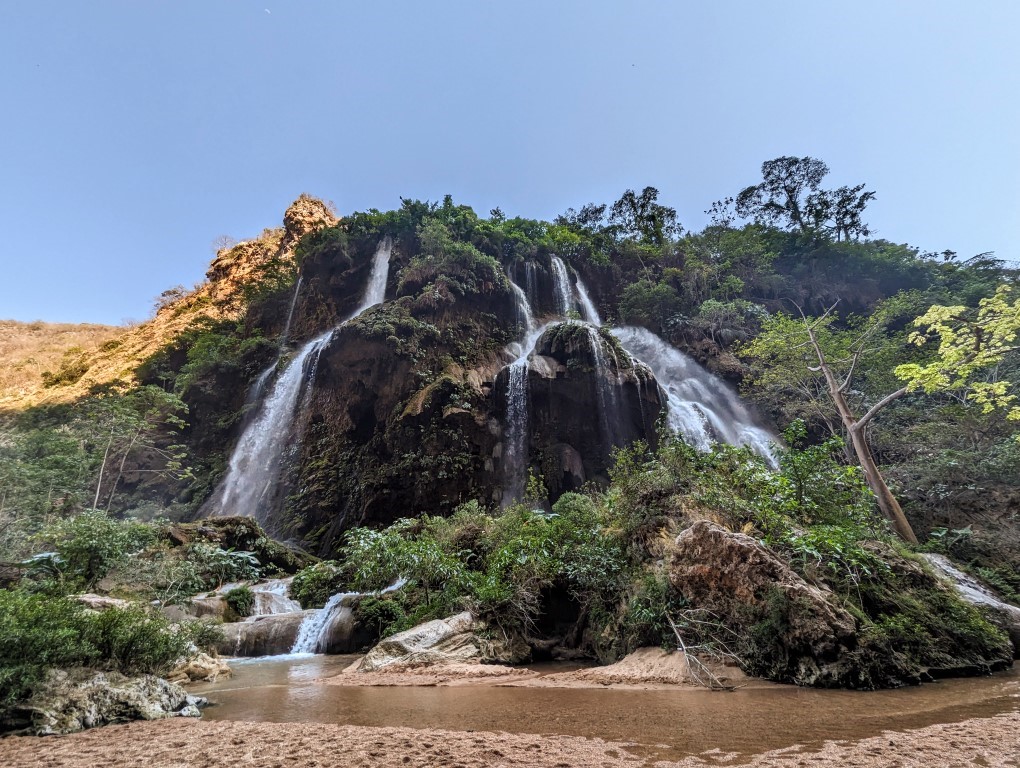 After steaming in the hot temps we headed up to Laguna Montebello National Park. It has several crystal clear lakes and cooler air so you feel good & perky. We tried one lake but couldn't get our truck through because of low tree limbs. This sometimes happens but not often and we're glad we're not any taller than we are. We have sweated some low slung power lines in Mexico for sure, especially when we end up in the city center on slender streets. But we found another lake to stay at and a decent campground to stay that had a large grassy field and a long shoreline. We could run to the Guatemala border from there where there's an international park and you can jump side to side between Mexico & Guatemala to your heart's content with no hassle from the border patrol! We took a nice hike up through the woods to some lake viewpoints and then down to one where we could swim. there were lots of of orchids on the trail. We even had a chihuahua for company. We nicknamed her cucaracha.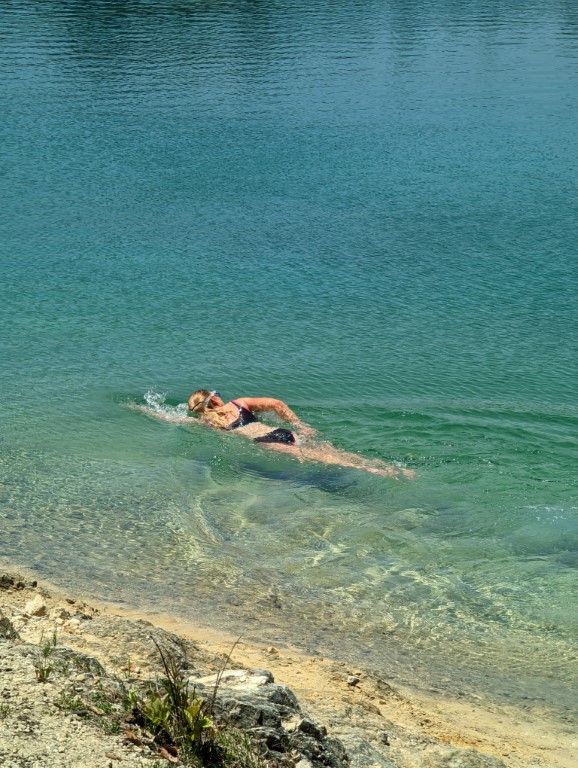 Jon & I headed off westward and downward to the jungle to another waterfall area called Las Nubes. There is such a thing here as community tolls. They aren't real common but Las Nubes had one. If they have a tourist attraction, you pay to get into the attraction but also another payment goes to the community as a toll. They man a palm frond booth and a makeshift rope across like something out of a children's story where none shall pass until you give them a negotiable amount of money. These guys even wore fake police shirts to play the part but they were polite. We ended up camped in a very nice field alongside a greenish blue river with impressive falls and ripple areas. There was a great jungle trail that led up to a few viewpoints and we hiked in the heat and then came down to the restaurant at the lodge there and ordered a full pitcher of limonada to cool down. It felt good to have all we wanted and then we sloshed back to our truck, took a swim and then sat in our chairs for a bit to watch the sunset. It wasn't too long before a toucan flapped across the field with its long beak curving down as it flew. What a thing to carry around!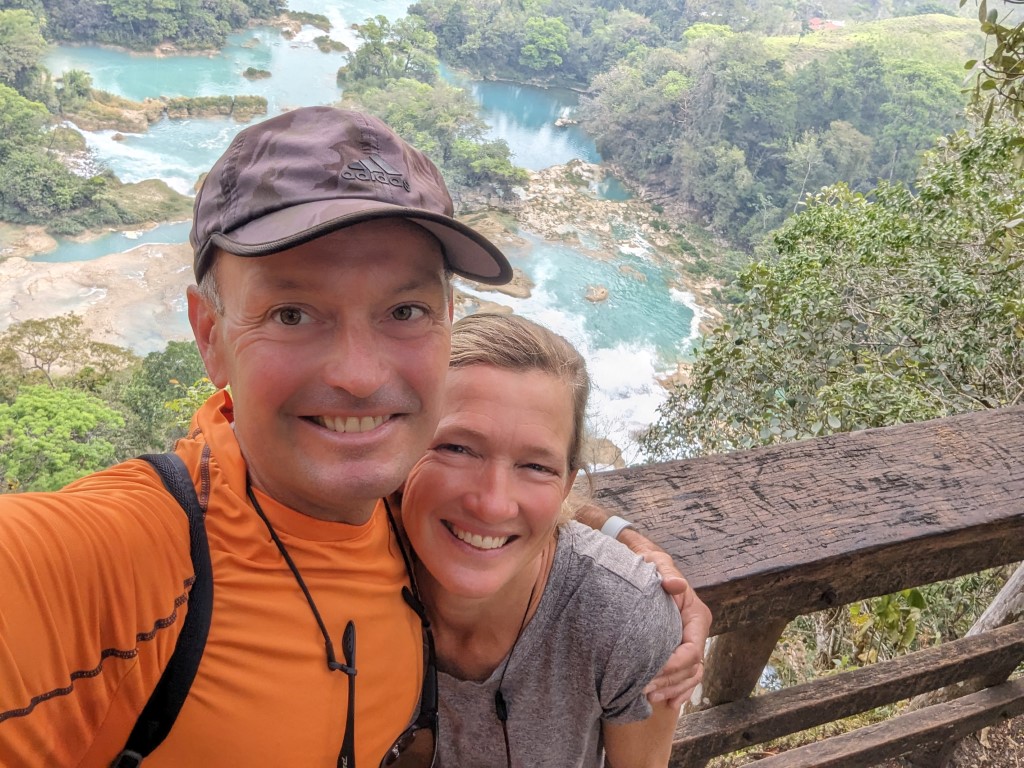 A pretty drive further eastward took us down to a beautiful town called Reforma Agraria. This place was a gem because it was an agriculture area set along a river full of monkeys, wild macaws and beautiful fields with flowering trees. A cute village to walk around and neat as a pin. Somehow, some communities figure out that they don't want trash everywhere. And we are all the happier for it.
As we drive along through beautiful countryside, I'm thankful, just as I was when living in downtown Boston for all of the foliage that hides the trash. It's just that there's more if it here. Moving through the villages, I often contemplate the myriad ways there are to have a life. Some days I feel moved by it and others I feel claustrophobic from it. I guess it is that part of travel that takes you out of your comfort zone that either makes you want to keep on going or turn back to settle into something softer.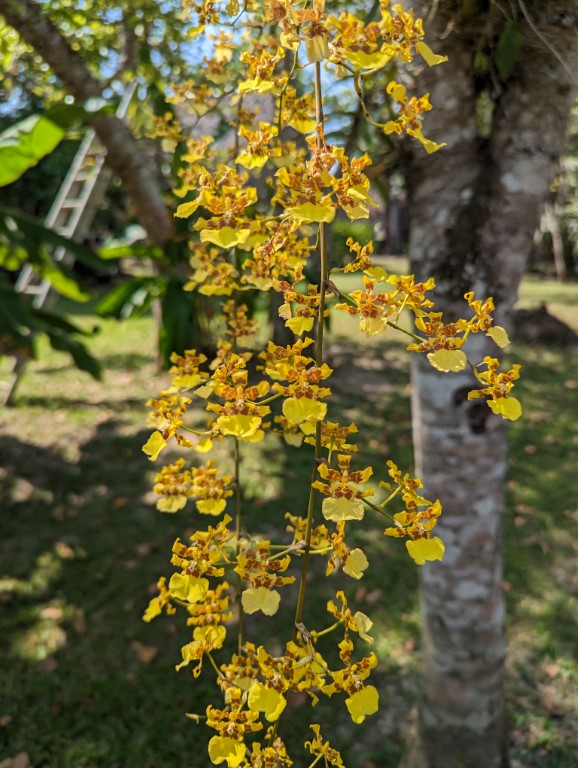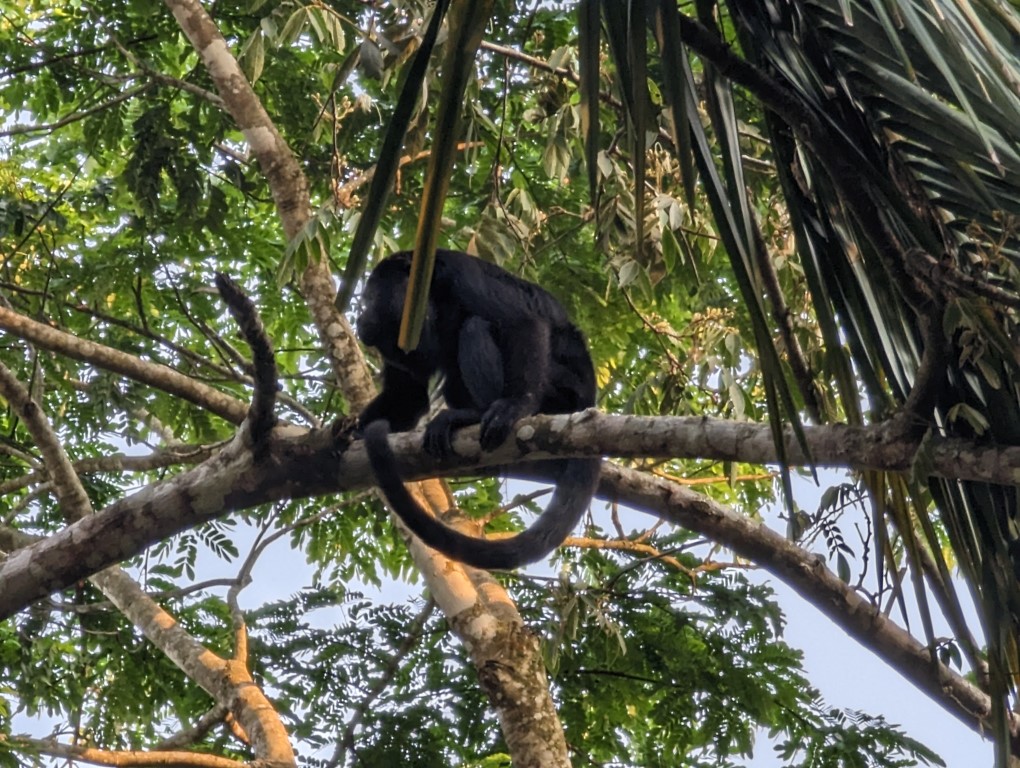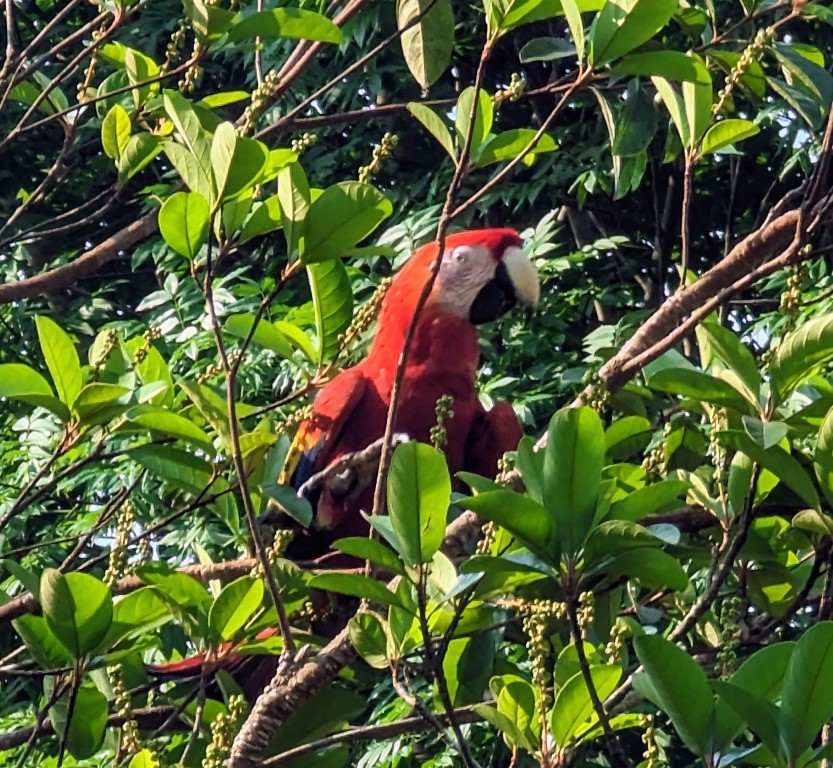 The howler monkeys are just crazy to listen to. I dont know what makes them howl but really it's more of a breathy monster-like roar and they do it all the time, including at night. To be in a town with all that roaring going on is just so unusual it just blows my mind. And on our past cruise to Central America on the boat, we never got right up to them to hear it very well. It was a wonderful place to hang out for a night and walk around looking at birds and monkeys.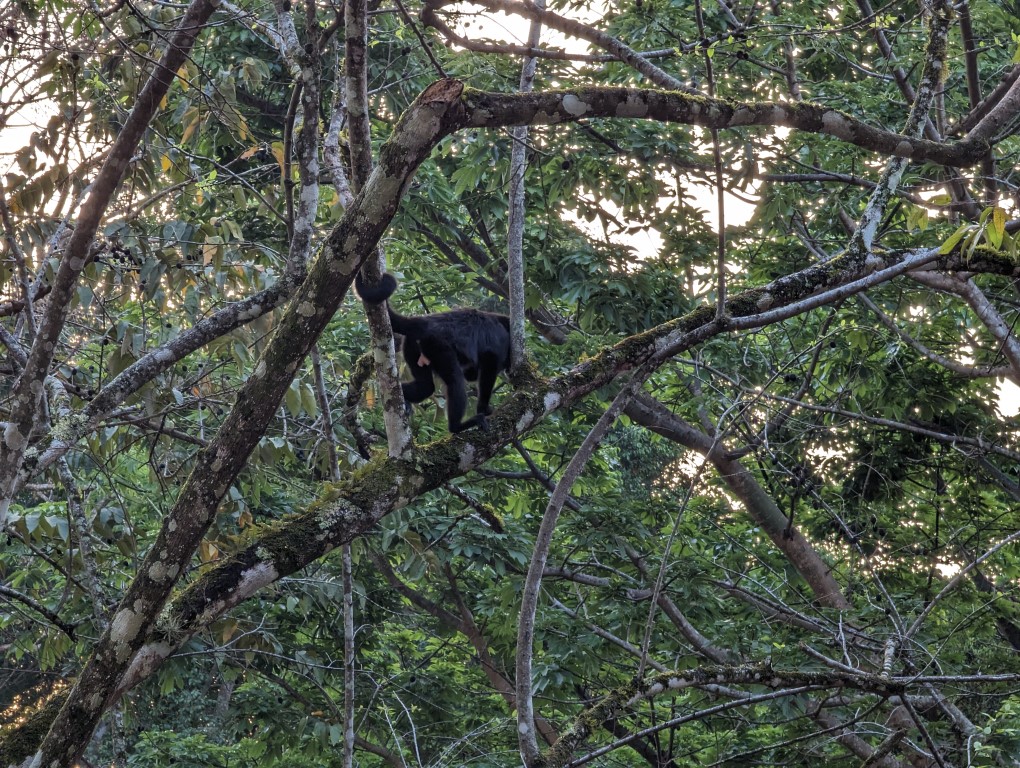 We drove further eastward to get to the town of Frontera Corozal to book a boat trip to the Yaxchilan ruins. Set on a curve of the Usumacinta River along the border of Guatemala, this was once a large urban center and dominant power in the area between 250-800 AD. The nice thing is its only accessible by boat and is a beautiful area of jungle full of spider and more howler monkeys. So is the town you launch from. We camped overnight in the parking area for the tour which was shaded by big trees, ones that monkeys love. That evening, we got our first thunderstorm just as Jon & I had settled into the river for a swim to cool down. We came back up to the truck just as the wind was starting to rip through and cover our truck with leaf debris. I wondered what the monkeys do when it pours down on them. It passed on soon enough and left the air cooler at least. The next morning there were monkeys hanging out right above our vehicles.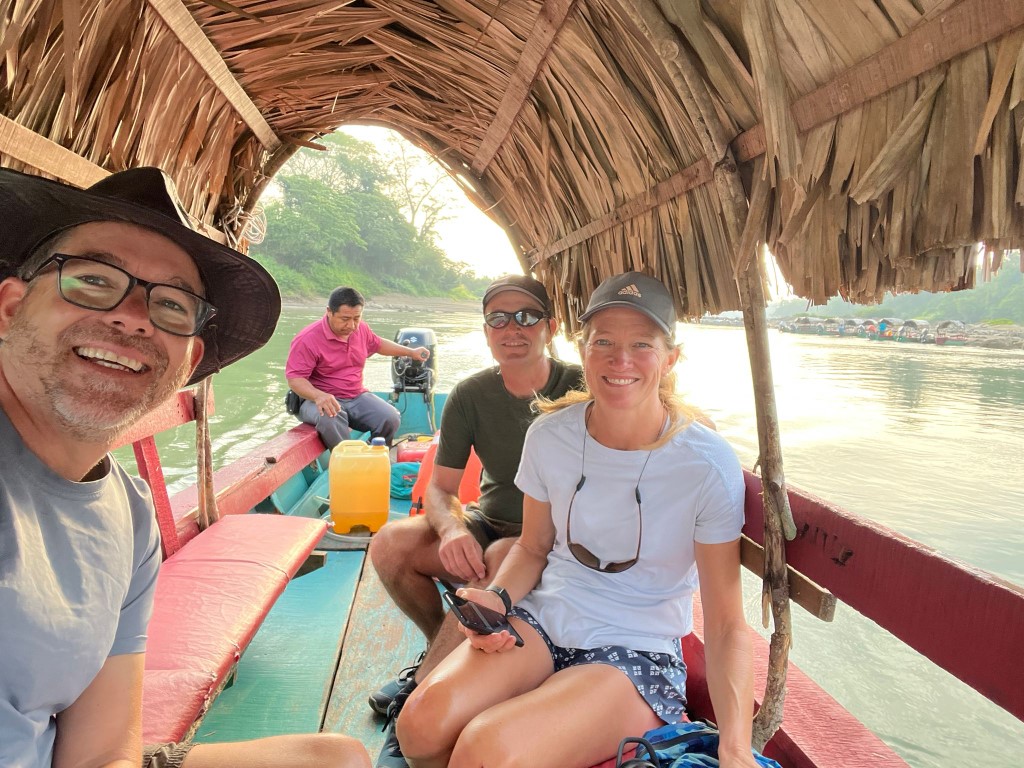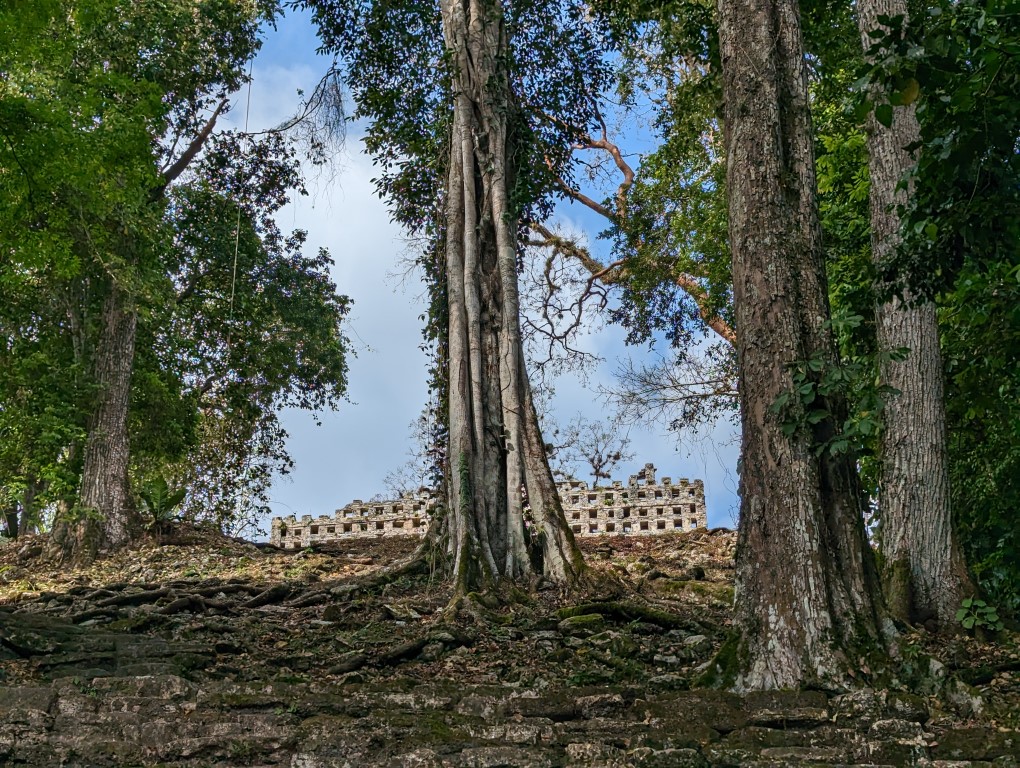 We'd arranged a 7am boat and cruised up the smooth river in the morning humidity characteristic of a jungle and arrived to be the first at the ruins. The buildings were unique in what we've seen so far and the jungle setting was really pretty especially in the morning light. Jon spotted another toucan and we could make out its colorful beak but not in time to get a picture. For some reason we'be been craving Fruit Loops now… The only thing with the boat ride to the ruin is that you only get 2 hours there before they want you back on the boat. We could have used more time there to explore at a slower pace. It was still a wonderful morning and a real highlight.
In search of cooler temps, we headed back to Montebello park for a night because we are getting ready to cross to Guatemala tomorrow at Mesilla and it's on the way. The plan was to take the pack rafts out on the lake but it got too windy so we ran instead and tried to get ourselves sorted for leaving Mexico. We also took our bikes out one afternoon which we hadn't done since lovely Tucson.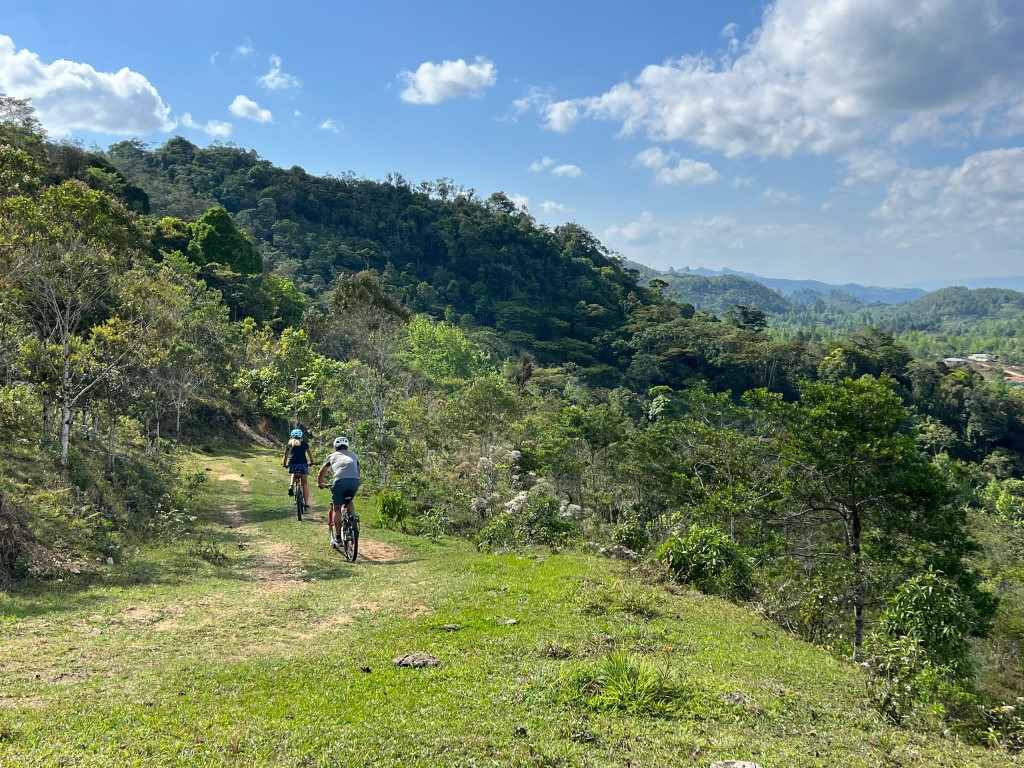 We had a chance to meet up with friends Julie & Marcus as they were passing through on their way north. We had a sweet evening sitting outside under the stars catching up. Marcus even pulled out his fine tequila to top off the night.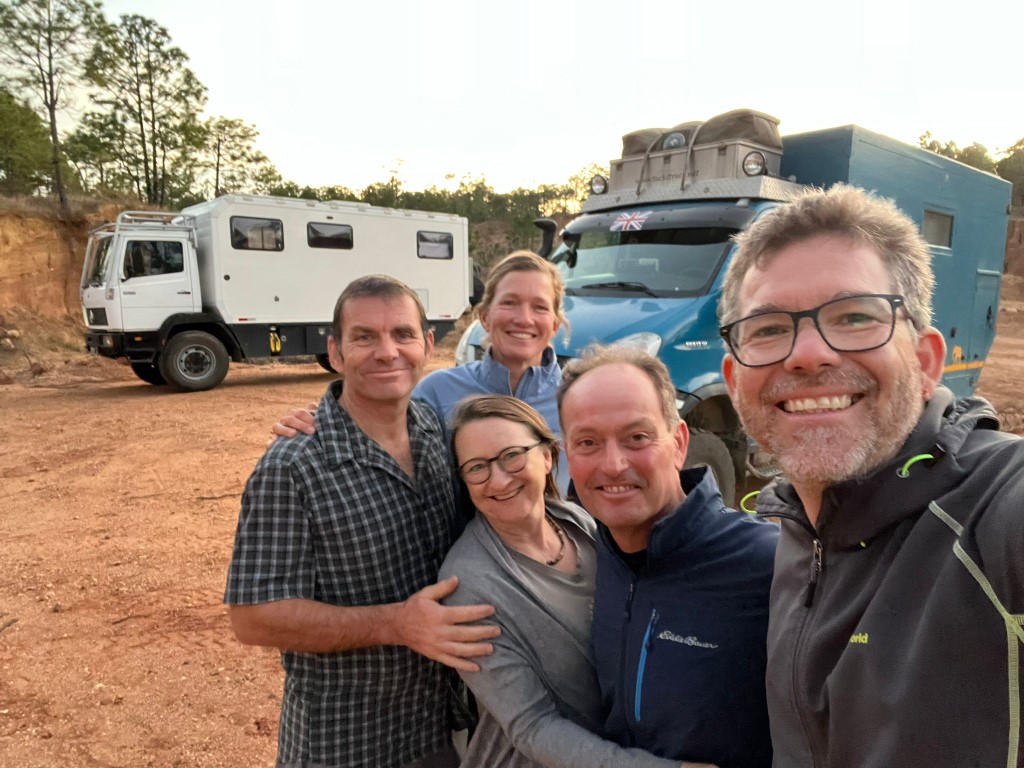 Never did we dream when we were in Central America 15 years ago that we'd be here again in a truck. It wasn't even on our radar at that point. While we're most excited to get to South America which has been our plan for years now, we are enjoying these spots we've been visiting so far. And its nice to share these places with friends.