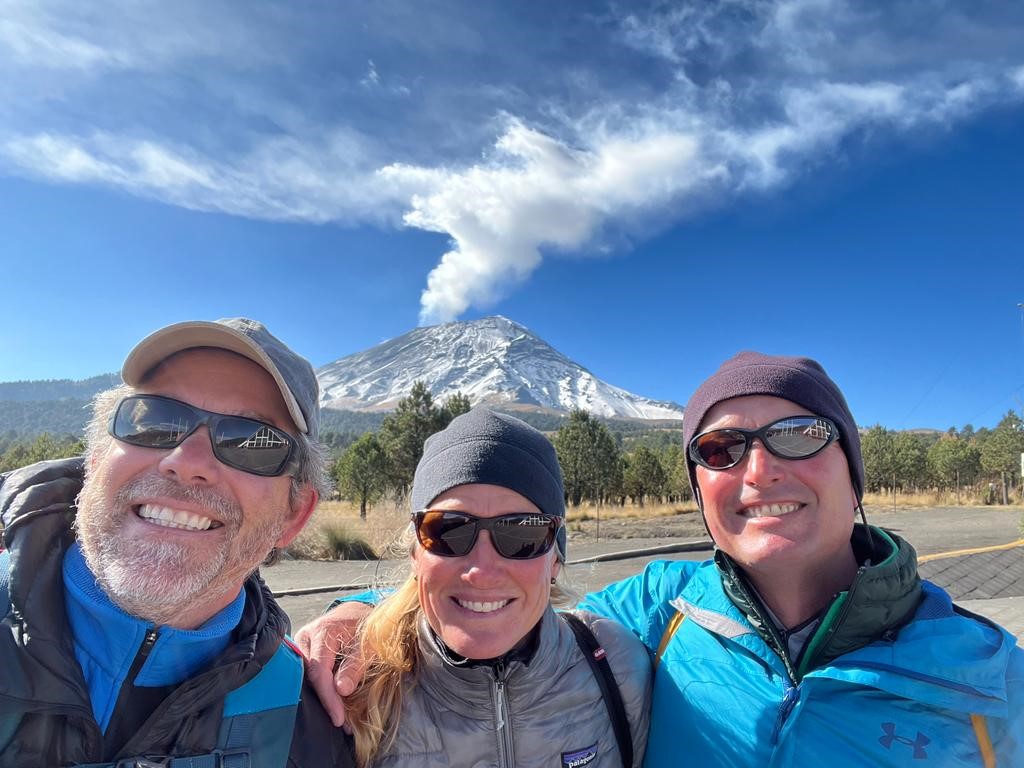 Greetings from San Cristobal, Mexico in Chiapas state. But I started writing this in Oaxaca, a few hundred kilometers ago, a place that we'd heard so much about for years. While it is a nice city, I think its the grassy campground on the outskirts with all the amenities that really draws most overlanders for at least a few days or sometimes, a few years. It had smoking internet but the pool and sitting in our chairs took too much time and I didn't get this finished.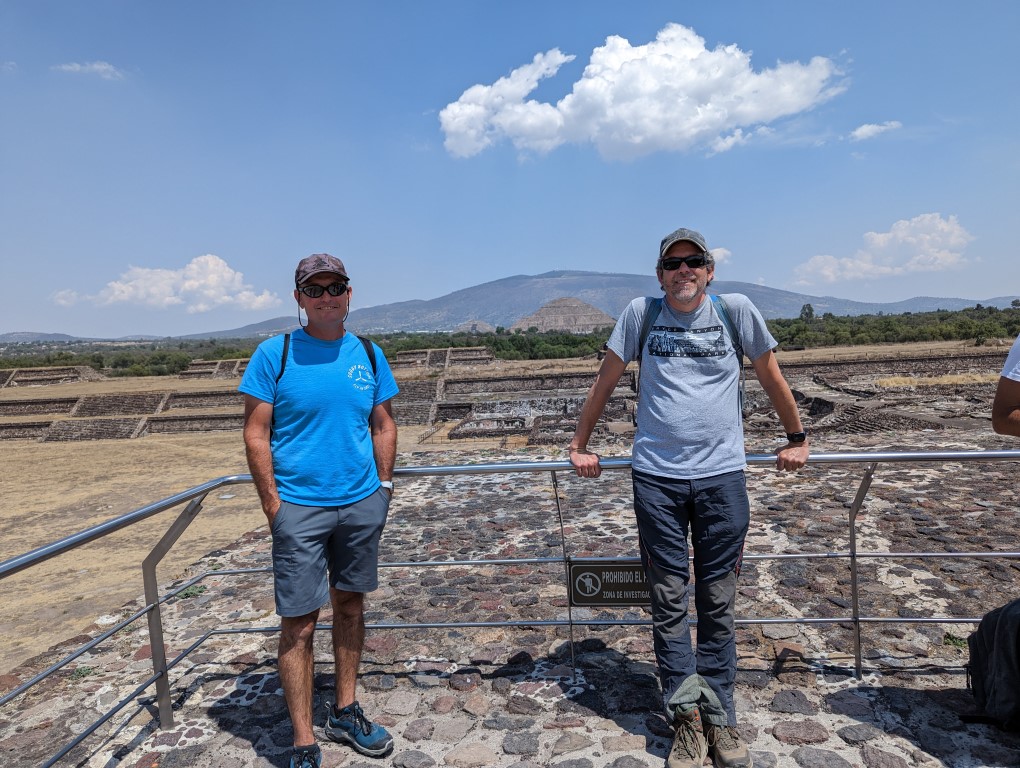 Since the last time I wrote, we visited the ancient city of Teotihuacan outside of Mexico City and camped right across the street from it. Begun at around 200 BC, it became one of the biggest cities in the world at that time of more than 150,000 rivaling imperial Rome according to my travel book. It is most famous for its large pyramids which stand out in a dry landscape and a vast, straight stretch of buildings referred to as the "Avenue of the Dead". We walked over early in the morning to beat the buses. We enjoyed it well enough but still think our favorites are the more tropical forested ones like Tikal with more foliage and color. I think our most vivid memory will be all the vendors selling the same stuff, the most notable a whistle that sounds like a jaguar. All the vendors were blowing into these things throughout the site and they'd really get going as you walked by hoping you'd be impressed enough to buy one. We didn't buy one but mastered the sound they make and now that makes its way into our jokes. The campground was pretty cute except for all the noise of firecrackers and bands and I often wonder how much money people spend on these firecrackers and why. Now all the hot air balloons that launch in the morning right overhead, those we enjoyed. So colorful.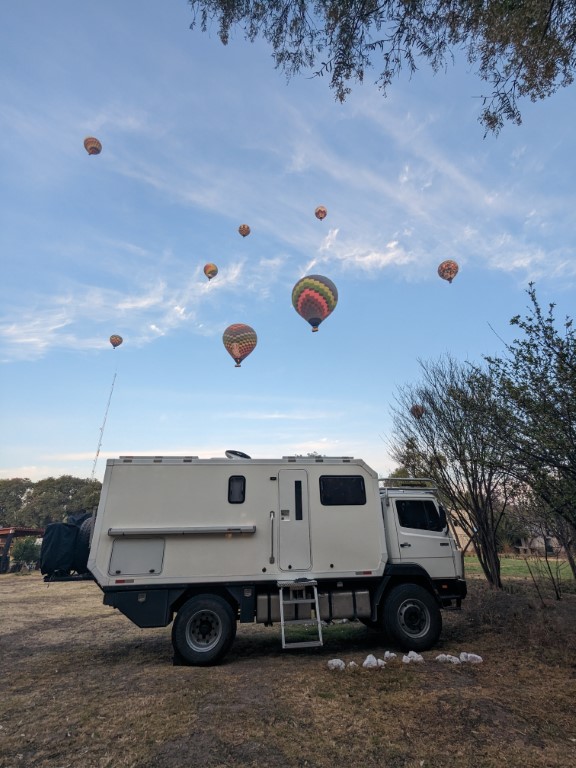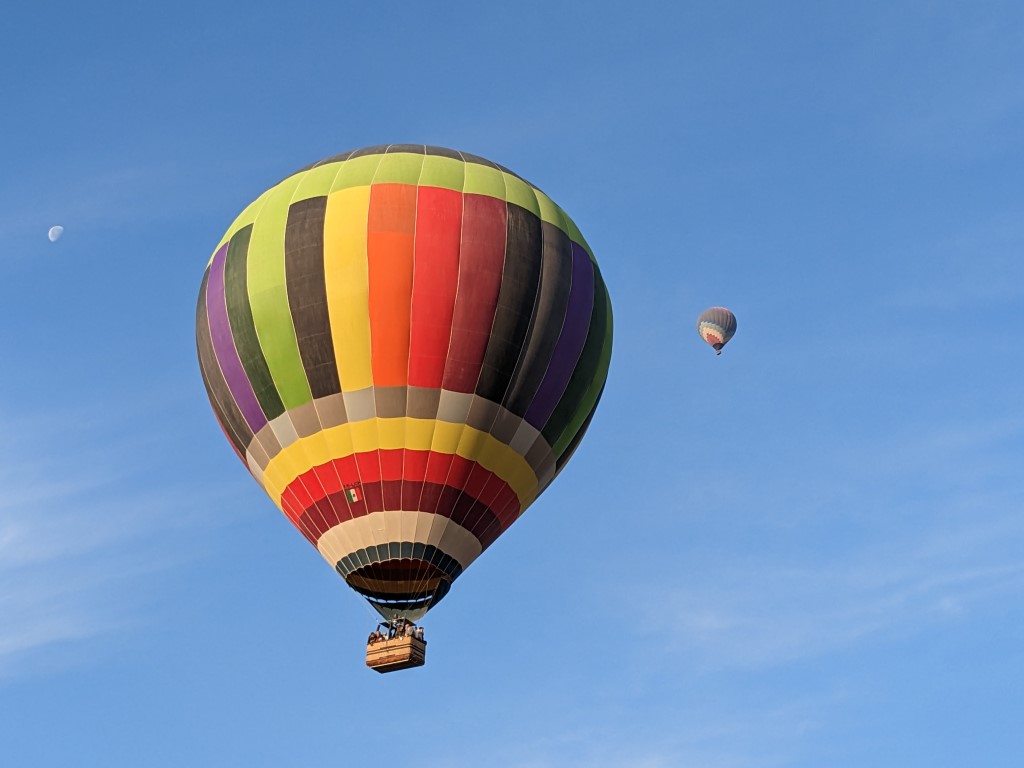 From that campground we caught an Uber cab into Mexico City to spend the day in the Zocalo, the city center. We toured the big buildings, ducked into a few museums, got lunch and a pastry and walked all over. We really enjoyed the museum of popular art. It was full of colorful things and it had a lot of them. For a huge city, I was impressed by how it was pretty neat and clean overall and friendly too. Although we felt OK after a day and were sort of glad to get back to the cleaner air outside the city.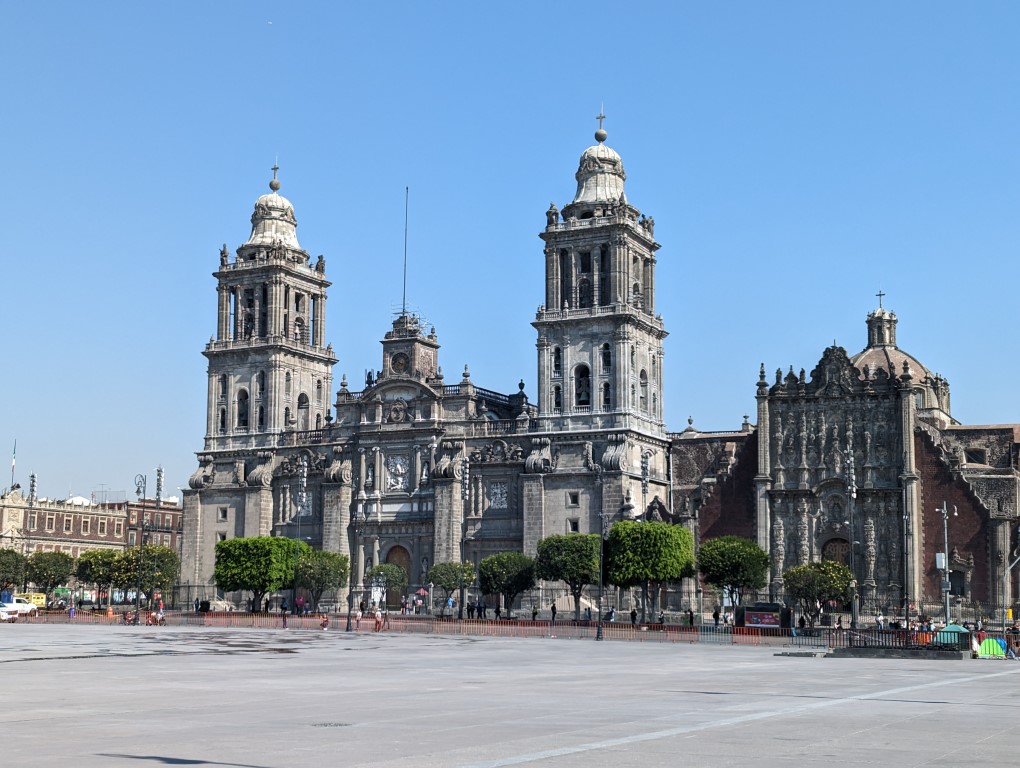 After doing the city thing we were really chuffed at the idea of heading to Iztaccihuatl- Popocatepeti National Park outside Puebla high up in the mountains. The park showcases 2 big volcanoes, Popo is still active and you can hear and see the steam coming from it and the Izta is right next to it but dormant. It would be our highest elevation driven in the truck and you can climb to the non technical summit at 17,343, by far our highest mountain because Whitney is I think 14,500. We were really excited to give this a try but knew it might be a challenge to get our truck to the basecamp where we'd need to start. We drove up to the visitor center which in most ways is a large building where park personnel live and also its where you check in for the park. You can camp in their parking lot at 12,000 feet but our hope was to continue up the road to La Joya where the summit trail starts and camp there. Well, that was impossible because they don't allow trucks like ours to go up the road, except for the last truck like ours that was allowed a few weeks before. We tried dropping their names, asking nicely and then begging but nothing worked. Ivan's van would be OK though and so we decided to camp at the visitor center, do a day hike from there to the trailhead the next day to acclimate and then drive Ivan's van up to the summit trail early the next morning to get as high as we could.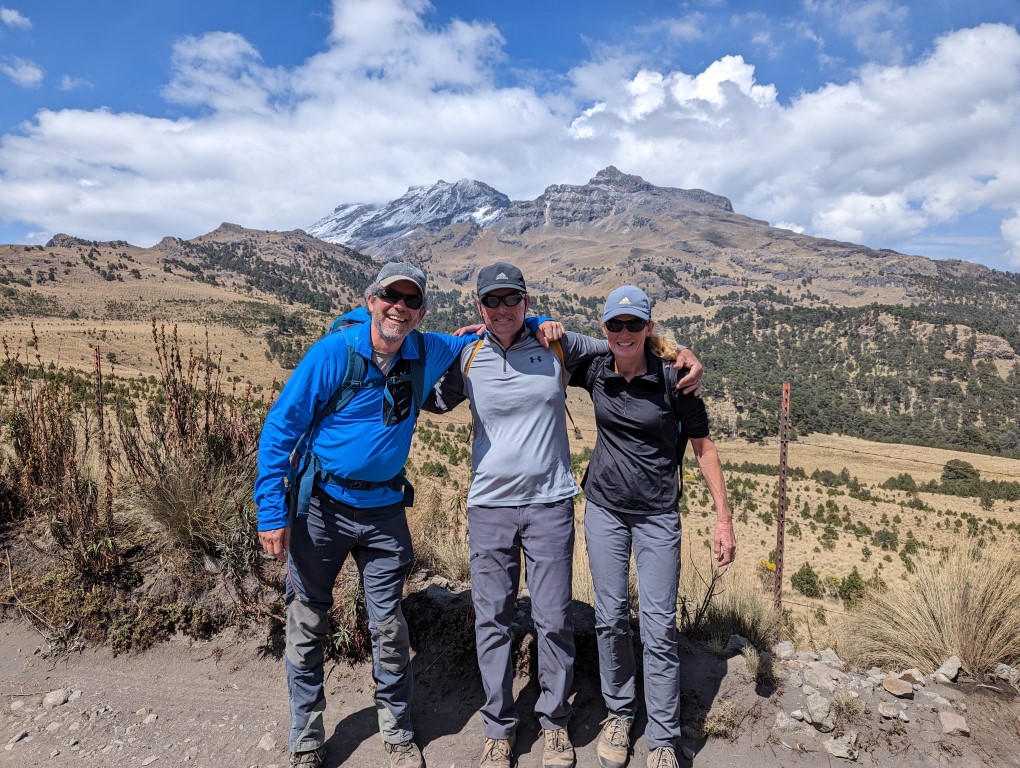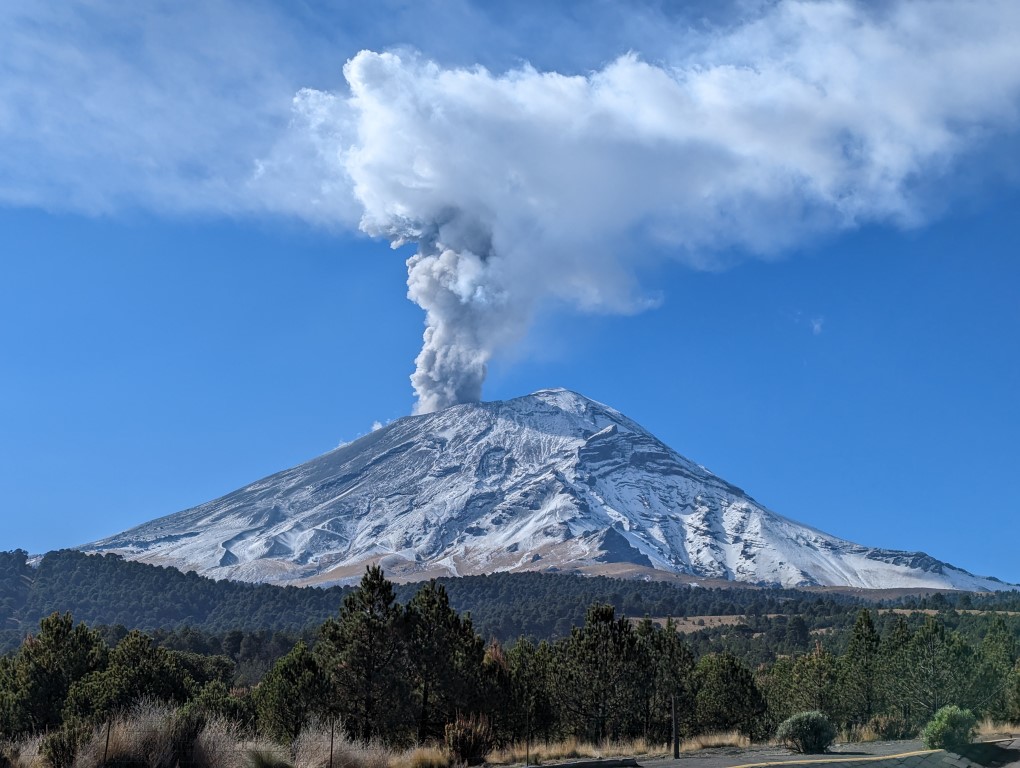 So we had a nice day of hiking to the base camp of about 12 miles and felt good, met a great group of backpackers on the trail and hiked back with them. Then we went to the office to get our permits for the following day. Somehow everything had changed. Now we needed a reservation online to go up the road to the basecamp in the van and this would need to be done at least a week before we wanted to do it! Huh? What kind of sense does that make? We decided if we checked again in the morning maybe it would be possible since we were already there and this new rule apparently just went in. But no, now if we even wanted to walk the same walk we did the day before we needed to buy a permit for that and there was no driving up to the trailhead to do the summit. Disgusted, we left the park and headed to Cholula, a suburb of the larger city of Puebla.
The views of the volcano were beautiful, it was funny to watch how the military came up to this mountain park to train and we got to talk with a couple of them since they would park right near to our trucks and take pictures. Nice guys, one of them had worked hard to become part of Mexico's special forces unit. Apparently they come up to run at the high elevation with all of their heavy gear on. It took me a couple days to come off of the disappointment at not being able to hike that mountain since I'd really been looking forward to it. We do try to keep our expectations low which helps with happiness but this was sort of dumb!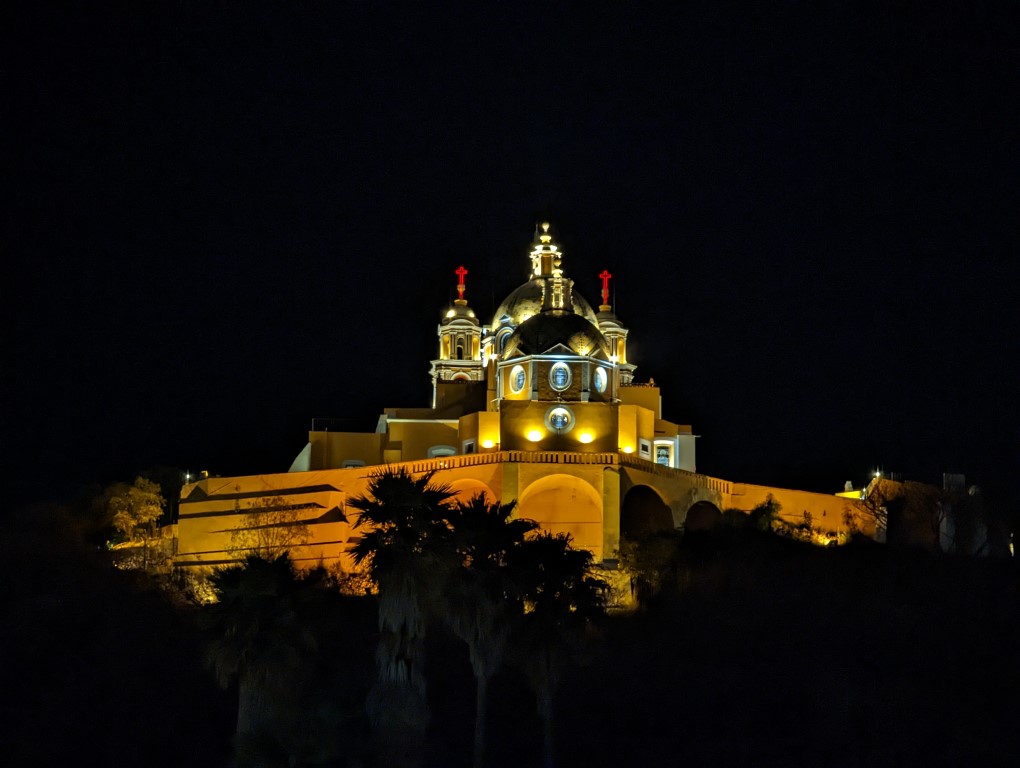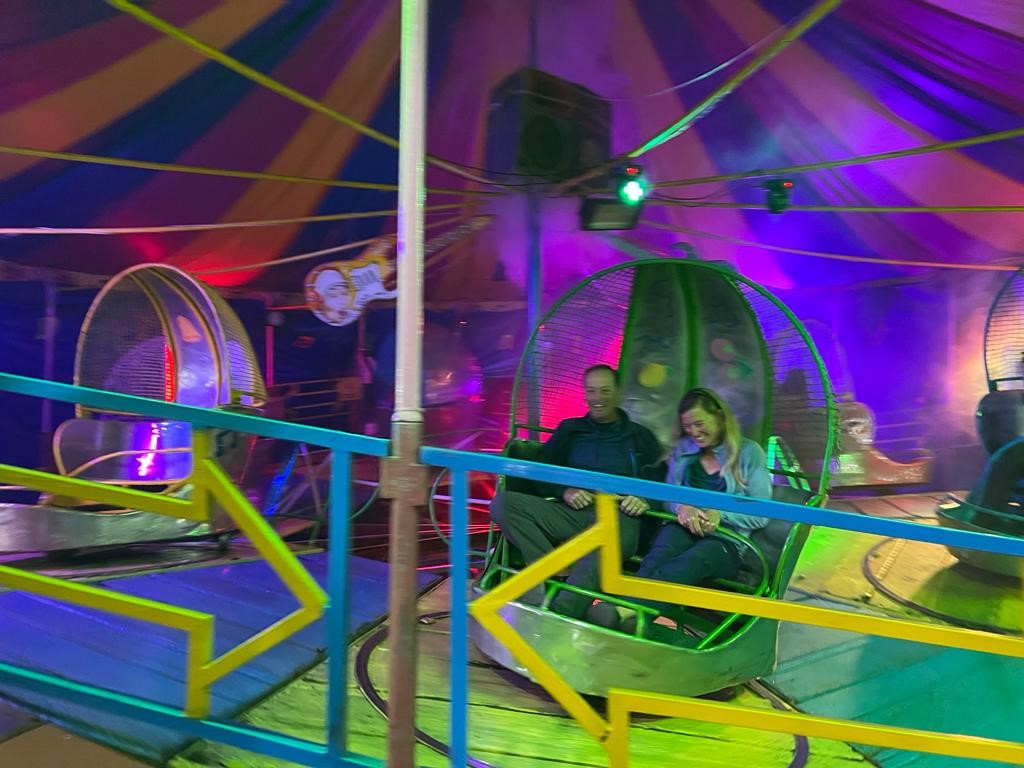 Cholula is a Pueblo Magico which is mainly to say that a town is looking for tourists and thinks it has some things to offer them like some cute streets with nice old buildings, colorful paint and points of interest. So Cholula has a huge old pyramid, long since intentionally covered by adobe and capped with a big church right on top with a great view of the city. In excavating the pyramid, they burrowed several kilometers of tunnel that you used to be able to walk through but since covid, like so many other things, that part is still not open to see. We enjoyed strolling the colorful streets and they had a really lovely plaza with all sorts of light structures and a little carnival set up that made us want to come back after dark to see. We camped right in town so it was easy to walk back over. I've really been dying to go on a roller coaster but the next best thing would have to be one of these ancient carnival rides and Jon graciously said he would accompany me. Seemed straight forward enough. We got settled in and paid the fit, wiry guy who ran the ride. Once it was full, he flipped the switch and off we went in circles. And then we went some more and some more and then he began running on the swirling roller coaster of a ride jumping onto each pod trying to spin it even faster. It occurred to me that if he fell and knocked himself out, we would be riding on this thing forever! I figured out why he looked so fit. He even got so hot he took his shirt off and then hopped back in to spin us faster again, all while the ride was running. All I could think of was is this going to give me vertigo for weeks down the road? Finally the ride slowed and we were getting ready to make our move to get out of the seat when some people started calling out for more and he restarted the ride!!! We went around for another couple of minutes of finale and then at last, staggered away about ready to puke. We'd gotten our money's worth for sure. We made a note to ourselves to not be tempted by rides. Well unless it is a real roller coaster.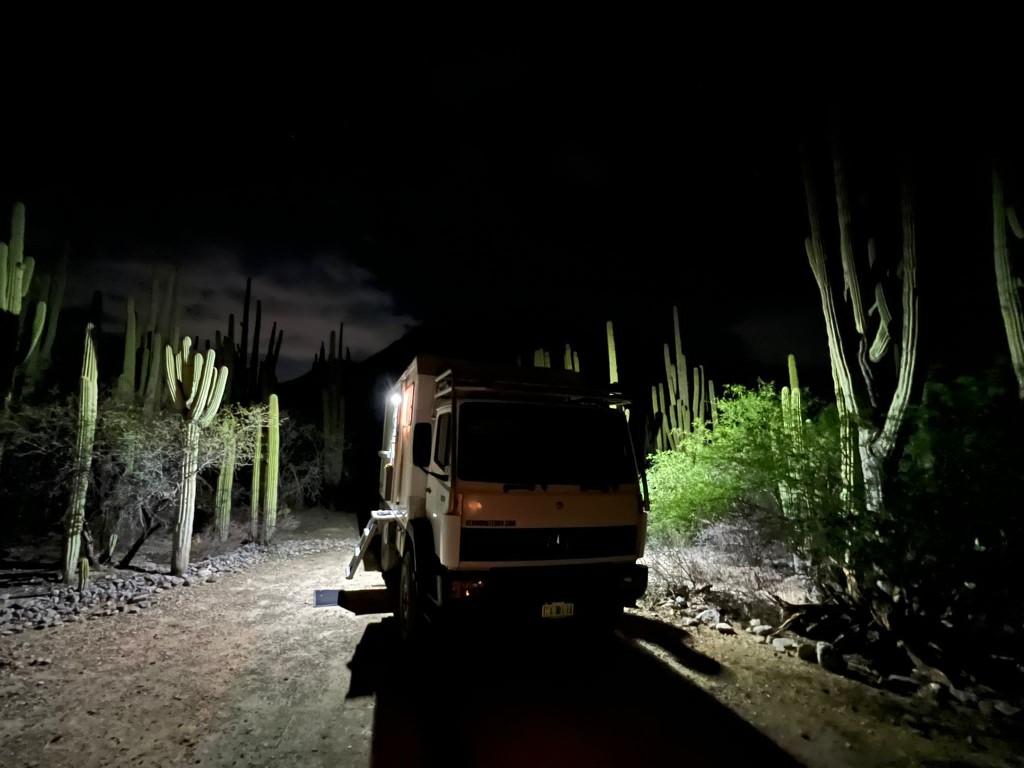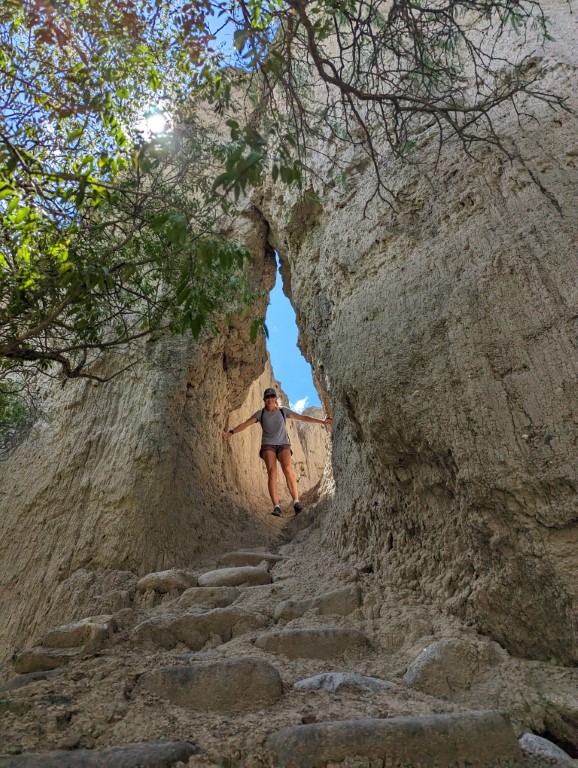 It was time to get out of the city so we headed to a UNESCO site deep in the cactus a little further south called Jardin Botanico Zapotitlan Salinas. You can camp at the botanical garden and walk stone lined paths or out into the gorge. The area is significant for these cactus as well as for human use over the ages because it has both a natural water supply and is a source of salt. We could see the salt pans in the distance across the blooming agave plants. It was nice to be among the cactus again and I like the way the wind sounds as it blows through them.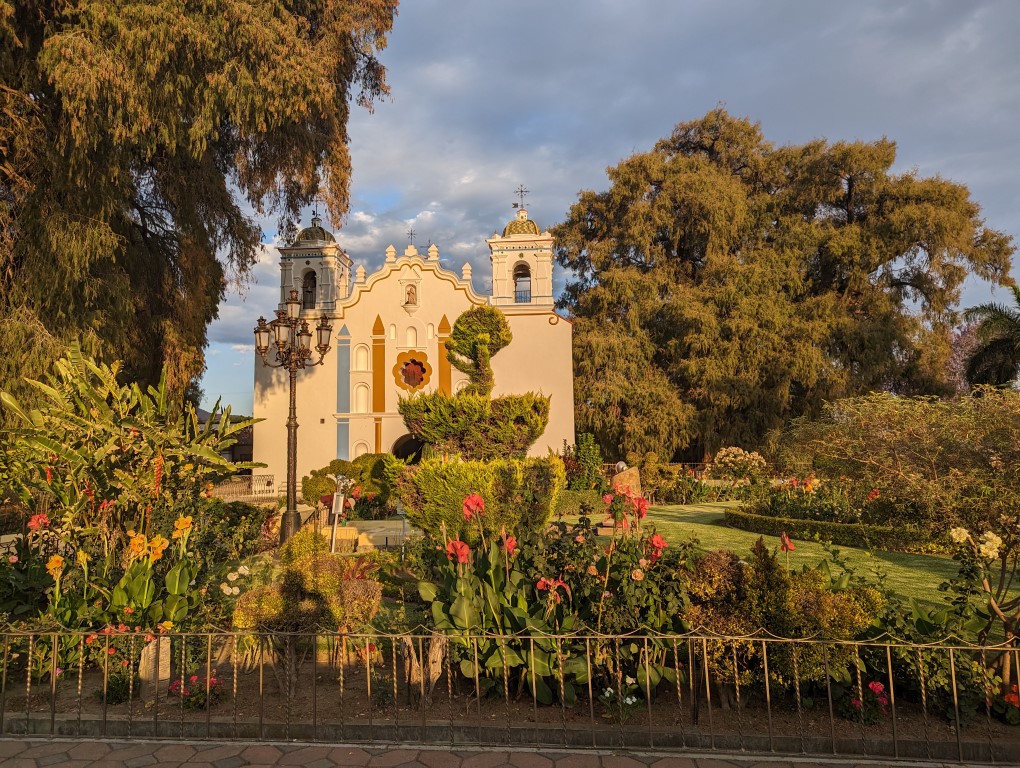 We continued south toward Oaxaca driving 3 or 4 across a two lane toll highway because that's what you do. It makes for some white knuckle driving for Jon with all the concentration he can muster. He is so glad he upgraded the turbo in the truck because it's invaluable to have that power. We stopped at Walmart to restock all of our greens. Yup! It's the best place to get all kinds of stuff that isn't wilted and has a darker color than iceberg lettuce. Then we pulled into the oasis of El Rancho RV park in Tule, which is outside of the larger city of Oaxaca.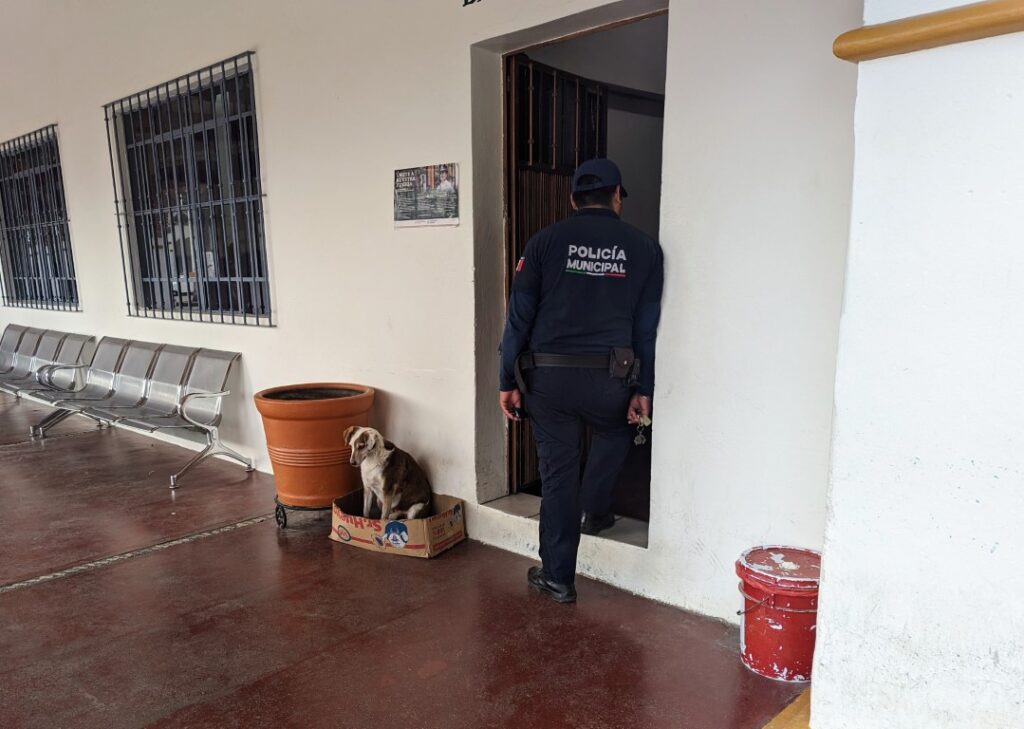 El Rancho campground has just about everything you need to relax and do nothing for a few days. The weather turned hot so the shade of the big trees and the pool were a welcome break from life on the road. We toured the cute little town ot Tule with its 2000 plus year old bald cypress tree and we took a cab into the city of Oaxaca to tour for a day. They have a great French bakery with finally some delicious bread and the lunch we had on the city square of mole (the signature sauce for the area) was really tasty. They have a strong cheese which neighbors in our campground shared with us which was pretty good but salty. We also tried Mezcal, which is made here and its good but we prefer tequila more. I made a couple batches of margaritas and we sat outside in the garden and stayed cool. The birds are going nuts everywhere and all the flowers are blooming. Its so nice to sit outside in the eves and be just the right temperature.
We had noticed what we thought was an oil leak on the engine a while back but upon a closer look and routine maintenance to change a fuel filter, Jon realized it was the fuel prime pump, a good thing. When we went in to Oaxaca, we stopped at a little car parts tienda and the guy actually had a replacement on hand. Then when Jon tried it, he realized we have an oddball size and it didn't fit. But then when he messaged the guy back, he did have the adapter so now we have that to install at our next project day. Hopefully that will be the ticket and we can feel reassured that it's easier to get parts for our truck down here since these trucks were and still are sold here.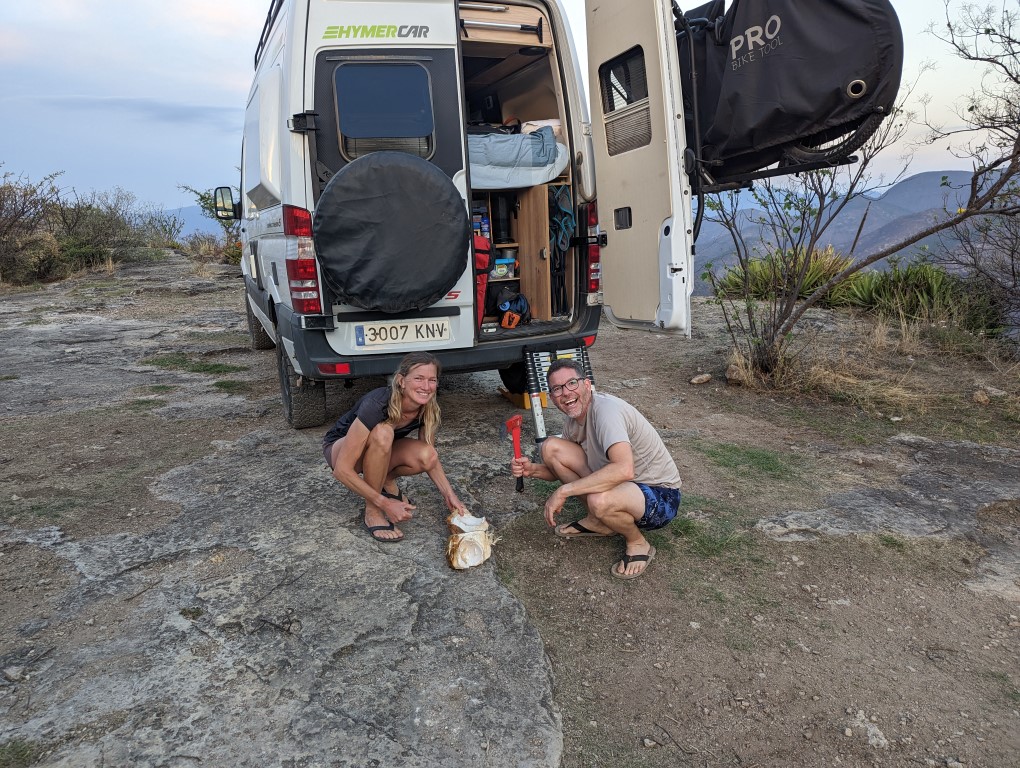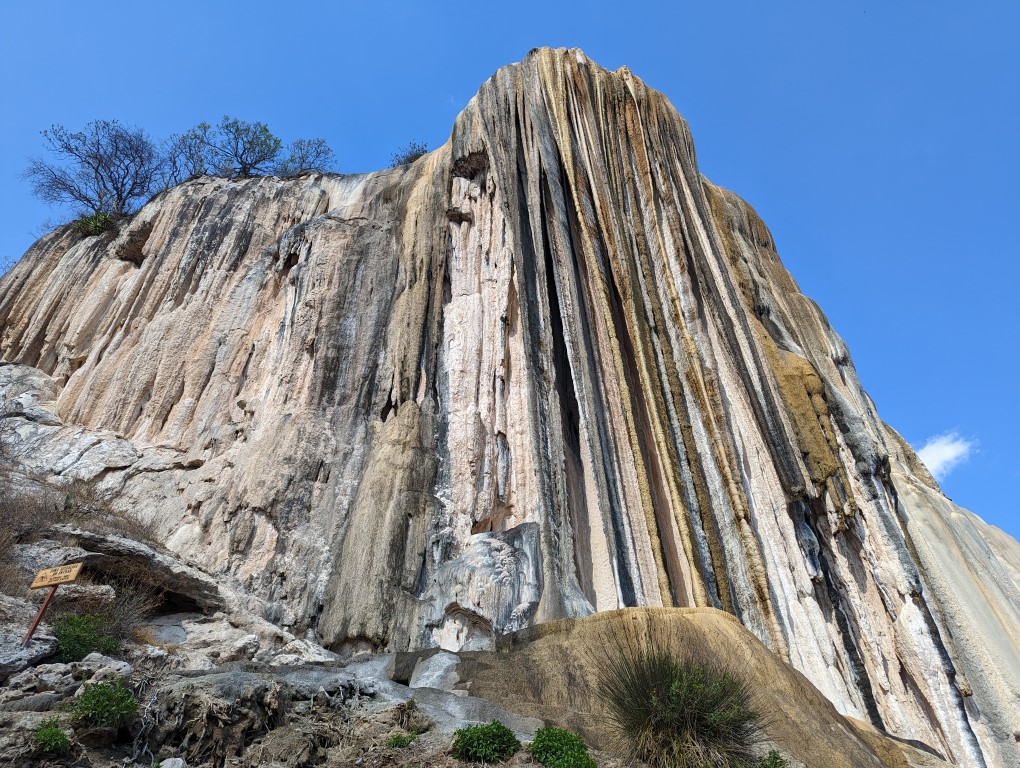 We made a stop for the night at a place called Hierve De Agua where there are travertine formations from a few small springs set on a cliffside. It was just OK because there wasn't much water coming out and the swim holes looked green. It didn't stop the other tourists from getting in but we decided to save ourselves for better. I got a coco frio and then Ivan and I sat native style to open it up for the meat!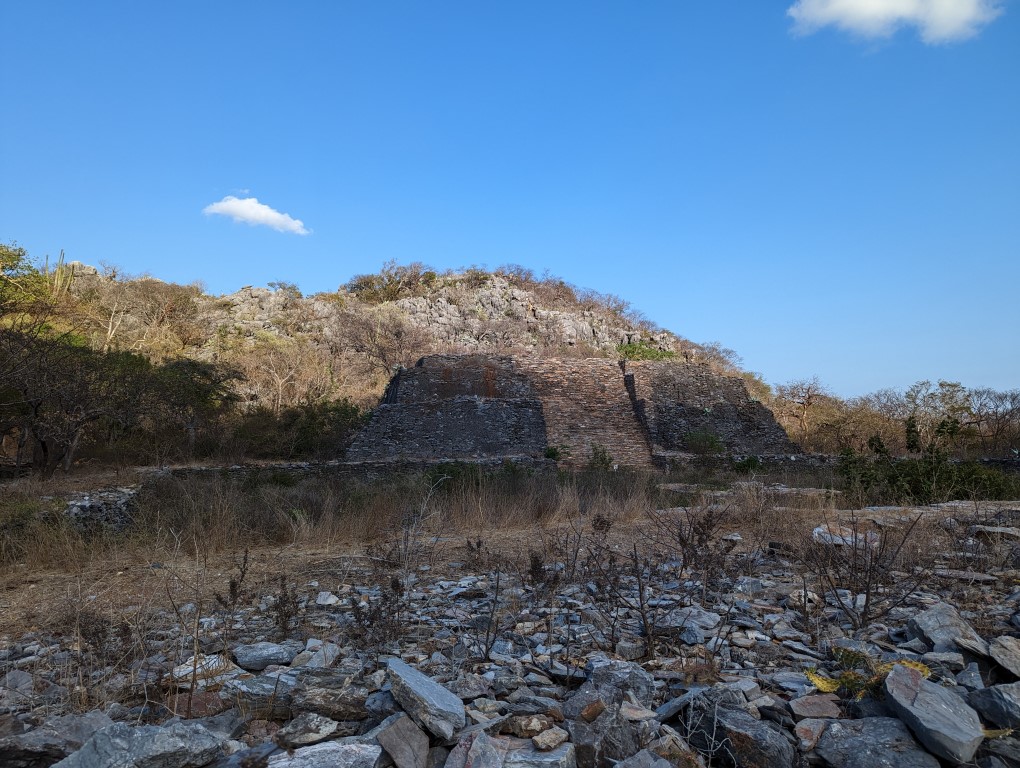 We did a long day of driving one day on curly roads to make progress eastward and to a campspot which was at the start of a hike to an old ruin site. We arrived in the late afternoon, my favorite time of day. After walking through the woods for a couple of miles, everything opens up to what was once a village or religious site, can't know because there wasn't any signage. It was nice though and good to be moving after a day of sitting.
The season is changing, the heat is definitely on now and we're giving the rooftop AC a workout. We've covered a lot of desert area working our way to the highlands of San Cristobal. The comatose dogs tell us that it's hot out there. I left my black flip flops in the sun and they actually shrunk! We're enjoying a bit of culture in San Cristobal and then are headed down to the jungle. I'll have to catch up writing about these places over the next days.