We've been on the road for 2 weeks and are currently a days' drive from Big Bend. We were so excited to get going we left late in the day after receiving the last little fitting Jon needed to fire up the heating system for the first time. Installing that was a huge project and what seemed like a million fittings! As soon as we determined it was functioning properly, we quick put our car in our storage unit and started driving to the Smoky Mtns. It felt so good to finally be on our way.
Of course the Smoky's did what the Smoky's do- rain. So we hiked in the drizzle and imagined once again what it must be like to actually see those layers of blue mountains. Our first backpacking trip years ago was to the Smoky Mtns. We got hooked on it despite the weather. Can you believe we were the only ones to camp in a 220 site campground this time?! The camper box is very well insulated and of course we have this fancy Webasto heating system now so it doesn't really matter how cold it is outside. The heating system heats our hot water too. Eventually, the truck will do the same- another project!
Driving along in the truck, we are forcing ourselves to get used to watching for bridge clearances, low limbs and other obstructions that can come our way. I don't think I'll ever get used to drivng over bridges because we are higher than the barricades so while it's great to get the view, it feels like we are precariously close to the edge…. We have to use an app called Co-pilot so that our dimensions are figured into the route and of course it isn't nearly as good as Google Maps which is a bit of a pain.
After the Smokies we moved westward in Tennessee to get together with friends Rankin & Sandy. The exciting part about it is that the reason they were there was because they were imminently picking up their brand new Oliver camper trailer which means we can meet up again and camp together. It was really nice to hang out (they rented a condo) and we hiked to a couple of impressive waterfalls, visited a winery, got some BBQ, that sort of thing.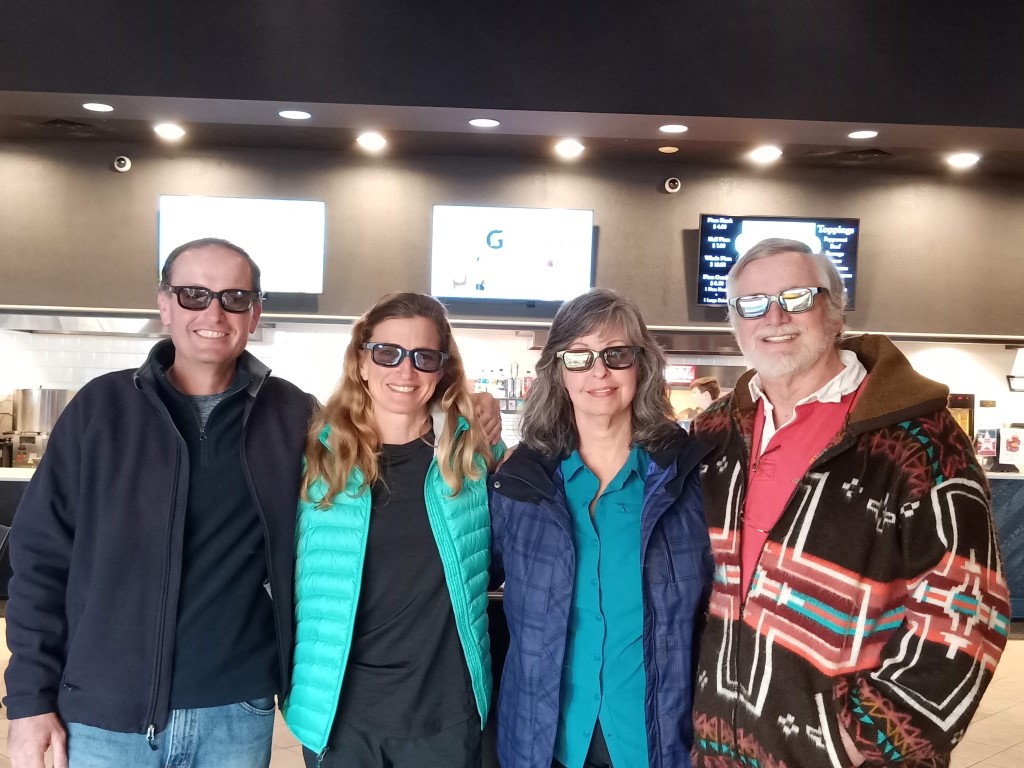 Never having been to Mammoth Cave NP, we drove northward 125 miles to Kentucky (that felt wrong) to see it. It is the longest cave in the world although not comparable in beauty to others we've seen. There's something like 400 miles of mapped cave and we saw about 2. None of the campgrounds were open so it is customary to stay in the visitor center parking lot. We took our bikes out and did the old rail trail in the park too. The deer were very tame and we saw a lot of sinkholes- the making of more caves.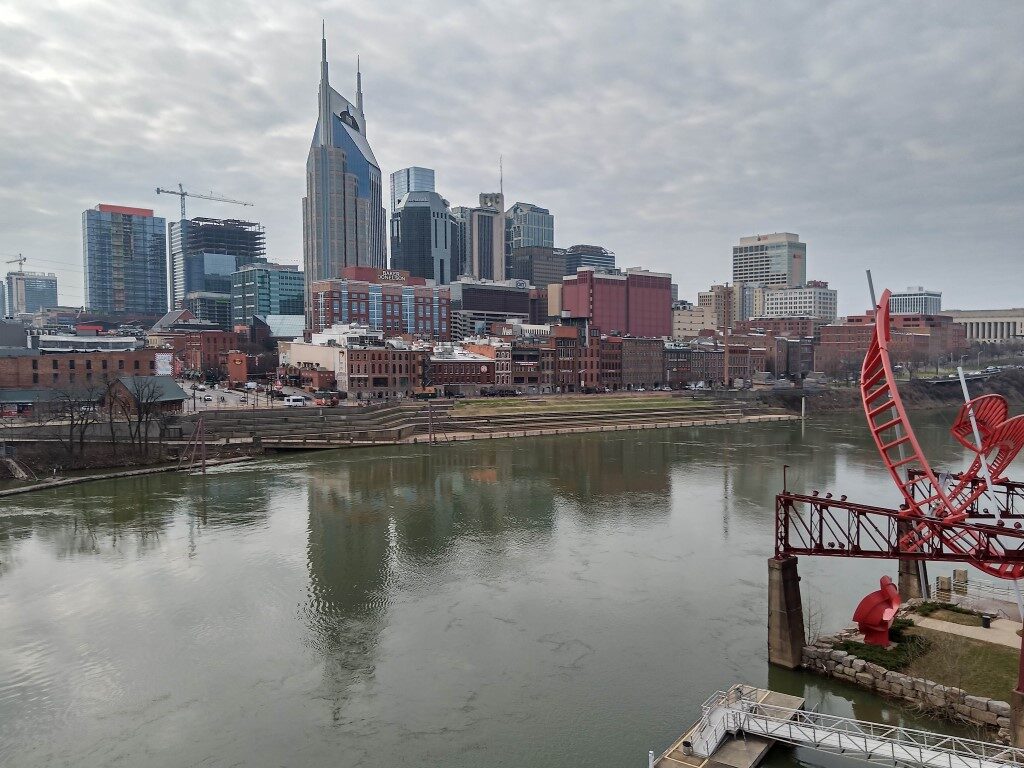 I wanted to see Nashville and our route to Texas took us right by it. We parked up as they call it, right in front of the Parthenon which is a replica of the real thing but I can definitely say it doesn't compare really except that just like all real iconic landmarks we go to, it was indeed in scaffolding! It is a pretty bleak time of year to visit Nashville I think. That didn't affect the Hot Chicken availability and so we had that for lunch at one of the famous places. It's basically fried chicken doused in hot sauce IMHO. We learned at the museum that it was "discovered" by accident when a drunk man came home and asked his girlfirend if she would make him some fried chicken. She made it really hot because she was mad at him for staying out so late and of course he loved it instead and later refined the recipe and opened up a successful restaurant serving it. The gray pall of clouds was really starting to get to us and we decided that getting south was the most important thing on the agenda.
So we put some miles on the truck over 2 days stopping for breaks and getting in some exercise at various parks. One of them in Jackson, TN had the longest boardwalk through a cypress forest that we've ever walked on and it also housed injured birds. We've been frequenting Walmart parking lots along the way. Its not really what we want to be doing but we're not yet in beautiful territory and we're sort of going somewhere. There are always a lot of truckers with us. I guess the positive side is we can stop when we want, there's one every few miles and we can pick up things we need. Until we get to the places we want to spend time at, this is the easiest thing to do. We're still working on things and frequently need parts. We're also using Amazon lockers to receive packages along the way. Its really amazing actually to be able to order things and have them appear in various locales along our route! The stereo amplifier already broke so we had to replace that, we've decided that a full time rear camera is a must so there's one of those on the way.. still trying to pull things together.
We find that there is a lot of interest in this truck. People cheerfully come driving up or walking over to it all the time to ask about it. Many say they've seen them on Youtube and others think it is something from the military. Lots ask where we bought it. Oh no, we built this ourselves and it is still all too fresh in our minds! No it is not for sale. We get a lot of toots & thumbs up on the highway. When we're driving along we're at the same level as the 18 wheelers so we can see right in their cabs. I've often wondered (since now my life is more about trucks than I would've ever dreamed) what the inside of their sleeper cabs look like. So when one came over to chat the other day I got to hop up there and take a look. Not too shabby but I like my house better. We also had a cop follow us into a truckstop and pull up beside us just out of curiosity. He asked us if we were "preppers". This is the first time I'd ever heard that term but Jon had. It is a reference to people who feel armageddon is near and they are preparing for it. We laughed and told him we are preparing to have fun!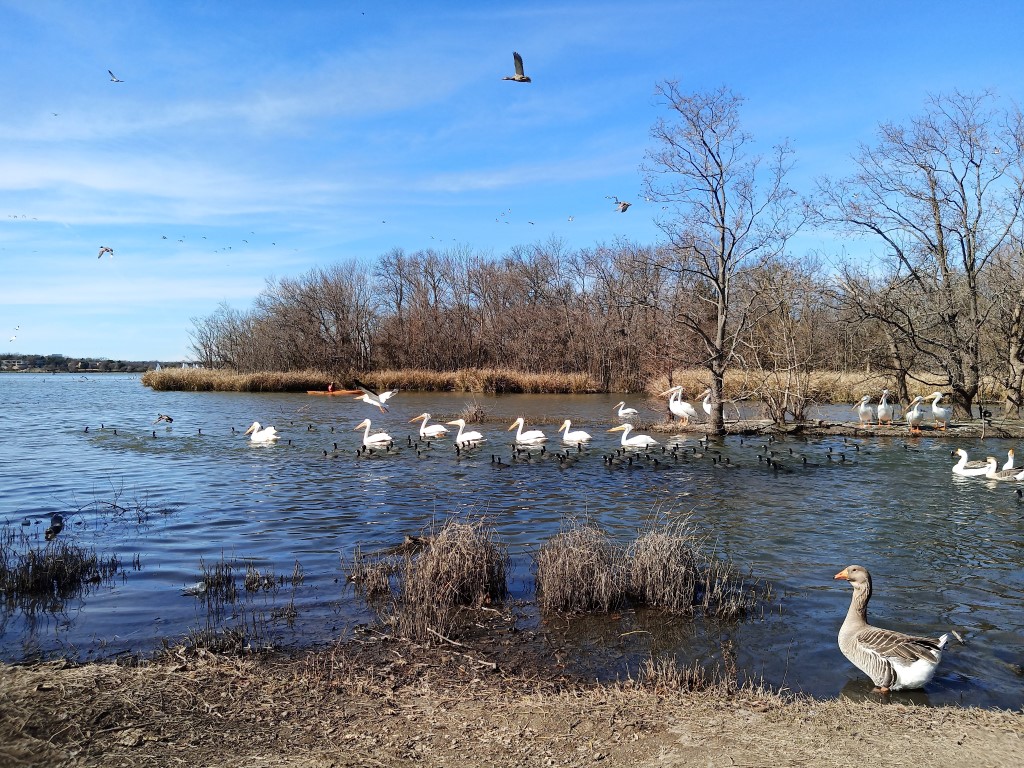 We popped out of the clouds when we arrived in Dallas. With the forecast for a sunny orb all day and temps to 80, we spent the whole day biking on fantastic greenway paths all over Dallas. It seems like a great city and we couldn't believe the vast system of bikepaths. One of the things I most love about traveling is you usually get to see the best of the places you visit. You choose what you want to do and you're continually experiencing new things and you're not in any one place long enough to see the rough spots. And before you know it you're off to something new. We really enjoyed Dallas and would've spent more time there if there had been a sure place to park or a central campground that we could stay at. They even have pelicans.
We're currently headed to Big Bend NP but waiting out a snowstorm. Yup, there is a good 6 inches already and more coming. Maybe we'll take out the snowshoes?? We've also ordered new rear leaf springs for the suspension on the truck because the old ones which we tried to reuse, are not providing enough support. They spent too many years supporting a full tank of water and a pump ready to fight fires! So they are on their way from Germany and we are hoping to have them put on in El Paso, TX. So that is the next deadline. Hope that all works smoothly. We're looking forward to getting to Big Bend and are ready to do some backpacking there. Hopefully in sun!