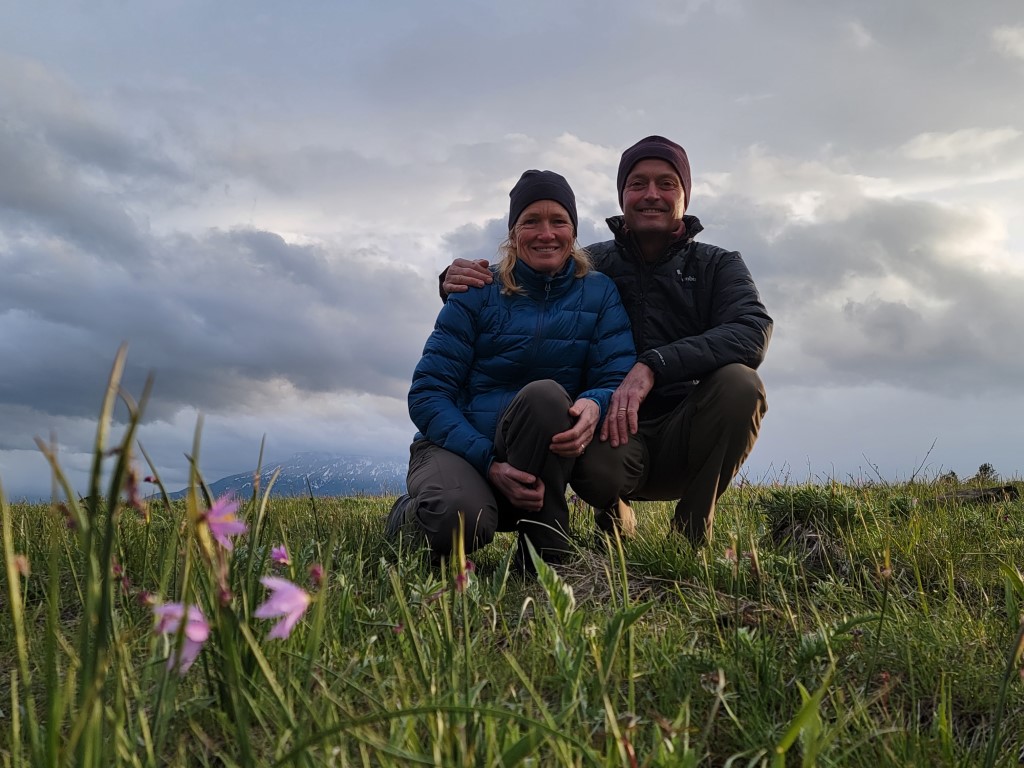 In a whirlwind of home improvements and wonderful times spent catching up with great people to break up the projects, we are now sitting at the border of BC ready to cross. We're looking forward to summer arriving and know the time will go fast so are happy to get an early start on all the driving to Alaska.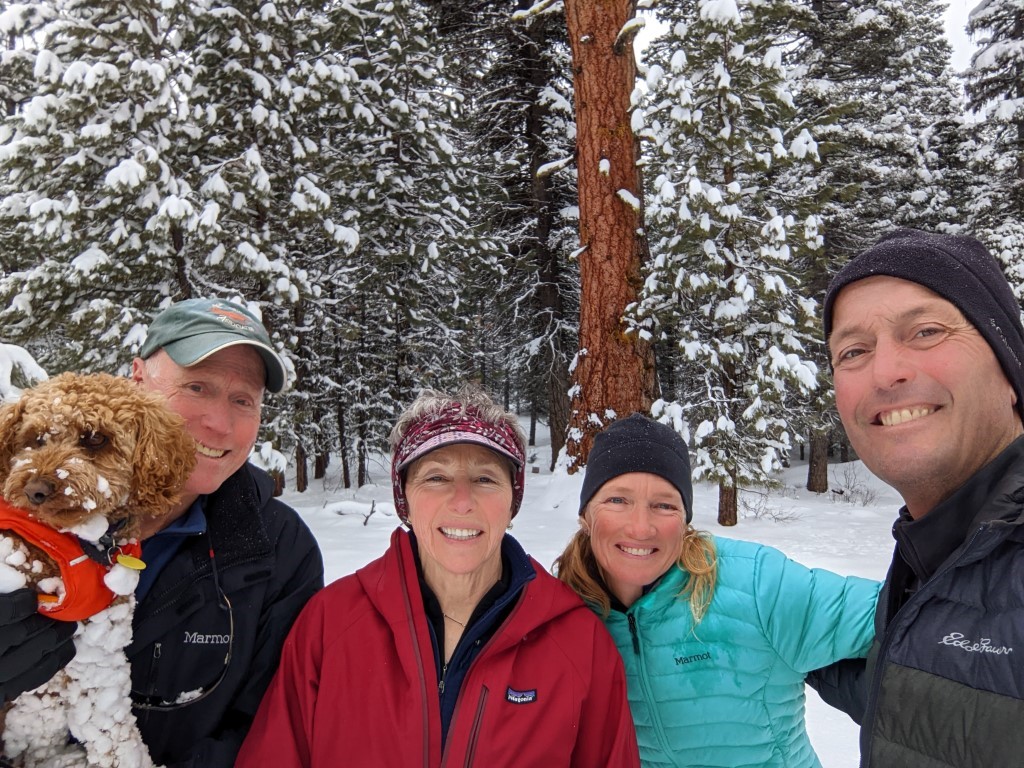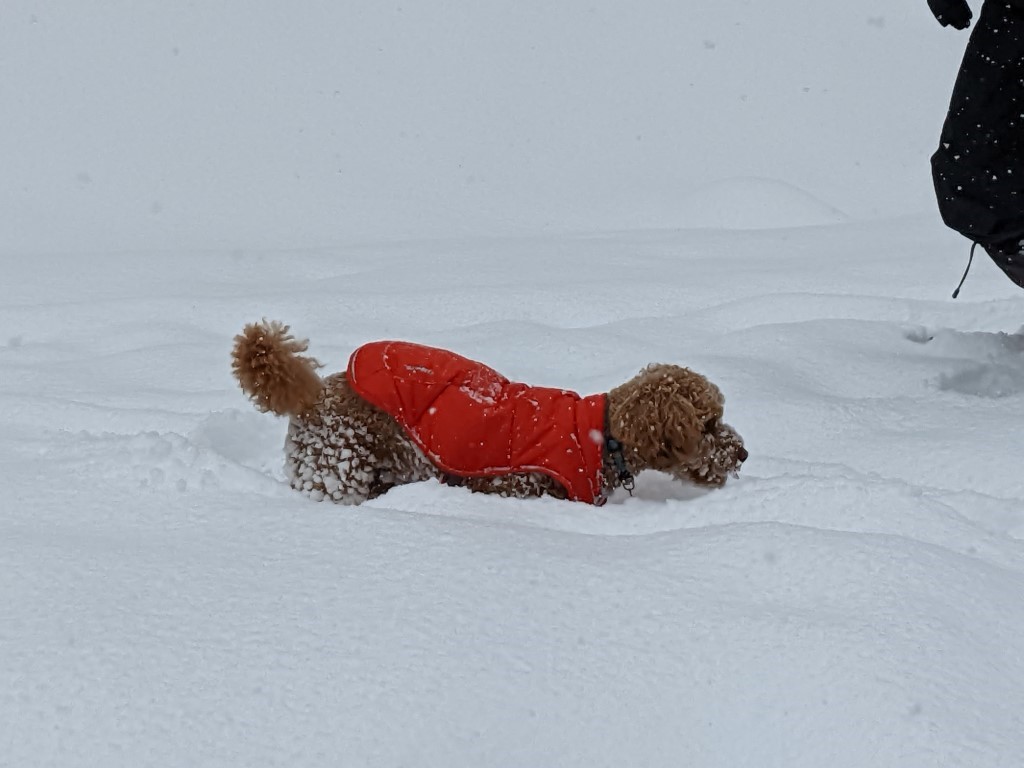 I think it snowed all but one day we were in McCall so we got a good dose of the fluffy stuff and were relieved that neither of us took a digger on our slippery entry steps with all the ice that accumulated on them. It felt like we had an especially nice visit with Mark & Anne this time and even got in a Mexican evening together with an old cruising friend Harley. We ran & walked in snow and topped off the visit with some snowshoeing. Cricket was a crack up and always got more exericse than us because she would charge around and then get a lot of snowballs built up on her hair, which she didn't seem to mind. Jon enjoyed using Mark's shop to fabricate mounts for the motorbike ramp so that we could get that on the stern of our truck and out of the gear locker, he made up the aluminum parts for the ladder project that we would do later at Mary's and also mounted the B to B charger. Now we can charge the engine battery with the house bank if we need to. We managed to store a few more precious items at Mark & Anne's hangar which means we don't have to lug our scuba weights and other heavy bits up to Alaska at the highest fuel prices since ????? We have great timing as usual.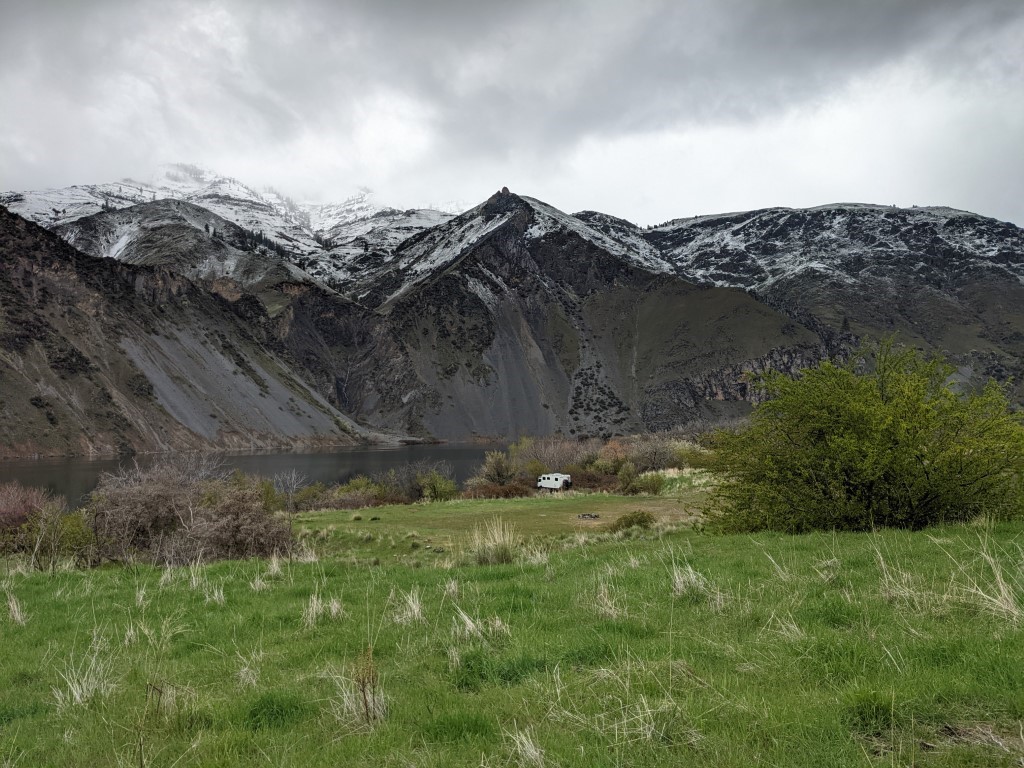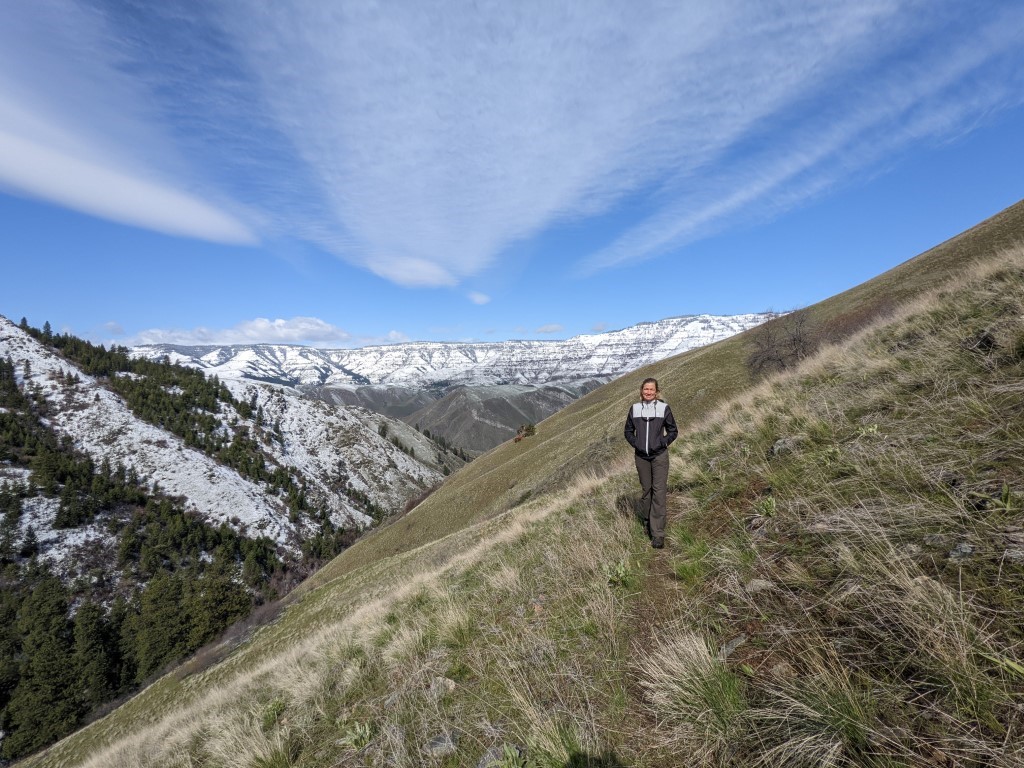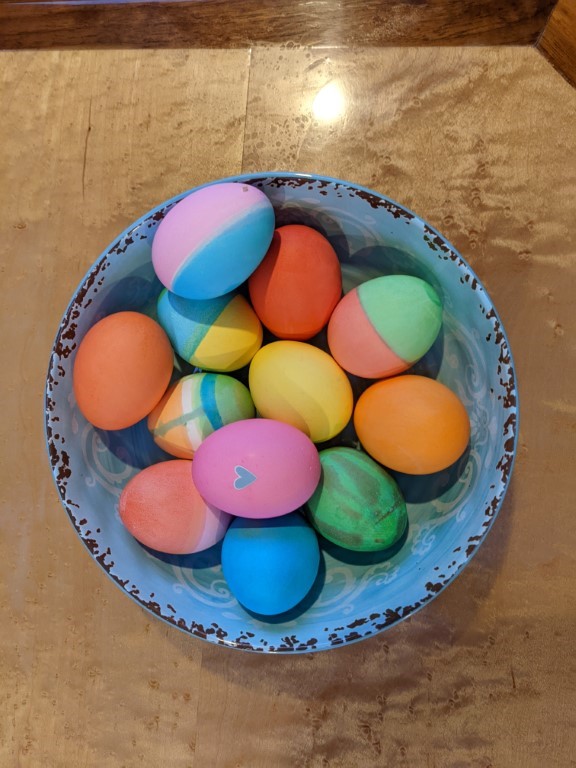 We left McCall Easter weekend and spent it at our favorite place on the Snake River, Big Bar, at Hell's Canyon. Because of the canyon and the river, the temperature is moderated at the bottom and we had a picture perfect Easter day with lots of green grass & blossoms but we also hiked high up into the hills to snow covered fields for the views and exercise. And we dyed eggs for old times sake. What a special place and we both felt very happy just being in that setting.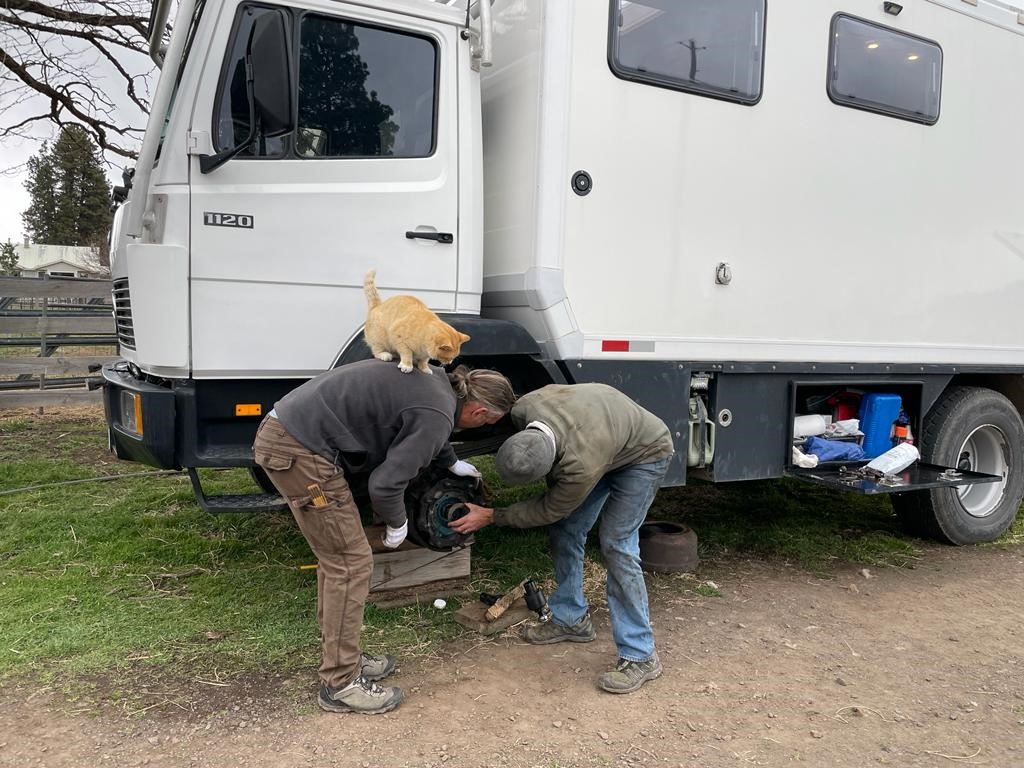 Then it was off to Mary's, traveling through beautiful countryside, lots of ranch fields, birds, cows with their calves and trump 2024 signs. Since Mary has a near perfect place for us to park up in Summerville at her farm, we were joined by Ivan, Sandie & Karsten for several days to knock off some projects and hang out together some like we did there last June. Mary graciously accepted a couple of tons worth of packages so that we could add some weight to our vehicles! One of the fun parts of living on a farm for a little bit is all the animal activity. A yard filled with as many lambs as daffodils, their moms, 2 rams, a dog, 5 cats, a fish, nesting geese- there's always something to look at or pat. We had our very own companion too- the orange cat named Pumpkin who can't get close enough to you, be patted enough or spend enough time drooling on your shoulder. Even on frustrating days when progress on a project was slow, Pumpkin was there to cheer everyone up and leave a wet spot on our shirt sleeves.
The days became a blur of working outside whenever the weather allowed (it was typical unsettled Spring weather with some extra cold mixed in) and then sharing great homemade meals or quiet eves when it didn't. We all kept up our running schedules for the most part and I like the way we are all out there together making sure we keep up our fitness. I mean, we have to be in shape to out run the bears this summer!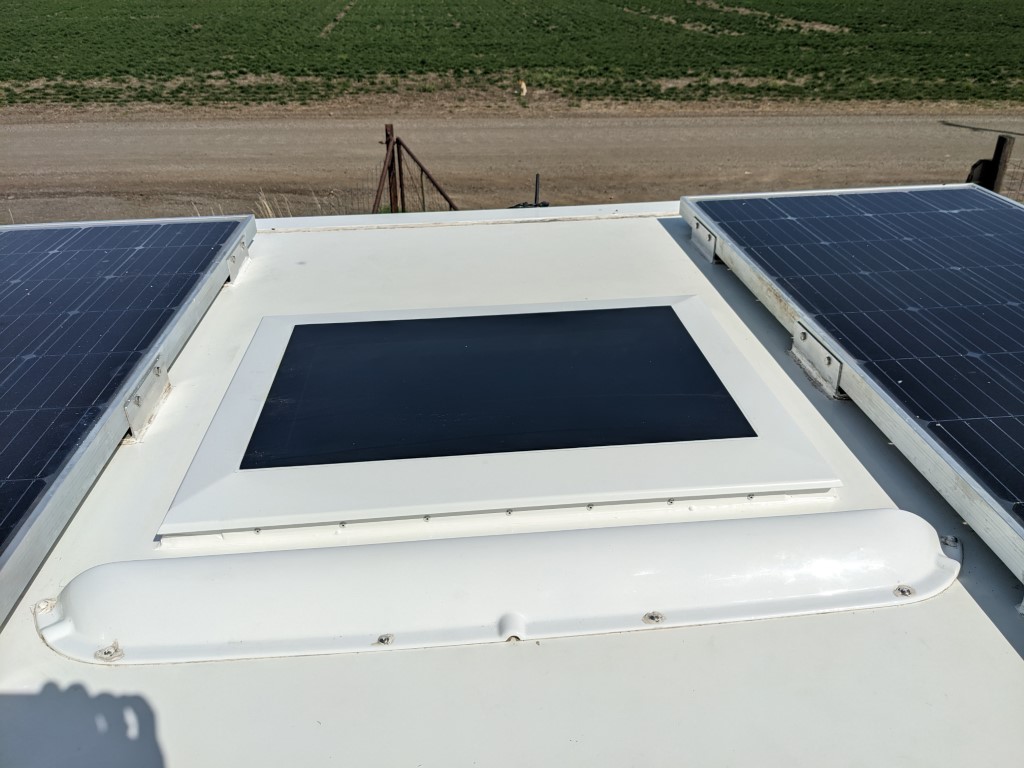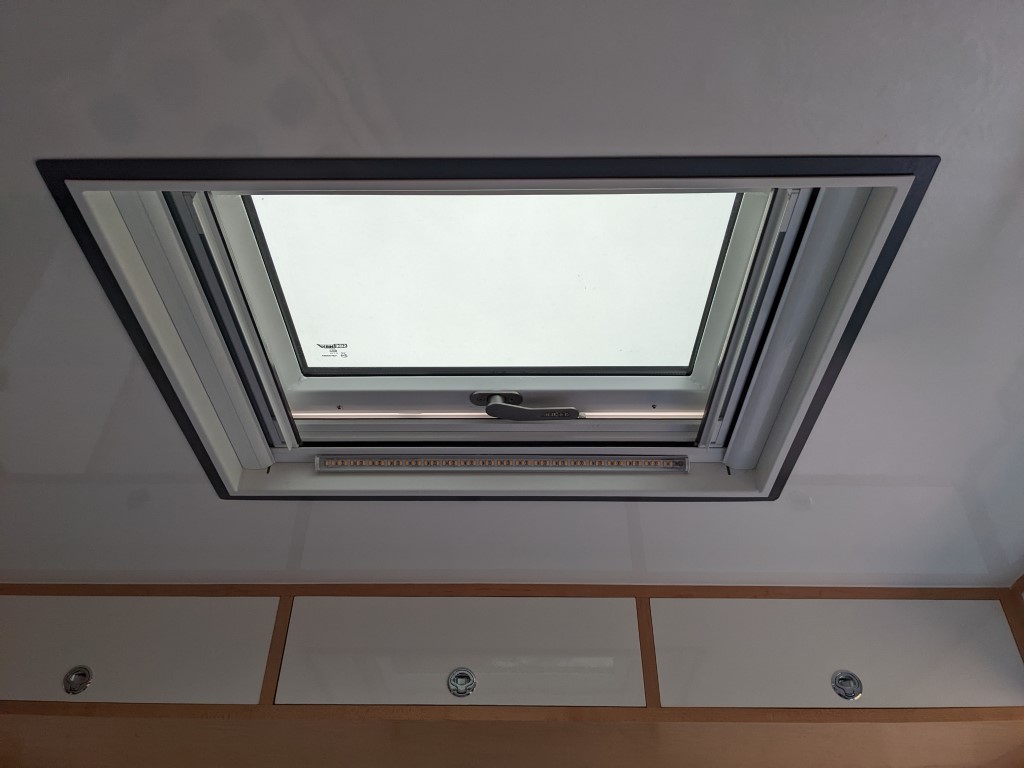 One of the major things we wanted to accomplish was to replace the two roof hatches in the truck. We spent a day up on the roof removing the old ones & cleaning up the old adhesive and then the next day we got both new hatches sealed in. Then Jon spent another day getting all of the interior sections in for the shade, screen and light. A really big project but we're glad to have stronger, more sealed hatches now that don't allow dust & dirt in and don't shake in the wind when shut. Thin aluminum trim rings were needed to cover up the screw holes from the old hatches so I painted them gray and it makes for a nice contrast inside we think. These hatches have a much lower profile as well. We are surprised to see condensation on these new hatches but we know the temps we've been getting are the most challenging ones and we also know that nothing is ever perfect. Everything is such a compromise.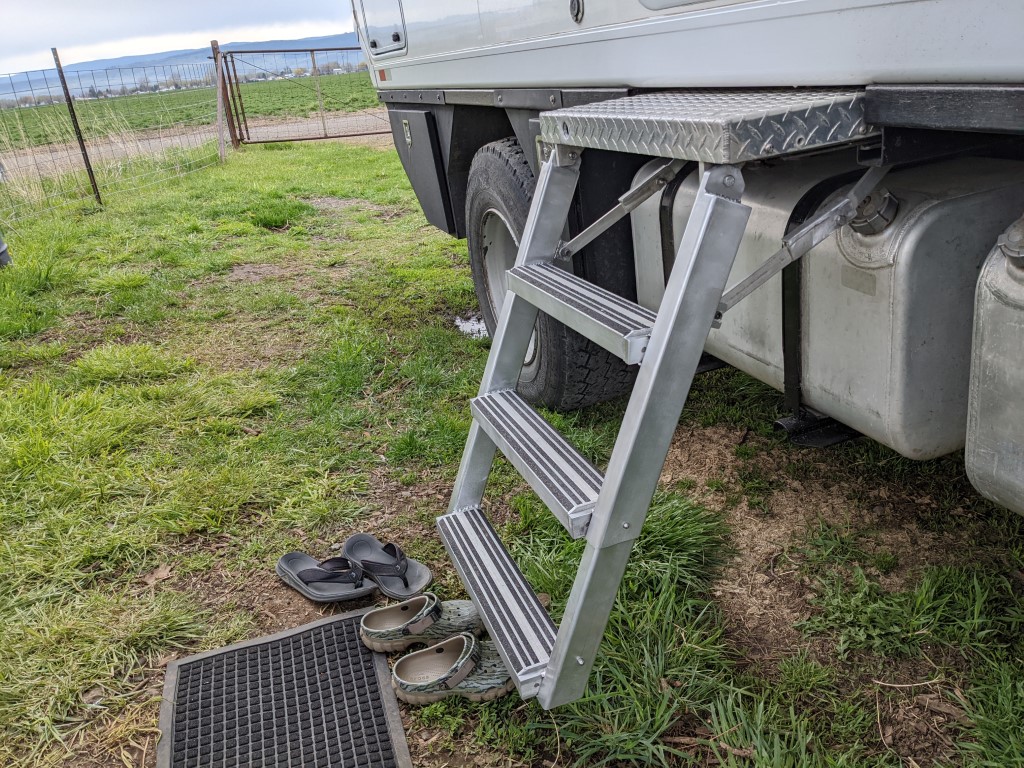 Another project was a new entry ladder. We wanted wider, treaded steps, all connected to the truck so that we could eliminate the need to pull out a separate stepstool from the gear area and we wanted it all to have a firmer feel when entering & exiting the truck, be safer and easy to deploy. Jon spent a day with a welder getting all of the pieces welded up and voila, we have a new ladder system. So far it's a great improvement. You might wonder what we're going to do with all the extra space in the gear area but no, we aren't planning to get a paramotor or SUP, even though we'd really like one!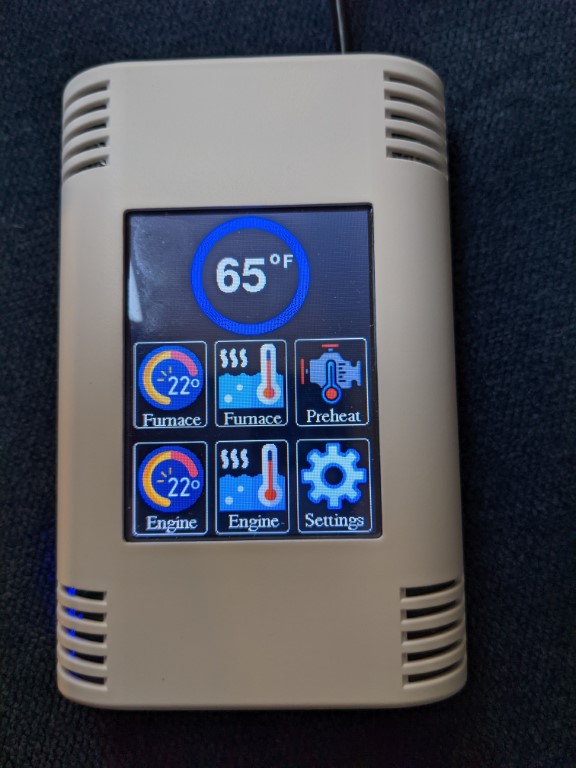 It wouldn't be normal unless we got dirty, so among the other things that got done were re-greasing the front wheel bearings (this was a big project that Jon was dreading) and replacing a power steering boot and straightening our steering wheel in the process so now we can see the engine gauges a bit easier when driving. I slapped on paint to rust spots, stashed provisions that we've been stocking up on for Alaska and tried to keep the show running. There's always a lot to do in a day even without projects.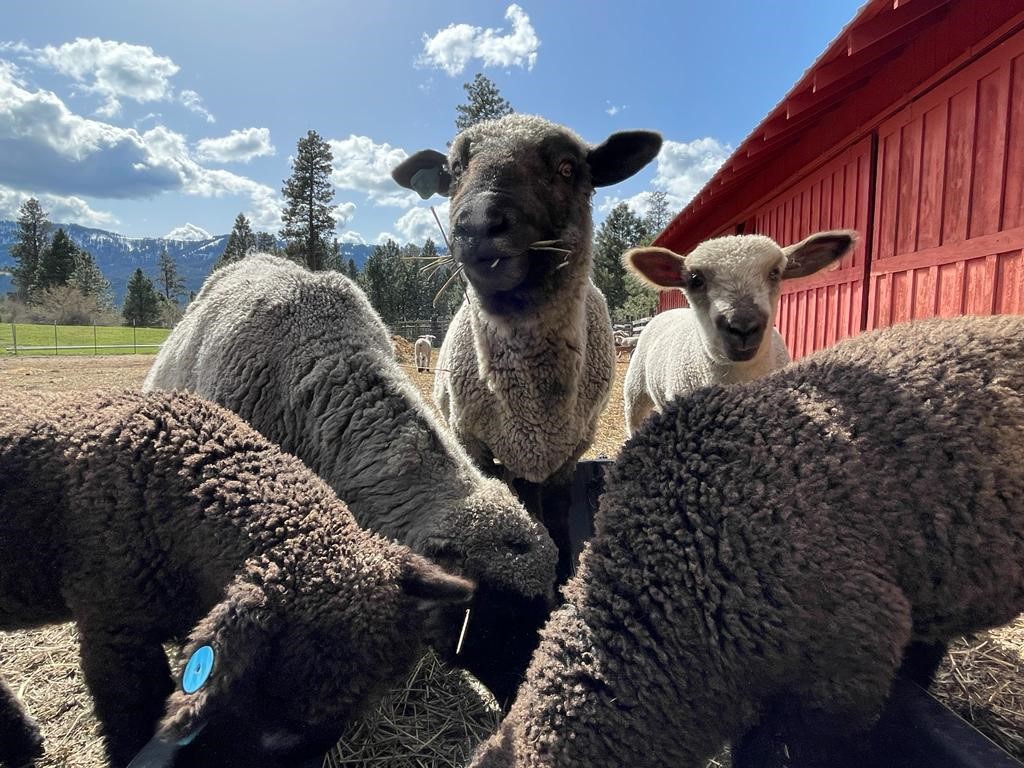 It seems like nothing nowadays is meant to last. All while we were crossing things off the list of to-dos more things were breaking. Luckily, for most things we could hurry up and order a replacement. But after being all excited that he'd found the perfect combination .5 micron filter and UV sterilizer fixture and spending the better part of a day installing it, we went over to Mary's for dinner and came back to a running water pump and water all inside the cabinets- the whole thing blew apart! So much for quality control! So now we don't have a UV sterilizer. And the expedited shipping didn't come in too handy.
For a couple of weeks while I'd be making dinner or some other pink job, Jon would be sitting in his corner clacking away on the computer programming his latest invention- a computer display module that looks like a thermostat but can do way more. This unit can turn on the furnace to heat the habitat, or just heat the truck engine block on a cold day. Or heat up hot water only for a hot shower, or use the truck's engine coolant to heat the habitat fluid circuit. This would allow us to keep the inside warm while we're driving in cold temps or heat hot water without using the diesel furnace! Any of these things are at the push of a button. This is already proving handy. And as usual, a very clean install.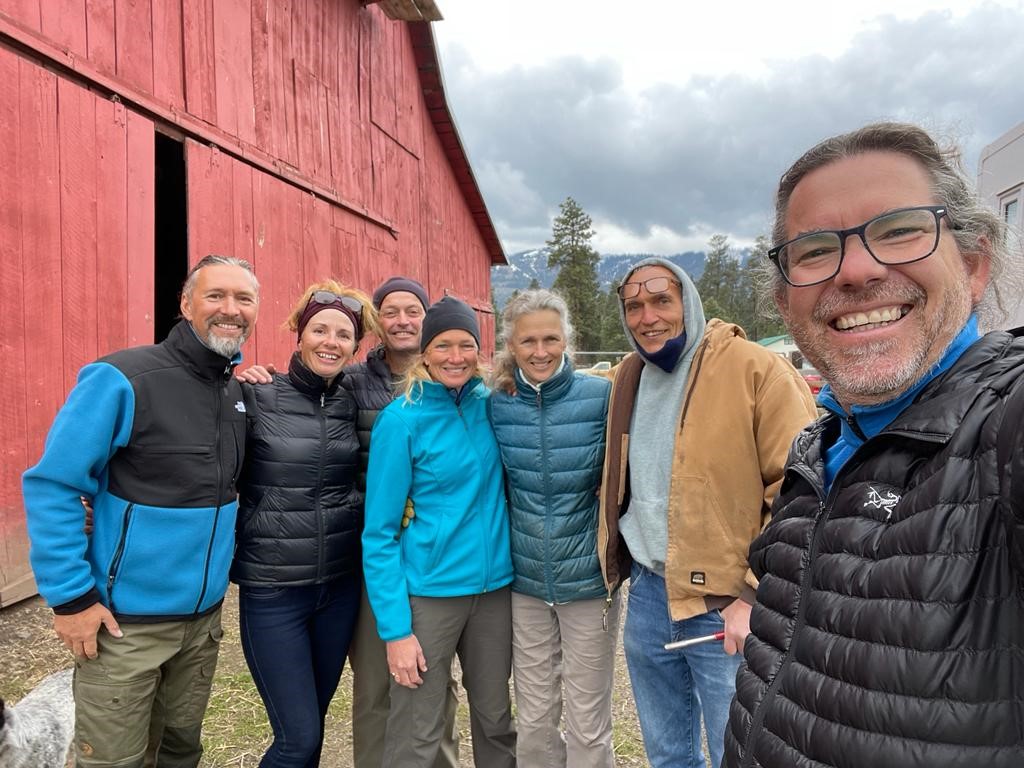 Eventually, our work group split off and we spent a couple more days on our own doing errands, visiting more with Mary & David and catching the sunset at one of our favorite parks in the area, Growiser. A collection of colorful geodes and polished rocks are set on a pretty hillside full of wildflowers and quiet. It's a sweet spot.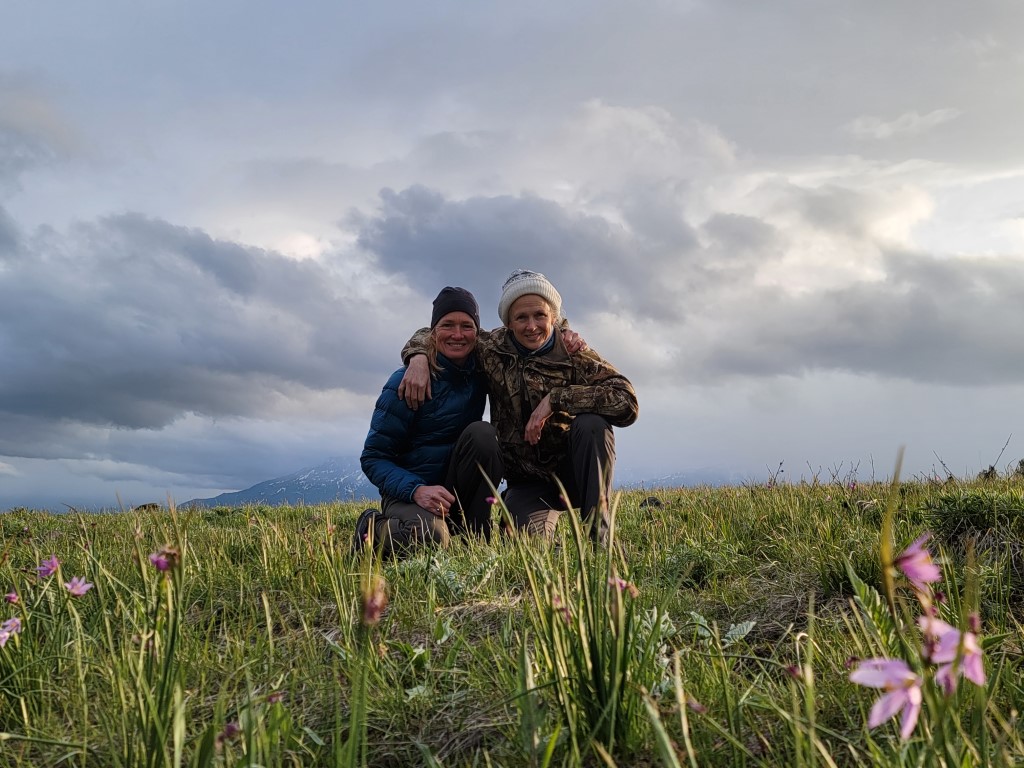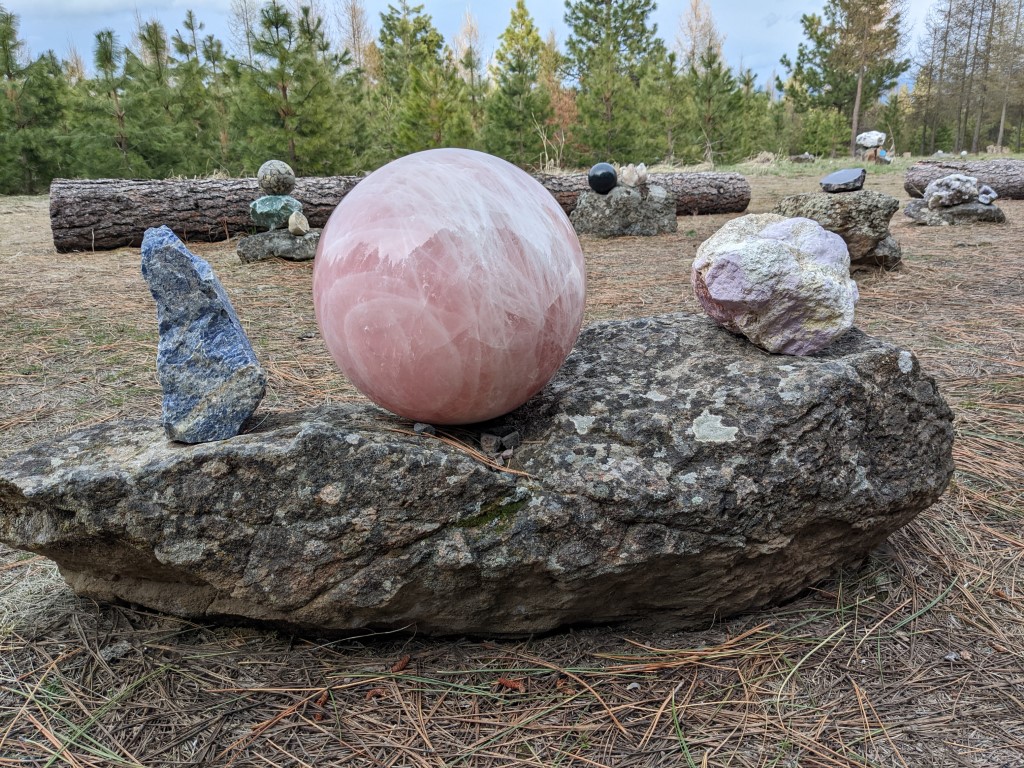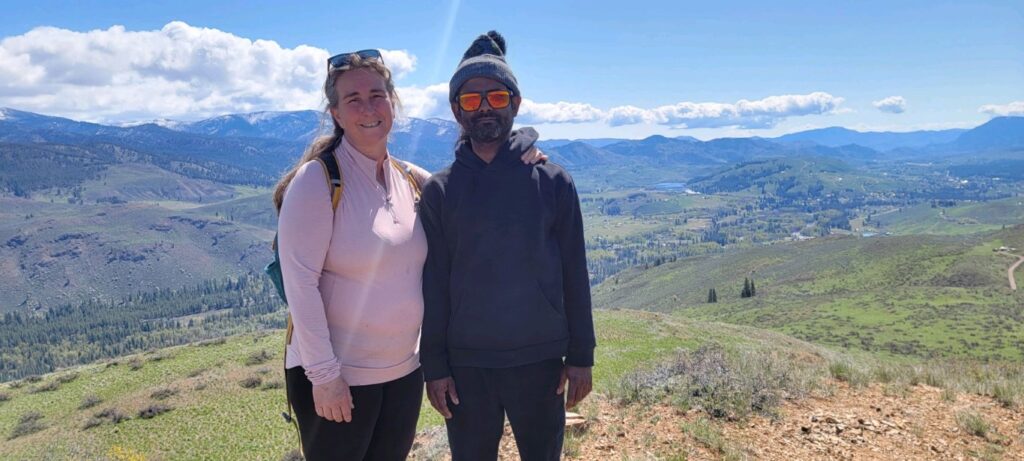 Then it was off to Winthrop to visit long time friends Heather & Lal. We met Heather in an anchorage somewhere in the Columbian islands back in 2008 and since then, we never miss an opportunity to see each other. It used to be Utah but now it's the pretty Methow Valley. We had a perfect Spring weather day for a morning hike, a sunny lunch and in the afternoon the boys fitted boards for what will be a great new deck! Being at ground level made it a lot easier. Heather & I picked fresh rhubarb and made a crisp too, another spring essential. There's great scenery in the Winthrop area with 2 rivers, tall rolling hills full of trails and a pastoral valley floor.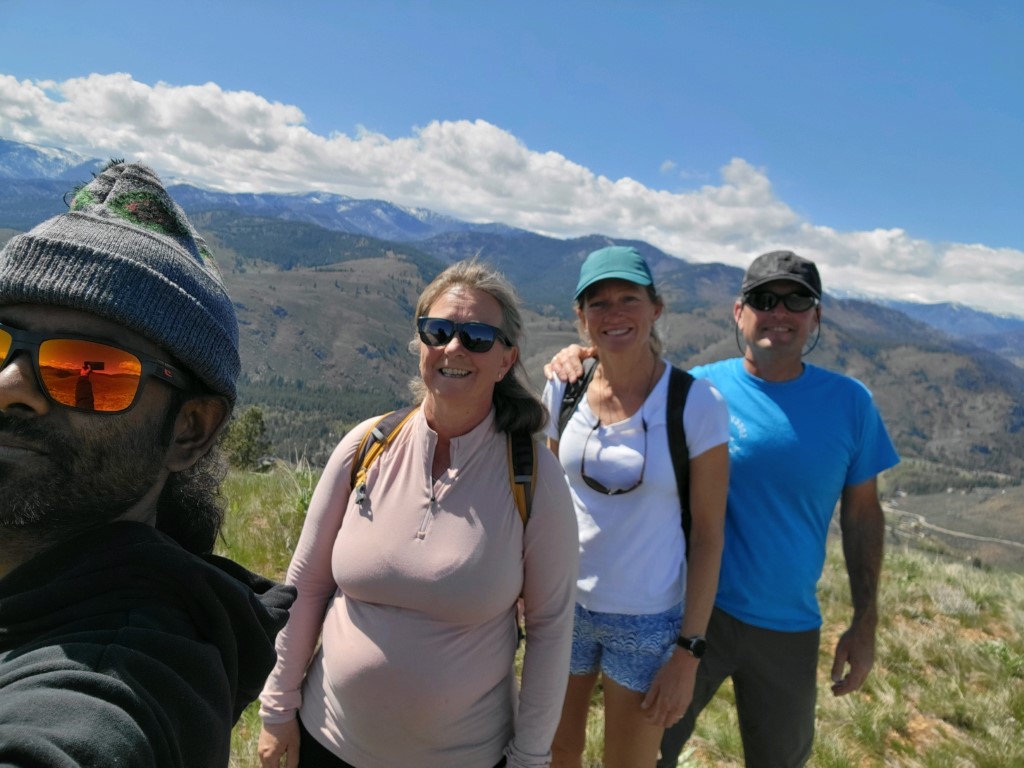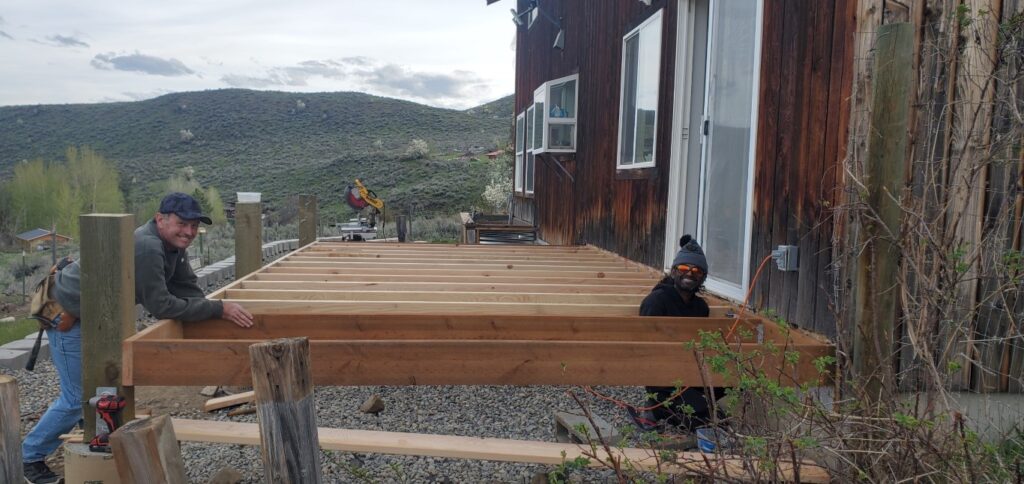 We said goodbye to Heather & Lal till next time (we always have a fun time together) and met up with Ivan at a place called Soap Lake in northern Washington where we are just us. It never fails to amaze me how many crazy beautiful places there are to discover.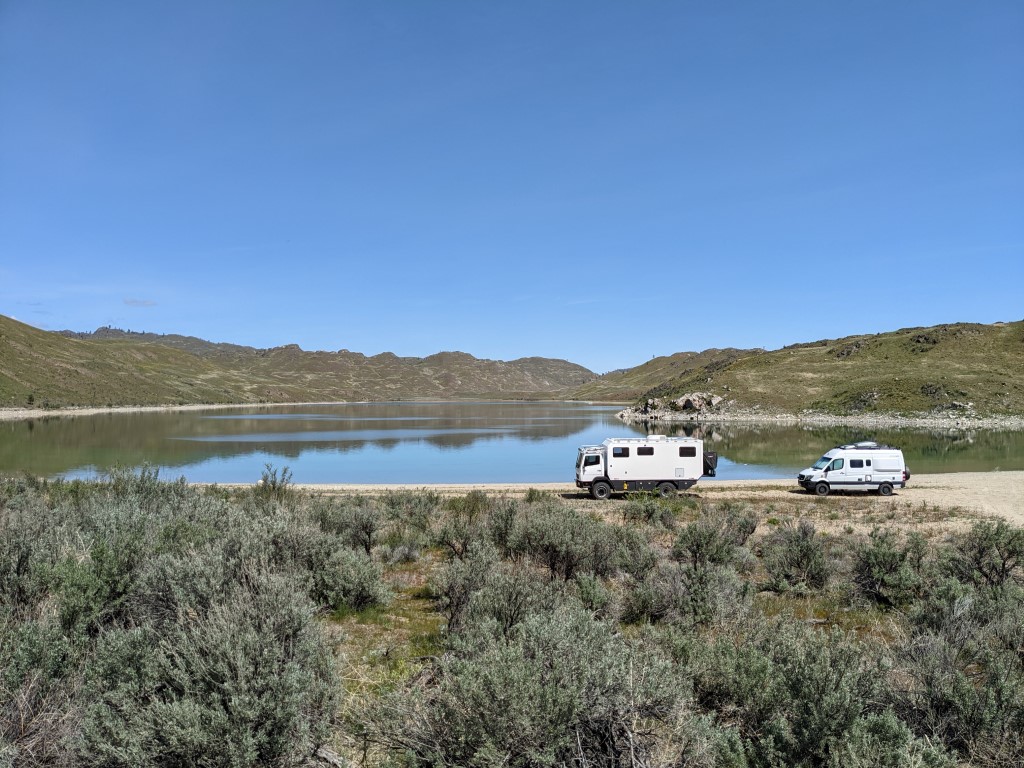 It feels good to have gotten some important things accomplished for the truck and a few improvements too. And we appreciate the people who made the in between times fun. Now we feel tanked up and ready to hit the road. Canada & Alaska, here we come.