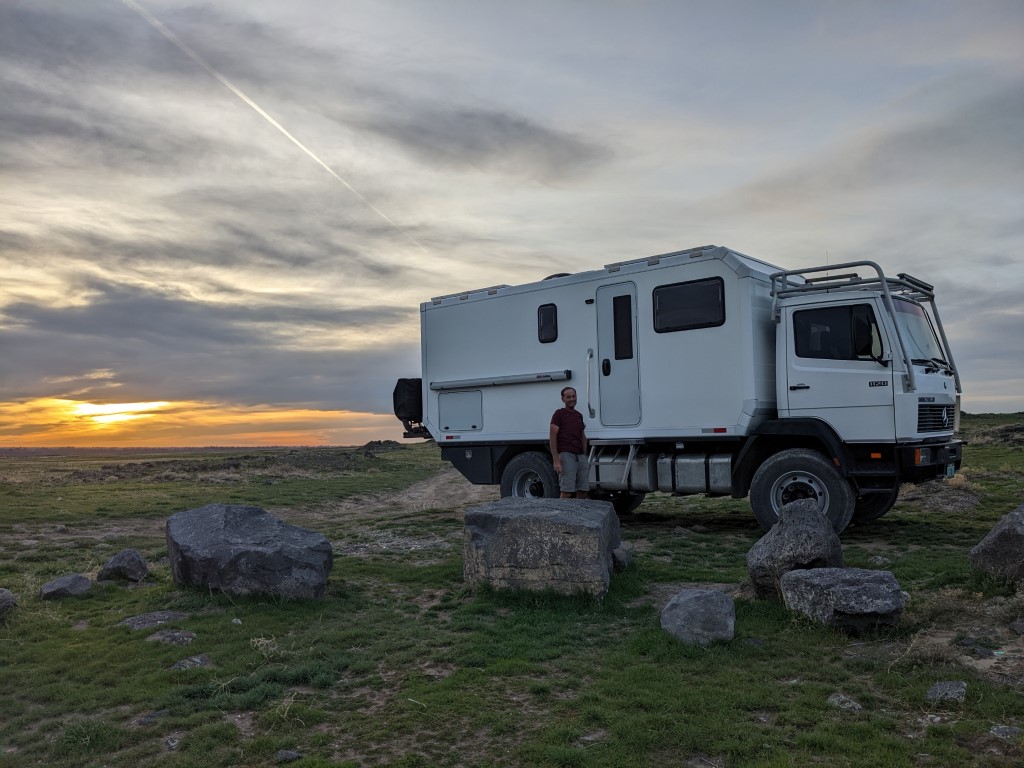 While it might not look it, we've mostly been biting the bullet lately and trying to get things done this month in order to start making our way to Alaska next month. So not tons of fun but feels good to cross off some to-do's. I need to get better taking pics of the projects, not just the pretty views in between them!
We realized upon getting to Great Basin NP that it was still too wintery there to be able to do much- most of the trails still had too much snow to hike, the roads to the ancient bristlecone pines were closed and we couldn't even get a tour for the Leyman Caves because it was all booked. We date ourselves when we say it USED to be there were a few spaces saved for people who don't have their lives completely planned out to the minute and just show up at a place. It is a pain in the butt to have to have a reservation for every little thing, but that's the way it is. The best part of the visit was finding a hat for myself in the park store. Could've used it in Baja, might not have much use for it in Alaska but… We will try Great Basin some other time, preferably in summer!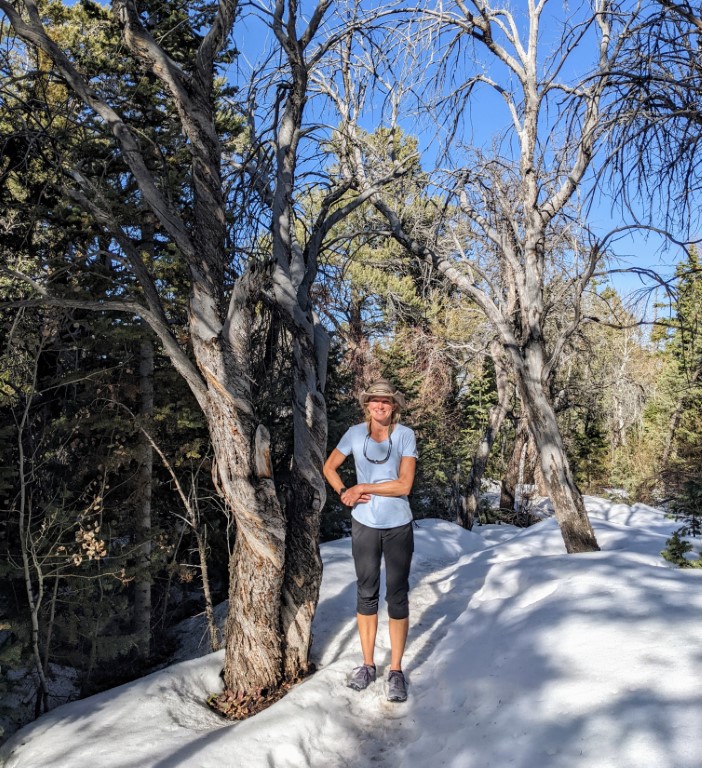 Turns out we really liked Nevada State Parks. Cathedral Gorge was so nice we stopped at another one- Cave Lake to do a hike. Well, they had drained the lake for some dam work. I wonder what happened to all the fish? Anyway, the scenery was pretty, especially the sky and it made a good stopover.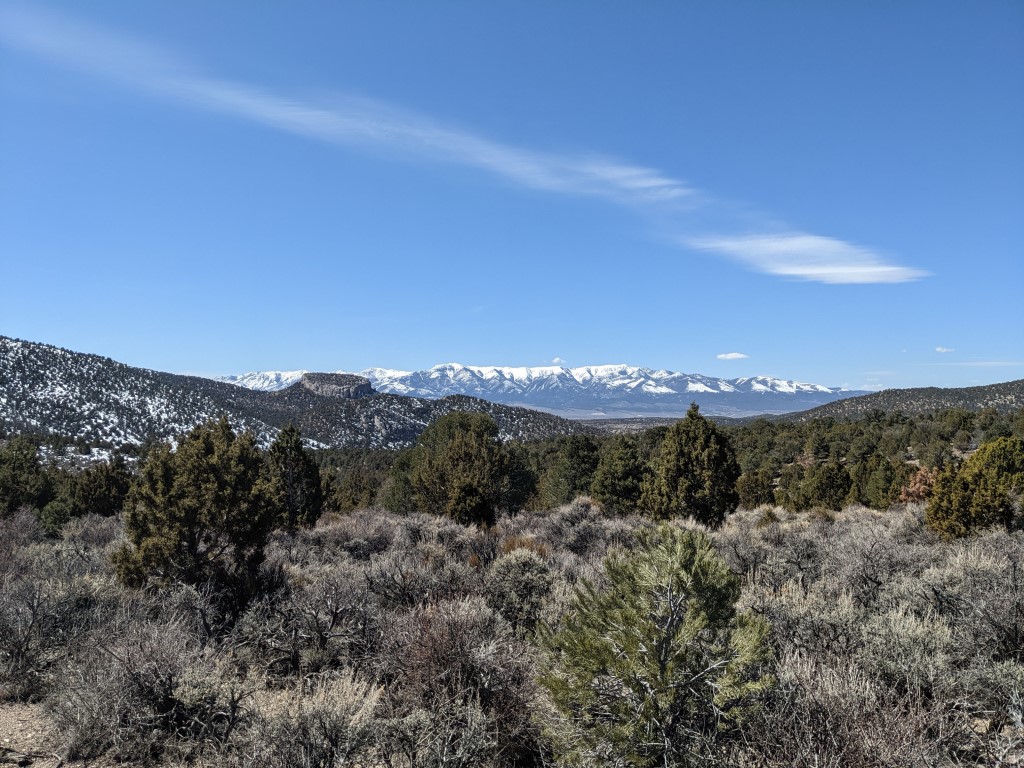 Then we really put the pedal down (not much happens when we do that) and made some tracks through miles of open land where the deer & antelope really do play- we saw 'em! We arrived in Twin Falls, ID for the night to camp on the rim of the gorge looking down on the Snake River. What an excellent campspot! It's right where Evel Kneivel tried (and failed) to jump across the gorge on his rocket motorcycle back in 1974. I guess his parachute opened way too early and he drifted down to the bottom of the gorge instead. But it took guts to try it! We really like the Snake. It starts in Wyoming, travels 1078 miles to empty into the Columbia and it has 15 dams on it. We've camped beside it in many places and there are always lots of peaceful places to walk.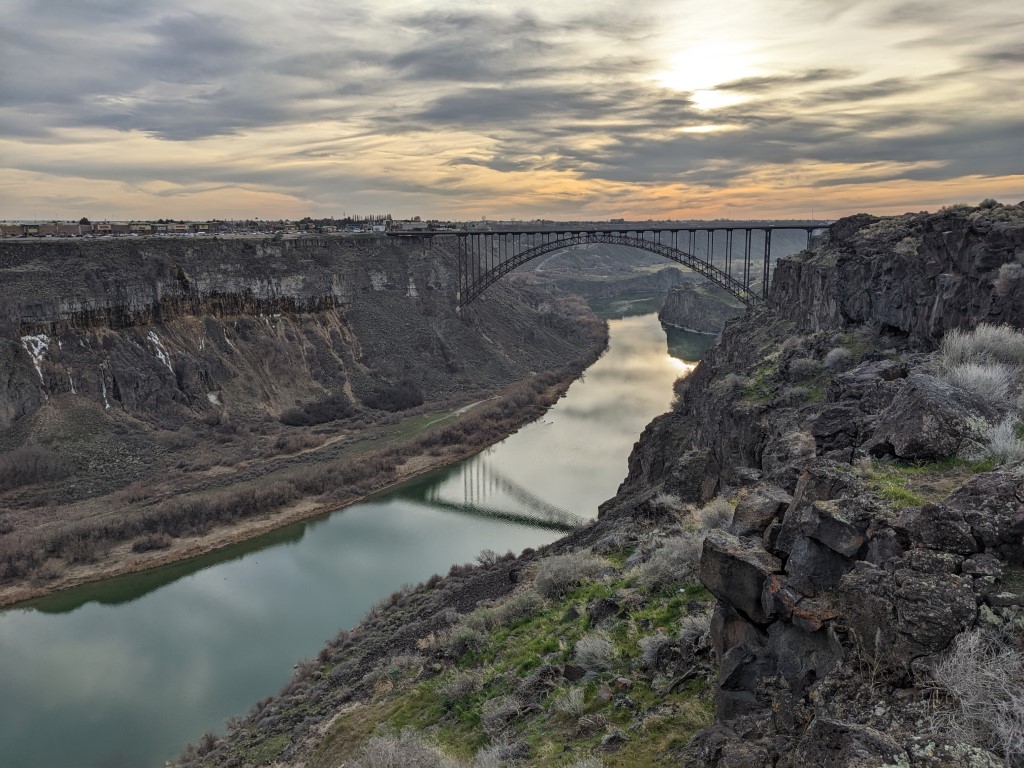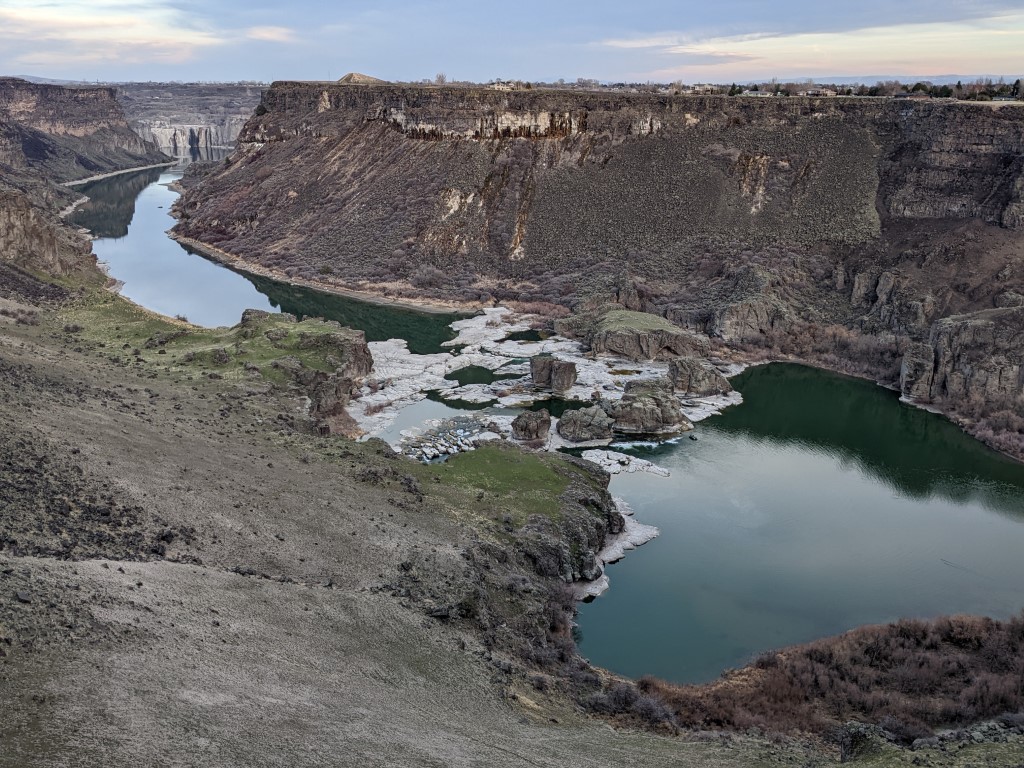 We arrived to Mary's in Oregon for a quick visit and to pick up a pile of packages. When you're constantly on the move, it can be hard to get packages and nowadays so much of what you need involves having something shipped. So we really appreciate anyone willing to receive them. Among the shipments were the two new hatches that Jon ordered to replace the inadequate ones we have. We always enjoy our time at Mary's and her menagerie of animals, plus we enjoy cooking together. Now it's spring and time for all the ewes to have their babies. Lambs jumping around like popcorn all over the paddock in the bright green grass. Beautiful!
Overall, we feel pleased with how our truck RV turned out and what decisions we made along the way. Jon worked very hard to make a design that would suit our taste and boating lifestyle. Sure, there are a few structural things that we would probably do differently such as raise the bed a little higher to allow for more gear storage. We would just have a washing machine and skip the dryer since it takes up more space and we don't use it. We would have all the windows be the same size rather than the two larger ones we chose which would have enabled a thicker mattress . Then we could have elevated the seating area even more so that we could carry more water (we have 100 gallons but more would be nice) and more storage. But… those things don't bother us much and we can't change them anyway. And we CERTAINLY hope we never have to build another one of these! However, there are other installations that we don't think are right for us and we can change them, one being the two roof hatches. Next would be our entry door but that is proving to be even harder to get. One step at a time.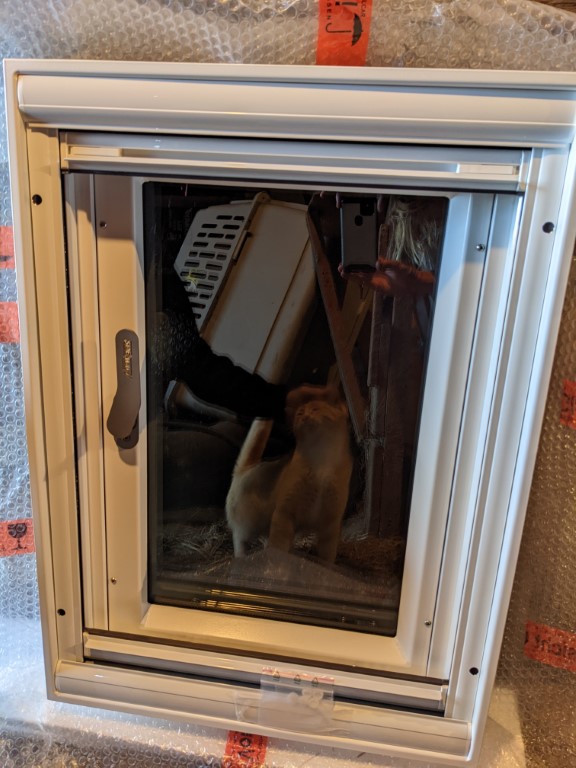 So when we got to Mary's we were pretty excited to unpack these new Widebird deluxe hatches from the Netherlands and they look to be excellent quality! But of course, one was damaged in shipping. One wonders what exactly happens "in shipping" to cause the amount of damage that we see. What exactly do they do when no one's looking?! So our whole plan to install these really quickly went out the window and we had to leave them behind for our return visit in a couple of weeks because we needed to get to Boise for a new windshield install and we weren't sure how a replacement hatch would work. We also need good weather to install them which at least for now, is not in the forecast.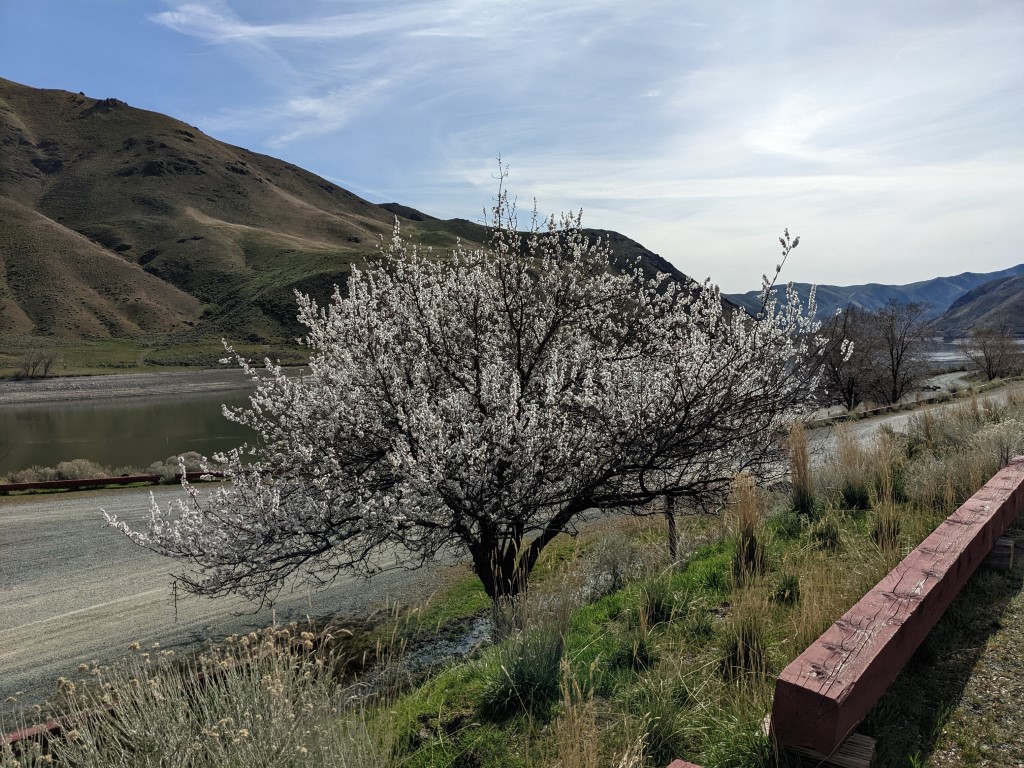 Along the way, we stopped at a couple more spots along the Snake to just chill out and enjoy the scenery and later, to get some projects done. We needed to change our engine oil and it was quite a chore to find anywhere that had our oil and 6 gallons of it. While driving around, I saw a sign that said "I decided to treat myself to something expensive today, so I filled up my tank". Haha. We notice it too! Well, we did eventually find some and got the oil changed.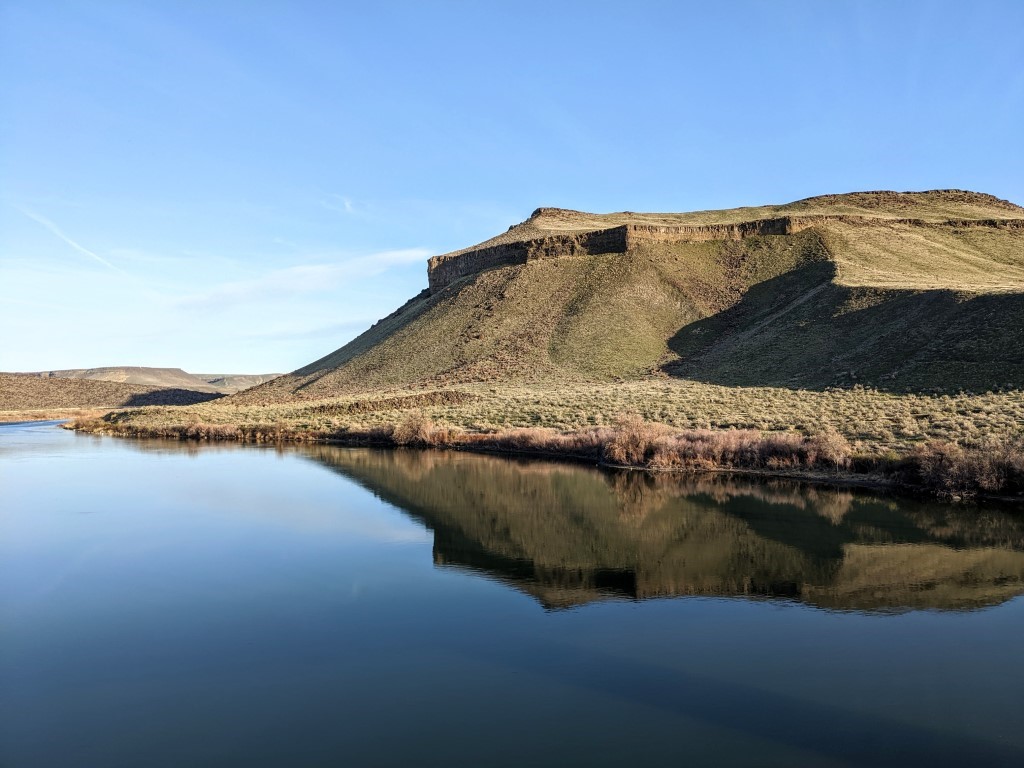 We arrived to Boise to do some shopping and be ready for Monday morning at the glass shop. It was an unsettled day and we noticed a lot of dust in the air. A couple hours later, it started to rain dirt! At first I thought it must be that the truck somehow got really dusty (but I had just washed the entire thing the day before) and then we realized our clothes were getting mud on them from the raindrops too! I really do learn something new every day and that day, I learned that if there's a dust storm and then it rains, it's going to get ugly. For the rest of our time in Boise, the car washes had lines around the block and you could easily tell who had been and who hadn't.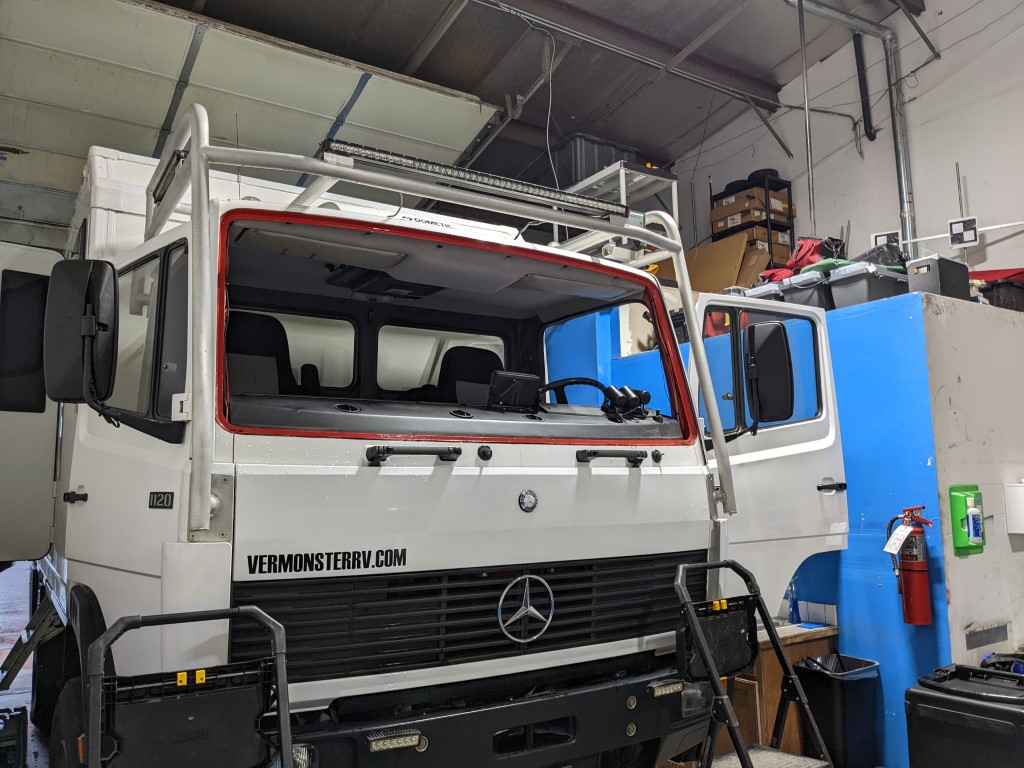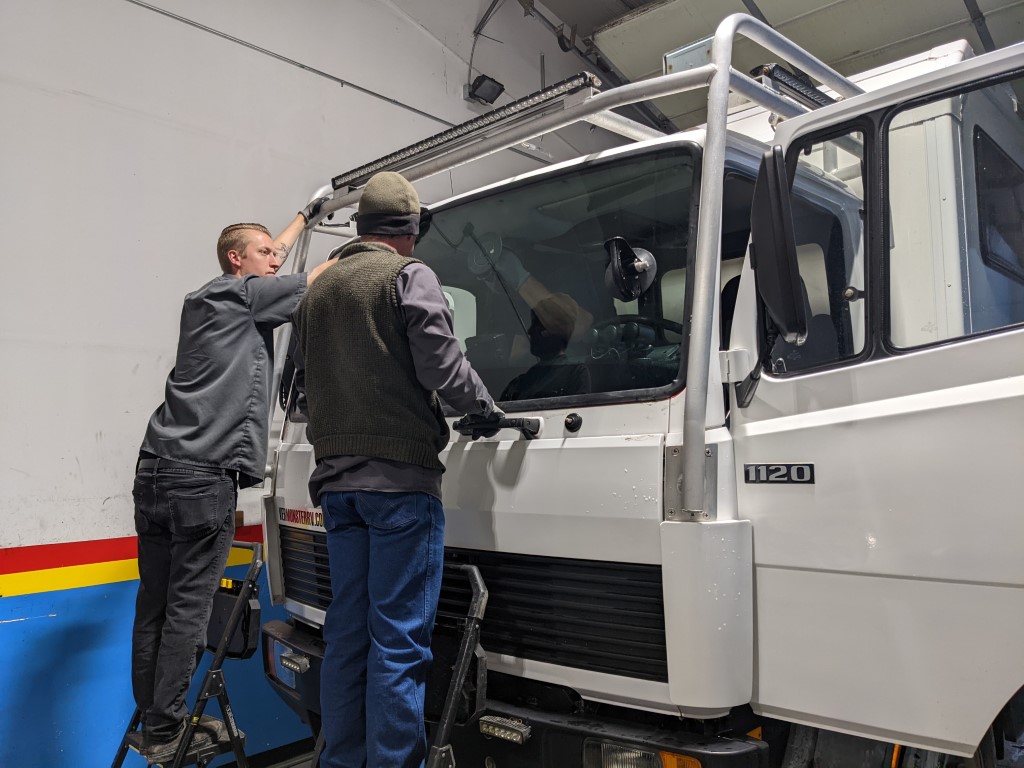 We got hit by a big rock from a passing tractor trailer and needed a new windshield. It seemed like it would be really hard to find but in the end it wasn't too bad. So we pulled in to Ben's Auto Glass in Boise and an hour later came out with a shiny new windshield and gasket. They made it look easy and we're excited to have fresh glass to look through. A couple of days later we got a new glare strip put on like we had previously so now that project is done. It'll hurt when we get our first chip!
We did a round of health maintenance and a bunch of errands in Boise. It feels like we're forever stocking up. But we have plenty of shoes now for many more trail miles, among other things. We got our fill of shopping in. Getting all of the pieces for a project takes time too, especially today when so many things are out of stock. Among the other do-overs that Jon is working on is the water filtration system, since better components have come out in the last couple of years that are cleaner installs and work more efficiently. Plus our entry ladder was rushed at the end of the build and we've wanted to make it better so that is another modification that's underway. Meanwhile, I'm going through the truck taking out things we haven't used and organizing some, doing touch ups to keep up with wear and knocking off things on the list that need tending to before we start moving again. There are a lot of odds & ends.
We moved up to McCall to visit Mark & Anne except they're out of town right now so we're using their beautiful shop until they come back! At 5100 feet, there's still some snow around and more coming but the birds tell us it can't last for long. Another mail drop spot, I was greeted by a motherload of See's candy from my parents (my birthday isn't over yet!). On the package it says "Made not to last". Well it sure isn't.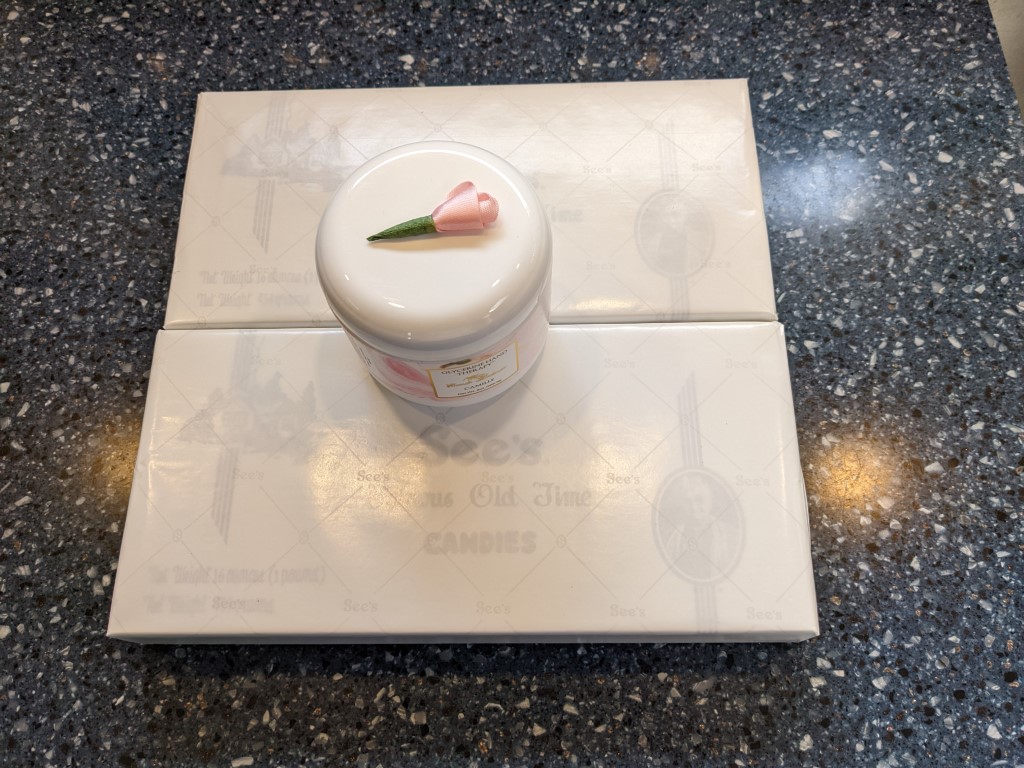 Well, that's all I've got. We're looking forward to catching up with Mark & Anne and then making our way back to Mary's in Oregon to knock out the rest of the truck improvements (for this session anyway!) before casting off for new places. Our goal is to be near the border around May 1 so we have the most time possible to make the drive to Alaska in what is already a short season.