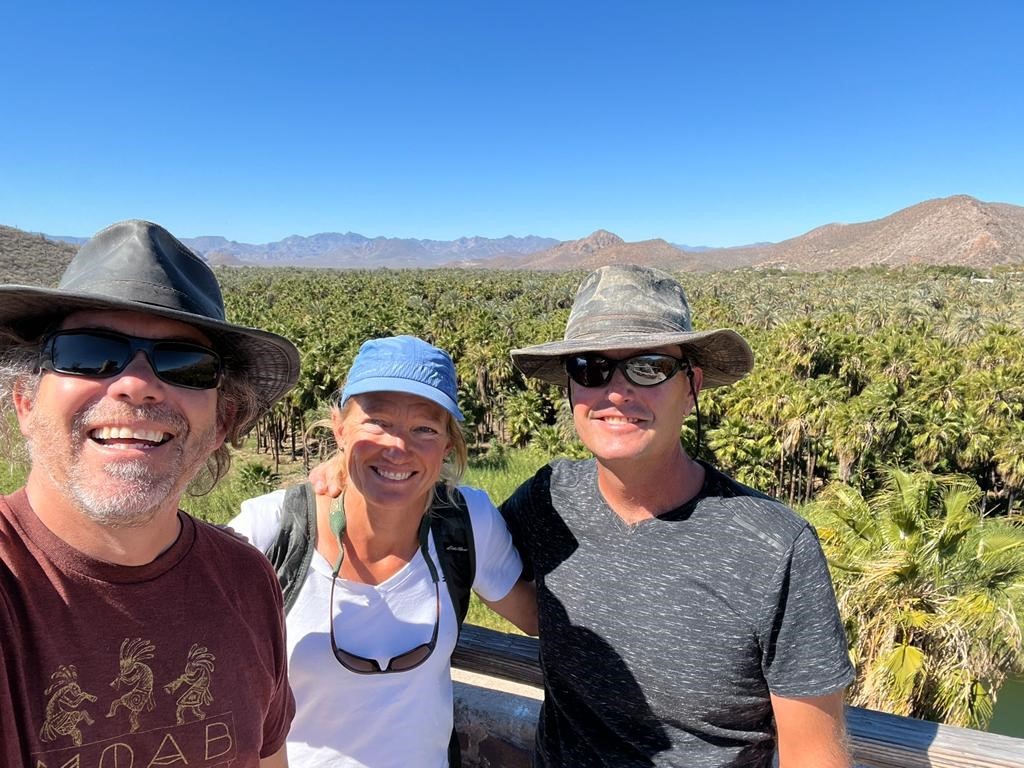 It's like a broken record, but it's true. We continue to have a wonderful time in Baja. We really love this place and all there is to do here that we love to do most. We're pretty certain there are way more pelicans here than people. But whenever we do meet people, it's a highlight too.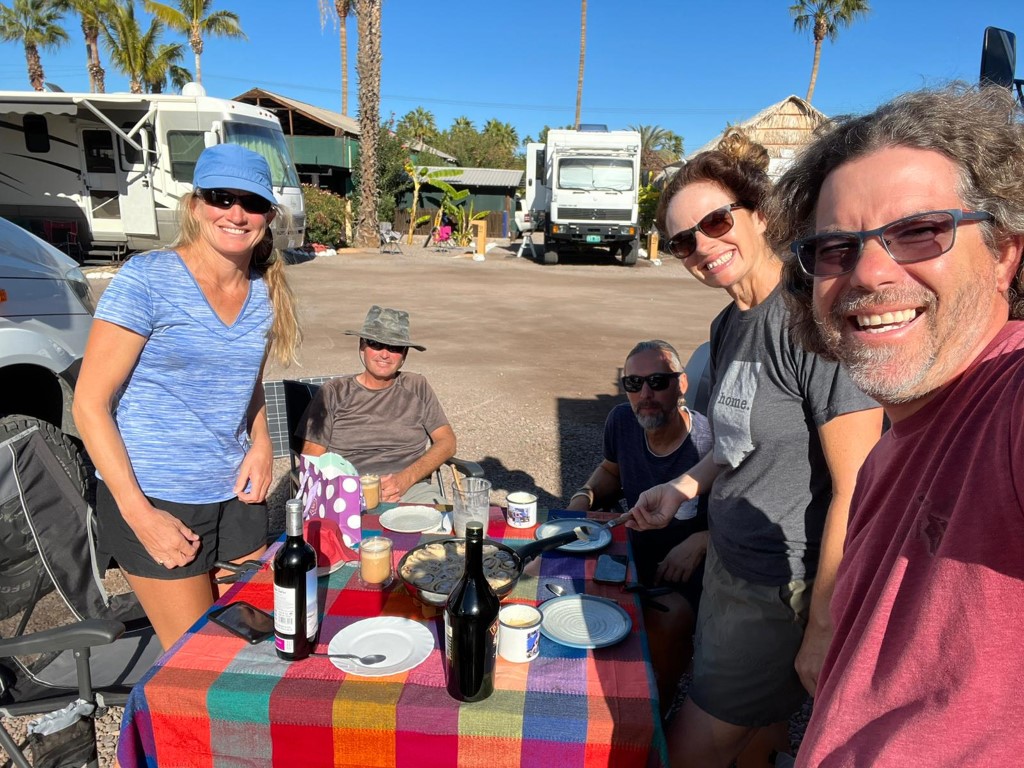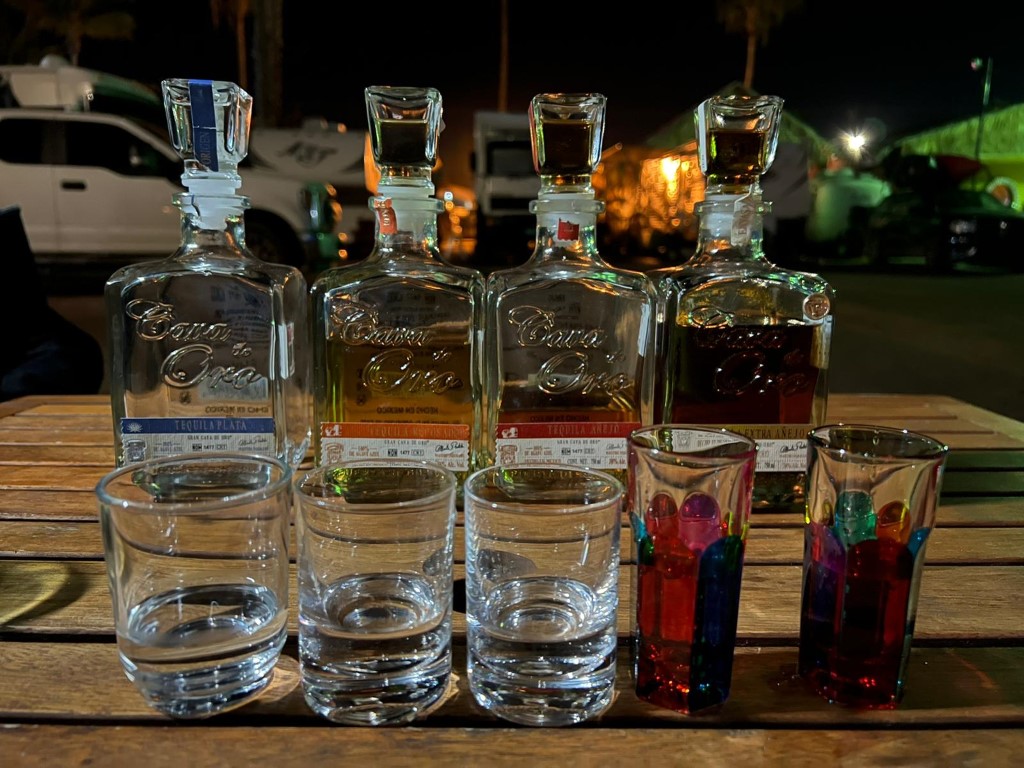 We spent 3 days in Loreto with Sandie, Karsten & Ivan at a campground, Rivera del Mar. It's a cute place and aside from the band of dogs and roosters that play all night and never take a break, it's convenient to be there when in Loreto. It felt good to give the truck a bath and then enjoy the town one last time before heading north. Jon took apart the door locks for the truck cab, cleaned & greased them and now, for the first time since we've had the truck, they work perfectly. No more slamming the door to try and get the lock lined up to work. Plus it was my birthday!! We celebrated it over a couple of days. One night Ivan & Karsten made paella for all of us, Sandie whipped up a perfect batch of cinnamon rolls (it only took about 5 hours!) for a special afternoon coffee and we went out to dinner at our favorite restaurant where the fish & chocolate clams are really delicious. We topped that night off with a tequila tasting since we have a few different levels of it now between us. Love the stuff!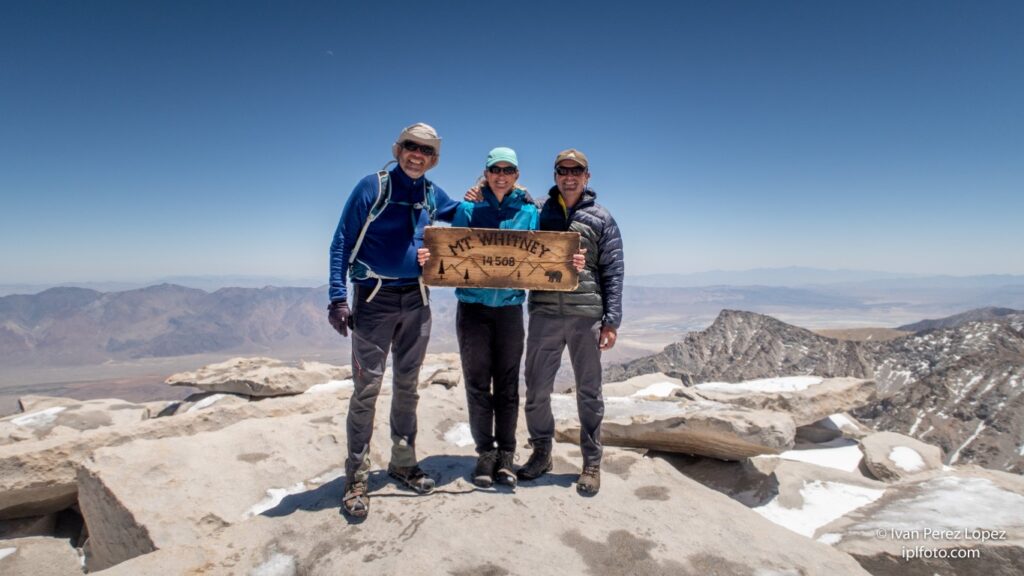 Ivan personalized a bottle of red with a special label of our spectacular day climbing Mt Whitney together and Sandie gave me a pair of shells that work great for appetizers and then even a raw cinnamon roll for myself. There's only one other person who loves raw dough as much as I do and that is Sandie. So 53 isn't so bad.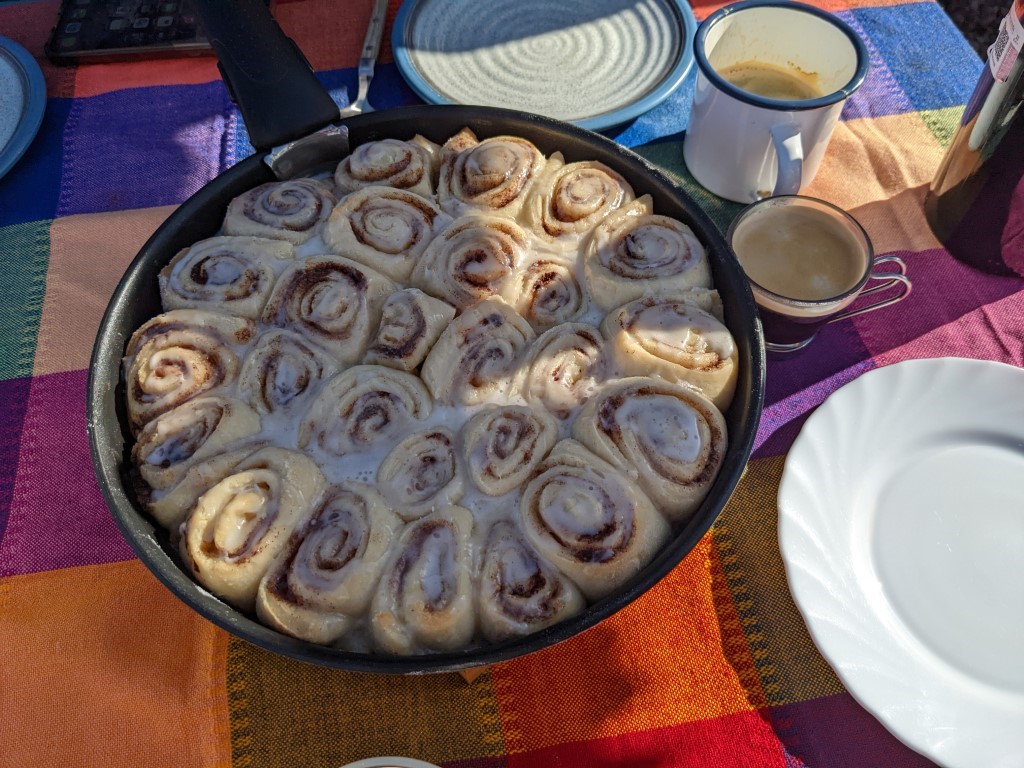 As nice as the campground is, it's a lot like a hotel room- good to check in and nice to check out! We prefer more wild, open spaces. So we & Ivan headed a little south to a beach called Juncalito. I was interested in walking the trails around Puerto Escondido one more time and maybe get in the water too. Well the water wasn't appealing but we did do some trails. The peninsula that forms the marina has always intrigued me since it's part of the park of the Loreto islands but we found out there is no trail infrastructure there.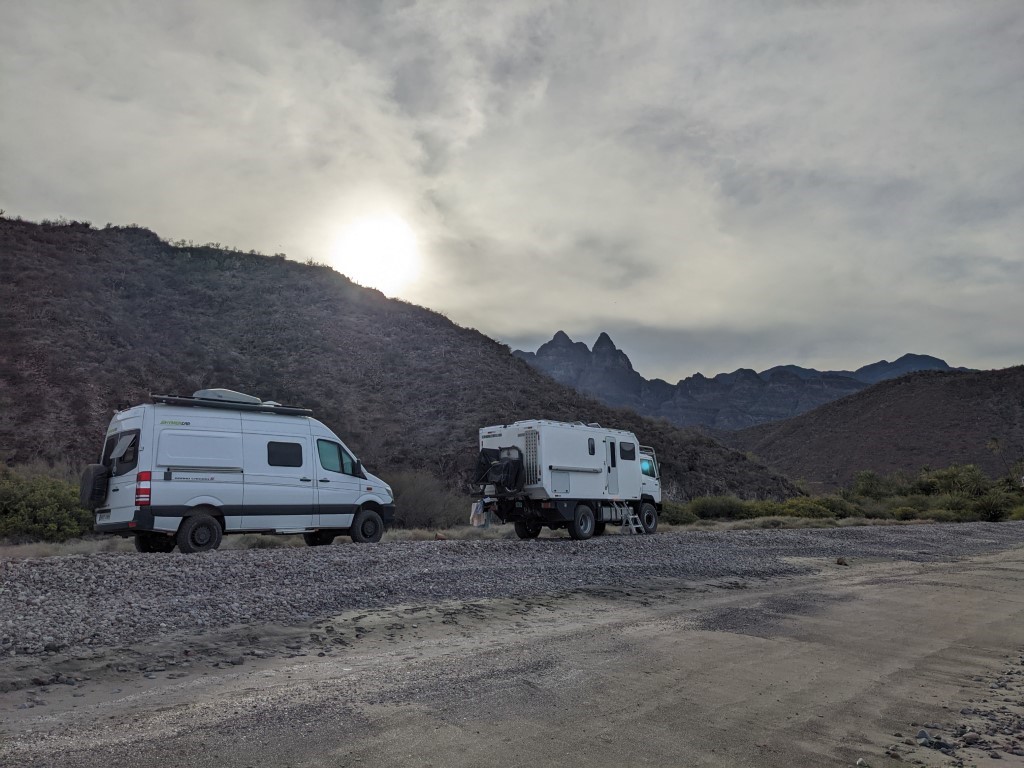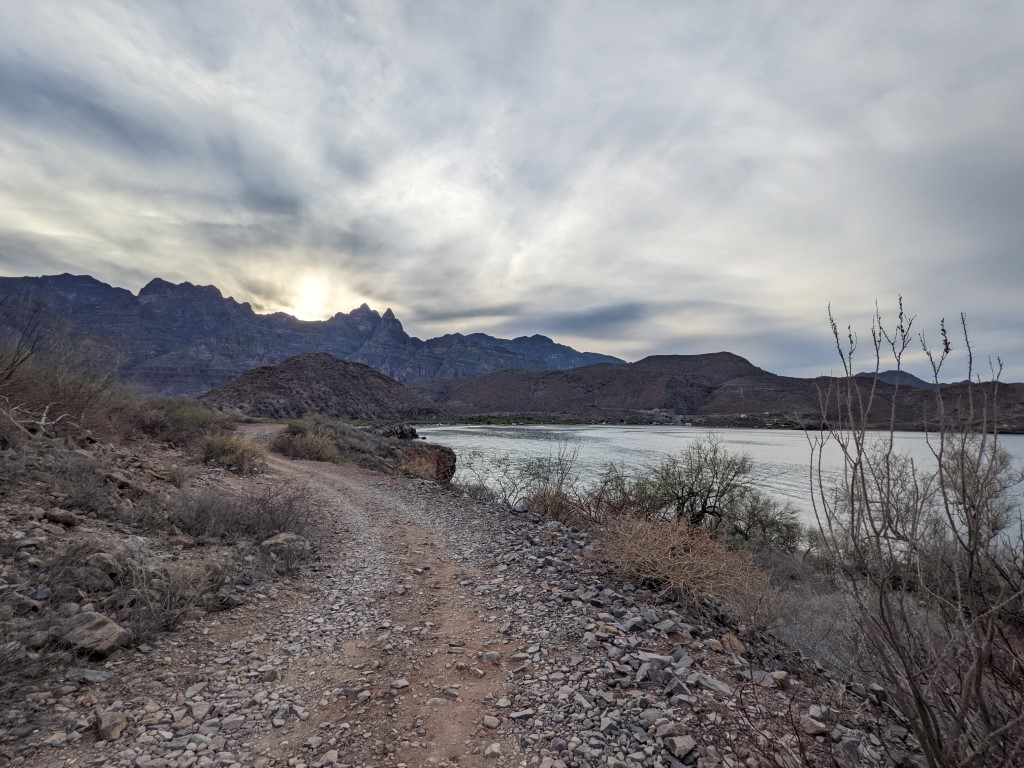 After a couple of nights, we split off from Ivan for a little bit because he had friends coming to visit from Spain and we can't speak enough spanish to make it fun for them to have us there. Jon & I headed a few miles north of Loreto to a spot that is close enough to a park island called Isla Coronados because we wanted to kayak to it. I had spent a lot of time looking for a way to get out to some of these park islands without getting on a tour boat and this looked like a good possibility. On satellite imagery, which we frequently use to find cool places, the water is a gorgeous color and there are several sandy beaches. On a 5 mile, bumpy, dirt road approach, we were in a sea of private property signs and I was getting nervous that we wouldn't find a spot to camp but in the end we did find a couple of slivers between fences with passages down to the beach where we could pull in and line up with the island. The only thing out that road other than several ex-pat houses is a small, well regarded restaurant open only for lunch called El Picazon, owned by a couple.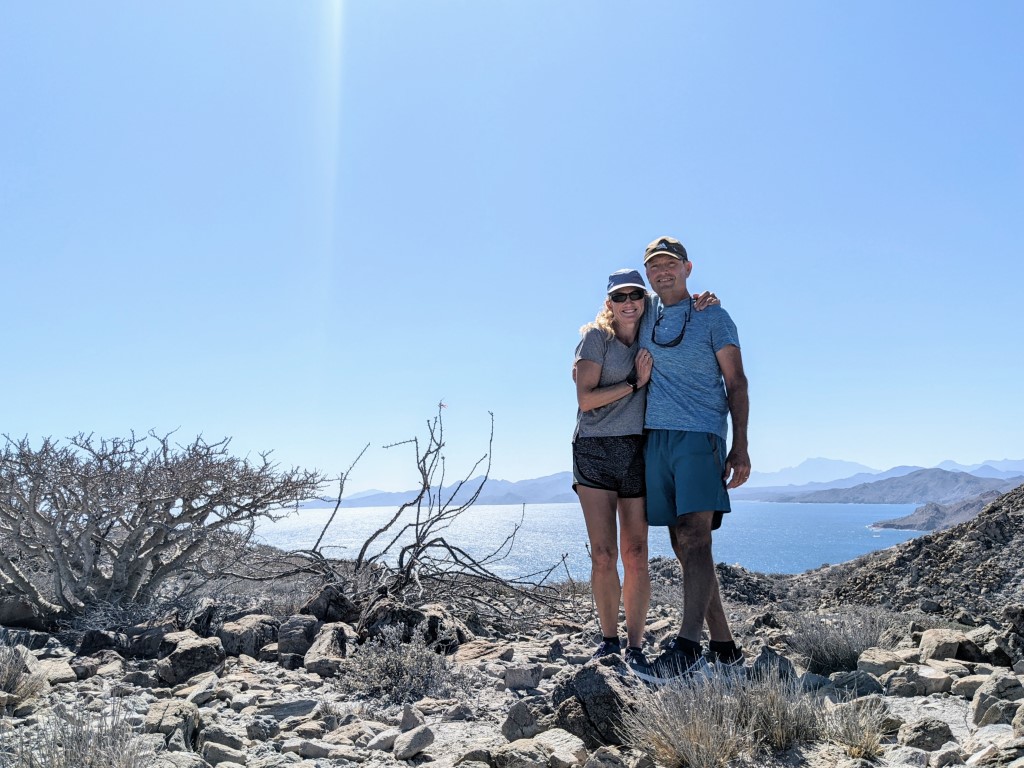 Thankfully, it was Valentines's Day and after dropping a few hints over the previous days that I sometimes miss some of that corny stuff that we don't celebrate anymore, Jon suggested that we go to lunch there for Valentines Day!! We had a great lunch of the best coconut shrimp we've ever had. I liked our waiter. When he refilled our basket of tortilla chips he said to us "now try to stay away from the chips!" We couldn't. We lightened up the truck that night of a bottle of champers just to make sure we did the holiday right.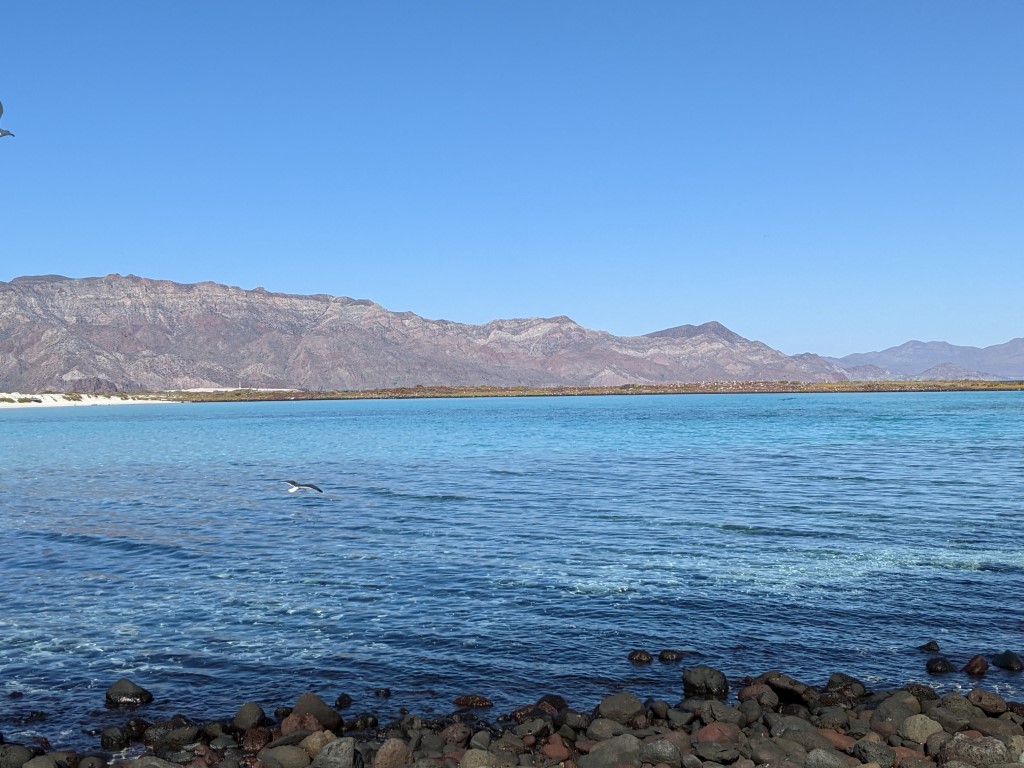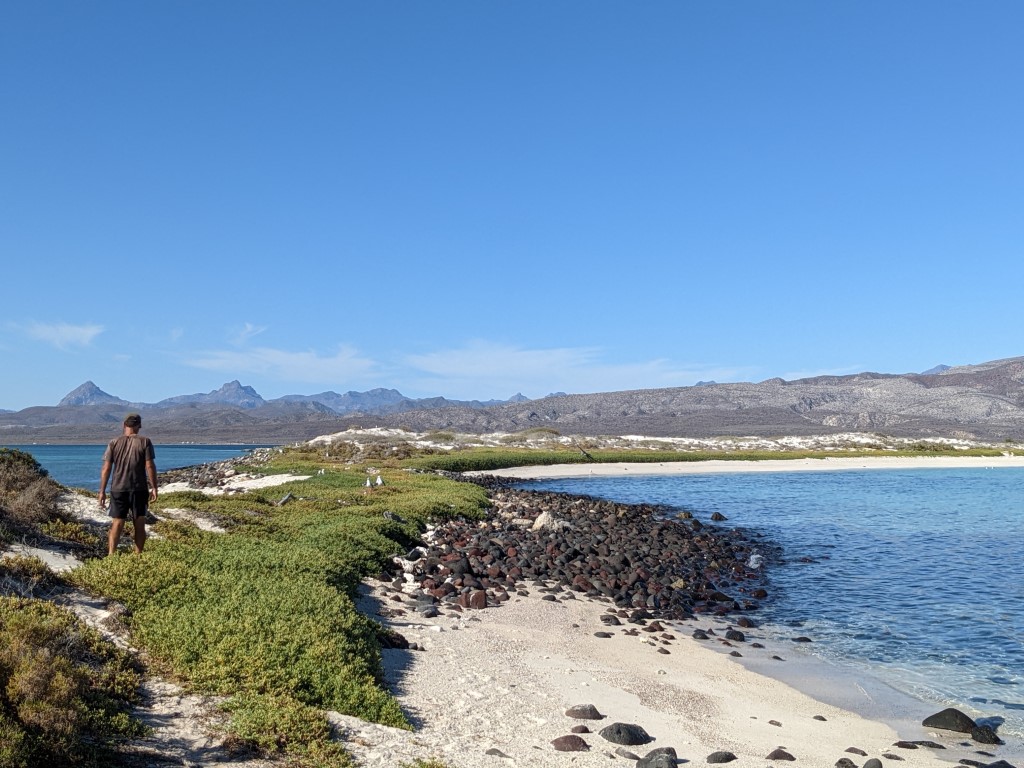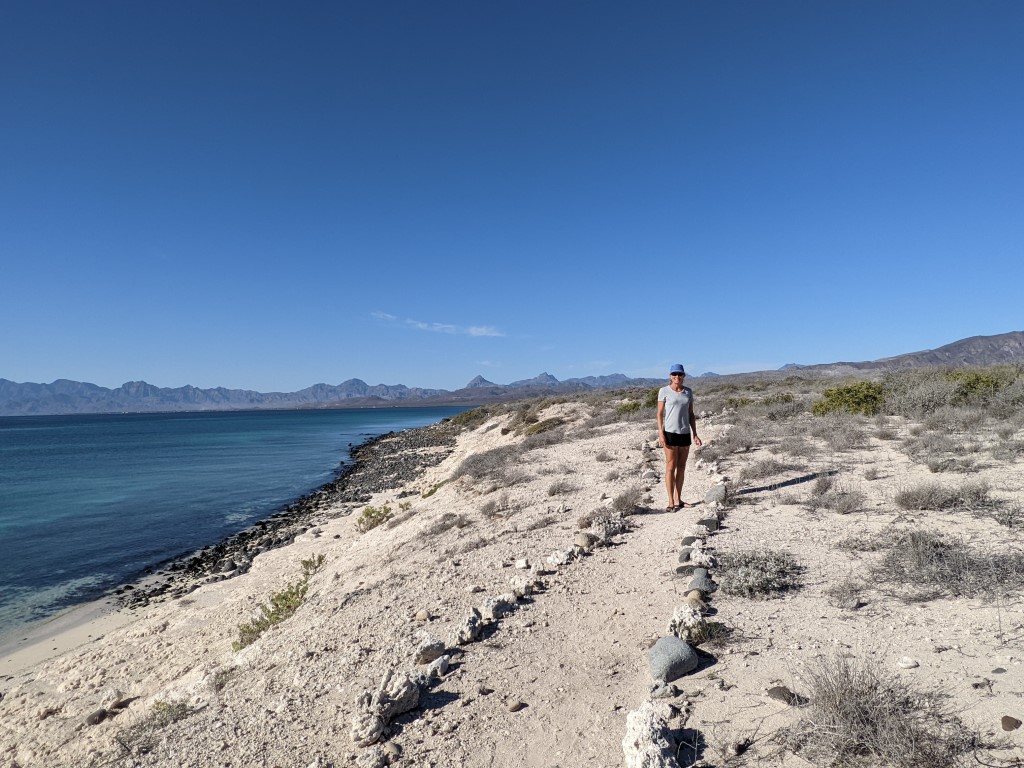 Do you remember the movie Naked Gun with Leslie Nielson where he's on a date and they cram an impossible amount of things into one day? Well, on a more realistic scale, my dream days are ones where we do a whole lot in one day, preferably outside. By the time the day is over, Jon is usually staggering but I'm high as a kite. Well kayaking out to the island was one of those days. We got up early and paddled out to the island in perfect calm and started walking cute, stone lined tpaths that ran through the desert and along beaches with crystal clear pool water. Then it turned out the volcano had a trail to the top so of course we had to climb that, but in flip flops because we weren't expecting any trails there! Then we sat under a palapa and had lunch, then we kayaked around to another beach to go snorkeling. Wouldn't you know after several years of not finding any seahorses, Jon spotted one there. They're so bashful but sweet to see. No camera. Then we kayaked back- still in flat calm. That night was the full moon and we sat out on the beach looking over to the island that we'd done so much on that day. It was hard to say goodbye to that island and to that day even. But the wind filled in the next morning and we knew it was time to move on.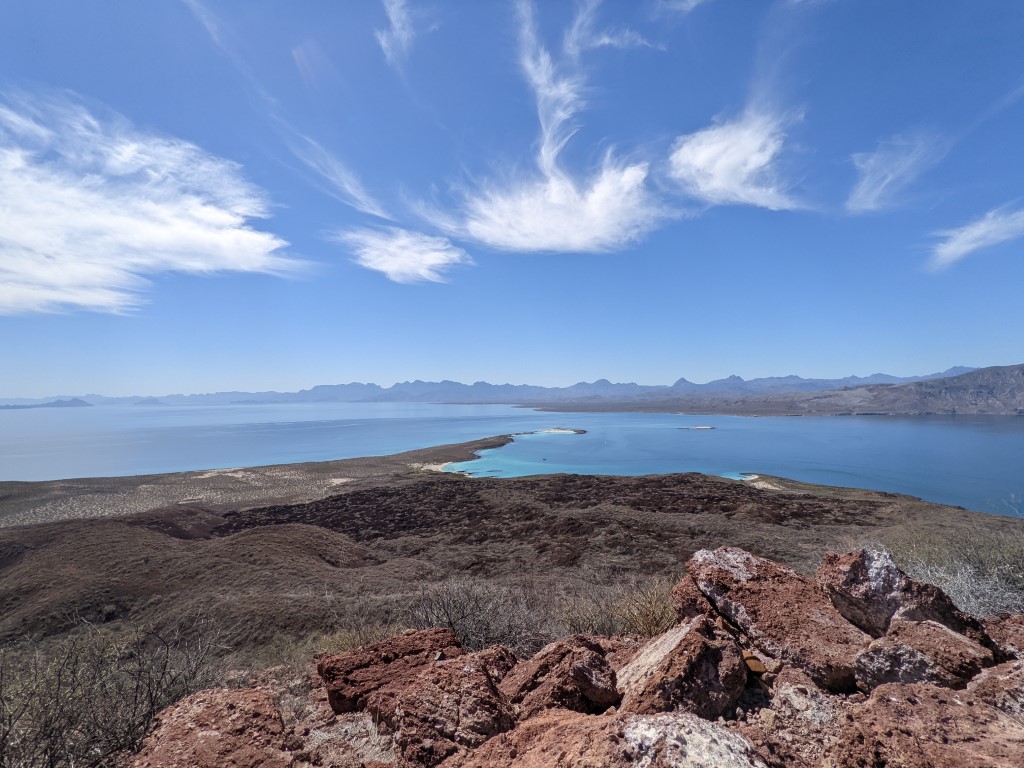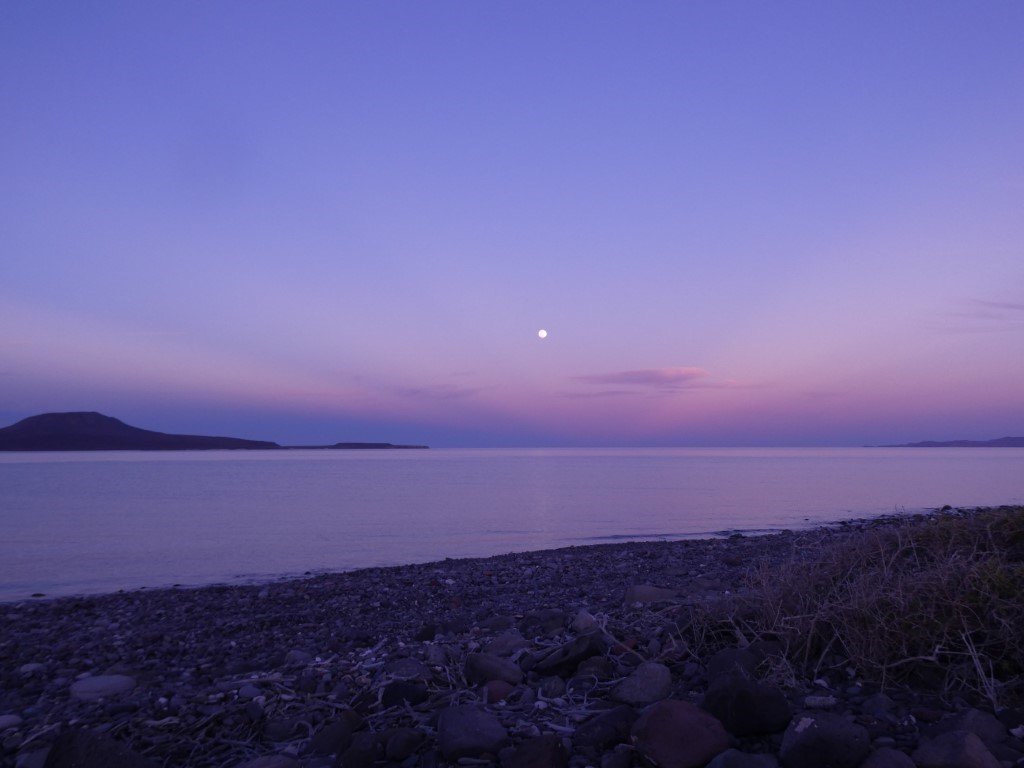 We drove a bit further north to a fishing village called San Nicholas just south of Bahia Conception. A hilly dirt road leads out to it with beautiful cactus scenery. I'm always amazed at how you leave Rt 1 and travel what can be a very long way on a significant road to a tiny little village or sometimes not even that, only passing ranch land along the way. We took a cliffside campspot and got our bikes out the next day to do a 22 mile roundtrip ride to El Pulpito, a volcanic rock blob to the south. We biked across beaches, pushed our push bikes through impossibly sandy or rocky parts of the "road" and eventually arrived to a leeward beach and yet another stone lined trail up a mountain, with no one around. We have Mark & Anne to thank for these bikes and we put them to good use. They stow great in our back garage and are light as a feather. Even though it looks like a yard sale when we pull out our stuff to get to one thing or another, we can do it quickly and carry the gear for whatever activity we want to do.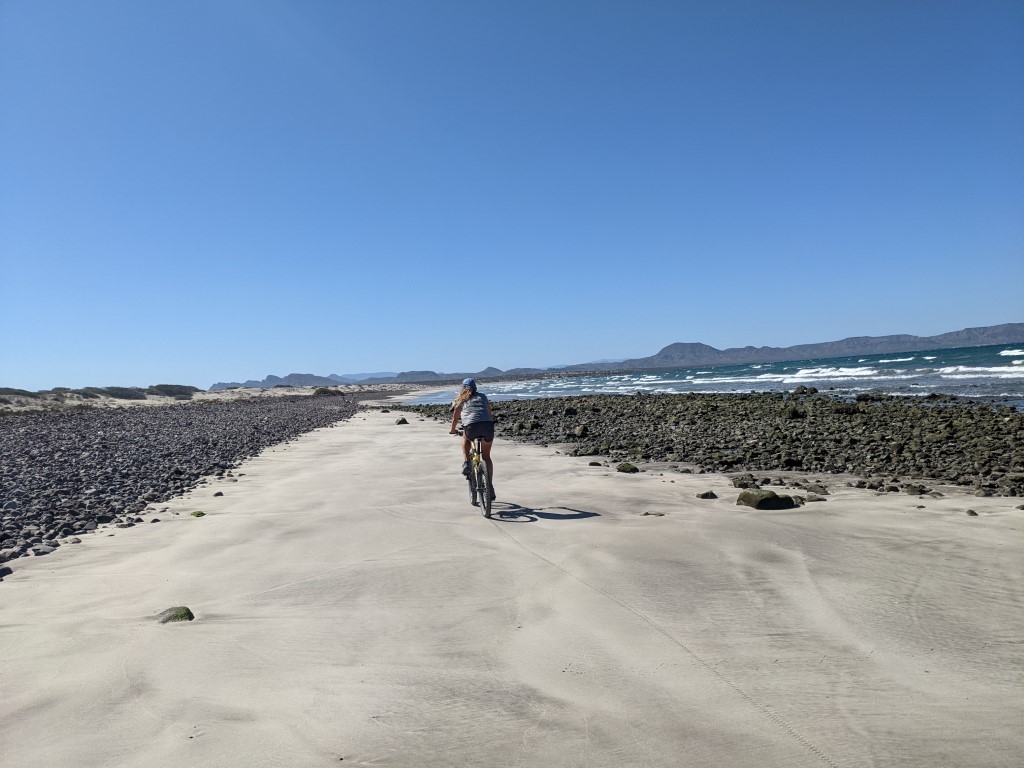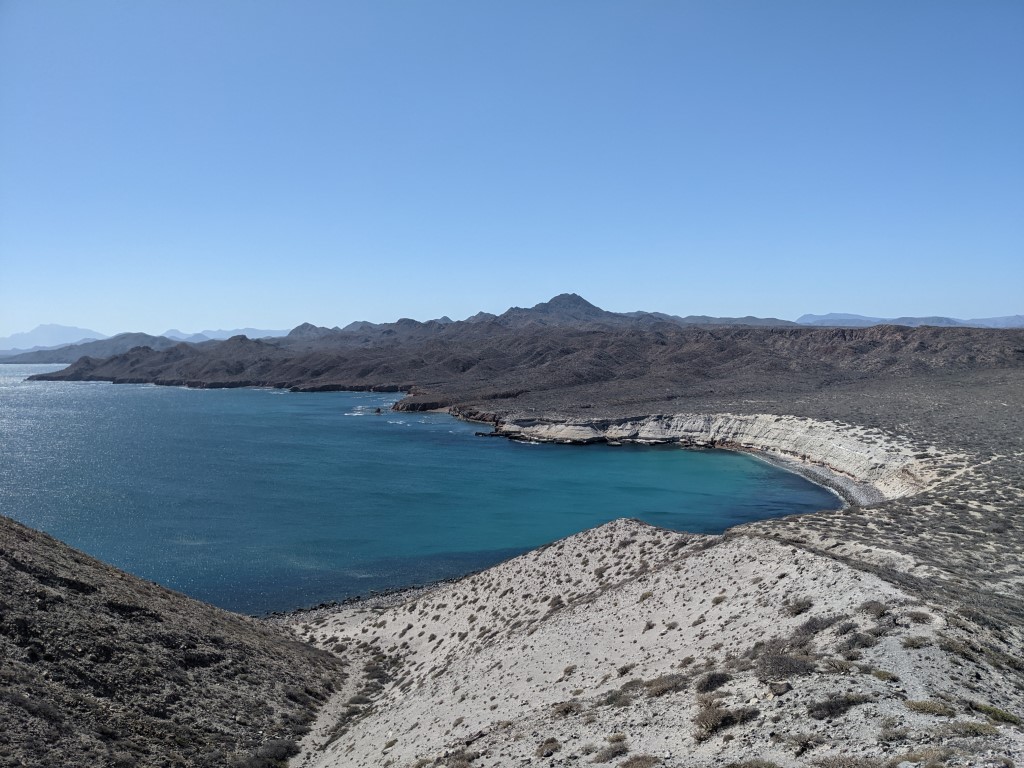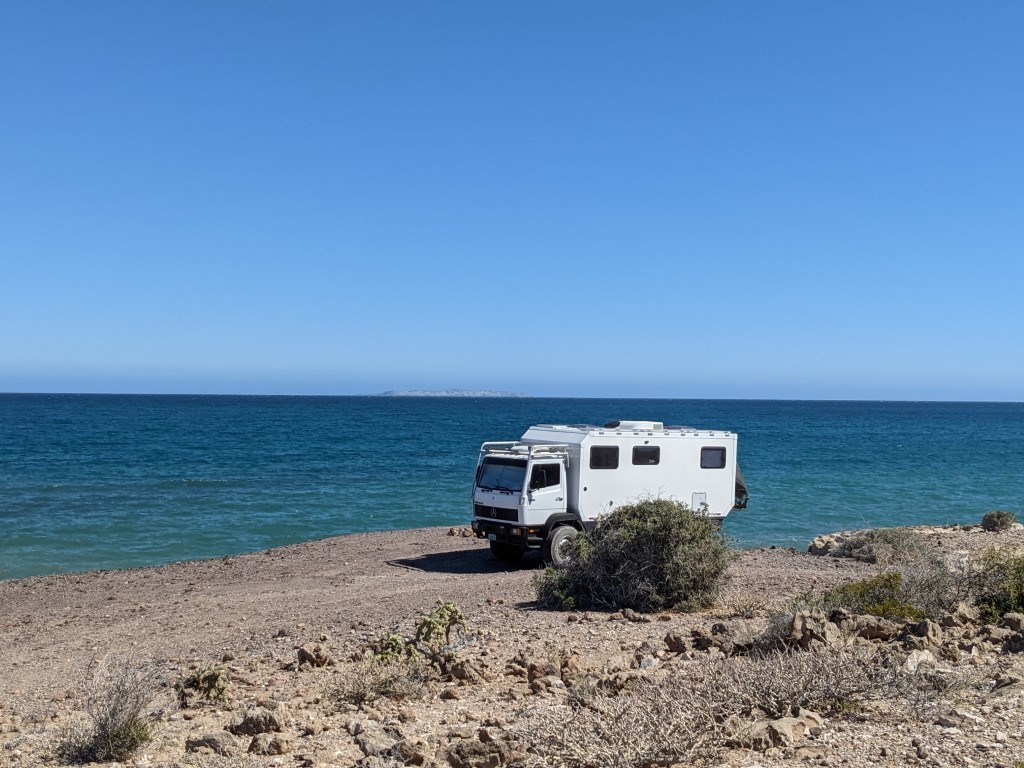 The next morning, we whipped the bikes together again and took another ride, this time northward to a little oasis called San Sebastian. It didn't compare to the day before but it was nice to be out early and see the day unfold. We started driving out the pretty dirt road and met up with Ivan coming to meet up with us.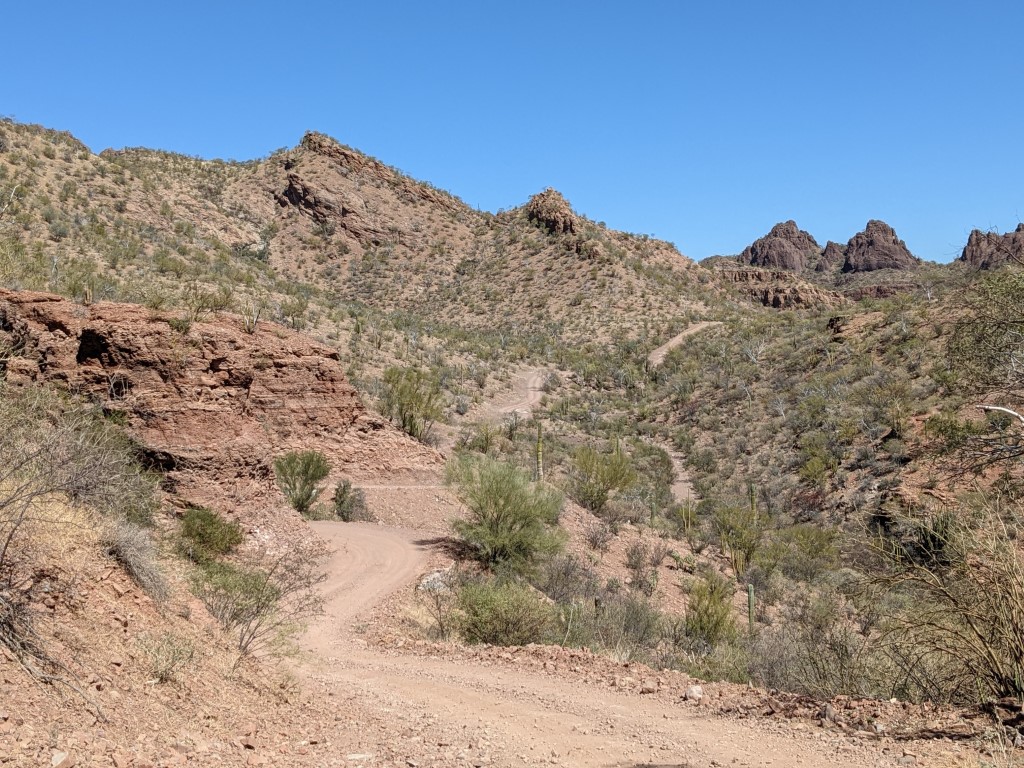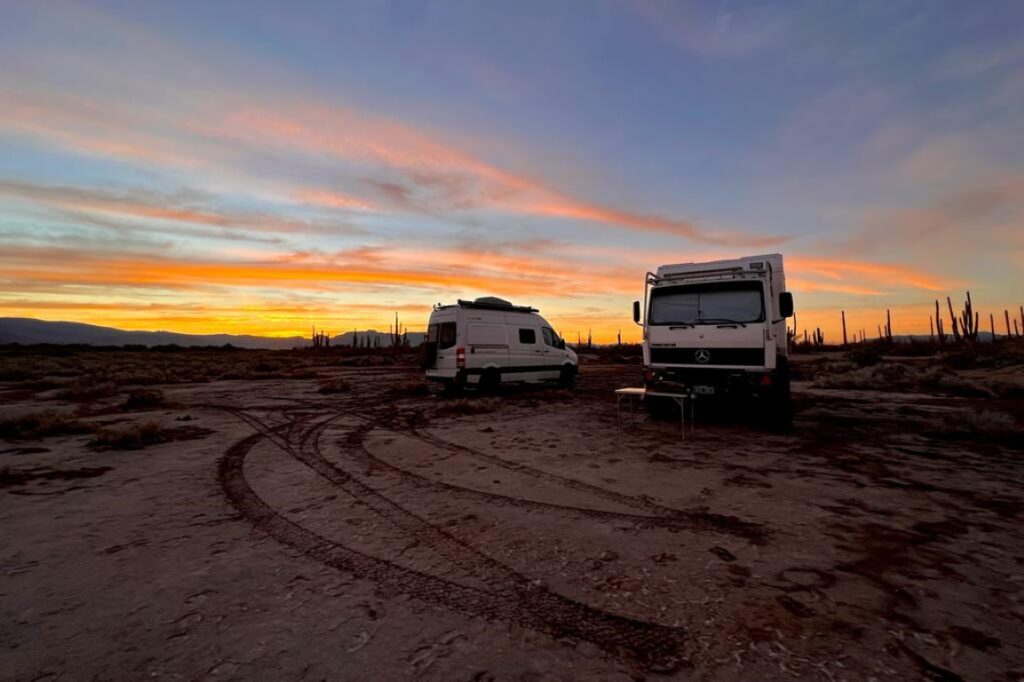 This time I wanted to try to get to the peninsula that forms the eastern edge of Bahia Conception. Looking over to those beautiful mountains from the mainland side, it seemed like it would be neat to see. We drove across the salt flats to get to a desert campspot at the base of the peninsula. They are pretty in their own way. The next morning, Jon & I took the motorbike out for a day of exploring the 30 mile rough road that just leads through ranch land towards the point. Apparently, they do a lot of shellfishing from the beaches there or else they just dump their shells there but the whole area is filled with piles of scallop shells. There's a bike route called the Baja Divide and we've met up with several bikers traveling this route which uses the same backcountry roads that we like to do in our truck or on bikes. To get to this section, they take a panga from Mulege to the point and start biking. It's a tough route across Baja and while I'd love to do something like that, my other wiser half thinks it wouldn't be all that fun and the need to ride Rt 1 to connect the dirt roads is more risk than we're willing to take. It was a great day just us as there's nothing else around but the scenery. We passed 2 bikers the whole day. The road was too slow going to get to the end but we took a nice walk along it too which is how we most like to use the motorbike. Then we came back to Ivan who had taken a 10 mile walk that day and we shared another of our usual good dinners together. He's great company.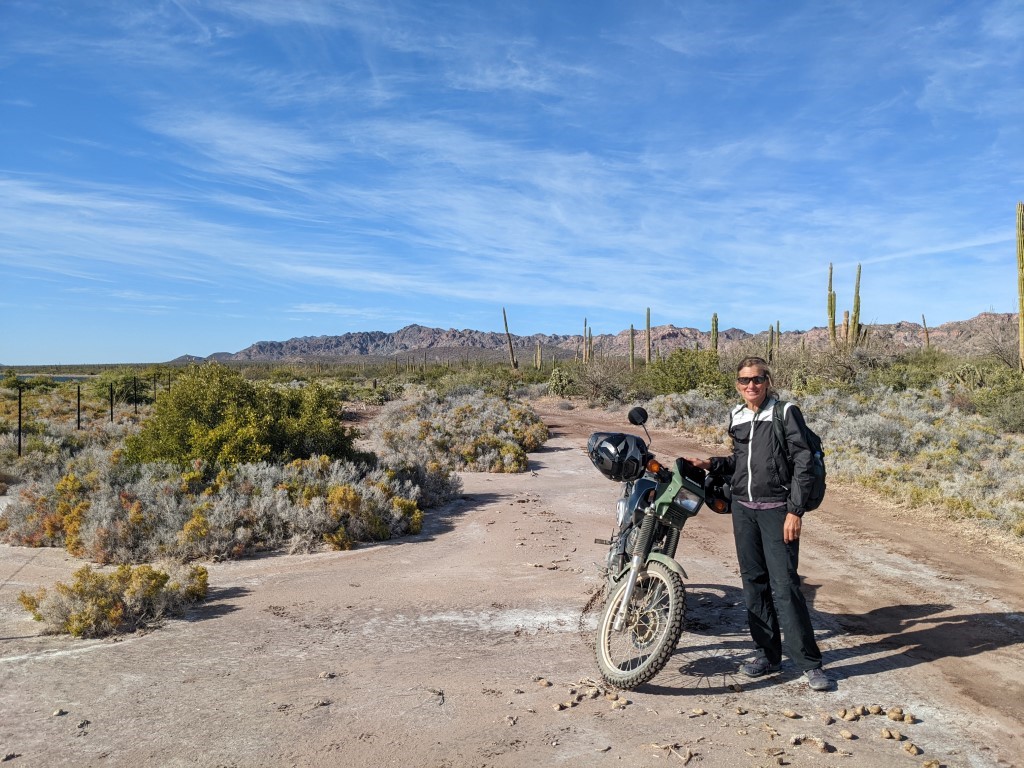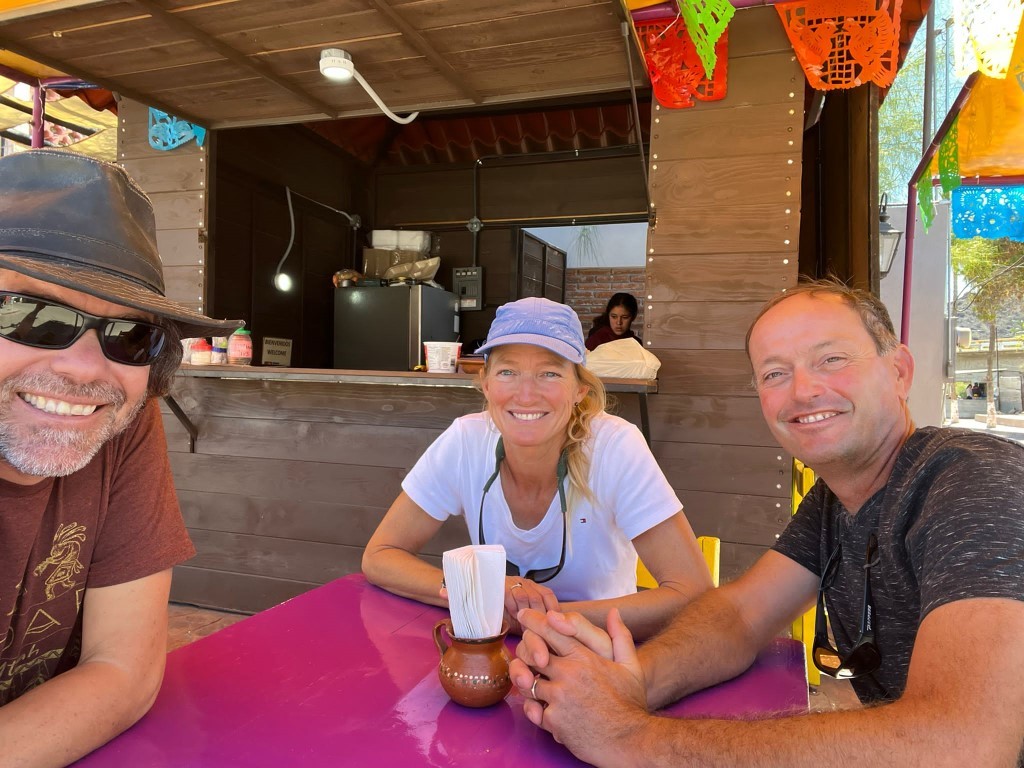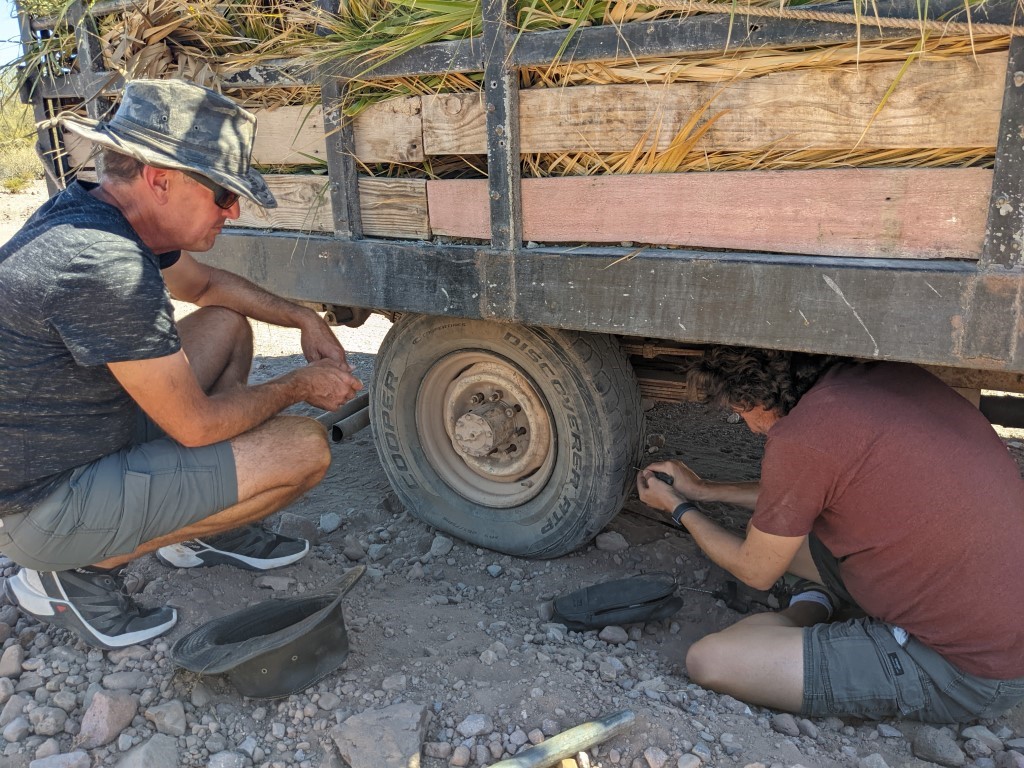 We moved to the town of Mulege, got some tacos for lunch and then took another dirt road headed westward into the mountains. A Baja Divide biker had told us that that road was very wild and beautiful with lots of interesting scenery reminiscent of the US southwest. Indeed it was. We tried to get out to some cave paintings but the sideroad was too narrow for our truck so we proceeded further up into the mountains instead. It's kind of fun to be in low gear inching your way in the truck up steep hills and over cattle grates looking for just the right place to park up, the scenery getting prettier as you go. Along the way, we stopped to help a couple with a flat tire. They were hauling palm fronds up to a ranchito to build a new palapa roof. The bony roads eat tires up, especially if they're old & bald, like most Baja tires seem to be. Jon & Ivan worked to get them underway again, a partial fix. They left a little pile of empty beer cans where they'd broken down. Litter is a problem everywhere in the world, and definitely in Baja. Its amazing the beer cans everywhere too. Tecate is Baja's beer and we can vouch that driving these back roads everyone is well hydrated! There is nothing out this road other than ranch land and it goes all the way to the Pacific some 110 km further from where we parked. We got the bikes out the next morning and biked another 8 miles up the road- very much up! The hills are so steep you can't get traction to bike up some of them but we're as good at pushing them as we are portaging our kayak so no problem! We saw a racoon that day, the first living one other than footprints. I've never seen so many bones in my life than here in Baja. Being a free range cow isn't easy. Some cows just don't make it, probably because eating cactus isn't easy. I've never seen so many vultures either, but they clean up the cows. Tecate's emblem is a vulture, standing with his wings fanned out. They sit on top of the cactus and do that.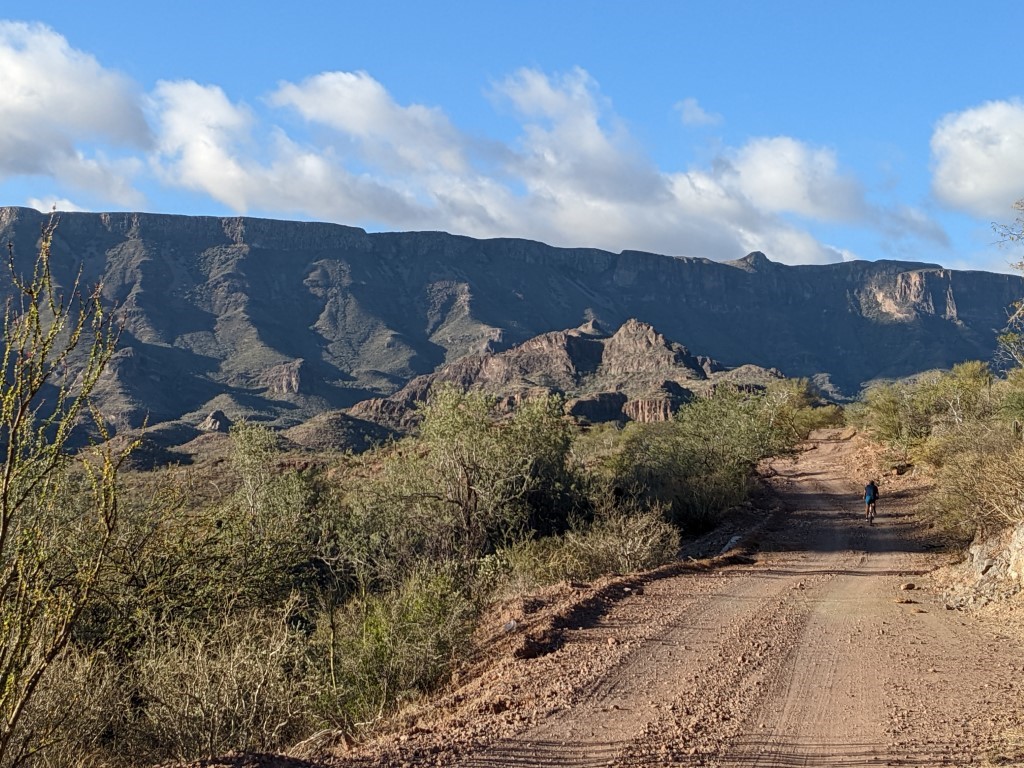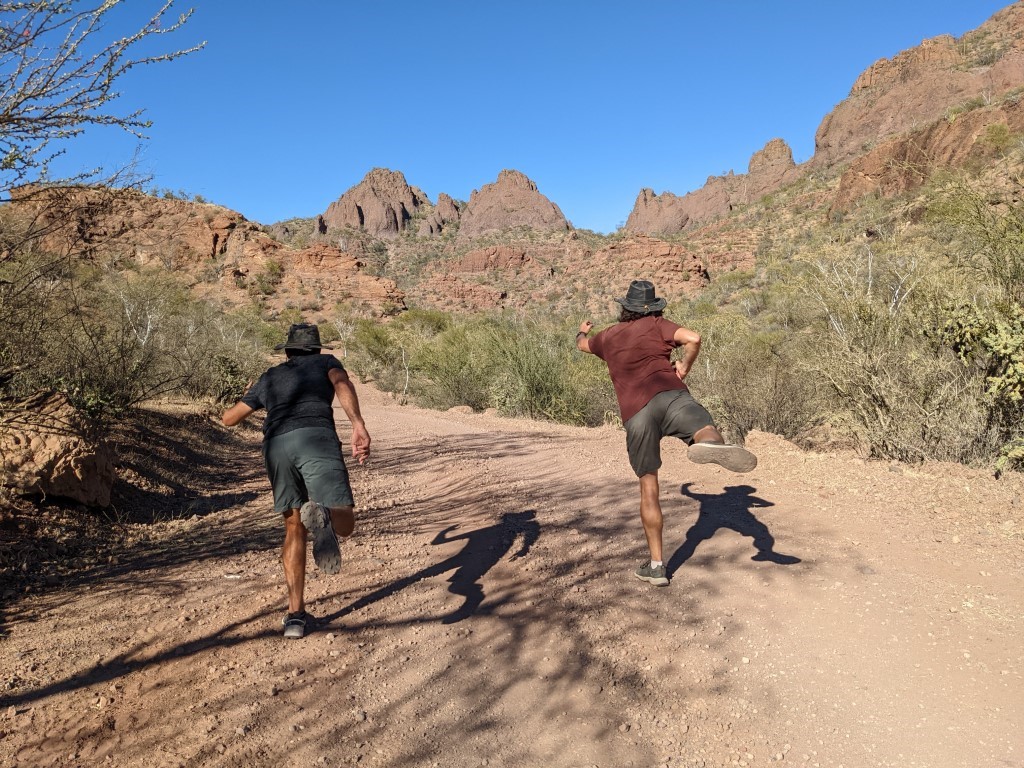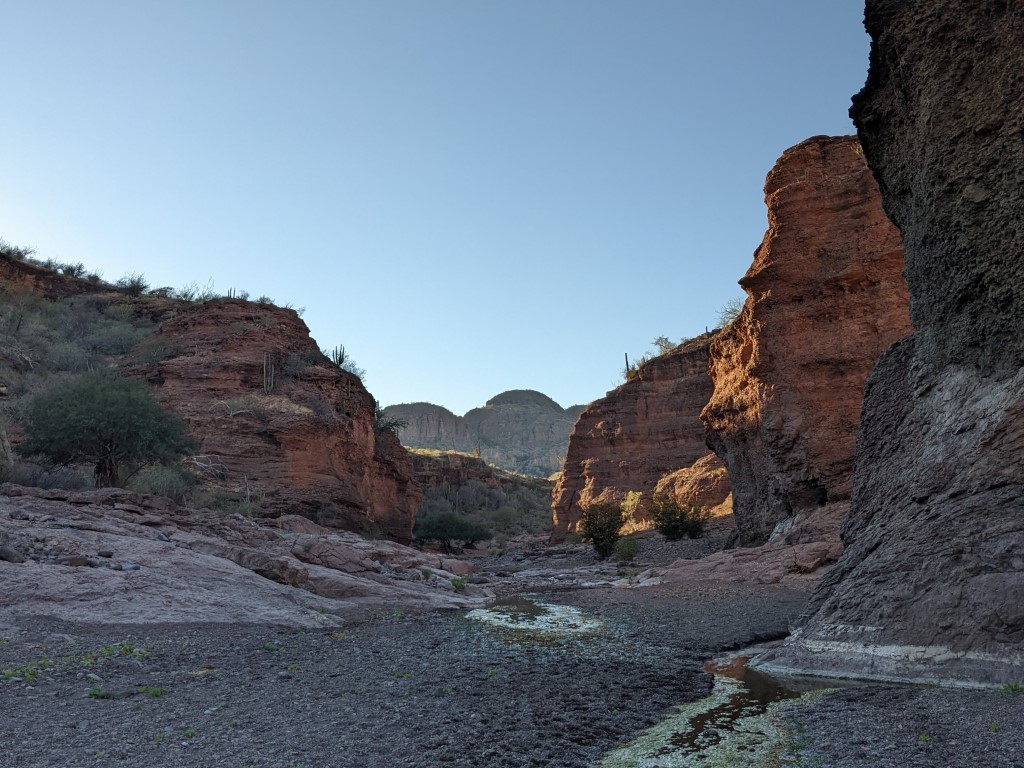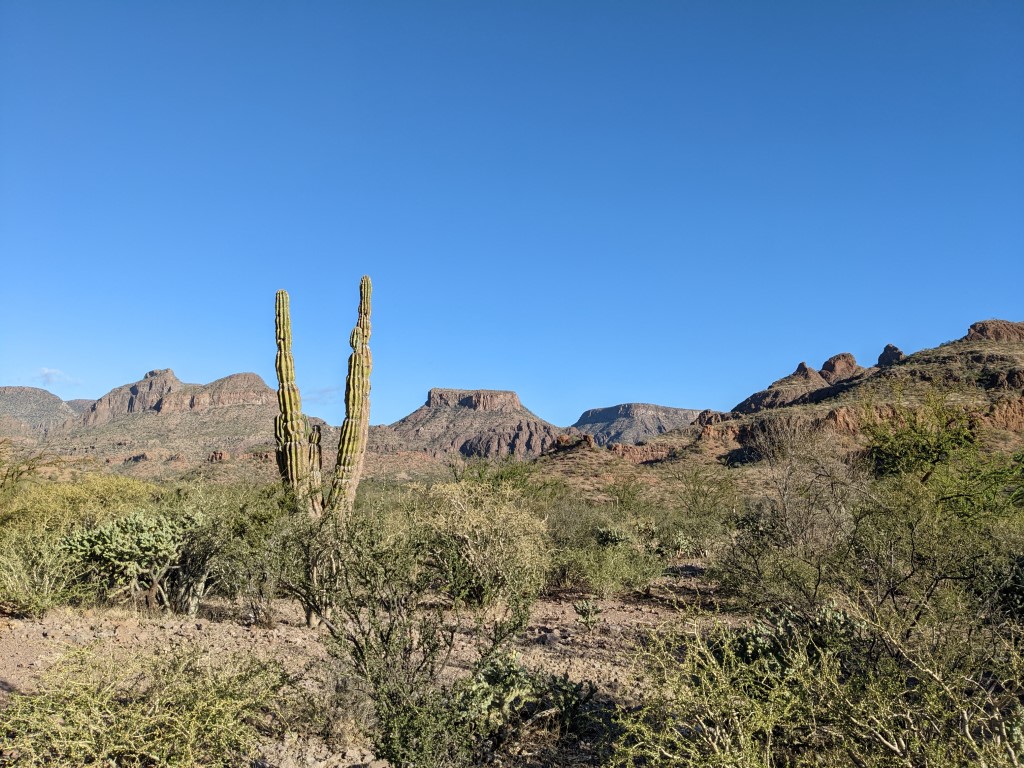 Every once in a while, a rattletrap car or truck would drive past our campspot (they have a really hard life here) and we would just wonder where in the world they are going! Even if we're not outside, we'll often get a friendly toot when they pass. It is a harsh life out in the desert, both for the animals like the cows, goats and burros but also for their caretakers. We can't know what its like because we have no experience with living that way. Meanwhile, they probably look at us and wonder what we're doing parked out in the middle of nowhere, far from the beach and a margarita. But they still smile and wave!
We headed back out the bumpy but beautiful dirt road down from the mountains to town, passing by the same truck that was broken down before, except this time it was headed the other direction with TWO flat tires and there was no one around. We followed a trail of shiny Tecate cans back to civilization.