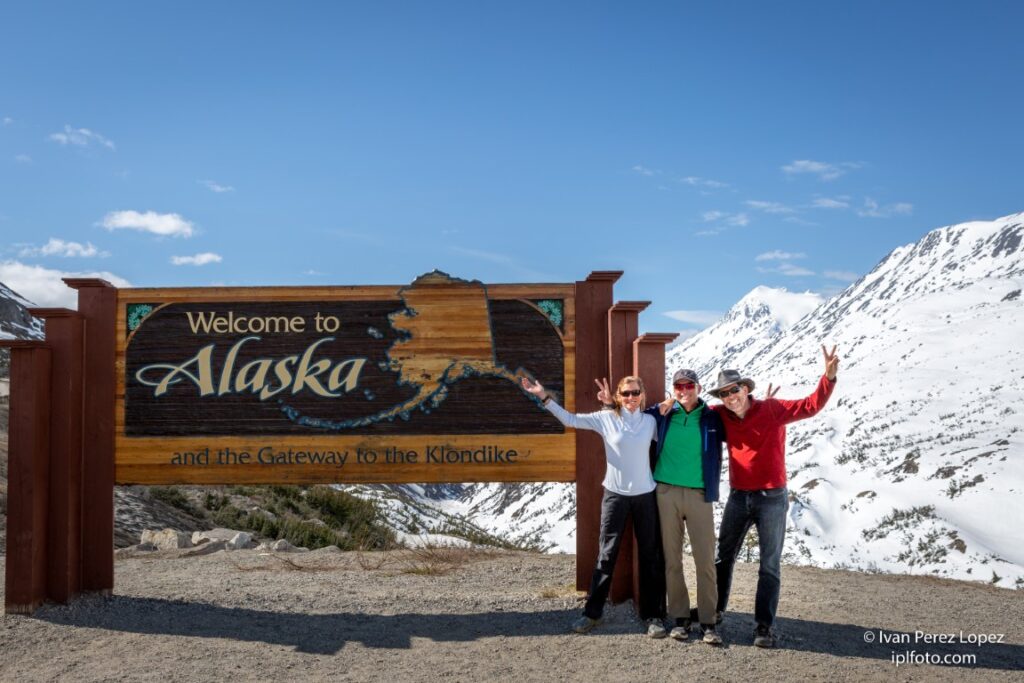 We're in Alaska! Skagway to be exact, home of the Klondike Gold Rush. I guess in Aleut the meaning for the word Alaska is "great land". We've been enjoying the great scenery, learning about the gold rush and hiking some of the historic trails. Finally, at least here, it's summer.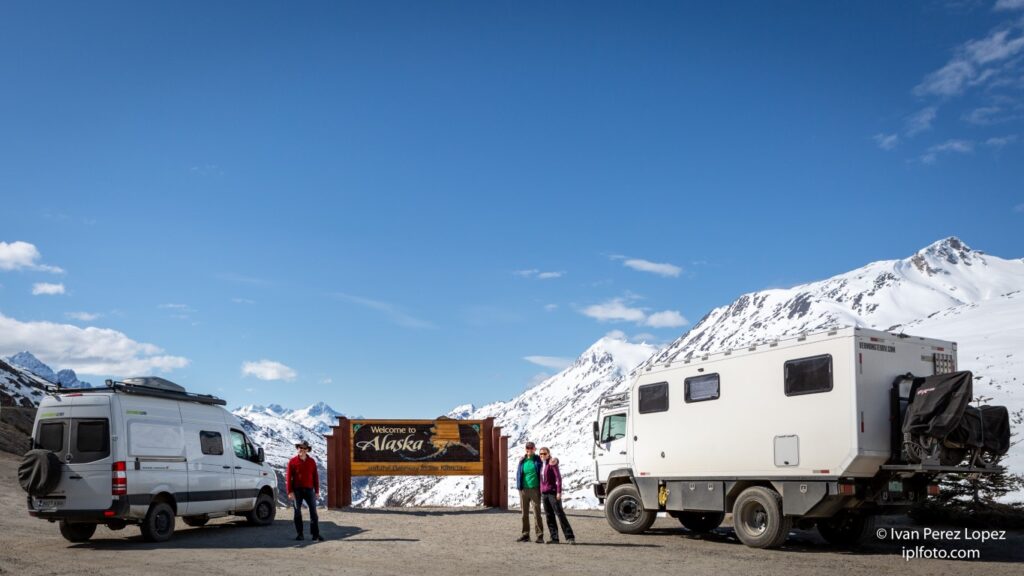 Coming up & over White Pass and down into Skagway was really beautiful and a welcome sight to see summer in full bloom. These pics are just the pass, next entry will have Skagway pics!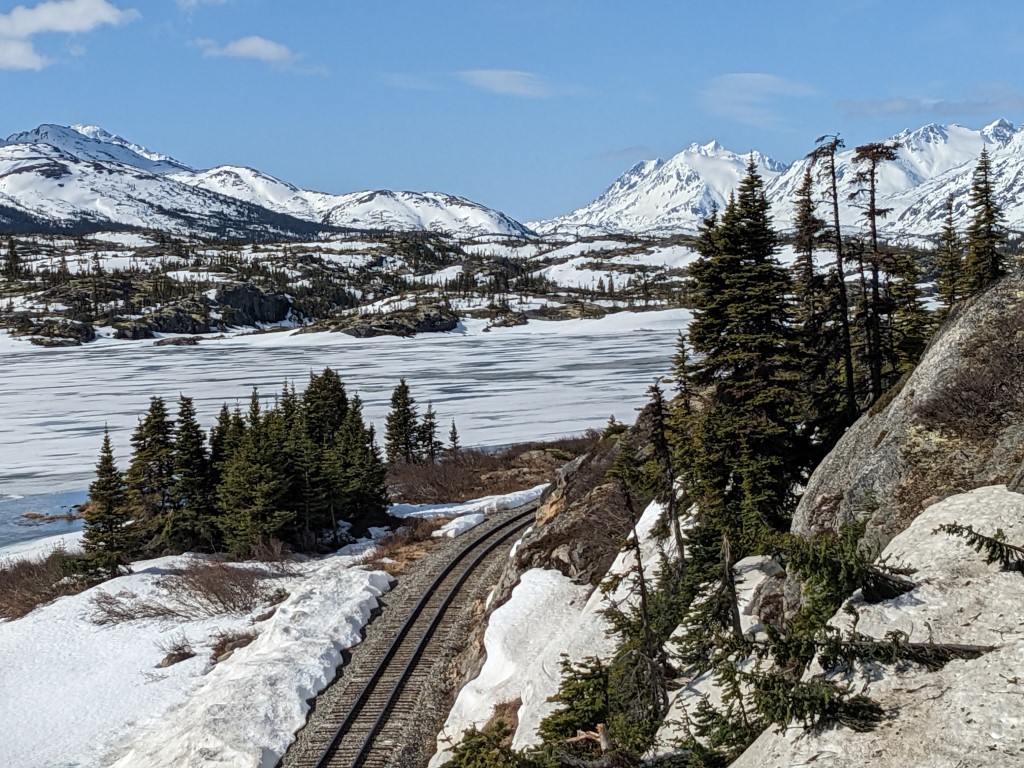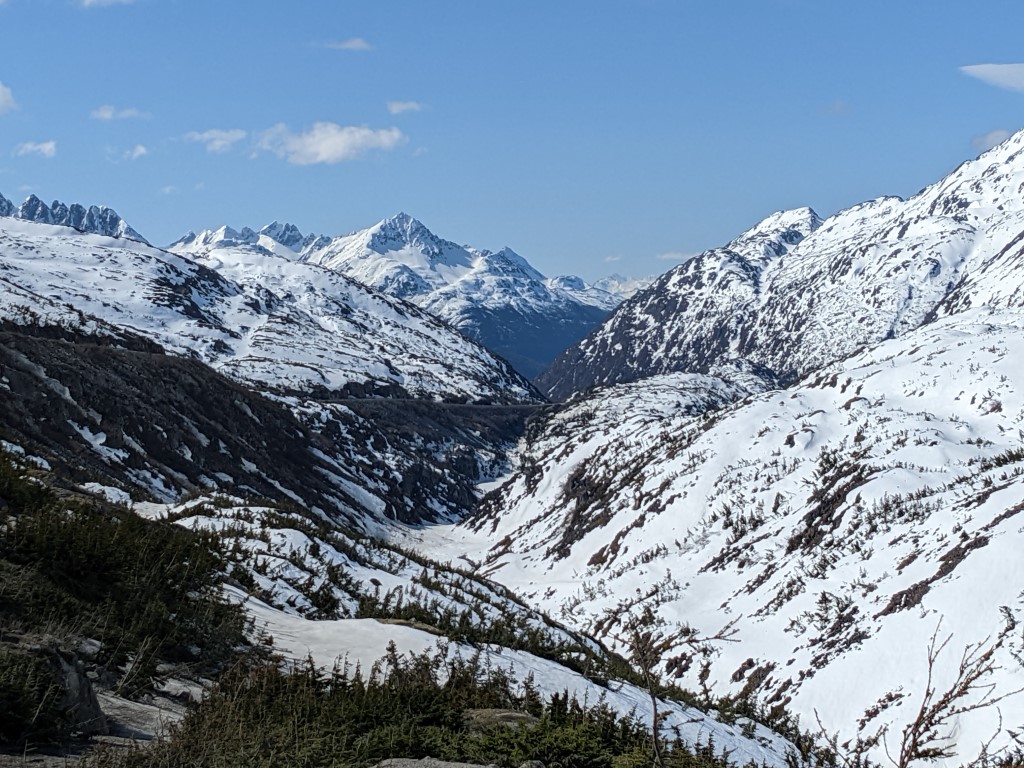 As we moved northward through BC these past few weeks, we found that a lot of things were still closed for the winter season and for good reason. It was still late winter! Snow blocked the hiking trails, some parks had gates across them and even though the days were very long in terms of light, the temps were still too cold to feel comfortable hanging around outside unless we were moving. So we kept making miles northward.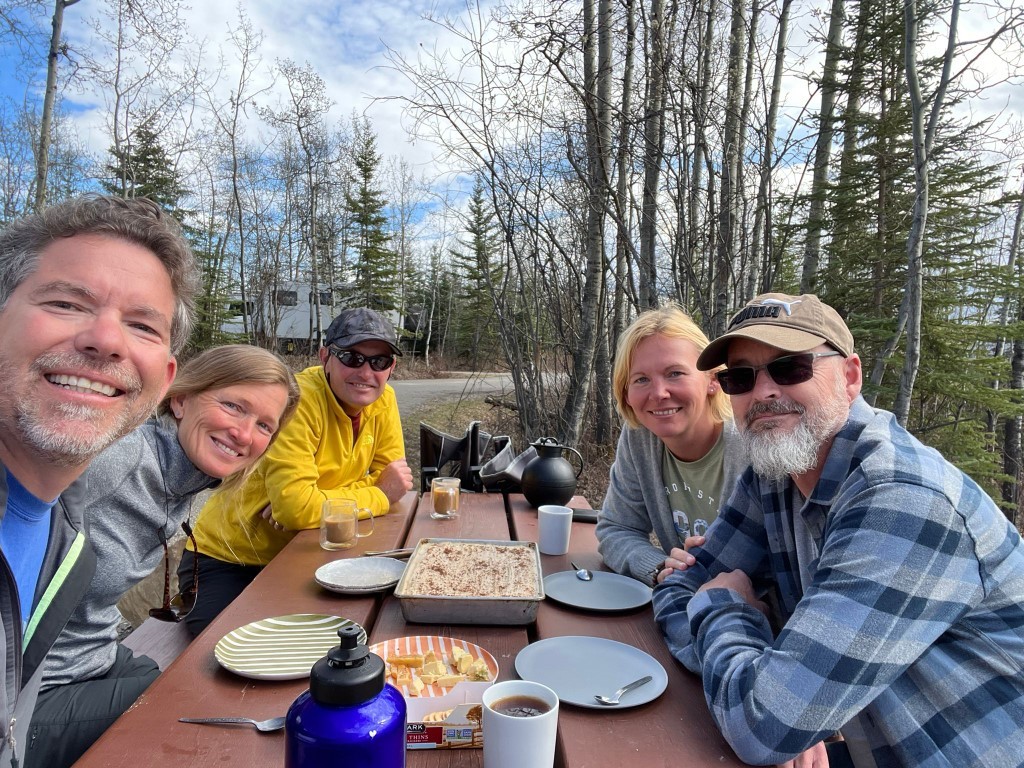 And before long, we'd caught up with Michaela & Peter, just in time to celebrate Ivan's birthday. We visited the little town of Hudson's Hope together then drove through the historically beautiful Peace River Canyon where they are getting ready to open up a new dam and flood a huge portion of it. It felt weird to be driving over a road with all the bridges and signs knowing that it would soon be completely submerged because they'd rebuilt a duplicate road up higher. When we arrived in the town of Fort St John, we merged with the famous Alaska Highway.
We restocked and found a nice campspot on Charlie Lake in Fort St John. It was a great afternoon weatherwise and we had coffee & cake and BBQ around a campfire for Ivan's birthday.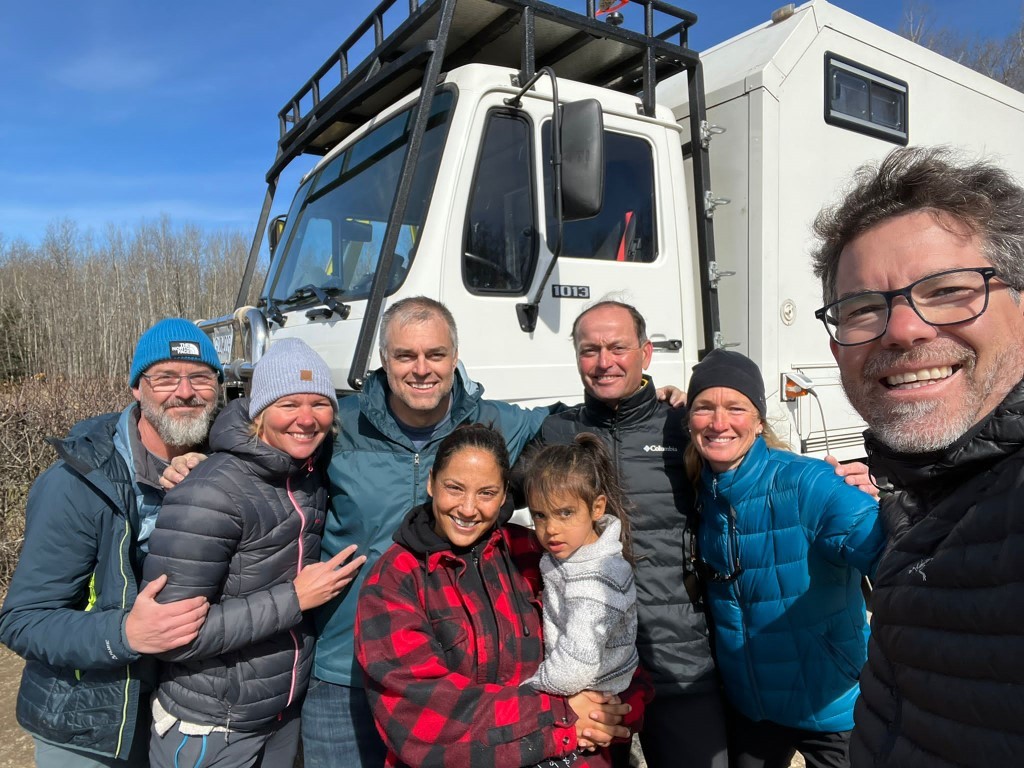 While building our truck, Jon started corresponding with a guy named Peter who owns a truck similar to ours on the Expo Portal forum and he happens to also be in to flying small airplanes (and building them). We'd almost met up in Baja this past winter but that didn't work out. But now we were driving right through his hometown so it was easy to stop in and meet in person. So all 5 of us went and stayed a night at Peter, Holly and their 3 yo daughter Olivia's house. The weather was total crap which made it hard to hang out on the deck and BBQ like we'd planned or do a flightseeing trip like we'd hoped. But still a good meet-up and hopefully we'll meet again someday. The next morning, we toured each other's trucks and said goodbye.
While driving that day, I thought about how it marked 11 years since we quit our jobs for good (hopefully) to just travel and be free. It's been great and we feel fortunate to have the opportunity to live this way.
It was exciting to finally be on the Alaska Highway and see it for ouselves after hearing so much about it. We learned some history through tourist brochures and a museum and its quite amazing how quickly the rough road was built after the Pearl Harbor attack (in about 9 months) for 1500 miles. A joint agreement between Canada and the US under President Roosevelt, I think it was 18,000 workers who made it happen. The following year was when they really made it into a good road and they've been working on it ever since to improve it's safety. Amazingly, it is a stripe of pavement through miles & miles of wilderness dotted with the ocassional town. And abundant wildlife right on the road. We've never seen so many black bears, moose, caribou, bison, foxes, beavers, porcupines and a grizzly. Its nice to just pull over and observe them eating grass or just looking around. The bears look so healthy and relaxed. The edges of the road are cleared way back, so you can see a long ways ahead & to the sides which makes it a lot easier to spot things.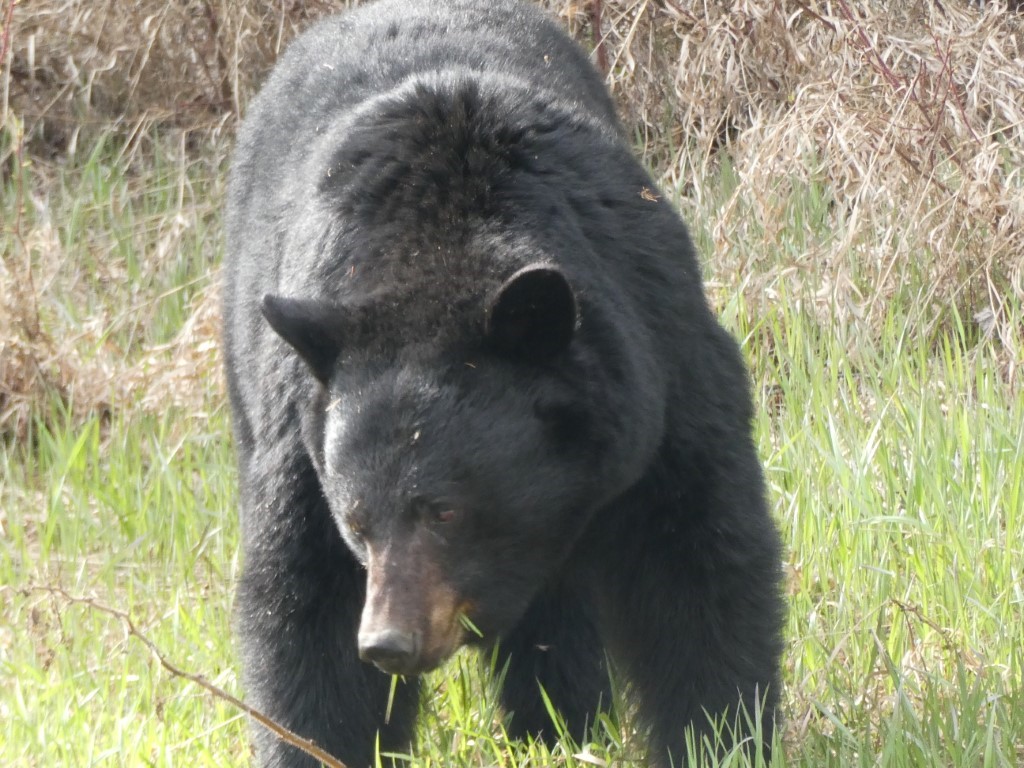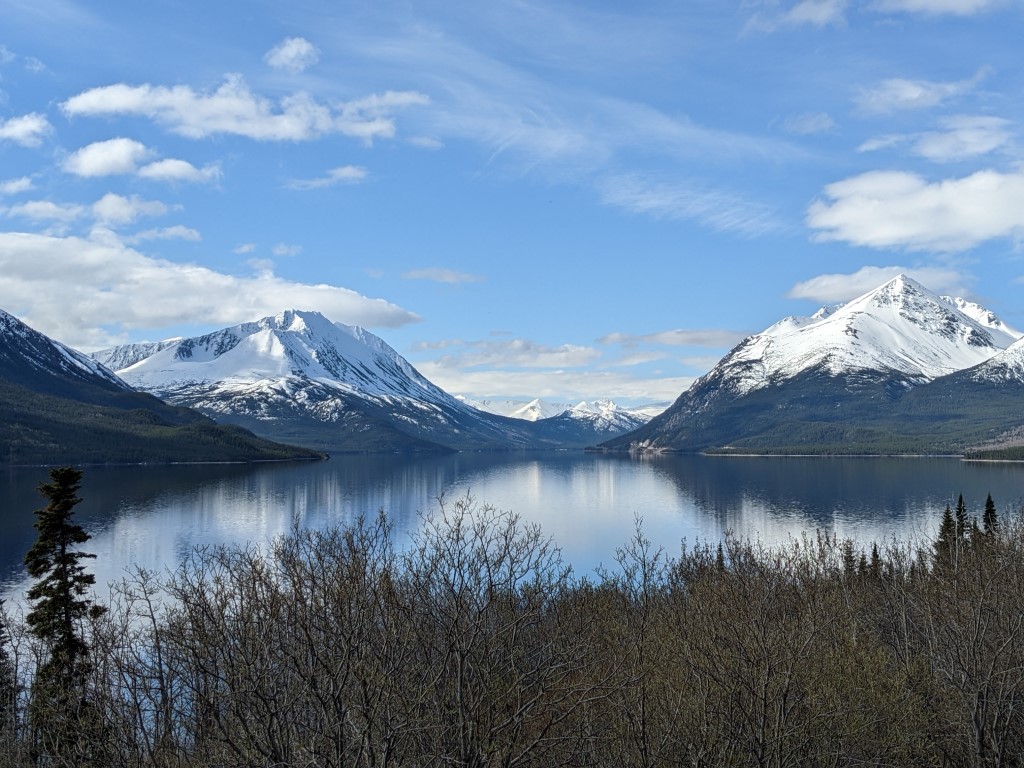 We've parked by numerous beautiful rivers and the scenery has gotten more impressive over the miles. Which was good because we were feeling a little ho-hum about it at first. The snowcapped mountains & icy streams compliment the views for sure. We met another couple Tanja & Thomas so we were 4 vehicles traveling together. It feels good to reach some of the places we'd circled or starred in the guidebook such as Summit Lake, Muncho Lake, Liard Hot Springs.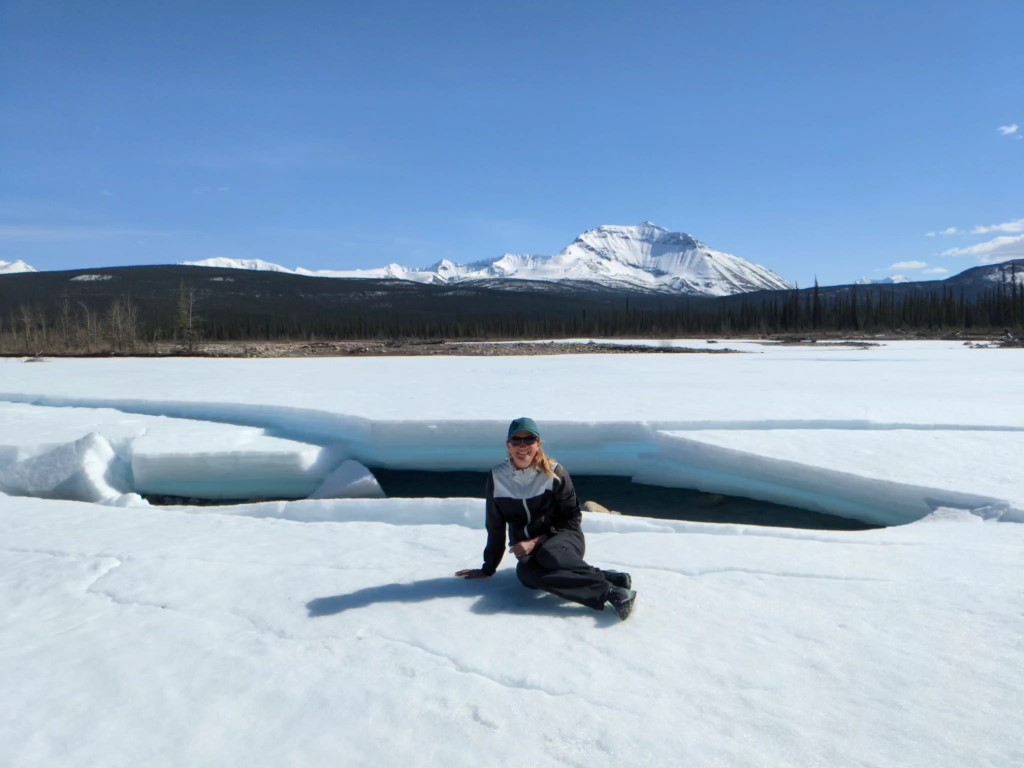 I was pretty excited about Summit Lake for the environment but it was still snowed in and the lake frozen. But the sun was out & warm and we sat at a picnic table for lunch one day in a white wonderland before moving lower. We walked to a lake on a short trail in knee deep snow and wondered why we left our snowshoes at Mark & Anne's when we could be using them here.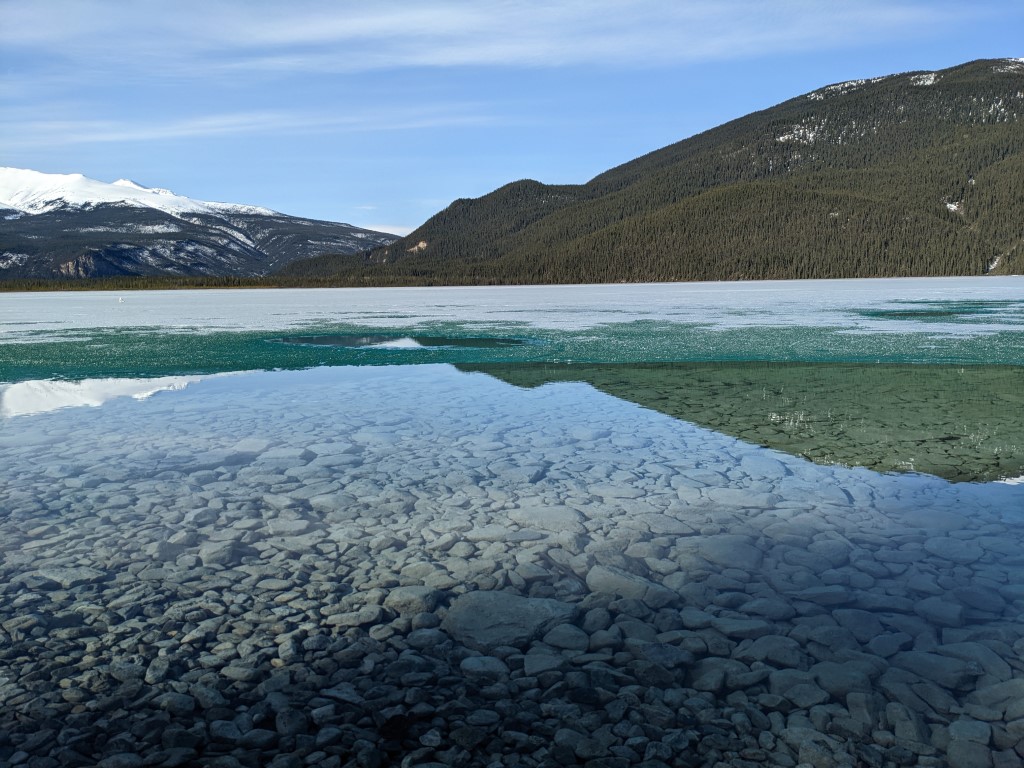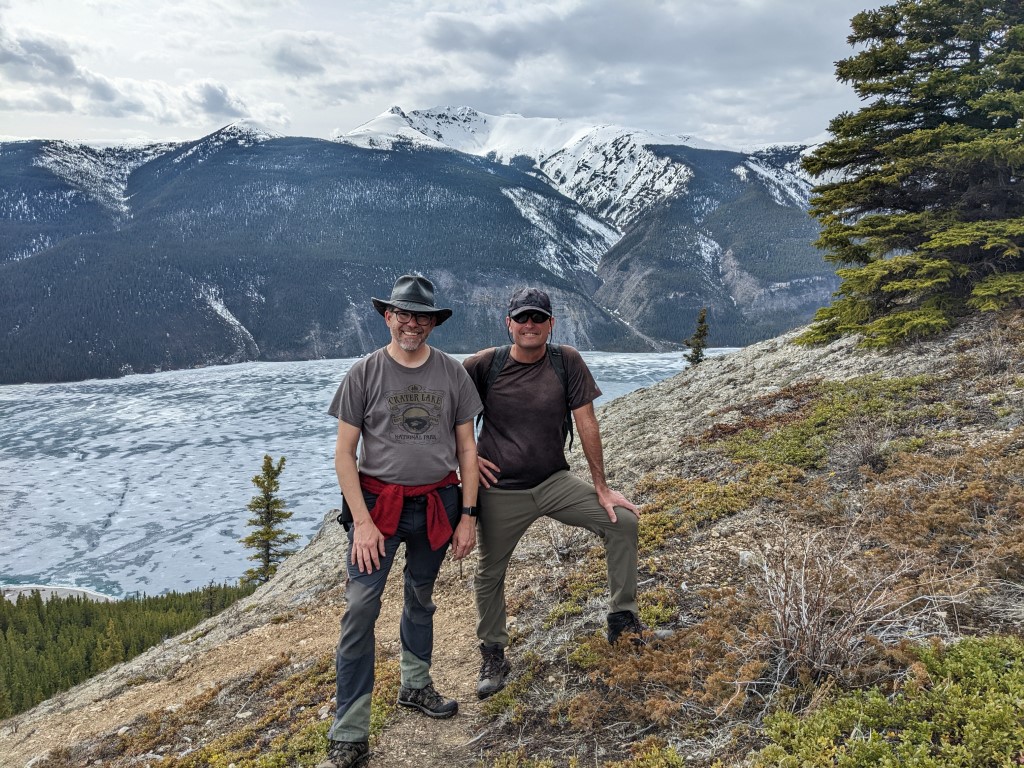 We spent our anniversary at Muncho Lake where we could hike up to viewpoints, up washes and sit by the turquoise lake for happy hour without a breath of wind. We made a recipe together that night for sweet & sour chicken balls. The story goes that 29 years ago, I came home one night to Jon having made them for us for dinner. They were so good I couldn't believe that he'd had made them and figured he must have hidden the takeout packaging. Instead, he showed me the recipe off the meat package. Sweet! We didn't get a picture though!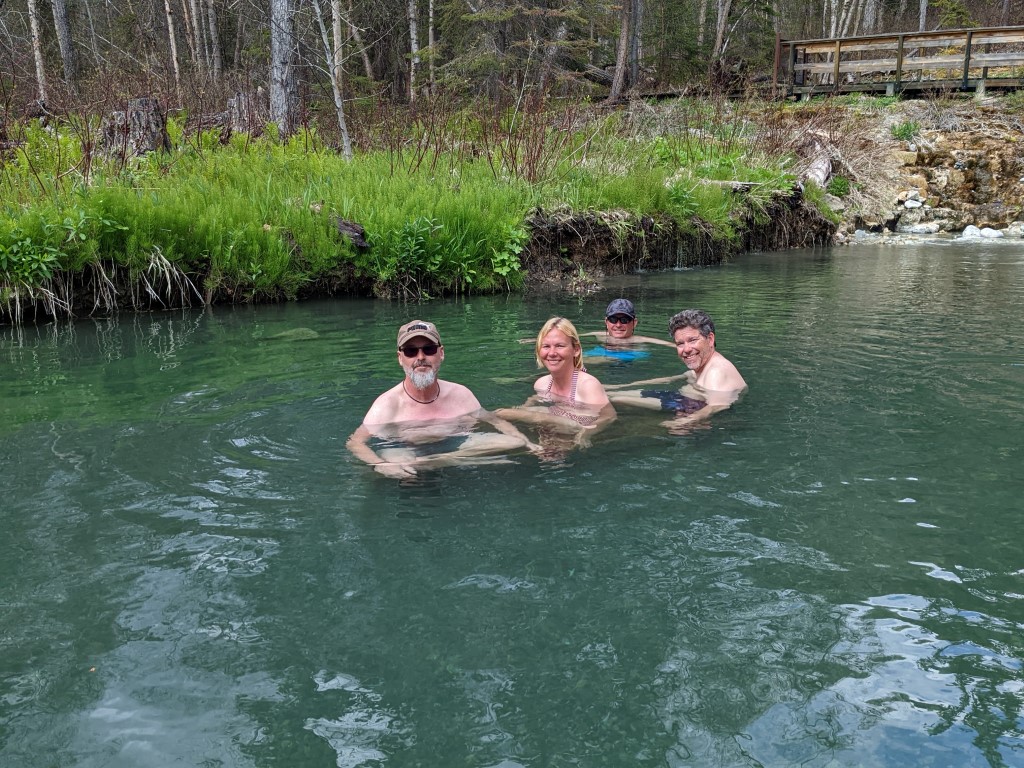 Then it was down to the famous Liard Hot Springs. This is a well known highlight of the whole AlCan Highway. A large hot spring with a long boardwalk through bubbling warm marshland full of interesting plants, birds and moose! Since we were staying right at the campground there we could soak whenever we wanted but the best for me was the early morning when the steam was rising from the hot water and the moose was in close so we could get some good pics. I really liked this place.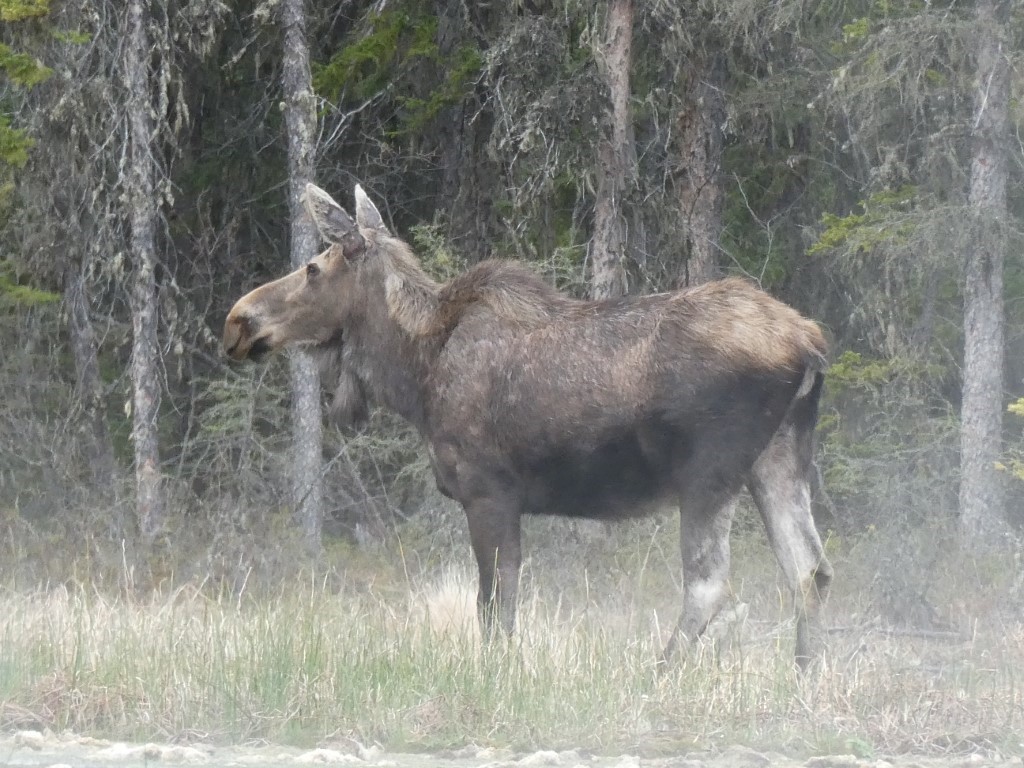 Making more progress, we stopped in Watson Lake to restock and visit the town's famous Signpost Forest. It began in 1942 when a homesick American Alaska Highway worker named Carl Lindley was repairing a signpost and he decided to add another sign for his hometown in Illinois. 80 years later, there are over 88,000 signs from all over the world in the Signpost Forest and Michaela & Peter had another one to add from their hometown in Germany. They'd been carrying it around in their truck for years waiting to get there and post it.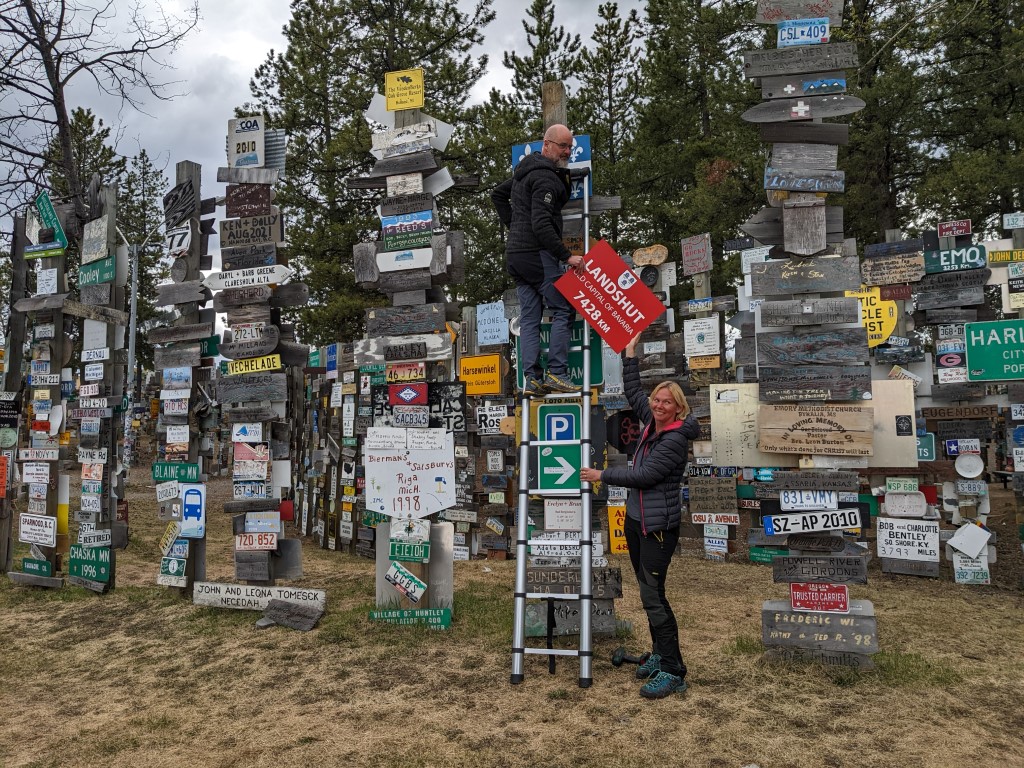 We talked with the staff at the visitor center in Watson Lake and they were saying that they'd gotten 18 feet of snow last winter, much more than usual along with weeks of extreme cold. They said in that kind of cold you don't even start your car, you just sit home and stir the fire and play cards. The herd of bison that live near the town just stayed within the town limits because the snow was too deep for them to get food and they had no energy to move. Apparently the moose and deer can walk on top of the snow better to find food. Along parts of the road, you can see where every tree is missing it's bark. What a tough life for every living thing in the winter. Then another local told us that the highway crews actually plow the roadside ditches to uncover the ground just so that the bison will want to lay down and graze for what they can there rather than lie down on the pavement, for obvious reasons. These are high north problems I guess!
The one sort of good thing about covid precautions was that we couldn't get sick while wearing a mask & dousing ourselves with hand sanitizer. It was so nice! But 3 of the 5 of us got a lovely cold and it has been a doozie. I've been wondering if we're ever going too shake it.
We've never had such long days before. When we go to bed at 11 it's still totally light out and I feel like I'm missing the day! This is the first time we've experienced this much daylight. It's good we can draw the blinds and make it night in the camper when we need to.
Internet has become more challenging now, like we usually don't have it. Will try to make shorter entries now and post when I can. We're thinking Alaska really is great so far (although expensive) and we're excited for what's to come.