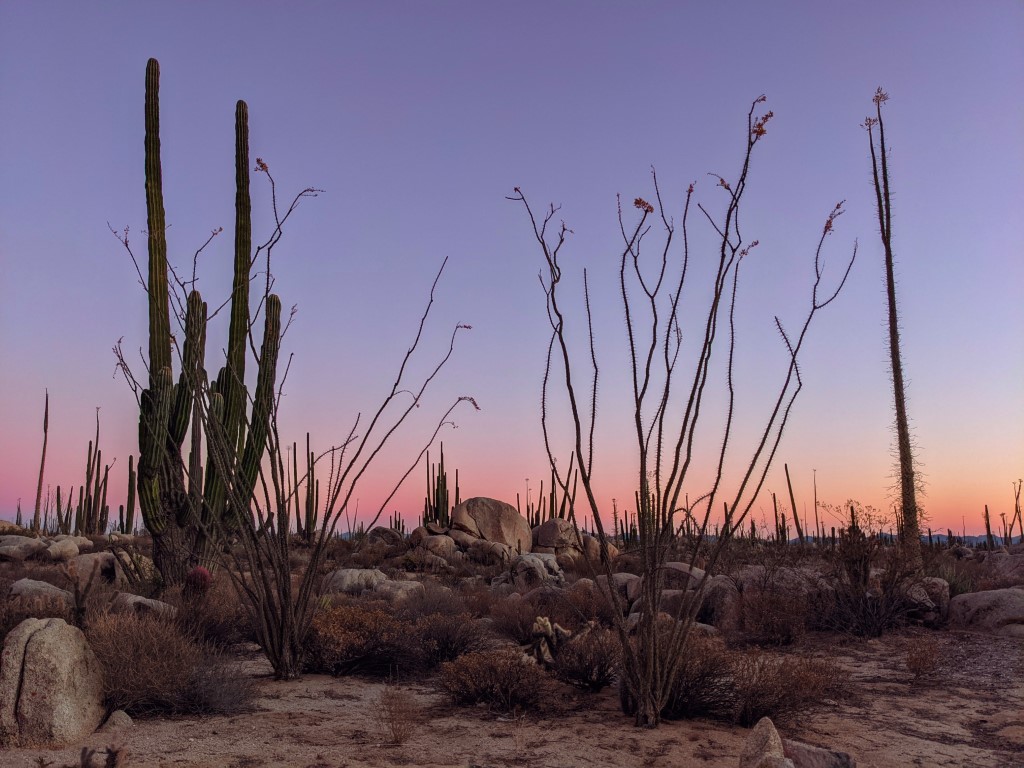 Greetings from Baja Sur, it feels great to be back here and we're having a really nice time. We're pushing south fairly fast as we'd like to do some stuff in the water before the winter winds kick up.
Crossing at Tecate was fast and easy and there was no lines & no waiting. We were looking forward to returning to La Bellota Ranch where we visited earlier in May, it's such a sweet little spot tucked back in the hills just a couple of hours from the border and we wanted to show Mark & Anne. Of course we left it till the day before we crossed to get our second shingles shot and a flu shot and Mark got his covid booster so the three of us felt a little less than our regular selves the next day but still… great to get there and relax and Jon & I enjoyed giving each other arm punches.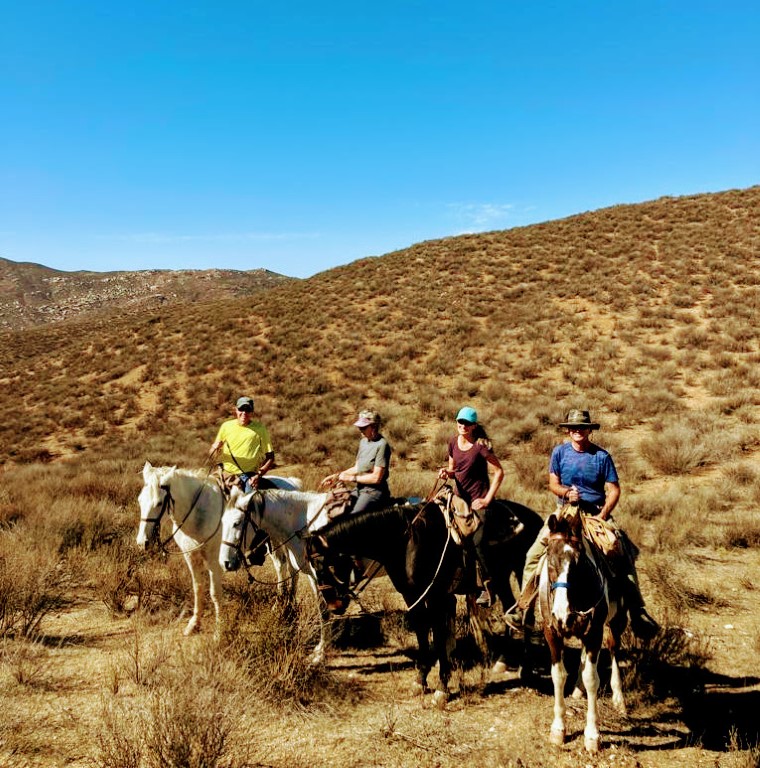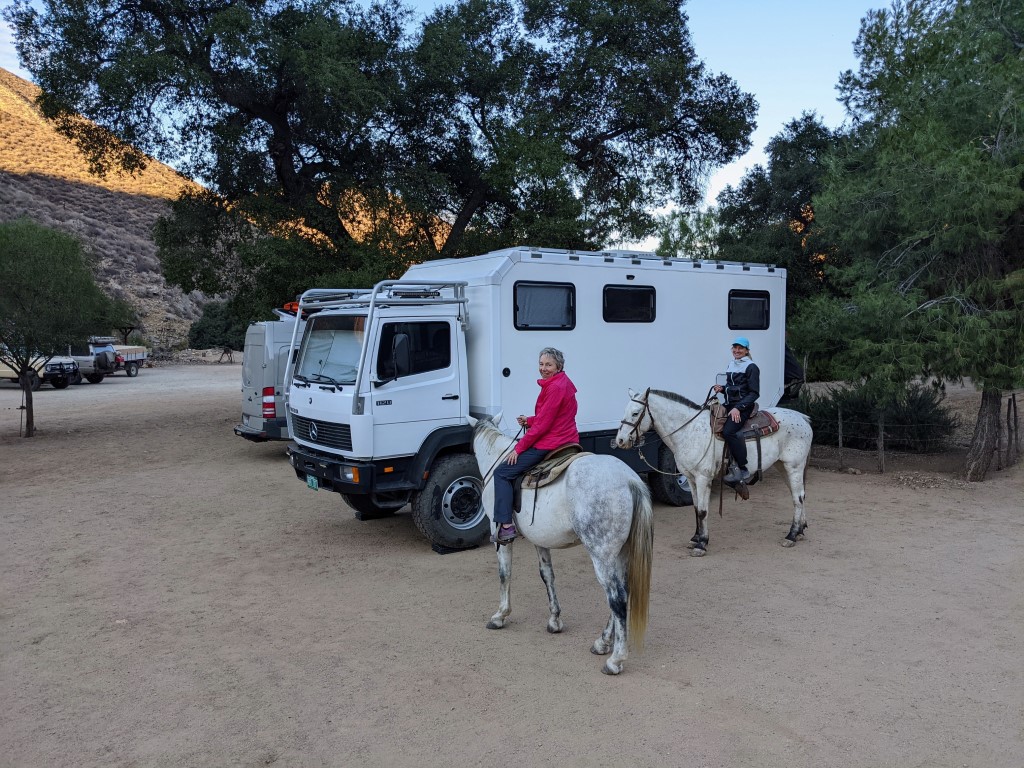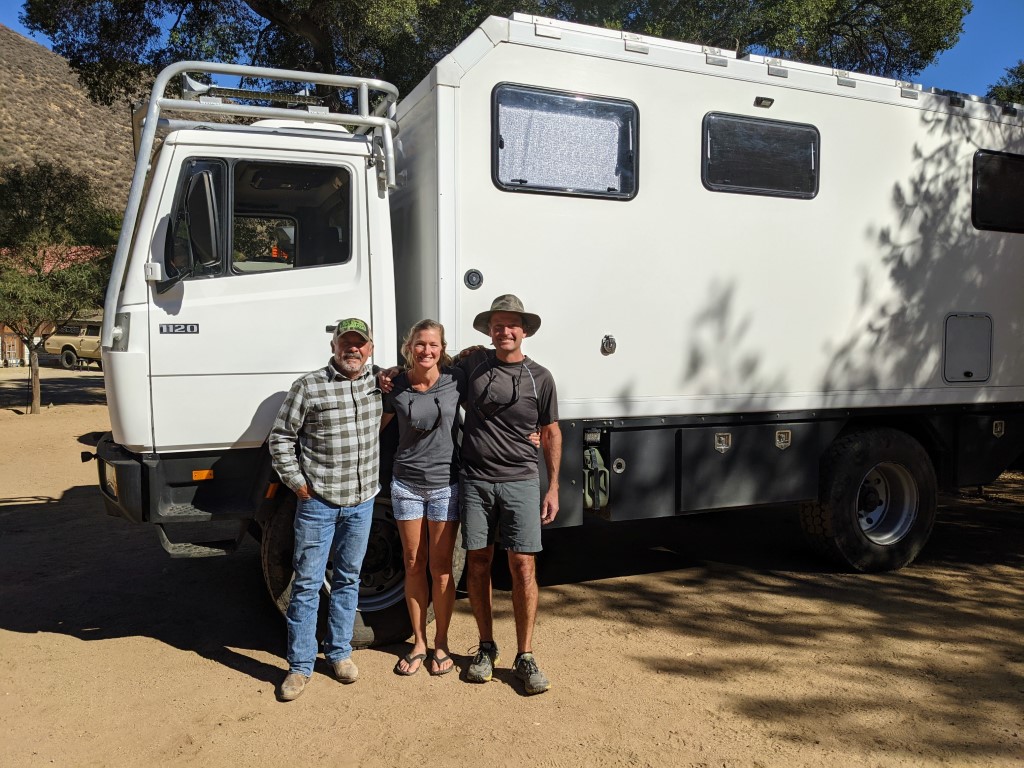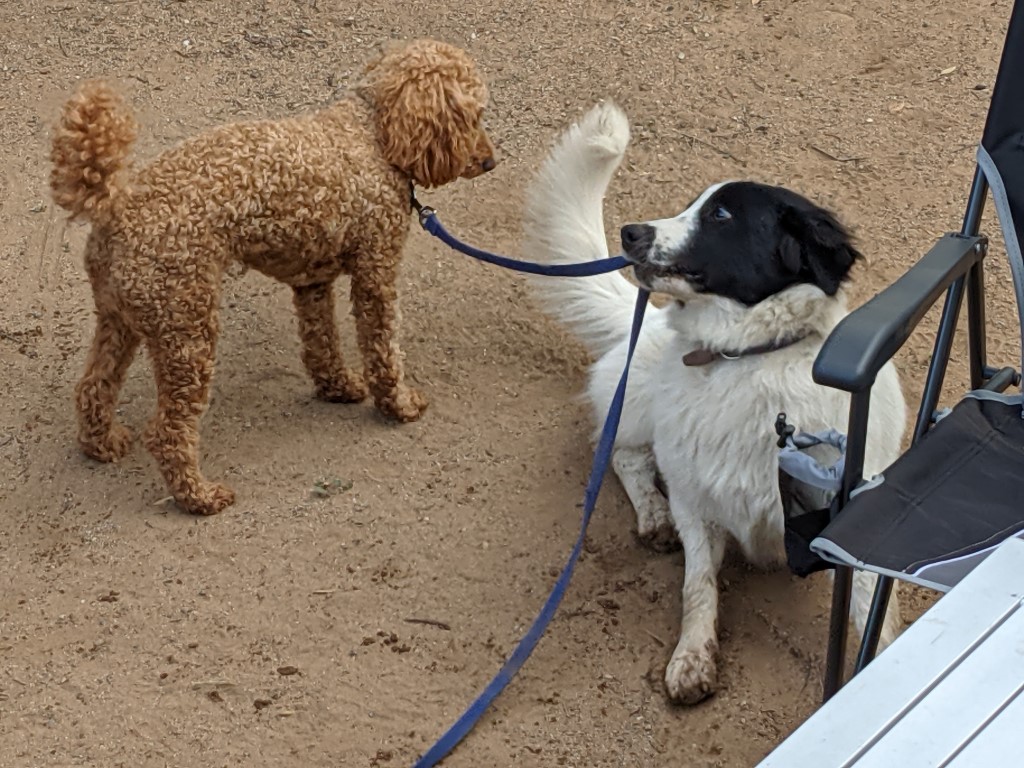 Rancho Bellota is owned by Raul & his wife Caroline and he has an overland truck himself, loves that way of travel and anyone who is doing the same. So he extended a very warm welcome again and we camped at his guest ranch for a few days. We went horseback riding, walked- usually with plenty of friendly dogs for company, ate dinners and drank very fine tequila with Raul. Sandie & Karsten rolled in on our last night so we were all together once again. The last morning, we had coffee together and picked Raul's brain for places to go in Baja off the well worn track. It's a fun way to spend a few days and well, we came away with a bottle for ourselves because life is too short to drink cheap tequila. It's called Cava de Oro and is really good stuff.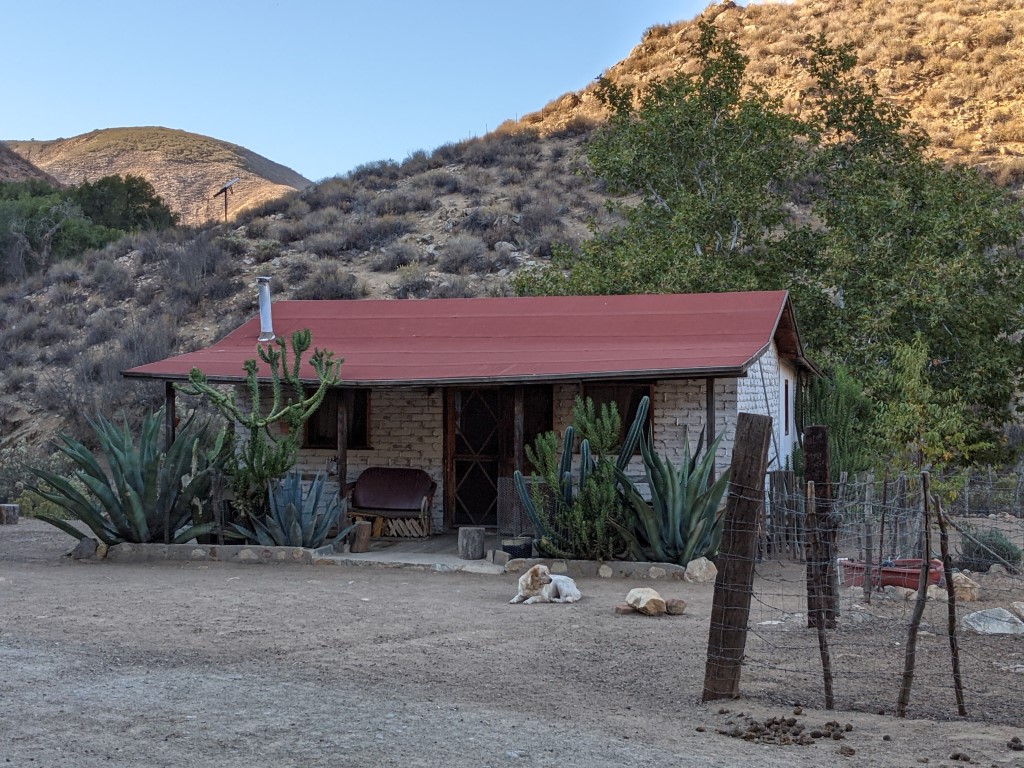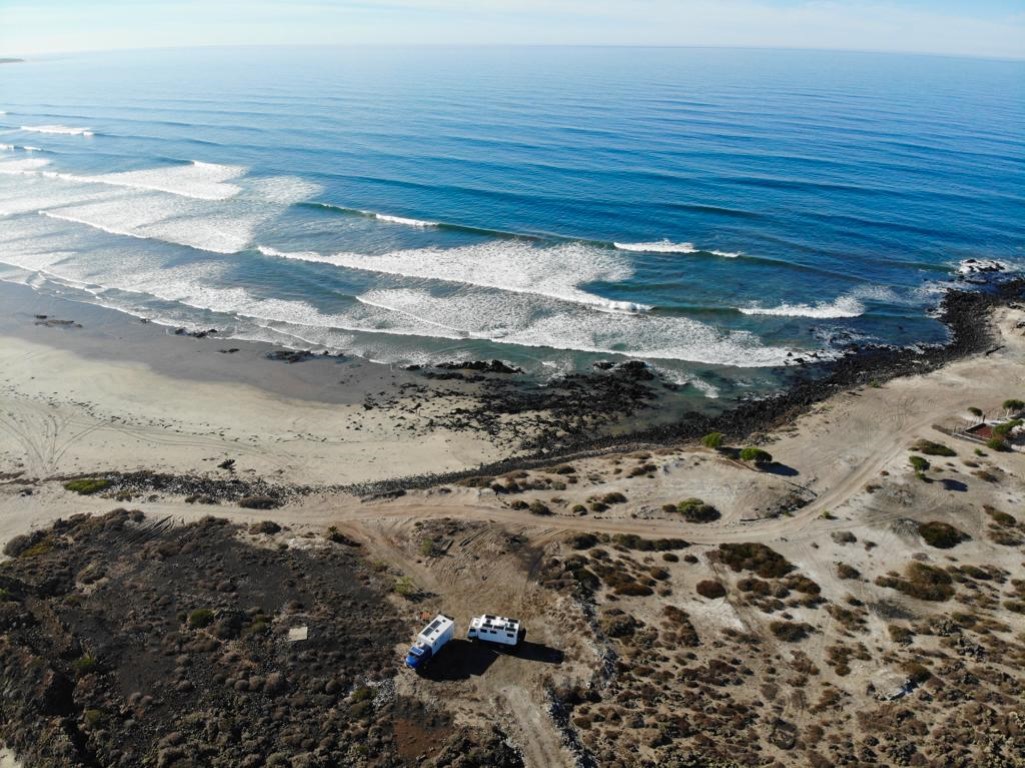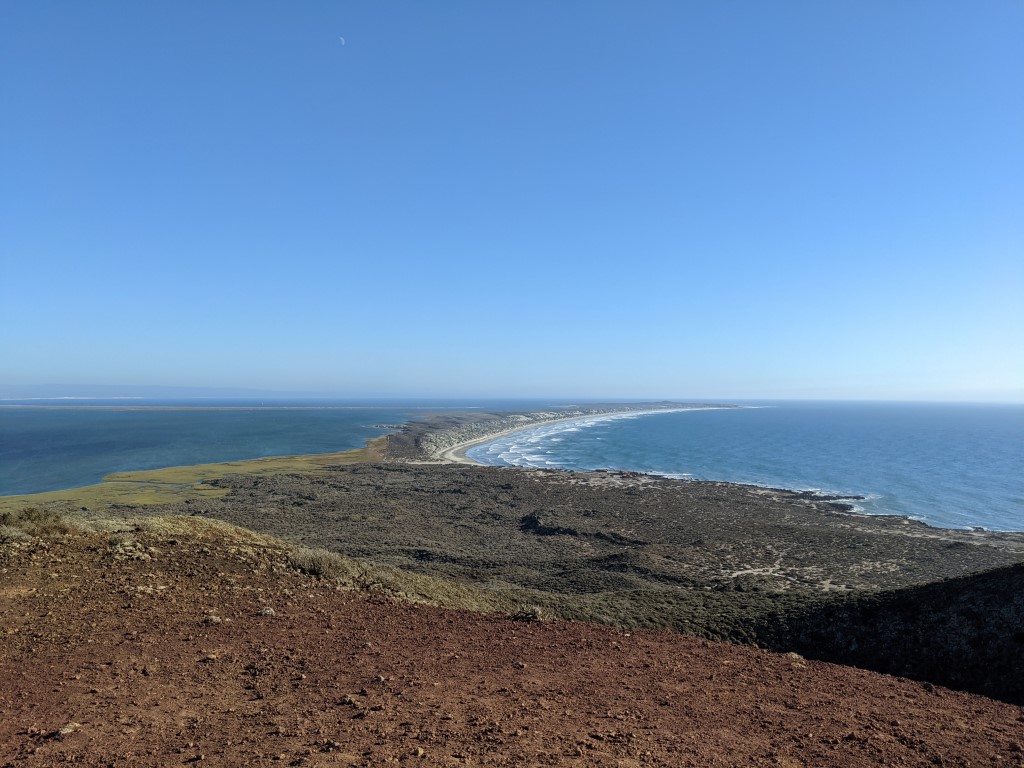 Our second stop was back to the Terra Peninsula Nature Preserve in San Quintin. Jon & I discovered this unexpectedly last May and it's a gem of a place. It's a bit of a bumpy road to get there as was the road to & from the ranch and the next morning Jon discovered that one of the new rear shocks had leaked some oil. Fortunately, he wiped it clean and there hasn't been any more leakage, but we are having a replacement sent anyway, under warranty.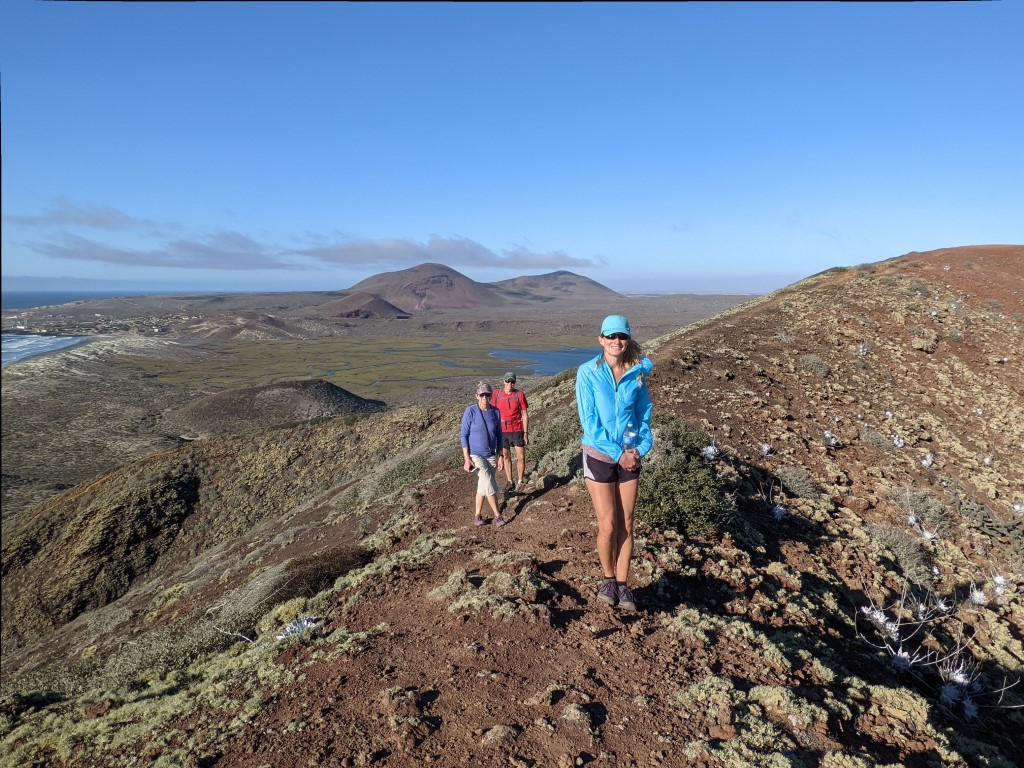 The area has about 7 cinder cones that dot the landscape, two of which have trails to the top, then a long peninsula of sand dunes and a graceful 4 mile long crescent shaped beach with soft waves and beautiful sunsets, perfect for running on too. Free, protected, unique here because most beaches aren't as pretty as this one and virtually no one around. The backside of the peninsula forms a protected bay in San Quintin that is famous for oyster farming. We walked to an outdoor restaurant and got a dozen and then another couple dozen on our way out so that Jon & I could pan fry them for dinner that night. Yum!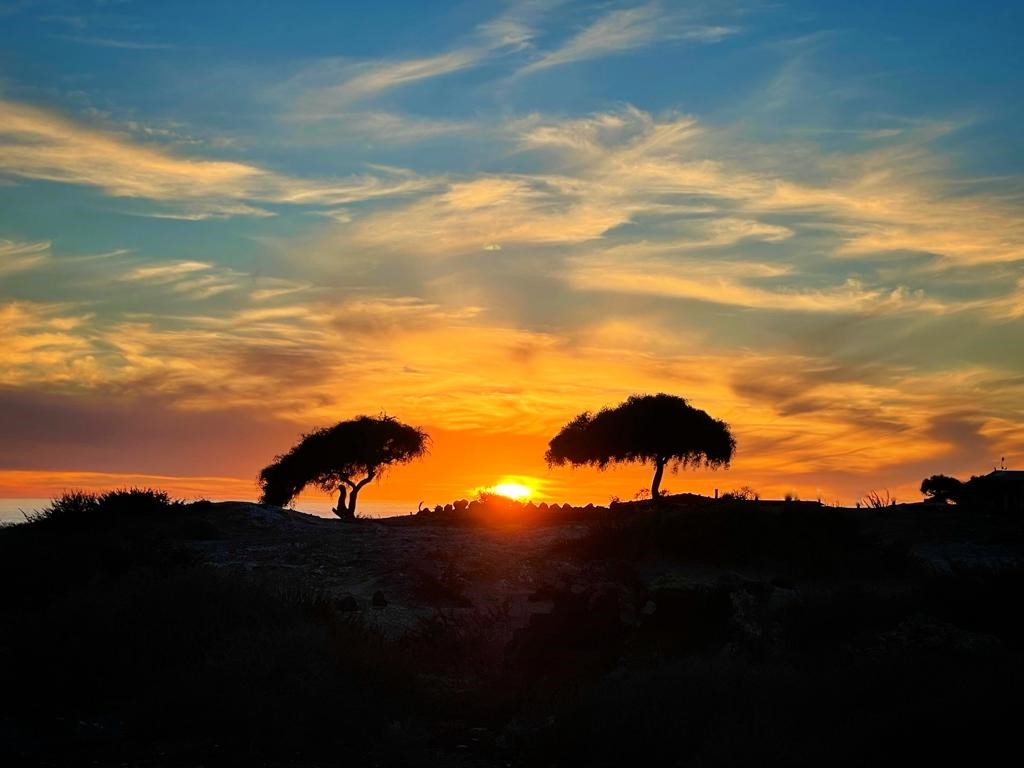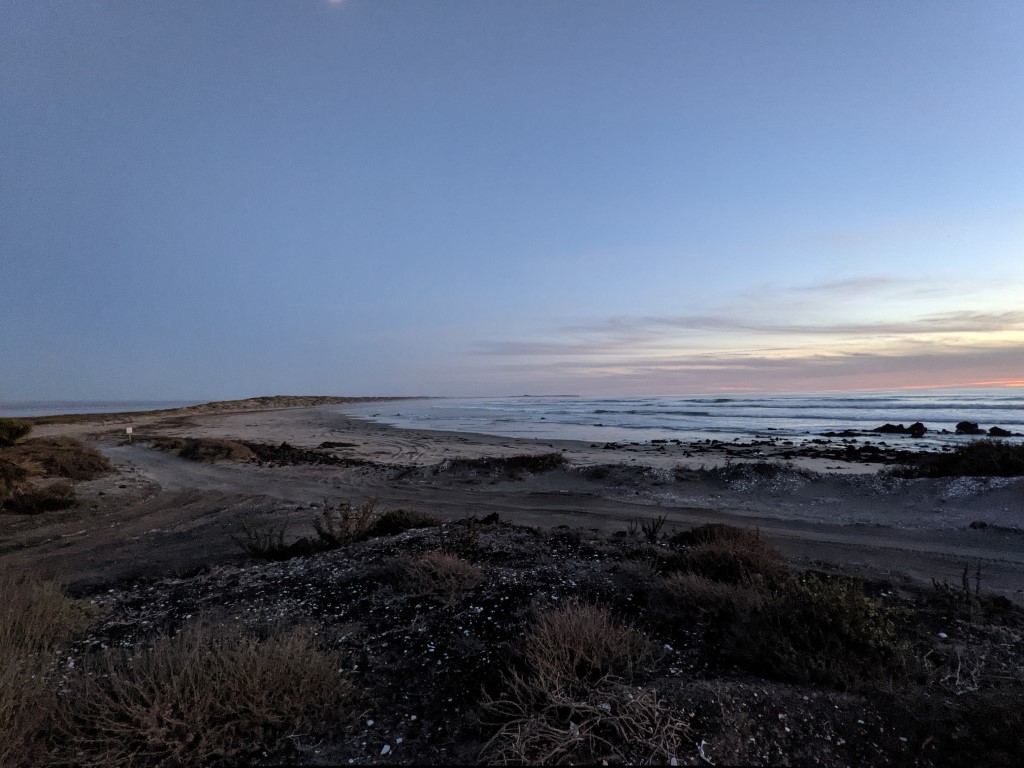 We left Sandie & Karsten for another day there at the preserve and the four of us hit the road to make some miles south toward the Valle de los Cirios, an area of impressive desert cactus with lots of sandy roads heading off in various directions with nothing on them. Along the highway, you have to look past a lot of trash. It is hard to contemplate how it all gets there because so few people live anywhere around it. Being back on Mex 1, it takes more concentration to steer the truck and keep to your tiny lane with polite tractor trailers squeezing by and Baja 1000 race car trailers floating by riding the line. I'm not driving here yet but I need to start. It's just that there is so much at risk and I don't want to screw up. Frequently there is no shoulder and one drift off the white line is a foot long drop to the dirt below. There have been of course a lot of accidents in the past on these roads although we haven't seen any for ourselves (hope we don't). The interesting thing is the effort that goes in to making the memorials along the roadside marking the spot. One was even made to look like a big cab over truck. Creepy. Others have bright green live plants that must get frequently watered because it is a desert after all. One evening we were running late gettting to our campsite and the cows and dogs had already started moving out onto the road. You're not supposed to drive at night here for that reason. We made it just in time.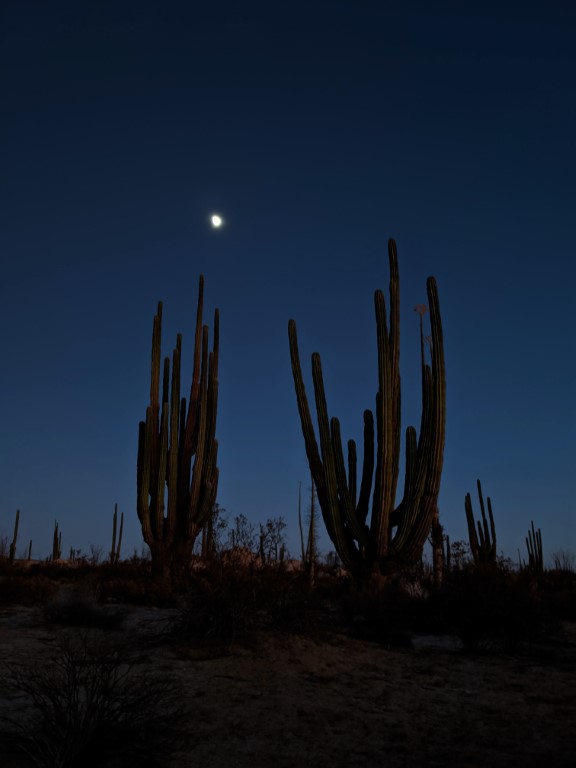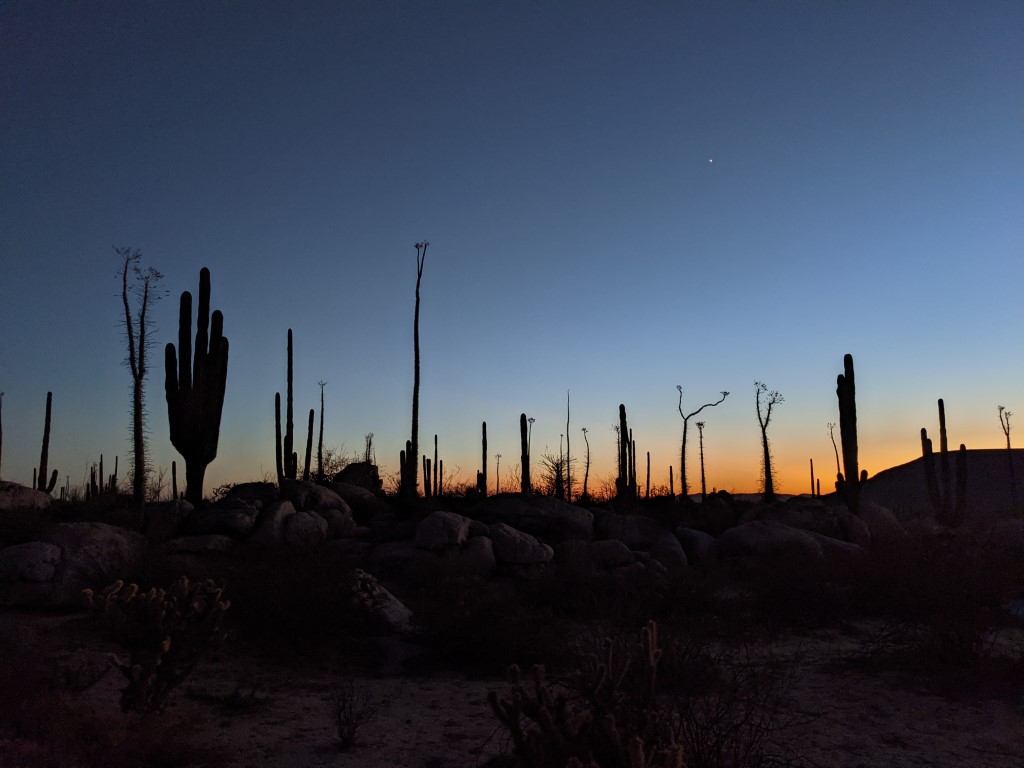 We arrived at dusk to a lovely campsite decorated with cactus and a sky full of stars and moonlight to light our way for a little walk. Now that it gets dark at 5 it feels like we're always racing the clock before our day gets cut short again. In Baja Sur the clock changed an hour so at least now it's 6 once we adjust our schedules.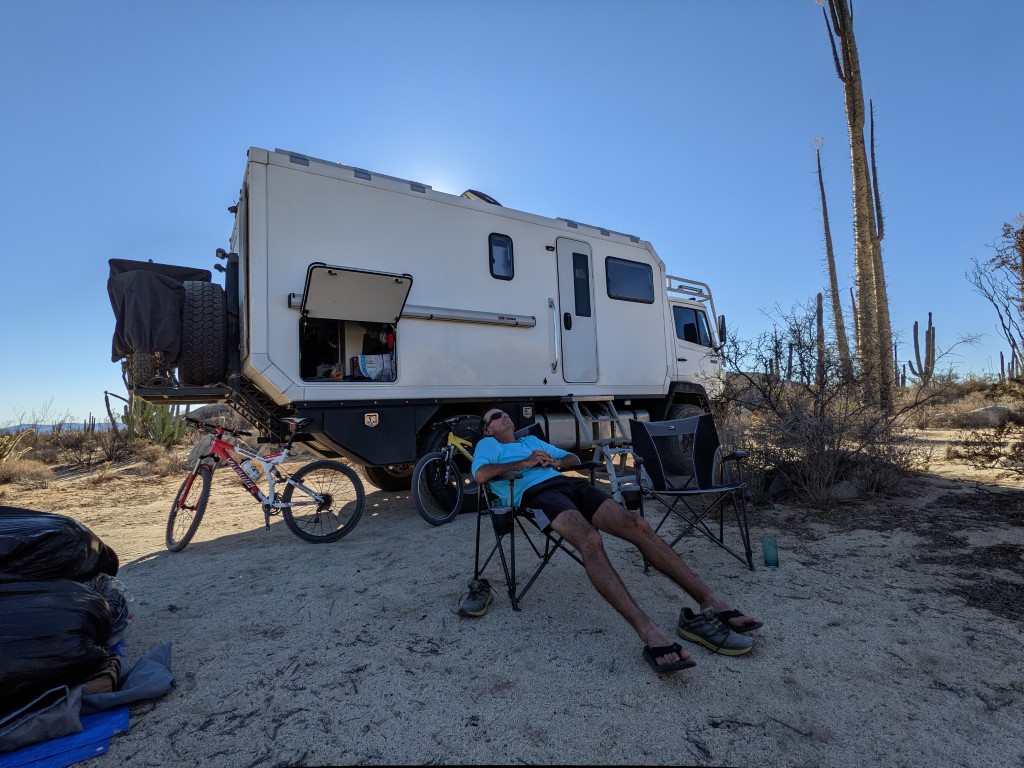 We moved to another cactus spot the next day while Mark & Anne went to check out the Sea of Cortez side for a night. As soon as we got parked up, we took out the bikes and headed down a sand road that went on forever. A couple of locals drove by on their way to check their cattle and they asked us if we were OK or needed water. I love the desert. The way it smells of sand, the dead quiet at night except for the ocassional call of coyotes, the way the birds are all happy and chirping in the morning when it's still cool. In the heat of the day you think you could die out there if not for all the water you carried with you. We had a great ride and then relaxed in our chairs, a bit tired afterward. Looking up at the bluest sky, we looked forward to another sunset sitting next to all the giant cactus beings that we shared our campsite with. I mean, some of them have lived our lives many times over, but all in the same spot! The next morning we took a wandering walk among the cactus and boulders. It all reminds me of a coral reef. The small rock outcroppings look like coral heads and the cactus like the sponges and soft corals that decorate it.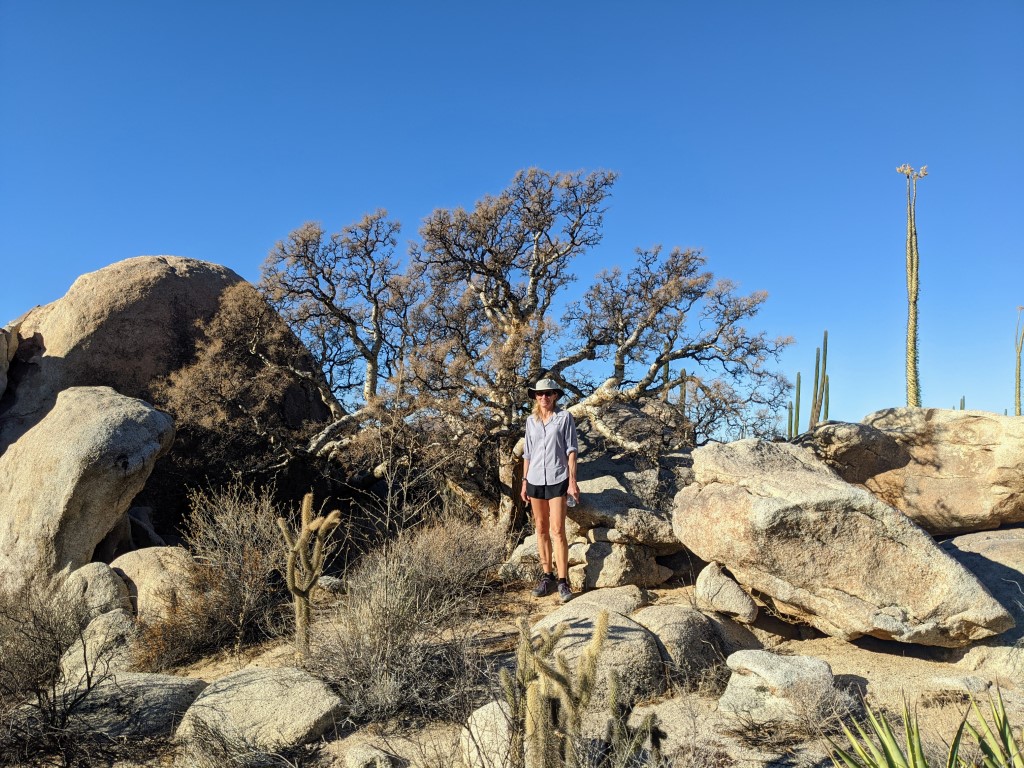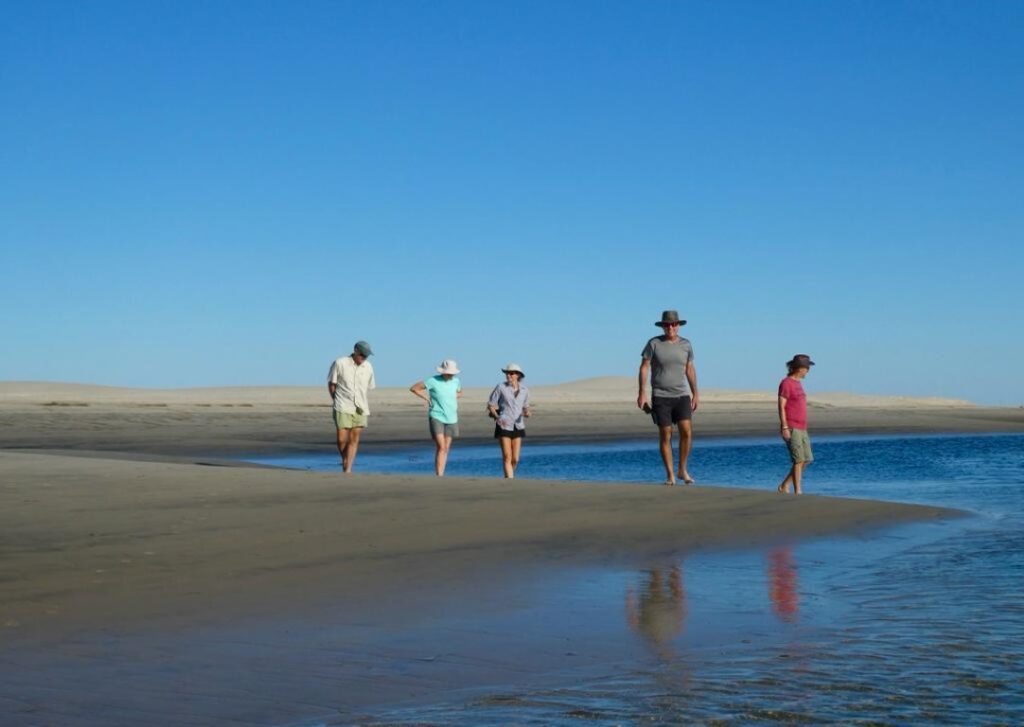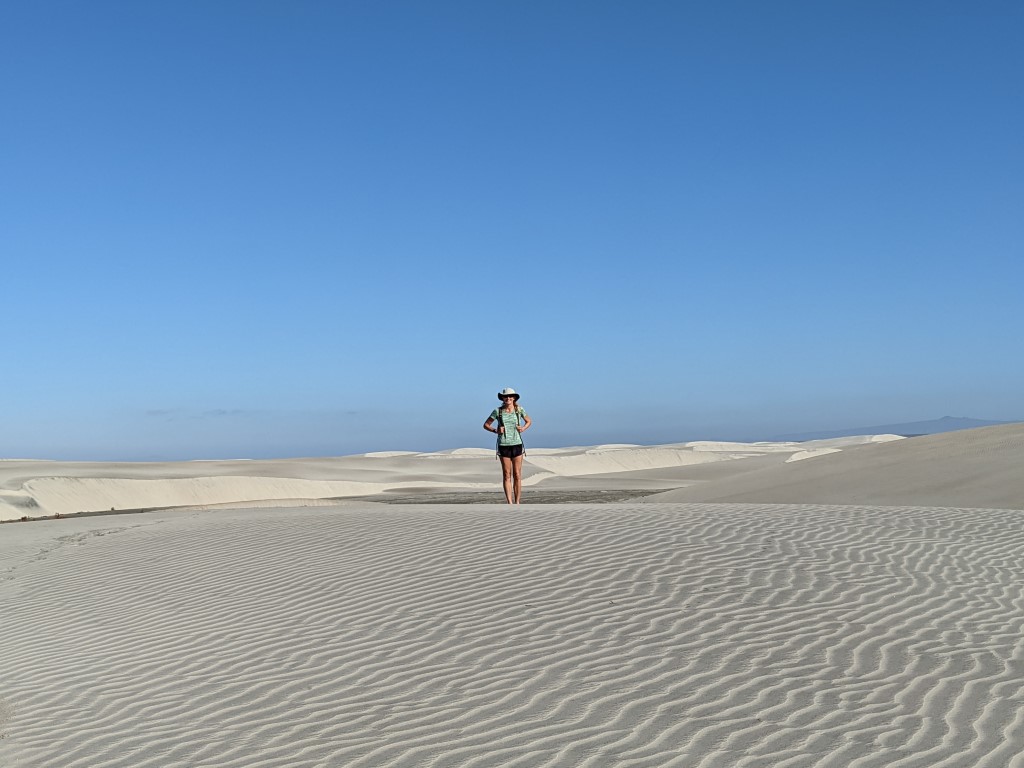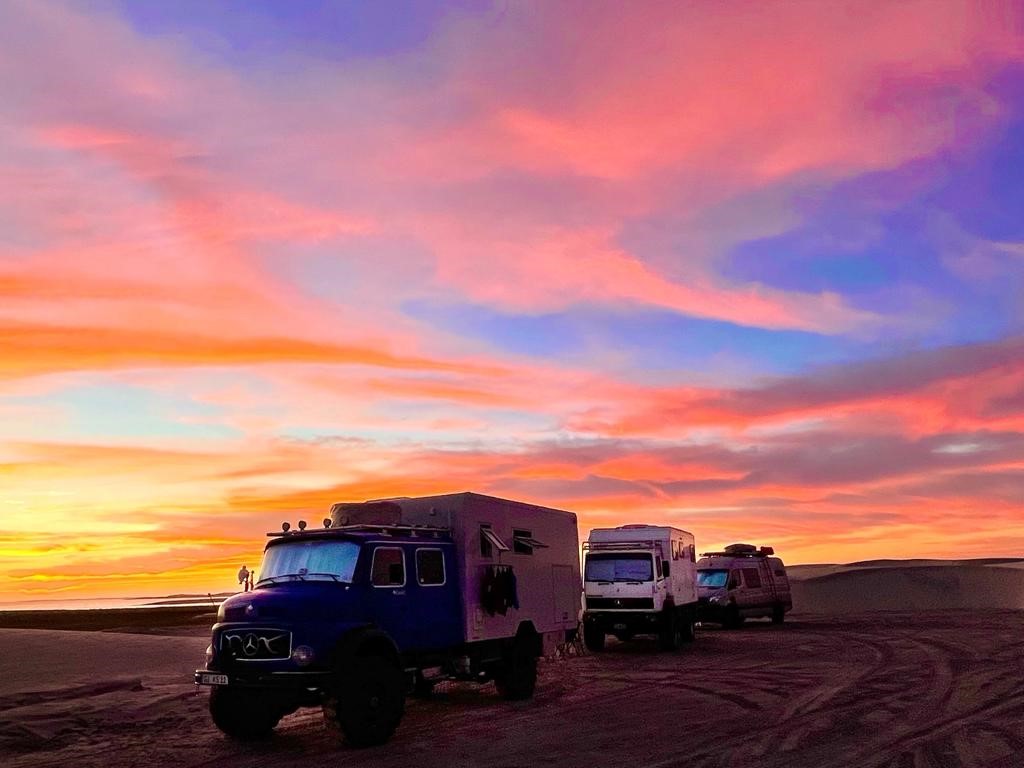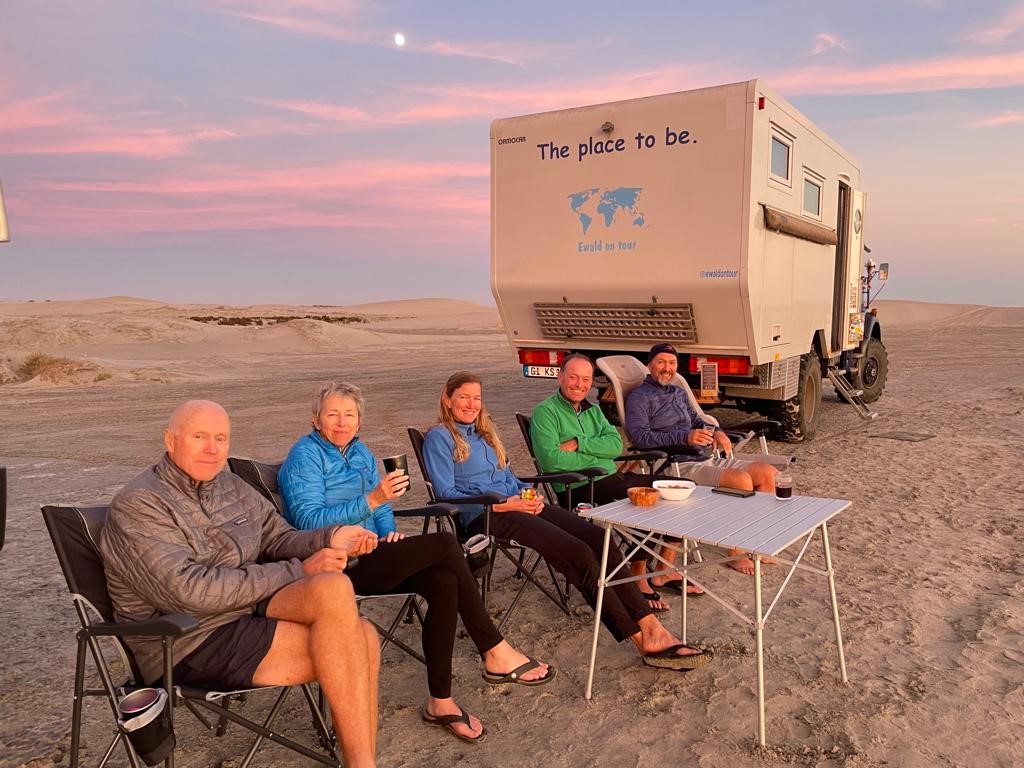 Ready to make more southern progress, we came down to Guerrero Negro to camp at the Dunes de Soledad. We were surprised to find that they are a really substantial expanse of sand dunes right along the northern side of the bay so they come right down to the water. What a beautiful spot. And only a handful of people during the day and no one at night. We took some long walks here, played in the dunes, Jon & I took a swim in the shallows and we did some more jabbering while relaxing in our chairs. It's fun to watch Cricket enjoying the beach life. She's covered in sand, wet, salty and happy. By the end of the day, we are too. I think our truck is as well. Sandy & happy that is. And yet what a little oasis inside. We're still thrilled with it.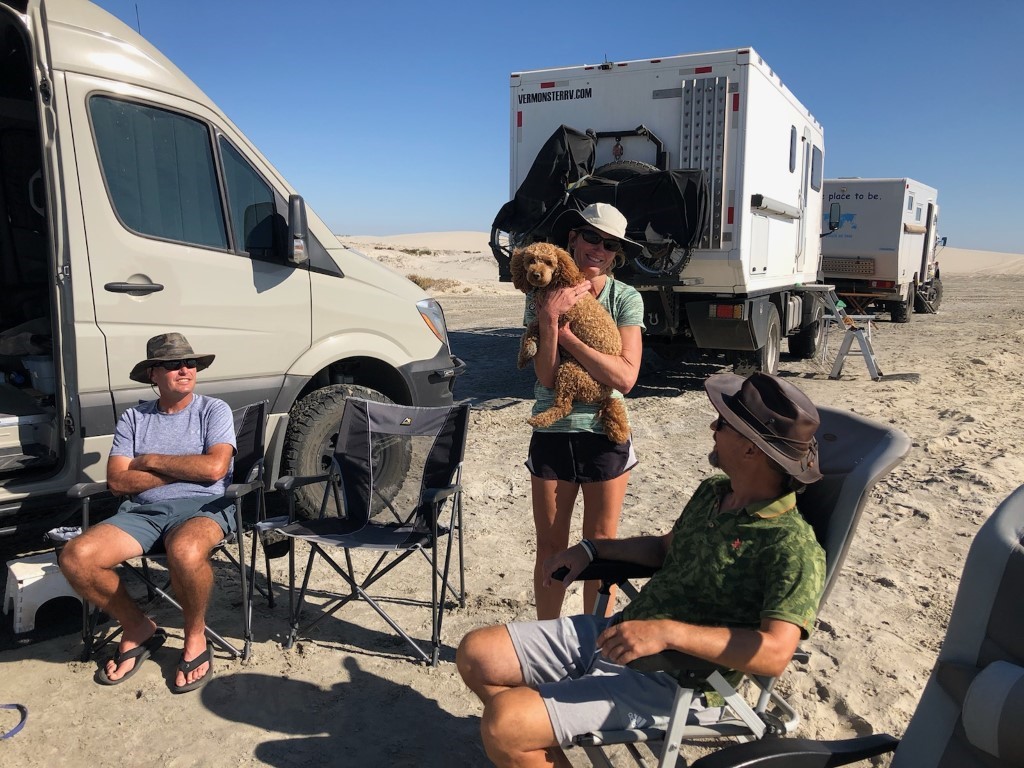 Tomorrow we'll take off for San Ignacio for some civilization. The Baja 1000 race begins Thursday and passes through the town so we'd like to catch some of it. Then onward south until there is something to snorkel or dive in. I wish the corals were as plentiful as the cactus!