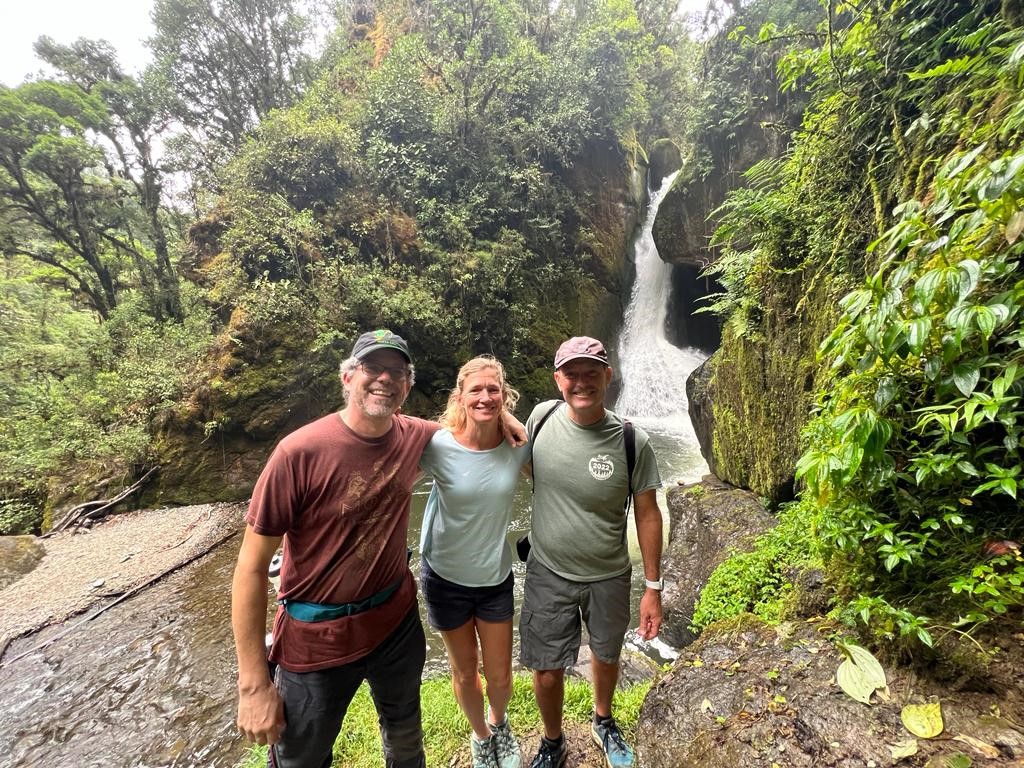 We've been having some truly great days in Cost Rica. The countryside is beautiful, we can hike as many miles as we want in good temps and there's tons to see. Even the driving days have been pleasant because the views are long and the greenest green. Morale has definitely improved with all of this! I think rainy season might have started yesterday though because its the first time we've gotten a whole bunch of rain since???? So now we see some locals riding around on their motorbikes with umbrellas….
In the 1970's, after a particularly bad coffee crisis, Costa Rica made a decision to conserve a significant portion of their country and make it viable by turning their attention to tourism as an "import" rather than focusing on exporting. And they educated their citizens to the potential benefits. In turn, it created a more aesthetically beautiful country, provided habitat for its animal inhabitants and a higher standard of living for its citizens, not to mention a cool place for visitors to enjoy. Nearly everything is spic & span and we don't have to breathe smoke day in & day out from fires in palm fields and towns. We'd never managed to see a quetzel in Guatemala, but we've seen 7 so far here. Its a little more expensive here but in the grand scheme of things I think it all washes out and it's not forever anyway.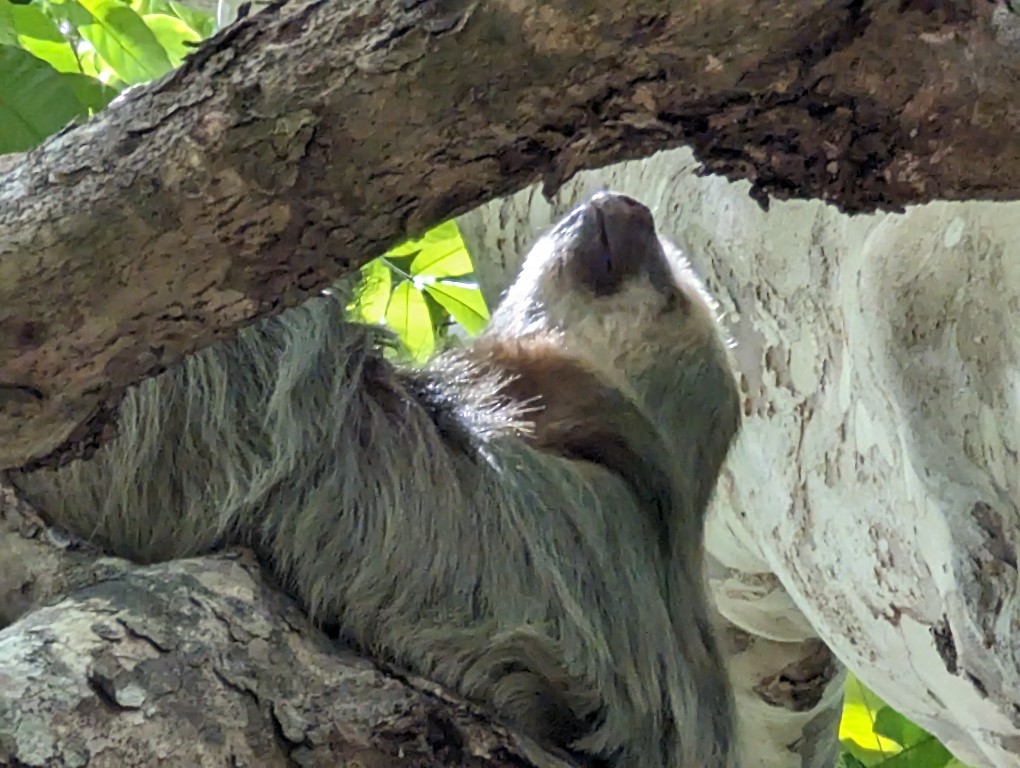 We've been doing a bunch of cool things. It started out with sloths in the trees of our first campground not far from the Nicaraguan border. We saw 3 there on our first morning. Did you know that they only come down out of the trees once a week to defectate? And that part of their camouflage is a coating of algae on their fur? They give birth upside down hanging from a tree branch. We noticed that it took a long time for one of the sloths we saw to turn its head to look down at us. Like, we could've almost recited the alphabet in that time!
As nice as it was looking up at sloths, we were still glistening with sweat so we moved up into the mountains to the area of Lake Arenal to cool off. The lake itself wasn't too spectacular but the perfectly shaped volcano was a pretty sight. We ended up camping beside the lake one night and when I went down to the shore to check the water temp I got mired in mud and felt lucky to get out again. Apparently, like so many other places in the world, water levels are down by several feet due to drought, hence the mud. It was at that spot that we met some fellow German travelers, Arthur and Judith, friends of friends and shared a happy hour together. Jon also replaced our alternator which burned up we figure from all the intense heat. We were glad to have a spare but now we need another one.
We drove up to the Arenal Observatory which was our first experience with how things work in Costa Rica. One of the nicest ways to both camp and have great trails to hike is to stay at the preserves which usually have acccomodation too. They can be fancy or rustic but many have extensive swaths of jungle forest with good wildlife sighting opportunities. It reminds me of being on the boat where we sometimes got a slip at high end resorts where we could use all of the facilities as part of our dockage. And if they don't allow camping you can get a day pass to hike which we've done also. At the Observatory, we saw monkeys, flowers, birds and walked in jungle part of the time and open fields in others. They even had a cherry bush like we used to have growing up in Miami. It's an acquired taste but it brings back a lot of memories for me.
Before moving on to Monteverde, another tourist hot spot, we swung in to a German bakery for some good bread. I've read that the Costa Rican landscape is reminiscent of Switzerland in some ways and indeed, there are quite a few Swiss & Germans here. They have steep sloped, heavily landscaped tidy lawns with perfectly spaced flowering shrubs and not a speck of trash anywhere. The bread was good but it was gone in a flash.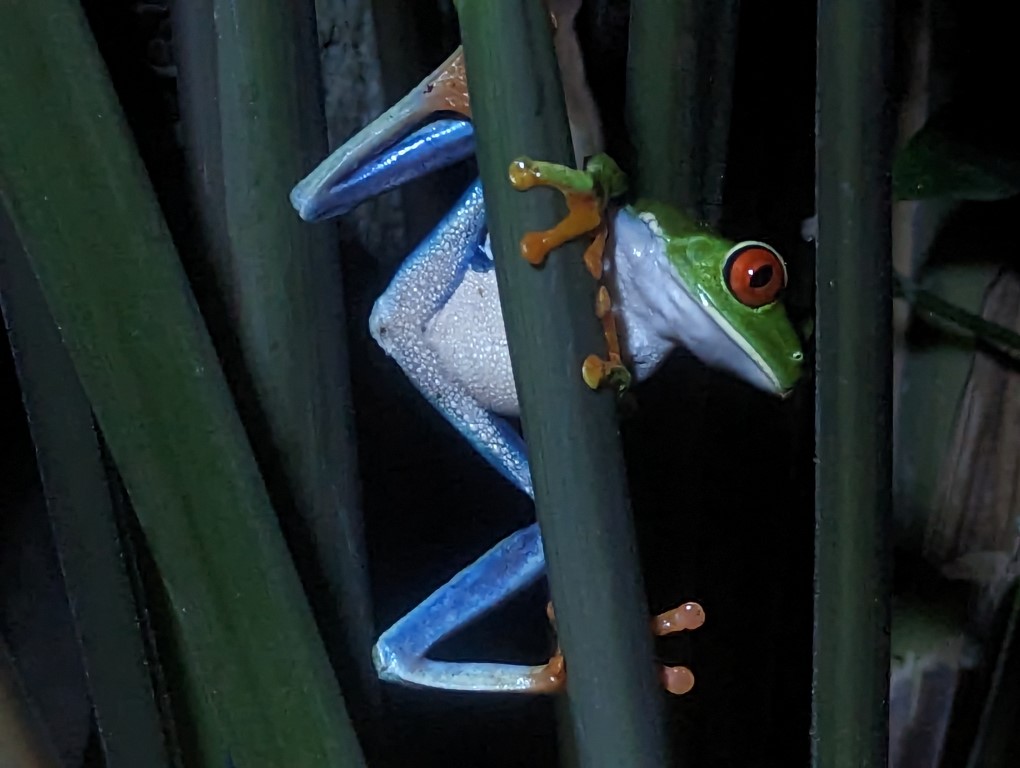 Although the road to Monteverde was crap and full of potholes, the scenery made up for it. We parked at the Ranaria, a museum for frogs. You can go in during the day to see many varieties of crazy colored frogs in about 15 large glass enclosures. Its a bit like an easter egg hunt to spot even the diurnal ones, and impossible to see the nocturnal ones by day. For this, you come back after dark which is part of your admission and we were allowed to camp in their parking lot. So we explored the tourist town of Monteverde/Santa Elena and came back to find all these frogs out everywhere showing their beautiful colors and postures! It was so much fun to see all of these cuties.
We really loved the Monteverde area. The air was so fresh and flowers all over. We took a whole day to explore the Santa Elena Cloudforest reserve, another large park full of pretty trails, waterfalls and birds. The jungle is so chucker block full of moss, lichen, mushrooms, trees, flowers, shrubs, vines. The understory plants remind me of corals, sponges & gorgonians on a reef. Toward the end of the day, there was some commotion near a guided tour and lo & behold there were 2 lovely male quetzals flitting around in the trees! They're called the Resplendant quetzel for a reason! Even though we didn't get a good pic, we could see them quite well.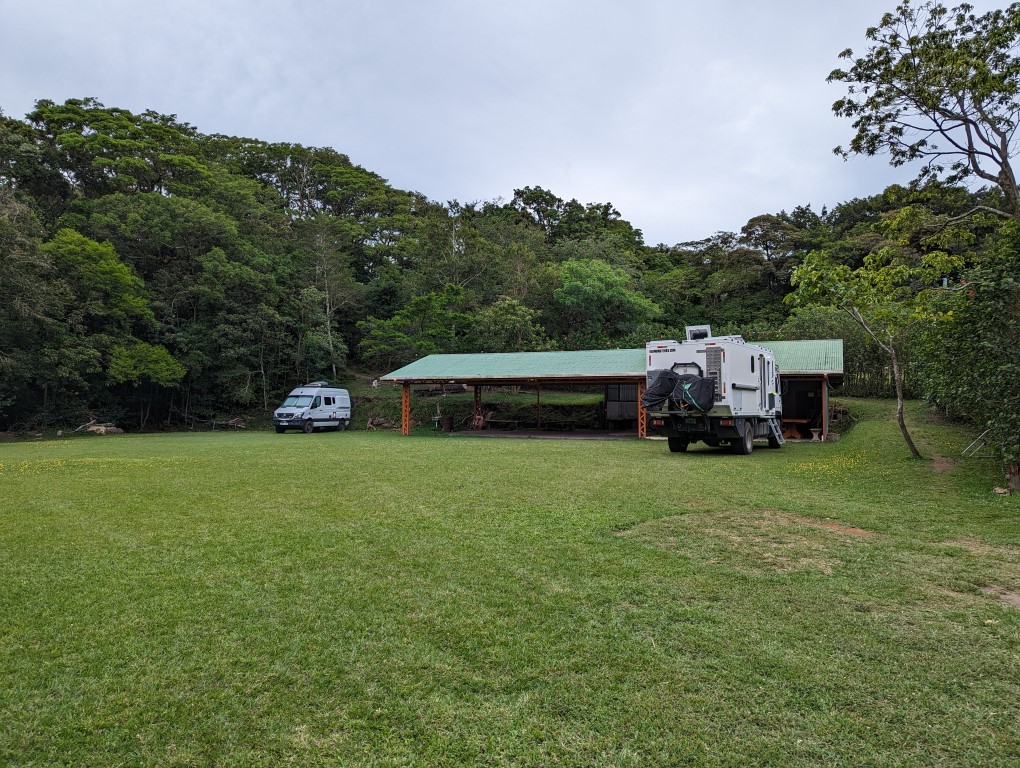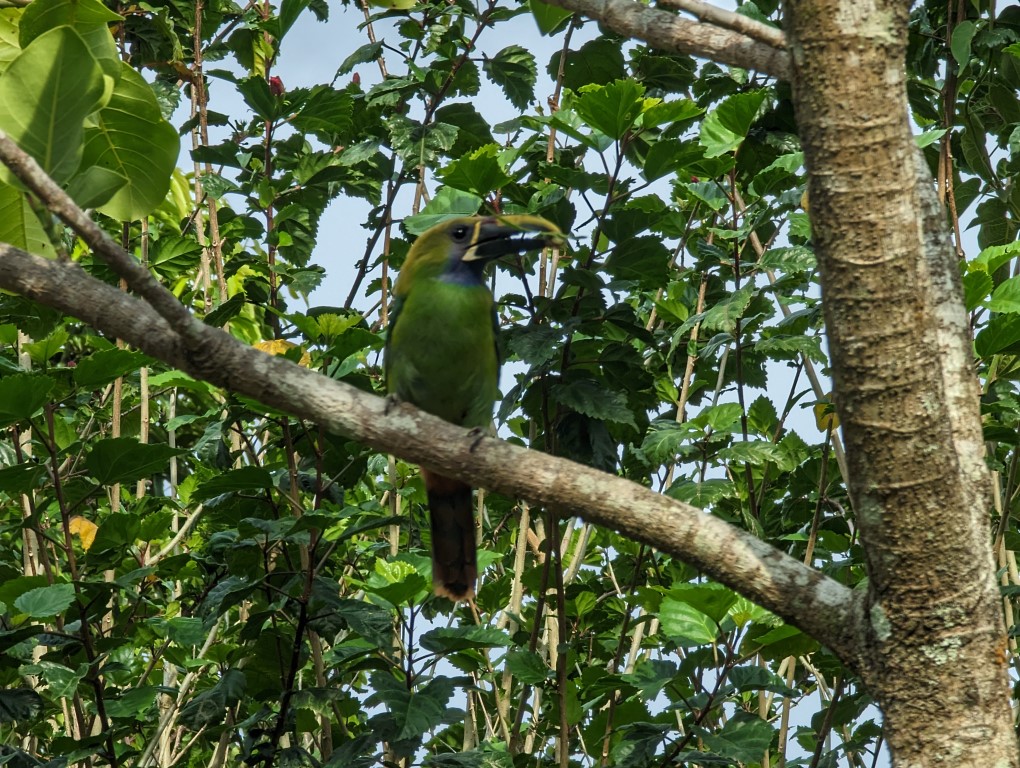 We parked up at a pretty campground called Santamaria's Night Walk camping. It had a perfectly flat grass field complete with a covered building where another fancy bird, the mot-mot liked to hang out. There were toucans flying around and one even flew into our truck and stunned itself for a few seconds which was sad but it flew off ok.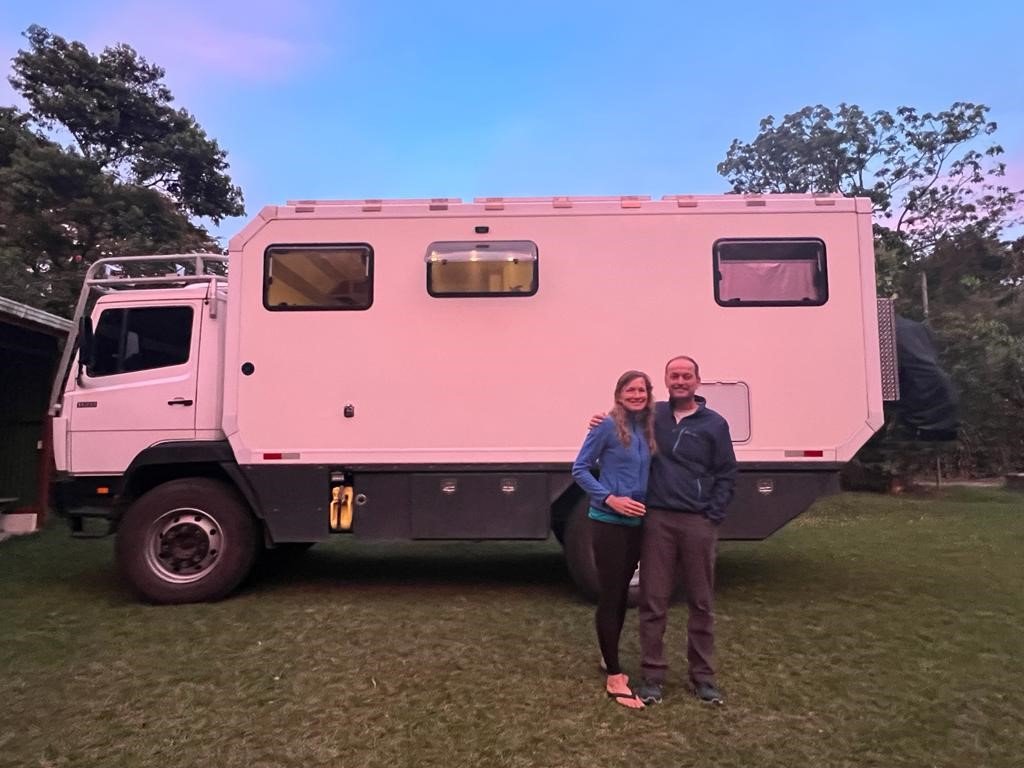 29 years ago, Jon & I tied the knot. So we spent our anniversary in Monteverde and had a bonanza of a day together. After a big brekkie, we got the bikes out and biked up to the coludforest reserve again because there's a coffee shop just outside where hummingbirds hang out. They have the feeders but also lots of flowers that hummingbirds prefer. You can sit there sipping and have them zooming all around you which is great. Then we biked back downhill to a butterfly & insect garden. We saw everything from stick bugs to tarantulas to huge cockroaches. Did you know that most species of cockroaches are super clean fellows and even produce antibacterial chemicals to clean themselves? Our guide told us that they spend an inordinate amount of time grooming and the fact that she handled it to show us would probably mean it would need to restart another round. They had 4 separate butterfly enclosures representing the 4 zones of Costa Rica. There were all different types & colors but I liked the name of the one called the Postman. Named because it visits the exact same plants nearly every day out of routine, similar to a postal route. Since we were covered in salt from all the sweating we did on our bikes, we were pretty popular at the butterfly garden. Some of them would land on us to get more salt in their diet.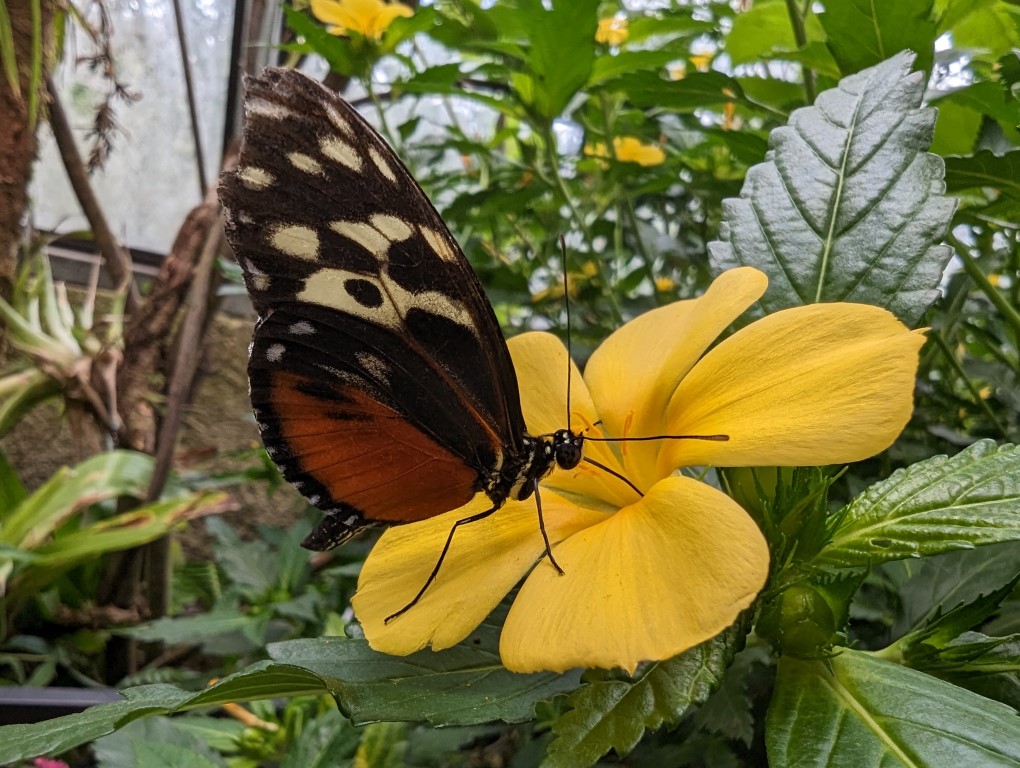 In Monteverde, a popular thing to do is to take a night tour. It involves walking through the woods with a guide looking for noctural wildlife. Since our campground was a night tour spot, we could just go right into the woods from there. It was just us 3 and our gruide. It was a lot of fun to walk around with flashlights having our guide spot interesting things. We saw a sloth, a cool snake, 2 tarantulas, scorpions, a frog, we heard an armadillo (too bad but at least they are there!), an owl, and my favorite- sleeping birds! If you ever wondered what the birds do at night…. well, we saw a sleeping toucan and 2 other green forest birds that I can't remember the names of. Our guide said they pick a spot that is not too high, not too low, and pretty far away from the trunk of the tree. They choose a slender branch that they can then feel if a predator is approaching them because the branch will shake. They seemed oblivious to our flashlights and it was so cool to see them sitting there so peacefully. The female tarantula lives in a den in the forest and will flee to it if it feels vibration such as from our footsteps. So we carefully tip toed up to it and there she was at the opening. We also learned you can light up a scorpion with black light. They don't really know why it works but it does! So that wrapped up our anniversary day. It was just the kind I like- long and full of doing fun stuff together!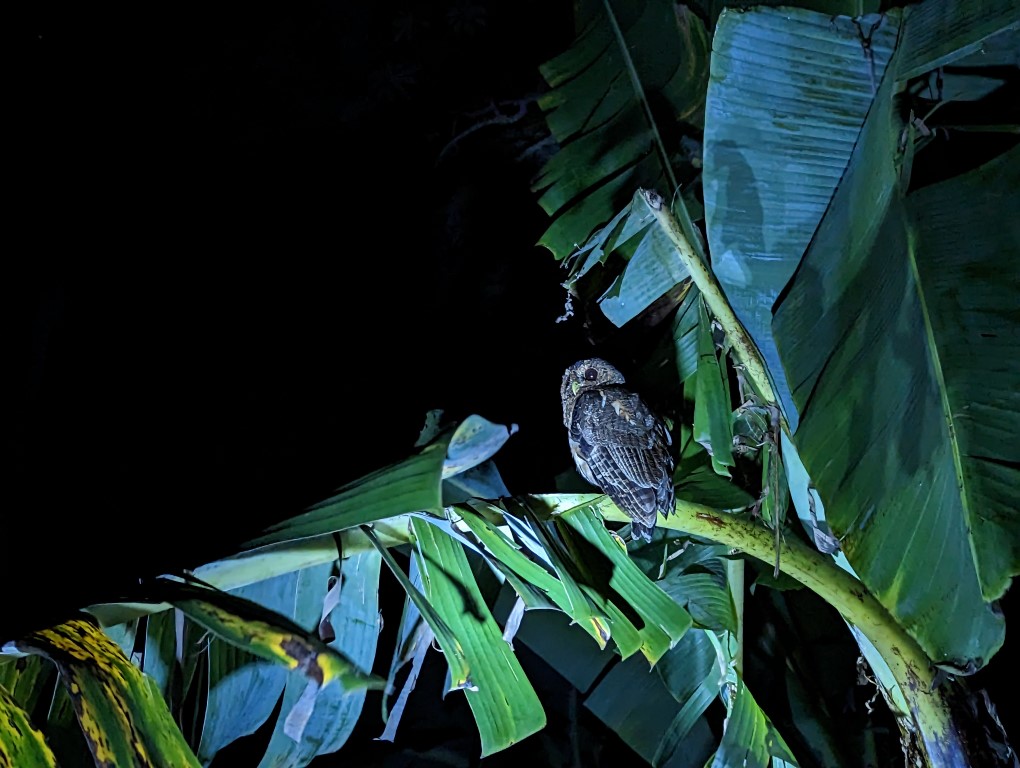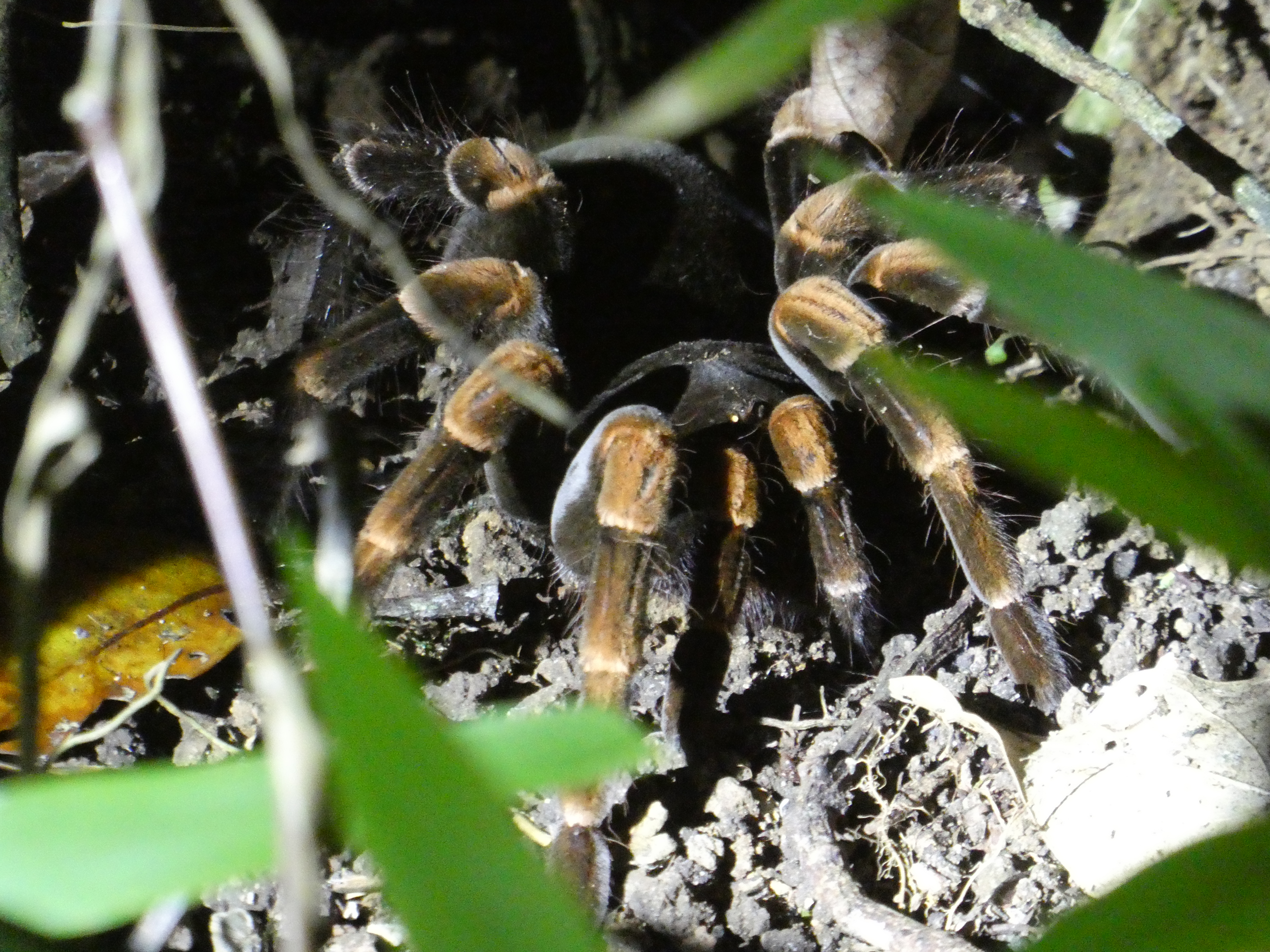 It was hard to leave Monteverde because we liked it so much. But the trouble is, you can't discover the places you will love until you go to them!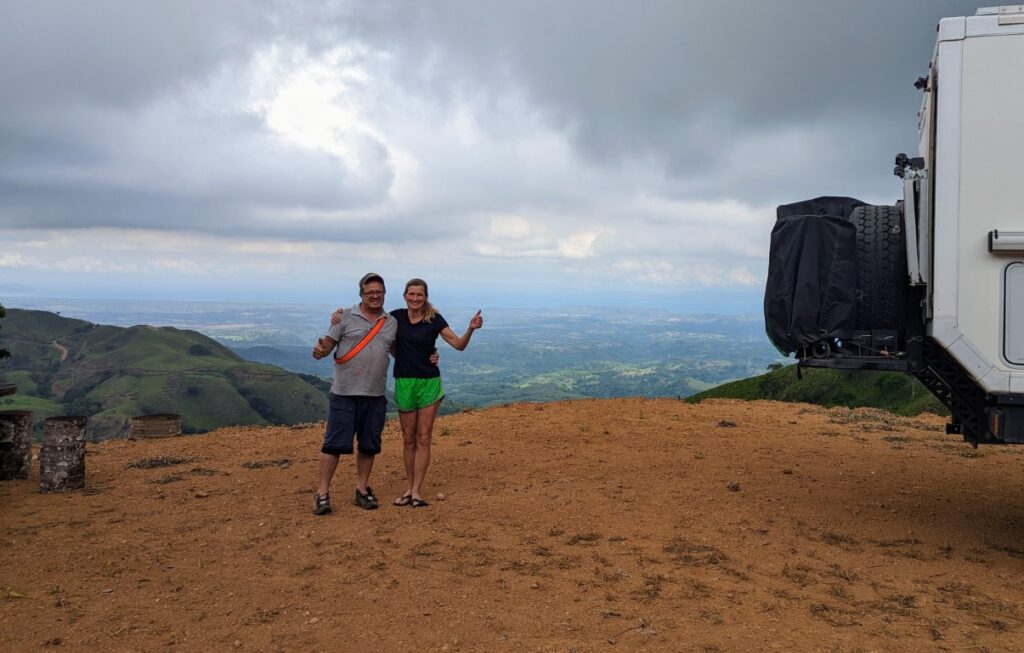 We separated from Ivan for a couple days to head up into the hillsides above San Juan. I'd picked out a wild camping spot with a panoramic view not far from the highway because it was late in the day. We've found that once you get on the little roads in Costa Rica, they can serve up just about anything. Well this road quickly narrowed and began going straight up & straight down through verdant green fields. You need Google Maps or Mapsme to get around to all these faraway places but you can't always trust it to take you on real roads. So after the steepest downhill we'd ever done we ended up at a dead end. While we were fixing to turn around, a friendly local stopped and offered us a place to camp for the night on his little postage stamp piece of land that was for sale with a spectacular view. We'd remarked on our way by it that it would be a perfect place to camp. So up the hill we went again with him escorting us to this very spot. We sat and talked for a few minutes over a beer in our broken spanish. He wanted to sell us that piece of land and it really did have an incredible view but…. we aren't looking to live in any one place right now. The next morning, we took an awesome hike on the road and through his steep farm fields up to the tower (a big rock spire) where the panoramic view was located. We would have needed to take a different road to get there. Oh well, it worked out really well to meet Rafael and have that vista and we got some exericse too.
While continuing on through more impossibly steep roads to get to a waterfall, the truck started to stutter and then stalled. There was nothing to do but back down while trying to not use the brakes much since once the air is gone they lock up! Thankfully, there was a pulloff just a little ways down and Jon could slide us in there with no air to spare. To make a long story short, he troubleshooted the fuel issue for the rest of the afternoon and the next morning before finding the problem which was a torn gasket on the fuel pump that was sucking air into the engine. Our engine is hard to bleed once its airbound but he had the part, finally got all the air out and we were back in business. Of course on the odd chance we're not with Ivan, this happens. It's hard to let go of the fact that we can't just sail away if the engine doesn't work. I try to block those thoughts out.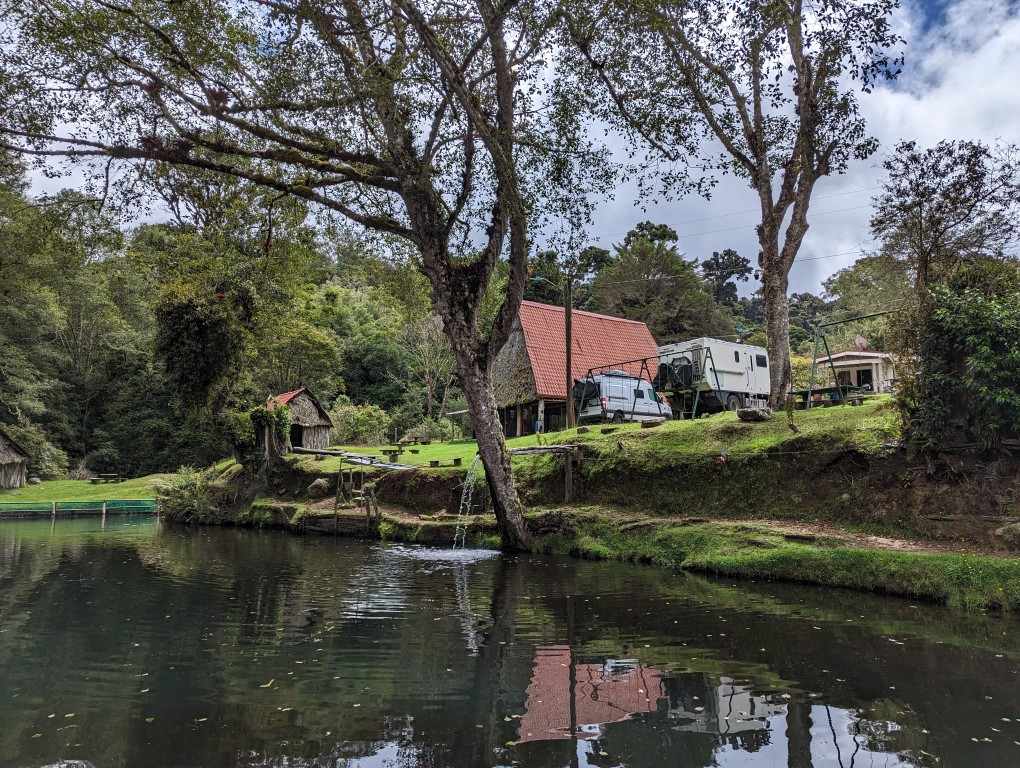 We met up with Ivan again and headed to a campground south of San Jose called Truchas Selva Madre. This was unique in that it was a trout pond campground where you can come hike trails with massive old oaks, fish for trout or have them get it for you and relax on their pretty grounds. So we did all that and enjoyed some fresh fish for a change! Outside our window was a a power pole where two pairs of woodpeckers were nesting. If I knocked on the pole, one or both of them would quick stick their head out to see who was there. It worked liked clock work every time.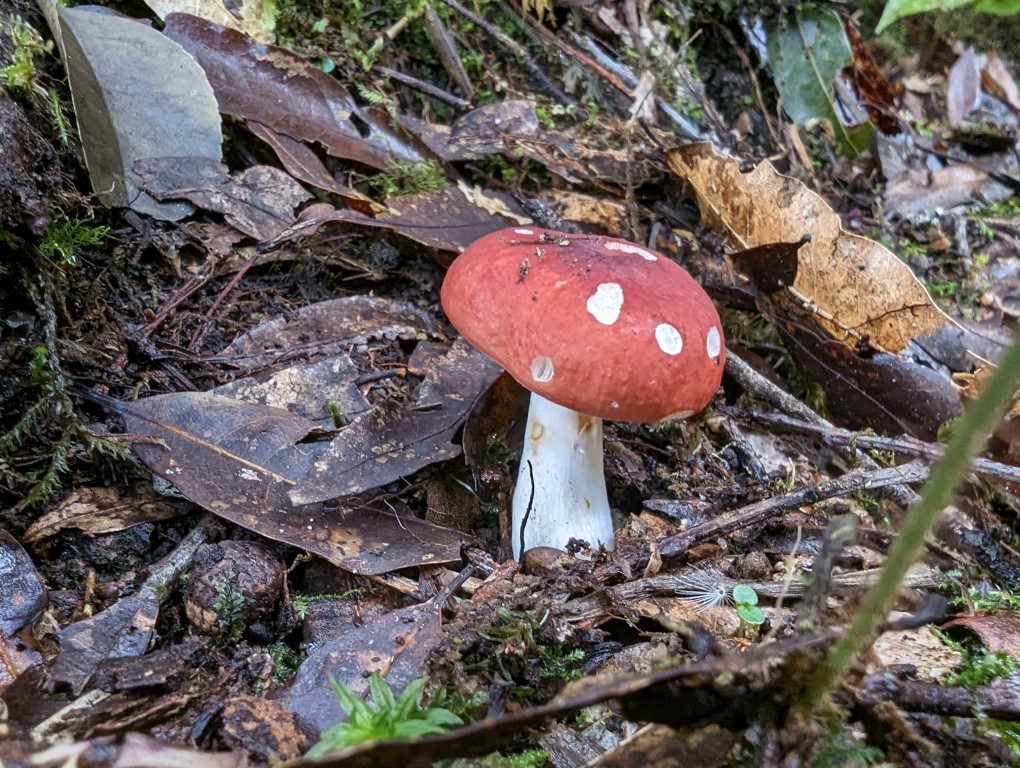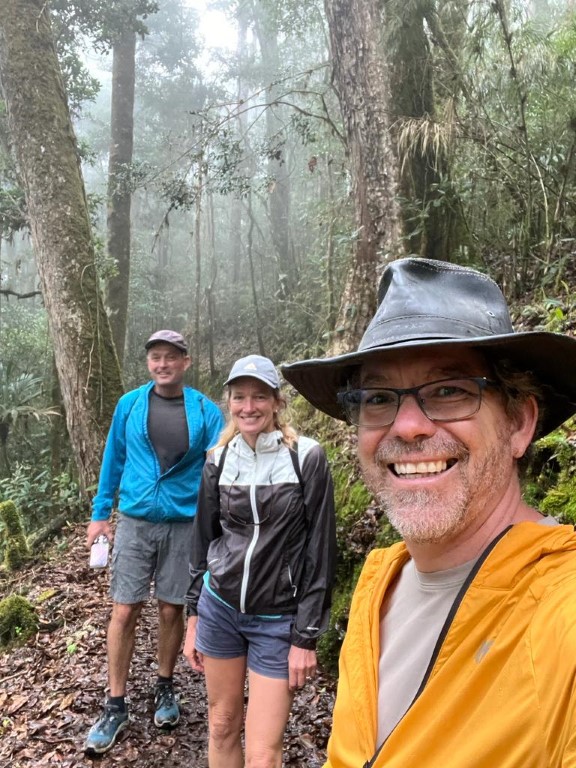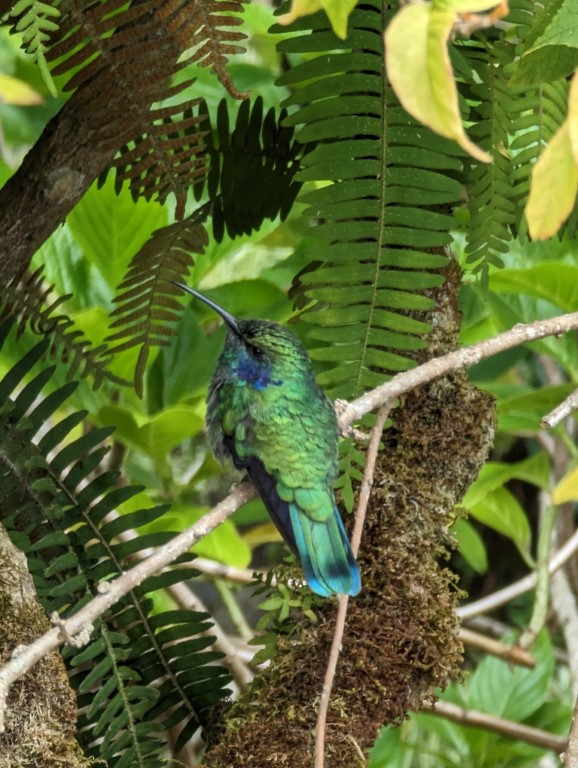 Quetzel National Park wasn't far away and we were excited to see that area. Set way down in an especially picturesque canyon full of beautiful forest, you can see why it was a spot that needed protecting. Jon read that years ago, a couple from Oklahoma came to visit and realized that the forest in that canyon was suffering from clearing for farming. So they began a quest to get the area protected. And it worked! Now there are several lodges, loads of jungle trails and plenty of birds to spot. We got up at 5am both mornings to walk up the quiet road to spot Quetzels. They like wild avocado trees. We got lucky the first day with several in view. The second morning when Ivan joined us wasn't so good. We also did many miles of great hiking in fairytale jungle draped in moss and mushrooms in many colors. There were loads of hummingbirds and beautiful flowers too. We're starting to meet more & more travelers like us headed down and shipping to S. America. We've met two French brothers in their respective campers and a couple from Sint Marten.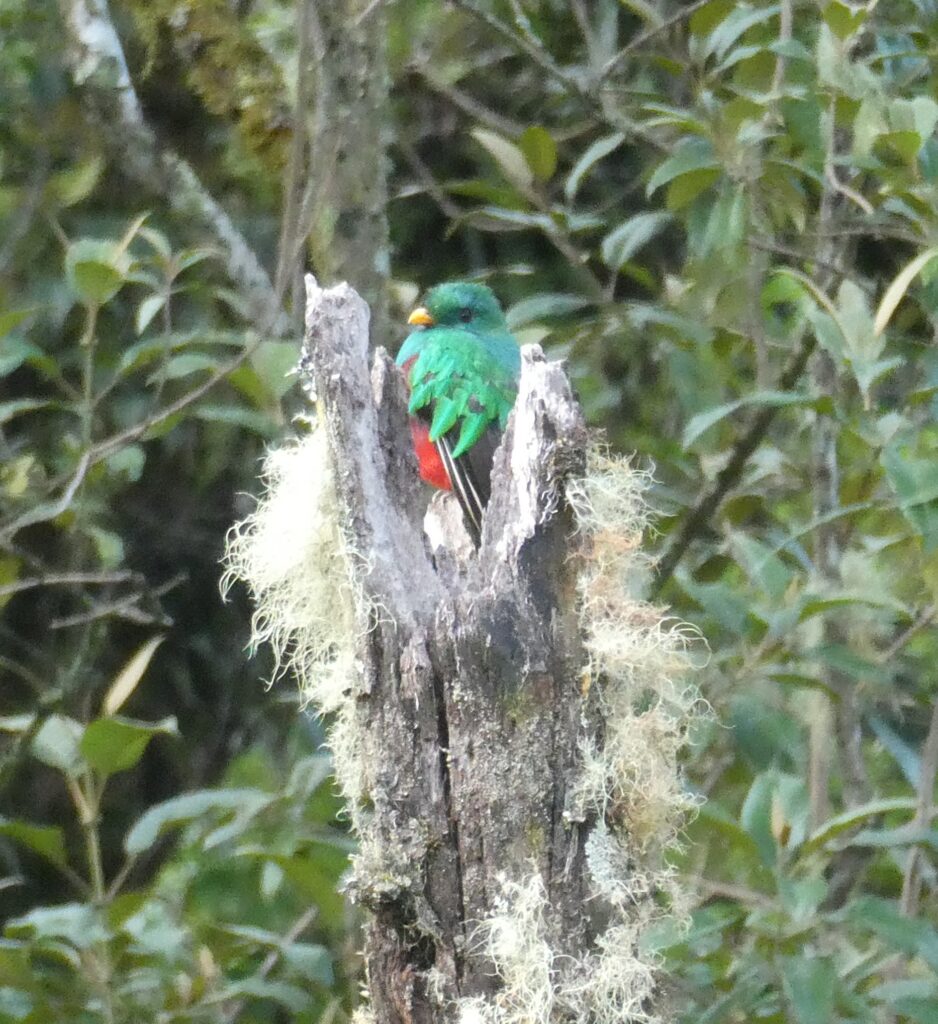 We plan to spend another week or so in CR before heading on to Panama. We're in the last stages of scheduling a shipping date and need to do some preparations. It will be hard to leave these hills for the heat again but the rain will probably drive us nuts before too long anyway. For right now we feel really happy and have been having a great time.