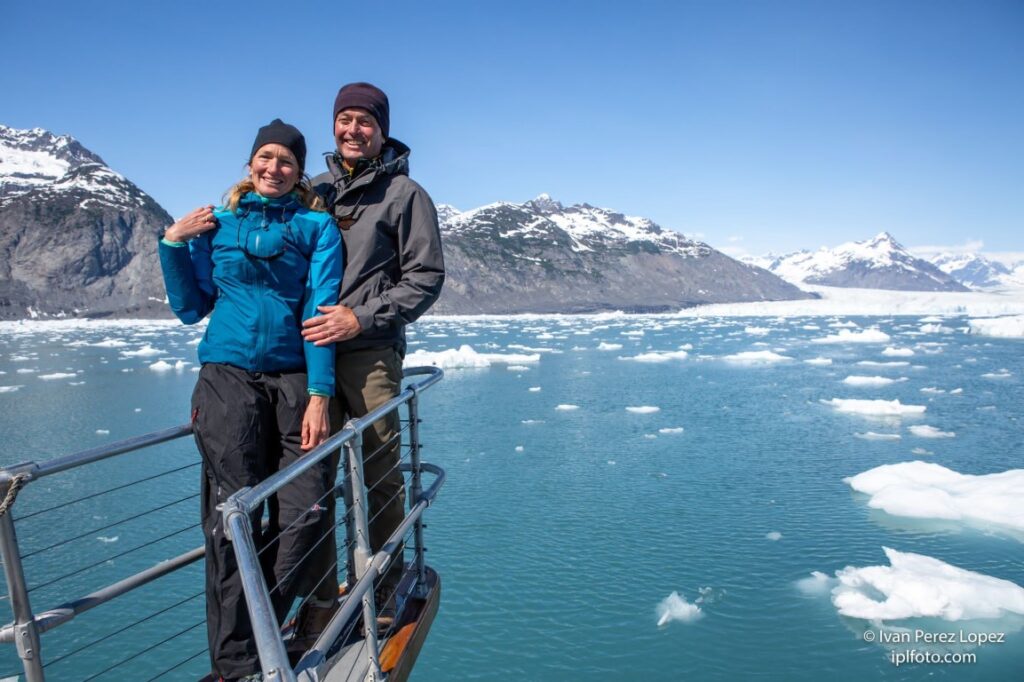 When we parted ways with Haines we weren't really done with it but Valdez beckoned and we knew the summertime clock was ticking. It seems like whatever I'm doing in life there is always something else pinging me in the background that both brings intensity to it but also makes an underlying anxiety. In this case it is packing in all we can in the time we have for the distance we've traveled to get here.
It was 700 miles to Valdez over some pretty territory. The Haines Rd is one of the famous scenic drives, in the beginning it followed a wide riverbed. We crossed into Yukon and climbed out of the lush summer foliage to once again camp by a frozen lake in Kluane National Park. Arrahhh!! But, it was beautiful. That eve the three of us sat by the lake and watched the ice slowly move down with the breeze like a lava flow to our end of the lake, filling up every open space. I'm really enjoying the lush foliage here, all the wildflowers everywhere and of course the birds with their melodies. The trumpeter swans are nesting too on their little mounds, one pair to each lake or pond because they won't tolerate any others being there.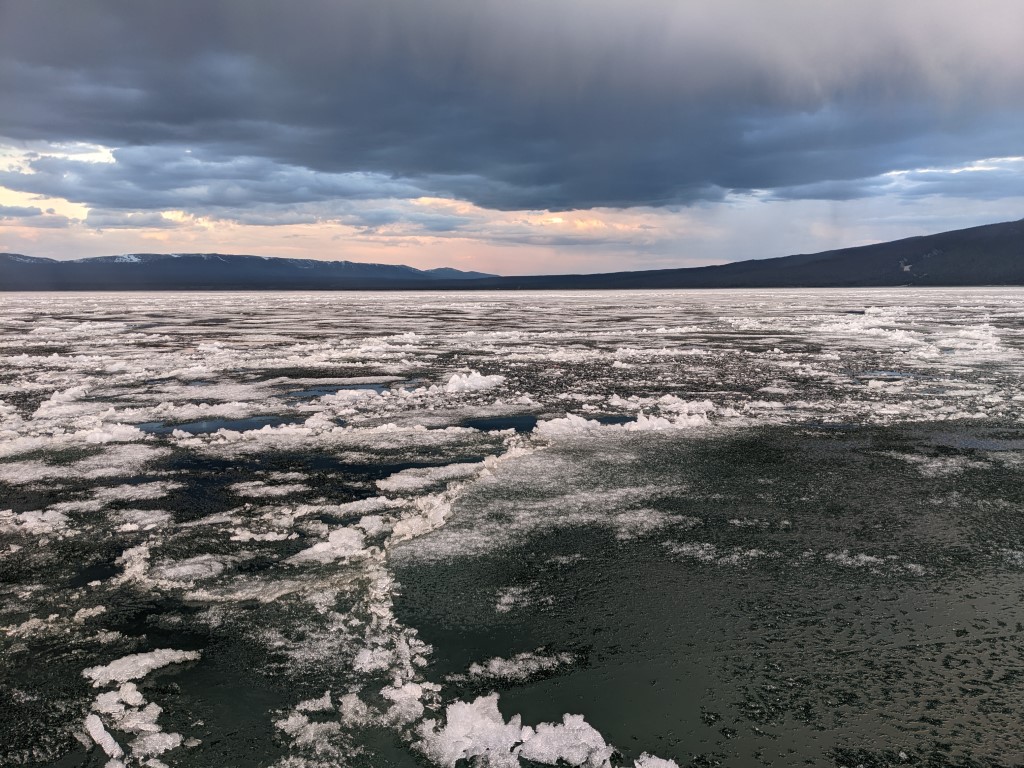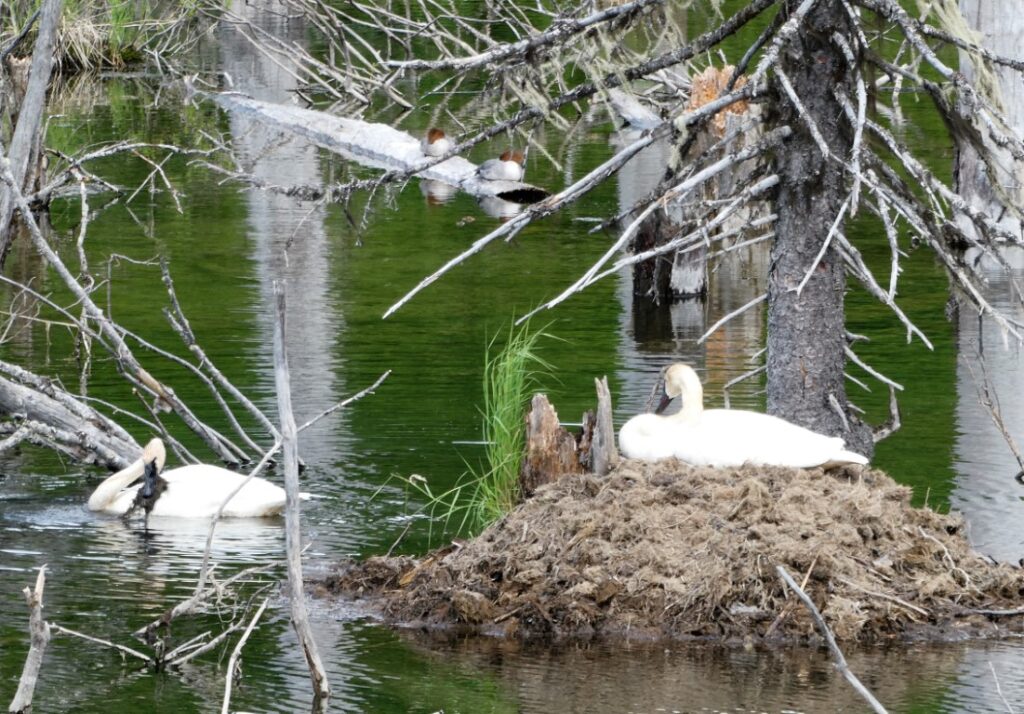 The cliffy hillside by the visitor center is known for it's Dall sheep and we were excited to see them. The morning dawned rainy and freezing by the frozen lake but we still saw some sheep through a spotting scope thanks to the park staff that set it up. Dall Sheep are beautiful and pure white, this is a great time of year to see them with their kids but I think the best way to see more than a white dot on a hillside is to look at the professional pictures of them because they're so darn far away all the time. We did a little hike there to a memorial marking the highest point on the Alaska Highway. We covered the rest of the miles with nothing too exciting but the best was just ahead.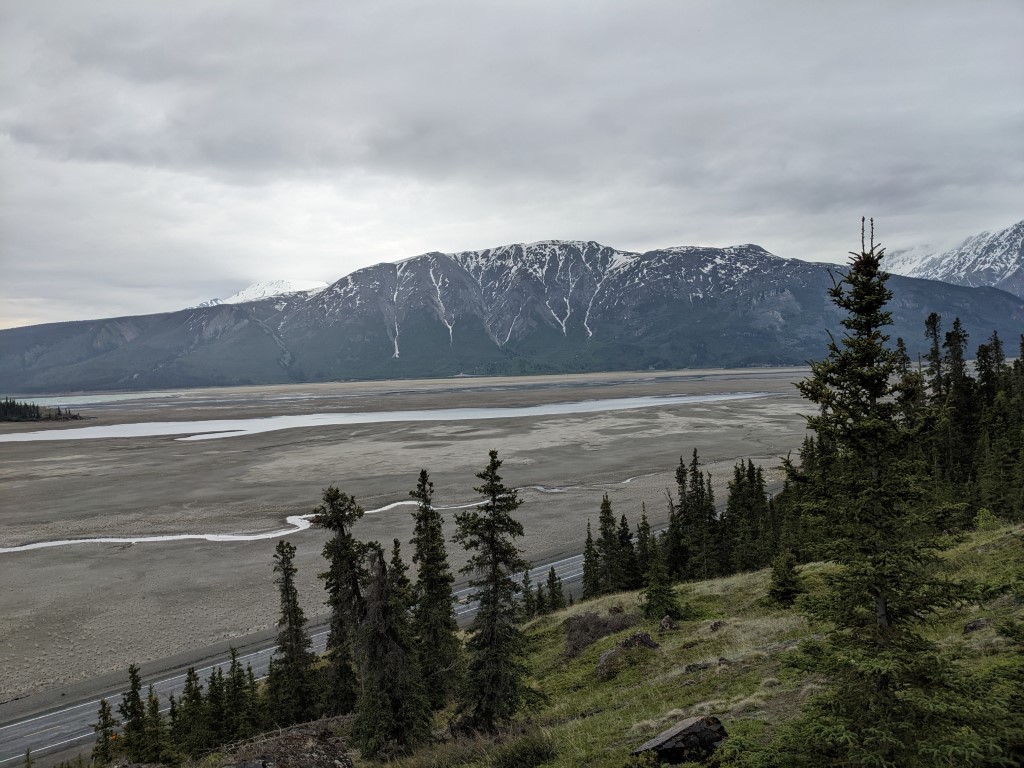 I couldn't wait to get to Valdez. It's been a long time waiting for it. It's a place that's had some hard knocks. In 1964, a massive earthquake followed by a tsunami destroyed the town. Part of what made it so catastrophic was the unstable glacier soil that the town was built on. We learned about the details of the ordeal in some nice museums there. They rebuilt a new town on more stable ground a few miles away. Then 25 years later, the Valdez oil spill dumped over 11 million gallons (this figure varies) into the bay, decimating the fishing industry there and killing massive amounts of wildlife in Prince William Sound. And it was negligence that caused it. A huge clean-up effort ensued that took years. And for better or worse, the Alaska Oil Pipeline cut its way through the area from Prudhoe Bay. We talked to a local who had witnessed all 3 events. Each night, we camped in the Old Valdez by the water with great views of the bay and its backdrop of marshmallow topped mountains. I watched a humpback feeding just off the shore and thought about how just a few months ago we were watching humpbacks, could be some of the same ones, all over Baja. Except our trip up here was easier I guess. We met up with Michaela & Peter and Tonja & Thomas again and booked a boat tour on the Lu-Lu Belle for the following day to get out to the Columbia Glacier.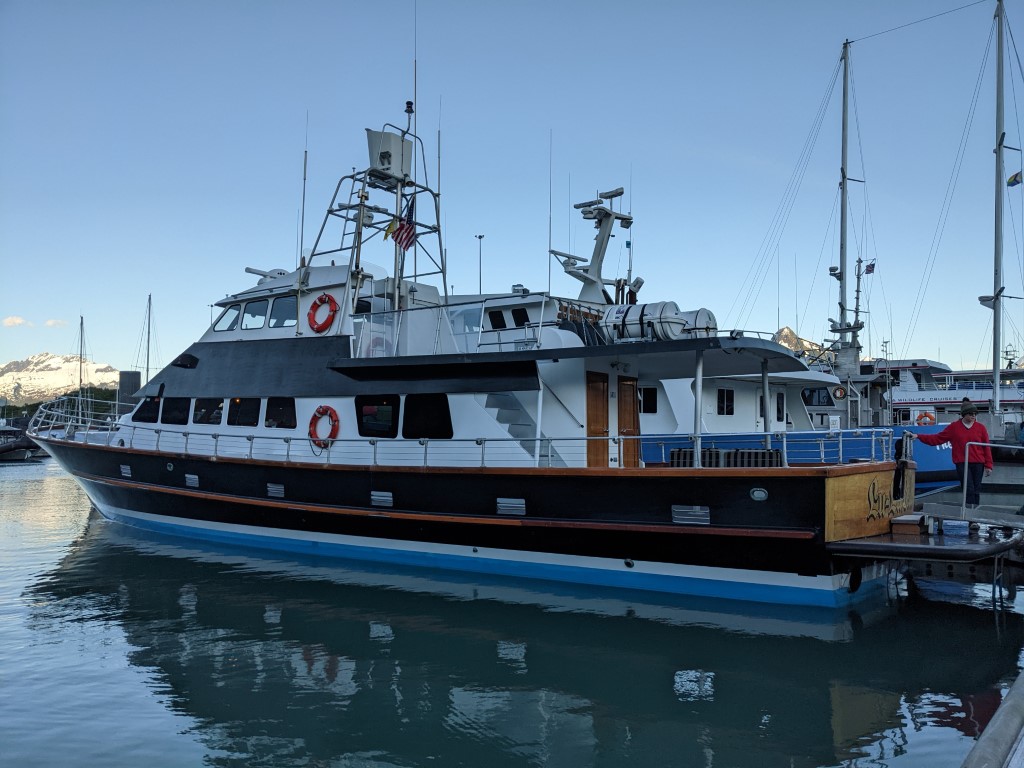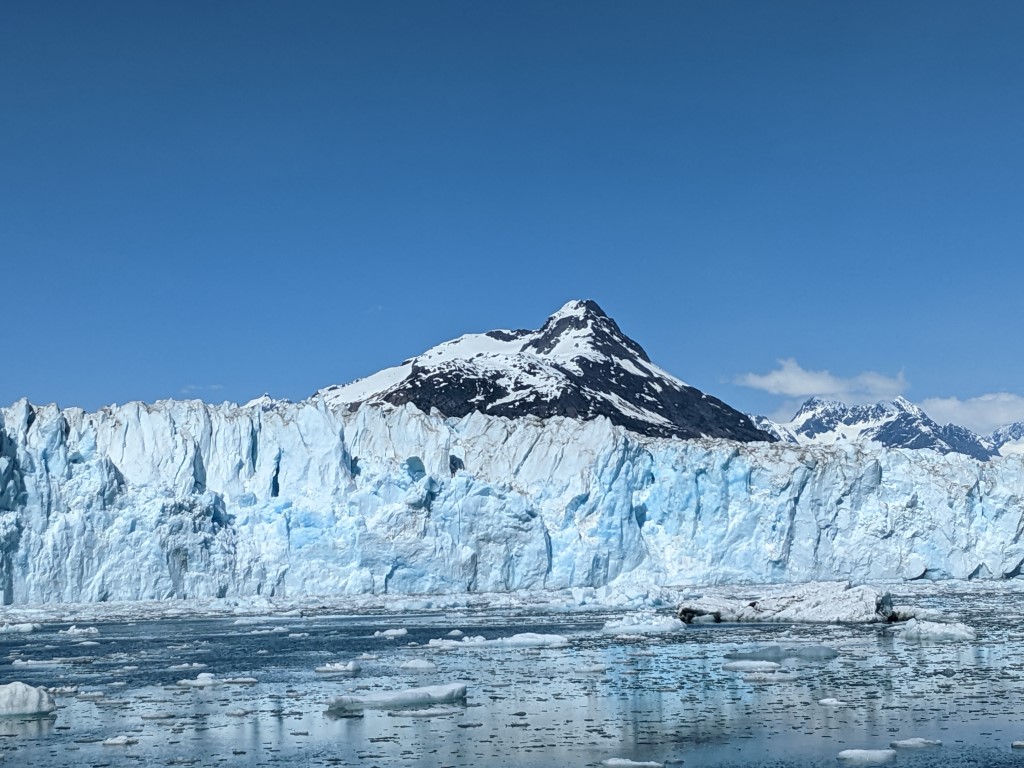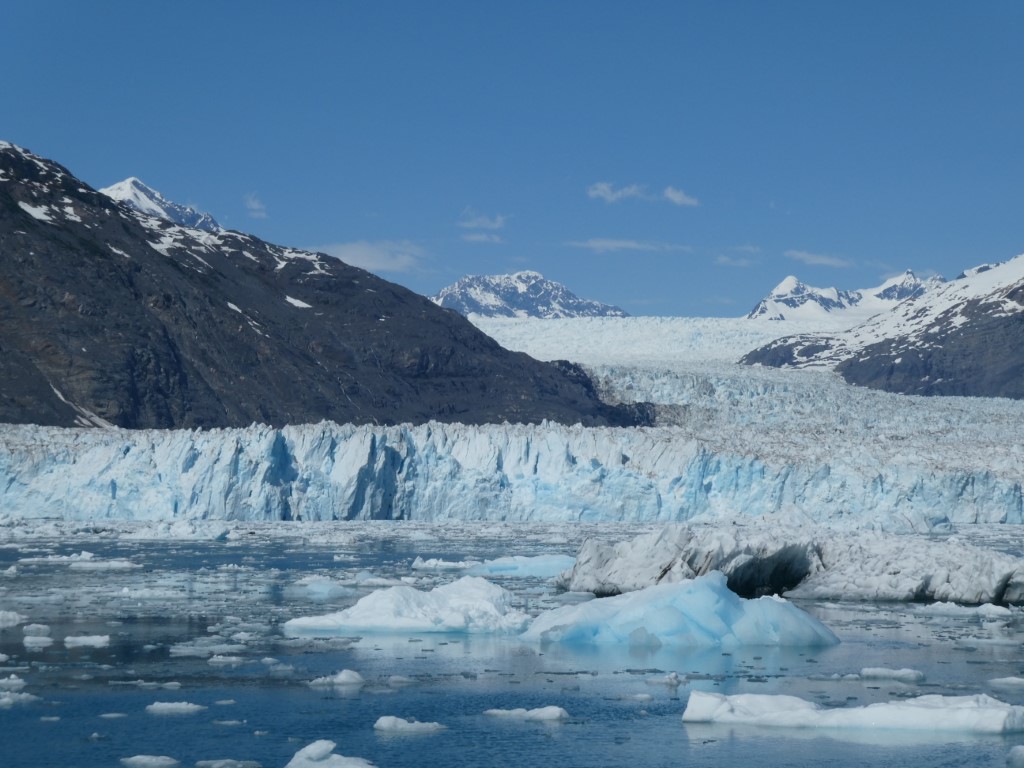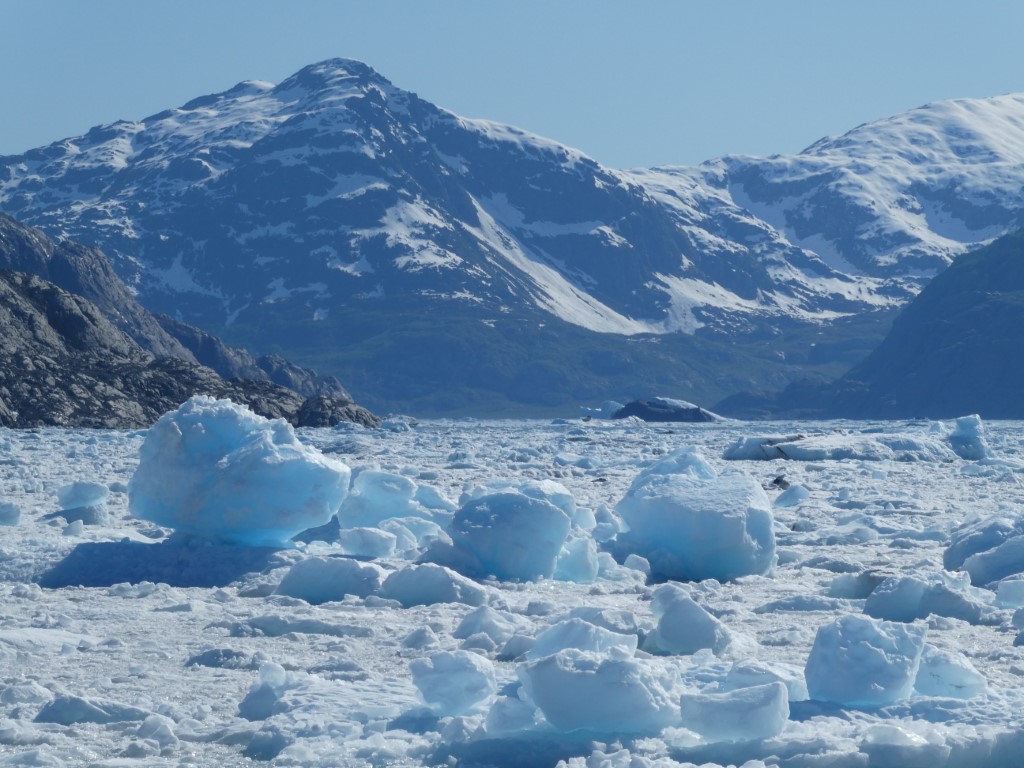 Whatever reservations we had about doing a boat tour were blown to bits because this 10.5 hour day would show us all we wanted to see and more- it was great! It was a 10 for a weather day with all sun and no wind. We parked ourselves up on the bow and took in all the scenery all day long. At first there were lots of people out at the bow. By mid day they had thinned quite a bit and by evening, there was nobody but our group. We saw puffins, sea otters, humpack whales, sea lions, eagles, tons of fur seals with their little pups and of course the amazing Columbia glacier. It calves about 13 tons of ice into the water every day and you have to plod through a 13 mile long ice field to get to it. It was absolutely beautiful. Except for one boat that headed out just as we were coming in, we were alone the entire time. This company prides itself on not rushing things. Plenty of time in the bay watching for wildlife, even more time at the glacier, getting right up to within a quarter mile of it, watching it calve and then slowly pushing through a mass of ice to get out again to clear water. Hence why we got back to the dock at 9pm. Our ears were tired from near constant commentary but we were reeling at the same time for such a great day of seeing so much. And it was sweet to do it with friends. Here are a bunch of pictures.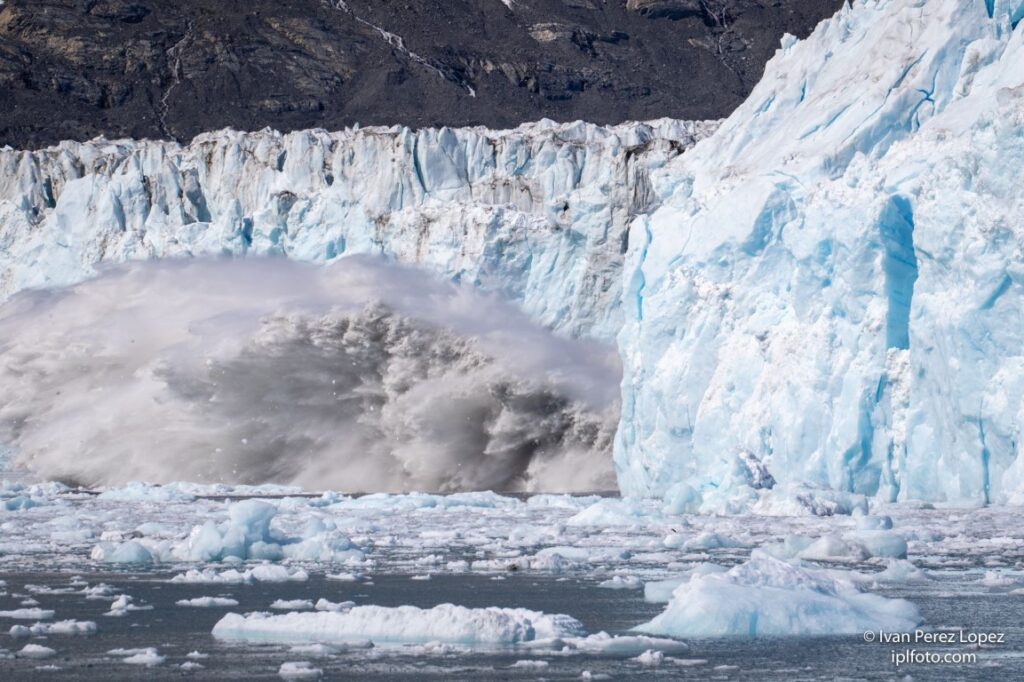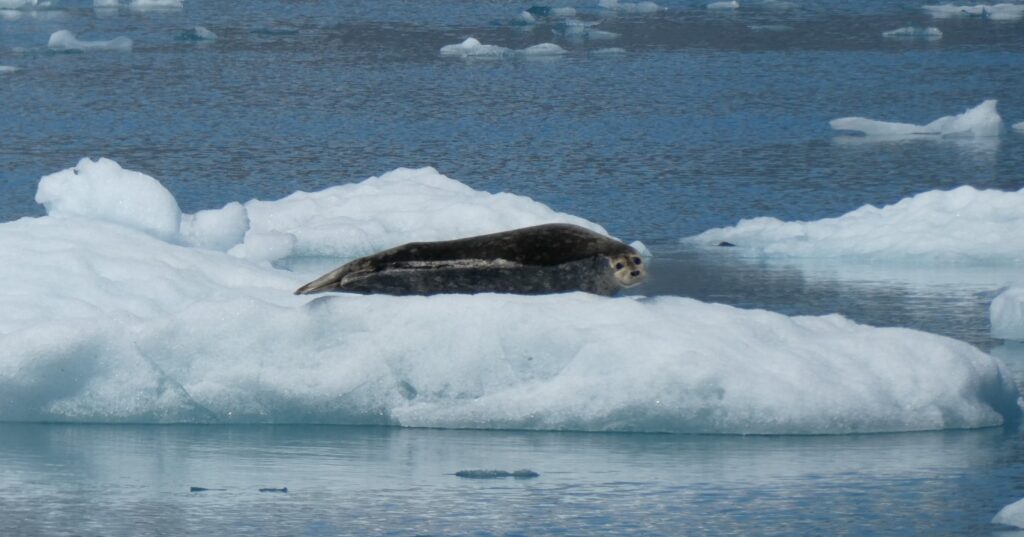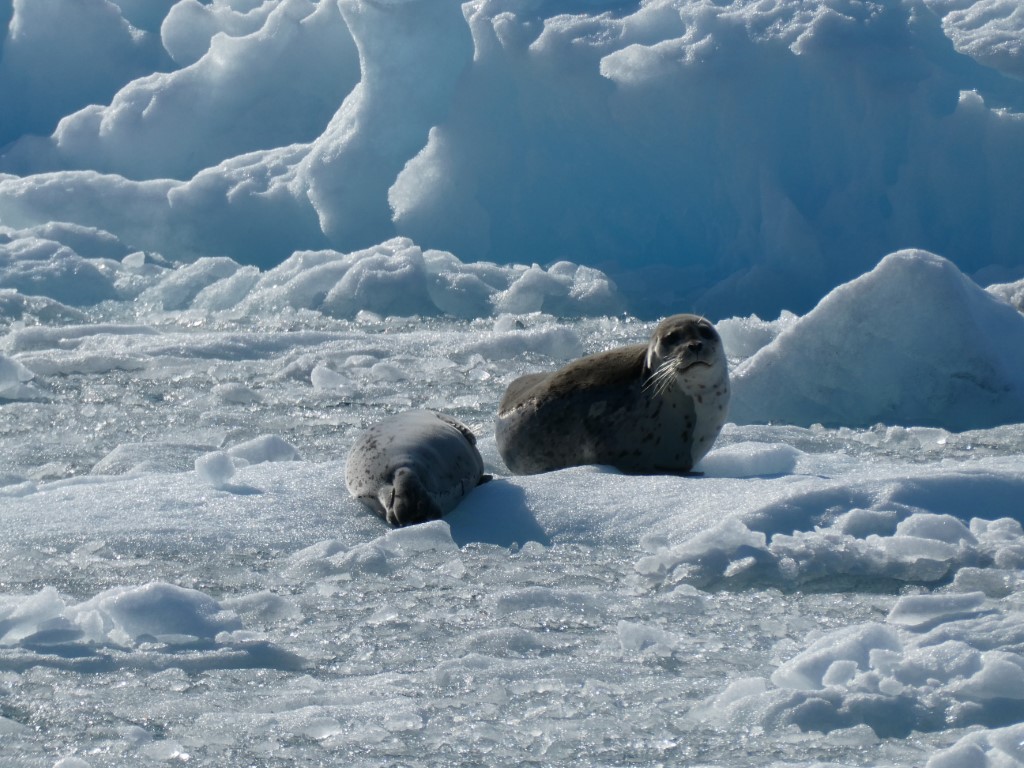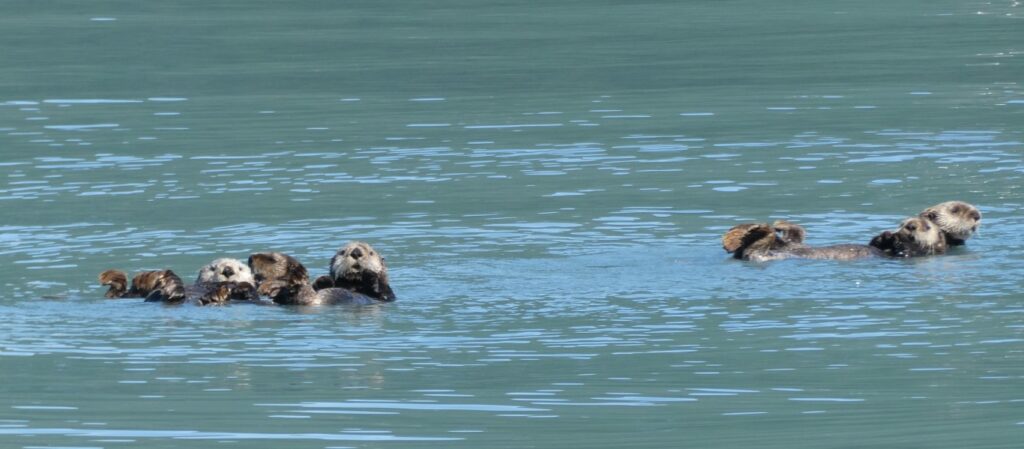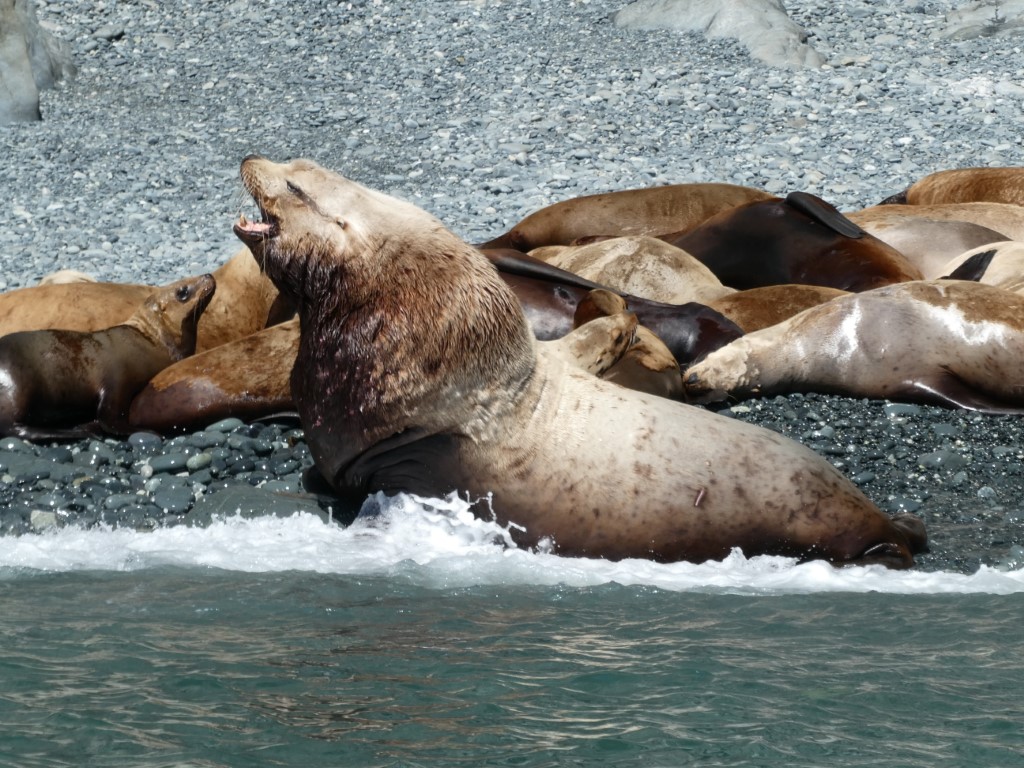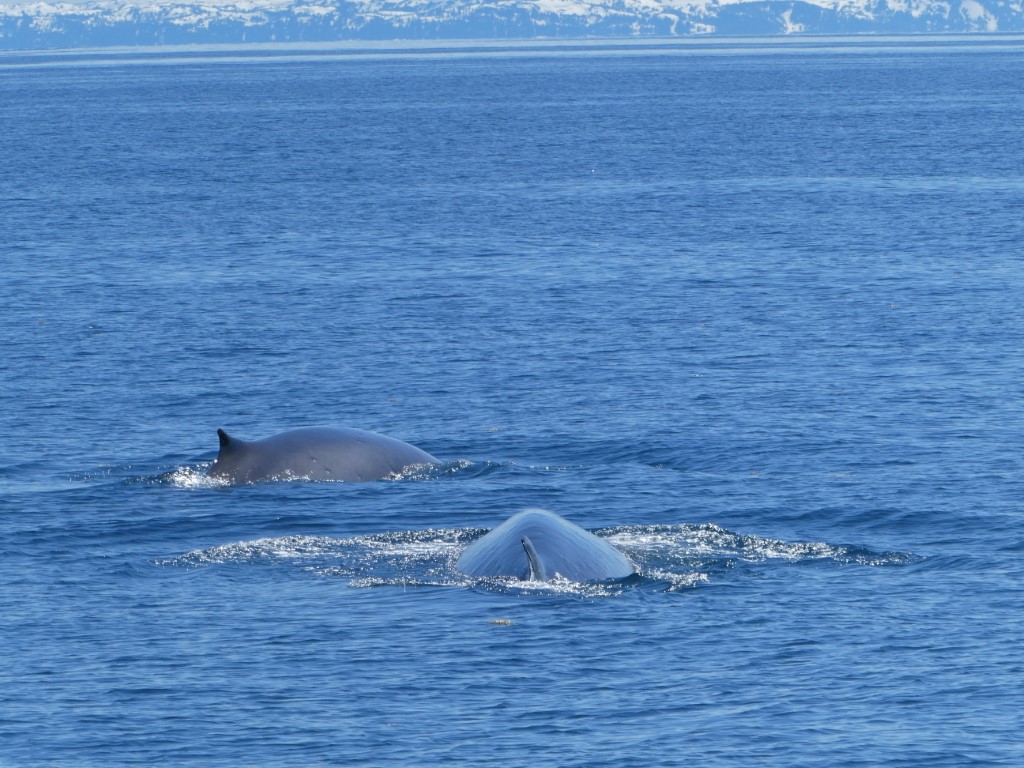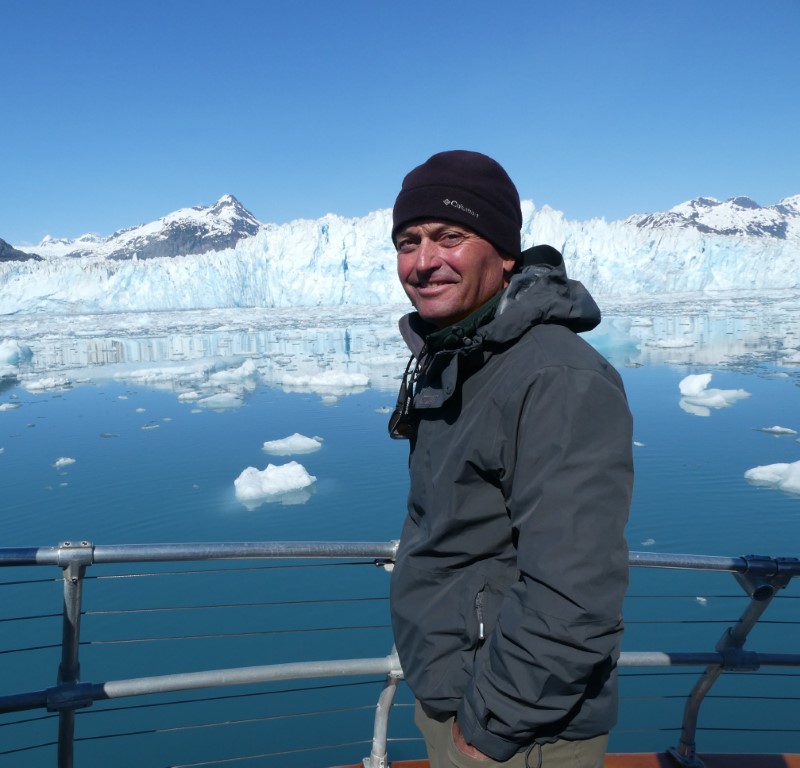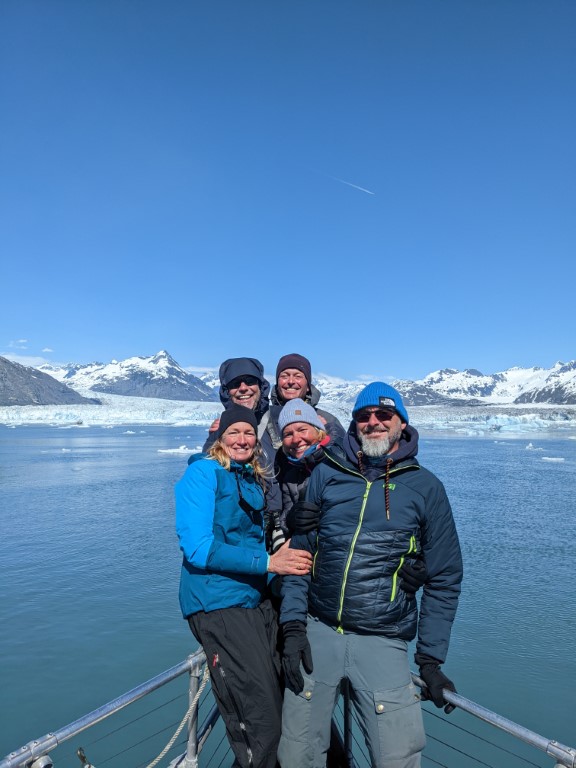 And then the sequel was finding out that we could take our own kayaks out on Valdez lake and paddle to the toe of the Valdez Glacier. You'd never know from the parking lot what beauty lies just within reach for those who have a means to get out on the water. We ducked into several ice caves and marveled at the inensity of all the blue. This was a definite wish list item and we felt lucky to have been able to do it on our own.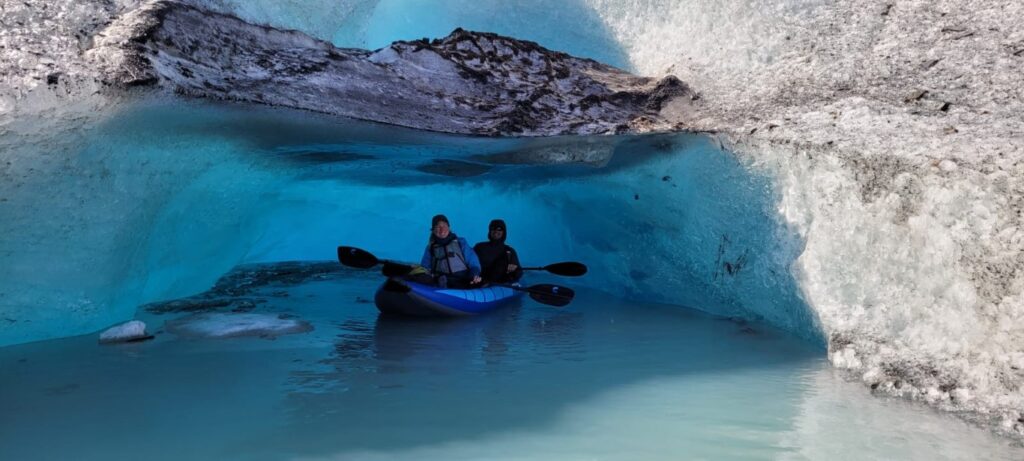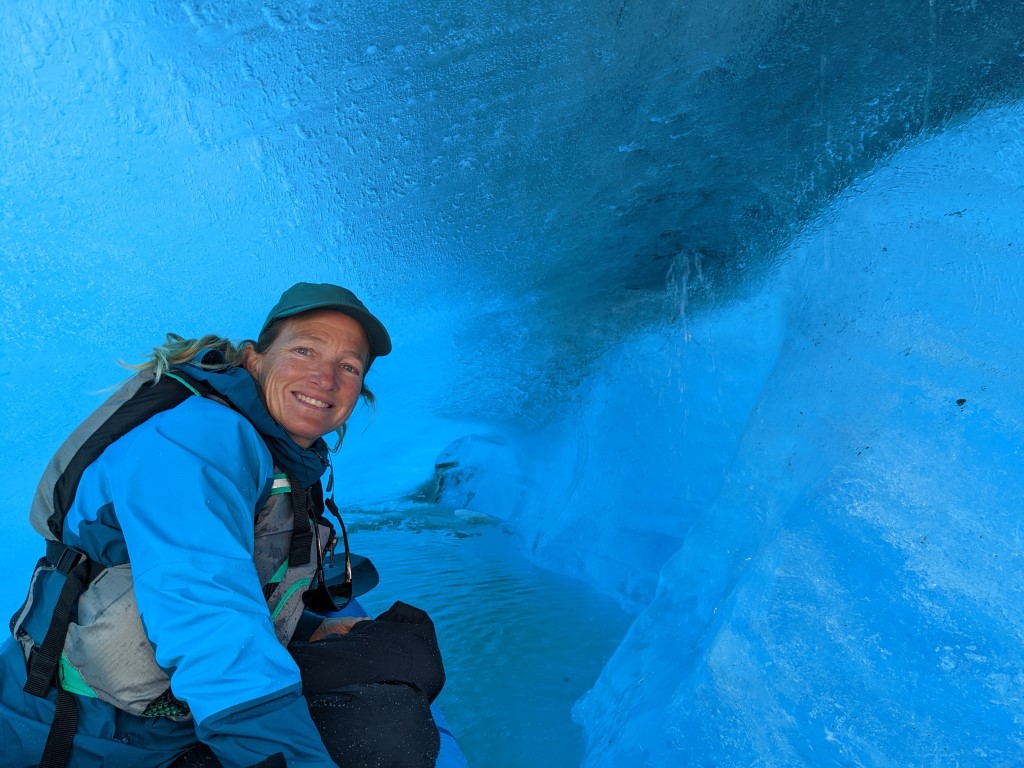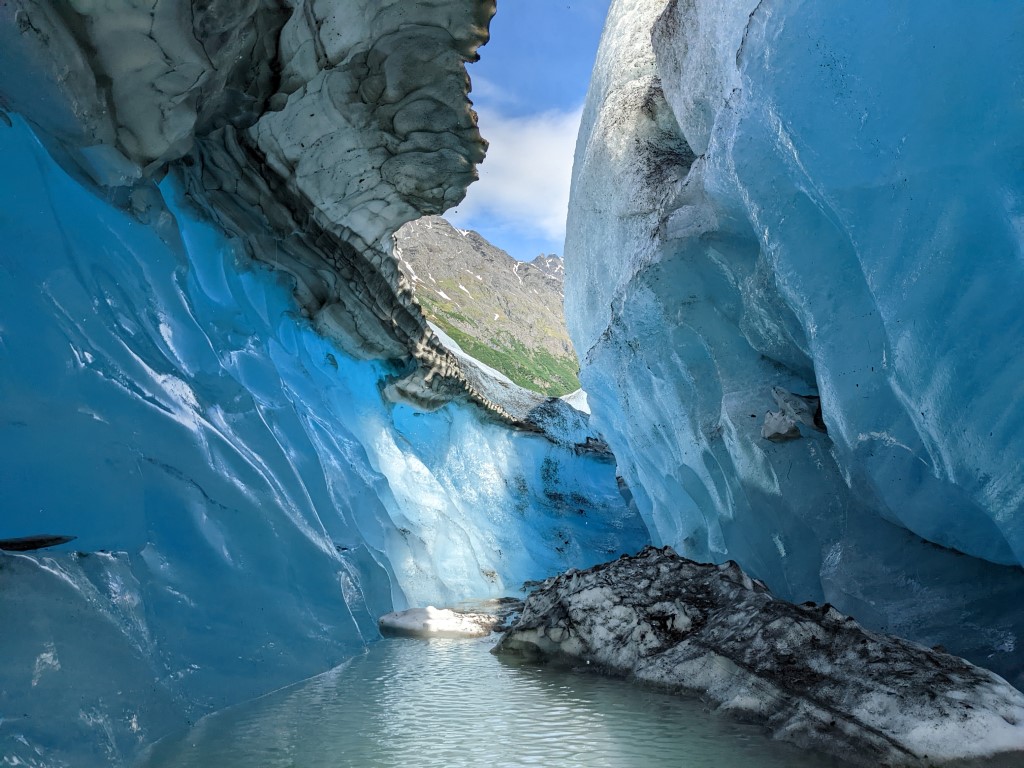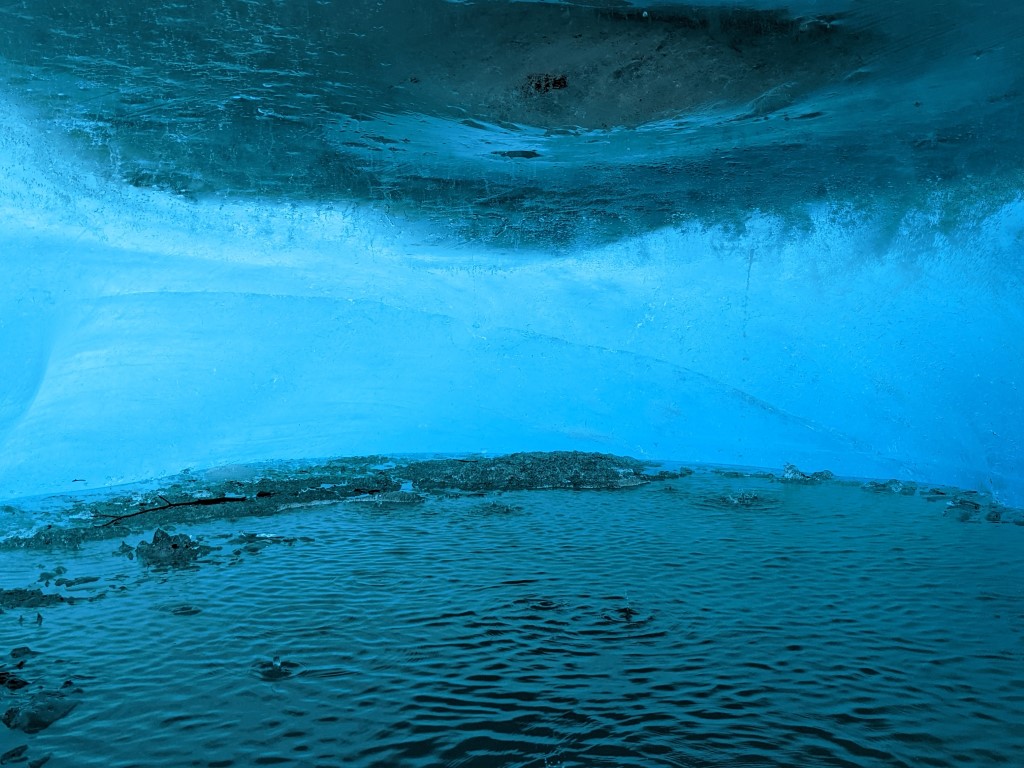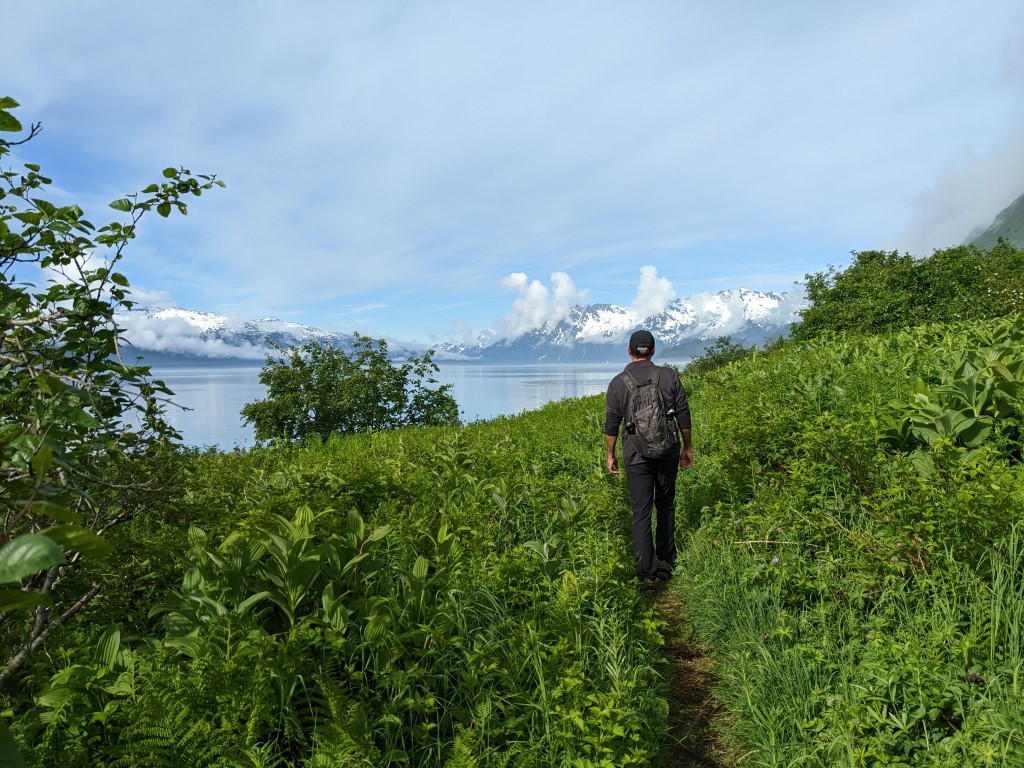 Valdez has more than its share of towering waterfalls, lush green foliage and wildflowers. When we weren't doing something particular on ice, it was generally warm. With an average annual snowfall of 25 feet, we were glad it has already melted off the trails. We hiked the hillsides and went in to town for salmon chowder. We tried twice to buy fresh salmon since there's once again a strong fishery there but to no avail. We paid a visit to the Solomon Gulch Hatchery. With commerical and recreational interests in mind, this salmon hatchery was initiated to make sure there would always be plenty of pink & silver salmon to harvest each year. The number may be higher now, but as of a few years ago, it was over 270 million pink salmon smolt and 2 million silver reared and released annually.
So the process goes that after the first year or two of getting established and raising a batch of baby salmon to be released, they then had to wait almost 2 years for those salmon to mature and return to their birthplace (the hatchery) to reproduce and complete their life cycle. The hatchery sits beside a river with a wier that is closed during the salmon run. They are channeled to a purpose made fish ladder that they dutifully climb up that lands them in a large concrete pool where they are concentrated, electrically stunned and then their eggs and sperm are manually collected by workers to be carefully mixed for fertilization. The salmon are sent to the pet food market but their spawn is cultivated, fed and cared for in tanks for many weeks with impressive survival rates. Then they're released out of the same little river to start their lives and grow to adults to either be harvested by a fisherman or return to where they were born and sustain the process. I found this to be rather disturbing and at the same time I guess it is ingenius. The salmon weren't yet running but its getting close and you can see the fishermen ramping up. When they are running, the inlet of the river is filled with salmon but also bears, sea lions and bald eagles, all hoping for a big meal.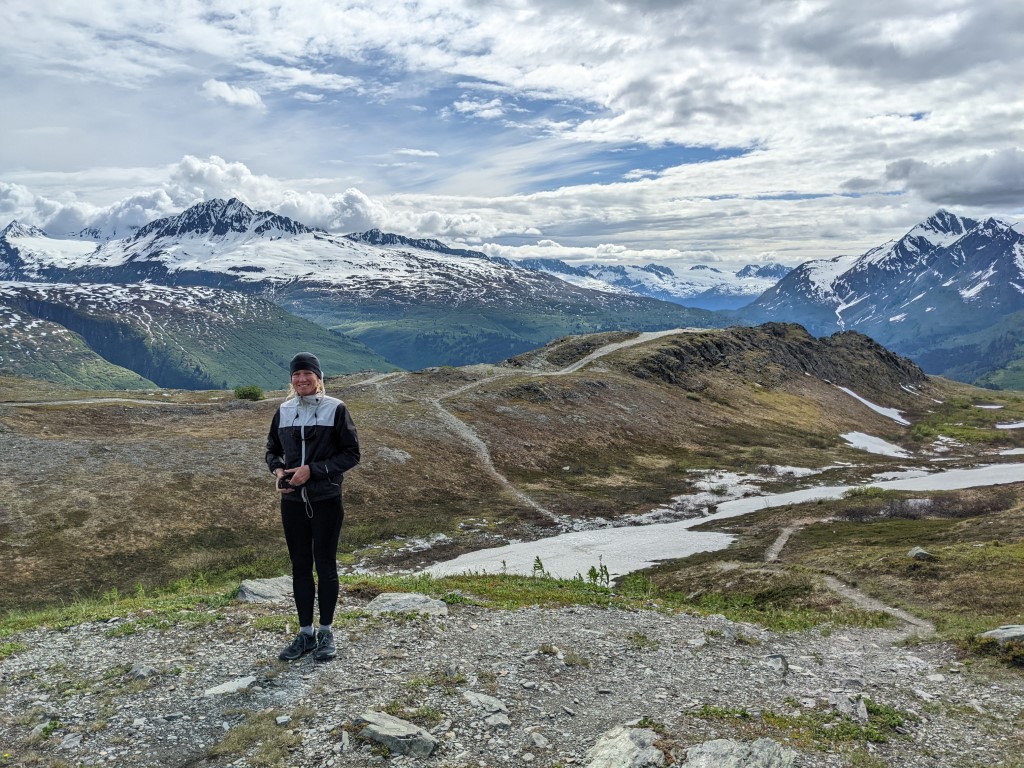 After topping up with groceries and fuel, we headed up & over Thompson Pass for a little alpine fix and then carried on toward Wrangell-St Elias National park. I love how quiet the roads are in Alaska. You hardly have to stop before pulling out into the road because most often, there's nobody coming. That and miles of wilderness that goes on forever, I do understand a bit better what it means to live here. Wrangell- St Elias NP was recommended to us by several people as a must see. 93 miles off the main highway on what used to be a really rough road but now is not bad, this is the home of the village of McCarthy, the Root glacier and the old Kennecott copper mine. This park ajoins several other parks and protected lands forming a 13.2 million acre UNESCO wilderness that is quoted as being larger than Yellowstone, Yosemite and Switzerland put together. All we know is that it's a gem. We met up with Sandie & Karsten and camped beside the river just across the little pedestrian bridge from McCarthy. Because as a tourist, you can't drive into the town, you can only walk or bike. This is like a dream to me, to bike to a hike. But a few minutes walk brings you over 2 bridges with swallows sitting on the railings and the little village full of quirky things. We were just in time to see an old car rally that visits every few years. They get permission to cross with their vintage vehicles. It made the old town feel even more quaint. We even got a ride on the back of one.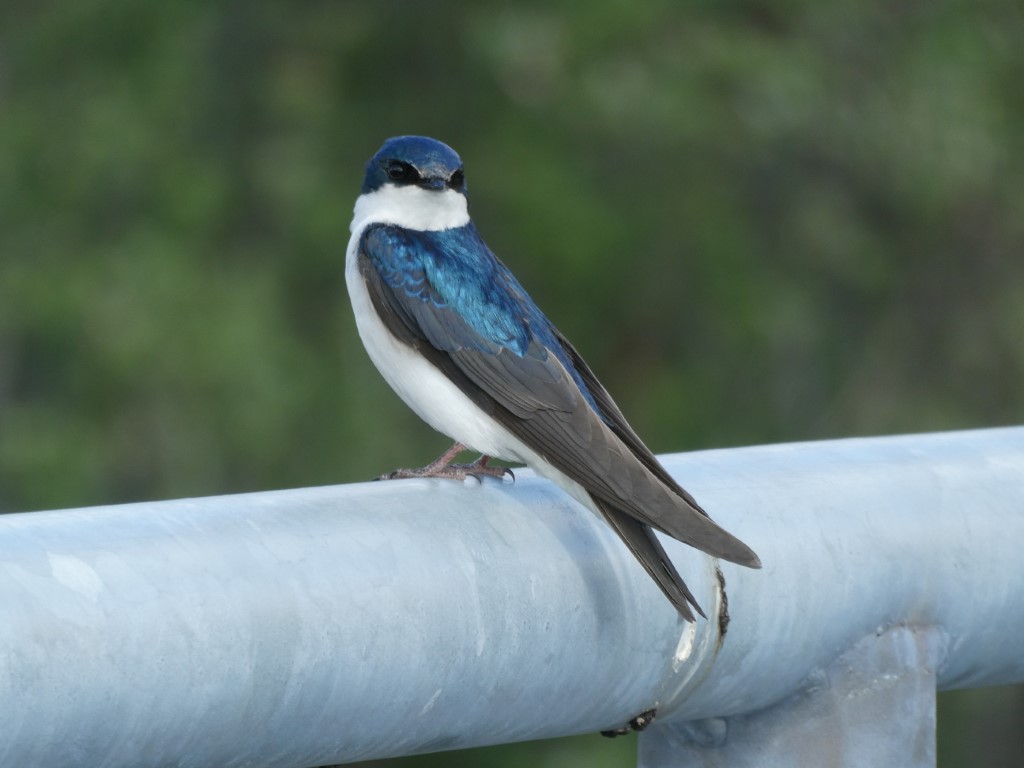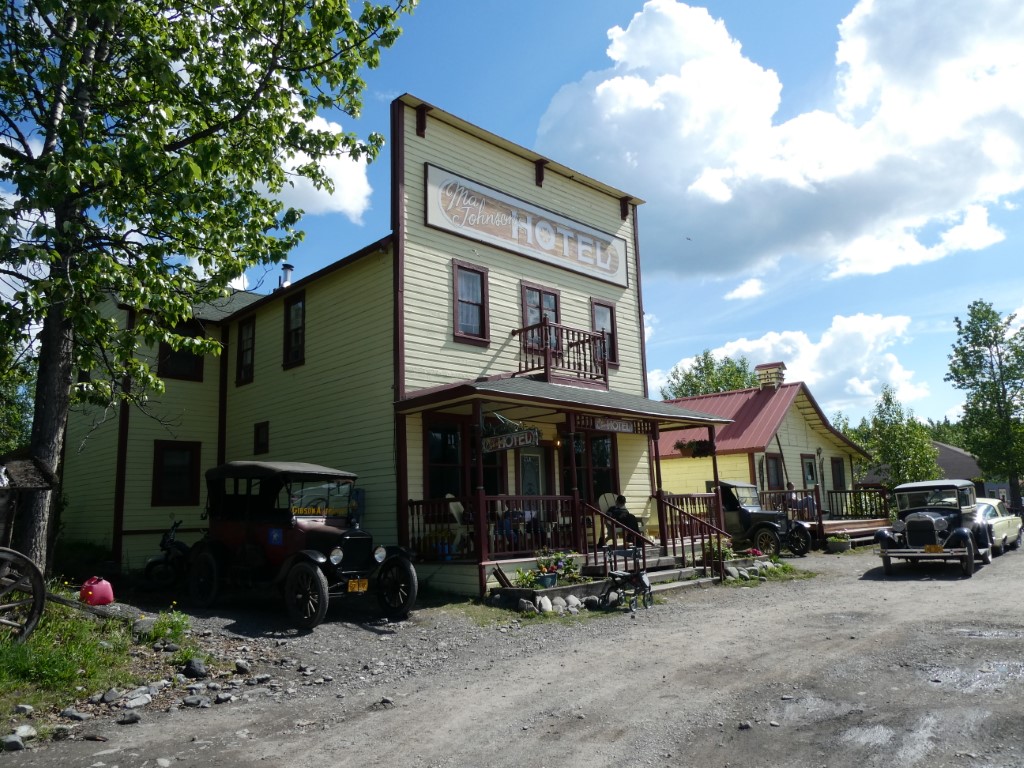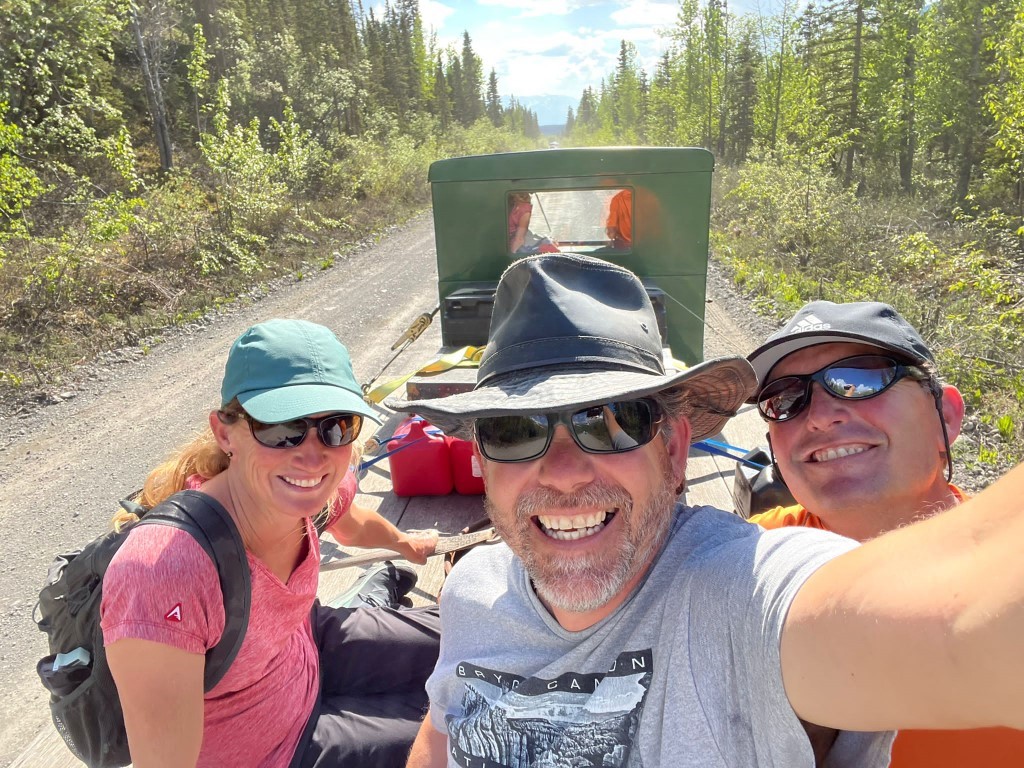 Then it's 5 miles from there to the old Kennecott Mine and a couple more to the glacier, the mine now a national historical park. Like the gold rush, I wasn't particularly drawn to mines in history, but once I started learning about the feats that were overcome to build and run this mine and all of the lives that were lived here in this remote part of the world I found that I really was interested and the setting of the buildings is unique. So much was left behind to put together the pieces and because of park funds, the buildings are being caringly restored, one by one and being filled with memorabilia.We wandered through the exhibits and walked some of the trails just enjoying the feel of the place.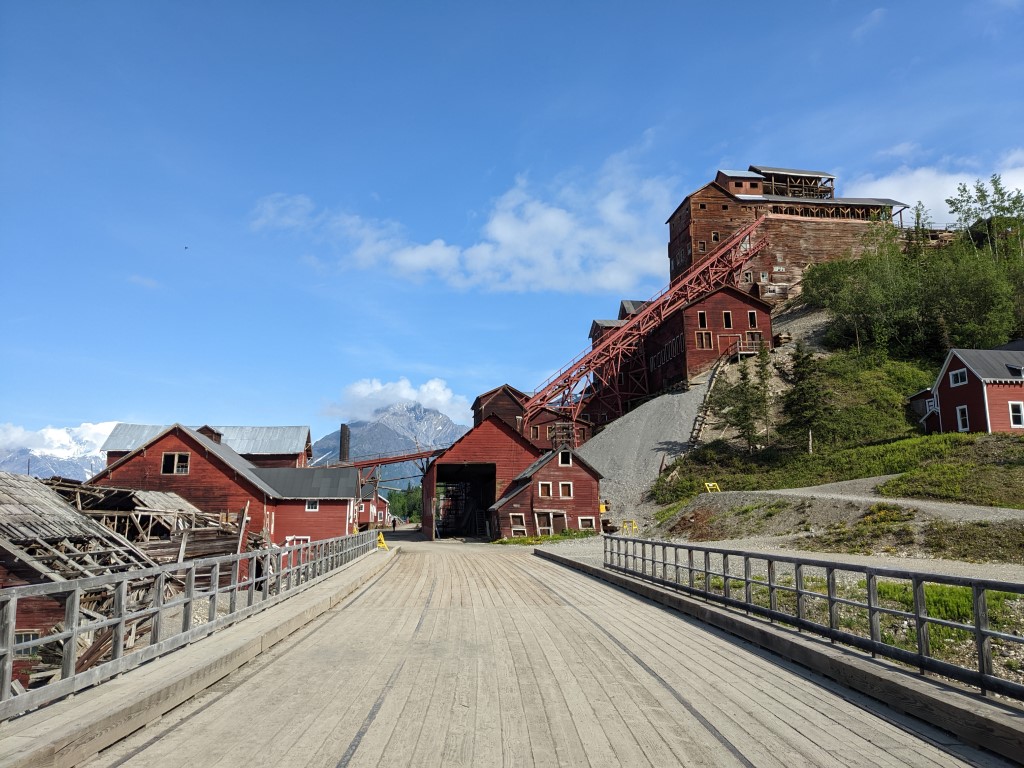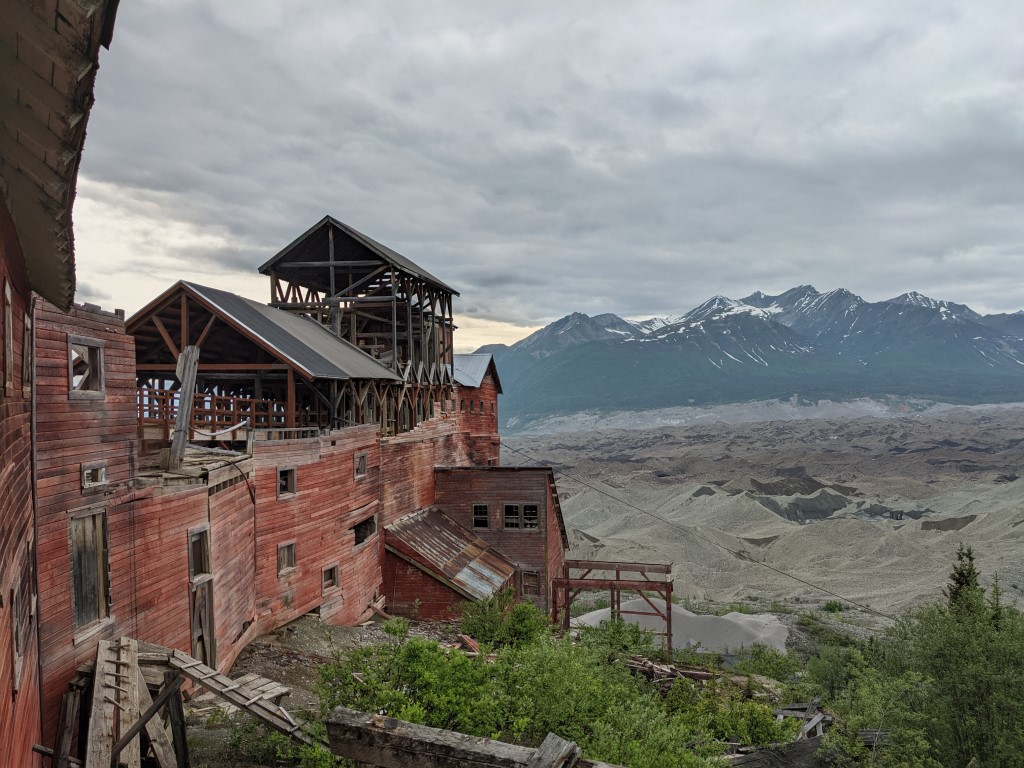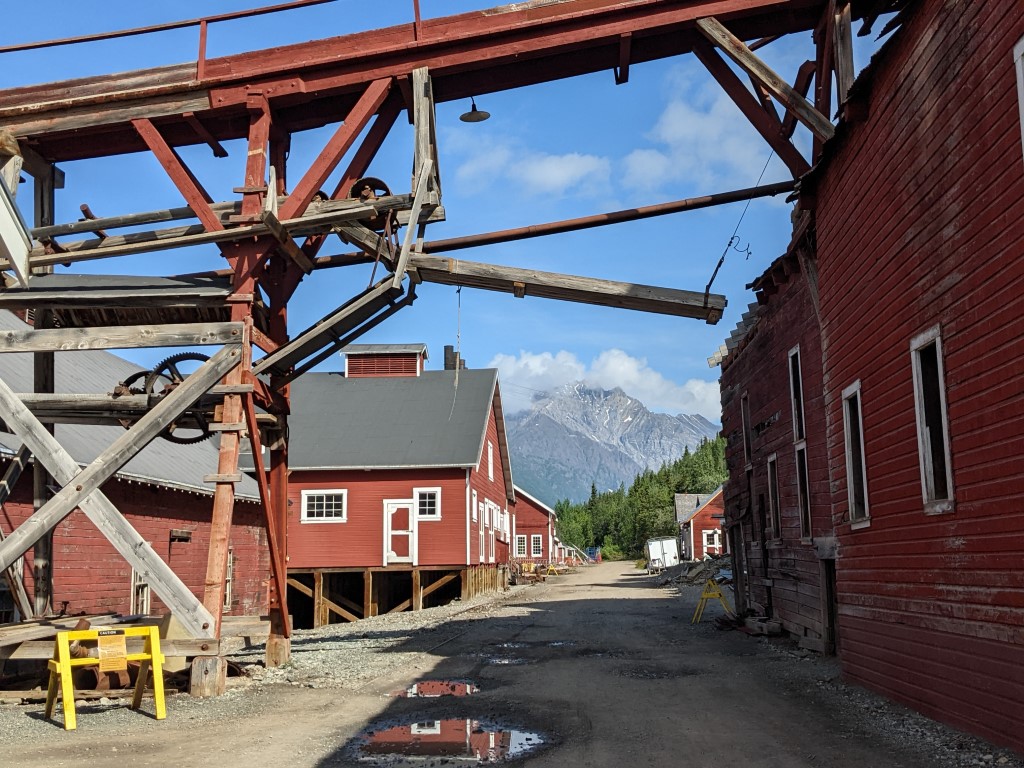 While there's a lot more to the story, the Cliff Notes about the Kennicott Mine is that in 1900, 2 prospectors discovered the richest copper deposit ever and sold it to a visiting mining engineer Stephen Birch from NYC. Birch had been sent by the wealthy Havemayer family to invest some of their wealth out in Alaska. He bought some shares of the Bonanza claim and got to work figuring out the logistics of getting the ore out. With further backing from the likes of JP Morgan & the Guggenheims, the finances were there to hire the same railroad engineer who completed the Yukon White Pass Railroad while also organizing the supplies & construction of the new Kennecott Mine. It was a monumental achievement really, to get everything set up in such a remote area. Four years later, when the railroad opened, the mine was already up & running and ready to load the first round of ore and take it to Tacoma, WA via the new railway to Cordova and then by ship. It was worth $250,000. And up rose a whole infrastructure and life around a very progressive mine for 600 workers at a time. And this part of the history, the lives of individual people living here was very interesting to read about in the museum buildings. It pulled people out of the Great Depression and provided the copper needed for WWI. But by 1938, the copper was mostly depleted at this mine site, the mine closed and never opened again. It wasn't until 1980 that the NP was established and 1998 before the buildings of the mine were turned over to the historical park.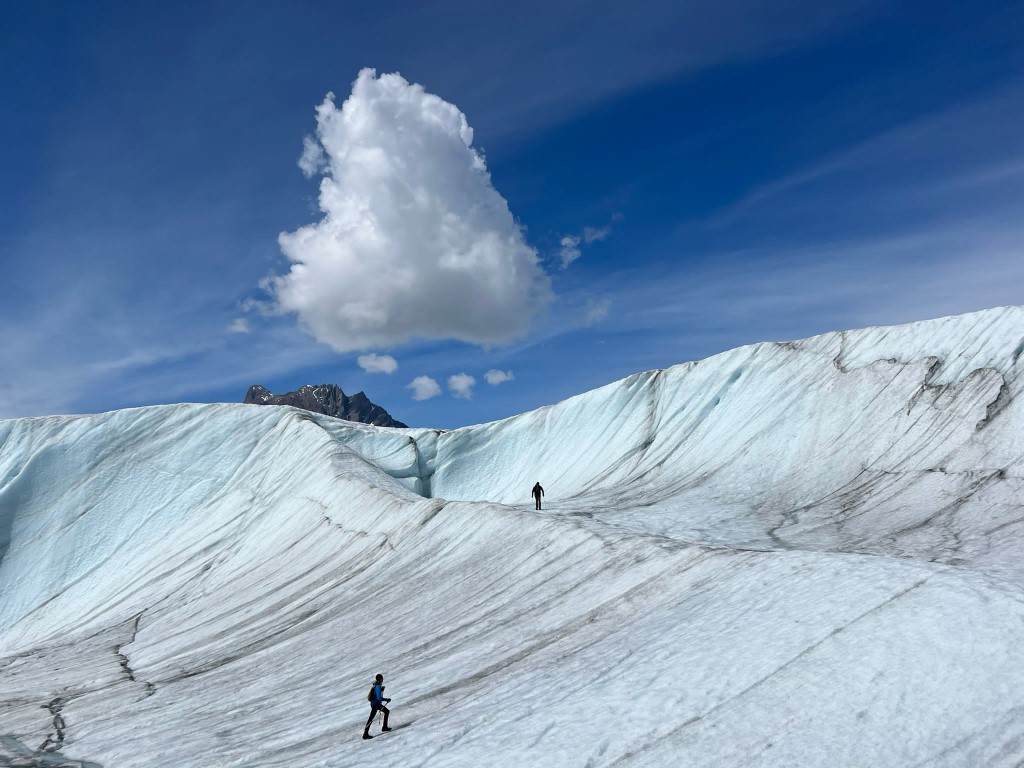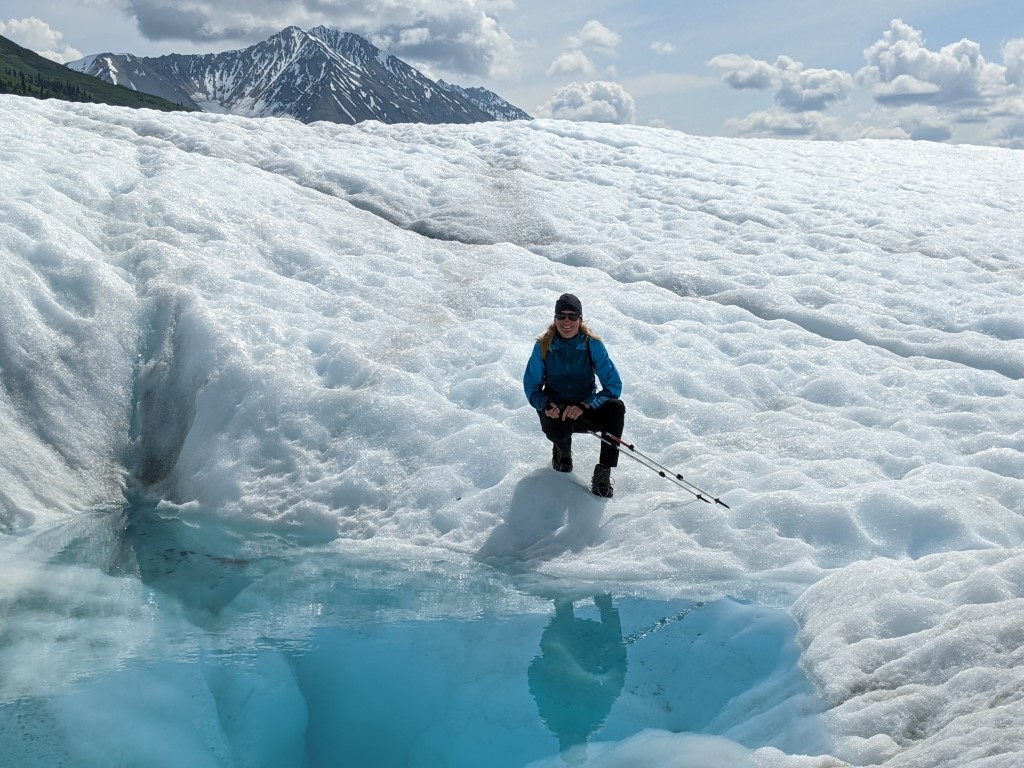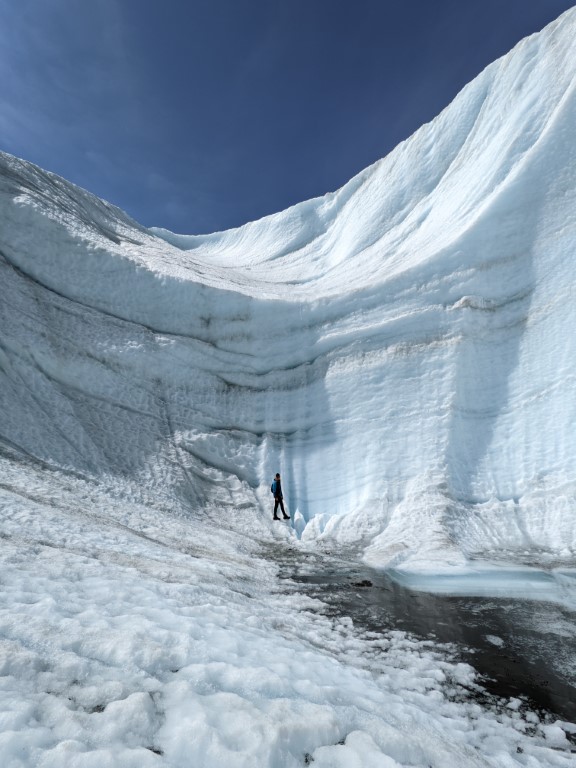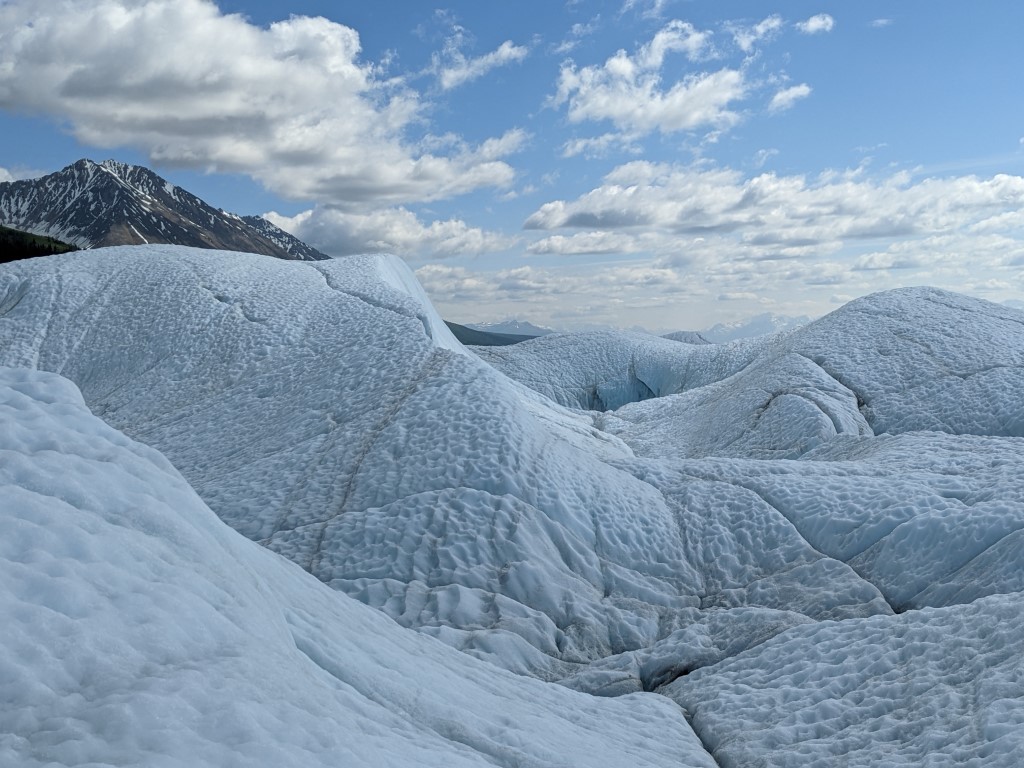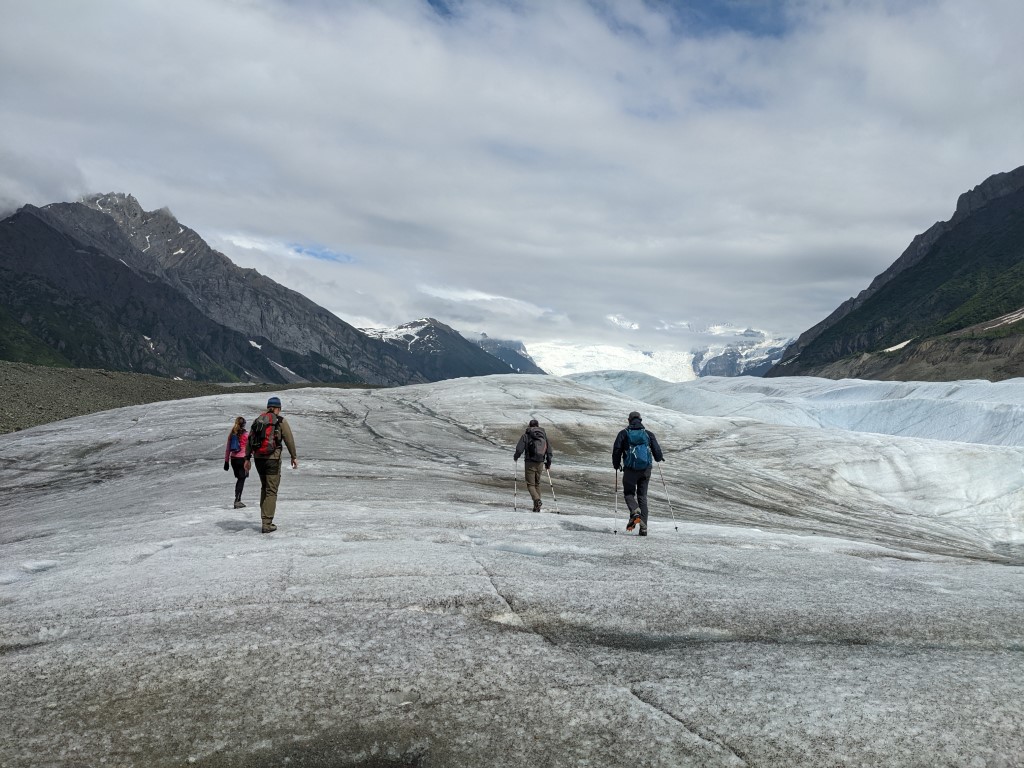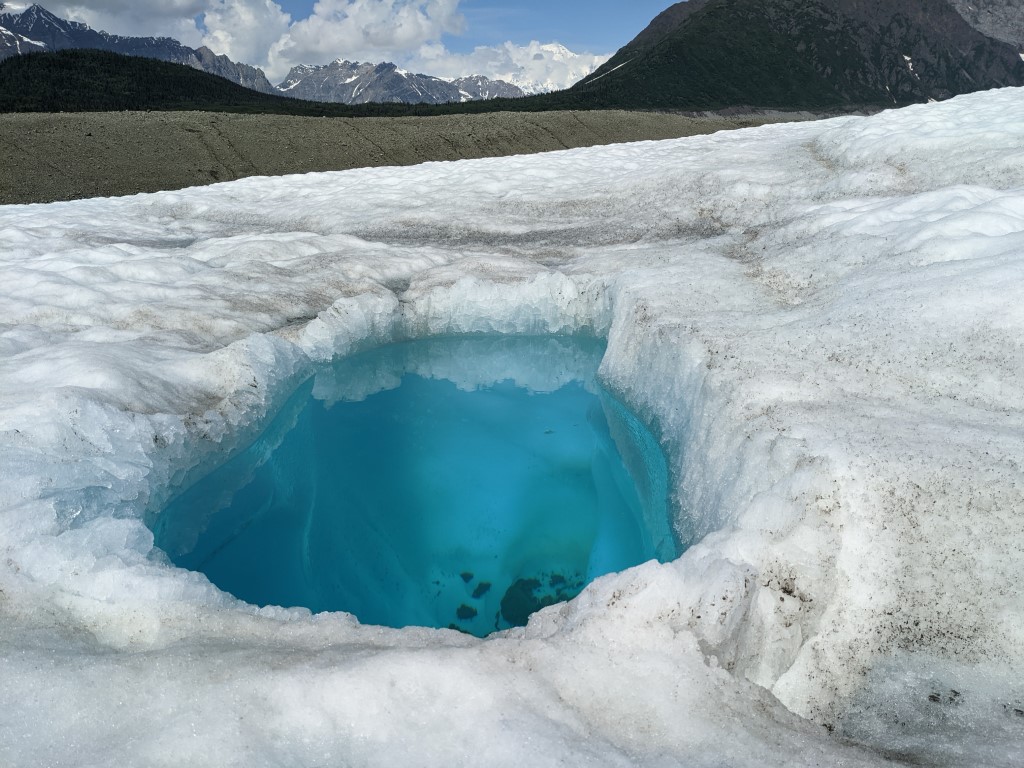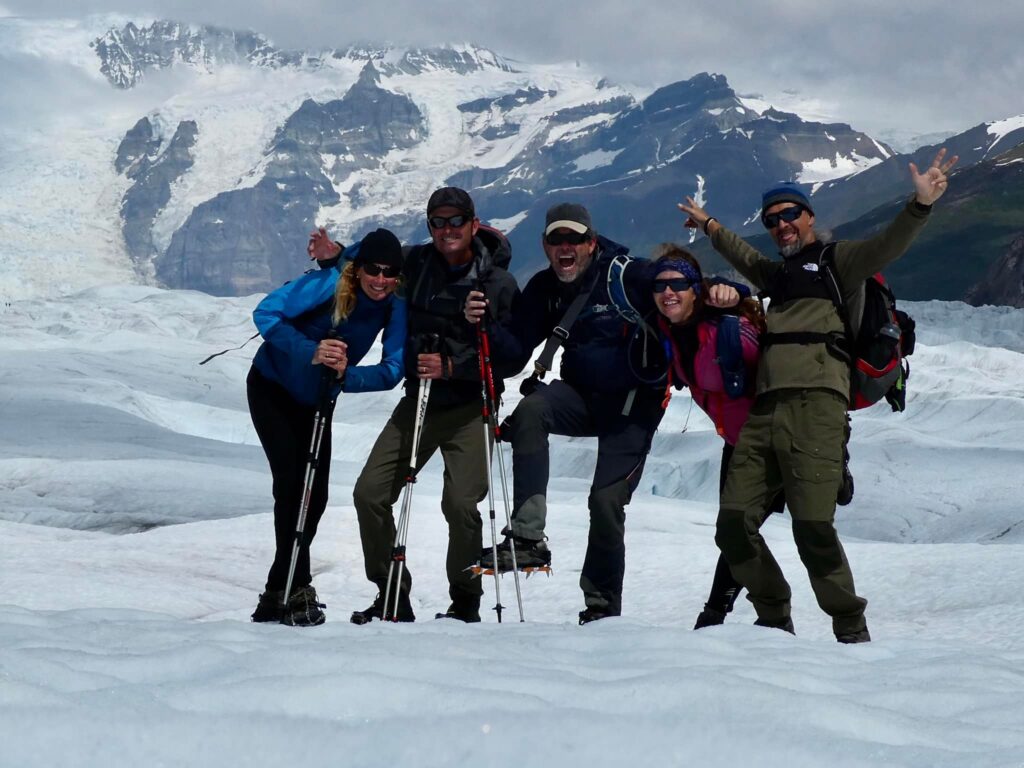 Meanwhile, the Root glacier is long, beautiful and reachable via a park service trail. Then you can walk out onto it and wander as far as you feel and dare to go. With all the adjectives that are flung around nowadays, I don't know what to call it that would do it justice. But it was so good we spent 2 days wandering all over it. We saw blue pools, blue holes, rivers that had carved the ice, beautiful leaves embedded in the glacier ice and rolling hills of white that went on as far as we could see. It was really fun to bike up the hill from McCarthy, hike out the trail to the toe of the glacier, then put on our ice cleats and poles and tromp wherever we wanted. And on the second day, we got smarter and biked up to the Kennicott Glacier Lodge first and had their all you can eat buffet breakfast before hitting the trail. They didn't make any money on any of the 5 of us but we sure enjoyed eating there!! At the end of the day, we'd get back on our bikes and glide all the way back to McCarthy without peddling for 5 miles looking like idiots to anyone driving by who didnt know our rules. No peddling!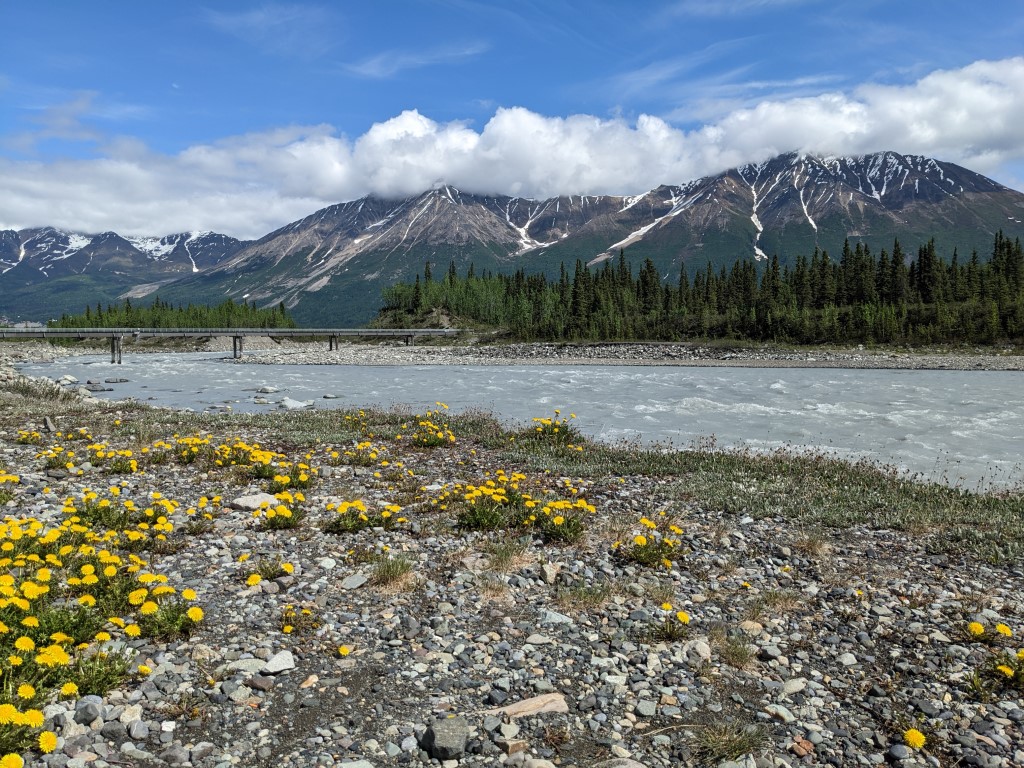 We reluctantly left McCarthy and drove out the long dirt road headed toward Anchorage. Along the way, we saw a moose enjoying herself in a pond beside the road. Eating the pond grass off the bottom was more important than anything so she didn't leave because we were there. It was the best long look of a moose we've ever gotten or probably will ever get. It would just walk around under water with only the hump of it's back sticking out. Funny!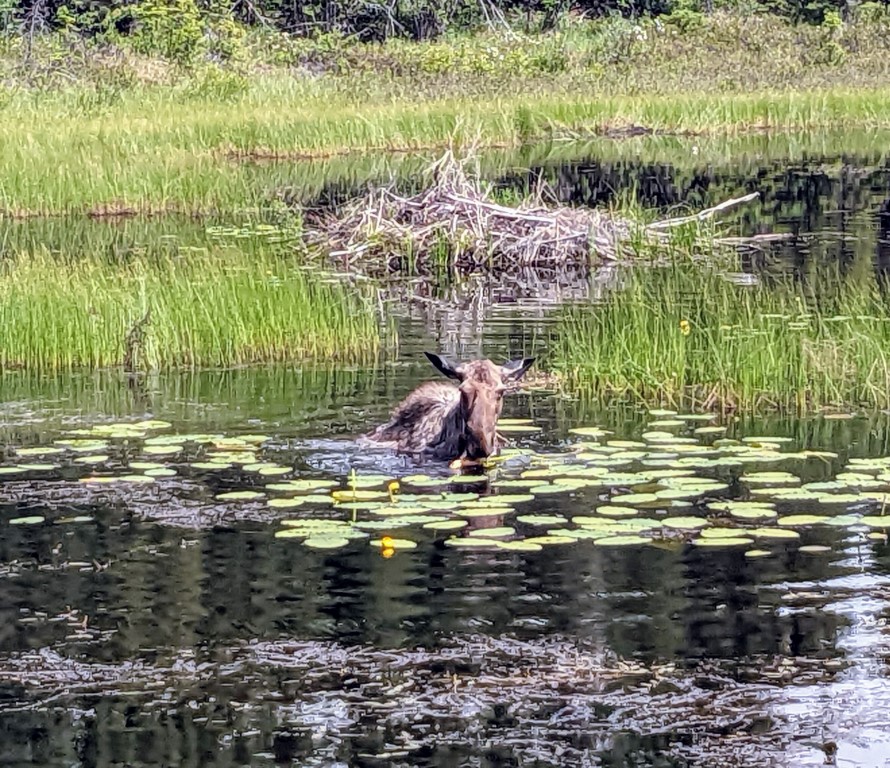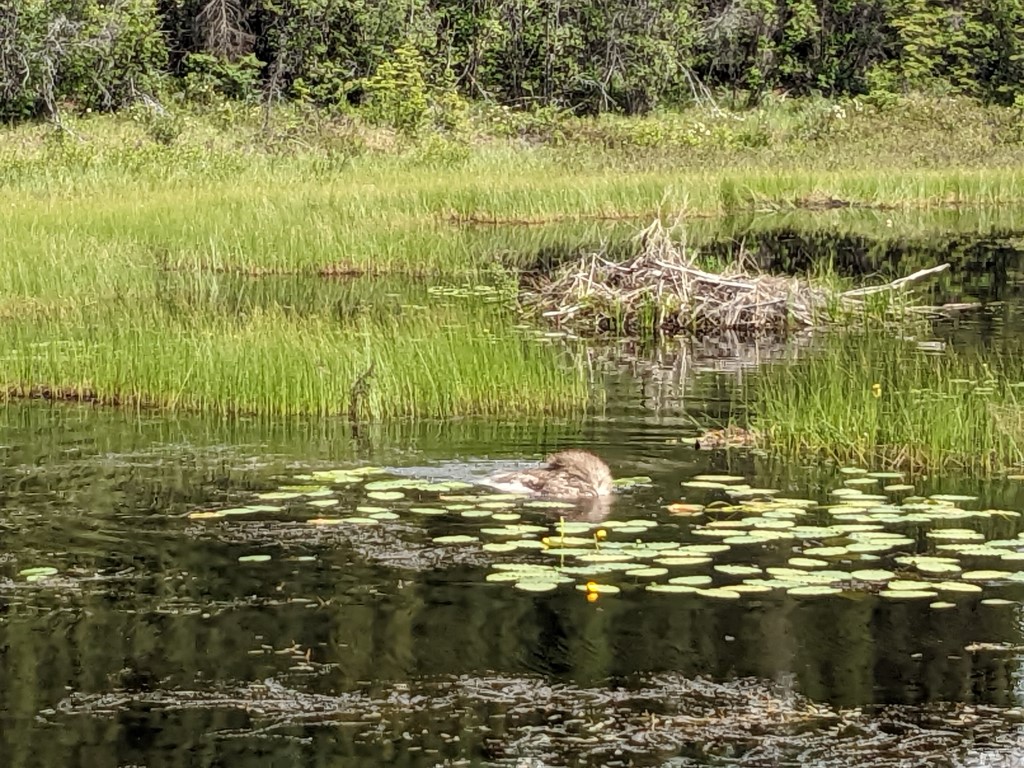 Alaska is delivering up some really fun things, unique to what we've done before and we're really enjoying ourselves. We plan to spend this next month exploring the Kenai Peninsula vicinity. Tonight we're parked under some cottonwoods and it's snowing cotton. That's OK.