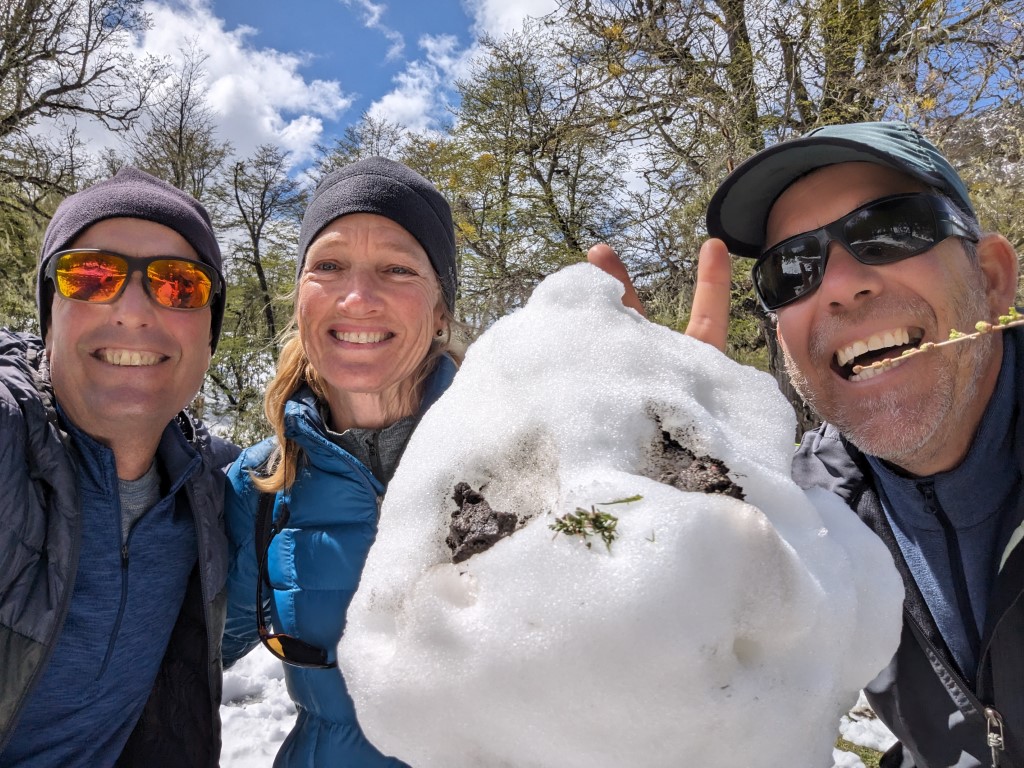 I think this is the first time since our sailing days that we've interrupted our plans for 2 days because of wind. We knew that heading south in Argentina would mean we are going to have a summer of wind because after all, we are heading to the roaring 40's (we're pretty much at 40 degrees now) but we weren't expecting it yet!! We spent it in a little town west of Neuquen sitting it out because further south in the famous Lakes District and Bariloche they were getting wind and snow so we didn't want to arrive there yet. It wasn't bad because we weren't dragging anchor and we could walk around whenever we wanted. And our campspot was pretty picturesque. But we all dislike wind!!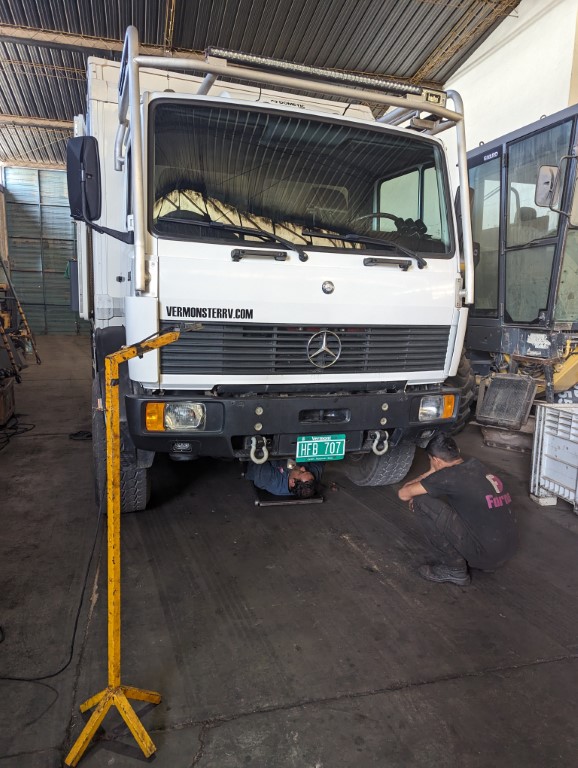 Backing up a couple of weeks, we spent a few of extra days in Mendoza having the truck worked on while Ivan continued south. There were too many little things piling up and with all the miles we have to go to Ushuaia, the southernmost tip of S. America that you can drive to, Jon was really interested in crossing some of those worries off the list. Things like a leaking fuel pump, some minor welds of the turbo heat shield and visco fan that needed repairing, the engine and chassis steam cleaned so we can better see what new leaks form, a couple of air system leaks, and then a softer exhaust coupling and a new muffler. Whenever you make a few steps forward, you take one back. In the steam cleaning, they also took some of the paint off the rims and some of my black paint off the trim so now I have to fix that. While it wasn't fun, it felt good to get those things accomplished and while we aren't completely sure, we think it's because of the new muffler that the truck is definitely more peppy and we are getting better fuel mileage. The only other thing it could be is that we are more often able to get 1500ppm diesel which is more of what this truck likes. But we still think it is the clean, new, muffler. Time will tell. It felt good to get moving again from Mendoza and back out into the countryside. We camped near this beautiful tower, all by ourselves.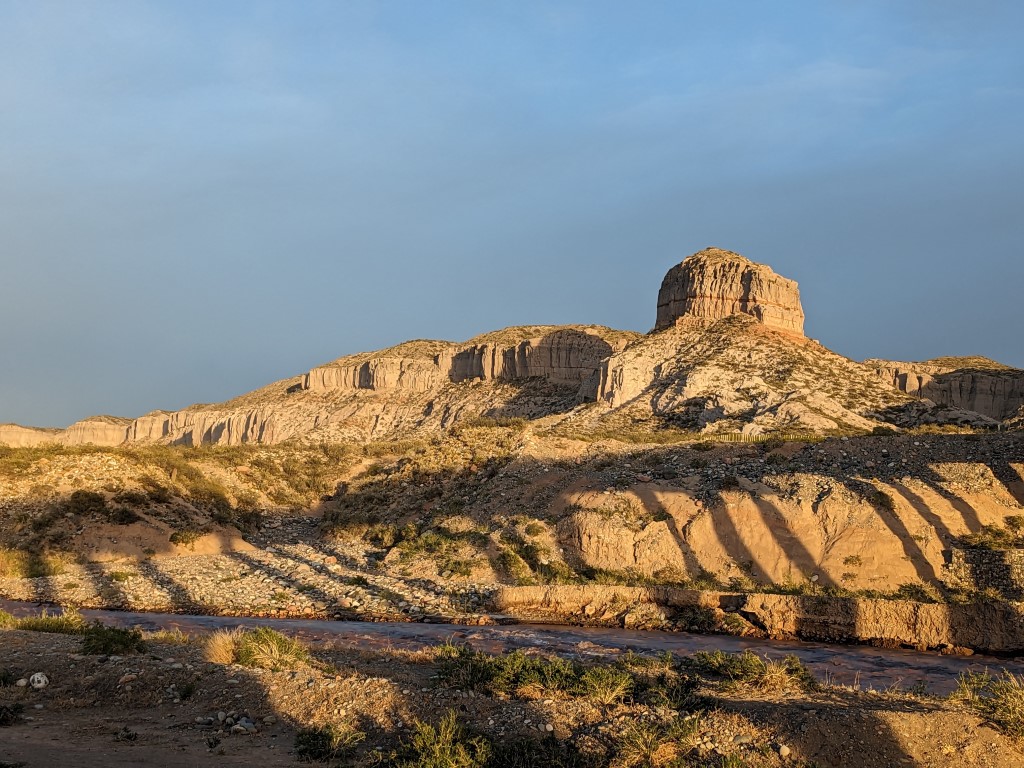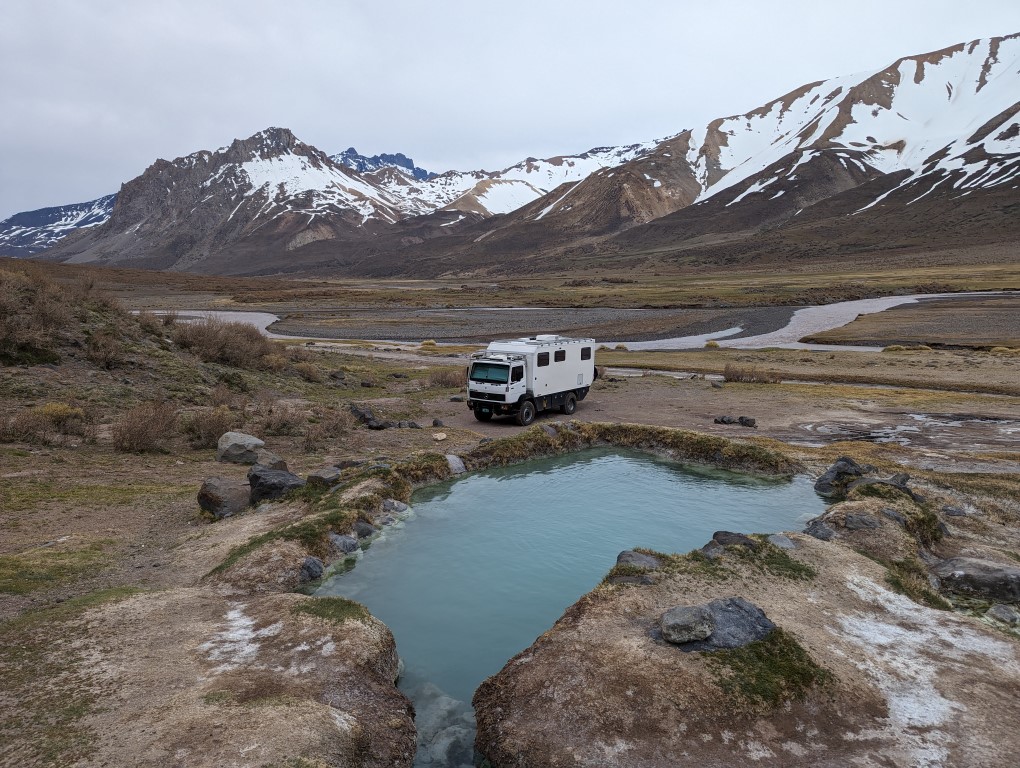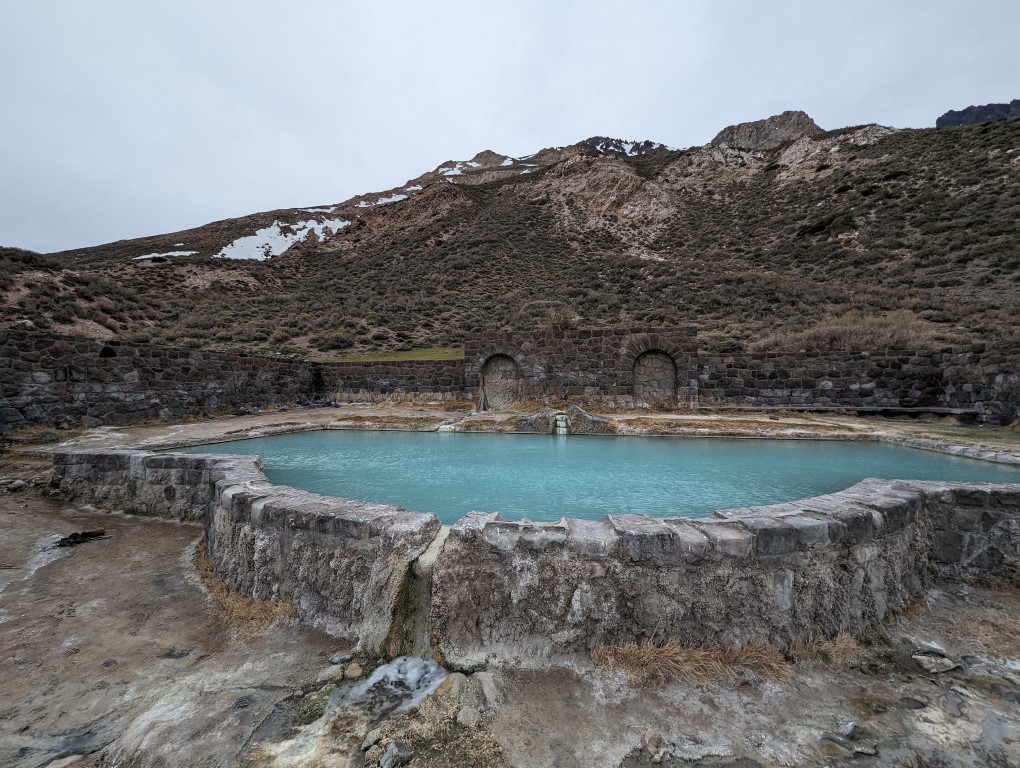 A couple of hundred miles south of Mendoza, we drove 60km out a rough dirt road into the Andes following the Atuel River to the site of the abandoned Hotel Termas del Sosneado. Built in 1938 to lodge the international elite and then abruptly shutting it's doors in 1953, there are a lot of rumors about what happened there. Complete with thermal springs and piped water into each room, it was luxury for it's remote location. Now the hotel is in ruins and the thermals barely warm but they still glow blue in dramatic surroundings. 13 miles from here is the 1972 tragic plane wreck site of the Urugway rugby team that made the story Alive. Had the survivors known that this hotel was here, they could have found shelter and probably help from ranchers and might not have had to resort to cannibalism. Later in the season when the snow melts, you can hike out to the site. It would have been a great hike. We found this area to be very beautiful, the rough road worth it and as usual, we enjoy getting out to these places in the truck and then being able to stay right smack in the middle of it. On our way out the next day, the wind was picking up and at one point we were doing 55km/hr on a smooth section of road and our dust was still passing us!!! We've certainly given up salt for dust.
Have I mentioned it's nice to be in the southern hemisphere again and able to look up at the Southern Cross and to be here in time for Spring? Everywhere we look there are fresh new leaves (even if they are being blown around) and flowers and the birds are so busy doing their thing. I love that part. It feels weird to be noticing Halloween stuff in Spring.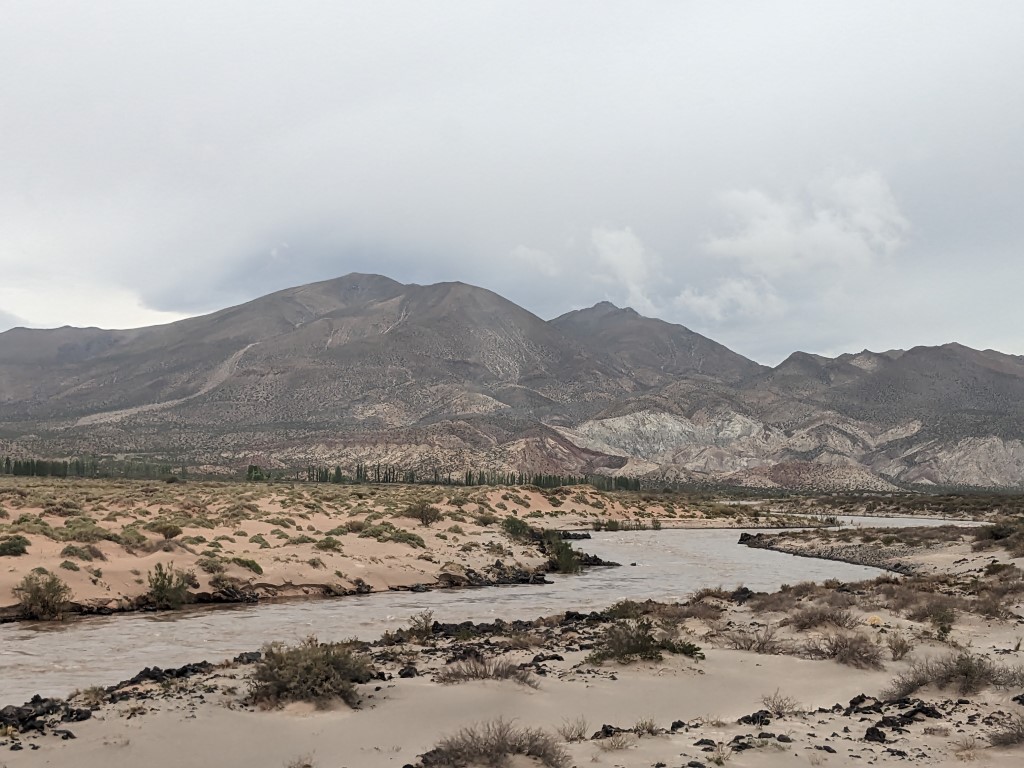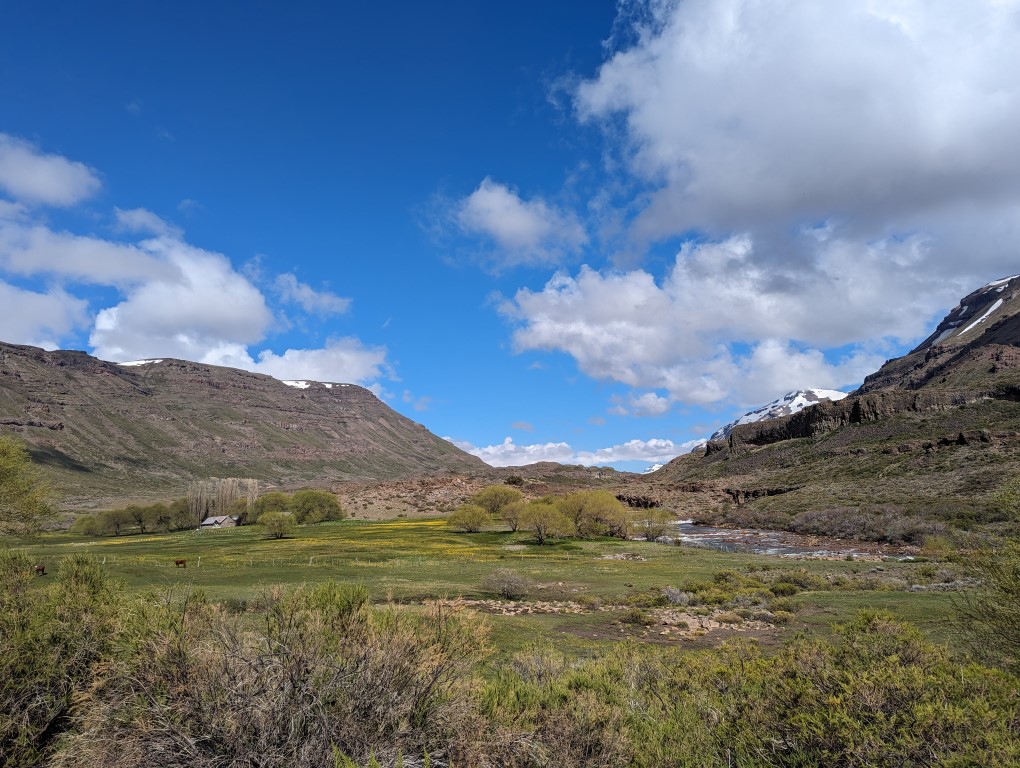 If you talk to any Argentine, they'll recommend you drive scenic Ruta 40. And so that's what we're doing. It hugs the foothills of the Andes and alternates between ripio and pavement. We got on it around Mendoza but it heads north too. We'll see that next year. The views are dry, bold & dramatic at times; soft, lush and dreamy at others. We stopped in the town of Malargue to take a brief tour of the Pierre Auger Cosmic Ray Observatory. Cosmic rays are high energy particles that originate from the sun and travel through space at practically the speed of light to earth. This facility has designed a web of equipment covering 3,000 square km that is able to quantify these rays and observe them but really, it was hard to understand any more than that, especially with the language barrier. It's great work if your brain can comprehend it! So we continued south through a very volcanic area and took a walk through great lava fields and a gorge. It was like walking through piles of charcoal.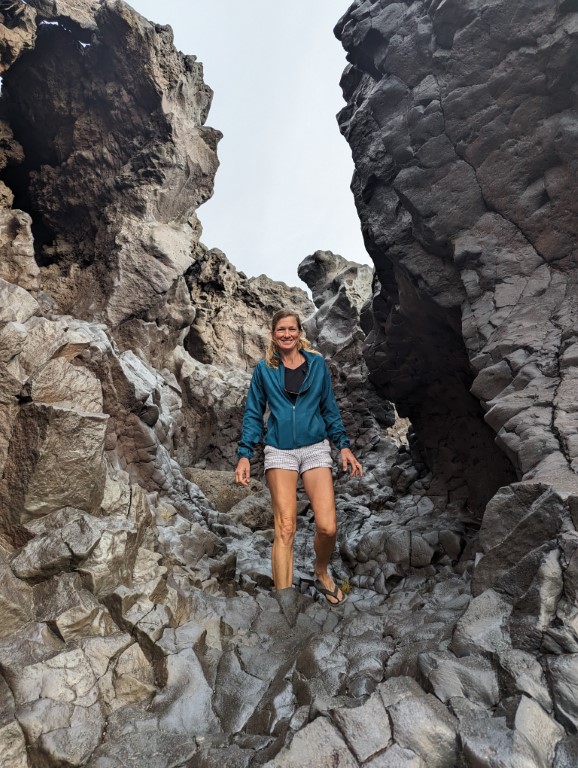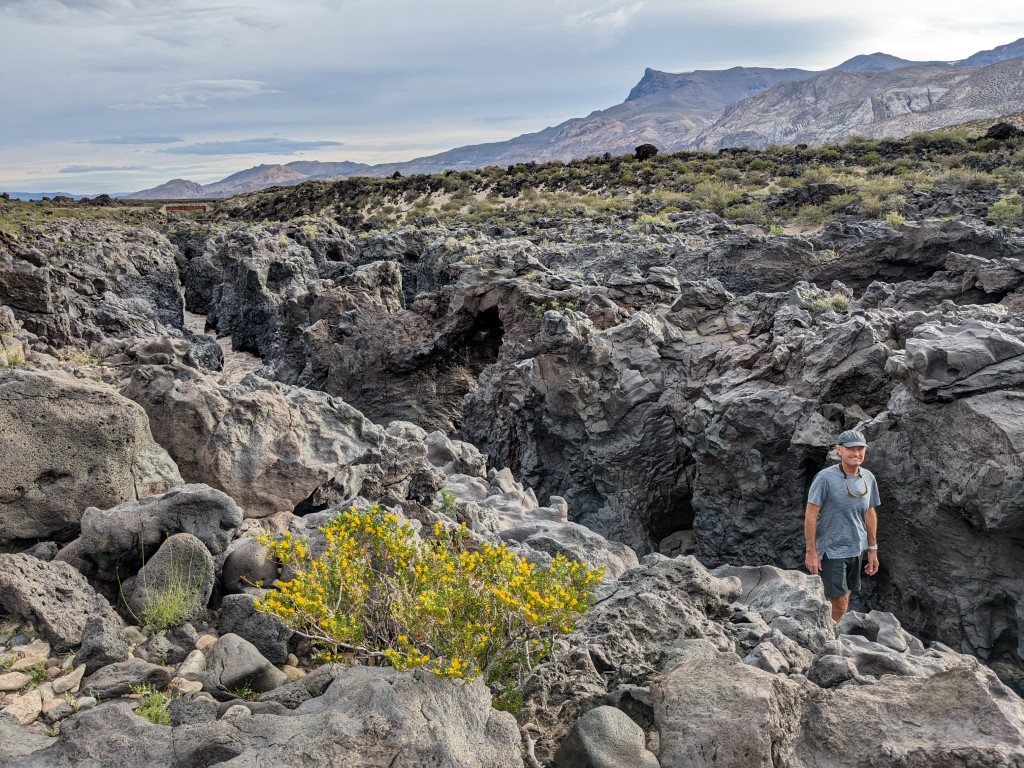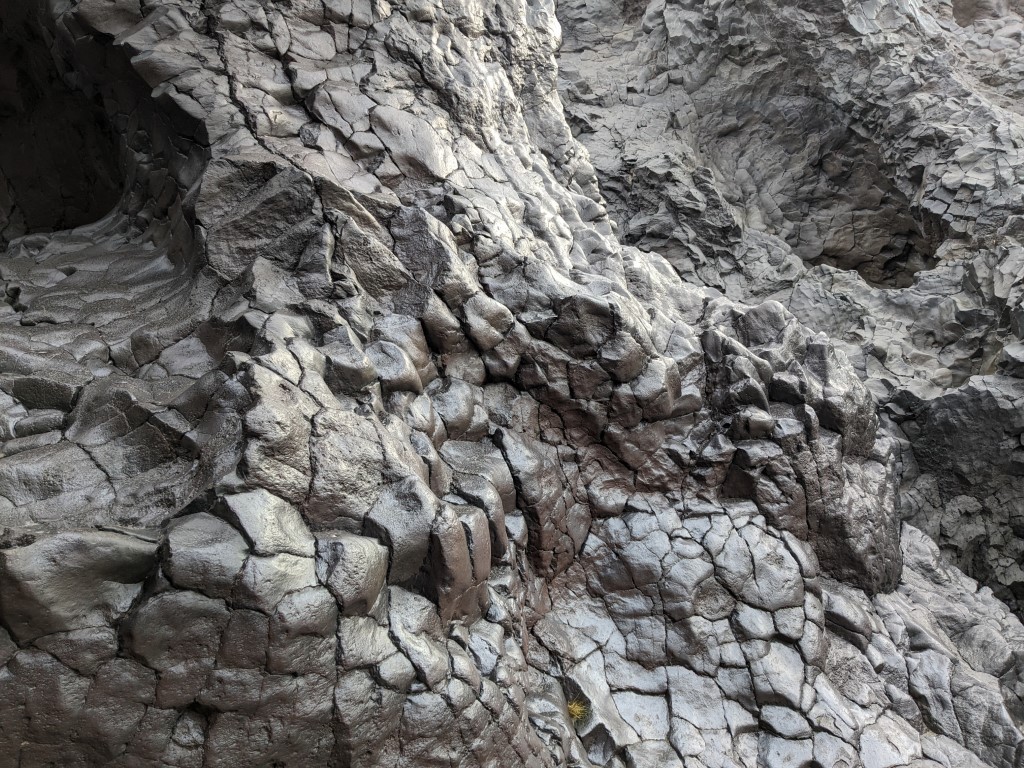 Jon says it still feels odd to be driving through Argentina countryside because it doesn't feel like it was much work to get here. We just put the truck on a ship in Panama and flew here. True. But here we are! And it keeps getting more and more remote. Driving through the painted volcanic landscape on a dirt road and seeing pretty much no one except an occasional gaucho perfectly posed on a horse, at times, it feels like something out of a western movie. I want to get pics but then it feels disrespectful to do so. I got this one of a gaucho on the road but he isn't dressed traditionally and this scenery is not really what I'm talking about.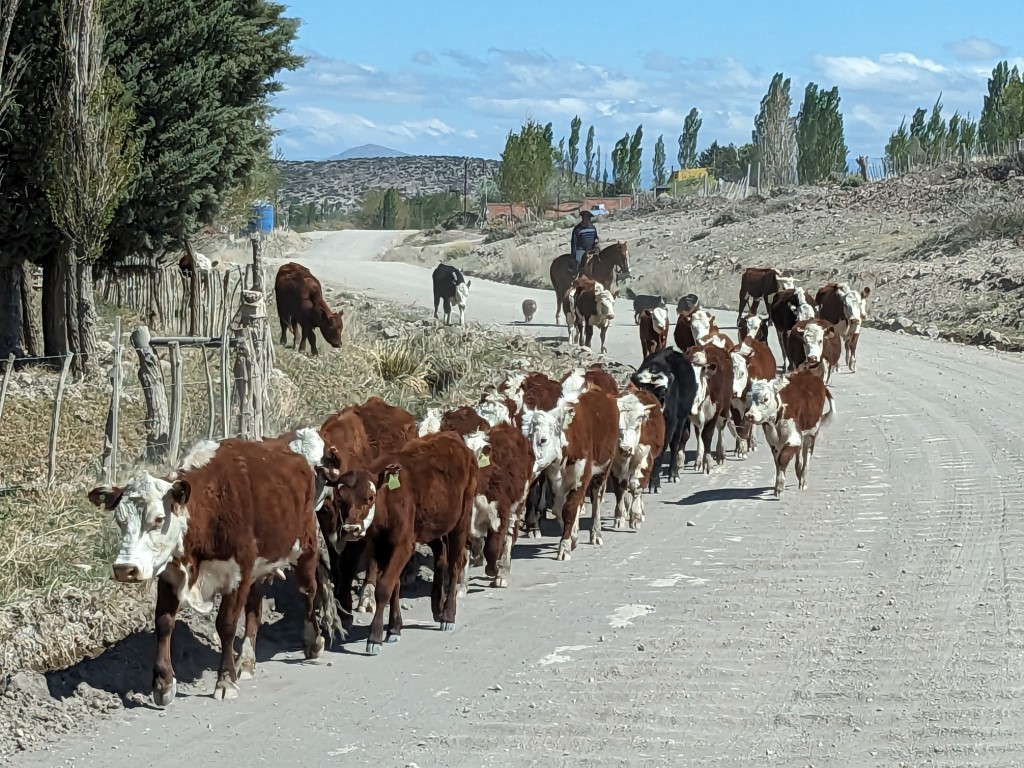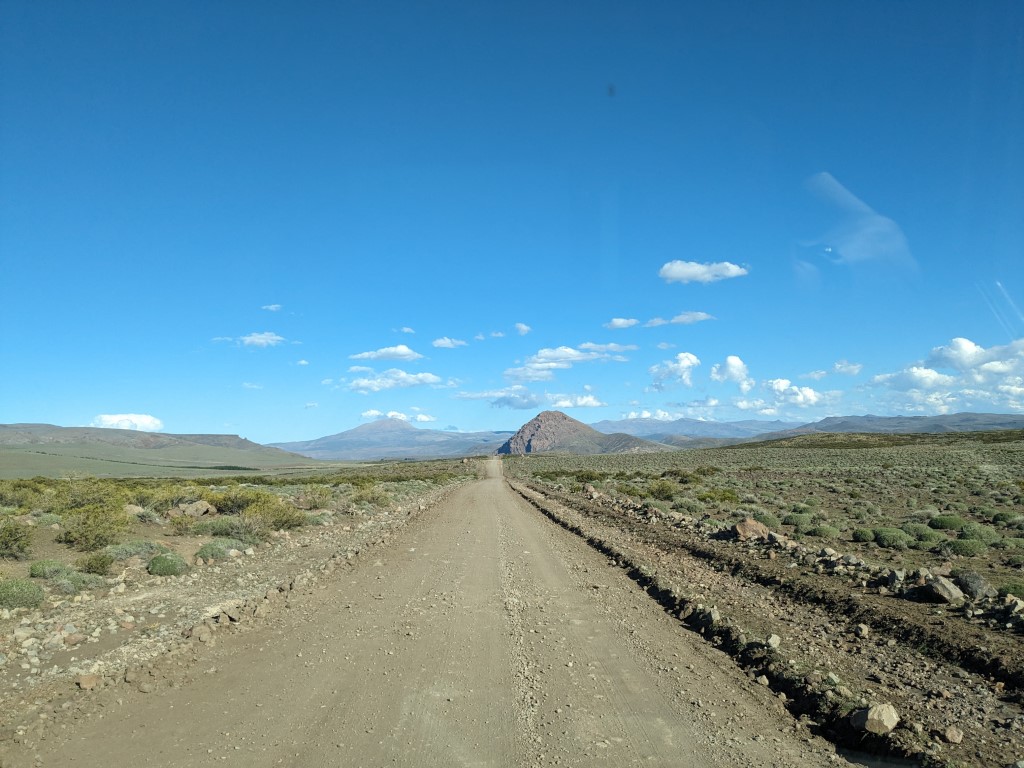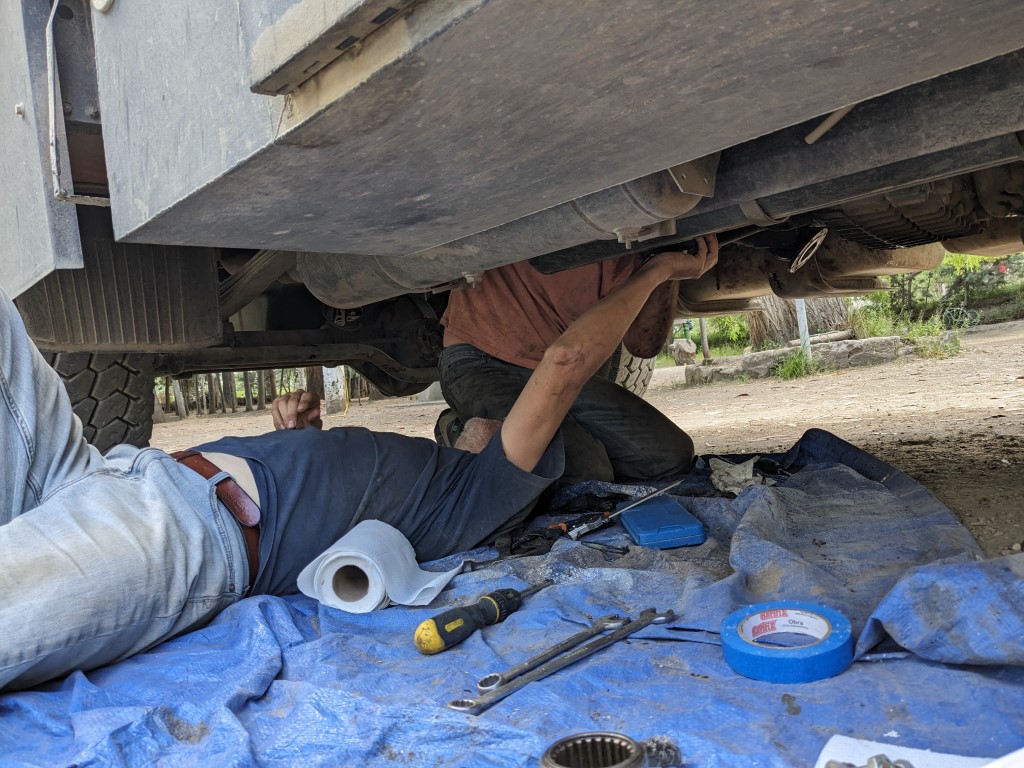 We met back up with Ivan in the town of Chos Malal with plans to do a hike but his transmission fluid had started leaking at the plug and it would prove difficult to get the Mercedes part ordered. Meanwhile, our center differential had been leaking and the guys that worked on the truck didn't have time to do it so Jon got the seals and planned to do it himself. It's always something. So we spent 2 days there working on that. We tried to reward ourselves with a dinner out but the town had nothing to offer really in that department so we had to make it ourselves after all.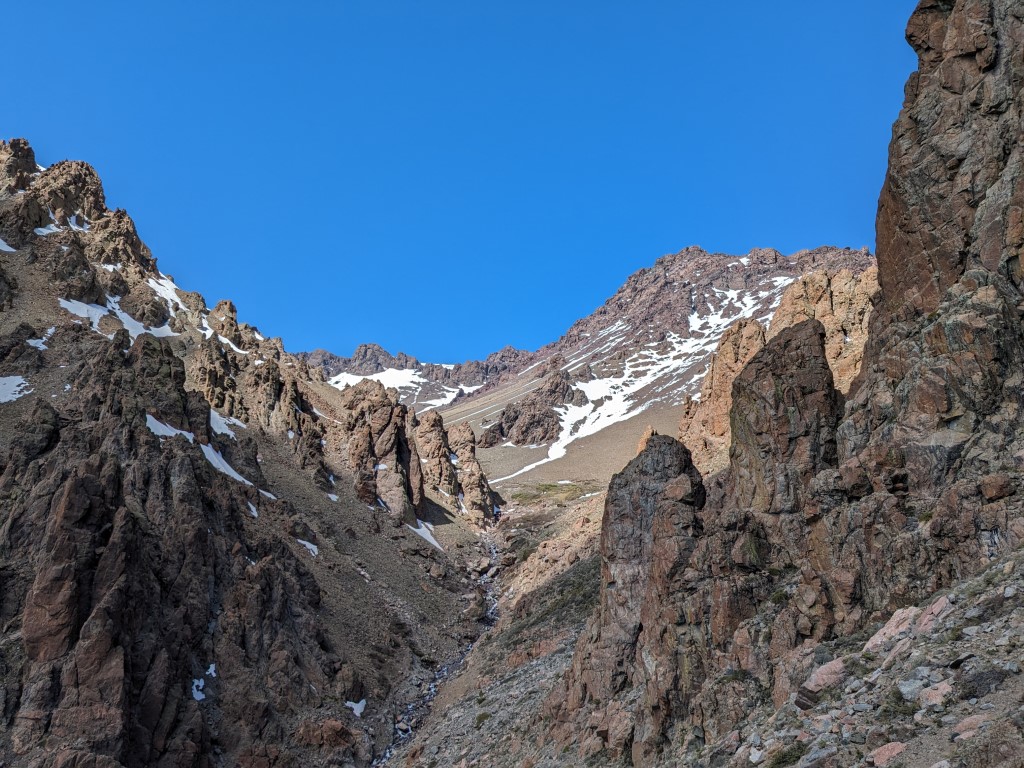 We did a hike up into another section of the Andes but got turned around right before the lagoon because the snow was too deep. It was still very pretty and we love getting out into nowhere.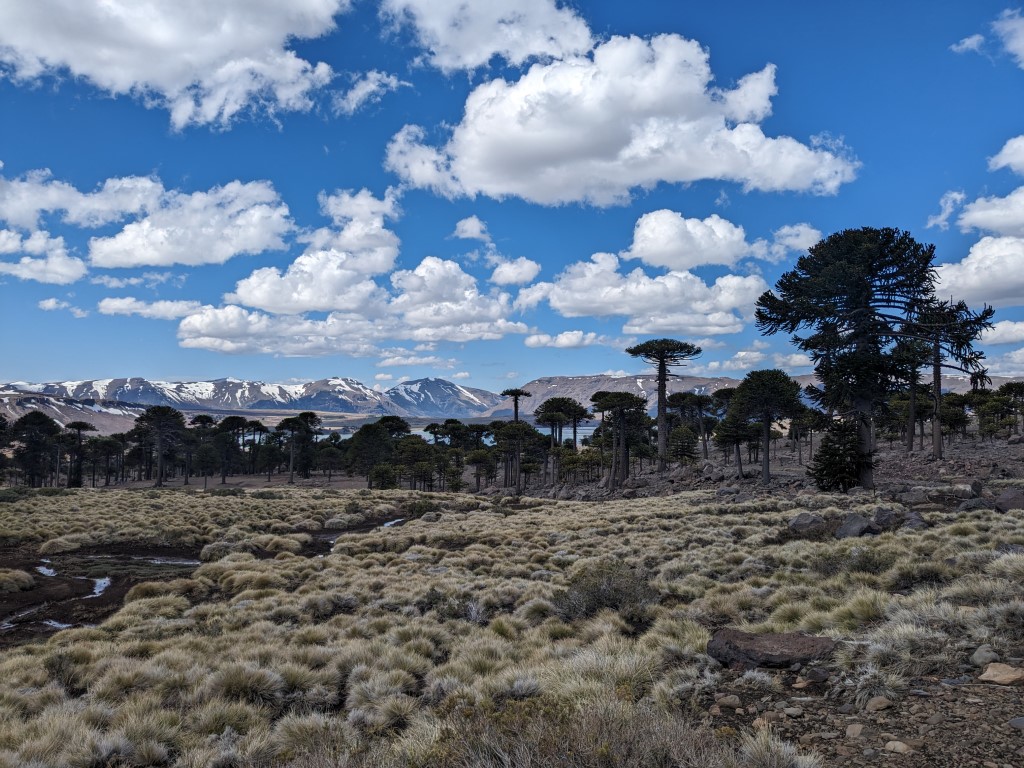 We moved to Lake Caviahue in hopes of climbing Volcan Copahue but found it covered in snow so stayed low and explored the lake area trails. This is home to the handsome Araucaria pine. They only grow on this and the Chilean side of the Andes at above 1000 meters. It is Chile's national tree and it's umbrella shape is very beautiful. It is also prehistoric. These trees can live to over 1,000 years old and the leaves themselves to 24 years old! When you touch how stout they are, you could see how.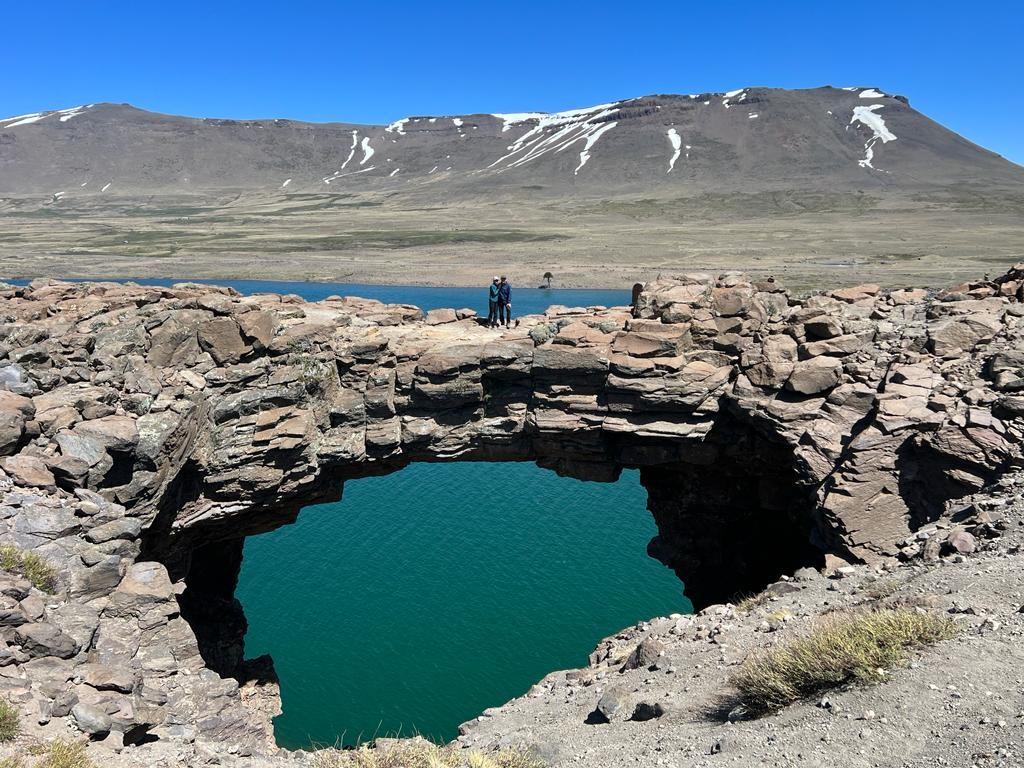 We really enjoyed the scenery and covered a good distance here doing several trails. The lake is a bright blue and has interesting rock formations including a natural arch. We also hiked up a valley to a smaller mountain lake and saw Andean flamingos. Who knew? We always associated them with tropical islands and salt flats but these are adapted to highland lakes. It's funny to see them in a snowy backdrop. I read that their habitat is at risk due to lithium mining. We also visited the very colorful & impressive Agria Waterfall.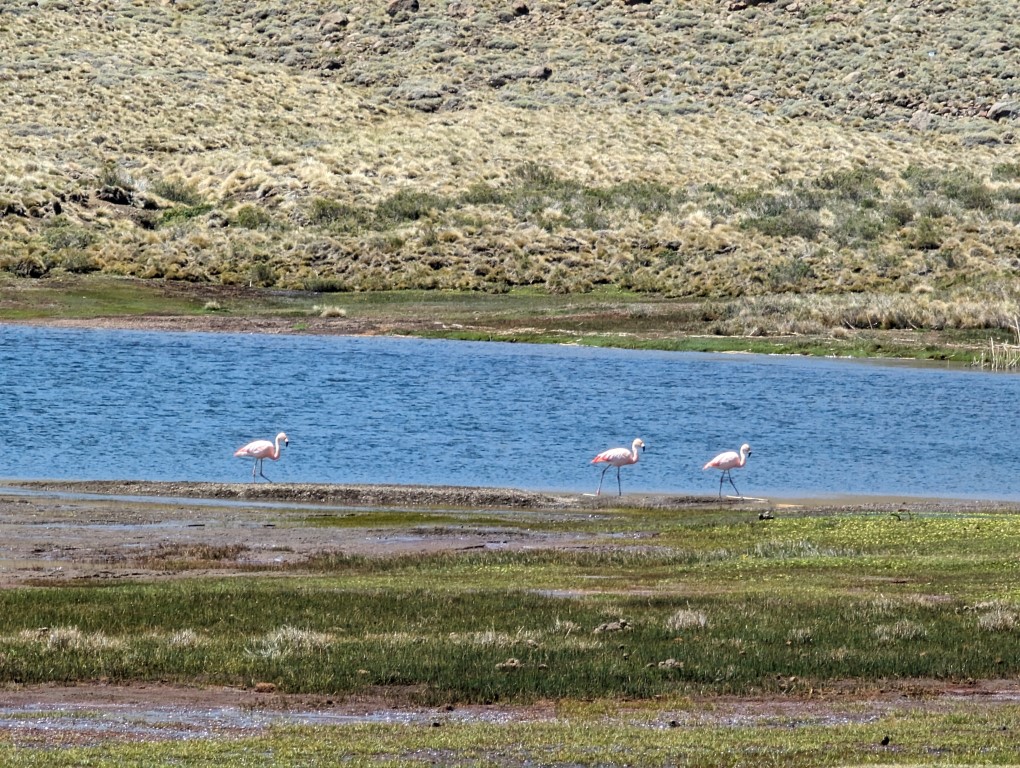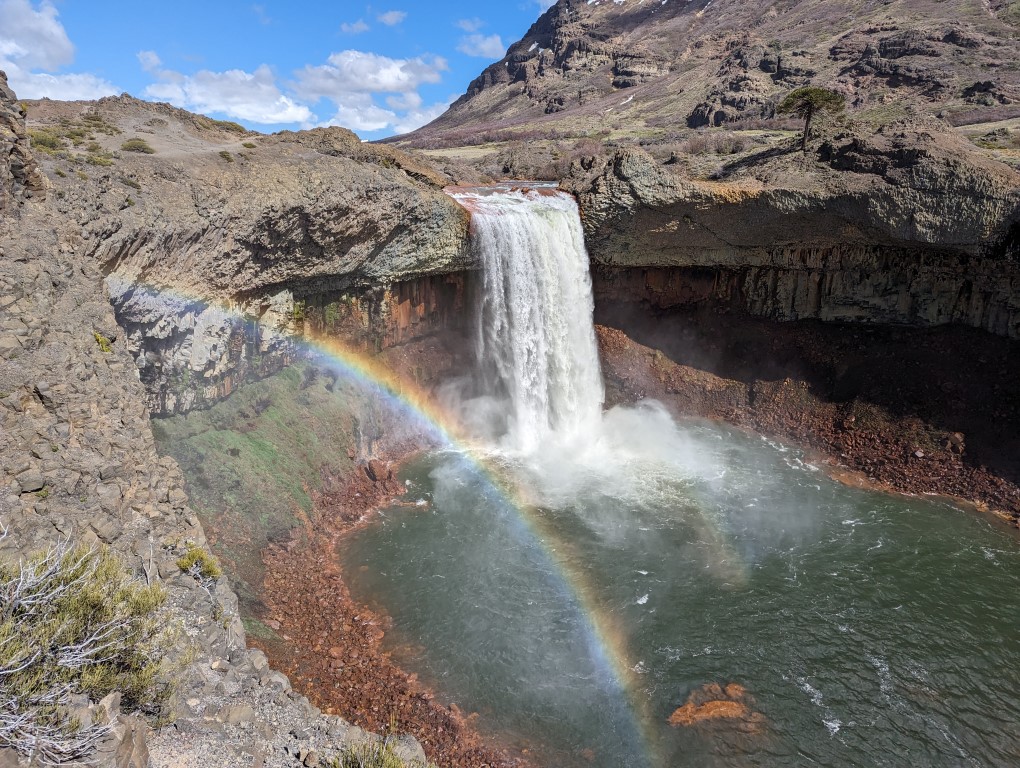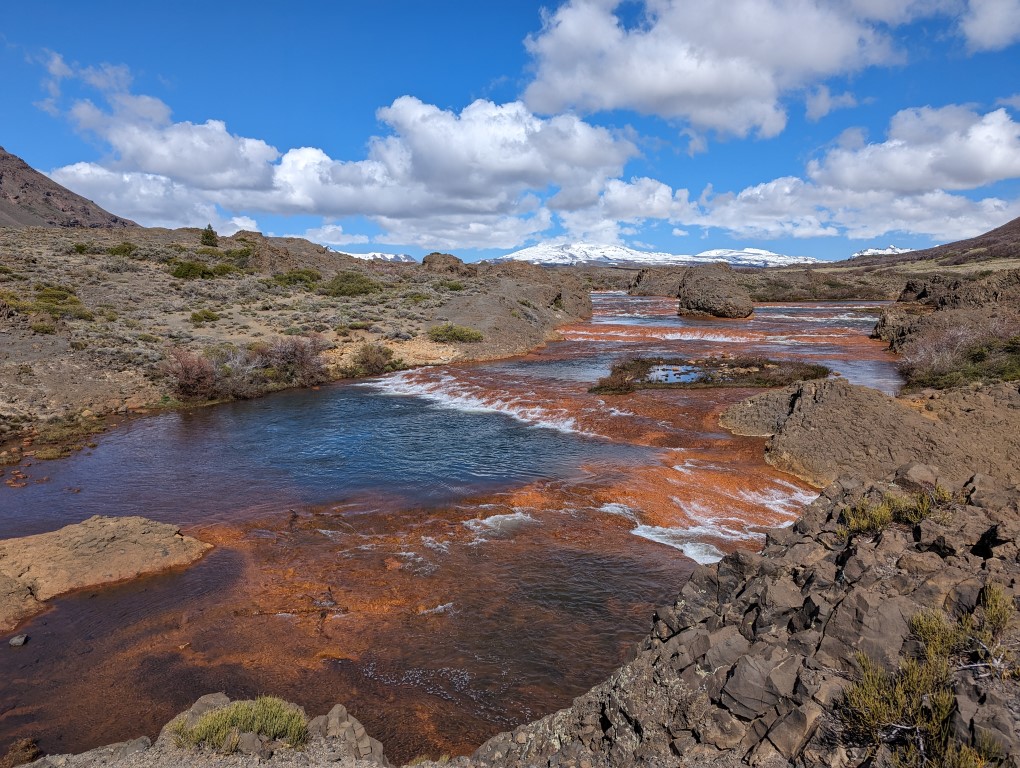 All the while, Ivan was still trying to order the part he needs for his van through the Mercedes dealers down here. Just like any country, there are some peculiar things that we notice and trying to order something as an outsider is one of them. You need to have a special national number- the DNI for most things. You just want to say DNI WHY?!!! We're often able to just use our passport number if we're face to face but ordering something is a problem. You want to spend money but you can't. We feel sad that Argentina is in a financial crisis. Elections are underway with no star fixer in our opinion and the exchange rate, while good for us is not healthy and is unsustainable. We hope things will improve but we're not sure how to fix the issues.
On a lighter note, we also notice other things after having been here since July. If you want to sell your used car, you put a yellow bottle on the roof whenever it's parked. It draws attention and then you can grab the Whatsapp off the bottle. Everyone uses Whatasapp including your doctor's office and results are easily sent that way too. It's fast and there's no paperwork needed! When we're at the grocery store or any other place, we often have to give our passport number and when we pay, we have to pay twice because the order cannot exceed a certain amount like $50. Then a new order is started and we pay again. There are often no stop signs at intersections so at first we weren't sure what to do. We asked our friend Diego and he said it's basically whoever screws up the courage to keep going. Might makes right although people are friendly about it. We often wonder at the police checkpoints what they are looking for. Like, if you are in the country already then what would be the need for an inspection?? Everyone has been very courteous but at times there are lines of traffic waiting to be checked and we're not sure for what. In a country that loves its asado (bbq) I guess it is no surprise that there are frequent sightings of BBQ'ed cars on the side ot the road. They are just the charred frames of crashed cars that are totally void of any parts other than the metal skeleton. What we aren't sure of is why they leave these carcasses here. One could conceivably pass by a carcass like this for a lifetime having to look at it. Then there are the roadside shrines. Not unlike other parts of the world, these shrines can be very elaborate, or simplistic. Many are decorated with candles, red flags and ornamentation. They're often embedded in boulders or cliff walls and there can be many in one concentrated area. We're not sure why they are on the roadside really but we have seen visitors sitting beside them often in very pretty surroundings. I guess in the US we have churches all over. Part of what I love about traveling is being able to experience all the ways there are to live and to live together in a society… the culture and customs that get established over time in a specific area. It is at times funny, frustrating, curious and endearing. We like the elaborate solar powered hot water dispensers for mate in the parks too! All this for hot water!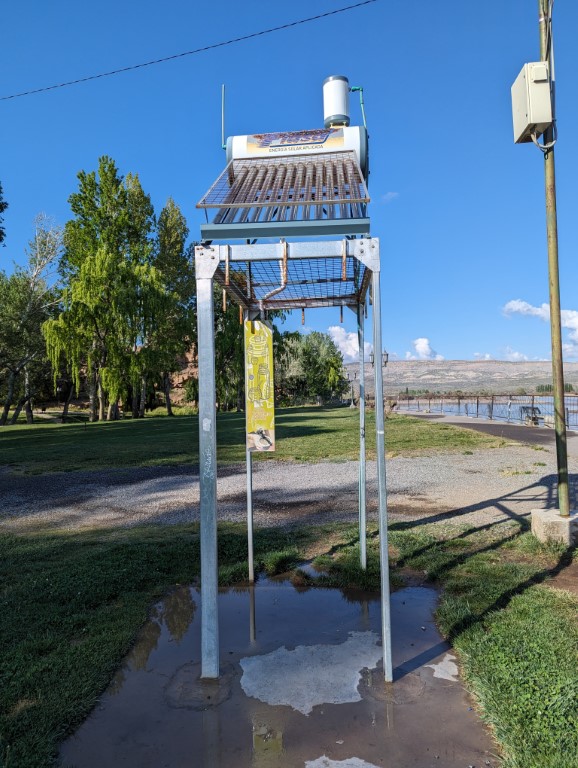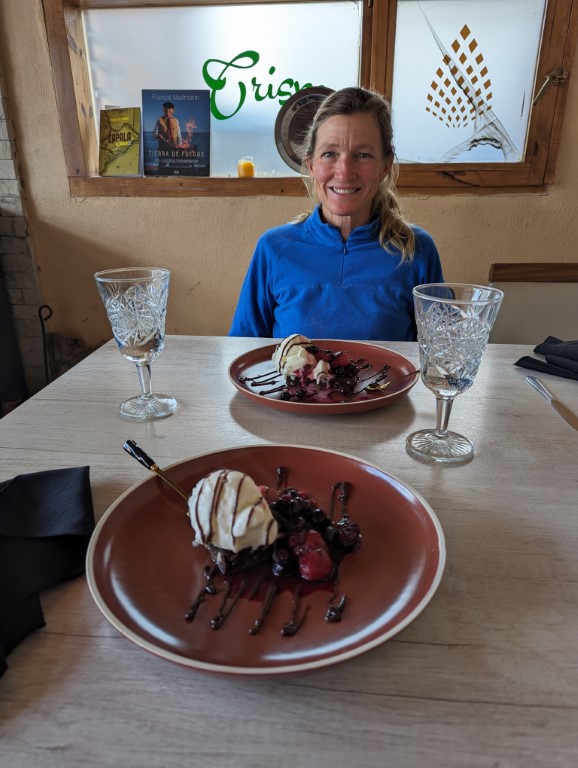 We moved southward through the small city of Zapala where Jon found a great restaurant for us to go to lunch. It felt like a date. After getting stiffed in Chos Malal when we tried to go to dinner, we were really in the mood for some great food. And we got it. The best meal since we got off the plane in Buenos Aires. I love the way the lomo cut (akin to filet mignon) is the standard here. All of the food was beautifully prepared and all I could think of is why can't I get this stuff in the grocery store????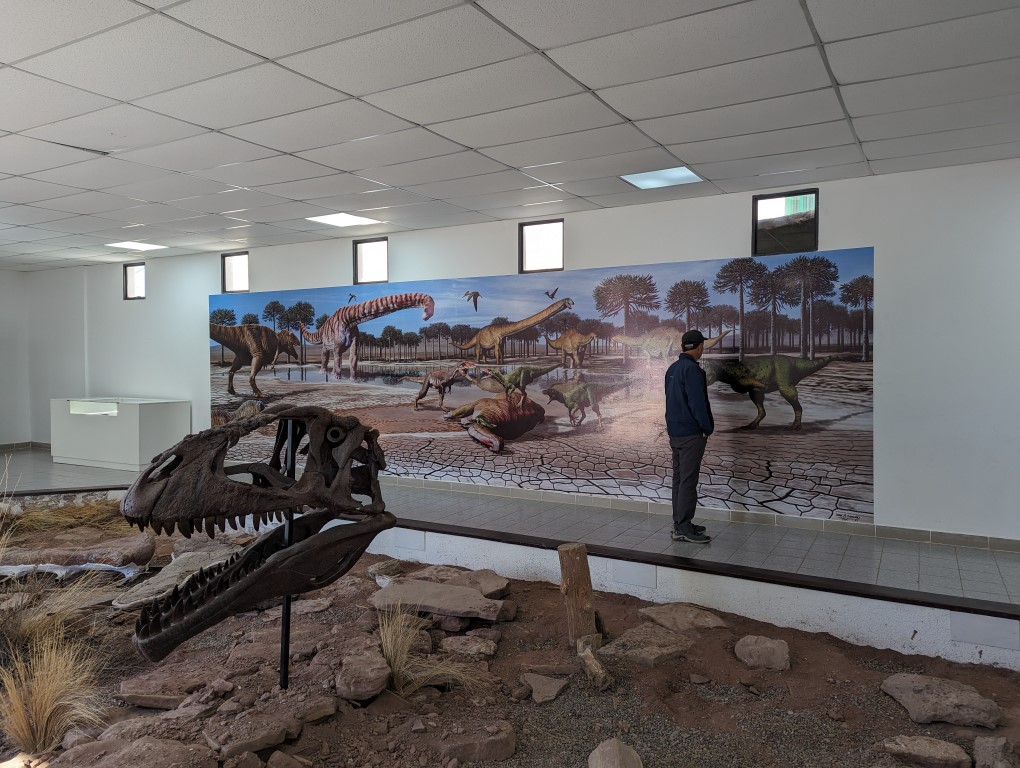 Do you remember the Flintstones? The region of Neuquen is one of the top areas in Argentina for dinosaur remains- the Argentinosaurus has been excavated in several areas near here as well as many other dinosaurs including eggs and footprints and near whole skeletons. Argentinosaurus looks very similar to the Brontosaurus to me which is what Fred rode although his was a lot shorter in the legs haha. We visited 2 museums in 2 different towns that exhibited several dinosaurs and other bones and fragments. In the town of Villa El Chocon where we spent the windy days, the building of a large hydroelectric dam in 1968 unearthed a lot of remains that put it on the map for tourism as the Dinosaur Trail. We enjoyed seeing this bit of history as it was something different and standing up against the skeletons of these huge creatures is impressive.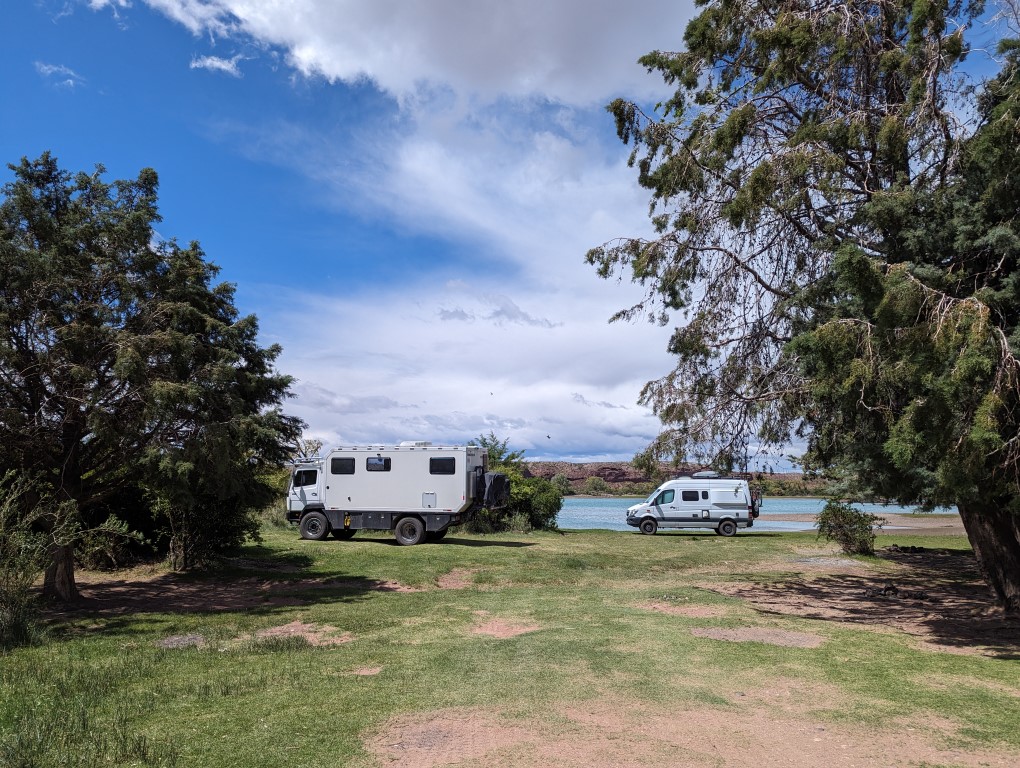 Since Ivan arrived to Villa El Chocon first, he picked the campspot. I told him I wanted a grassy spot so that for the windstorm, we wouldn't have as much dust flying. Well he found a perfect spot on the outflow side of the dam and we got settled in. It is a known recreation area and we were aware of the signs that said if the alarm sounds, that means they're getting ready to release more water but what we dinn't know is by how much or if the alarm would go off. While sitting along the shore having a beer for sunset and discussing this very thing, wouldn't you know the alarm started going off! So we had to pick up and leave to find another spot that would be protected for the upcoming winds- right in front of the museum in town. It was so funny hearing the alarm at the exact time we were discussing what it might sound like.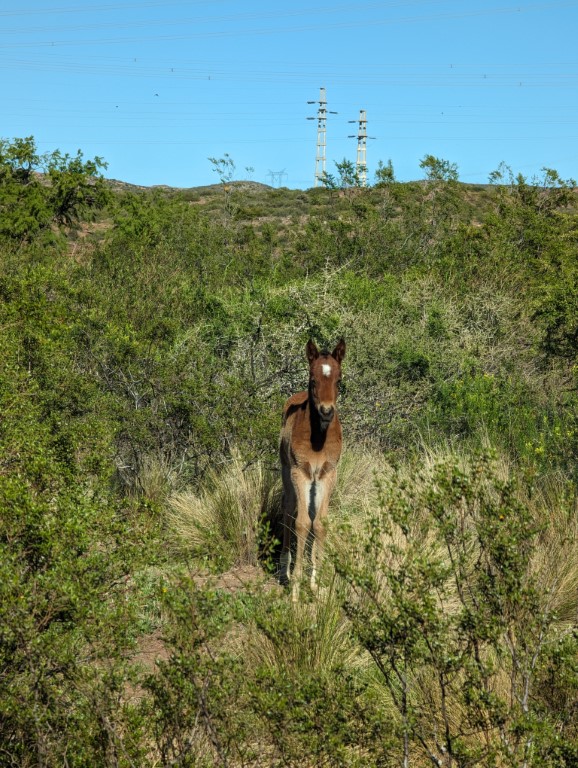 We moved back to the dam after the winds lightened since it was so nice. Wouldn't you know we no sooner got parked up and the alarm went off again! But this time we were wiser and just moved to higher ground right there. It was a beautiful area and we took a walk and a run and the wind finally died to nothing.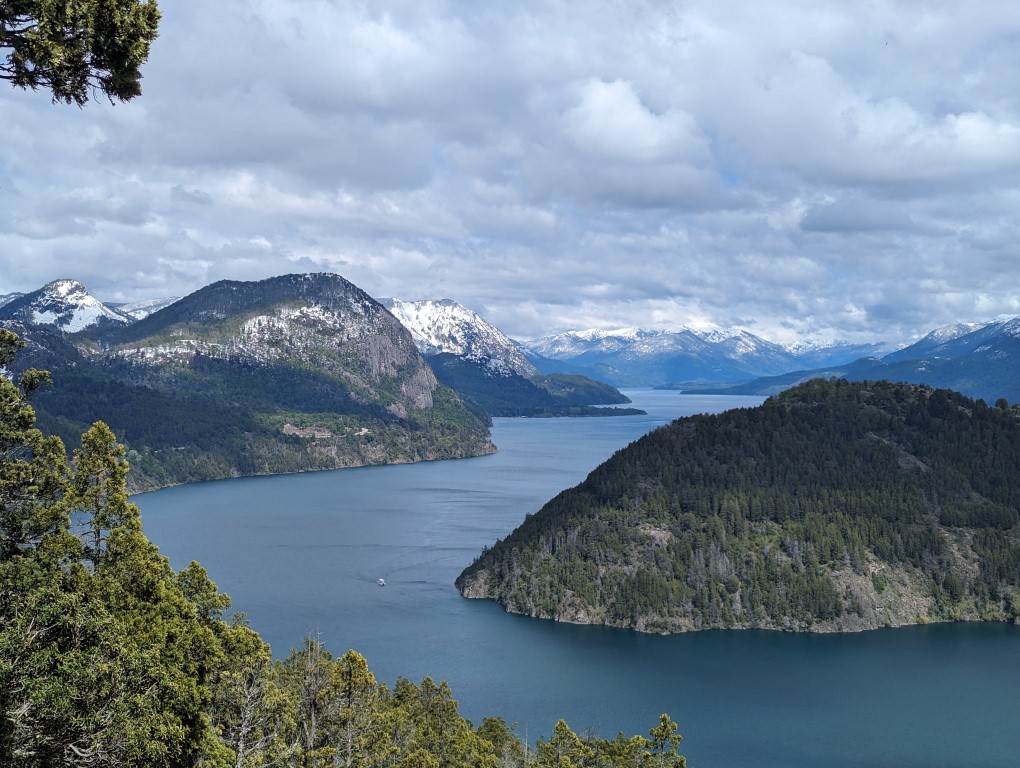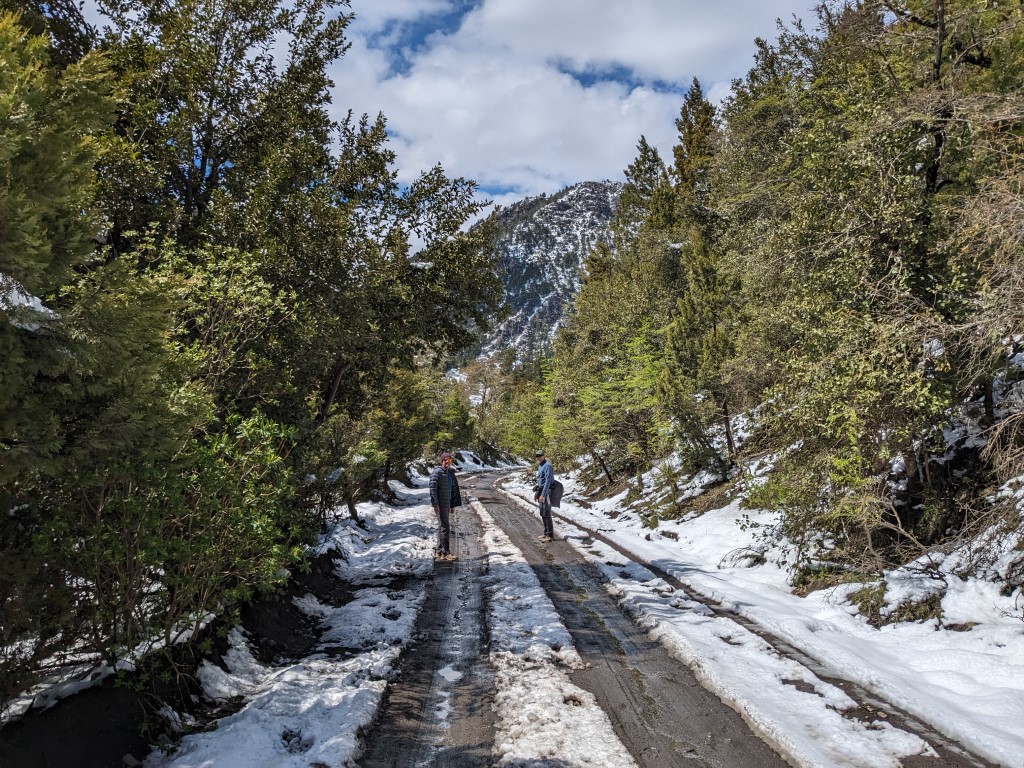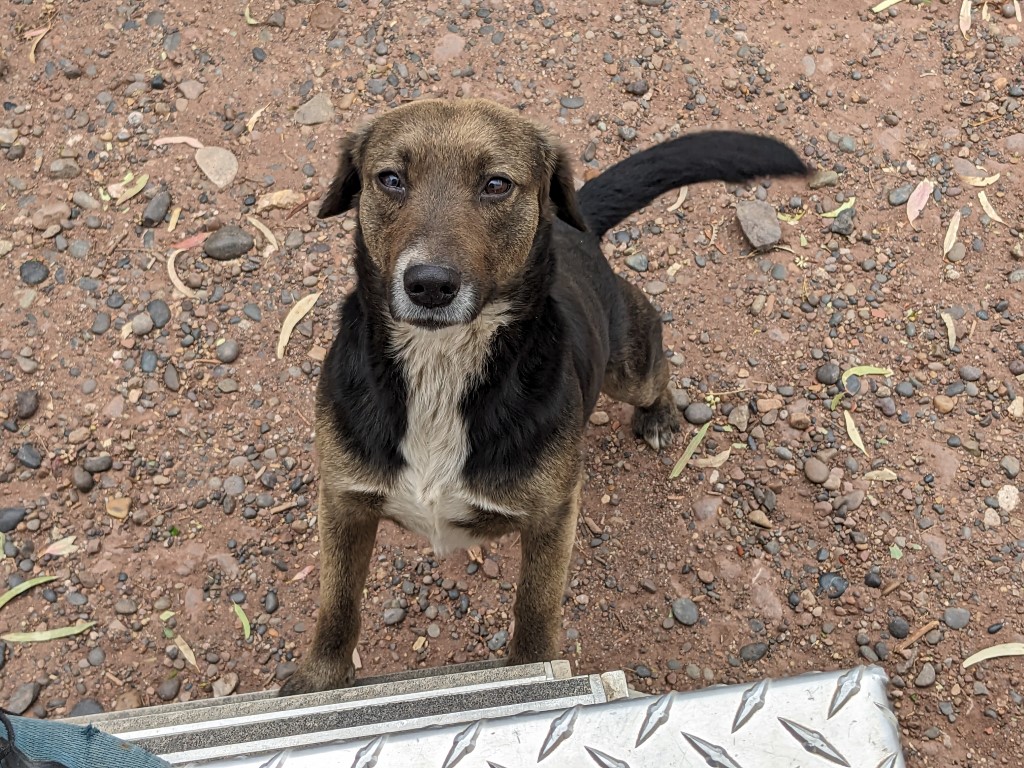 We got underway again and have arrived to San Martin de los Andes in the famous Lakes District. There is definitely an uptick in the beauty and the town is cute albeit touristy. We got sourdough bread here finally! It goes great with all the delicious wine we're able to buy here. It certainly isn't summer yet but we're still excited to see what we can and without the hordes of people that will be here in the coming months. Yesterday we took a walk in the snow and borrowed someone else's partially melted snowman for the pics. It's great to finally be in Patagonia!