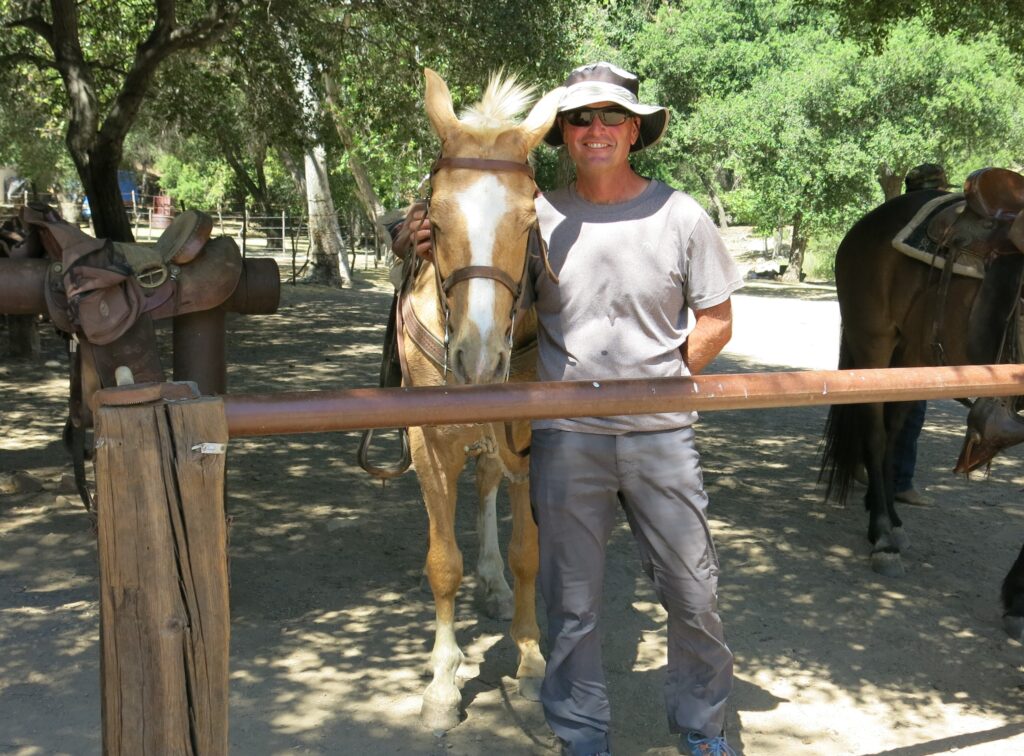 Hello from Alabama Hills, California! You might wonder how we ended up here. Well, here goes….
We didn't know if we would enjoy Baja North as well as the south because there didn't seem to be quite as many obvious points of interest and we'd left the more tropical colored water behind. In actuality though, we discovered a lot of favorite spots in the north. The rugged Pacific coast has a few different flavors, some are harder to access with steep, rough beaches and a lot of trash. But then there are others like the place we stopped in San Quintin that we fell in love with. Out on a peninsula, protected as a park, we drove across a firm sand beach at mid tide and up through the dunes to a lovely spot along a wide, clean sandy beach with great walking and volcanic scenery. The area is unique in that way with all the cinder cones in view and several trails. I was a little anxious about going out on the sand because I didn't want any drama or stress about getting stuck and having the tide come rushing in but we walked the beach and dunes path together with Ivan and we all thought we could make it fine after airing down. So off we went, and no drama. Jon is trying to explore the limits of our truck and what it can do and it seems quite OK in sand so far. I like how it moves along in low gear feeling like a tank. Getting out to this spot was very rewarding and we had a great time.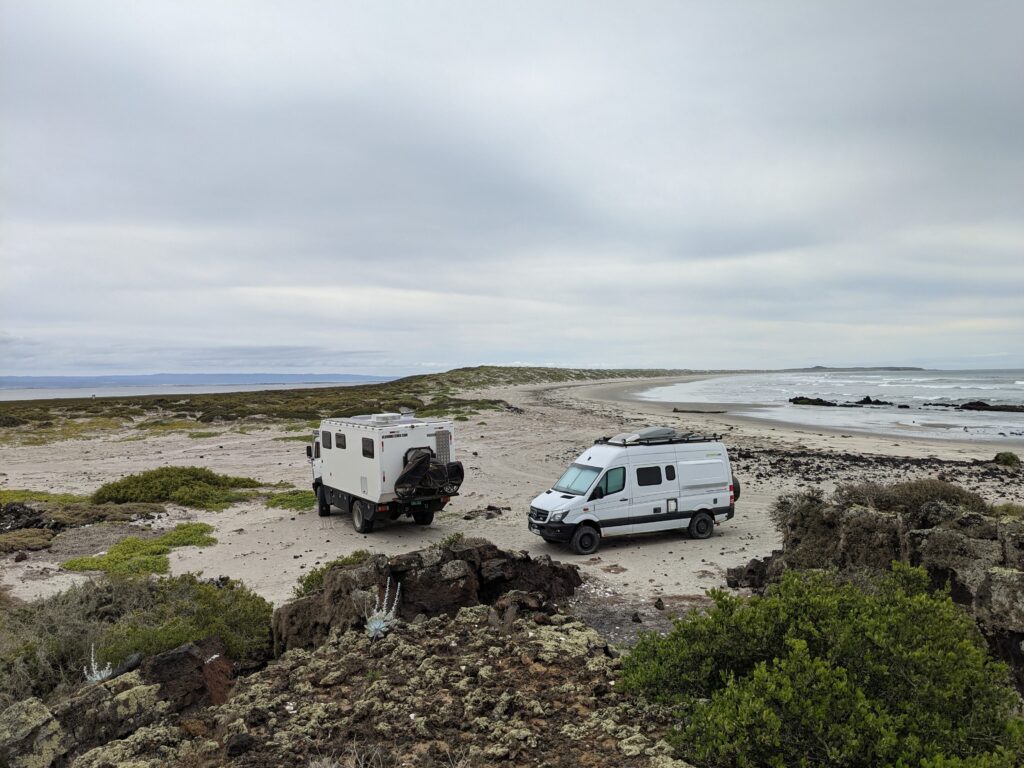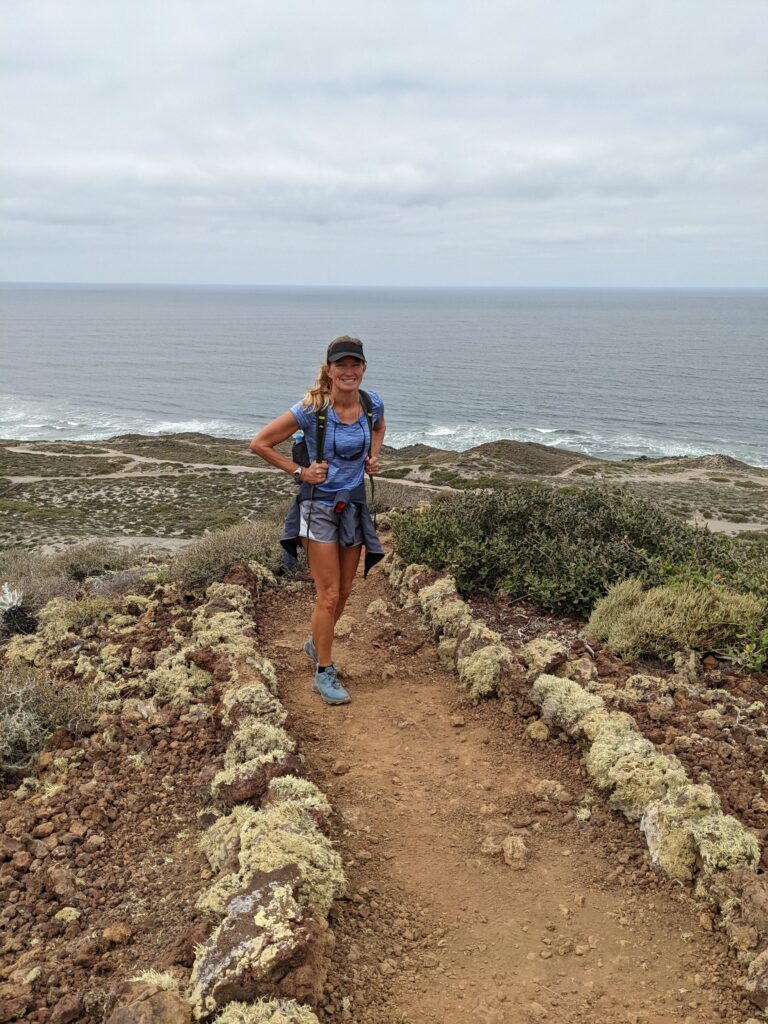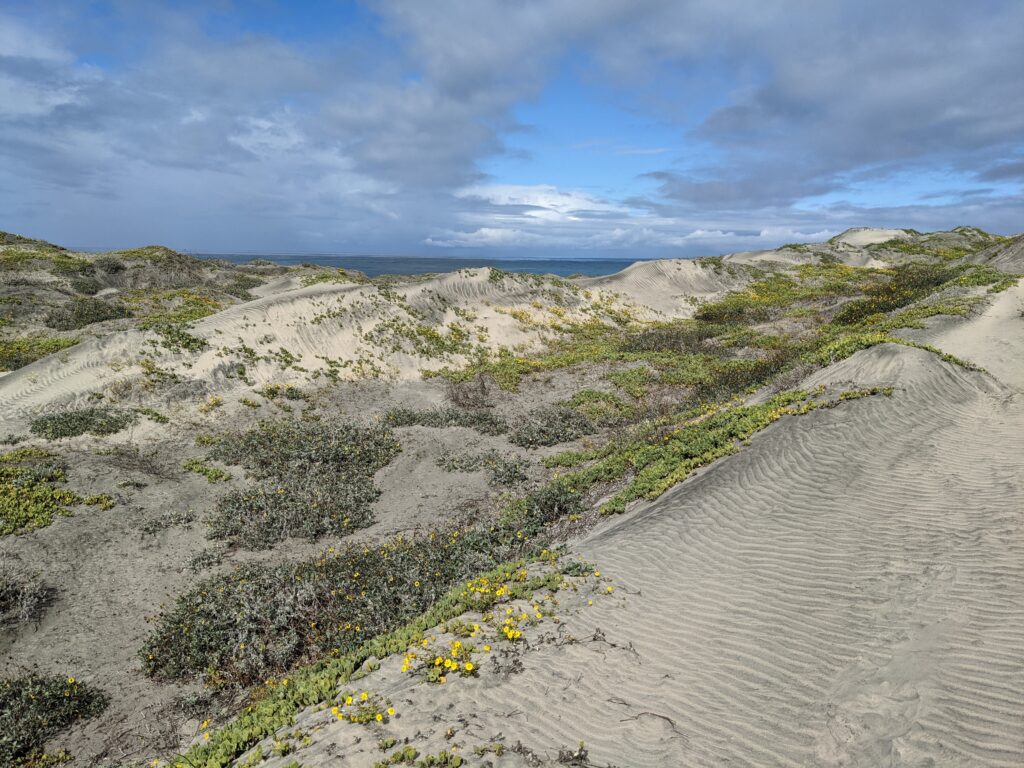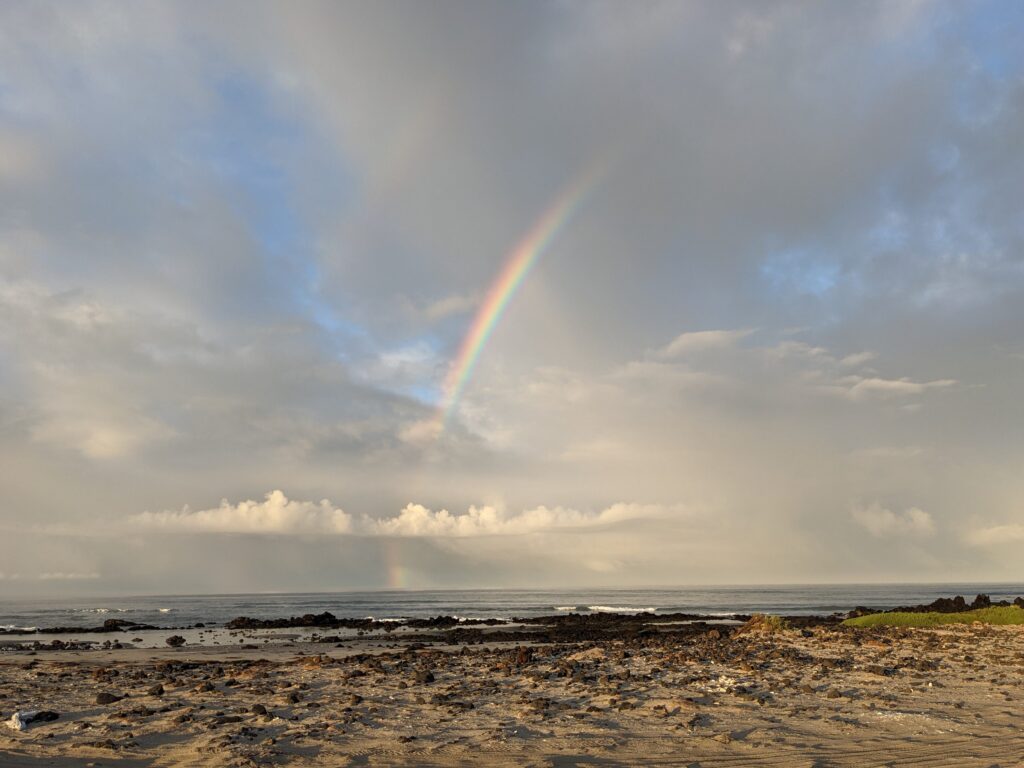 As we moved northward together, it was becoming increasingly apparent that we couldn't count on the US/Mexico border opening up to international travelers and we weren't interested in parting ways with Ivan. So we began putting a plan together to jump through the hoops necessary to get all of us to the other side. Over dinner one night, we remembered our friend David from college knowing he'd spent his career as a border patrol officer. We chatted by messenger and found out what we needed to know. It was generally OK for me to drive Ivan's van across the border while he flew across, because by current covid guidelines, you can't drive your home across the border as a non US citizen unless you have qualifying circumstances but you can pack into a flying bus and land in a city on the US side no problem! But even so, it isn't a given because the ultimate decision making power is in the hands of the official at the border that you present to, driving a foreign registered campervan. But we felt good after talking with Dave and true, our previous experience with border agents is that with a clear, reasonable plan they have been fair to us, such as when we were on our boat. But there still was the line-up of logistics that needed to go smoothly in order for it all to work! With shaky internet, we went about making plans and organizing the dates for things to happen. A flight for Ivan from Tijuana to Las Vegas, a hotel room, campspots along the way, checking insurances, notarized authorization letter, practicing driving the van, copies of documents and a brief discussion about what we would do if things didn't go the way we wanted them to. But they would! The whole process was illogical, but unfortunately covid has brought a lot of insanity to many instances.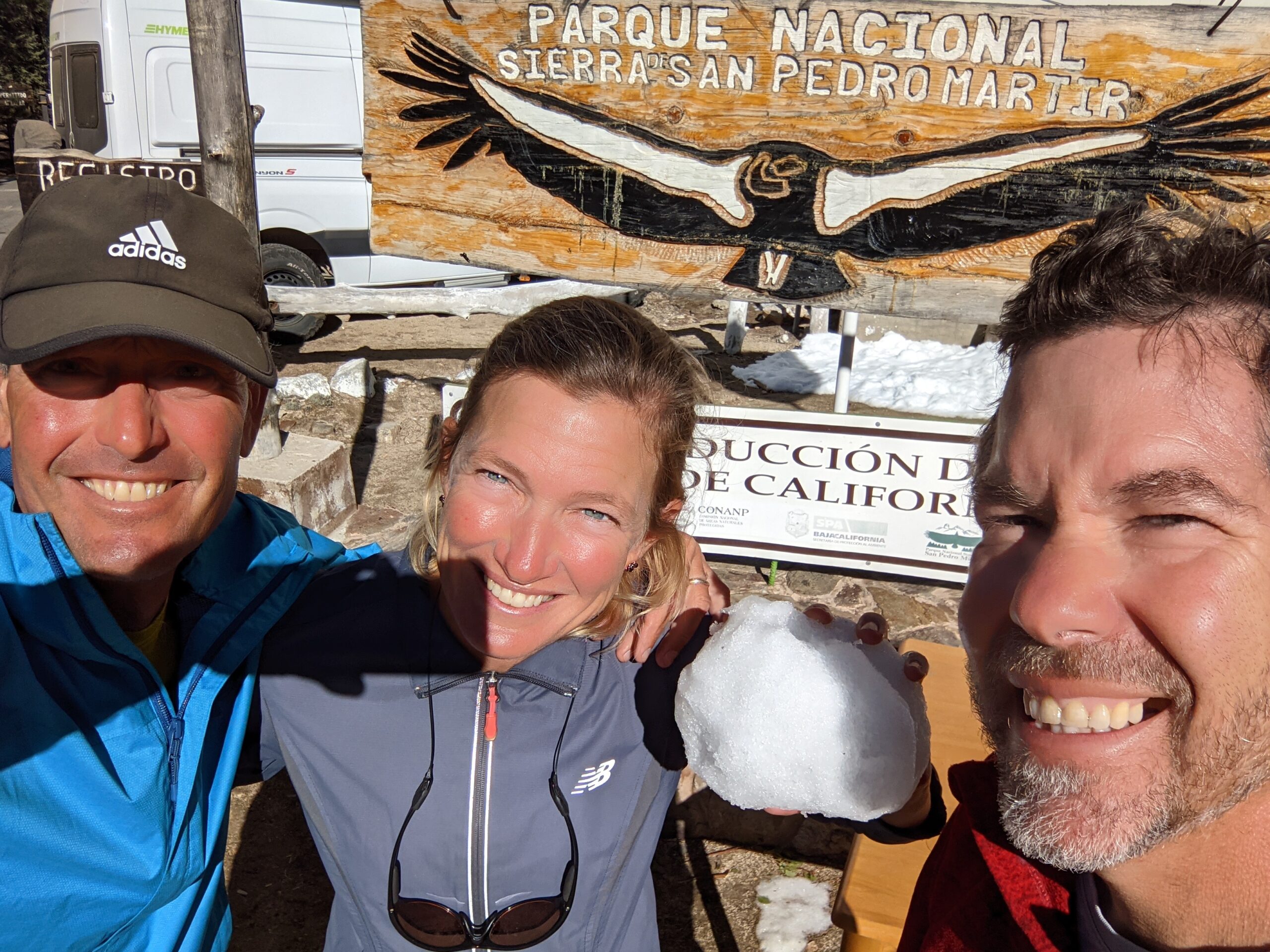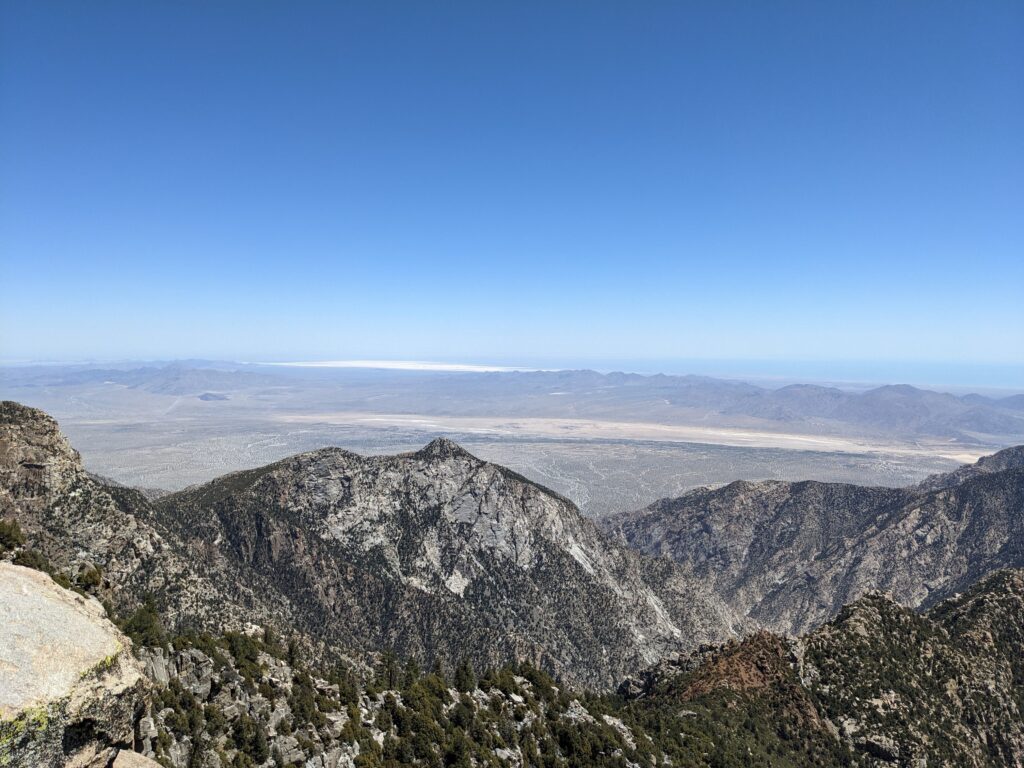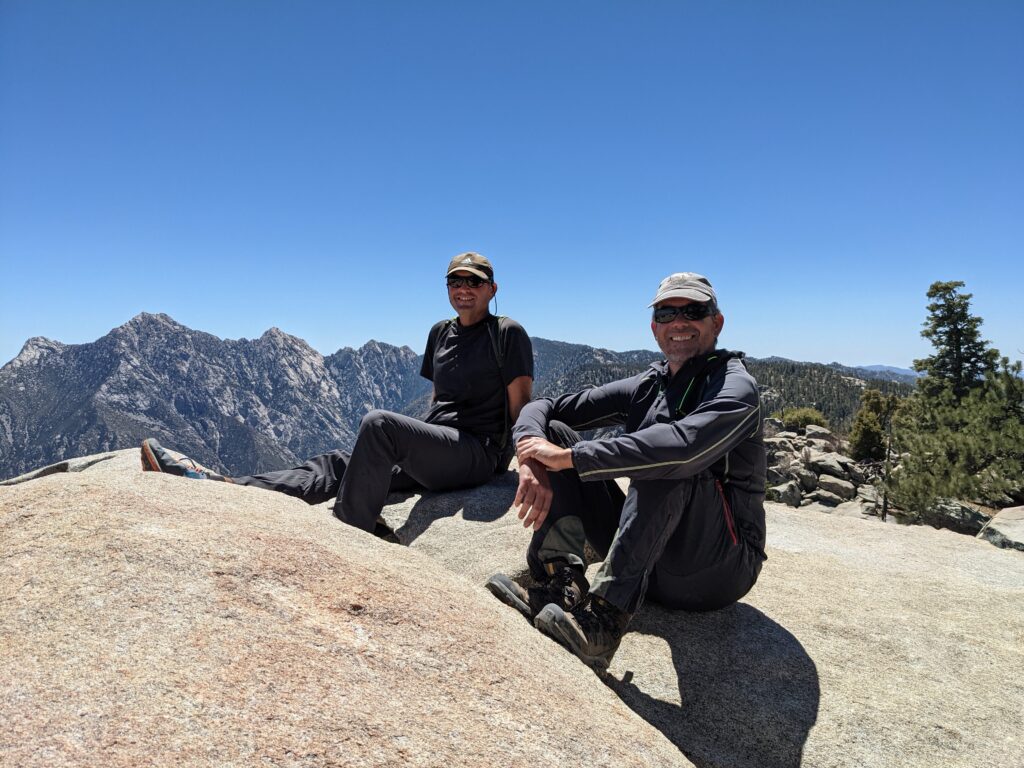 As things fell into place, we felt more confident and we resumed having fun again. From San Quintin's spectacular beach we left with the tide and drove northward & upward to end up at 8,200 feet at a national park- Sierra de San Pedro Martir. And there was snow. Not enough for all of us to take out our snowshoes but enough for a snowball or two. We settled in to a wooded campsite and Ivan tried to contain his joy at being in the mountains again, his element. We drove the park road and hiked to the Altar where you get a great view of the Sea of Cortez and the mainland side of Mexico. At night we ran the heater rather than the fans. It's amazing the distance you can cover in a day to transform your surroundings. There's a successful condor program at the park but we didn't get to see them. I think we weren't looking along the right cliffs. But we did see several coyotes and some deer and it was very peaceful there. This park is the largest in Baja and the road to get there is over 60 miles, mainly up. It was very beautiful and a place we want to revisit. The highest peak in Baja lives here but you can only get the trail from the east side.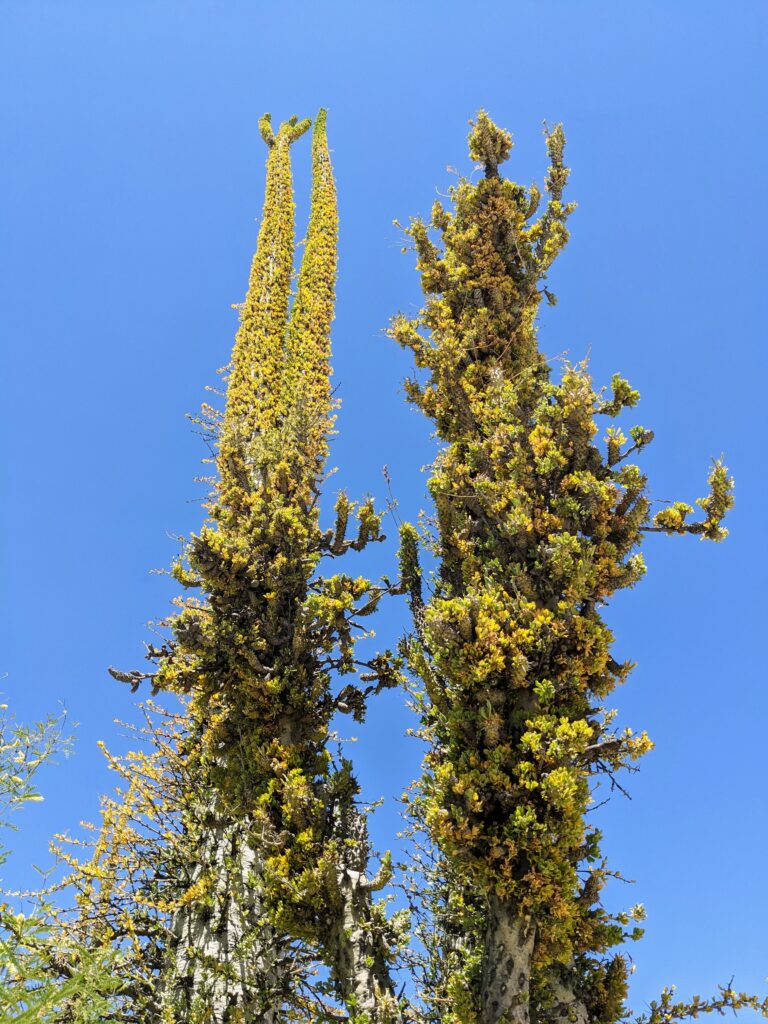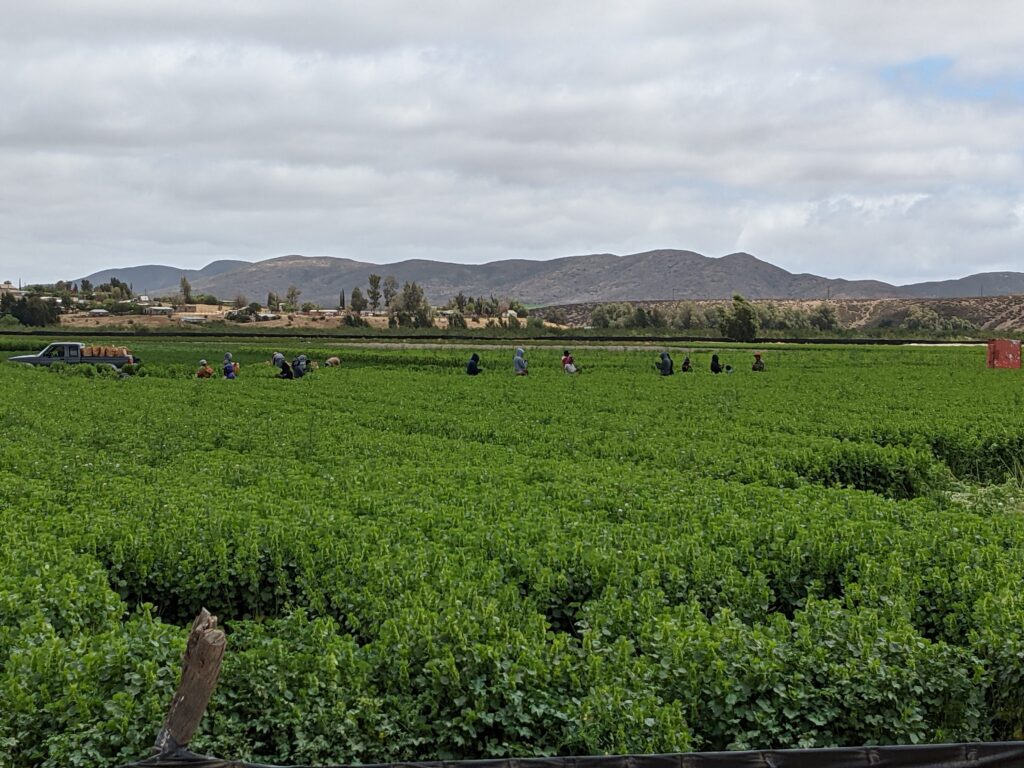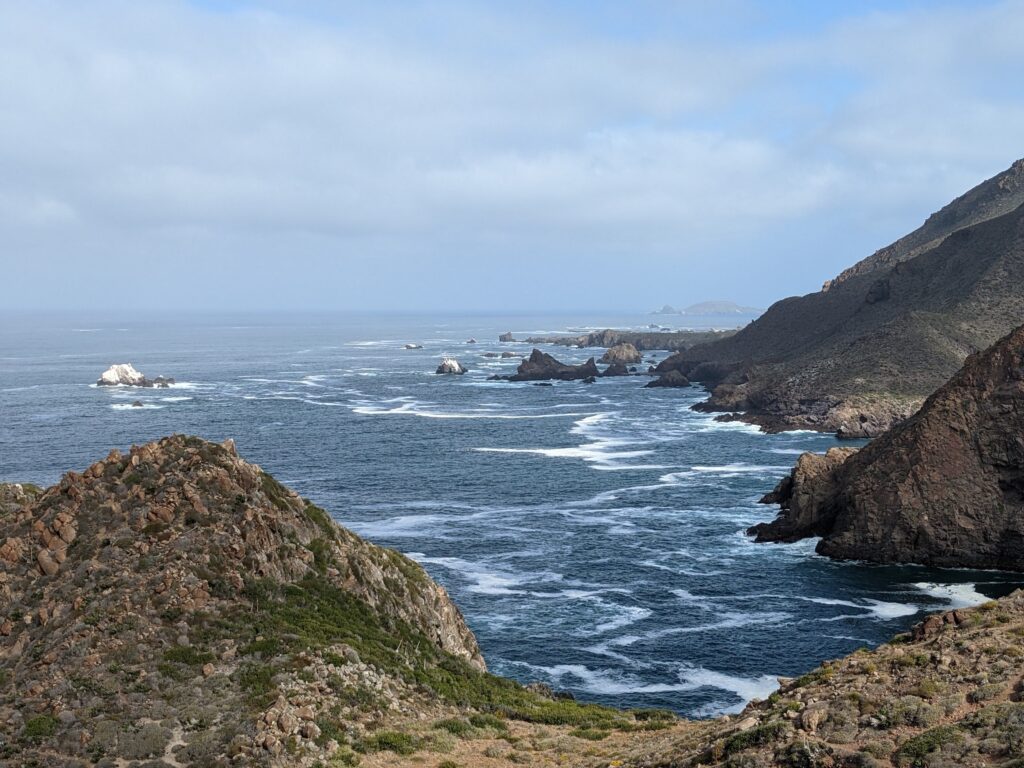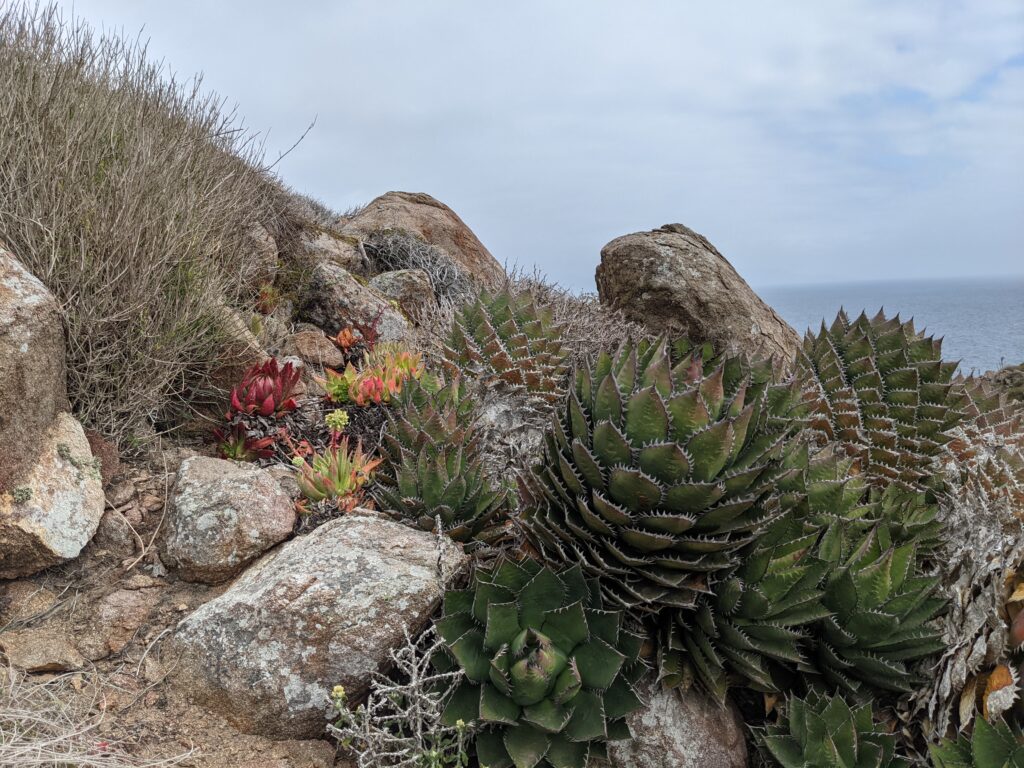 We came down from the park to continue making our way north through the farming towns that run along the coast, passing through some beautiful stretches of desert. Strawberries, asparagus, carrots, tomatoes, prickly pear. Dusty towns and a colorful patchwork of fields that end at a naturally beautiful & dramatic coastline full of plastic trash. These are the people who are growing & harvesting a good portion of US produce. Lives much different than ours. Along the coast, we realized that there is another industry of sorts- collecting & sorting stones on the shoreline to sell. We saw several families with pick-up trucks and large white sacks gathering rocks and when we asked they said there was a market for landscaping projects and fancy houses so they can make some money this way.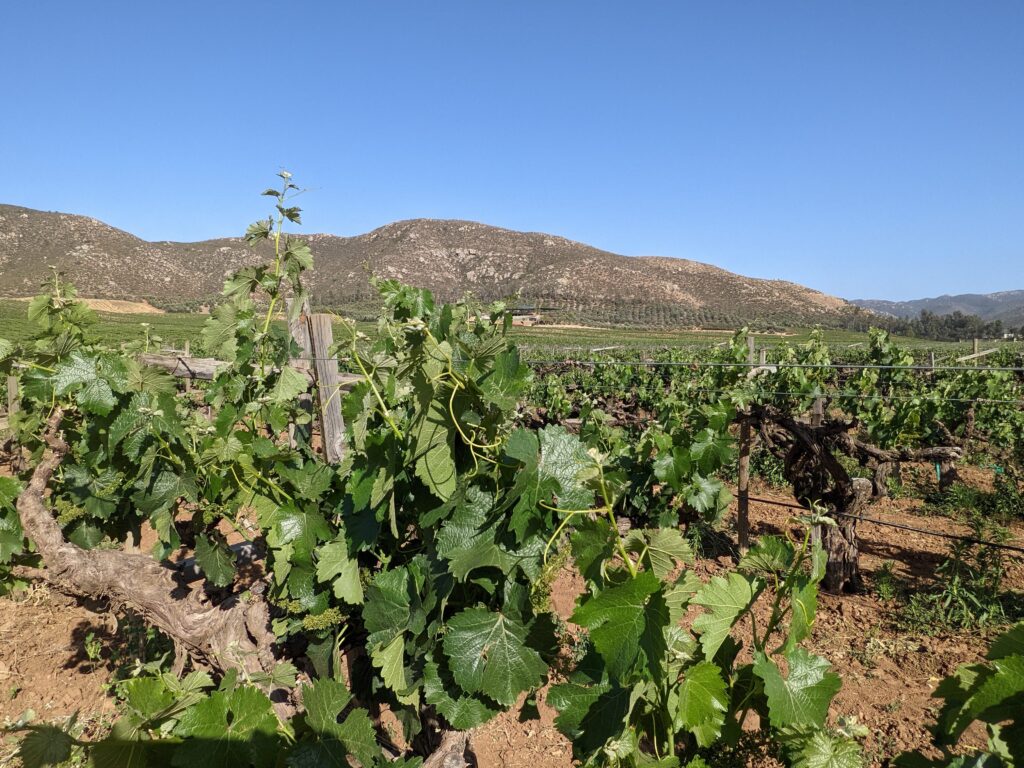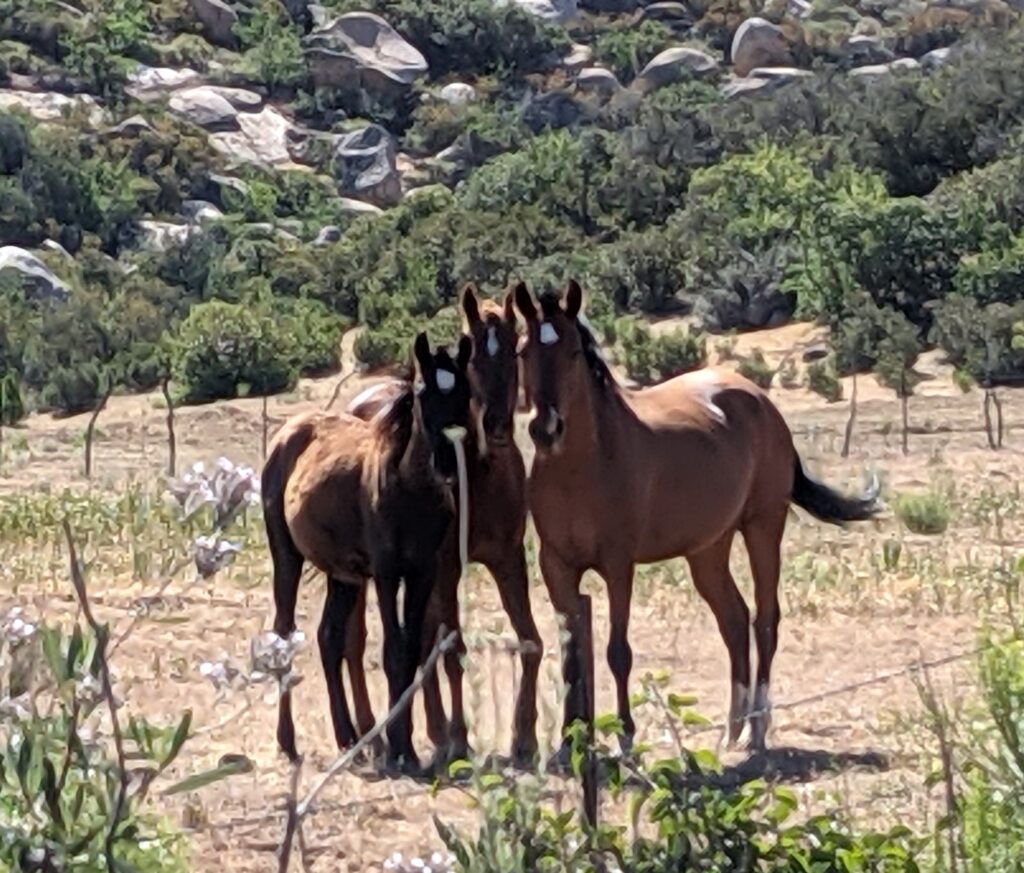 We made our way to the Guadeloupe Valley to see the wineries. As the crossing date got closer, it sort of felt like a weight and I could tell we were each preoccupied at times with our thoughts. We started letting our meat & produce supply get low and knew we couldn't stock up on Baja wine because of the limits for the border. It turned out that our favorite brand of wine, La Cetto, was also gracious enough to let us camp at the winery for 2 nights for free, so we could enjoy the picturesque fields and the big old trees on the property. They couldn't do tours because of Covid but we could go in and buy wine. Another spot to return to, there are loads of wineries to visit when things get better although so far I think La Cetto actually had the most beautiful setting.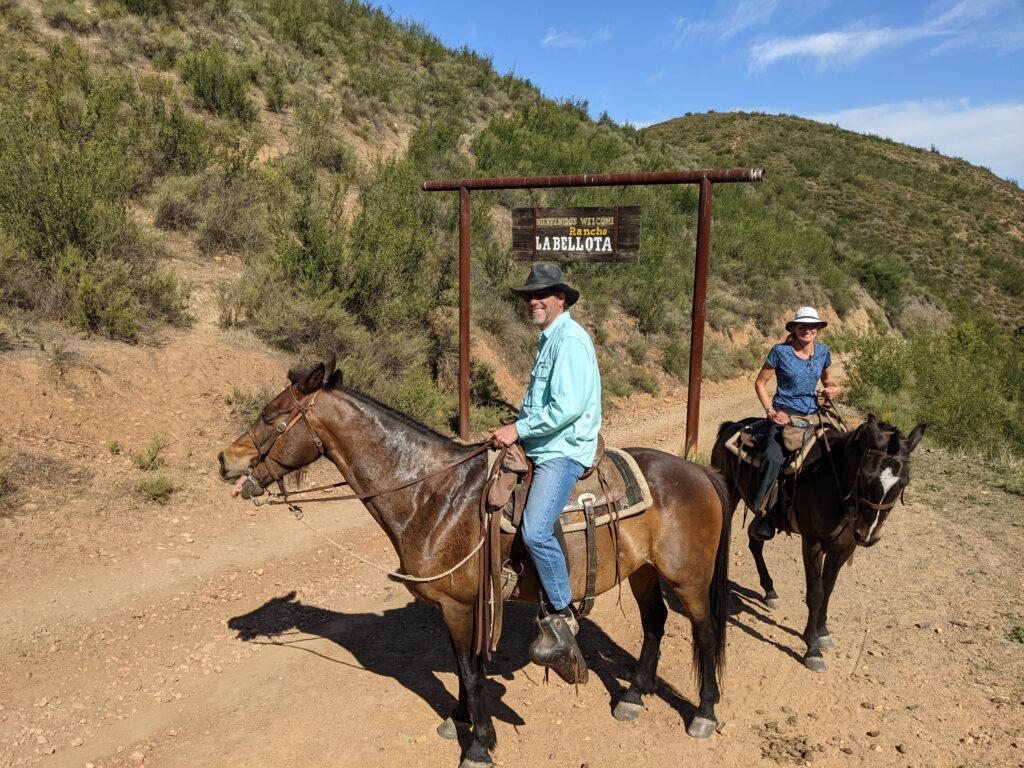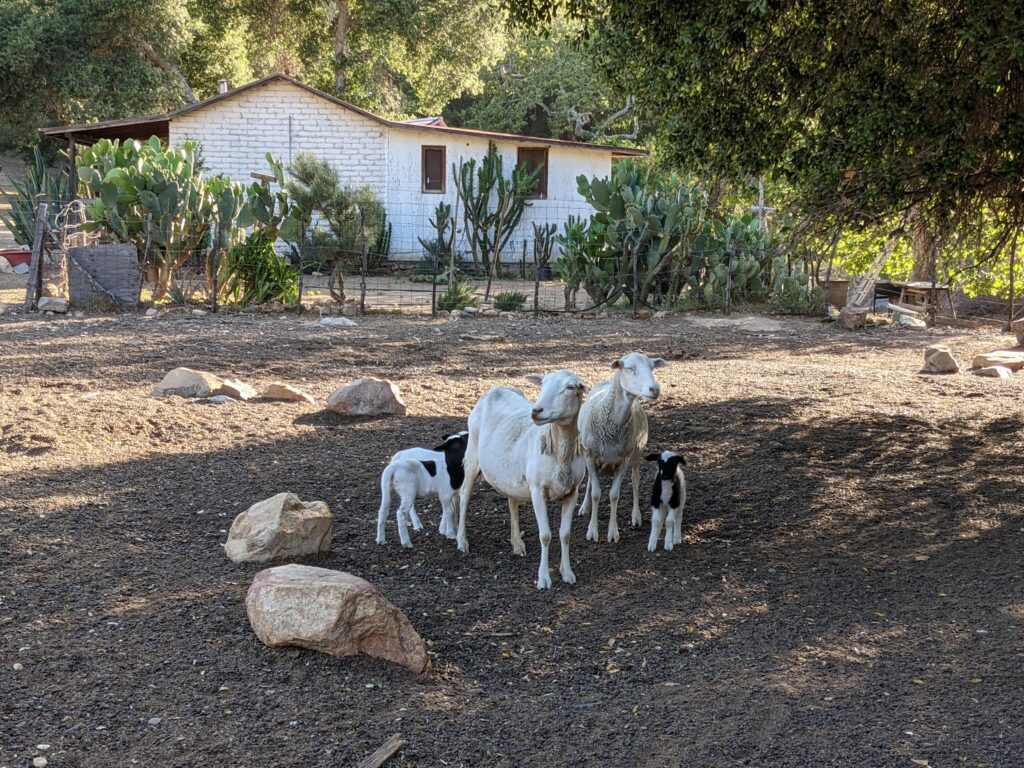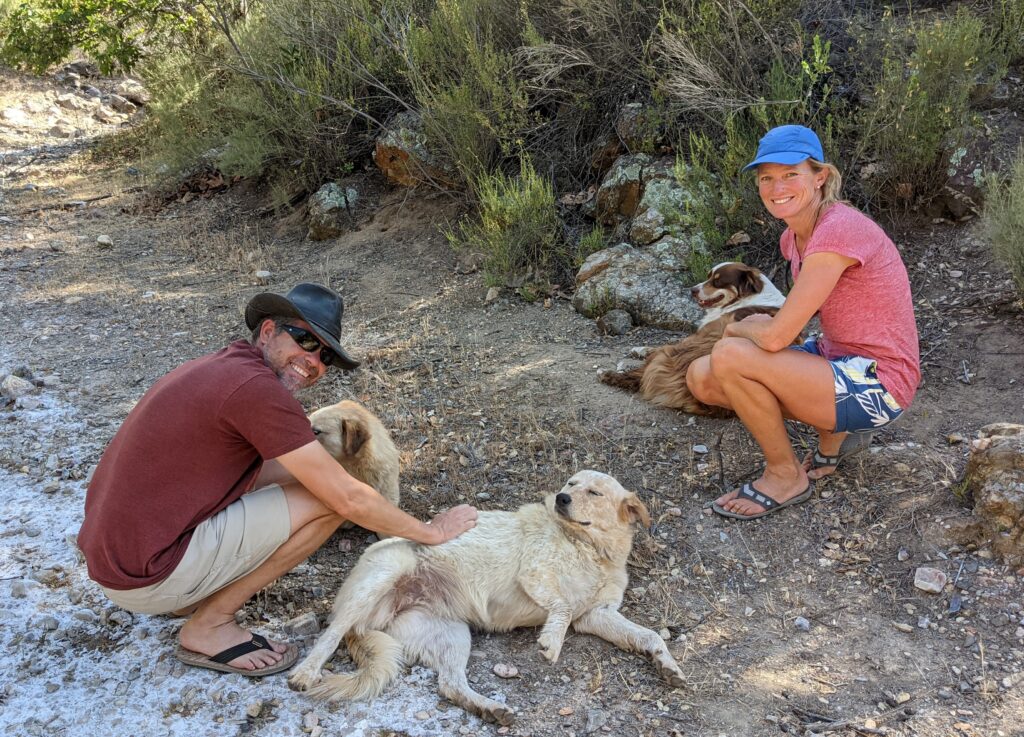 Not far from LA Cetto winery is La Bellota Ranch, owned by a couple Raul & Caroline, who love overlanding as well and built their own overland vehicle from a Suburban. Their business is to take in paying guests and show them an "unplugged" experience for a few days because there's no mains power, internet, phone reception etc. He picks them up at the border in Tecate once they walk across and then drives them to the ranch on a rough road to a hidden valley gem. Here, they can stay in rustic cottages and horseback ride and do the simple things in life. And then overland rigs who are willing to make the journey can come to visit the ranch and hang out with Raul when he isn't busy with guests. And so we did this and it was great!! We had a beautiful camping spot alongside the horses & sheep, a friendly pack of dogs to keep us company, we did a day of horseback riding, walked some trails, relaxed and chatted with Raul while drinking amazing tequila. I didn't realize that all the tequila we'd had in the past tastes & smells like paint thinner when compared with real full agave tequila. We joined a couple of his guests one evening around a campfire and were sitting talking when Ivan spotted a row of satellites marching low across the sky in near perfect formation. It was really weird and after one set went by, another appeared. When we finally got to internet Jon looked it up and it was indeed the latest round of Spacex Starlink satellites launched that hadn't settled in to their final position yet. We had hours to shoot the breeze with Raul and get a Mexican perspective on things which was nice. At one point he said that he deliberately left the long road out to the ranch rough because he believes that bad roads bring good people. And that very well could be true. We were made very welcome and we were so glad we had the means to get there and see it in that way. It was also the culmination of our fun in the Baja together for this time.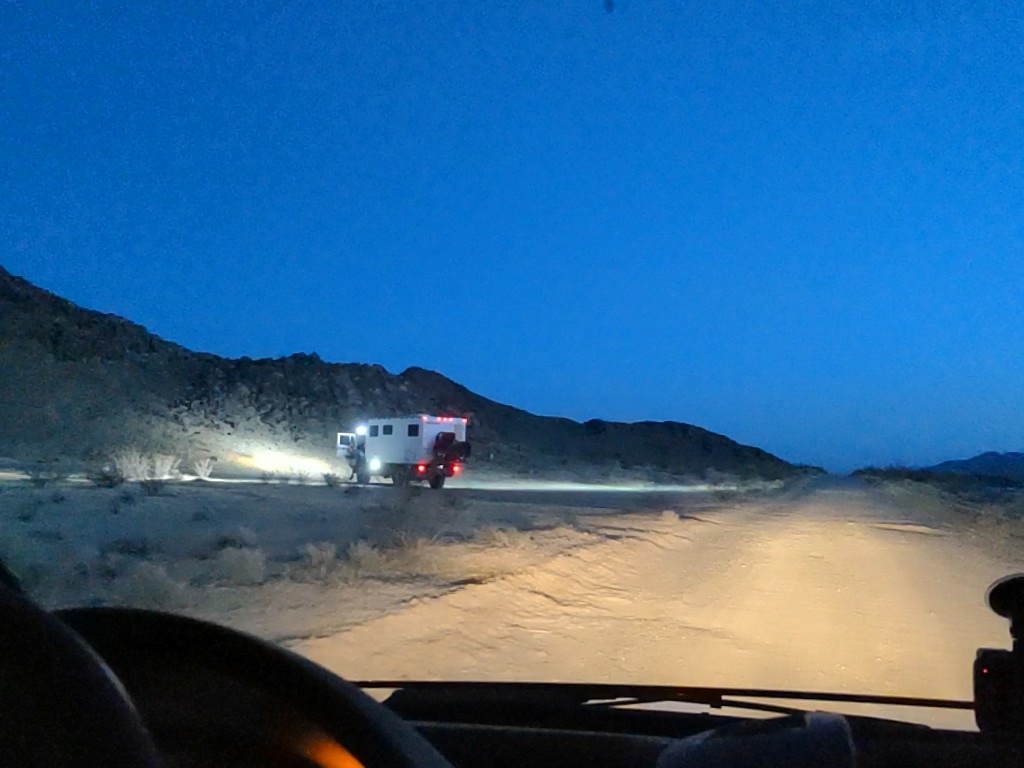 We departed early the next morning from La Bellota after 3 nights and headed straight to the Tecate border to start implementing our plan. Ivan took an Uber to Tijuana to get his covid test and check in to the hotel so that we could keep the trucks out of the craziness of the city and we said goodbye for a night because if all went smoothly, we'd reconvene in Las Vegas the next evening. Jon & I got in line for an hour and a half (who ever would know it was a closed border!) and finally made it to the crossing where everything went smoothly. The agents checked both our trucks in together, chatted us up about the Vermonster and were very friendly and professional. What a relief!! Ivan was good to fly the next morning and we continued on our way to Vegas. It felt good to have the crossing behind us but it wasn't fun to meet the crush of traffic in San Diego on a Friday. All I could think of is how I didn't want anything to happen to Ivan's van while it was entrusted to me. But we made our way through it and arrived at dusk to camp in the Mohave Desert for the night. Jon got to light up the area using the new roof rack lights. We took a hike the next morning to stretch our legs and then carried on to Vegas for a much needed stop at Trader Joes before checking in to Red Rock Canyon Campground. Meanwhile, Ivan was flying and sitting around in airports all day because you can't fly direct from Tijuana to Vegas. By that evening though, we were collecting him at the airport in his van and heading back to the campground to park side by side again and celebrate our success!
Part of the reasoning for traveling the way we do is the value we put on the freedom to choose what we want to do and where we want to head. Most of the time, nothing is more important than that, than right now. A few days ago, my mom told me I was conceived in a tent in Ponce de Leon Springs, Florida. Never knew that. The spark for Jon happened somewhere on a sandy beach in Florida. And Ivan was conceived in a tent in the Pyrenees mountains of Spain. Maybe that's why we have adventurous spirits! Who knows, but the important thing is we can keep wandering together for a bit longer, this side of the border.