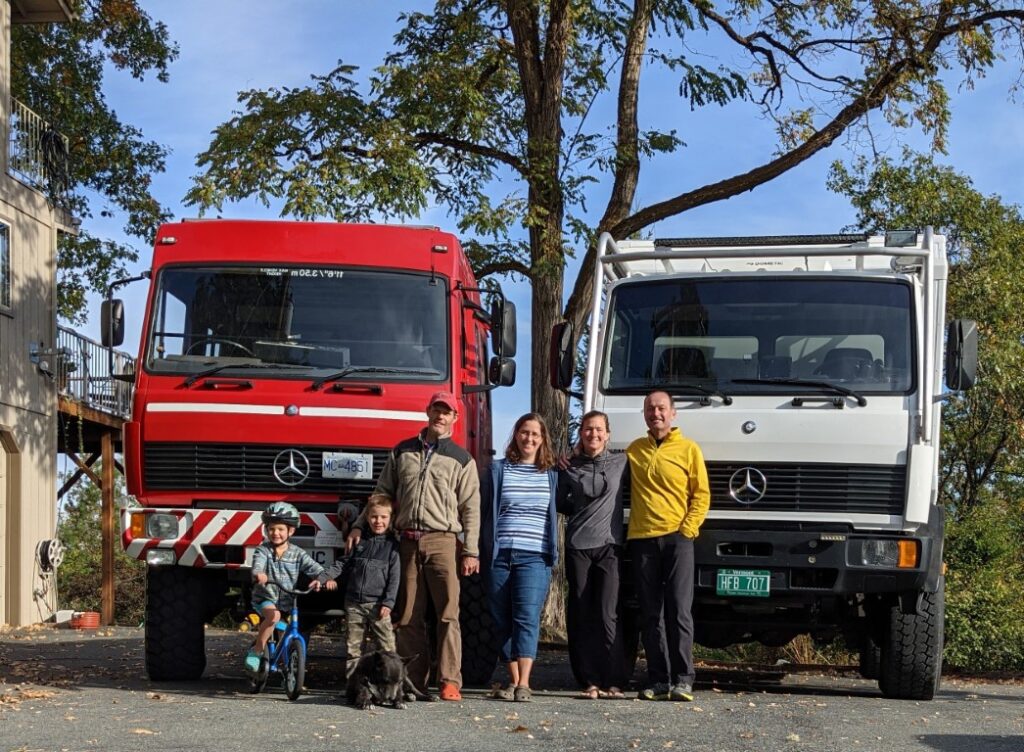 We are on the road again and it feels good! After about 3 weeks in McCall hanging out with Mark & Anne and getting a few projects done, we are now in Redwoods National Park, a place we've wanted to come to for years.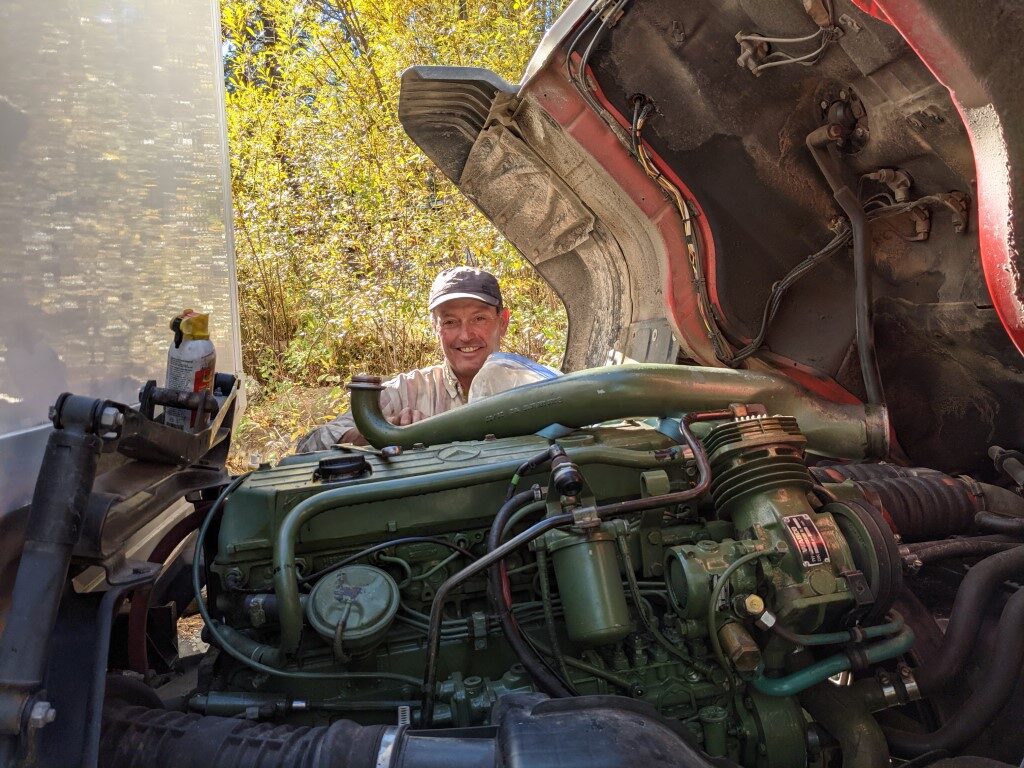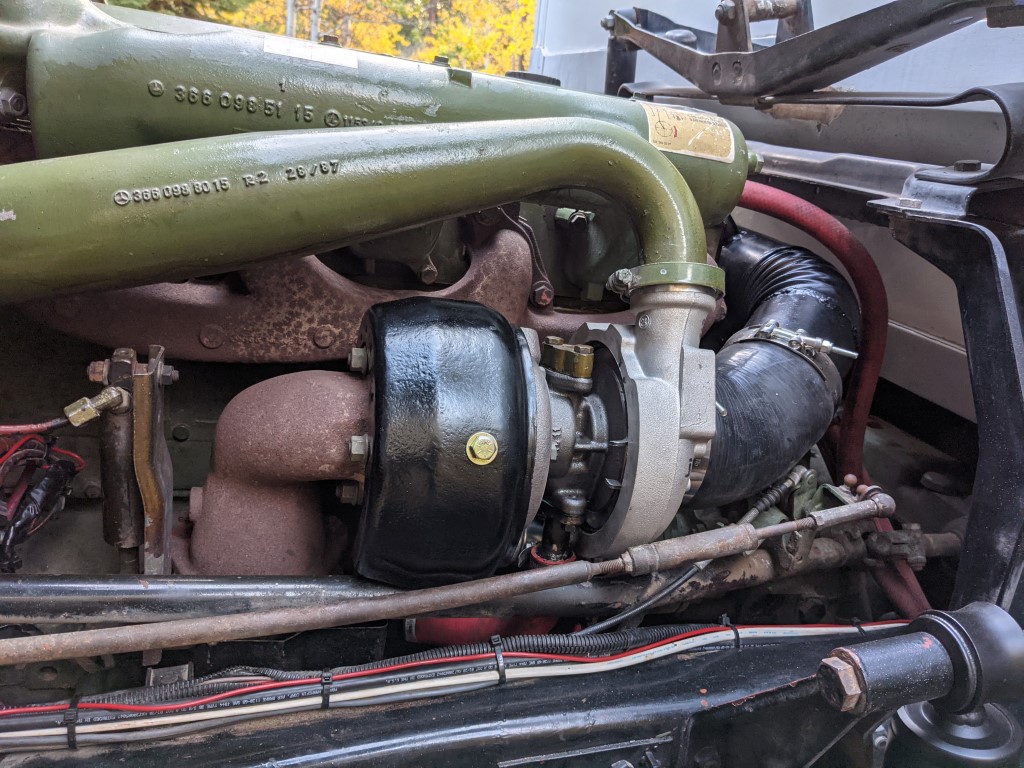 We spent a few play days together with Mark & Anne, then got down to business working on our respective projects because we're all headed to the Baja this winter. Jon dug in to upgrading the turbo on our engine in hopes that we would get some more grunt in lower gears because there was a pretty big gap between 3rd to 4th gear especially. He'd ordered this turbo to have sent to Ivan in Spain and we carried it back on the plane saving hundreds in shipping. It went in pretty smoothly with a bit of welding from a local welding shop and we can definitely notice a difference. It may be more pronounced once adjustments are made to the fuel however Jon hasn't done this yet, in part because we've had so many issues with shipping. For instance, another package of bits ordered for Spain had to be forwarded to the US and became lost in the world of Fedex and only showed up the day we'd left McCall. And the higher capacity radiator that would assure we get proper cooling with the larger turbo on board arrived broken so Jon had to make a patch to be able to use it until another one eventually shows up because everything is on backorder. So far the patch is working and the engine seems happy temperature wise but it would be nice to have that whole and new before adjusting the fuel for the turbo. While Jon had replaced the shocks on the truck with the best we could find early on, experience told us we needed stiffer ones yet so he ordered some from Germany and installed those and now the truck is stiffer but our velvet ride still stands with the awesome parabolic leaf springs. Since he posts to a forum on Expo Portal, others with our similar truck have followed suit and upgraded their shocks & springs so we all get a little discount from the seller in Germany. One hand washes the other so to speak.
Mark set me up with his deluxe sewing machine so I could modify a screen for the doorway which we've been wishing we had and it is good preparation for the flies in Baja. It attaches with velcro so is removeable when not needed like now in winter and magnets hold it closed.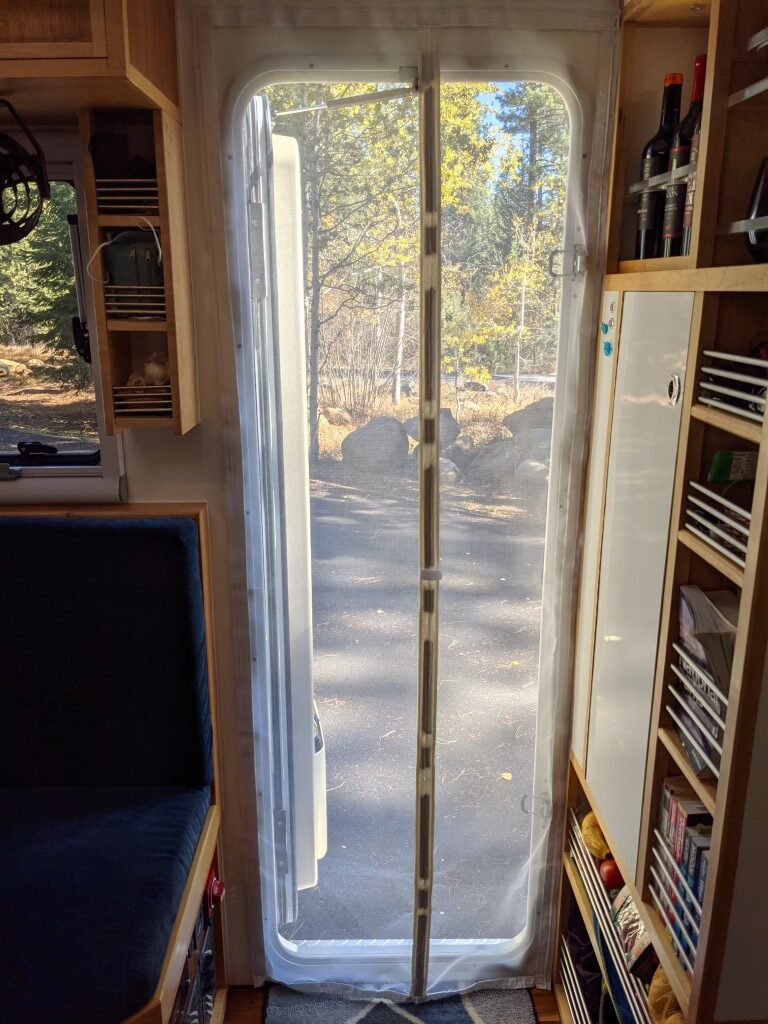 Hanging out with Europeans got us spoiled with coffee & frothed milk and finally I decided that I really wanted to have a nice expresso machine onboard just like theirs. I am tickled with this and find my thoughts wandering off to coffee lately….. maybe we'll become baristas at last. Plus it was paid for by selling a spare boat part on Ebay recently.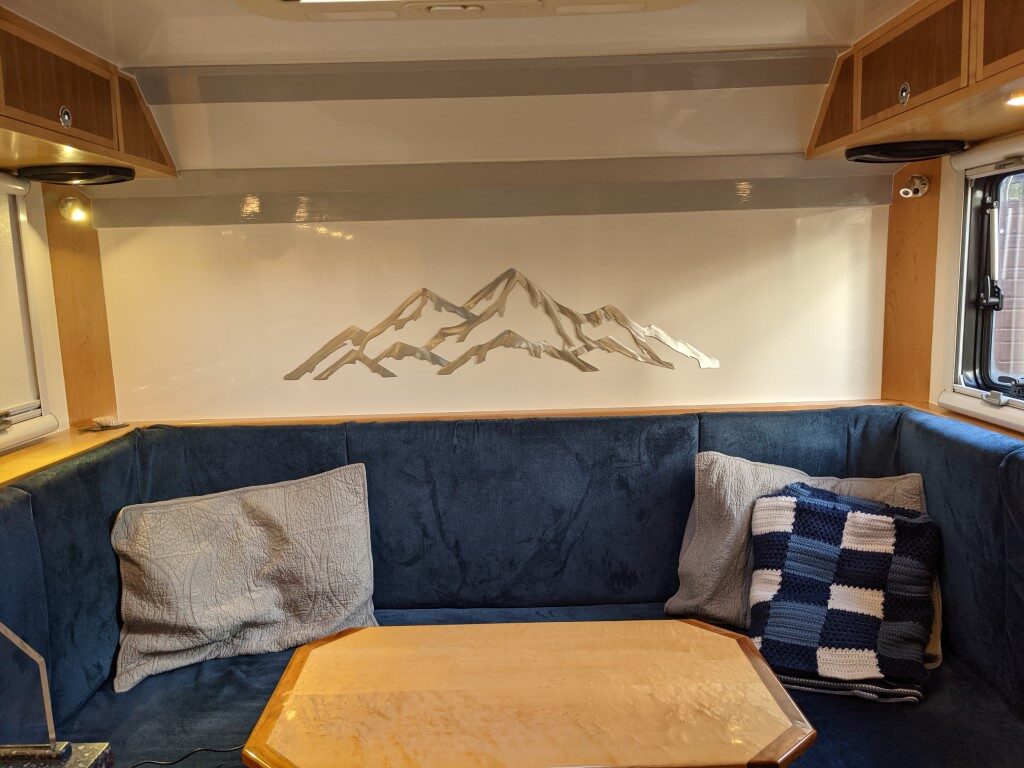 We also hung a piece of art on our bare front wall. It's aluminum, light as a feather and fits the space nicely in our opinion. I saw something similar while visiting one of Anne's friends and then found a seller in Colorado that makes them.
With the incoming new things there had to be some "out with the old" happening so I tried to clean out some of things we weren't using like you're supposed to do when you live in a small space like ours. Fortunately, Mark said we could stash some stuff in their hangar to make sure we don't wish for anything back before we get rid of it for good.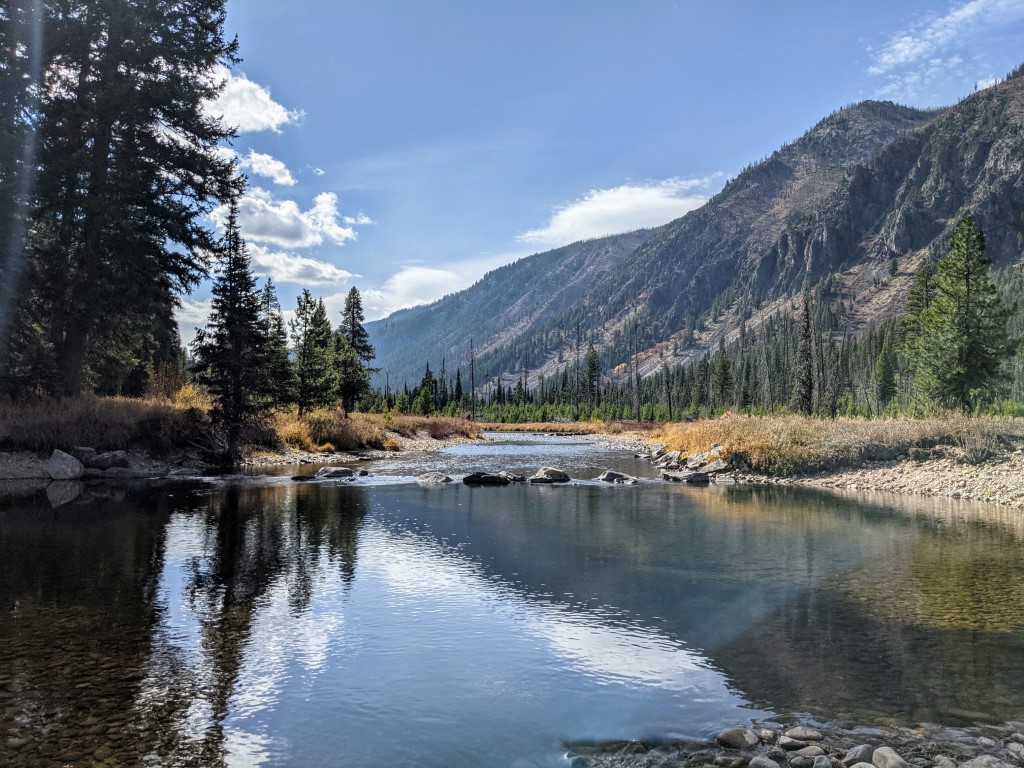 Mark & Anne flew us in to a backcountry airstrip at Big Creek Lodge for breakfast one morning which was great and we found out that we could drive in there in our trucks, camp in front of the lodge and have a hearty dinner there on one of their last nights for the season. It was time to celebrate Jon's birthday so worked out great for a special occassion. We took 2 nights and did the 4 hour drive there on beautiful back roads in Boise NF in bright sunshine, making stops along the way. I really feel like I got a good dose of Fall leaves this year because we've seen a lot of them. I didn't realize dinner would be a 4 course meal next to the fireplace and that it would culminate in a lovely free concert by the lodge staff with only us 4 as the audience. Boy, could they play and sing! We all agreed it was a fantastic evening and more than we could've hoped for for a birthday dinner.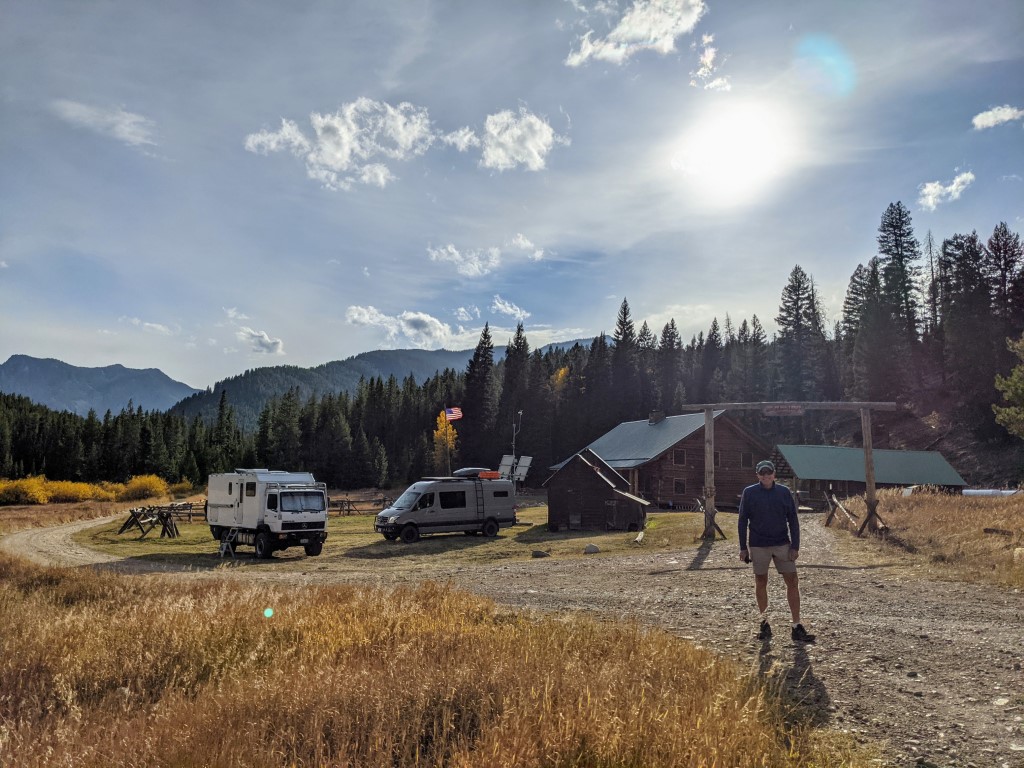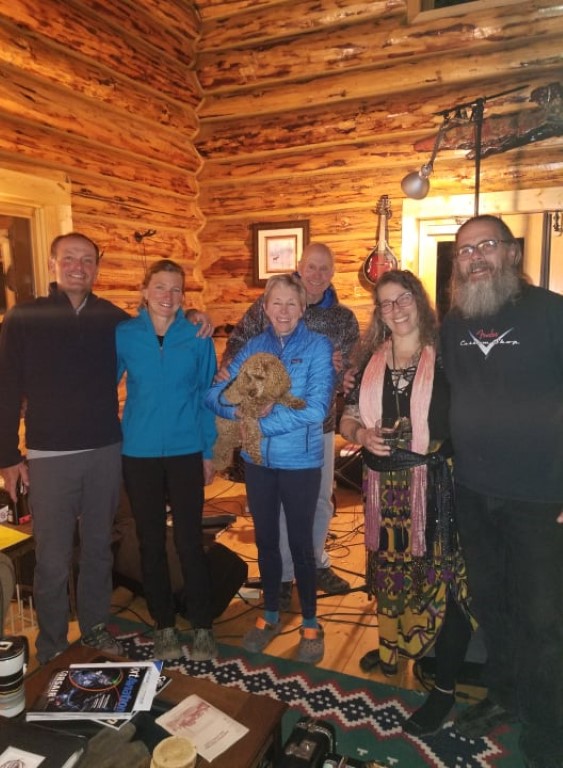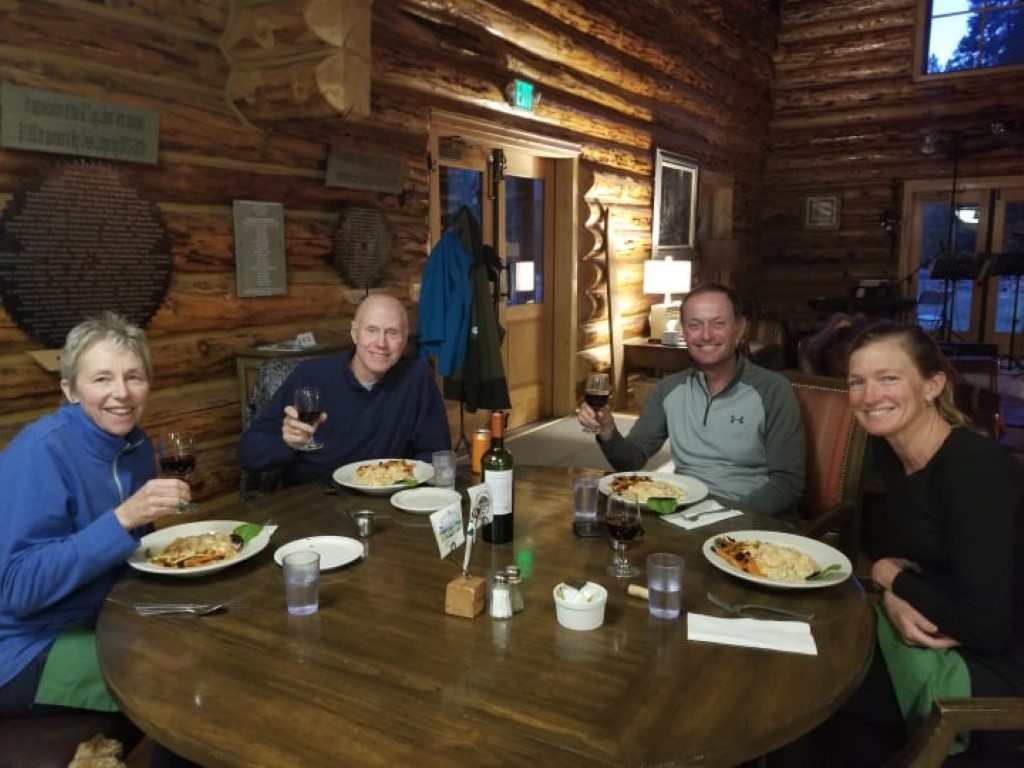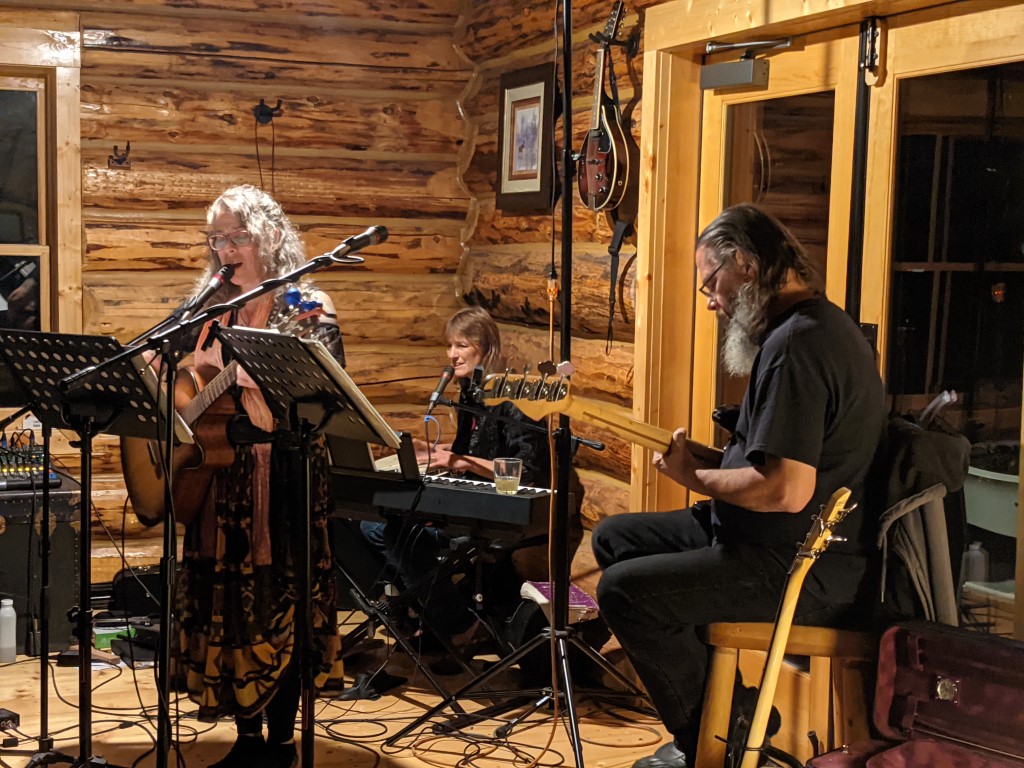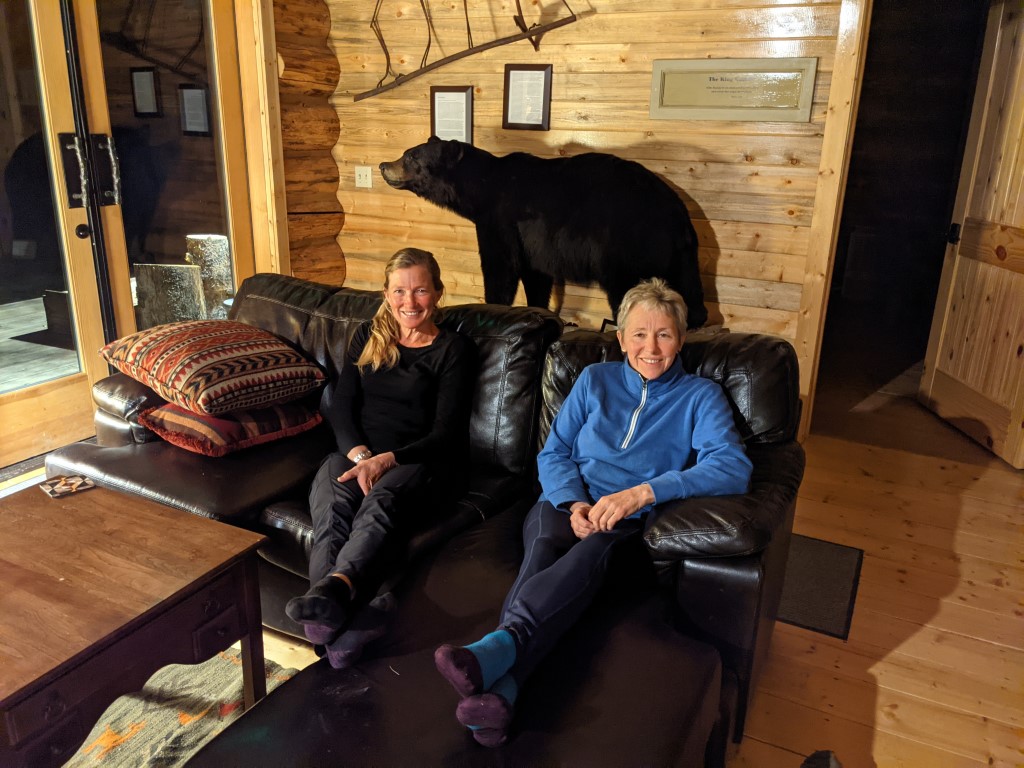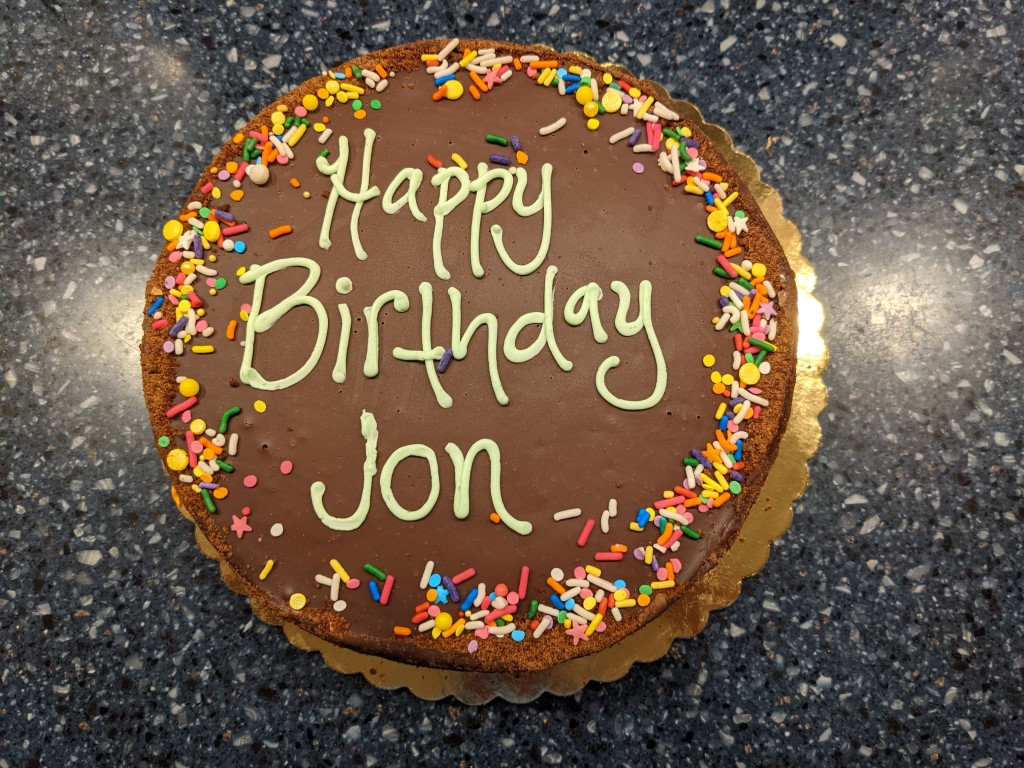 I thought about Jon and all the places we've celebrated his birthday, all the things we've done together and remembered a card that Sandy had given me a couple years ago on my birthday. It was an Abe Lincoln quote that said something like "It's not the number of years in your life that matter. It's the life in your years." I feel like we've done a lot in our years and hope there are many more because we have a lot more we want to do!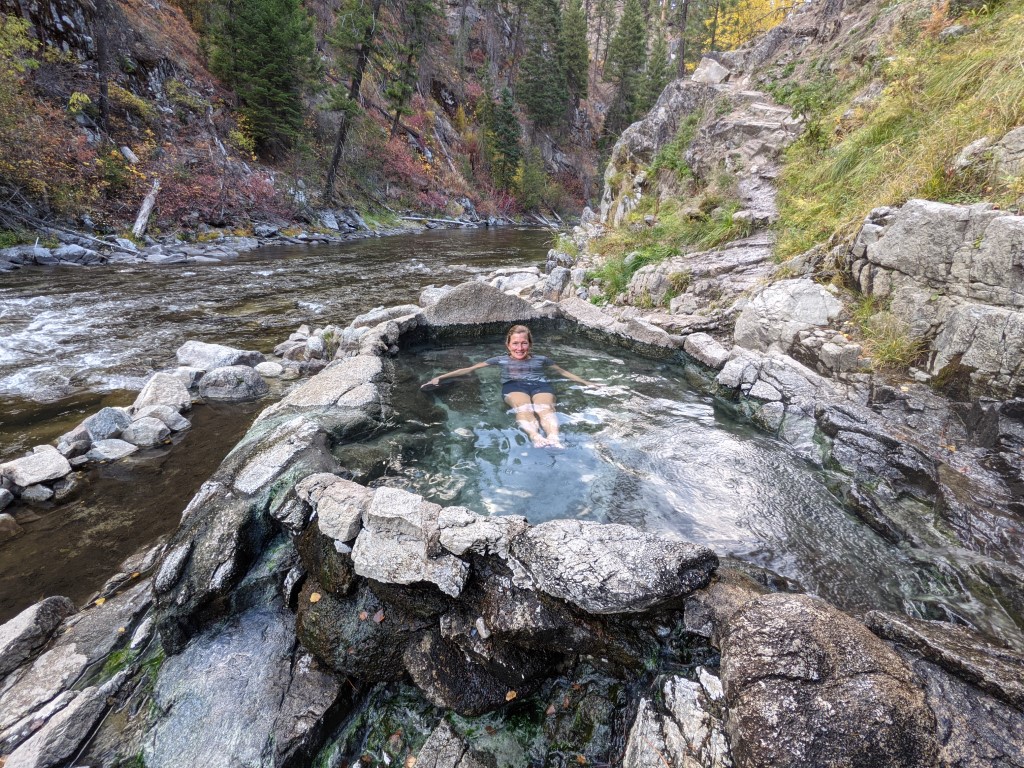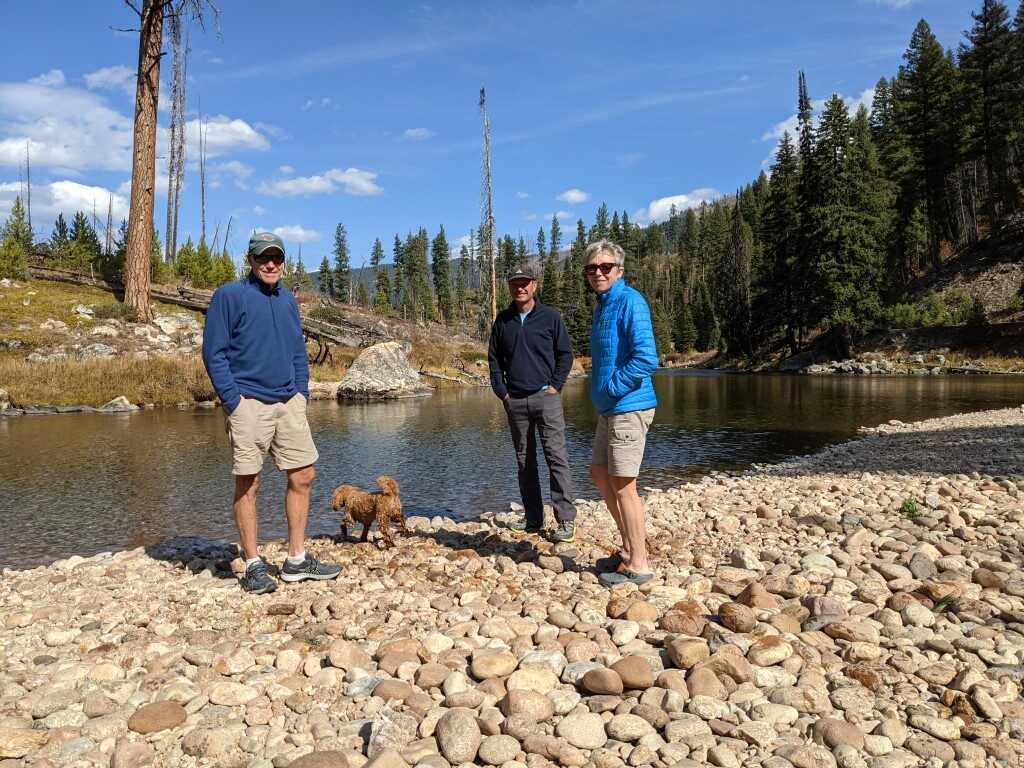 On the way back we stopped at a roadside hotspring, one of the best we've ever been to because it was quiet, set below the road, right alongside the river and the water was clear and blue.
Birthday over and back to projects, we spent our evenings trying out new recipes on each other, taking morning runs & walks with Cricket, hitting the produce market, taking turns picking up each other's packages at the UPS Store and making plans for Baja.
Then it was time to leave our VIP campspot and start moving south and give Mark & Anne a few days to get ready to go. We'll catch up in a few more days. Our route took us past Boise and Jon got an annual derm check. We get too much sun and we know it but we basically live outside when left to our own wishes. It feels like the spots that he had frozen off aren't going to be deep enough. And one thing about medical care is you can't go back and say this didn't work, I'd like you to fix it under warranty. On a walk a couple days later we came up with yet another of our "million dollar ideas", just jokes about silly ideas really. This one would be named DIY Derm. It's a homeowners guide to taking care of your own solar keratosis using a can of gum removal freeze spray that I used to use at the movie theatre I worked at in high school. I mean, why not? It could work! Would save heaps of money and you could keep up with it better.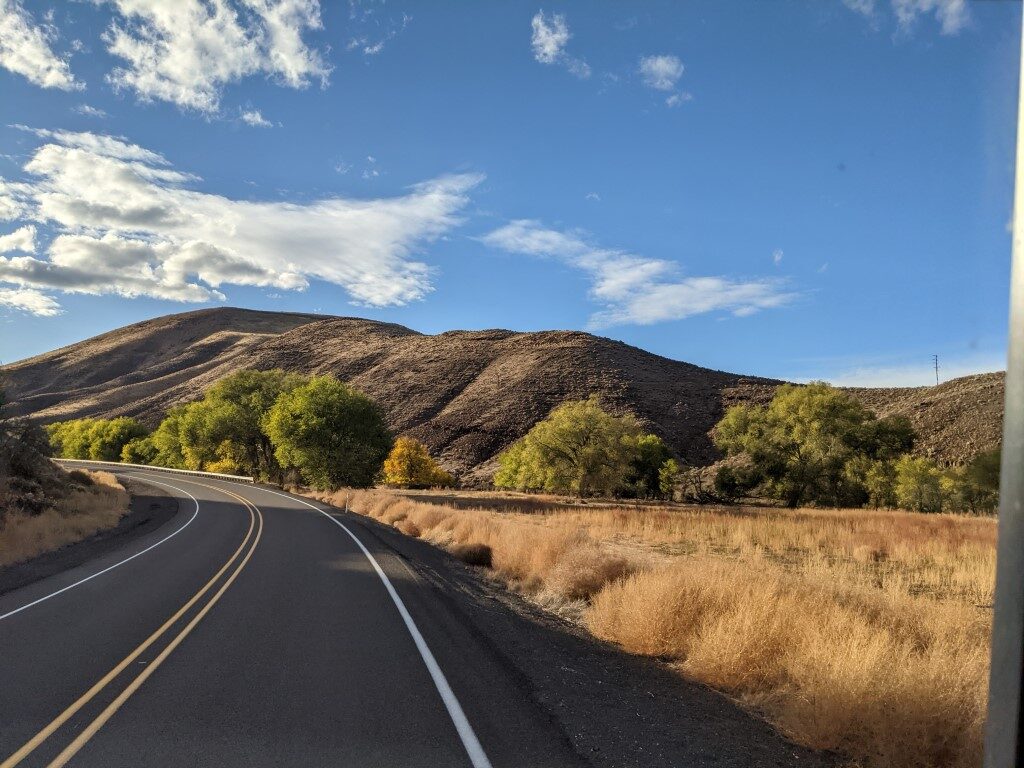 That afternoon, we continued on across Eastern Oregon which I find very beautiful. Something about the light and the fields of golden crops. We stopped for the night at a BLM campspot and it felt so good to be in the vastness of that open space, much like it felt to be at sea. Very peaceful. We took a great walk the next morning just enjoying that there was no one around but us and the birds and the fact that it is all public land is great.
We had to make some miles that day toward the Oregon coast. So we drove for several hours chatting away, listening to tunes and enjoying the passing scenery. When we bought our truck it came with a 12 or so gallon fuel tank. I guess since it was a fire truck, they typically don't carry much fuel. We hunted out 2 used 50 gallon tanks over several months and installed them so that we carry 100 gallons, each with it's own Racor filter. We get about 12 MPG so feel good about our range however we know that the flat bottomed tanks afford no well for a reserve and it appears the fuel pick-up is pretty high so we don't get the 50 gallons of course but we've been curious to know how much we really can get. And on other occasion when the tank was around a quarter, we were going up a steep hill and the engine started to stutter, but a quick flip of the fuel switch on the dash brought it back to life with a whole fresh tank. So Jon was trying this again to verify once and for all. It was about 6pm and we were very close to the turnoff for our planned campsite near to Mt McLaughlin. Its a remote stretch of 2 lane highway as far as services go but full of fast moving trucks and traffic. All of a sudden the engine starts to stumble, Jon flips the fuel switch and within about 4 seconds the engine stalls and we roll to our resting place barely off the road. So much for another smooth switch from tank to tank! We tip the cab (this is not that easy) and Jon immediately starts pumping the hand fuel pump to move the air. But this time it is really airbound and no amount of pumping of the hand pump on the fuel filter works to bleed it in short order. He changes the fuel filter on the engine just in case at my urging. The light is fading, the traffic is roaring by and the temp is plummeting. Turning over the engine only works to drain the battery and there is still too much air left in the engine to let it fire. A nice guy stops for a little bit to stay behind us with his flashers on while we work but there is nothing else he can do and we eventually send him on his way because at this point we need to run the generator to recharge the start batteries before turning the key anymore. Darkness falls and I put out our emergency triangles, we don our reflective vests and keep trying to get the engine started after little bits of charging and more pumping of the fuel pump. We call around for a jumpstart and no one can do 24 volt. We are on quite a list on the side of the road so we can barely open the fridge to get anything out and it's uncomfortable to be inside moving around at that angle. We were hoping to not be hit by a truck since we were so close to the white line. Jon continues charging the batteries and topping off the generator tank and we keep the engine warm all night using the preheat from our furnace. We tip the cab again & again and try to start the engine at 9, 11, 3 and then 7am and the temp falls to 26 degrees. It felt so much like a rough passage. We were up all night just dozing and nervous not knowing how things would all roll out. Several times that night, Jon communicated with a friend and retired mechanic in Germany who he "met" on the LN2 Forum for people with trucks like ours. Stefan's technical support has been invaluable on so many occasions and this was no exception. Knowing our situation and what we had to work with, he suggested using a spray bottle filled with gasoline to pump one spray per second directly into the air intake while turning the engine over in hopes that it would be enough to overcome the 15 psi needed to push the fuel past the injector pump check valve and into the engine. At 7am, we tried again and thank the lordy the engine came to life. Just at that very moment, a cop pulled up behind us and we could thankfully say we would just need a couple of minutes to collect our triangles, reconnect the air hose and put the cab down. With his lights on the traffic slowed down and we could more safely go about putting the tools away before driving away from the place we'd spent the past 14 hours.
We drove to the trailhead where we were originally headed and idled the engine for a bit while having a cappuccino and collecting ourselves. Tired but relieved we went for a lovely 12 mile walk (this is how we relieve stress!) on an easy, rolling trail through lava fields and golden leaves to a lake where we had lunch and went over what had just happened. We'll order what we need to be able to jumpstart ourselves using our house bank. Jon will try to get the guages adjusted so they are more accurate which has been rather ongoing anyway. Part of having a truck like this! We already carry a new starter just in case that goes….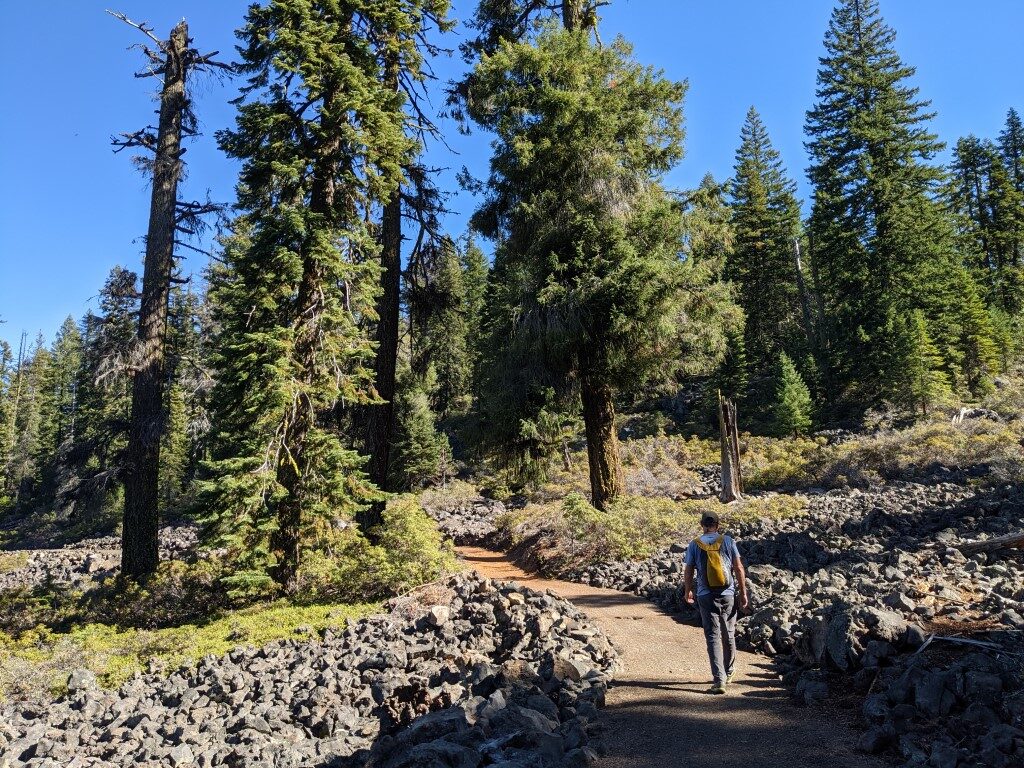 That afternoon, we found another BLM campspot beside a quiet field full of bluebirds and we sat out in the sun in our camp chairs and had an early happy hour, followed by an early night to bed.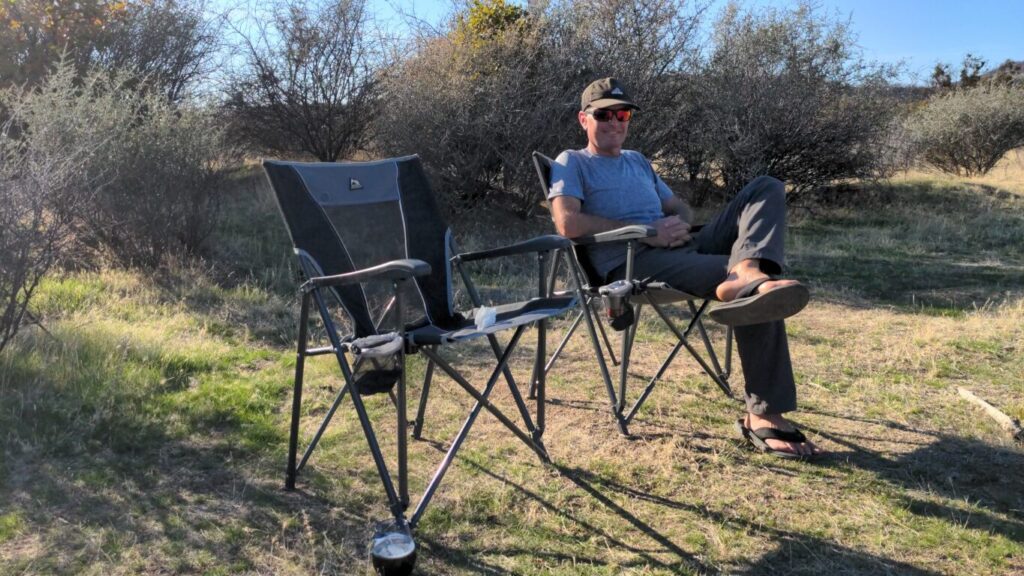 While we haven't had the opportunity to ship anywhere yet because of covid, we have nonetheless had a blast and met a wonderful community of overland vehicles here in our own country. Back when we were getting started building our truck and using the resources and comaraderie of the forum on Expedition Portal, we read about this guy Ryan and how he had just flown to Halifax to pick up his new-old British fire truck that he'd bought sight unseen at auction and had shipped to Canada. He'd then met his dad who had flown in the night after, his flight delayed in storm conditions and then they'd driven the truck all the way back to Oregon needing to get special permits to import it into the US because it was shy of the 25 year old requirement that the US has for imported trucks. It was such a crazy story, but not unlike ours. It felt good to know of someone else that nutty!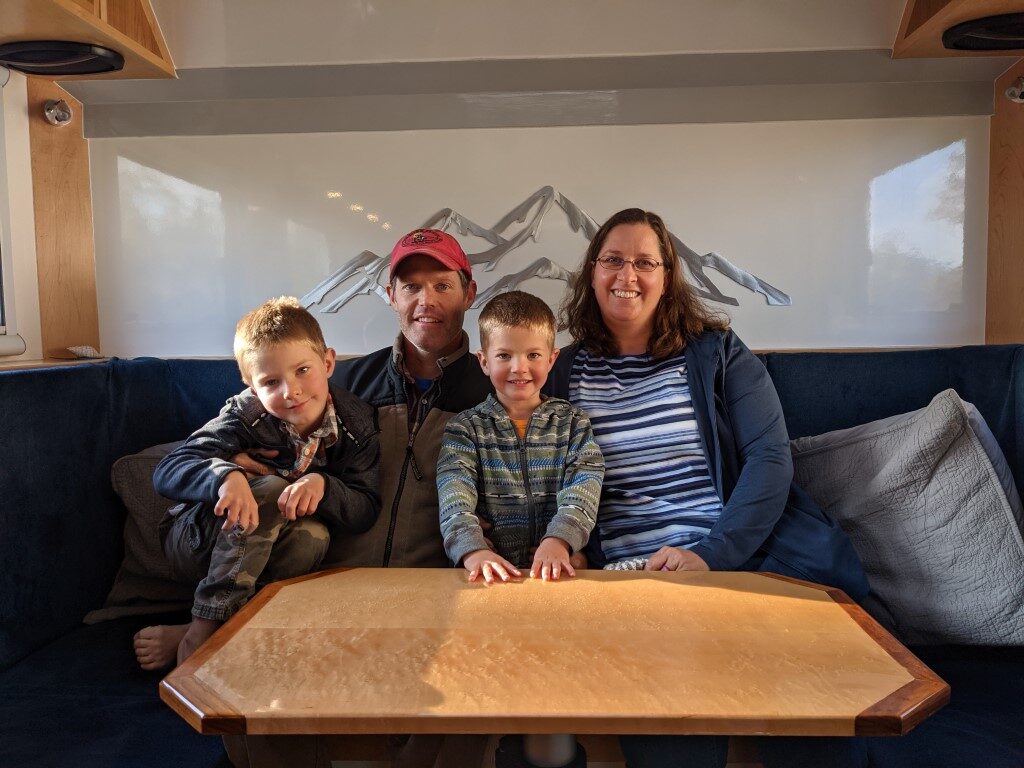 Our reason for heading to Grants Pass, Oregon was to finally meet Ryan, his wife Natalie and their 2 kids in person and have our trucks side by side. Perhaps we could offer some encouragement to keep plugging away because in the end it's a blast to travel in something like this. We had a fantastic evening doing a show & tell and sharing ideas over dinner. Plus I got a really good kid fix. I liked these two.
We left there only to swing by another forum friend's house also in Grants Pass, Mark. Mark had helped out giving information on several things but one early on was just the Mercedes model numbering like what does 1120 (our model) mean anyway? 11 metric tons and 200 HP. And helping Jon sort out all of the many options that are available on each individual truck so he could search for the right one. It was fun to hang out and chat for a while and put a face with a name. Turns out both Stefan and Mark know a German couple that we met last year in Utah on a trail and have stayed in touch with ever since. We should be meeting up in Baja. It's a small world after all.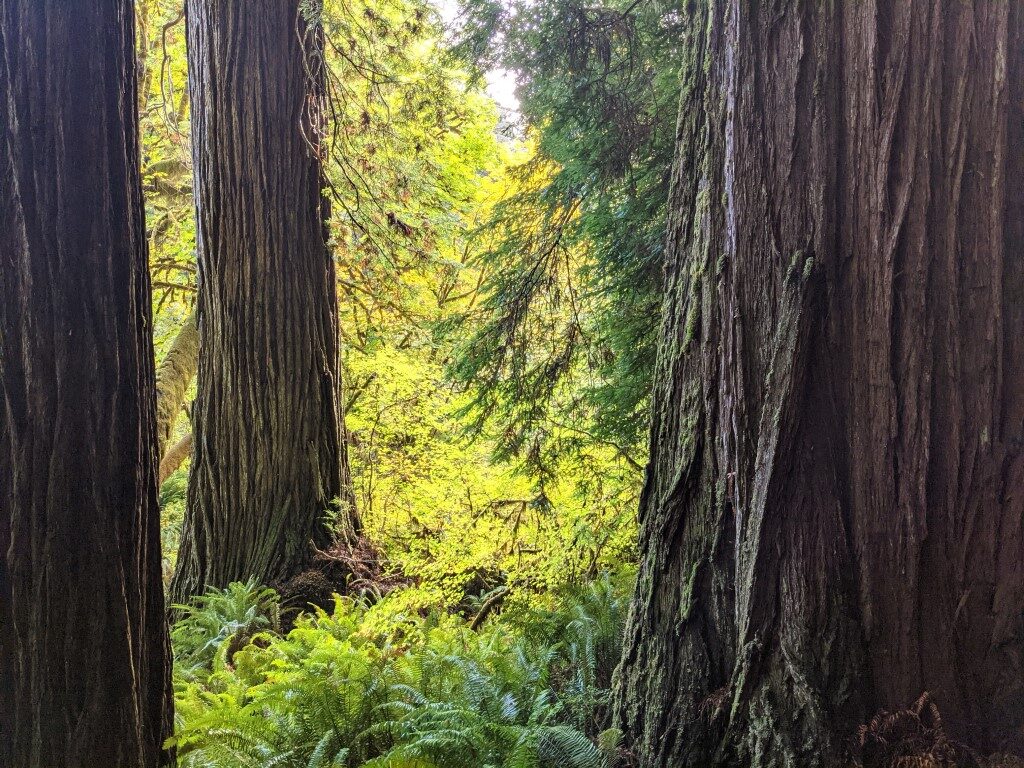 Last evening, we stood under the redwoods in the drizzle and smelled the turpentine smell of them excited to be spending a few days here. It feels good to be near the sea again too even though everything feels damp and the towels won't dry. We can hear the sea lions from our truck tonight!