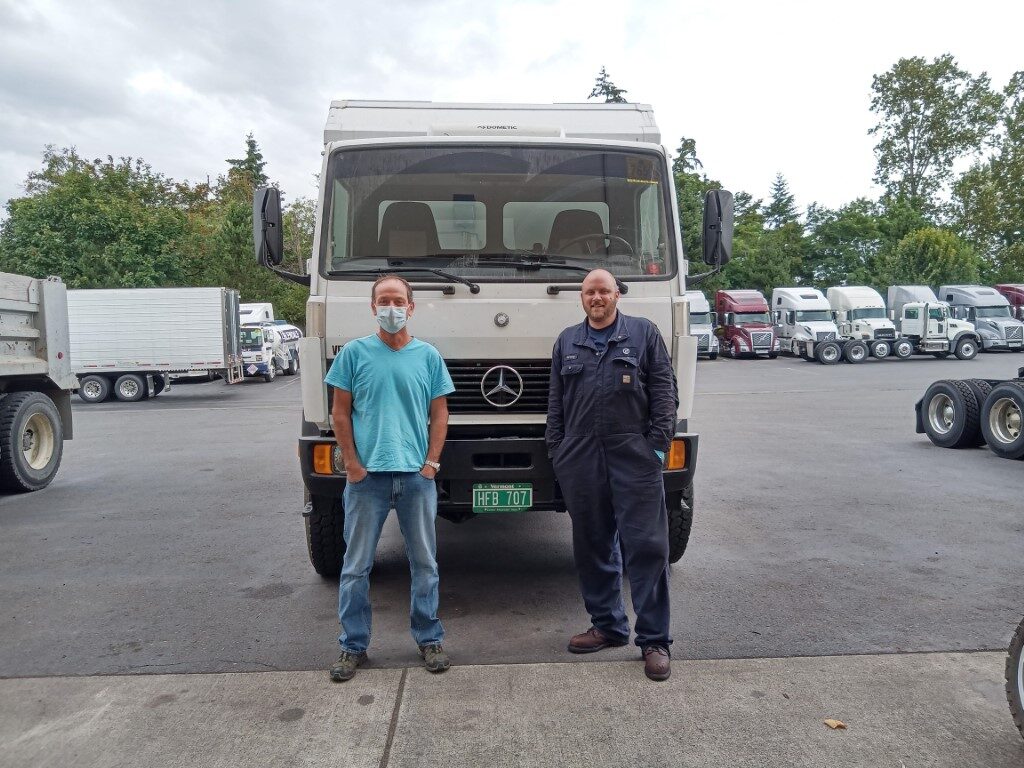 While Covid hasn't done anyone any favors and we are completely sick of it, something fortuitous did come out of it recently.
An engine coolant loss issue had been plaguing us and had been worsening. Everything we'd checked or replaced, like the radiator and reservoir tank hadn't solved the problem. And when we decided it was time to bring a mechanic in to help us, it proved to be hard to find a good quality heavy truck shop willing to work on our 1988 Mercedes that was never sold in the US because they feared they wouldn't be able to obtain parts and it would be stuck in their bay taking up space. The truth is though we've never had trouble getting parts, it is just that we often have to order them from places like Latvia or the UK and have them shipped, often express which isn't any more expensive than here in the US. So when the search began for a place to do the work in Boise or Portland or along the way, nothing was working out. So Jon started looking in Seattle and we were close anyway. A call to one shop who declined to do it led to a name of another, that led to another and finally we lucked upon TEC Equipment in Des Moines, outside Seattle. They were willing to do the work if we could get the parts because they are quiet right now with Covid and looking for business. Apparently there are less trucks running goods, truckers are having less repairs and warranty work and they also don't have the extra money to pimp out their rigs. Then we lucked out again having a great mechanic, Jeremy Ness do the work.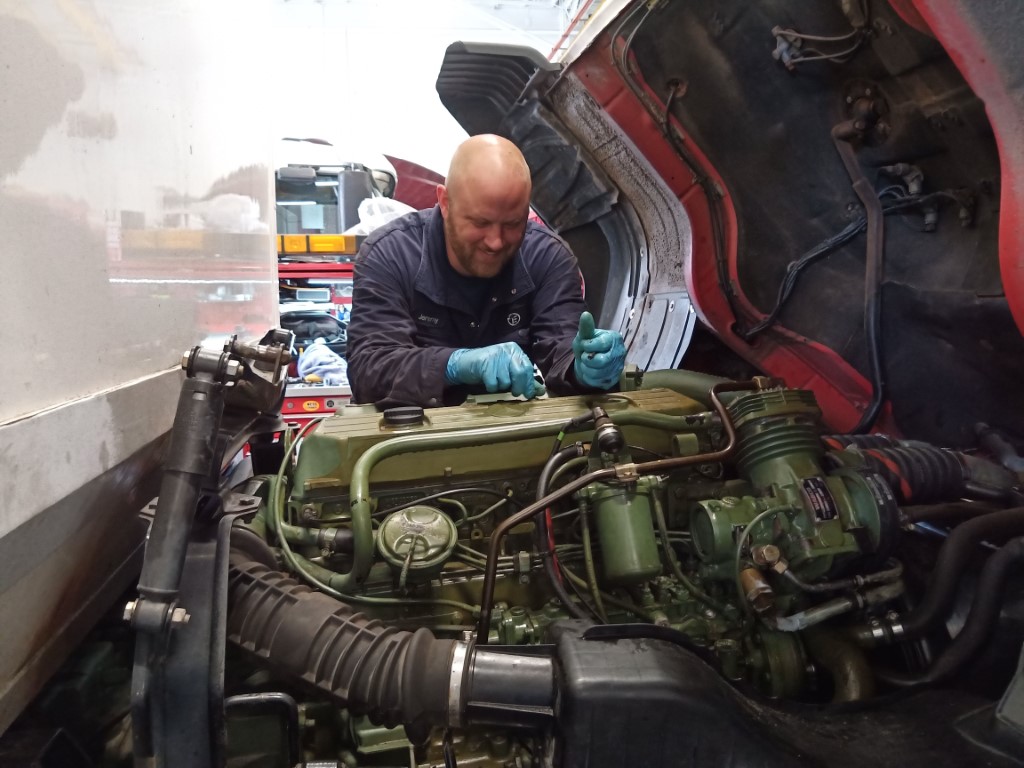 Our life seems to always be about logistics. Not wanting to stay in any of the hotels nearby (truck repair areas maybe??), we chose to camp at a state park on the water less than 2 miles away and use the motorbike to get to & from the truck while it was in the shop. Because Jon needed to be present in case of questions and to order parts right away as needed, we were able to spend the day in the truck (at home) and then evenings at the campground which worked out OK, and we got some good laughs out of it. Saltwater State Park is in the bay but also right on the final approach to SeaTac. We got a real close up look of the bellies of about 100 planes during our 4 day and you should have seen us the last day when we had to lug all the camping stuff back to the truck via the motorbike, in one trip. Reminded us of our cruising days in other countries where the family car is the motorbike.
Jeremy methodically disassembled a good bit of the engine looking for the culprit and found a few deficiencies. He was conscientious & interested in our truck which was a relief. He sent the head out to be checked & it was OK, replaced all of the major gaskets and o-rings, replaced all the injector sleeves which had corrosion on them & could have accounted for some leakage, replaced the bearings, dropped the oil pan for cleaning, painting and a new gasket, did a valve adjustment and cleaned all the engine parts that were disassembled well. The engine looked sound and showed little signs of wear. But with age, gaskets and such do break down and need replacing and it felt good to get that done.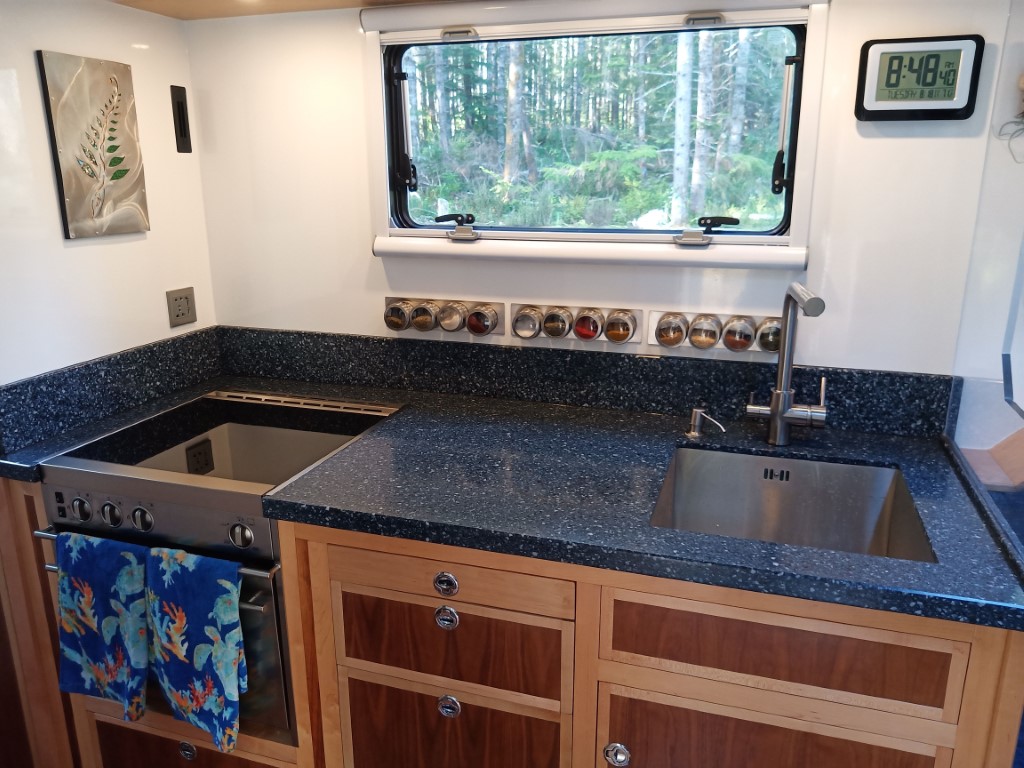 While all this was going on, I finished editing and submitted to Overland Journal magazine an article that Jon & I had been working on about the transition to this new way of travel for us and the conversion of a retired fire truck to an expedition truck. If the doors ever open up to ship to a whole new place, I'm ready to try writing something about it to a broader audience. And I did a couple of pink jobs including mounting a magnetic spice jar set of the most common ones we use. So far they're still on the wall!
By funny coincidence, we got to hang out with Mark & Anne a couple more evenings in Seattle because our shop was about 10 minutes from her dad and they were visiting. Its always great to see familiar faces in new places.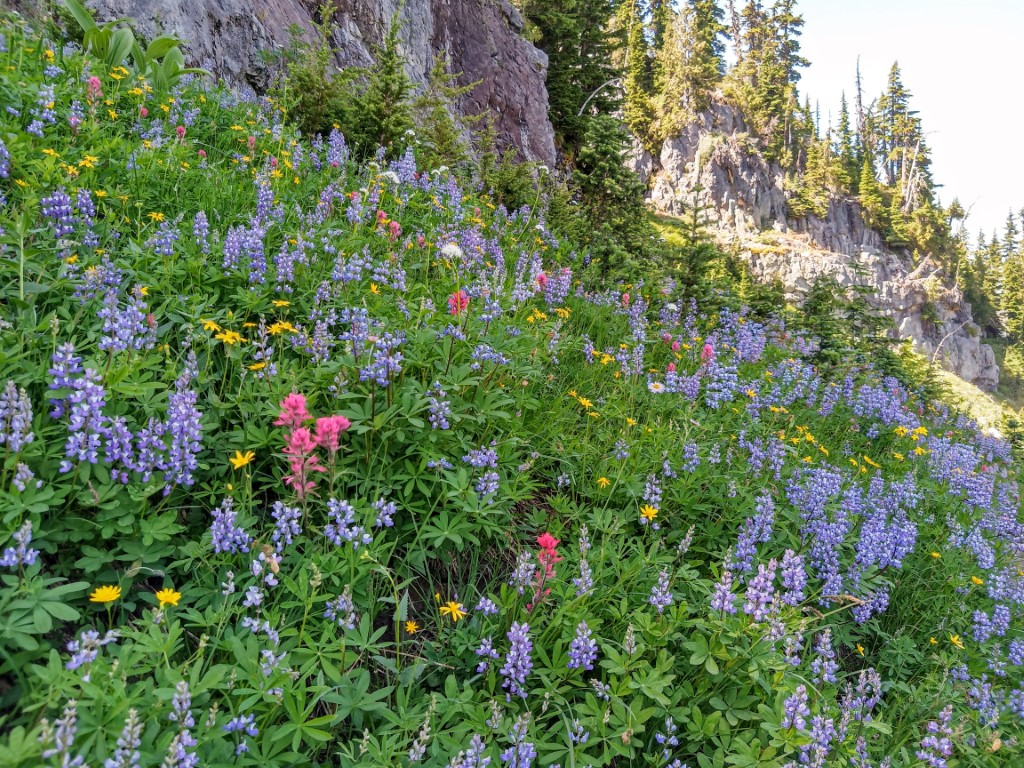 After 4 full days in the shop, and Jeremy knowing that we were anxious to get outta there and the three of us feeling good that the problem was most likely fixed, we took a test drive, paid the bill (we're eating beans a lot now) and headed off to Mt Rainier, about 75 miles away. It was so good to be free again. I've been dying to come to this park in the summer to see the famous meadows filled with wildflowers. We did a day of hiking and had gotten a hard to come by backcountry permit for a few days later. But we realized that even though we had more power from the valve adjustment and the truck was running more smooth & quiet, it was still losing coolant. So we turned back, found a campground in the cute little town of Enumclaw and Jon became determined to find the problem once & for all. He got a pressure checker kit from Auto Zone, took the valve cover off again and found a leak in a threaded coolant passage plug at the top of the head. Unusual. Not something anyone had checked because there were enough other issues that seemed to be causative for the problem. When he let Jeremy know what he found and asked a couple questions about how to thread seal the plug, the next thing you know, he was in his jumpsuit at his familiar place leaning over our engine, but this was a Sunday and he was on his own time. It didn't take long to get the bolt torqued properly to its 80 footpounds and everything cleaned up again, refilled and put back together. We appreciated that the campground host deliberately turned her head when we told her of our issue and that we would be essentially breaking the rules and working on our truck there. And for Jeremy, who cared to see us get this thing fixed. Now finally, many miles later, we are not leaking coolant and everything seems smooth. Woohoo!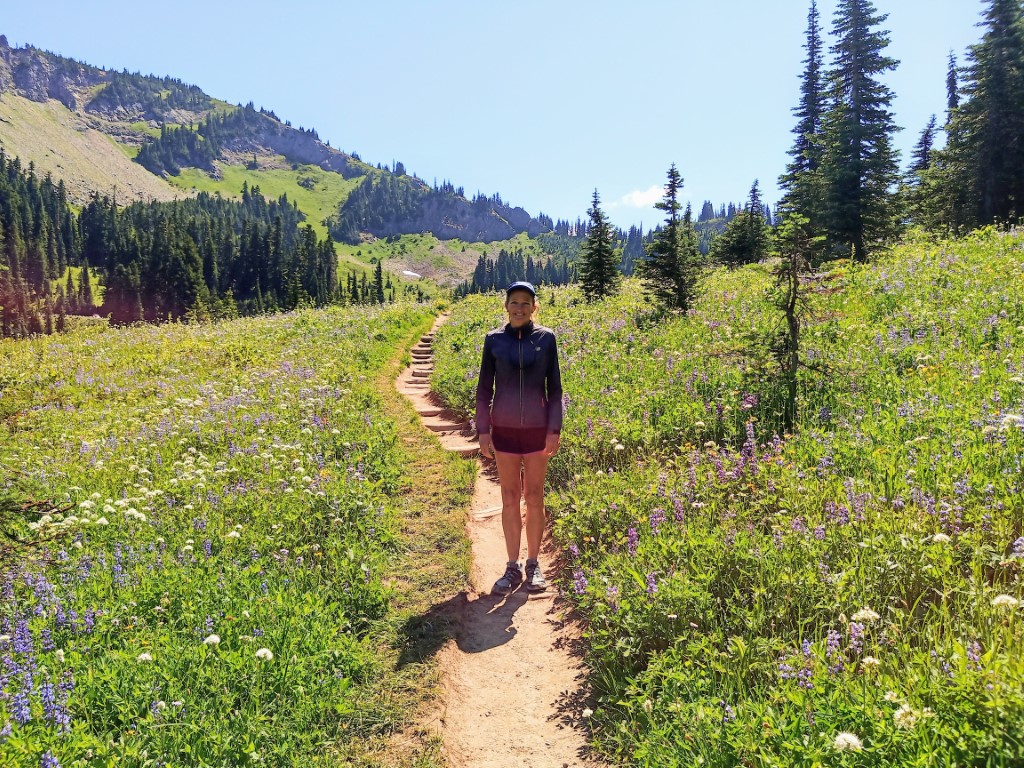 Free again, we decided to spend a day just chilling (and recovering from the stress) and did a nice bike path in Enumclaw based on an old railroad. Then we headed back up to Mt Rainier national park hoping the marmots hadn't eaten all the flowers. It's so great to see them again. We find that the parks are jammed and everyone is out camping. The stores in Seattle like REI and Cabela's are really low on camping gear, even simple things like stove fuel and freeze dried food. Also, backcountry permits can be full for the best places such as the Wonderland Trail that I would have liked to do in Mt Rainier- it is booked for the rest of the year. But I did manage to speak with a ranger and through cancellations, we were able to get re-permitted for the Northern Loop which takes in some of the most pristine areas of the park so we did that loop over 4 days of hiking. The weather was spectacular. Mt Rainier became the 5th national park in 1899 and is still an active volcano. 14,400 feet tall, it is the most glaciated mountain in the lower 48 and it is the centerpiece of the park, an icon to the whole Seattle area. It seems no matter where you are in the park, you can catch glimpses of its white shape and hear the constant rumbling of ice and rock moving. I read that in the summer the glaciers can move up to 3 feet a day! And because of plentiful rain and I'm guessing good soil, wildflowers carpet its flanks making for some incredibly sweet smelling meadows. The trail was a piece of cake compared to the primitive one we did in Olympic and the campspots a little more formed. But we did whine about how they were always in the woods. Broad vistas and full color and sun all day but when we'd get close to the campsite, we headed down into the dark woods. Beautiful loop hike though and we noted that once out in the backcountry, there was nearly 100% mask wearing by the backpackers. We'd all slip it on before passing on the trail and then remove it so we could breathe again! We saw a couple of bears but mountain goats still elude us.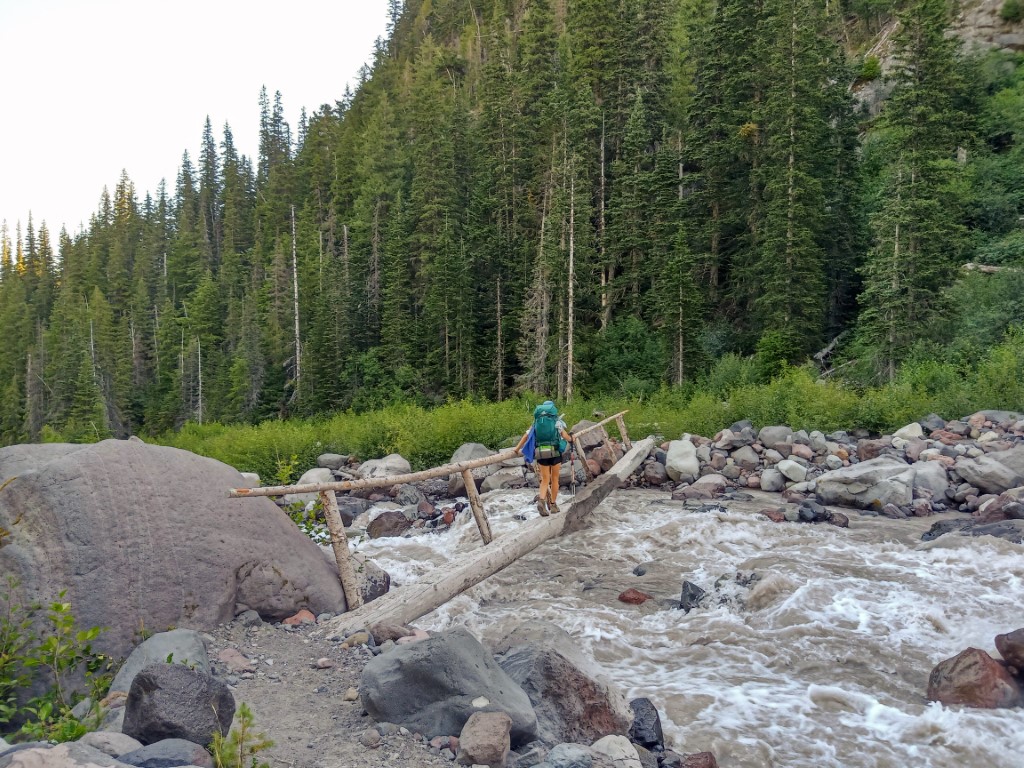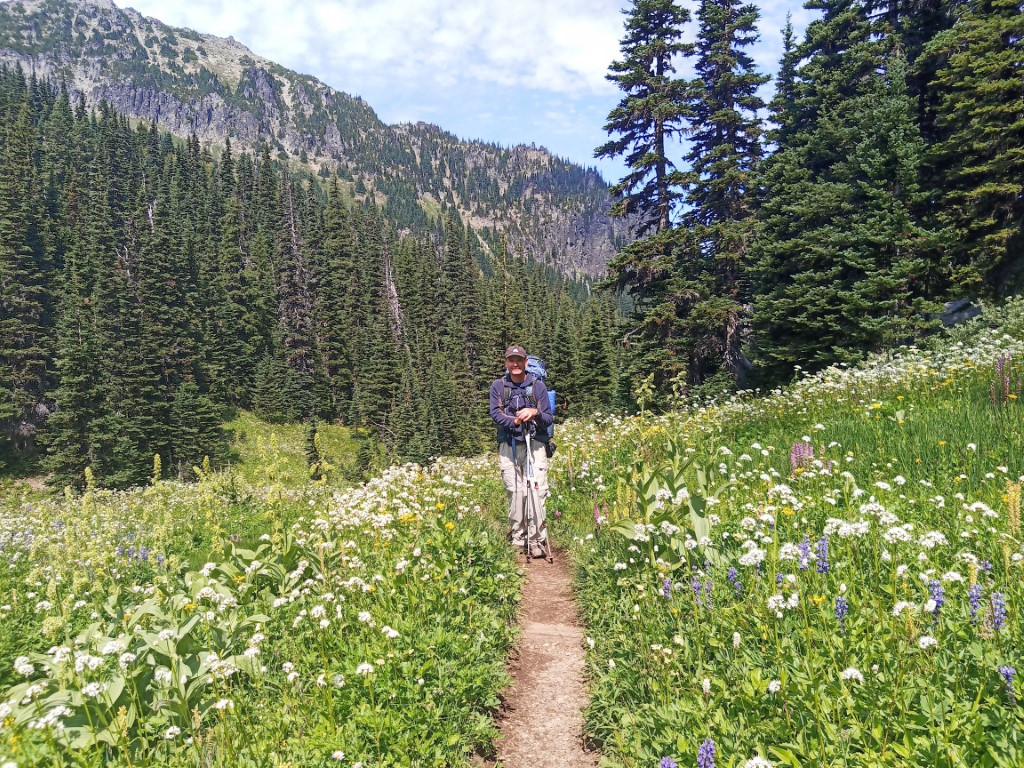 There are a few pockets with old growth forest in the Pacific NW and Mt Rainier is one of them. They call it the grove of the patriarchs and some of the trees are 1,000 years old. Just imagining all that they've witnessed makes my head hurt. We toured the popular areas of Paradise, climbed up to the snowfield on the way to Camp Muir and wished we had the equipment and skill to reach the summit. You could see the black dots of hikers in a line making their way up to the camp.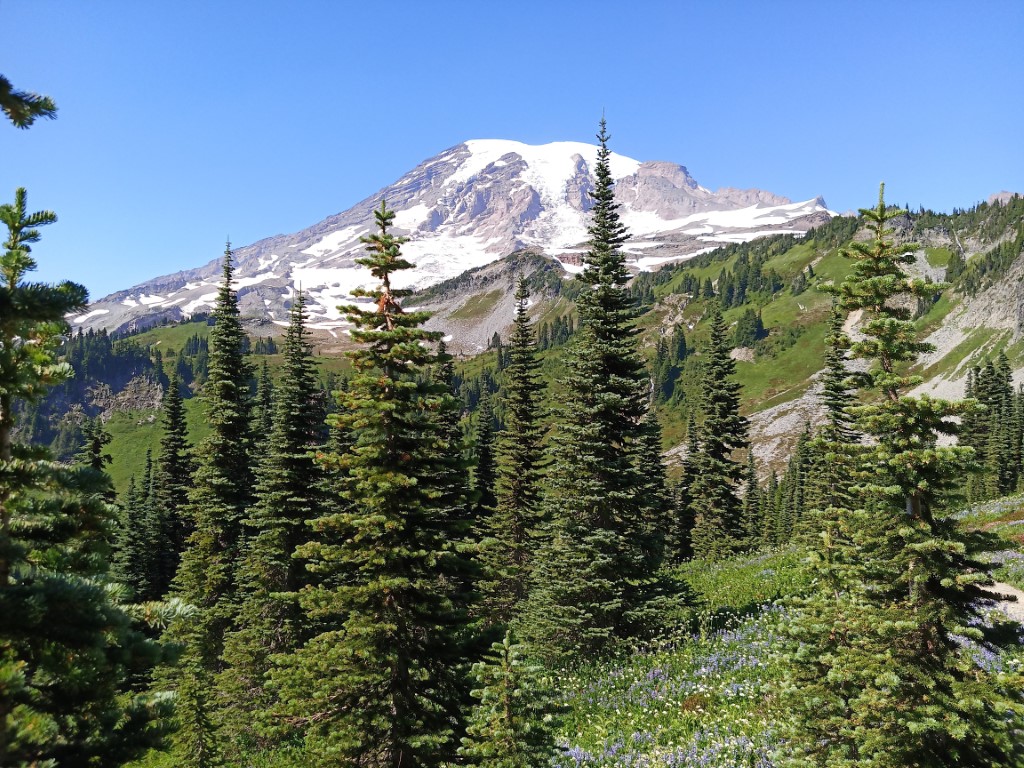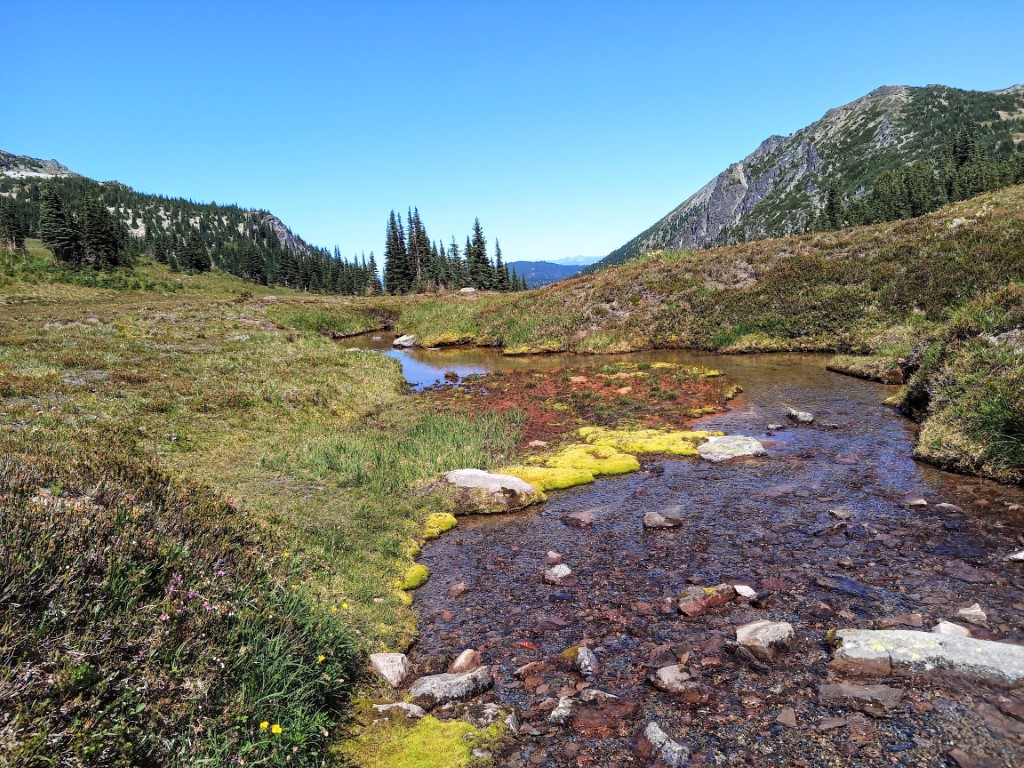 At one point the park service had intentions of a loop road around the park but it was halted at about 13 miles completed due to insufficient funding. It is now a bike/hike road somewhat reminiscent of the carriage roads in Acadia NP in Maine. We had a lovely day biking this uphill road stopping to hike trails along the way down. You can even bike your pack up and go backpacking on them as some were doing! Now that is where we draw the line… well for now anyway. Maybe we're building up to that.

We moved to Anacortes today to check out the coast again while waiting out some rainy weather and we even scored a nice campsite. If the border were open we would duck into Canada for a peek. But North Cascades promises to be interesting too.